Welcome to Paradise
If you haven't heard of Thailand yet, then you must be living under a seriously big rock because it is one of the top destinations in the world to visit.
It is an absolutely incredible country which offers thousands of pristine white beaches across hundreds of exotic and tropical islands and home to some of the biggest Hollywood movies such as The Beach (Leonardo DiCaprio) and The Hangover 2.
What to Expect?
It offers insanely vibrant coral reefs, insane diving spots, dense jungle hikes, stunning waterfalls, epic party scenes and huge temples. It's a huge country and can be quite overwhelming to someone who hasn't been before, but luckily for you, I have lived and travelled there gaining valuable knowledge I wish I had known before I even left the UK.
In my guide, we will cover currency, what to pack, where to visit, cultural differences and safety. Life as a Digital Nomad
Getting Prepared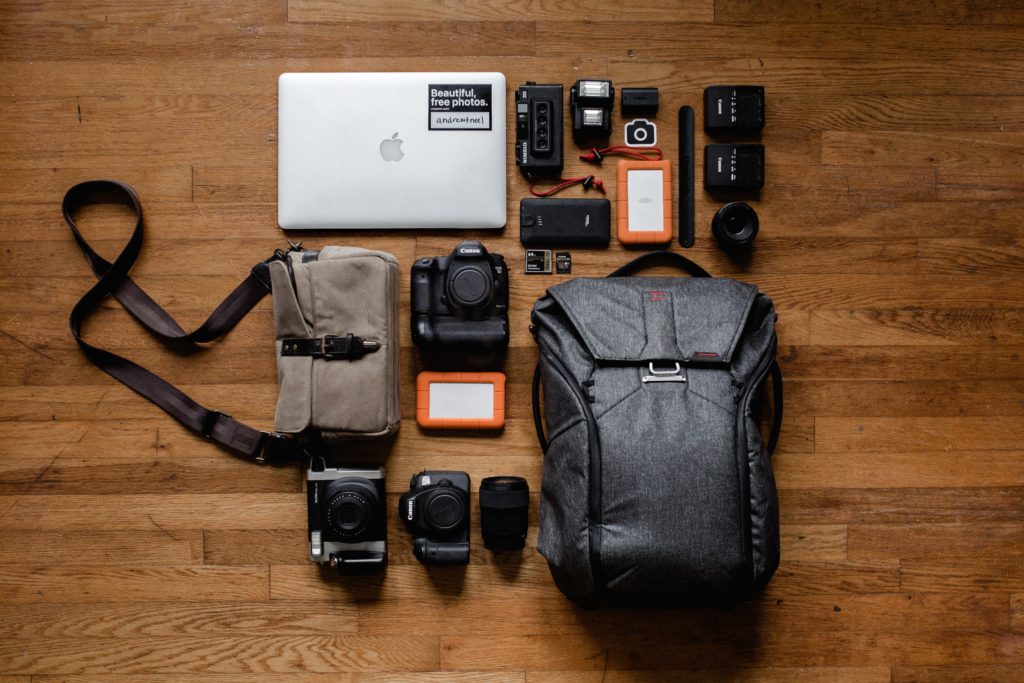 Visas
Before you even step foot in Thailand you need to work out how long you think you will be there for. I would highly suggest staying for at least a month to explore everything it has to has to offer you.
British passport holders arriving by air or land can enter Thailand for 30 days without a visa – this is known as a visa exemption. Need to stay longer? It's possible to extend your stay once, from the expiry date of the original visa, for up to 30 days.
If you plan to stay in Thailand for longer than 30 days, intend to work, or use land borders regularly you must get a visa before you travel. Or if you've entered Thailand on a visa, it's possible to apply for an extension of stay but you must do this before your permission to stay expires.
What to Pack
As you can probably imagine, Thailand is a very warm and humid country but that just adds to the experience and its charm. The best time to visit Thailand is from late October to mid-November. There is less rain than in the wet season, and most things are cheaper than in the high season.
Therefore, you should be looking to pack light clothing, flip flops, lots of sun cream (Factor 30-50 is ideal), sunglasses, and sarongs for the temples. As a whole Thailand is super cheap so if you forget anything you won't have to pay much for it while you're there.
When to Travel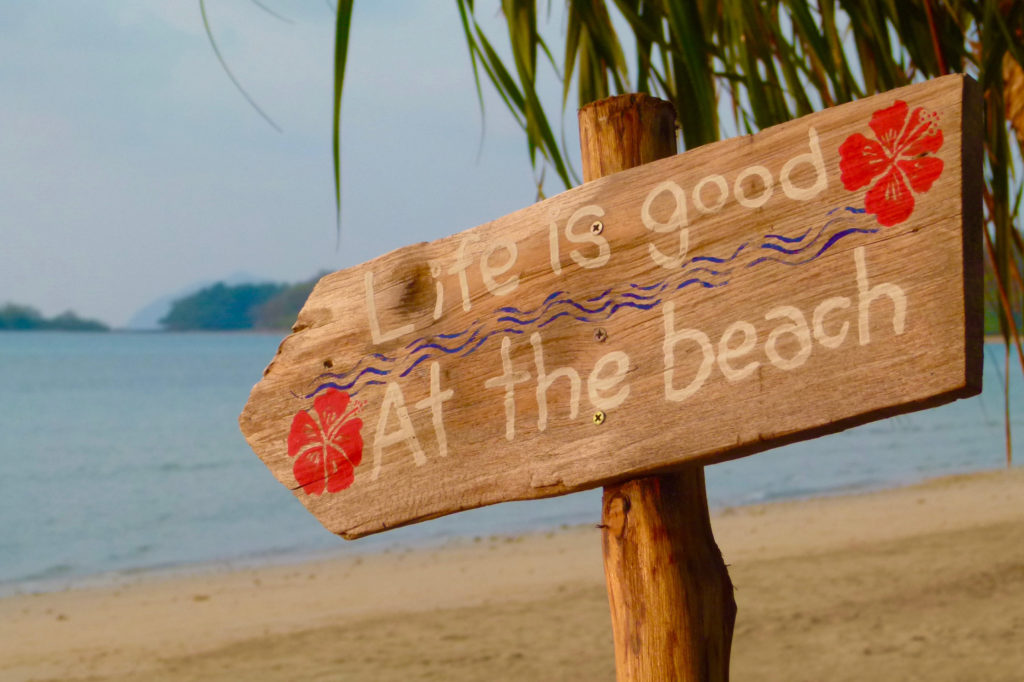 Peak Season: November to January can see accommodation prices jump anywhere from double to triple. This is also the nicest time to visit Thailand. The weather is not unbearably hot and there is a low chance of rain. Great for beach days, motorbike adventures and cool weather up in the mountains.
Low Season: April to September has a high chance of rain. April has the week-long Songkran water festival which marks the start of the wet season and the Thai New Year. May to July are uncomfortably hot months across the entire country, Bangkok swelters with daily average temperatures around 40 degrees.
Money
You will primarily be using Thai Baht, although USD and GBP are accepted as well if that is all you have on you. I would suggest downloading a currency converter before you arrive so you can work out straight away how much roughly something costs.
Getting Vaccinated
For most tourists, the usual recommended vaccinations for Thailand include cover against the childhood diseases (Tetanus and Diphtheria, Measles, Mumps and Rubella) as well as cover against the food borne diseases of Typhoid and Hepatitis A. For those trekking in the Thai countryside or staying for longer periods then cover against Hepatitis B and Rabies should be considered.
Where to Travel
If you are just in Thailand to travel and see the beautiful sights that it has to offer, then you are definitely in for some special treats. Whether you base yourself in the North, South or the Islands, you will be privy to some of the most beautiful natural attractions you could possibly hope to experience.
Visit the Grand Palace and Wat Pho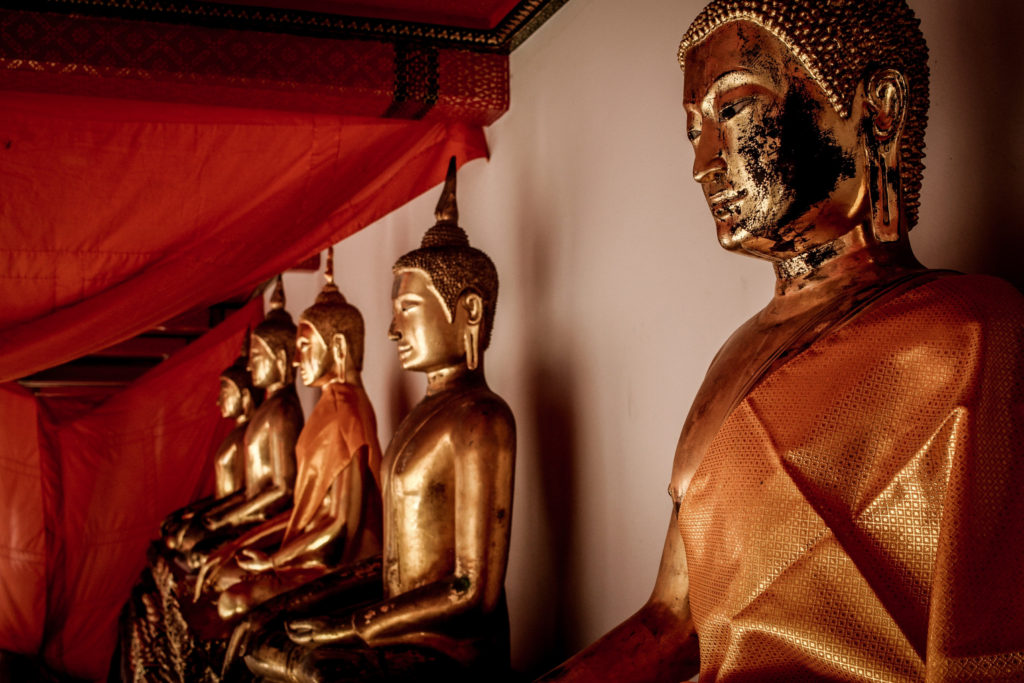 Thailand's royal palace was built at the end of the 18th century by King Rama I and is the official residence of the current monarch (though he doesn't live there anymore; now it's just used for ceremonies). It's a striking place filled with numerous temples, including Wat Pra Kaeo, which houses the 15th-century Emerald Buddha.
Nearby Wat Pho is famous for two things: a larger-than-life golden reclining Buddha statue and a very relaxing massage school.
Visit Khao Sok National Park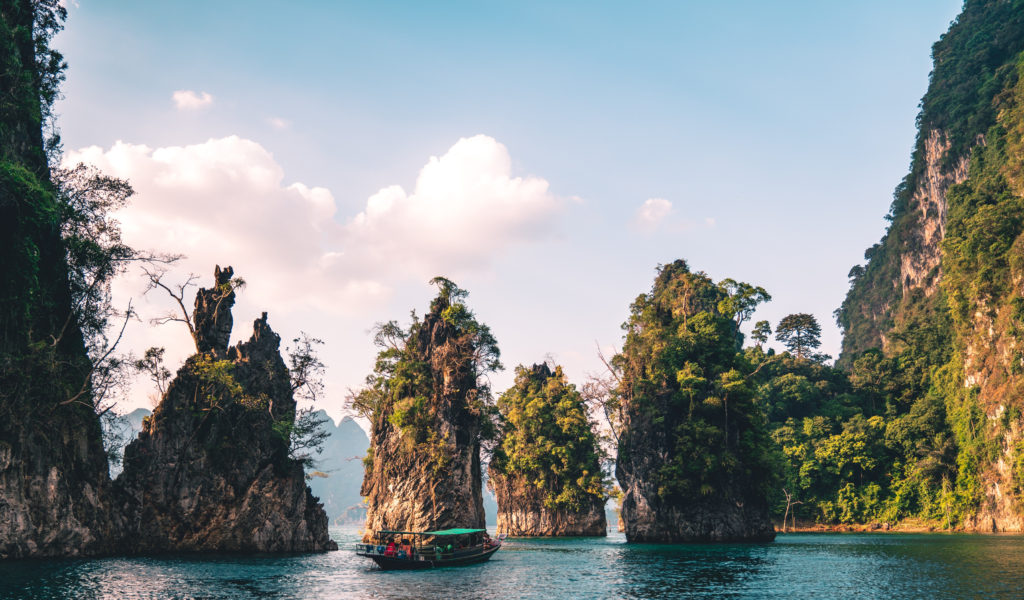 Located in the south of Thailand, Khao Sok National Park is constantly rated as one of the best in Thailand, with incredible trekking, camping, limestone karsts, cooling rivers, and a glistening lake.
You'll find semi-challenging hikes, tons of wildlife, walking paths, and incredible sunsets. Park entrance costs 200 THB (6 USD).
Hop around the ancient capitals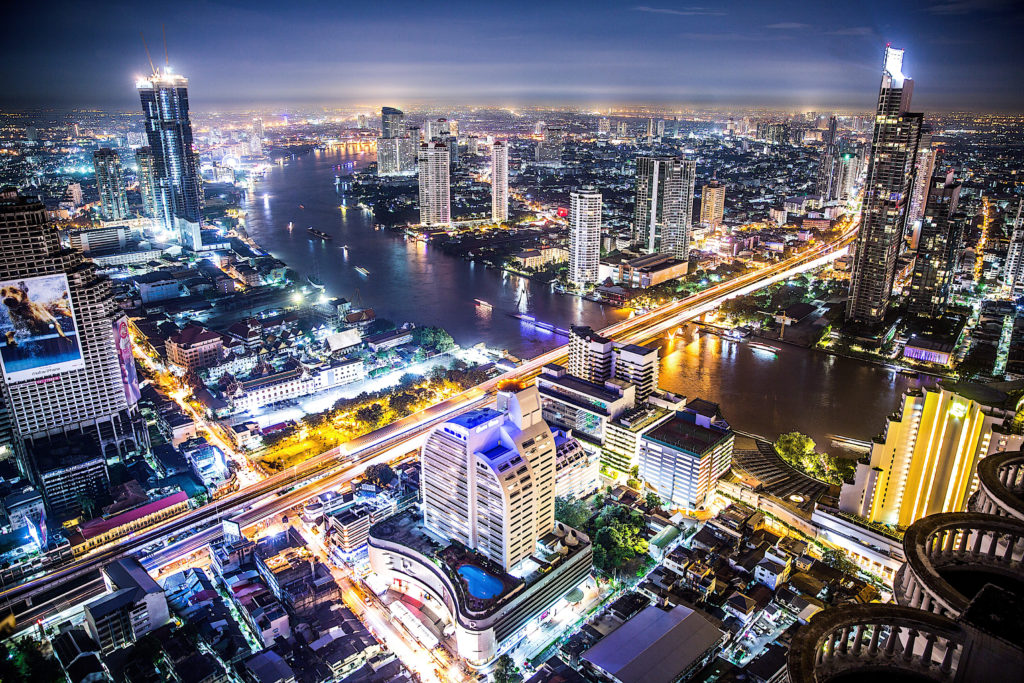 Between Chiang Mai and Bangkok are Thailand's three ancient capitals – Sukhothai, Lopburi, and Ayutthaya. Visiting them on your way north is a unique way to head from Bangkok to Chiang Mai.
You'll get to learn about ancient Thailand and see rural life at its best.
Relax on tropical islands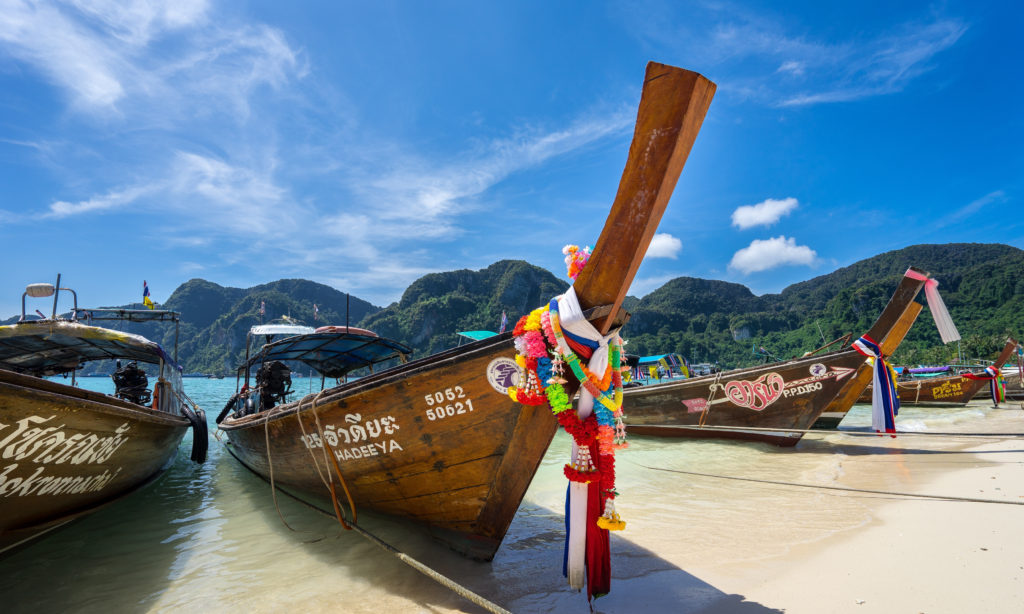 Thailand has a million and one beautiful tropical islands. Some are overdeveloped, while others only have a single bungalow hut on them. You'll find everything here.
Some of the best islands here are – Koh Tao, Koh Phi Phi, Koh Lanta, Koh Samui, Phuket, Railay Beach, Koh Lipe, Koh Chang and many more.
Rave it up at the Full Moon Party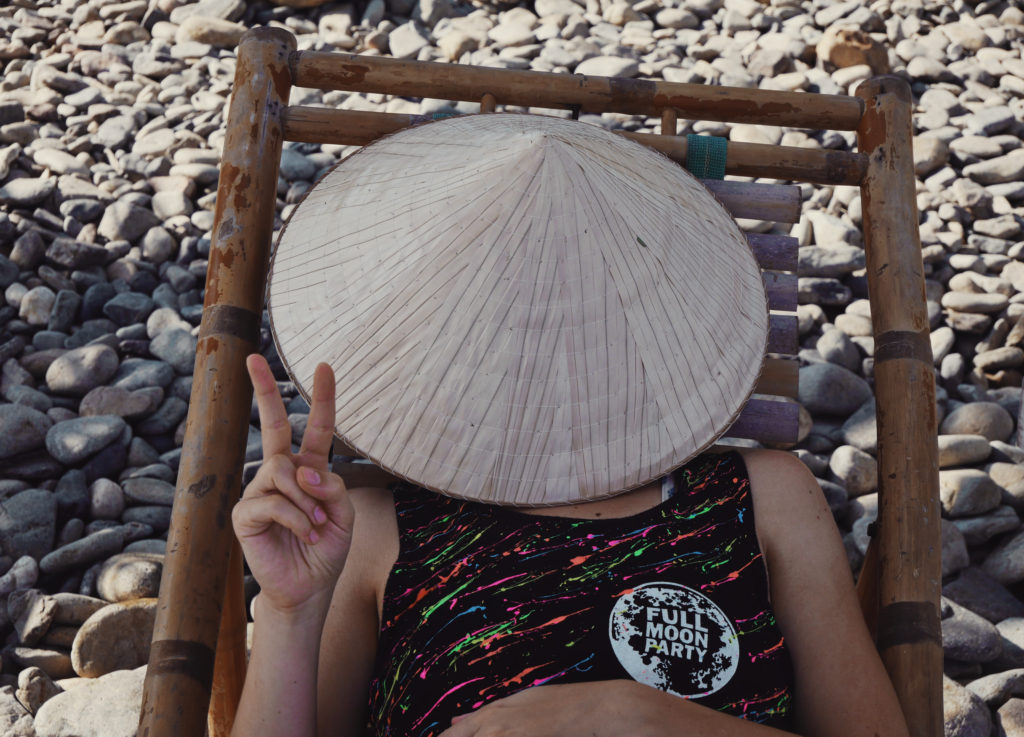 If you like partying, there's no better party in the world than the famous Full Moon Party. The Full Moon Party is a giant festival-like party with a lot of drinking, dancing, and drugs. Each bar has its own sound system, so you'll hear different music loudly blasting onto the beach every few feet.
The beach itself is lined with people selling alcohol, fire dancers putting on shows, and little booths selling glow-in-the-dark face paint. Sure, it is super touristy but that doesn't mean it's not a lot of fun and it's as much a part of Thailand as anything else.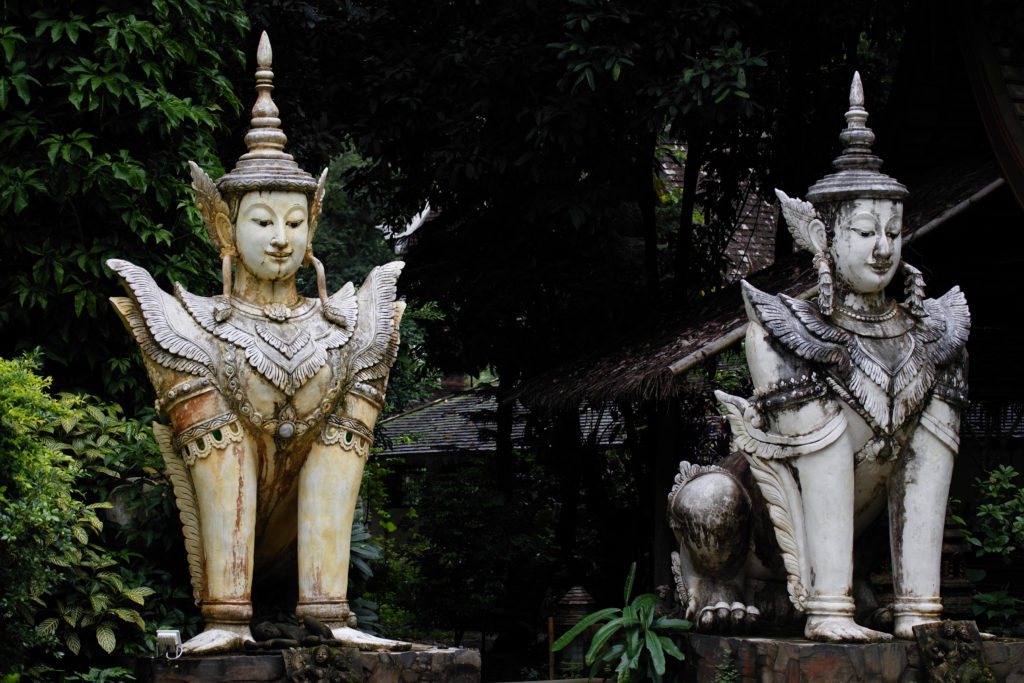 There are some great jungle trekking opportunities in northern Thailand. Be sure to go on a multi-day hike. The shorter hikes aren't as good and the hill tribes you visit are like visiting a rural impoverished Disney World. The biggest departure points are Chiang Mai and Chiang Rai.
Don't book any tours ahead of time, you can book these sorts of outings through the hostel or hostel you're staying in close by. If you book online ahead of time, you will pay more.
Go scuba diving in the Similan Islands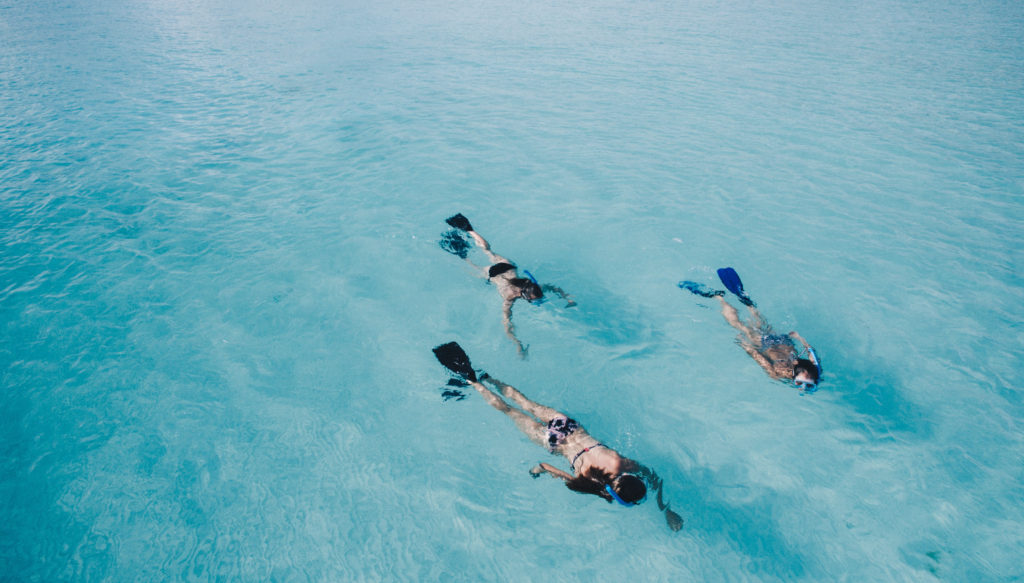 Scuba diving here is a popular activity because of the crystal-clear waters and majestic sea life. The cheapest place to learn is on the island of Koh Tao, which caters specifically for dive trips. Most people don't go unless they're planning on diving. While you can dive all over the country, the Similan Islands offer the best diving.
If you dive the Similan Islands, be sure to see Elephant Head Rock, and the reef houses plenty of fish, snappers, rays, and turtles. Day trips start at 3,700 THB (110 USD).
8. The Elephant Nature Park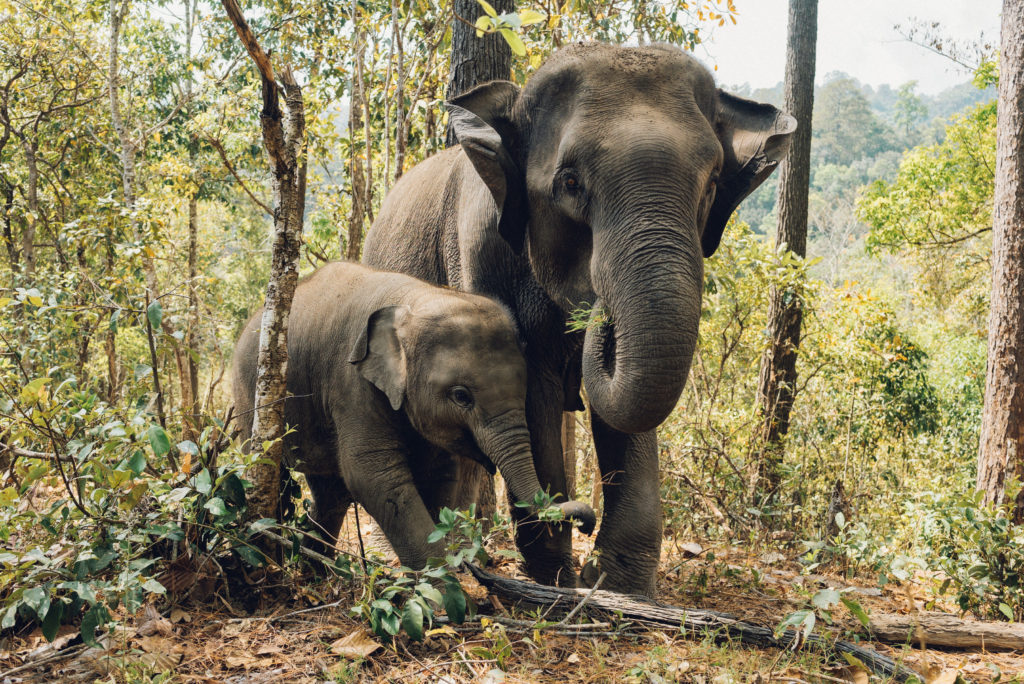 Sure, you can come to Thailand and ride an elephant, but so many of them in this country suffer from abuse. An even better way to get up-close-and-personal to the animals is to volunteer at the Elephant Conservation Centre near Chiang Mai.
It's a phenomenal place, that allows you to give back to the community, and lets you help and play with these magnificent animals all at once. After coming here, you will know why you should NEVER ride an elephant in Thailand. A one-day visit costs 2,500 THB (75 USD) for adults.

How can you help?

I work closely as an ambassador for Dutch Elephant Clothing who's proceeds go to protecting these beautiful animals. Check them out for some awesome apparel!
9. Koh Phi Phi Island Adventures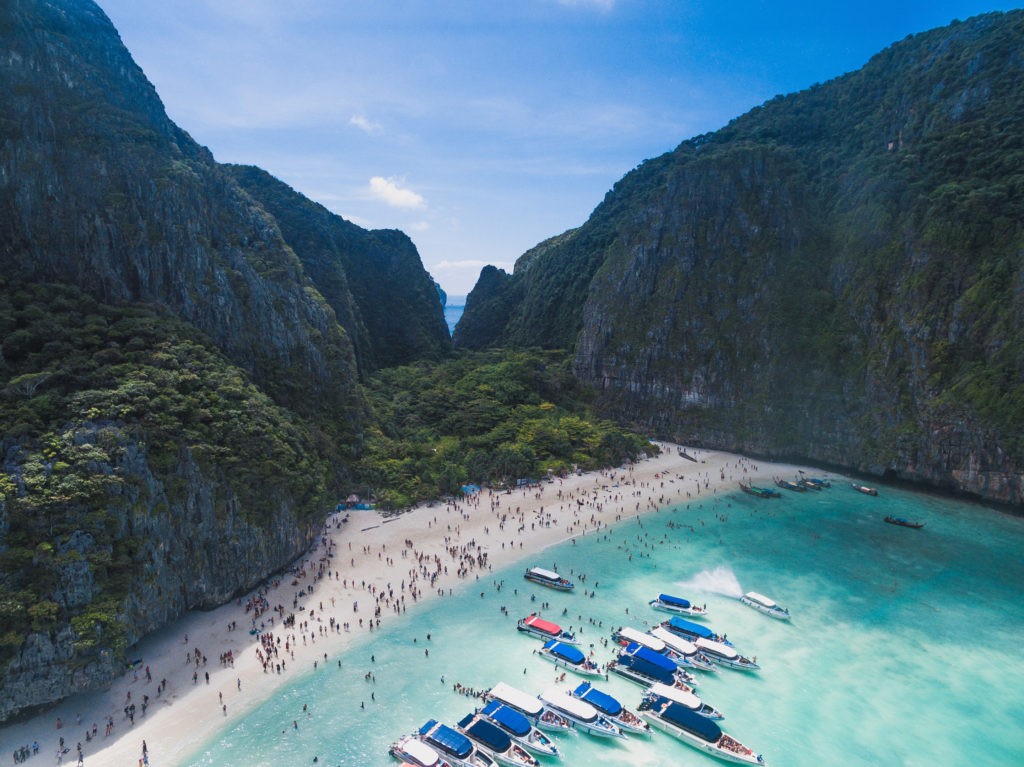 This is one of the most popular tourist islands in Thailand. From the famous of Maya Bay (made famous in The Beach) to the monkeys on the aptly named Monkey Beach to the diving and nightlife, there are reasons people flock here.
Destroyed by the tsunami in 2004, the island has been rebuilt and developed to an even greater extent than before.
10.Shop at the floating markets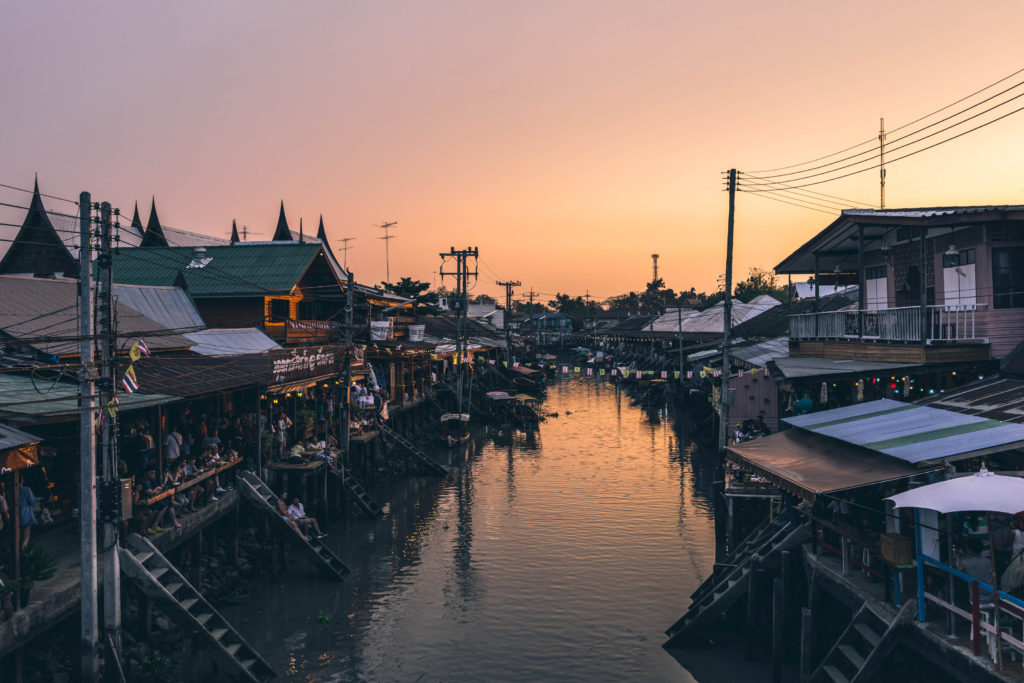 Thailand is full of markets. Perhaps the most whimsical of these are the floating markets, which can be found throughout the country. Some of the best are Damnoen Saduak, in Ratchaburi, and the Taling ChanWeekend Floating Market in Bangkok. You'll find rickety boats piled high with colourful goods and eats.
You'll get plenty of great photos! (Although it's become majorly touristy to go to the floating markets, you'll not want to miss a morning shopping from boat to boat.)
11.Relax in Pai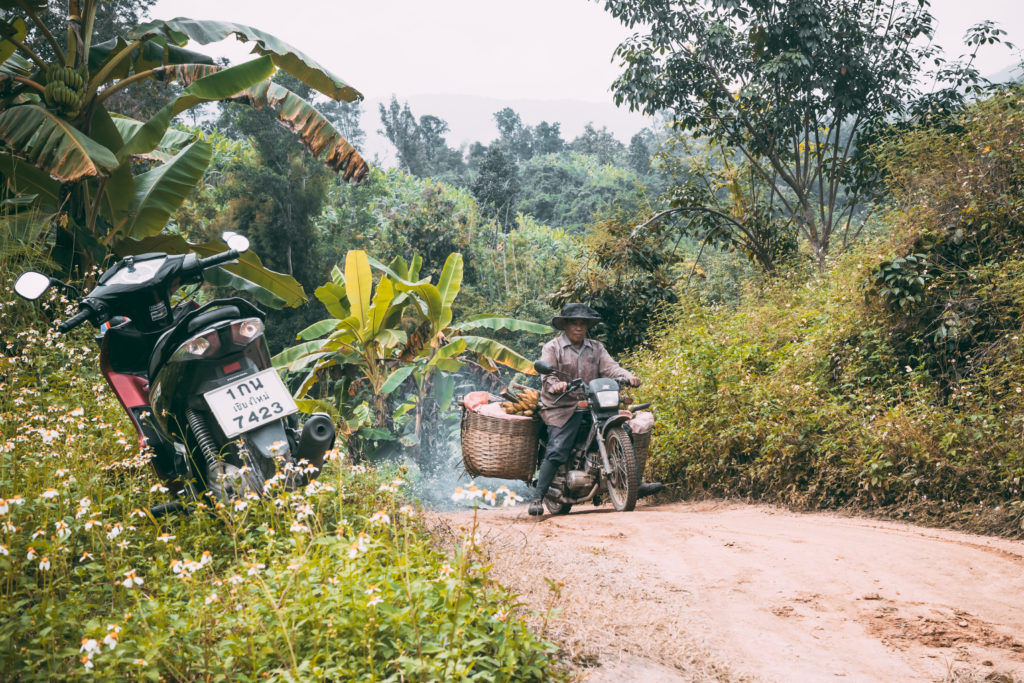 Pai has grown as a tourist destination in more recent years, but it is still a great place to escape some of the craziness of your larger cities. It is a true backpacker's town, located in Northern Thailand. It is nestled in rolling green mountains and surrounded by waterfalls and incredible hiking trails.
Be sure to take a day trip to the Tham Lot Caves, where you can take a stop off to swim in waterfalls and hot springs on your way there. Stay on the outskirts town in a lovely little bungalow, rent a bike, traverse the hills, and bathe in the cool waterfalls.
Culture
It is super easy to forget that you are in another country, especially when you are surrounded by other tourists and have had a few local beers, which can lead to many cultural errors.
Remember that you should:
Always be polite and courteous to the locals
Take your shoes off before entering a house
Put the phrases krub(man) and kaa (woman) at the end of your Thai words
Always wear a helmet while riding a motorcycle or scooter – you don't want a Thai Tattoo (also known as scarring)
Learn some basic phrases first, as it goes a long way
And don't:
Wear shorts or a tank top to a temple
Talk about politics with taxi drivers
Greet Thais with your shoes in your hands
Show Thais the bottom of your feet
Insult or make bad comments about the royal family
Personal Safety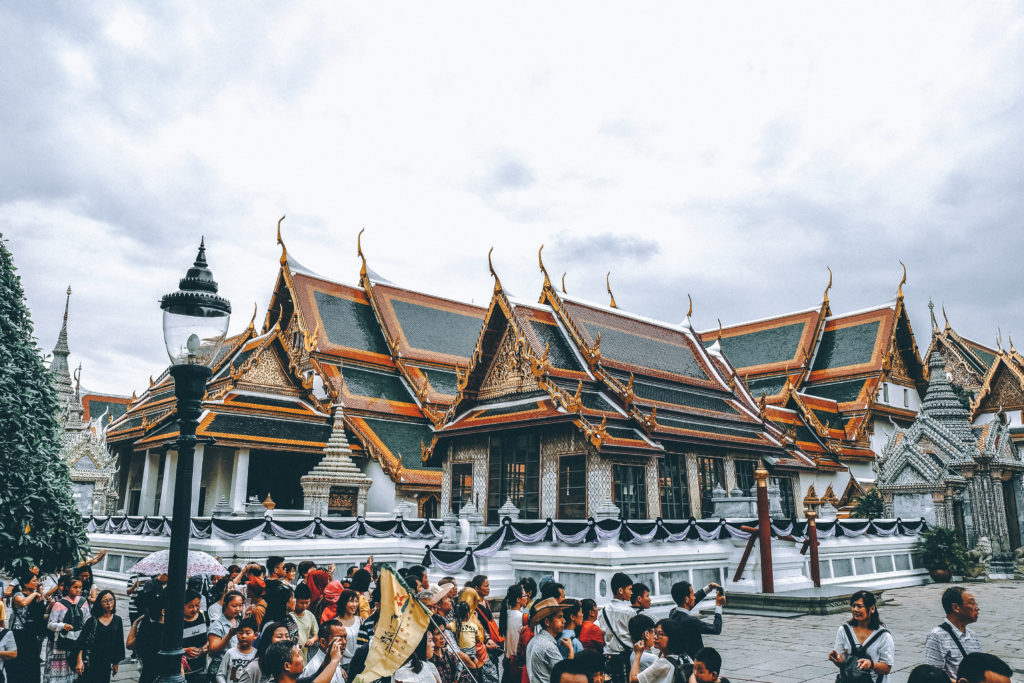 Thailand is an incredibly safe place to backpack and travel – even if you're traveling solo, and even as a solo female traveller. Violent attacks are uncommon. Petty theft (including bag snatching) is the most common type of crime here.

Be aware of surroundings

There are some common scams around like unmetered taxis but for the most part, this is a safe place to travel. People are nice and helpful and you're unlikely to get into trouble. The people who do tend to be involved with drinking or drugs or sex tourism.

Stay safe in groups
Remember to always trust your gut instinct. If a taxi driver seems shady, stop the cab and get out. If your hotel is seedier than you thought, get out of there. You have every right to remove yourself from the situation. Make copies of your personal documents, including your passport and ID. Forward your itinerary along to loved ones so they'll know where you are.
Money Saving Tips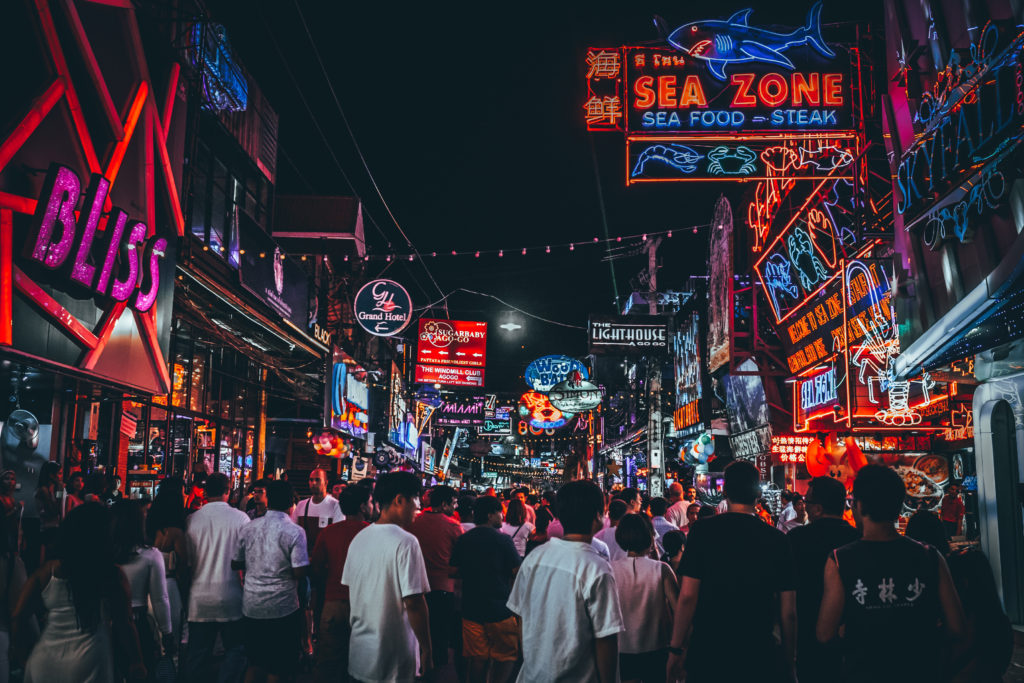 Thailand is an inexpensive country and it is hard to overspend. However, there are a few things that will blow your budget (such as alcohol, tours, and trips to the islands). If you're on a really tight budget (or just want to cut costs), here's how to save even more money during your visit.
Go local – The easiest way to save money in Thailand is to simply live like a local. Take local buses, eat street food, and drink local beer. The average Thai lives on a less than 7,750 THB per month in Bangkok, and on even less in the country side. If you stay at cheap guesthouses and eat street food, you can spend as little as 335 THB per day.
Eat street food – Speaking of street food, don't be afraid to eat it. It's safe — sometimes it's even safer than restaurant food. If it wasn't, Thai people wouldn't be packed in the food stalls each day. You'll find the best of Thailand's food on the street and it will cost you a fraction of what you pay at a restaurant.
Take advantage of happy hour – Thailand's many happy hours have half-priced drinks and 2-for-1 specials.
Buy beer at 7-Eleven – Buying beer at Thailand's ubiquitous 7-Elevens and drinking outside will save you quite a bit on your bar tab. A beer in 7-Eleven is about 35 THB, while the same beer will cost 100-170 THB in a restaurant or bar.
Don't book any tours before you arrive – Want to take a cooking class? Go zip-lining? Trek in the jungle? Dive? Wait until you get into Thailand to book anything. Travel agencies are located all over the tourist areas, looking to sell their tours. Time to brush up on your negotiation skills. You're able to purchase these tours online before you arrive, but you'll be paying a lot more!
Stay in hostels – Hostels are both an economical and a social choice for Thailand. There are so many to pick from, especially in the really touristy areas of Thailand. Bring some earplugs and prepare to save a lot of money!
Pack a water bottle – A water bottle with a purifier will come particularly in handy in Southeast Asia. 
So, have a great time in Thailand! Enjoy the beaches, jungle treks, diving and parties – it's a once in a life time experience!