WELCOME TO THE PHILIPPINES
Z Hostel is centrally located in Manila, Philippines and is only a short (20 minutes) drive away from the airport making it the best place to base yourself in this hectic Filipino city. They exude professionalism from the moment you set foot inside by taking your luggage and greeting you warmly.
The hostel is super modern with an air of elegance that you just wouldn't expect from hostel and you instantly feel at home. The architecture is beautiful and the free breakfast is an added bonus! I also love the electronic wristbands for payments so you don't need to have cash on you while in the hostel.

If you are in Manila, Philippines then I would highly recommend booking a few nights stay at Z hostel.
Highlights
Super clean, modern and friendly
Brilliant location linking you to everything
The speciality Z Coffee was delicious
The roof deck is a great place to meet people
Strong and excellent Wi-Fi
The 4 Bed Dorm
After arranging to stay here at Z Hostel I told them that we were landing on the 14th February to which they informed me was Valentines Day – Im glad someone was paying attention because that could have got me in trouble!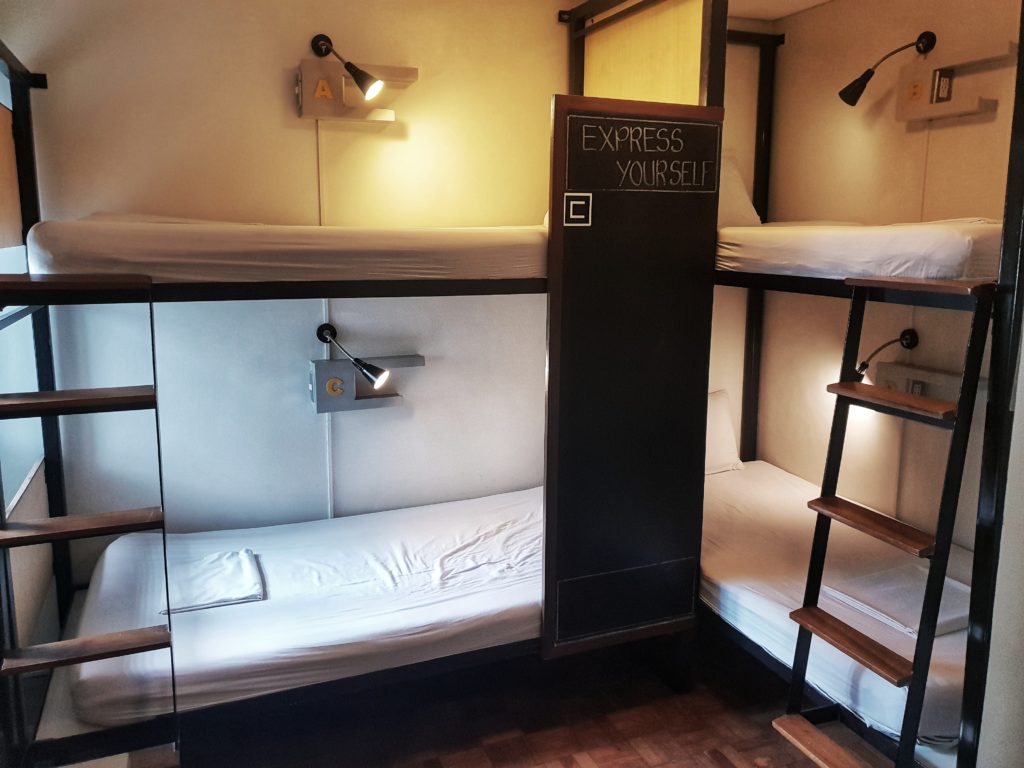 Very kindly they upgraded us to a 4 bed dorm for just the two of us as their private rooms were all booked out and that way we could have our own privacy and a romantic evening together. Legends!

What you get

We absolutely loved our stay in our own private dorm. They come equipped with air-conditioning which we definitely needed and had its own en-suite bathroom. We noticed that every dorm had its own window (which is rare for hostels) providing a lot of natural lighting and some great views of the city.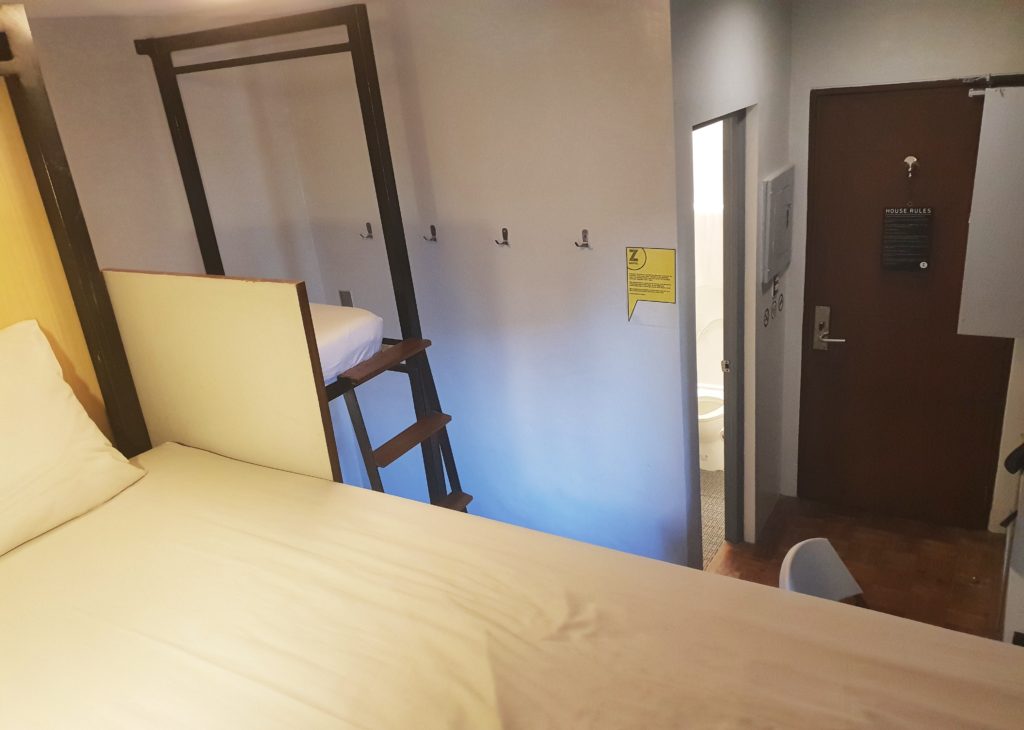 The bunks were spacious and they even have extra height to stop tall people like me banging my head on the bunk above. You get individual lockers, lights, storage for your luggage (can easily fit large bags and backpacks) as well as quirky chalkboards to write notes on. Not to mention plenty of power sockets too! Phew!

Click here to view other rooms.
Activities
The Z Cafe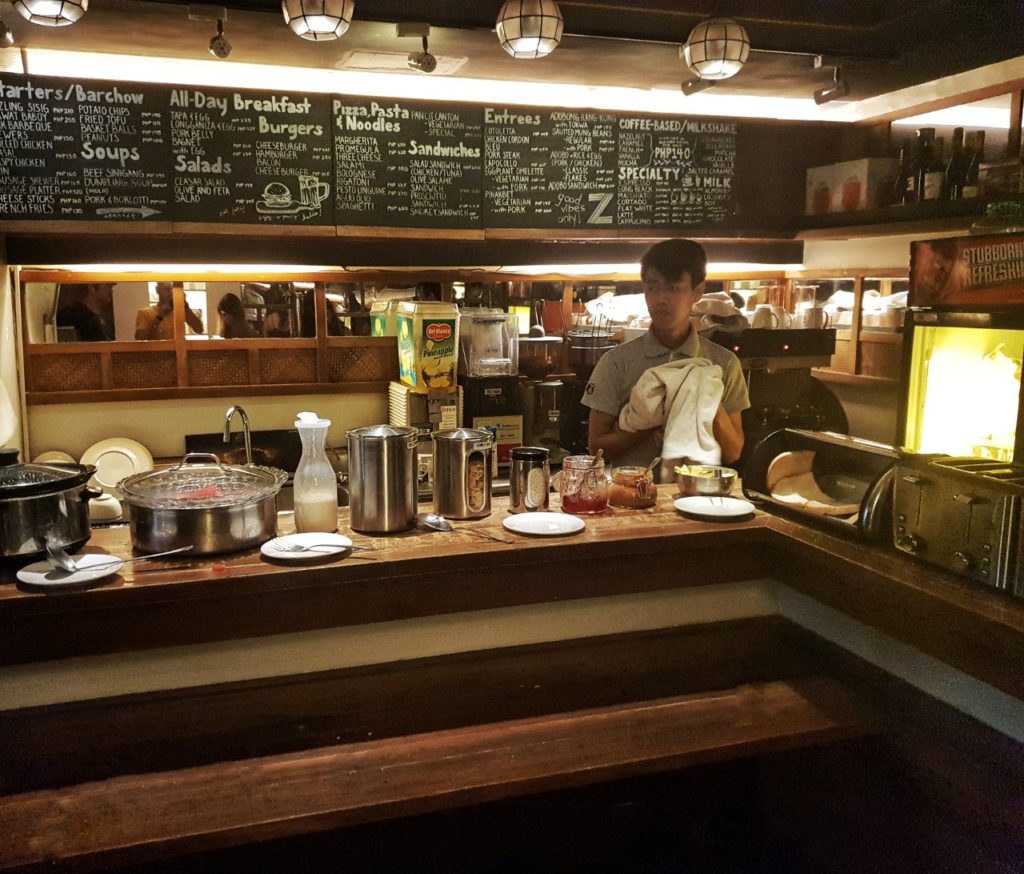 The Z Cafe houses the Original Z blend coffee, a buffet breakfast, and sumptuous bestsellers such as Adobo Flakes, Sisig, Beef Sinigang. Alcoholic beverages are available 24/7 but Happy Hours are on Monday-Thursday from 5 until 8PM. On special nights, acoustic tunes from local duos or pumping beats from guest DJs bring the Cafe to life and it definitely one of the most happening places in Manila.

The Roof Deck

This is now pretty well world-renowned. It has definitely put the hostel on a sweet, top spot in the traveling industry and it features a fantastic view of the Manila skyline from every angle, a bar serving cold beers, fresh cocktails, and cracking munchies, and a DJ deck which has become home to local and international artists.

Happy Hour Monday-Thursday 5-8pm. It's packed with great crowd on a weekday, on weekends it's a rooftop party. Be sure to get in early though because it is a huge hot spot for party goers and the lines can get pretty long.

Explore the Local Area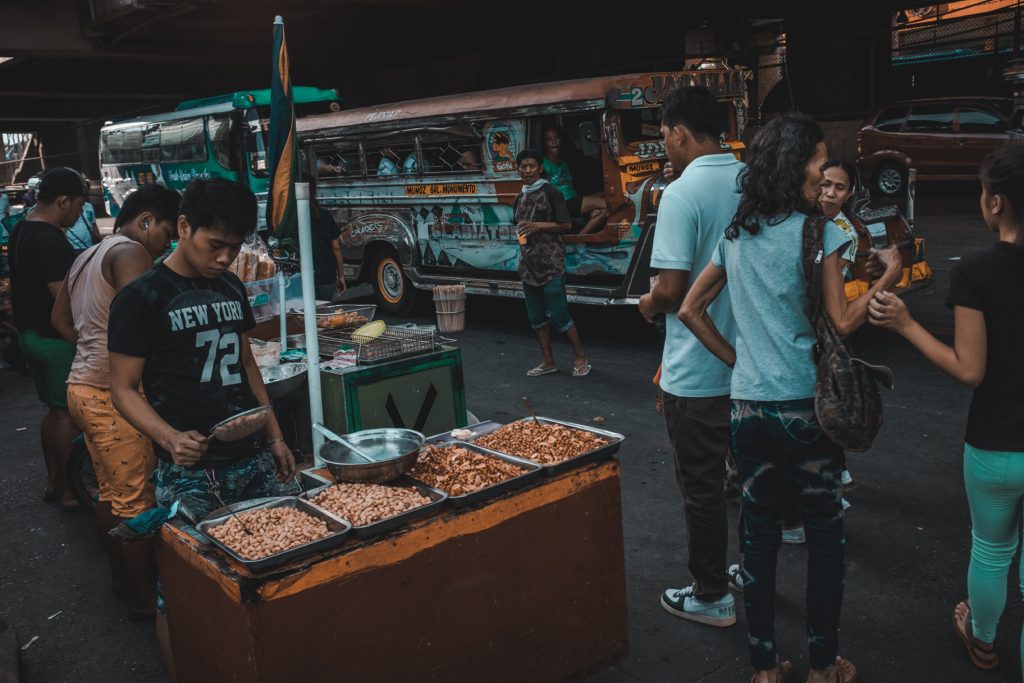 Right smack in the center of a bustling business district, Z Hostel's area is a throbbing heartbeat of concept cafes, hole-in-the-wall restaurants, quaint coffee shops, and a multi-cultural neighborhood. Poblacion, Makati has become the new hip place, a gastronomic hotspot with new food places like Alamat, Wild Poppy, The Smokeyard, Bucky's and Tambai.

Z's corners are dotted with restaurants, bars, ATMs, money changers, laundromats, 7/11's and grocery stores. Not enough? Walk further down and two malls are waiting for you.

Book some trips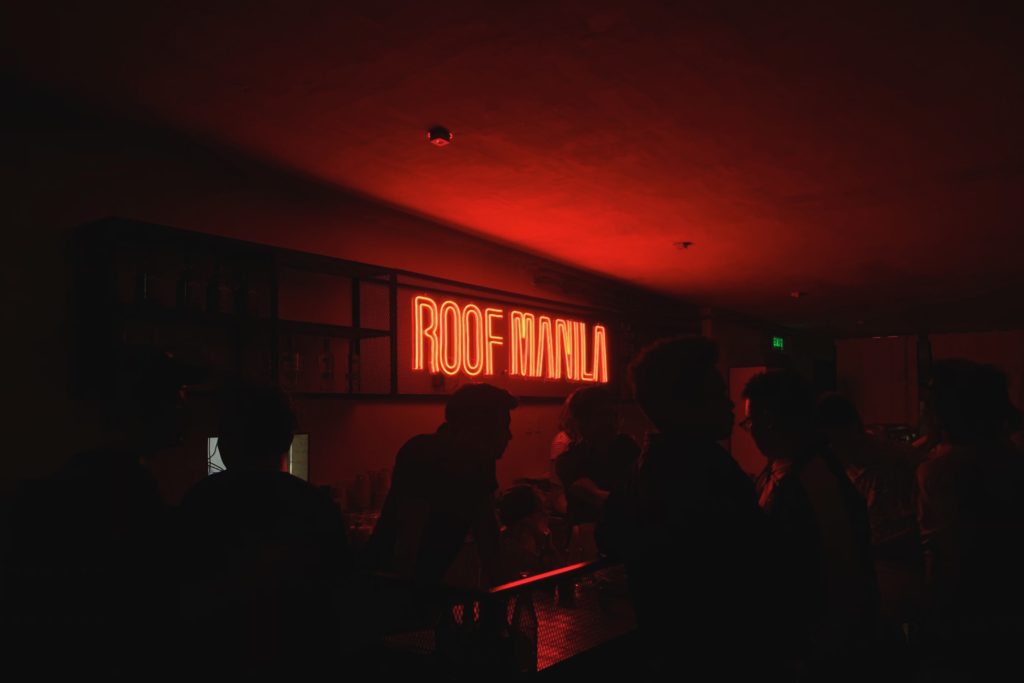 They offer a whole bunch of different tours such as mountain biking, food crawls, bar crawls, boat tours, island hopping, yoga and market trips. Be sure to book yours asap! Click here for more.
Download the Grab app to book cheap and affordable taxis to get around the city. This definitely keeps costs down and are a lot more reliable too. However, Manila's traffic is pretty insane at the best of times.

Make a Splash at the Inflatable Island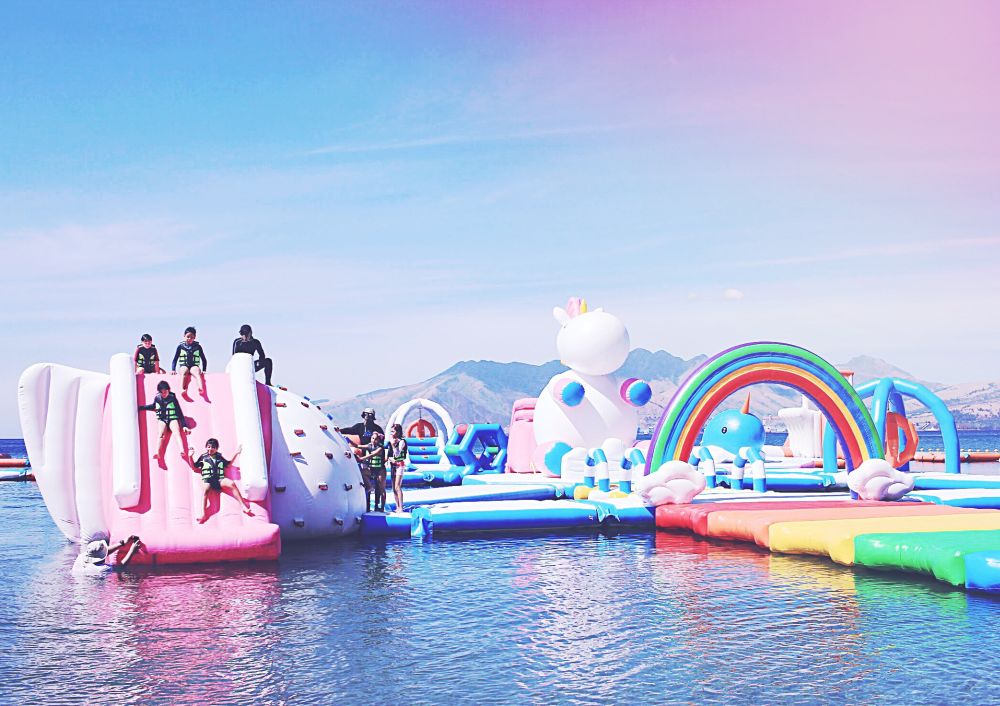 The biggest floating playground! With over 4,100 sqm of water fun and frolics it is well worth a day trip to visit! It's as big as 8 basketball courts put together side by side and it contains inflatables slides, towers, bridges, human launchers, swings and so much more! Also did I mention it has a unicorn section?!
How to get there
They are located in a prime area in Makati City and within walking distance of the famous red light district of P. Burgos Street.

Airport

From Ninoy Aquino International Airport, the easiest way to get to Z is by taxi and ask the driver to take you to take you to:

Kalayaan Ave. in Makati via Edsa Northbound and exiting to Rockwell. Drive through Rockwell out towards Kalayaan. Along Kalayaan Ave., you will find a Mini Stop Convenience Store on your right. That street is Don Pedro Street. Make a right there. The hostel will be on your left, just a few meters from the corner.

It cost us about 800 PHP for a yellow taxi to take us from the airport to Z Hostel which is about £12. A bit expensive but there was no wifi at the airport so we couldn't use the Grab app to get it cheaper.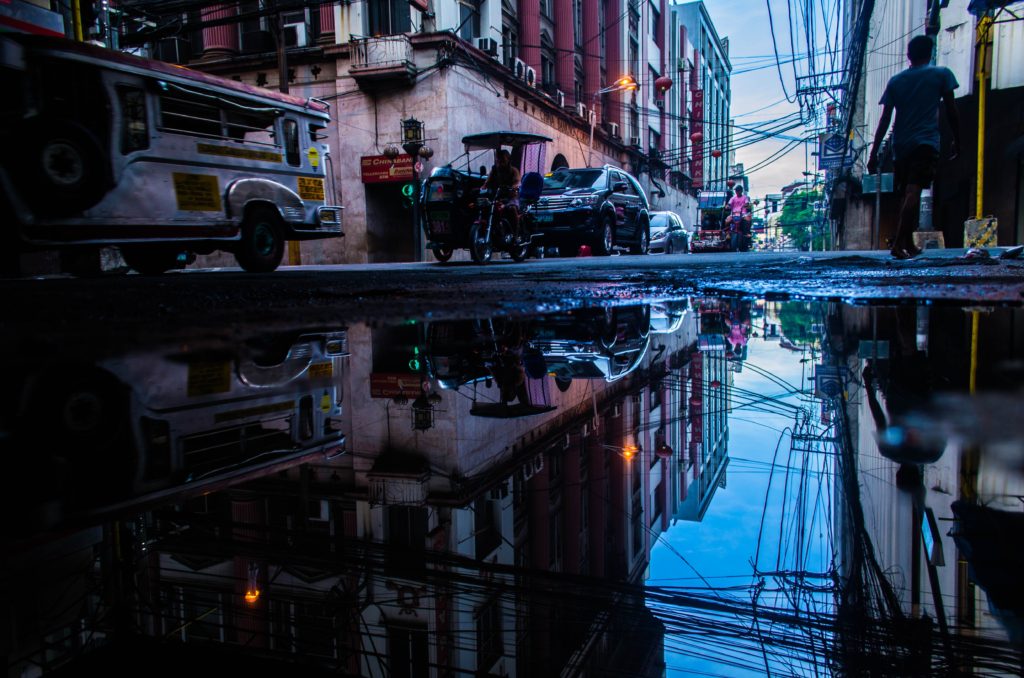 The Grab app is great and if you have data then you should use this to book your ride as rates should vary between Php 250 – 450 depending on the time of day and Manila traffic.
Address
5660 Don Pedro St. Brgy. Poblacion, Makati City, Philippines, 1210
(632) 856 0851 or (63) 917 889 8531
Prices
It depends on what room you stay in – whether it's a private room, 4 bed or 8 bed dorm. Click here to see what would suit you best.

We stayed in February 2019 and for our 4 bed dorm it would cost 856 PHP (£13) per night.
Extras
Towels & free toiletries
Restaurant & bar
Luggage storage
Walking tours
Games Room
Awesome happy hours!
Summary
This hostel is absolutely amazing and I am so glad that we chose to stay here for a few nights – its the ultimate unique hostel experience!
The room was basic but very modern with everything that we needed and quite stylish too. The hostel itself is super welcoming and the staff are so friendly, they can honestly not do enough for you to make your stay that little bit more comfortable than what it already is.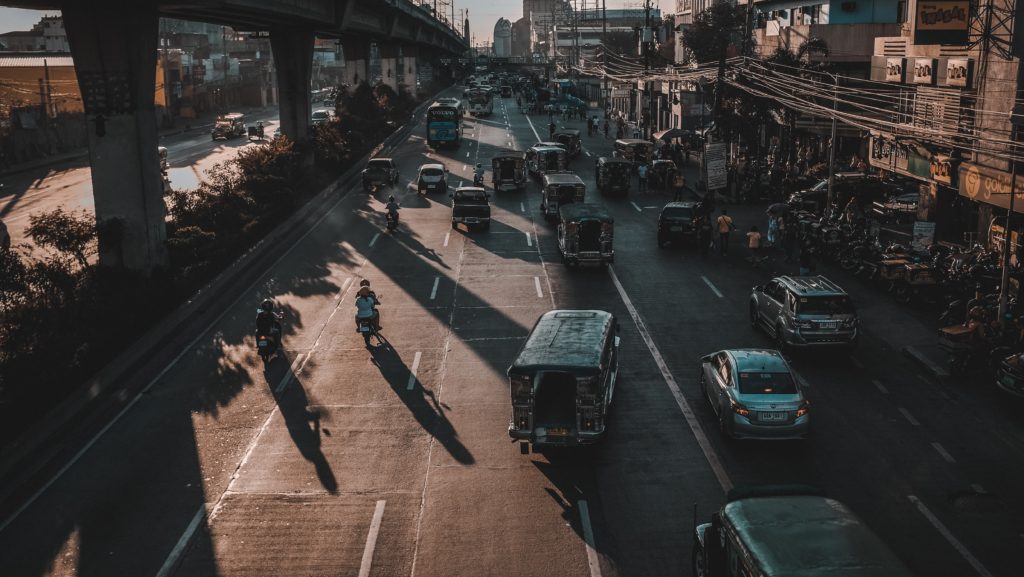 You will want to spend longer
The Z cafe is very unique with delicious and more-some Z coffee and the location itself are hands down the best part about Z Hostel. When you throw in the tours that you can do around the islands, the beaches and crystal clear waters you are onto a winner!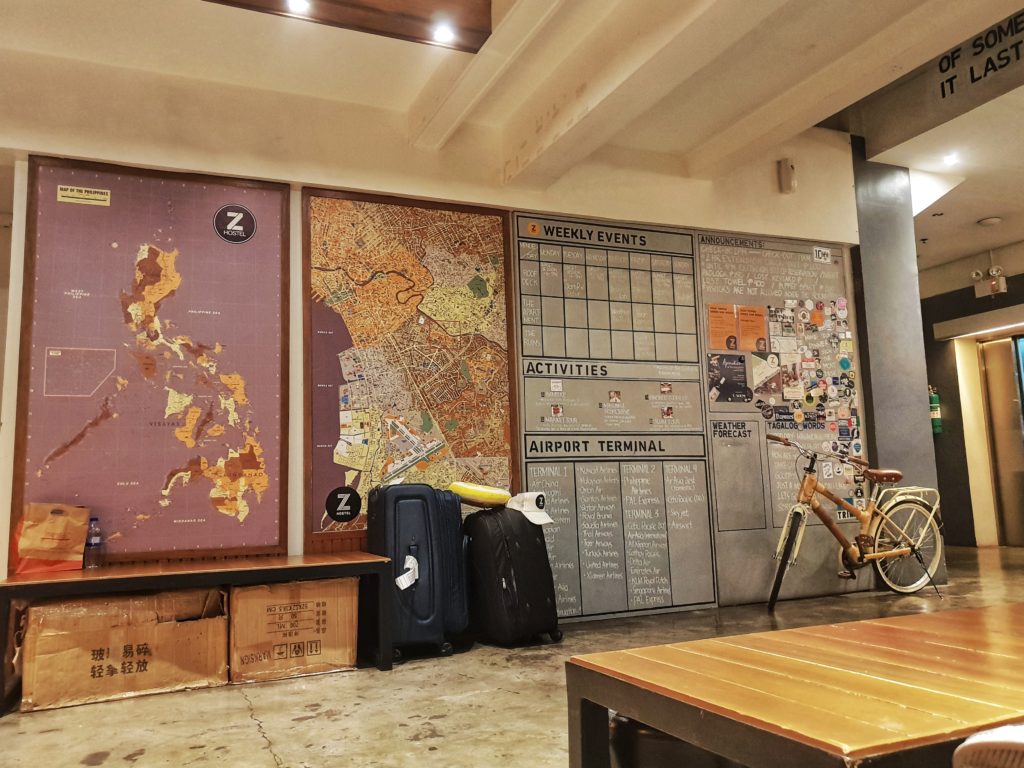 If you are in Manila, Philippines and you want to have a unique stylish hostel experience, I would highly recommend Z Hostel.
Click here to book your stay

Or check out their Facebook & Instagram.
***Thank you to Z Hostel for kindly sponsoring this post. All opinions are 100% honest & completely my own.