The Best Places To Eat In Chiang Mai
⇷☓⇸
Its a well known fact that Chiang Mai is known for having amazing food and has almost as many restaurants as it does people that live there. Specialising in Northern Thai cuisine, which is richer and spicier than traditional Thai dishes, there are also options to try almost every other type of cuisine in town.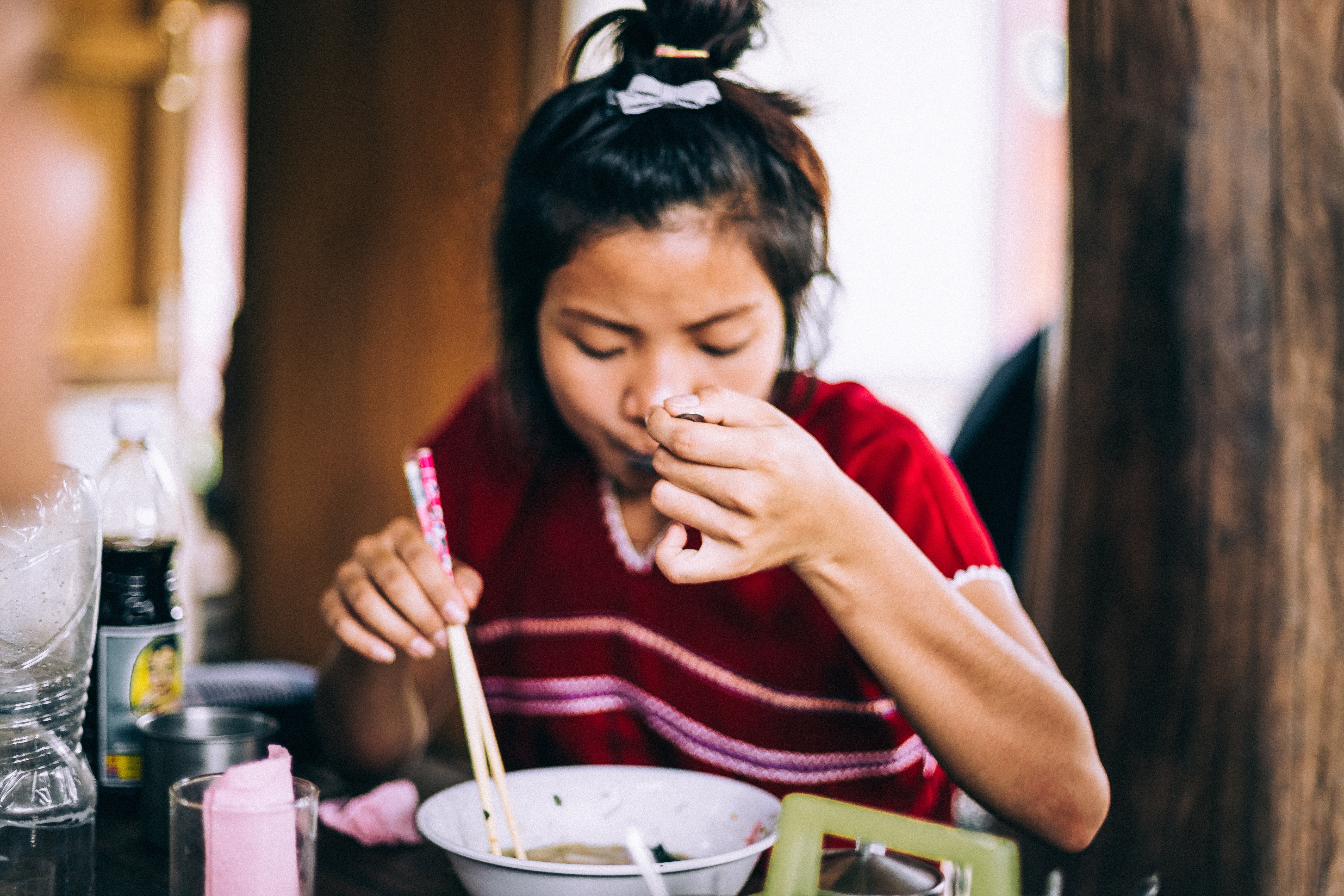 Here are my top 10 researched restaurants to go and visit:
1. Anchan – Vegetarian Restaurant
Anchan Vegetarian Restaurant in Chiang Mai
Located down a small dark road of Nimmanhaemin, Anchan is one of the most popular vegetarian restaurants in Chiang Mai and sources all their ingredients from local farms. Their menu is adapted daily to ensure all ingredients are fresh and in season, and there are usually 8-12 dishes available written up on a large blackboard on the wall. Anchan has some really unique dishes that you won't find anywhere else, including tofu in a tamarind sauce. They also offer smoothies and herbal health drinks that are sure to make your holiday healthier!
Lastly, if you want to learn more about organic Thai food, we highly recommend this amazing Thai cooking class in an organic farm!
Address: Nimmanhaemin Road, Soi opposite Soi 13 – Tel: +66 83 581 1689
2. Midnight Fried Chicken – A Must-try street food
Your best bet for street food – Midnight Fried Chicken
A hard to find streetside restaurant that opens at 11 pm and closes at 5 am. Midnight chicken is popular with Thais and serves up amazing fried chicken and sticky rice as well as spicy pork and fried intestines. Great for a late night snack if you can find it!
Address: Kamphaengdin Rd, near the Night Bazaar
3. Mix – A Memorable Dining Experience
Take part to a memorable dining experience at Mix
At the end of Nimmanhaemin soi 1, is one of the most highly rated restaurants in Thailand. Having won many awards for its food, the Chiang Mai branch is the original restaurant and possibly the best. The food here is hands down amazing and the cocktails are out of this world!
Address: Nimmanhaemin Soi 1 – Tel: 0815312061
4. The Swan – Tasty Burmese dishes
A restaurant that won't disappoint you: The Swan
The swan offers a variety of Burmese dishes and a chance to try some of Myanmar's traditional cuisine, especially if Myanmar isn't on your travel route. Recommended dishes are the Hunglay curry and Burmese tea leaf salad.
Address: 48 Chaiyapoom road – Tel: +66 82 893 6670
5. Free Bird Cafe – Great food for a great cause
Freebird Cafe in Chiang Mai – check it out!
Free Bird cafe is part of an NGO that supports Shan and other Burmese minorities gain work experience and an education. All profits from the cafe go into supporting the non profit side of Free Bird, which focuses on outreach and education. Not only will you feel good about eating here but the food is also amazing which will be sure to keep you coming back for more!
116 Maneenoparat road, Chiang Mai  – Tel: +66 81 028 5383
6. Khao Soi – Chiang Mai's iconic dish 
Do not miss to taste Khao Soi while in Chiang Mai
Khao Soi is Chiang Mai's most famous dish. A delicious mix of egg noodles, a spicy, rich soup, onion, pickled cabbage and chicken, topped with crispy fried noodles. You haven't eaten in Chiang Mai unless you've tried khao soi. While many restaurants offer this dish, the best places specialise only in khao soi. Behind the Three Kings Monument in the centre of the old city is one such place, simply decorated and serving up 3 different variations of khao soi. The restaurant has no name but has a sign saying 'Khao Soi'. They mean business!
Address: Behind the Three Kings Monument, Old city, Chiang Mai
7. Dukes – For a hearty burger
Try out Dukes for a good pizza & burger!
If you have a craving for big portions of American favourites then head on over to Dukes. Being one of the favourite indulgent spots for expat and locals means that Dukes has expanded all across town so there is always one nearby! The must try dishes are their American style pizzas, ribs and burgers, to be followed up by a big slice of New York style cheesecake.
Address:49/4-5 Chiangmai-Lamphun Road – Tel: +6653 – 249231
8. David's Kitchen – No 1 on Trip Advisor
David's Kitchen – A must for every travellers!
Everyone who visits David's Kitchen is blown away by the amazing food and mouthwatering desserts.While the restaurant has been around for a few years it has become popular through word of mouth and it's steady rise to number 1 on Trip Advisor. David's Kitchen used to be located far out of town but more recently moved close to the bus station and now boasts a large garden, it is indeed the perfect place for aromantic dinner in Chiang Mai. David's Kitchen isn't cheap but if you feel like splurging then it's well worth it!
Address: 113 Bumrungrad Road – Tel: +66 91 068 1744
9. The Hideout – Chiang Mai's Best Sandwiches
Check out Chiang Mai best sandwiches at The Hideout
Tucked away on a small soi just outside the old city's moat lies the Hideout. Hard to find, this small restaurant specialises in sandwiches with recipes from all over the world and amazing bagels.  From Greek, to Thai or American, there is a filling to suit your desire. Their drinks menu is equally impressive with fresh fruit smoothies and strong coffee to start any day right. There is also an outdoor area to relax in the afternoon sun. 
You'll notice while in Chiang Mai that the city has plenty of amazing coffee shops. Discover here our Chiang Mai's Top 10 Coffee Shops.
Address: 95/10 Soi Sithiwongse,  Si Phum area , Chiang Mai – Tel: +66 81 960 3889
10. Dash Restaurant and Bar – Good food and good wine
Tucked down a small alley inside Chiang Mai's old city is a magnificent teak Thai style house – Dash Restaurant. Dash has some of the tastiest Thai food in town, such as shrimp wrapped in bacon, but it also offers some international alternatives. As well as an impressive accompanying bar offering cocktails and fine wines, there is sometimes a live band offering good music to accompany your meal.
Try some great food in a great country!