THE NOMADIC LIFE
Colombo Beach Hostel is the perfect place to stay on your journey through Sri Lanka and its glorious natural wonders. Tucked away down a peaceful residential beach-side road near to central Colombo, it offers a perfect blend of bustling city charm alongside ocean tranquility. This is a great hub for those wishing to explore the city, beach and stop over from the airport to their next destination.
They have great facilities including a relaxing common room, fully stocked kitchen and my personal favourite – the roof top garden where you can chill out and relax after a day of exploring. You will find lots of like minded people here and its the perfect setting for making new friends.

If you find yourself in Colombo then I would highly recommend booking a few nights here at Colombo Beach Hostel.
Highlights
The awesome rooftop garden
Excellent central location to everything
Super friendly and helpful staff
Strong Wi-Fi in all areas
Great place to stop over for airport transfers
8 Bed Dorm Room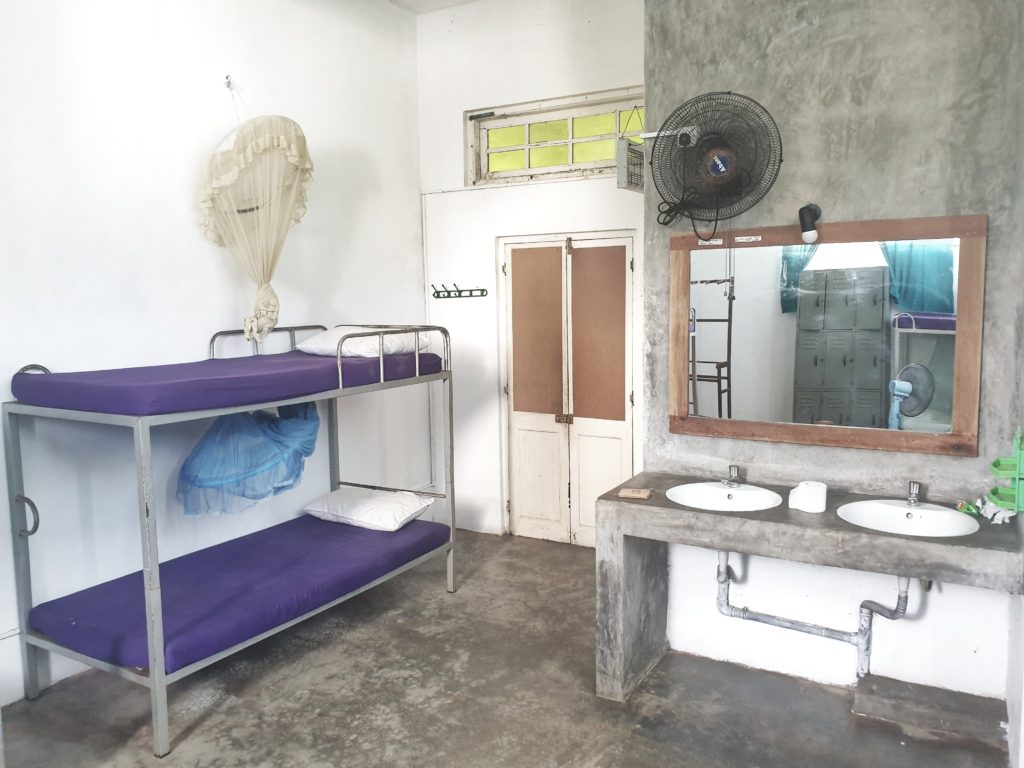 During our stay at Colombo Beach Hostel we opted for the 8 Bed Dorm Room which we actually had all to ourselves so we had some privacy and our own space and it was perfect for our needs. The room was clean, comfortable, spacious and provided a very relaxed night sleep which we desperately needed after a long flight to Sri Lanka.

Furnished with a 8 bunkbeds, fluffy pillows, linens, ample storage for our belongings, lockers, mosquito nets, two sinks and a private bathroom this was great value for money.

What you get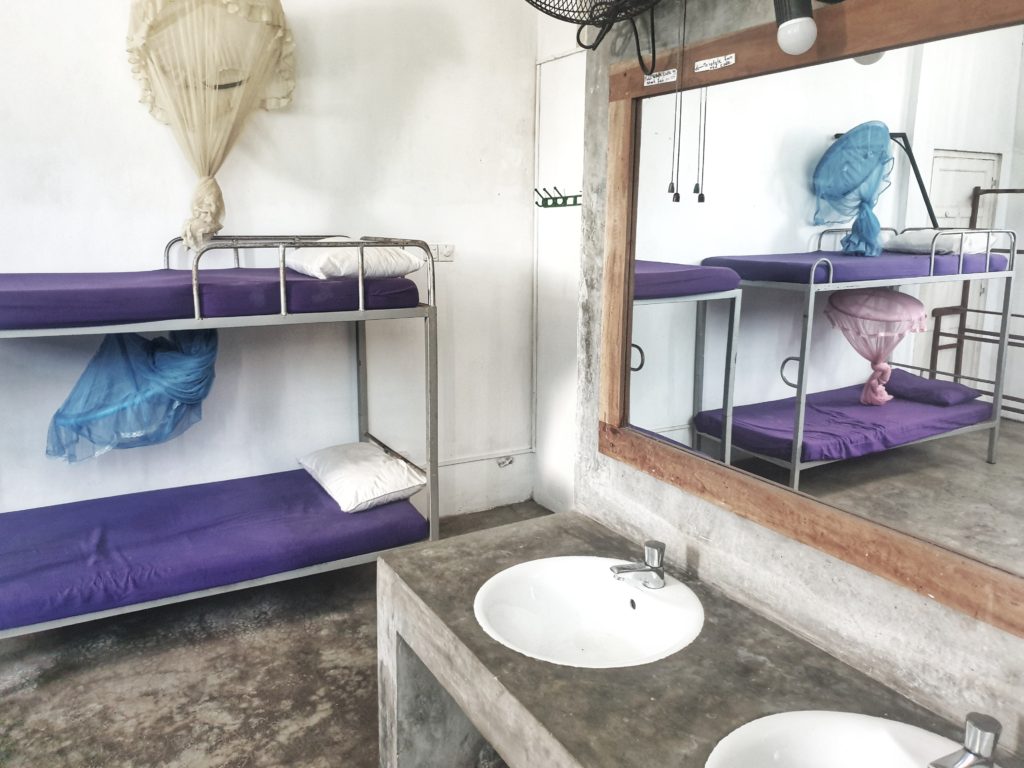 The room comes equipped with 2 fans, mosquito netting on each bed, free Wi-Fi, filtered water and security lockers.

For more room and accomodation click here.
Activities
The Roof Top Garden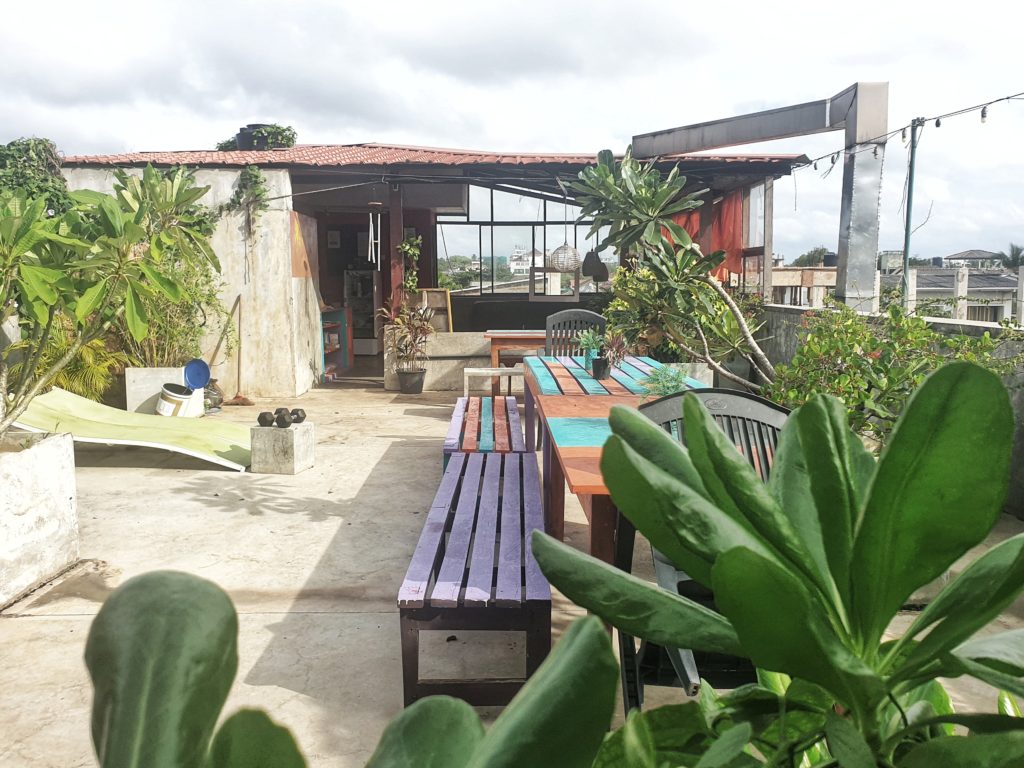 This is a pretty epic place to just hang out, watch the sun go down, have a couple of drinks, meet new people and generally just unwind after a long day of exploring the city and surrounding areas.

Mount Lavinia Beach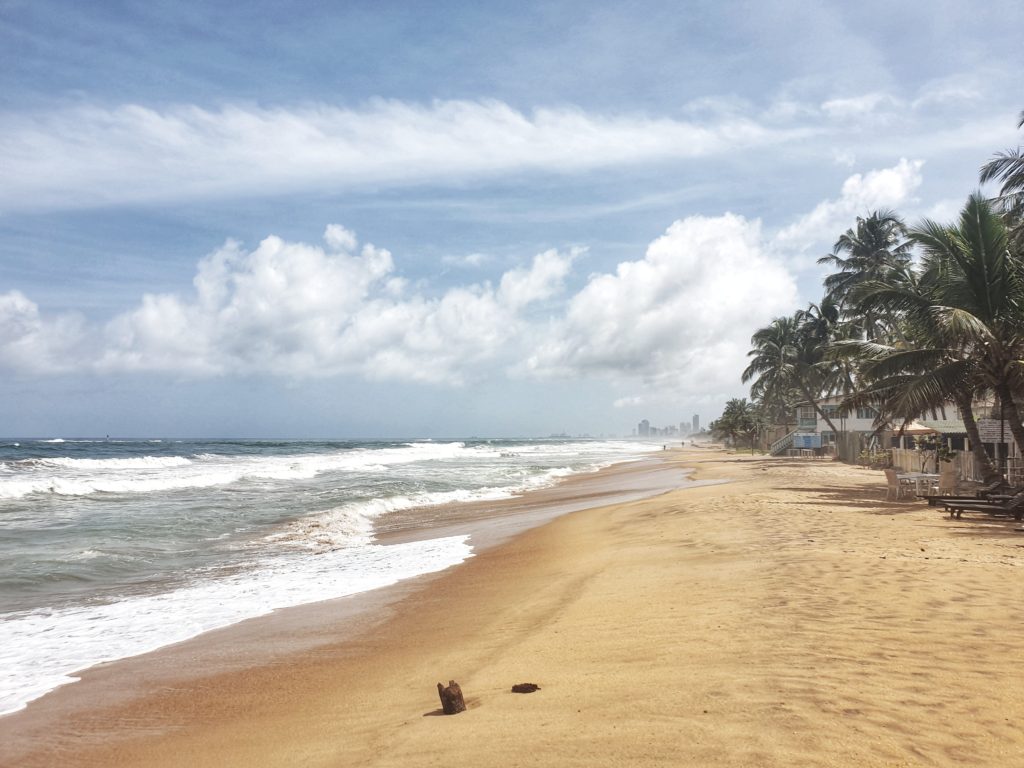 Fancy a bit of sand and ocean to help you relax and get away from the hustle and bustle of the main city? Then this beach is only a short walk away from the hostel and is ideal for a decent beach day.

Visit the National Museum

The beautiful building that houses the National Museum, was built in 1876 and founded by the British governor of Sri Lanka at the time. It is the largest museum in Sri Lanka. Surrounding this amazing building is a lovely and peaceful green park. You will find a lot of art, carvings, swords, guns, masks, and statues from Sri Lanka's ancient past as well as the colonial period. It is a really nice museum!

Gangaramaya Temple

The Buddhist temple Gangaramaya (Vihara) consists of several buildings and is a bustling temple complex filled with an enormous amount of things. Some of which are frankly pretty strange and a little scary. It includes, for instance, a library, a museum and a display hall of gifts received from devotees and well-wishers over the years.

Beira Lake

Close to the Gangaramaya Temple, in the heart of Colombo, is a huge lake – Beira Lake. The lake has crazy green colored water due to its pollution. In the middle of the lake is a small island containing the Simamalaka Shrine, which was built from donations made of a Muslim sponsor. The lake connects with other lakes through narrow canals and ends up in the Indian sea.

Wandering The Streets Of Pettah

Pettah, Colombo 11, is one of the oldest districts of Colombo and walking around in this area is a real adventure full of sound, smells, and people watching. Plunge into the madness of shops, stalls, and markets. In between, you also see some religious buildings like mosques and churches.

Temple of Sri Kailawasanathan Swami Devasthanam Kovil

Also called Captain's Garden Kovil, this is Colombo´s oldest Hindu Temple. The South-Indian inspired architecture of this temple, as well as the beautiful and bright paintings, and detailed artwork, especially in the ceiling, is impressive. They were building some new structures when we visited, so the temple is still expanding.
How to get there
Located 500 m from the Mount Lavinia Beach its fairly easy to get to.

Bus – Cost approx Rs 200 per person
Bus Directions – Take bus (#187) from airport to Colombo Fort, from Colombo Fort get the Mount lavinia bus (route 100/101- GALLE ROAD)- once in the bus, please ask to be dropped off at HOTEL ROAD JUNCTION, from there its a 5 minute walk….. on HOTEL ROAD the 2nd road to your right is BARNES AVENUE… come to the very end and they are right opposite the road.
Taxi

If your mobile device has Uber or PickMe (Taxi apps) you could get a pick up arranged for apx SLR 2200. I suggest you install the app as its worth it while being in Sri Lanka.
Directions – Go to HOTEL ROAD, Mount Lavinia, on this the second road to your right is BARNES AVENUE, come to the very end and you fall on to DE SARAM ROAD and they are just opposite it
Airport Pick Up
This is with a trusted partner at the airport. Cost SL Rs 3000 for a car (up to 3 people) and SL Rs 3600 for a van (up to 6 people), but you need to give us a heads up, if more than 3 people as they would need a van, and would need time to arrange)- At airport lobby, the 3rd Counter on your right is "ayubowan", please go there and mention hostel name, and they will arrange drop for the price mentioned (excluding Highway charges)
Directions – Generally the taxi guy knows directions…., but if not go to HOTEL ROAD, Mount Lavinia, on this the second road to your right is BARNES AVENUE, come to the very end and you fall on to DE SARAM ROAD and they are just opposite it.
Prices
The prices will vary depending on what time of year you stay – to check out the pricing click here.
We stayed in June 2019 and for our 8 bed dorm room it would cost 1,782 LKR (£8) per night.
Extras

WiFi is available in public areas and is free of charge
Free private parking is available on site (reservation is needed)
Airport shuttle (additional charge)
Baggage storage
24-hour front desk
Laundry & dry cleaning (additional charge)
Summary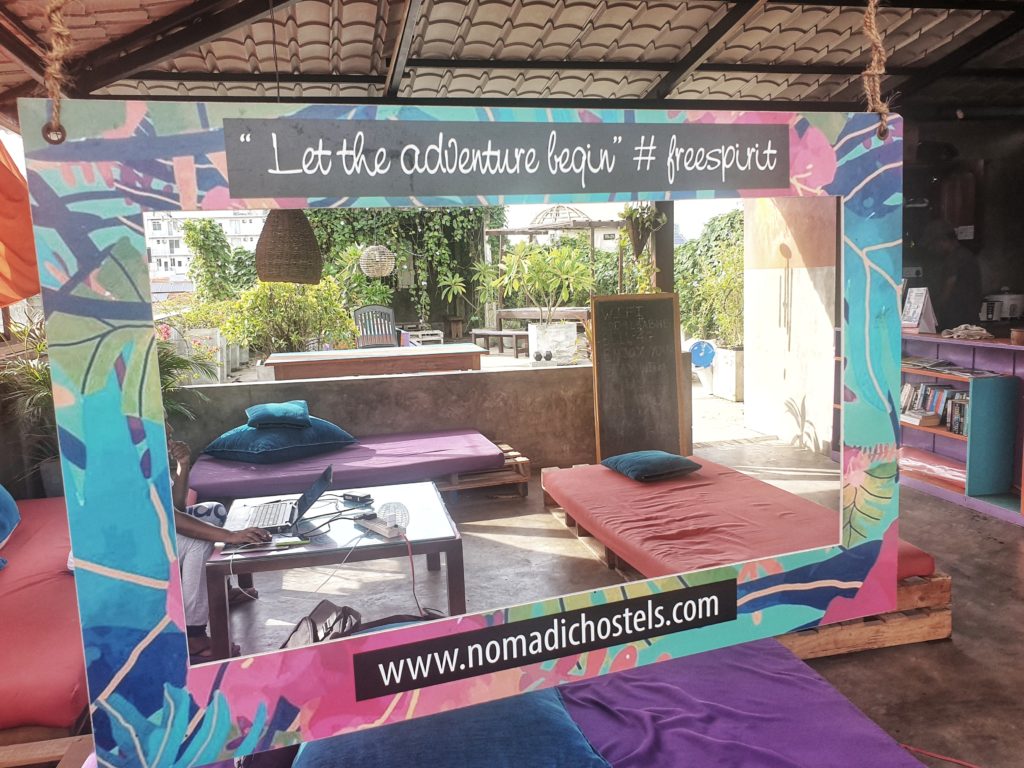 This awesome hostel is absolutely perfect, peaceful, and the best place to stay and relax while in Colombo. I am so glad that we chose to stay here for one night while we transitioned between the airport and Sigiriya.

The room was fantastic, we had a super comfortable nights sleep and really enjoyed being so close to city and the beach. The staff are so friendly, they can honestly not do enough for you to make your stay that little bit more comfortable than what it already is.
You will want to spend longer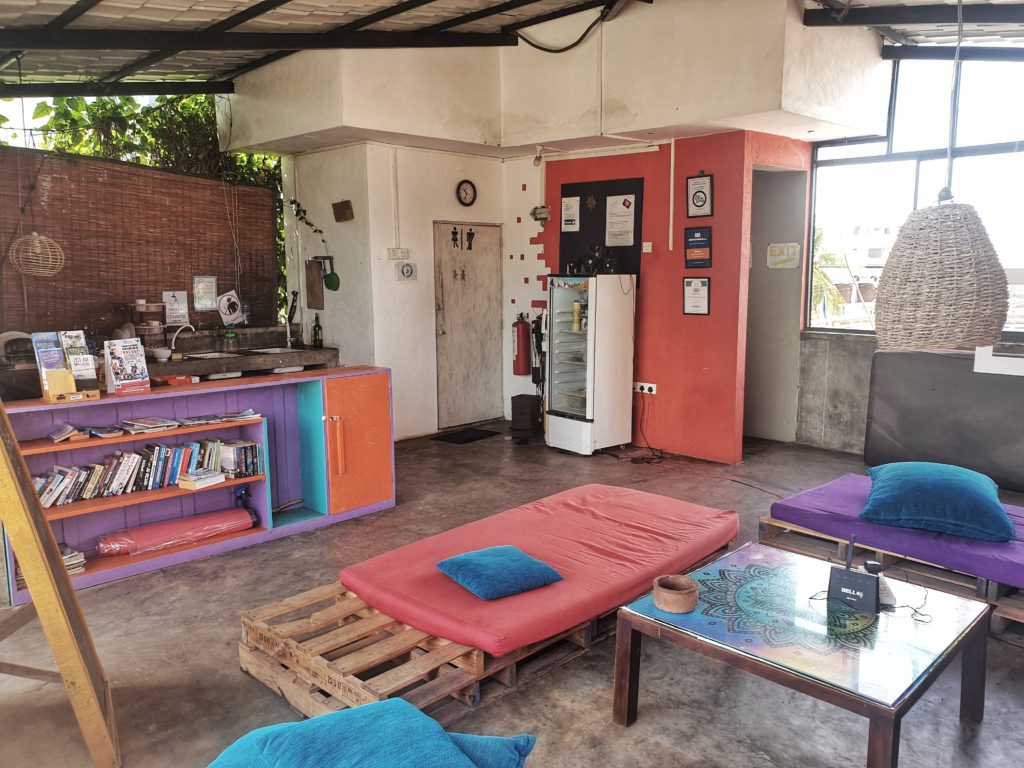 The hostel is quite sleepy but it is a great place to meet people, share stories, tips and other adventures while you are there. When you throw in the close proximity to the temples, other large cities like Galle and all of the other attractions you are onto a winner!
If you are in Colombo, Sri Lanka, and you want to have a great place to stay then I would highly recommend Colombo Beach Hostel.
***Thank you to Colombo Beach Hostel for kindly sponsoring this post. All opinions are 100% honest & completely my own.