A BEAUTIFUL RELAXING BOUTIQUE RESORT
⇷☓⇸
The Funny Lion is one of Coron's finest contemporary boutique resorts. It maintains a super sleek, modern and stylish look whilst having a vibrant and energetic vibe that appeals to all ages. One of its finest features is its breath taking infinity pool which looks out onto a tranquil cove with virgin mangroves and kayak trails, and features modern amenities, stunning sunset views, and a distinct rustic-chic charm.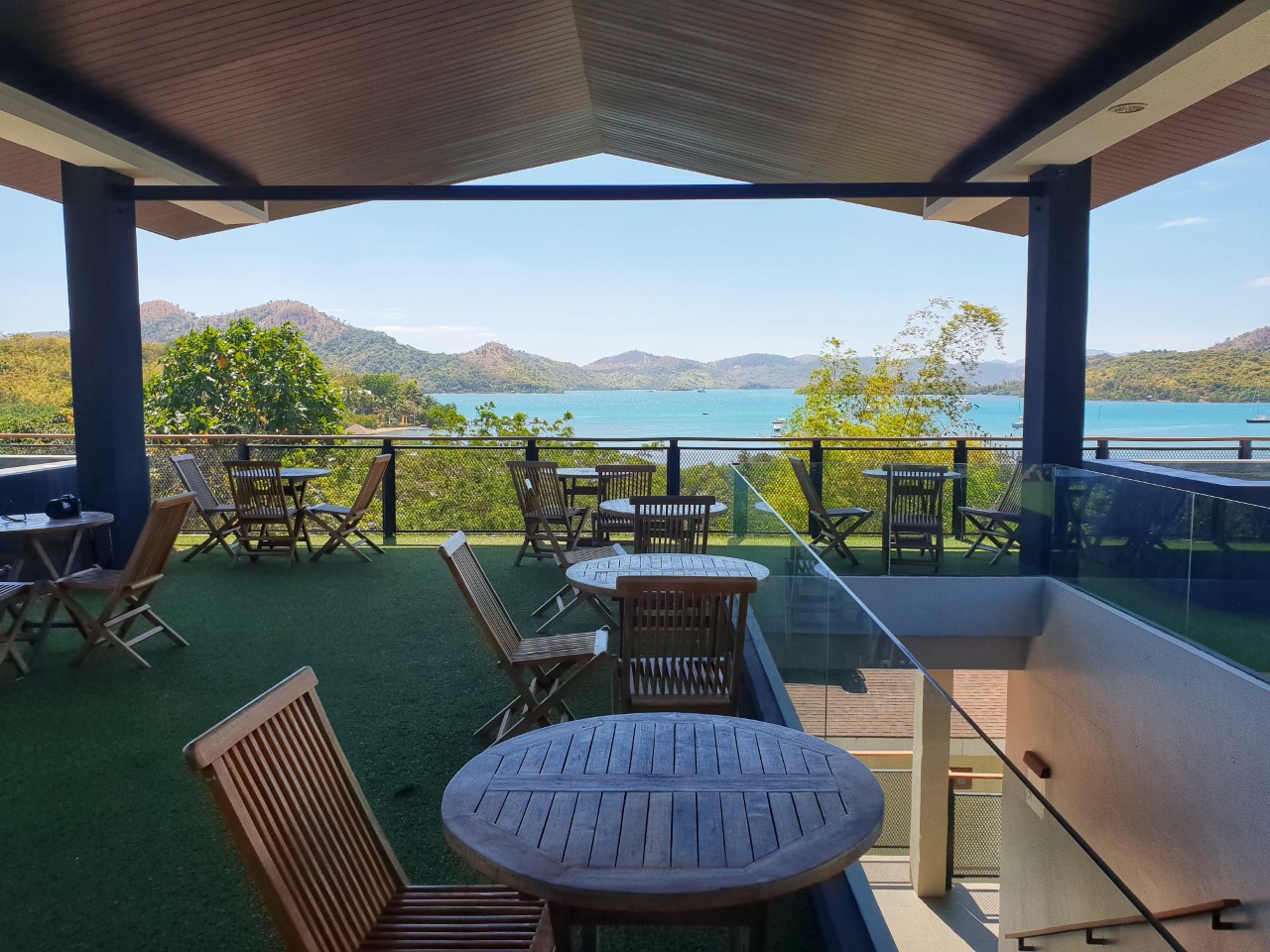 The resort's name was inspired by Calauit Safari in the northern part of Coron. The safari is home to giraffes and zebras imported from Africa during the Marcos era. The owner's son thought it was funny that there weren't any lions. So they decided to name their resort 'Funny Lion' to complete the collection of African animals in Coron.
If you find yourself exploring one of the most spectacular island destinations in the Philippines then I would highly recommend booking yourself a few nights stay here for an utterly unique experience.
Highlights
Its draw dropping exotic & relaxing infinity pool
High quality food and restaurant
Modern and unique accomodations
A large jacuzzi hot tub
Beautiful surroundings begging to be explored
The King Room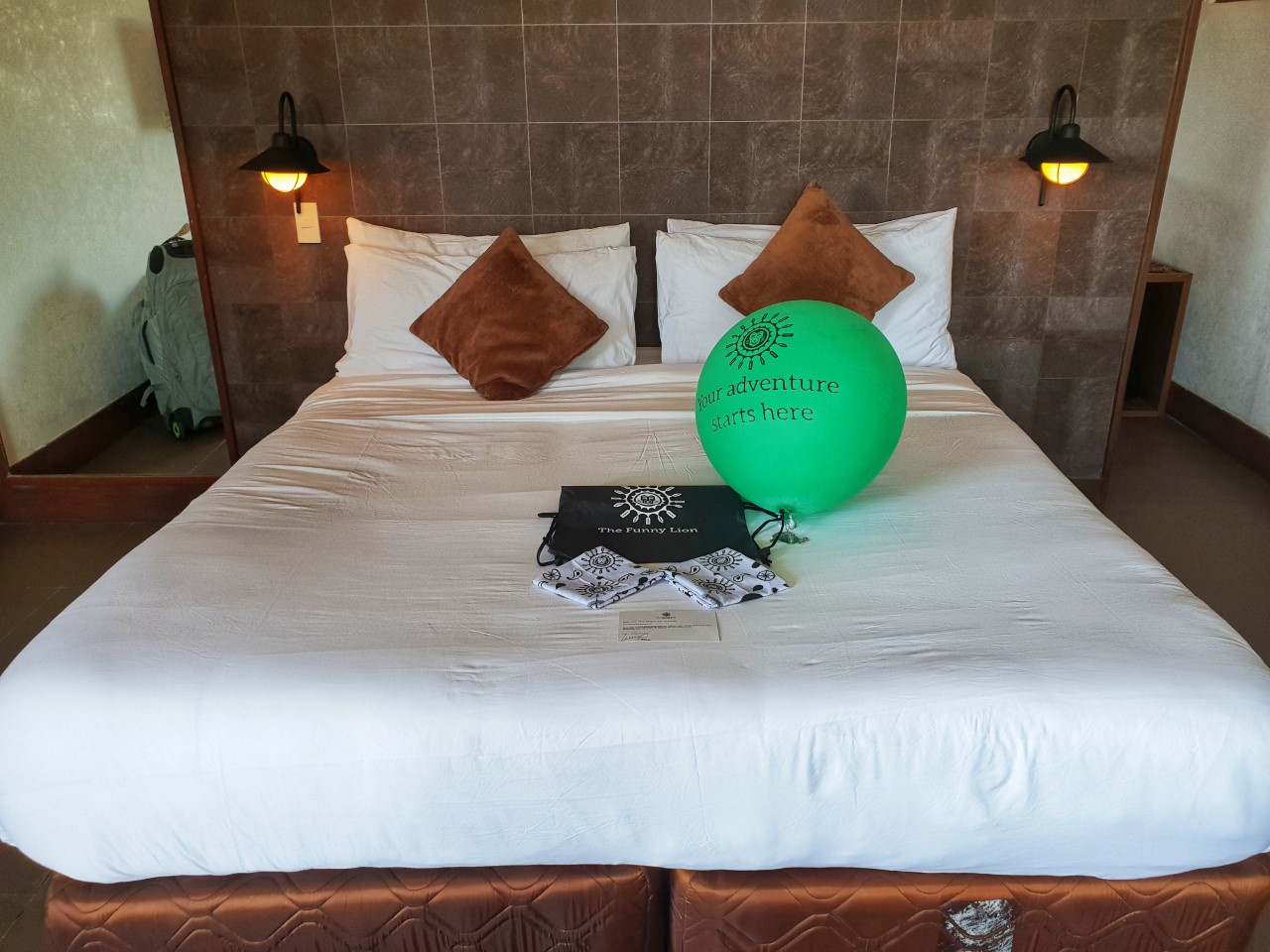 During our stay at The Funny Lion we opted for the King Room which certainly did not disappoint. It is perfect for couples as it is pretty large (25 sqm) with a king size bed, and its own ensuite.
The room is very clean and modern with a minimalistic touch making the room seem a lot larger than it appears. Along with the king size bed there is also a cable/LED TV, a writing desk with lamp and accessories, coffee & tea making facilities, in-room safety deposit box, air conditioning and a refrigerator. Its perfect for relaxing in after a long hard of sunbathing by the pool and getting ready for an evening of delicious food, drinks and beautiful sunsets.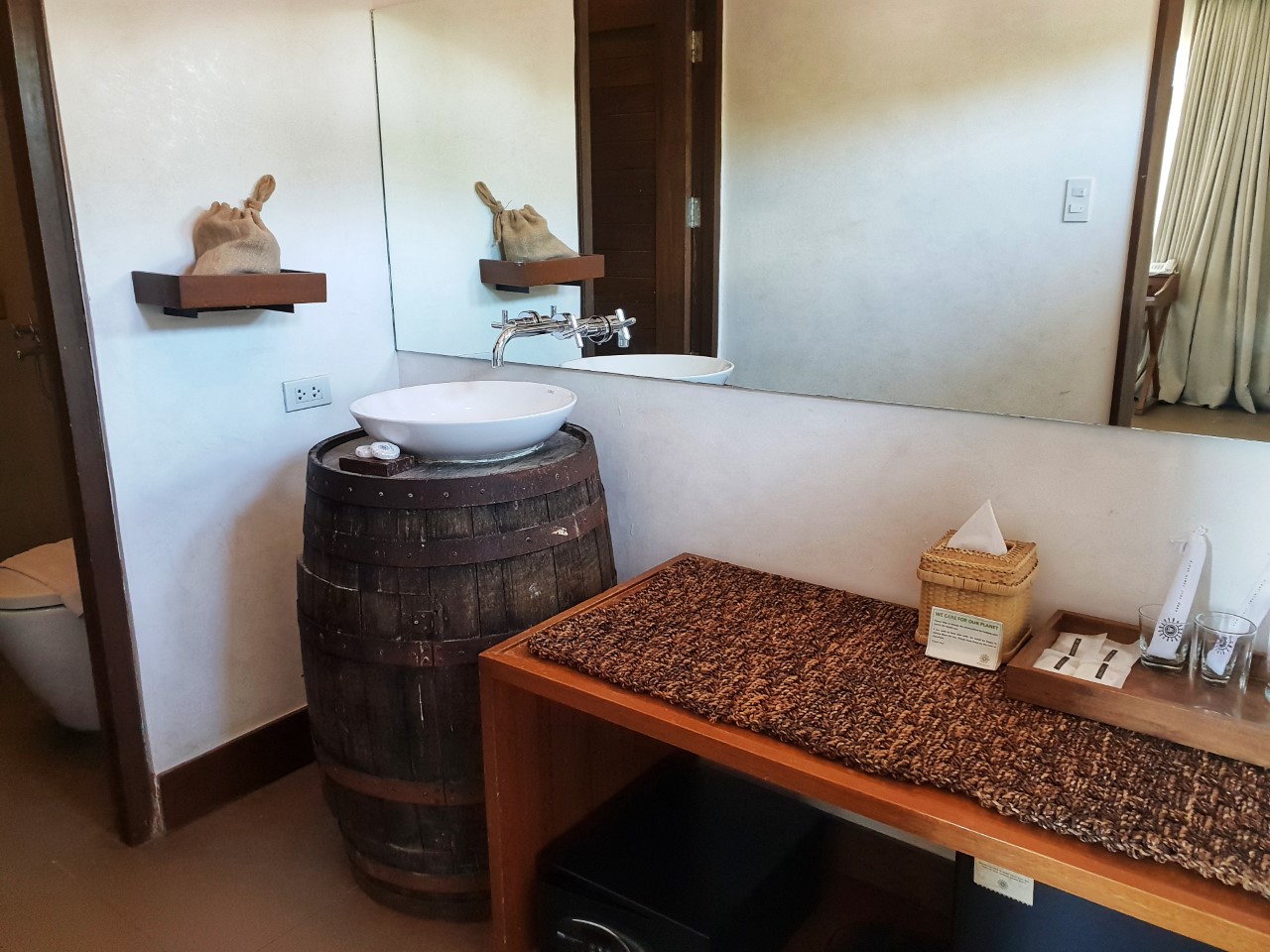 One of my favourite surprises from One-of Collection's resorts are the little complimentary snacks that they leave in the room. The resort's adventure pack includes a travel backpack and bandanas, metal water bottles, milk sweets and complimentary coffee packs.
The rooms also come with a dog tag for your keys and a little charm (easy to put around your neck and lose it) to take home.
The Funny Lion also offer other accomodation such as The Cub Room & The Pride Room which can be found here.
Activities
Infinity Pool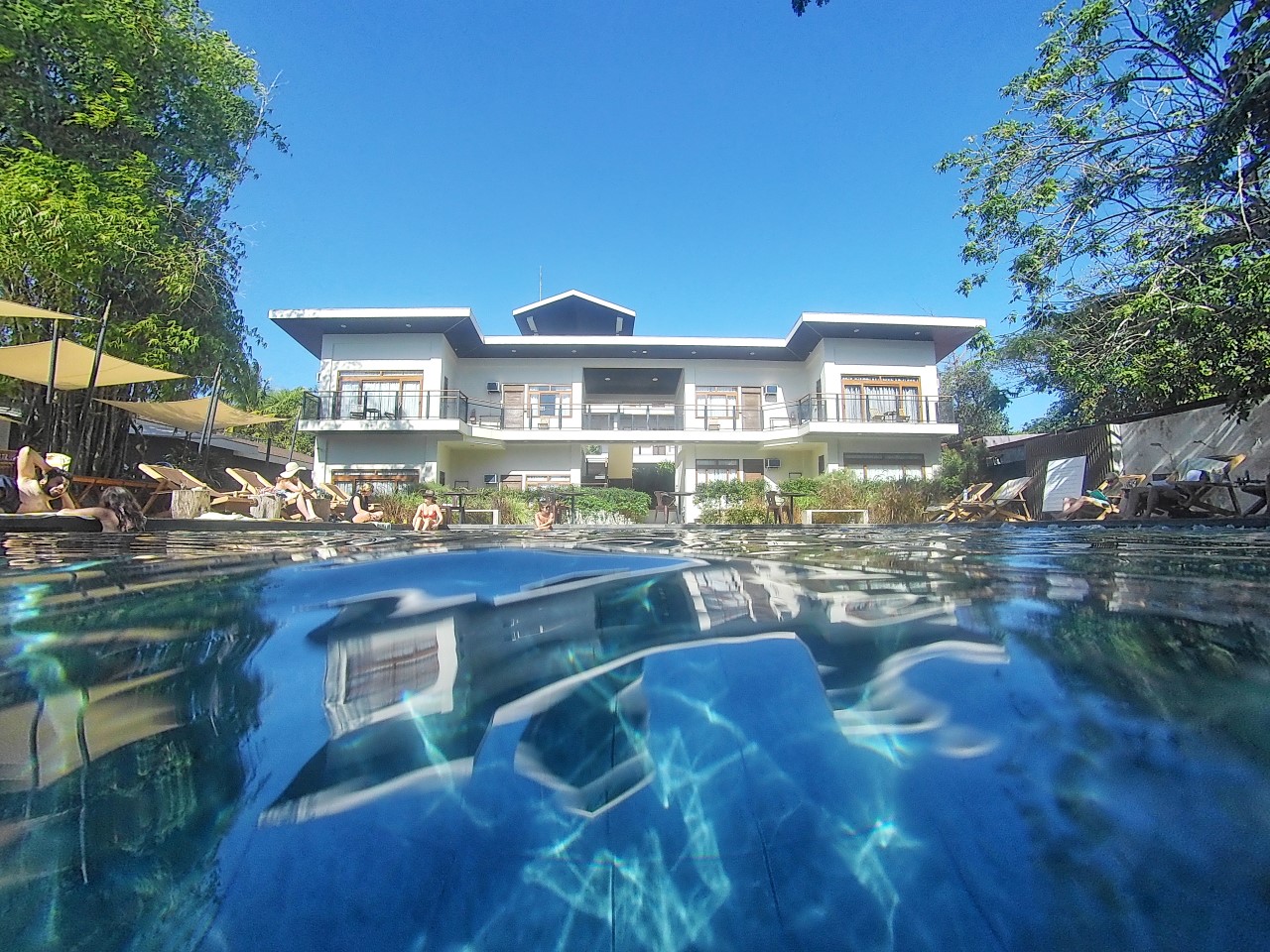 What better way to spend your day than relaxing in the beautiful infinity pool overlooking the surrounding nature and cove of mangroves. There are plenty of sun loungers to top up your tan and enjoy your favourite book while enjoying the sunshine and if you want the ultimate relaxation experience then slide into the large jacuzzi hot tub.
I have to admit the blending of modern architecture with the islands nature creates the perfect peaceful setting, not to mention just taking a chilled out dip to feel more refreshed.
Pride Rock Roof Top Bar & Jacuzzi's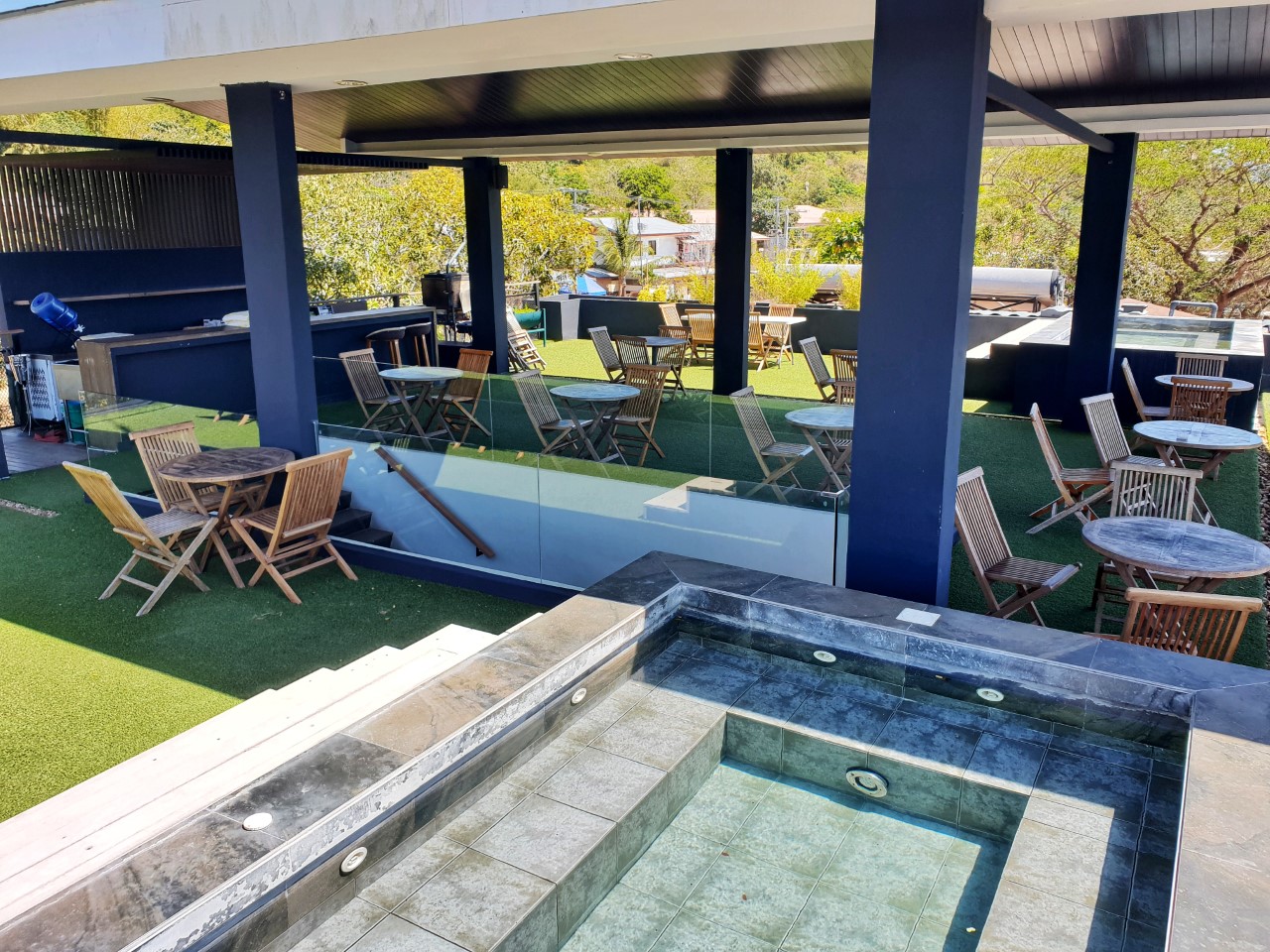 Not only do you have the lovely infinity pool but there is also Pride Rock which sits high atop the resort overlooking the incredible views of Coron, with deep blue ocean and rugged mountains pinpricking the horizon. There you can order small bar snacks, beers, cocktails and soft drinks and settle yourself in one of two jacuzzis in time to watch the vibrant and colourful sunset. Perfection!
Restaurant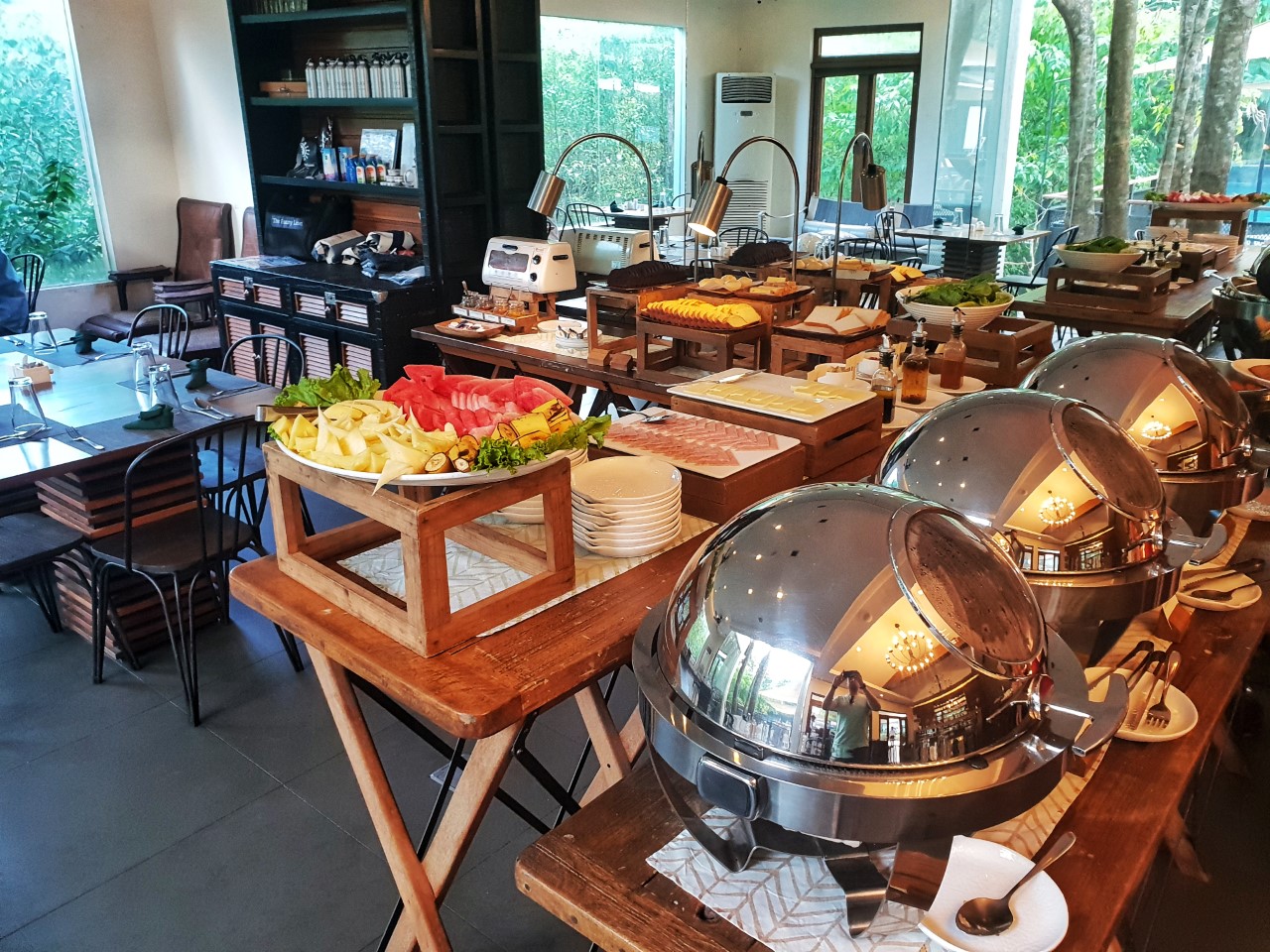 The Hunt Restaurant is the best place on the island to excite your culinary tastes with some delightful Asian fusion dishes which include many fresh seafood options. Take a seat amongst its hardwood and antique furniture that provides an old world charm. Every Saturday night they throw a grill buffet which is extremely popular and utterly delicious and wash it down with a cocktail safari with The Funny Lion's signature drinks.
I recommend trying the lamayo, a favorite breakfast staple that can be found in almost any hotel in Palawan. It's like danggit but not as dry. Best eaten with the local vinegar and garlic rice.
Exploring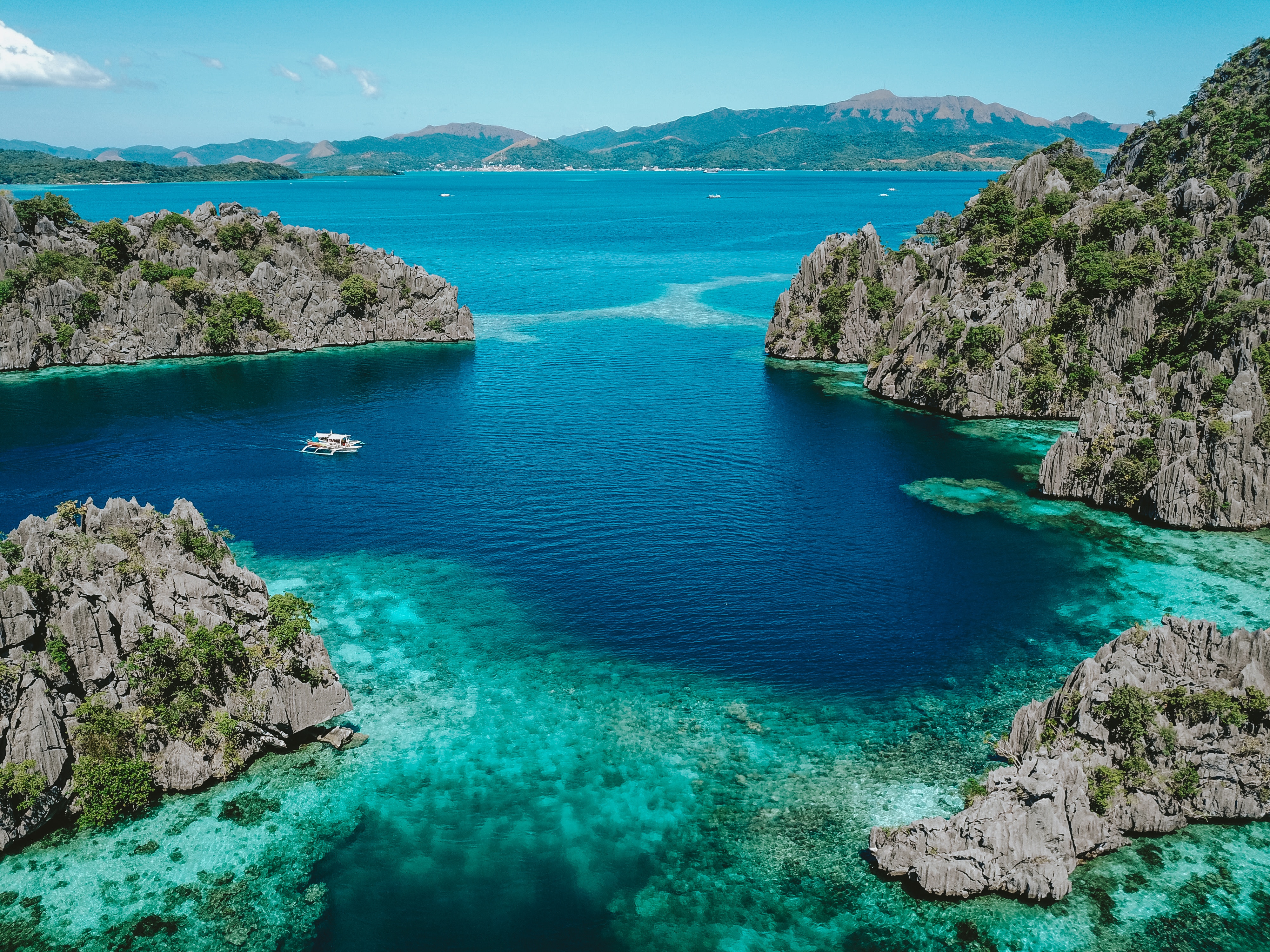 Having been blessed with precious beaches, limestone cliffs, freshwater lakes, and spectacular diving spots filled with WWII sunken warships, Coron offers unparalleled experiences and picturesque scenery! It's no wonder Travel+Leisure declared Coron part of the world's best islands.
Try the unique coffee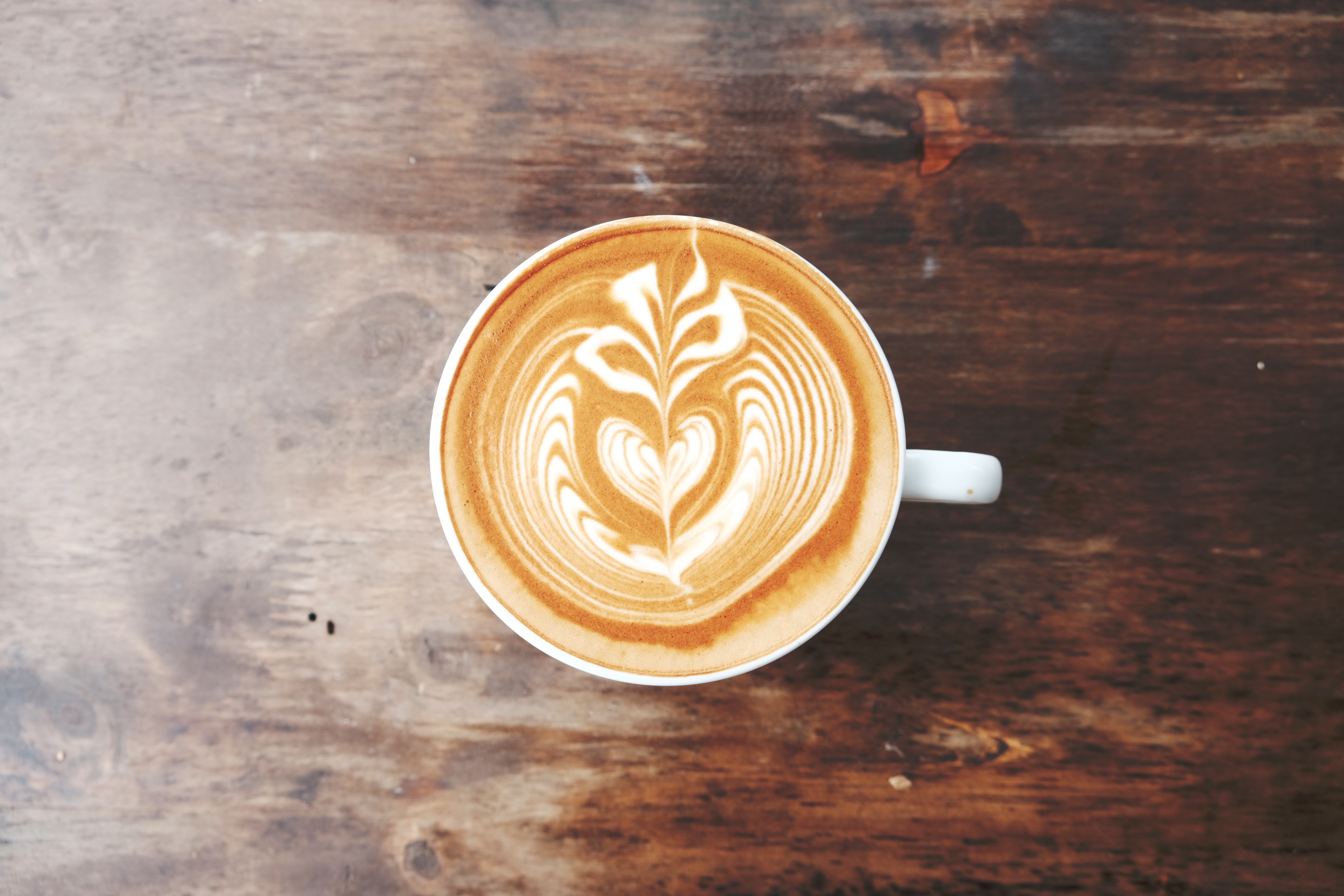 I highly recommend trying the Tagbanua coffee. Funny lion is the only resort serving the locally brewed coffee roasted by the indigenous Tagbanua tribe. The coffee is more on the bitter side but goes perfectly well with their creamy and fresh cashew milk.
Also try the hot chocolate commonly known as Batirol. They prepare it the traditional way using a batirol (wooden stirrer) and tsokolatera (container) to produce that thick dark cocoa drink.
How to get there
At the airport/seaport, look for the personnel with The Funny Lion placard. The van ride from the airport only takes 30 minutes, but its still best to arrange with the hotel in advance. The transfers are usually part of the package.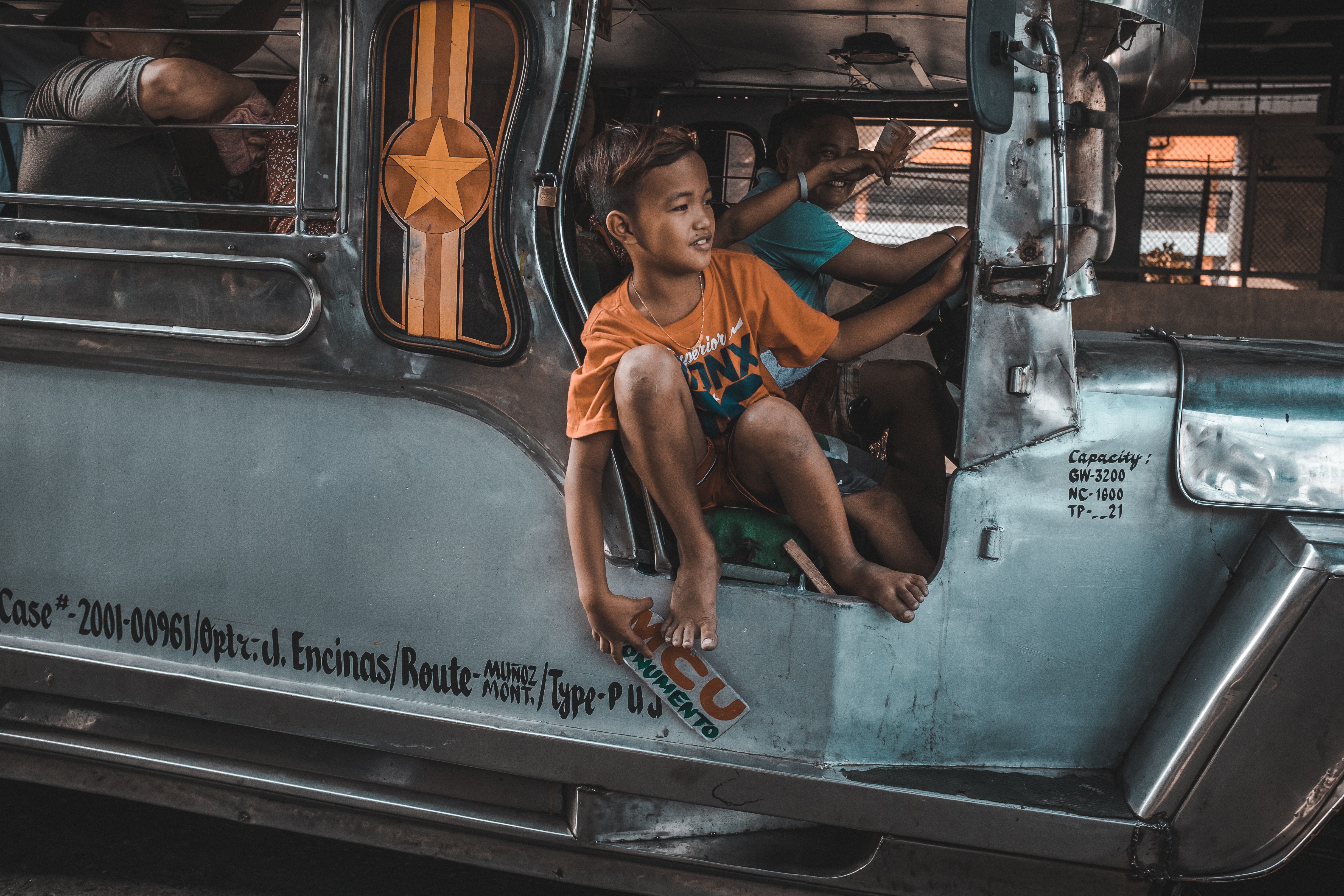 THE FUNNY LION
Sitio Jolo, Poblacion V, Coron Palawan
Landline: 632 856 1443 | 553 9549
Mobile: 0917 861 9441
Facebook: thefunnylion
E-mail: [email protected]
Website: http://thefunnylion.com
Prices
They vary depending on what time of year you go and whether you stay in the Cub Room, King Room or Pride Room.
We stayed in February 2019 and for our Kings Room it would cost 11,000 PHP (£160) per night.
Extras
Free shuttle from the hotel to the airport
They provide tours around the island
The staff was very friendly and hospitable
Wide breakfast buffet spread
Toiletries in the bathroom
Complimentary welcome drinks
Summary
This place is absolutely fantastic and I am so glad that we chose to stay here for a few nights – its definitely worth it! The rooms are spectacular, with traditional but modern Filipino influences and amazing views right from our bed. The boutique itself is super welcoming and the staff are so friendly, they can honestly not do enough for you to make your stay that little bit more comfortable than what it already is.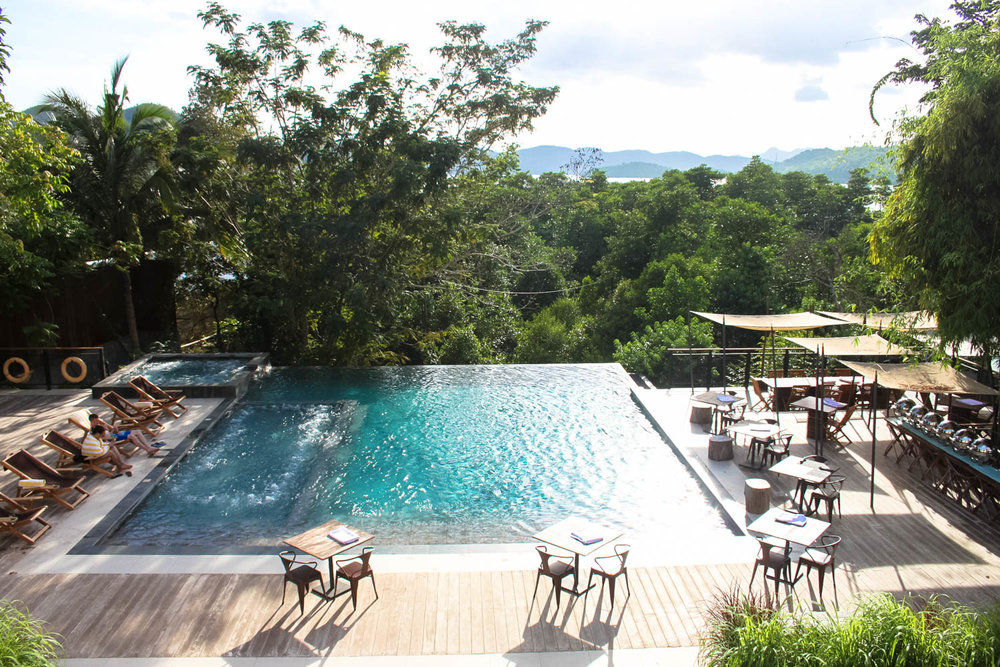 The infinity pool and jacuzzi are hands down the best part about The Funny Lion! The views are to die for and you can see why they pride themselves on it. They are an experience just by themselves. Then throw in the added activities and freshly brewed coffee and you are onto a winner!
If you are in the Philippines and you want to have a unique experience, I would highly recommend The Funny Lion!