MADEIRAS CENTRAL HOTSPOT
This fantastic hotel can be found in the heart of Madeira, and it is directly opposite the Cathedral of Funchal, which you can admire from their rooftop bar. Se Boutique Hotel is super conveniently located in a close proximity to the city's main tourist attractions, the ocean and shopping centre. It has a vibrant cosmopolitan feel and throughout the hotel it is decorated with retro art which blends nicely to create a homely and comfortable environment.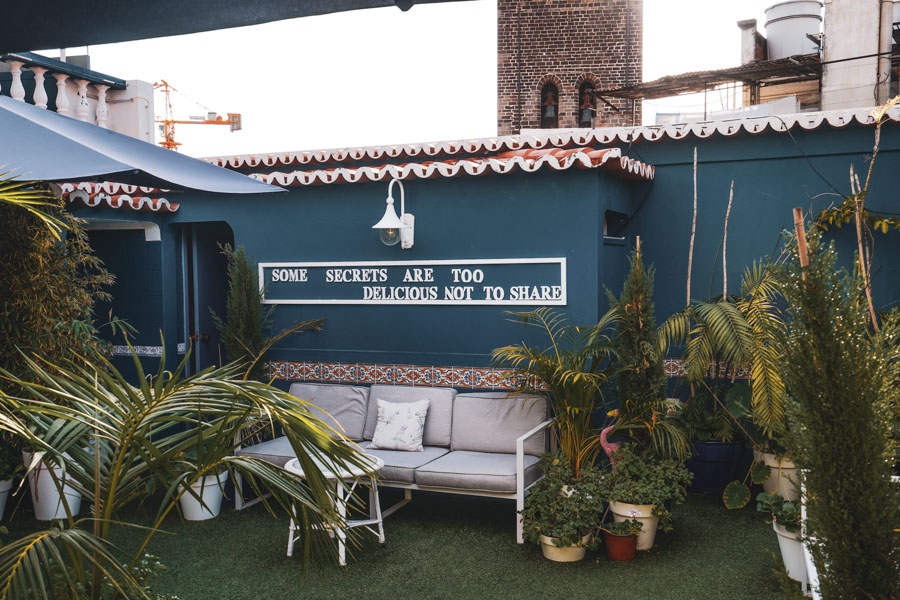 Se Boutique Hotel certainly has its own unique charm. From the outside it looks like a lovely city hotel with plenty of chairs and tables in the seating area where you can enjoy a nice cold drink or delicious coffee shaded away from the sun. However, once you walk through its doors you are immediately greeted by friendly staff and hit by the wow factor of their decor which has been inspired by the unique characteristics of the Sé Cathedral.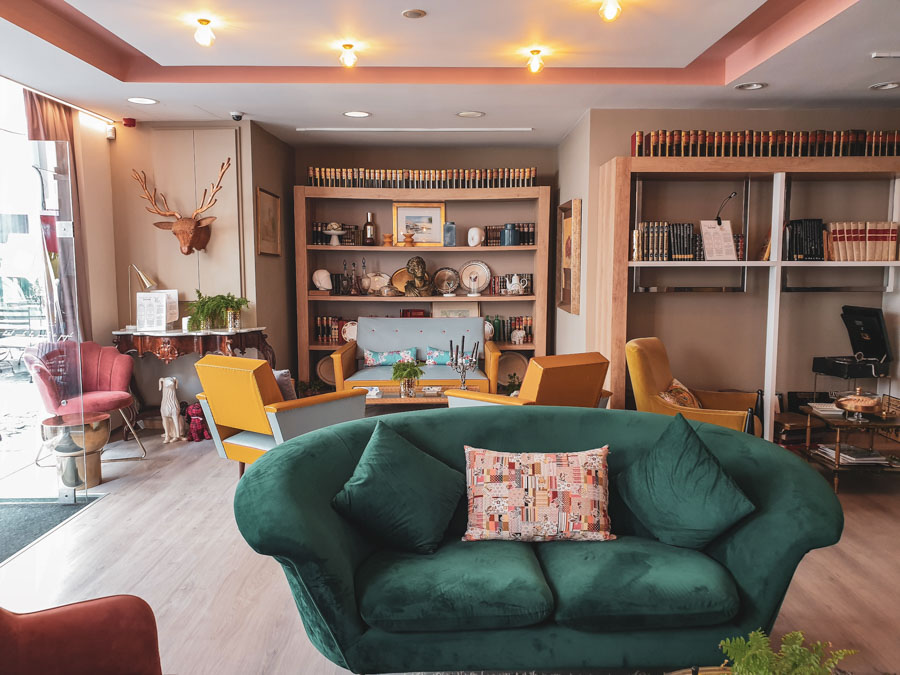 The atmosphere inside the hotel is cosy, friendly and stress free. It is the perfect place to explore this fascinating city, while being able to relax and unwind at the end of the day. The island of Madeira is certainly Portugals hidden gem and one which should definitely be explored.
If you are thinking of having a holiday in Madeira, then I would highly recommend booking a few nights at Se Boutique Hotel.
Highlights
Private pool and places to relax
Super friendly, welcoming and informative staff
Comfortable, modern and clean rooms
Incredible 360 degree rooftop views and bar
Great location to tourist attractions and shopping
Our Experience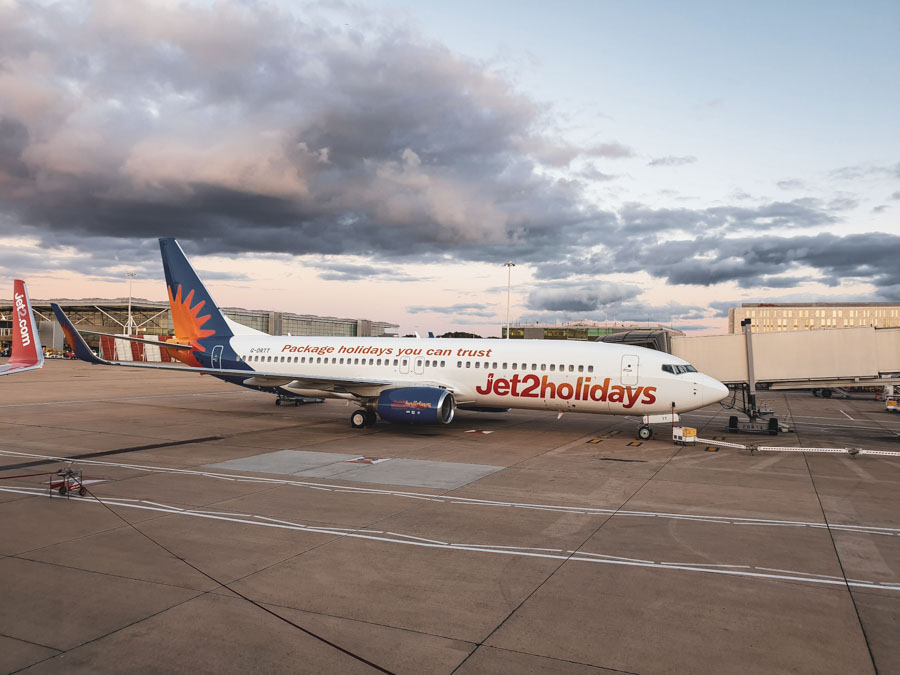 For our trip, we booked through Jet2.com and the process couldn't have been easier. Once booked, they provide you with all the information you need, including regulations and requirements around COVID-19 and what you need to do prepare. We flew from Stansted airport and it was super straight forward. The plane was incredibly modern, clean and comfortable with helpful staff.
The journey itself took four hours and there is no time difference between the UK and Portugal. On arrival we quickly located our bags and immediately located the Jet2.com staff who directed us to our minibus and we were soon whisked off to our hotel.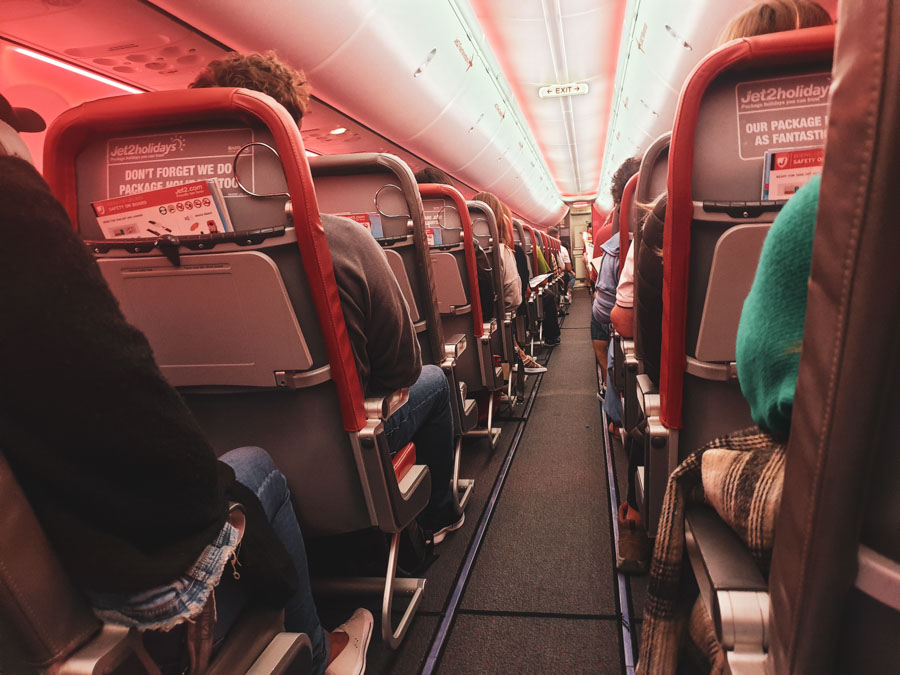 I honestly could not fault them, and it was such a lovely experience to not have to think or worry about the small details as everything was taken care of for us.
To book your flights click here
The Deluxe Room
During our stay at Se Boutique Hotel we opted to stay in their Deluxe Room which was perfect for our needs and provided a very comfortable night's sleep. With fantastic views, original artwork, aesthetically pleasing decor, spacious and comfortable furniture, we almost didn't want to leave to explore the rest of Funchal.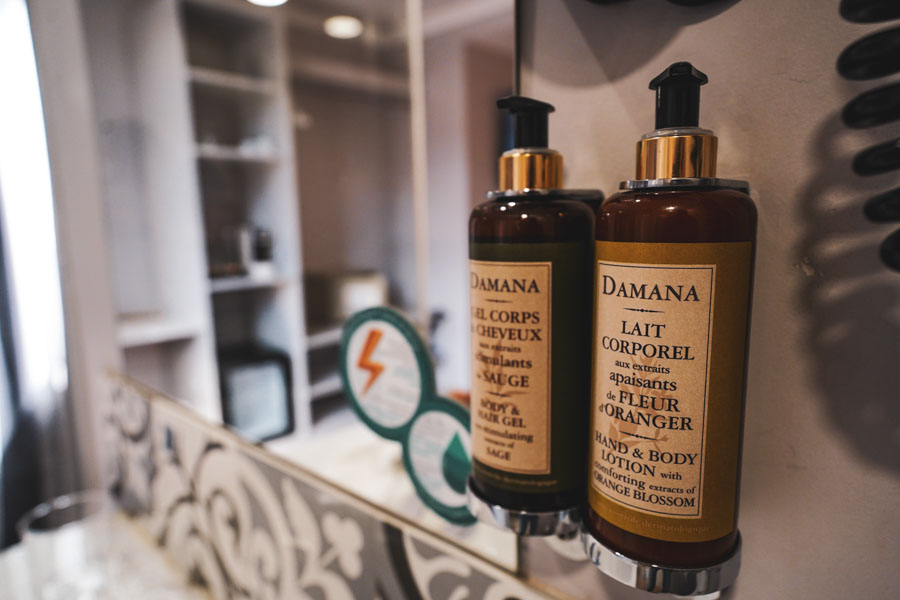 The room had everything we could possibly need including double bed, flat-screen television, free Wi-Fi, safety deposit box, bathrobes, slippers, hairdryer, coffee and tea making facilities, mini fridge, free toiletries, fluffy towels, air-conditioning, daily room cleaning, writing desk, plenty of plug sockets, clothes hangers and great views.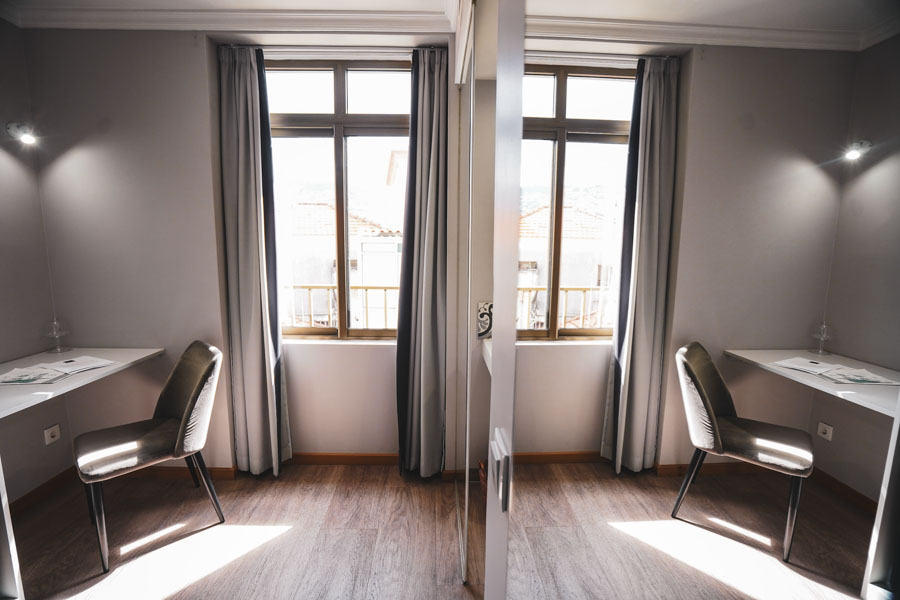 This room is perfect for couples or families looking for that perfect getaway. We often found ourselves relaxing like it was our own home and it is the ideal place to chill and recoup after a long day of exploring the city sights and attractions.
To view all their other rooms click here
Activities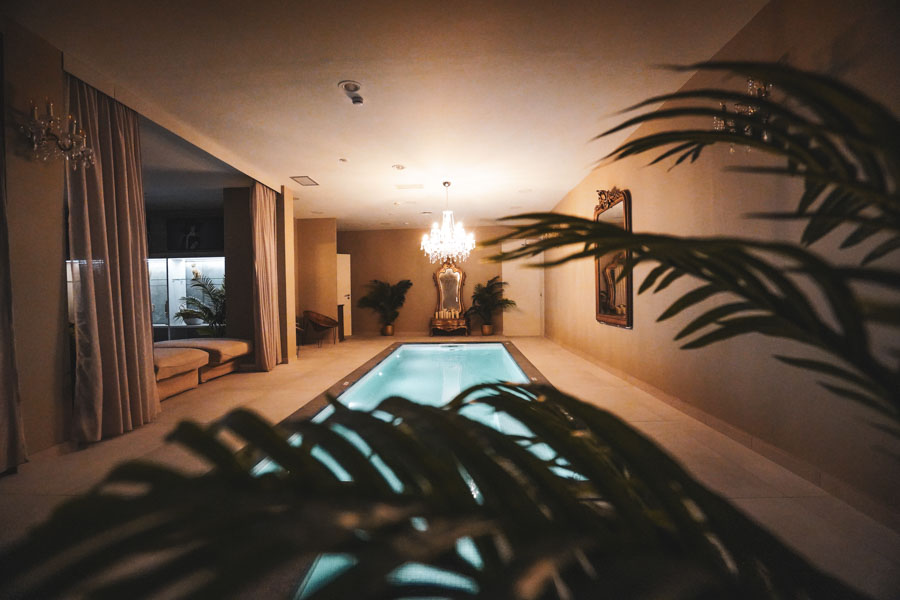 Located under the hotel, down a grand staircase which descends from the reception area you will find the stunning fresh water swimming pool area. The indoor pool is payable when using only the pool or guests will receive free access if booked with a massage or spa package.
It is a great way to cool off after a day of exploring the city and have a decent soak or swim – whichever takes your fancy.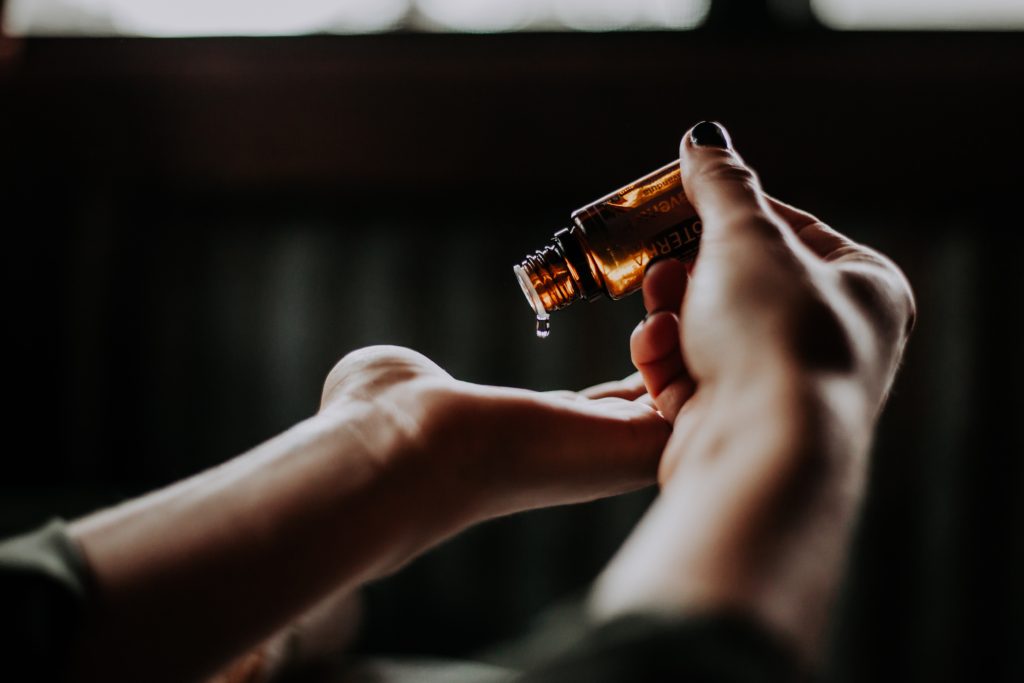 What better way to spend your holiday than with a relaxing pampering in their fully equipped spa. They have a number of options which you can pick from including pool & afternoon tea, pool & photoshoot, whole body massage, foot reflexology, holi-body Reki session, and candle massage.
To learn more about their packages click here
The Terrace Bar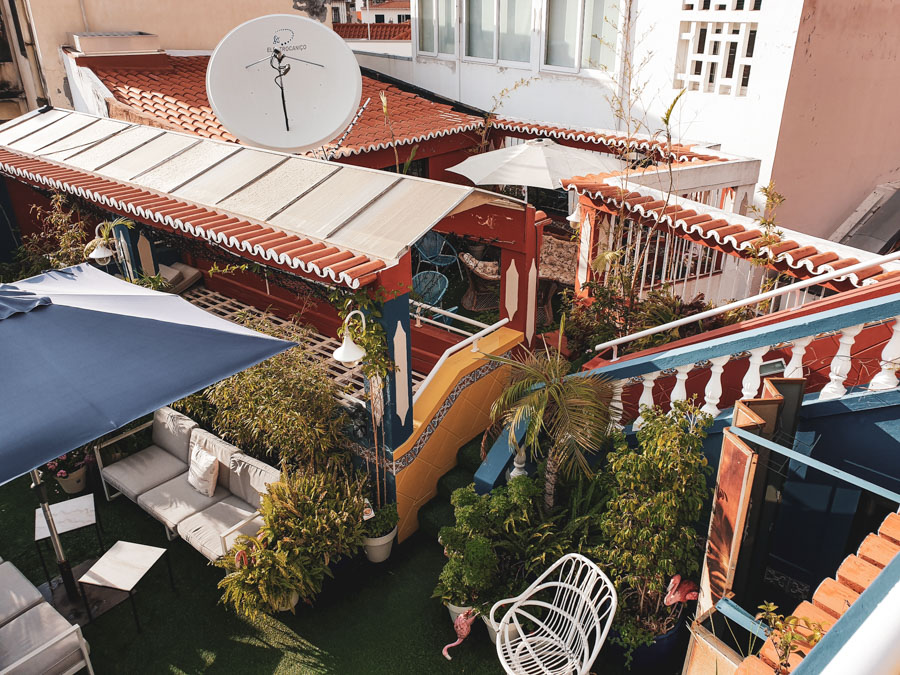 Also known as Bar Esplanade, the terrace bar is a fantastic addition to the hotel, providing a 360° view over the city of Funchal, where you can soak in the incredible views of the rugged mountains all the way to spectacular ocean.
You can enjoy a delicious cocktail or fresh cold beer while watching the sun set over the city and watch the dazzling colours explode behind the cathedral. You will find plenty of quirky seating here, with 'Instagram' worthy quotes on the walls and the chance to unwind into the evening.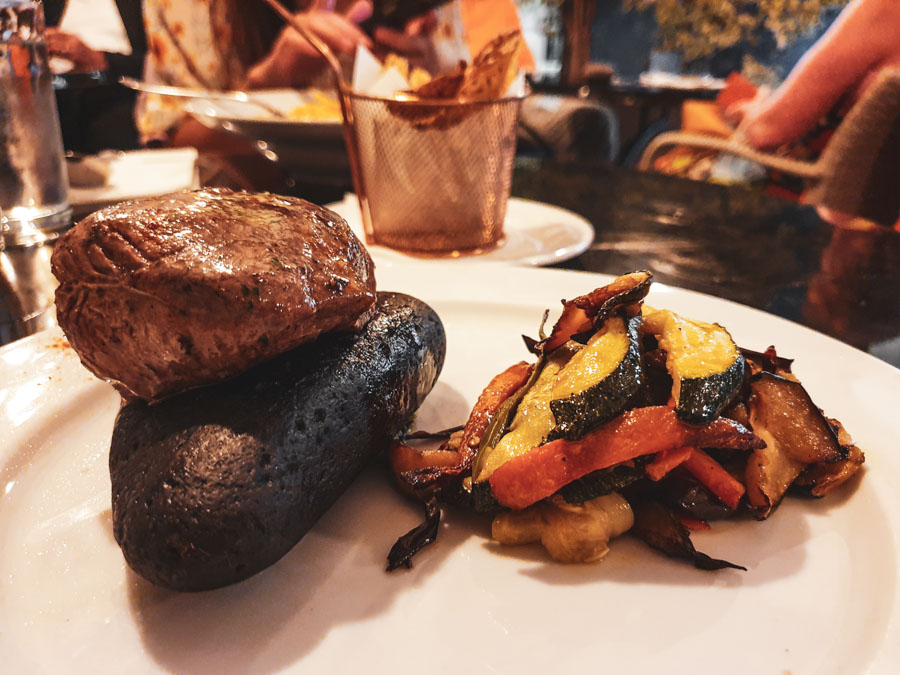 This restaurant is attached to the hotel itself and you will often find an incredible buzz from the customers and staff alike as the smells of delicious cuisines fill your senses. It is open from breakfast until last drinks and you can see the Cathedral from its many outside and inside tables.
There is a diverse selection of dishes on the menu which offers a mix of flavours, smells and colours that will make you want to return.
We treated ourselves to Grilled Beef Medallion on Calhau and Linguini with Shrimps and Lobster Sauce.
Breakfast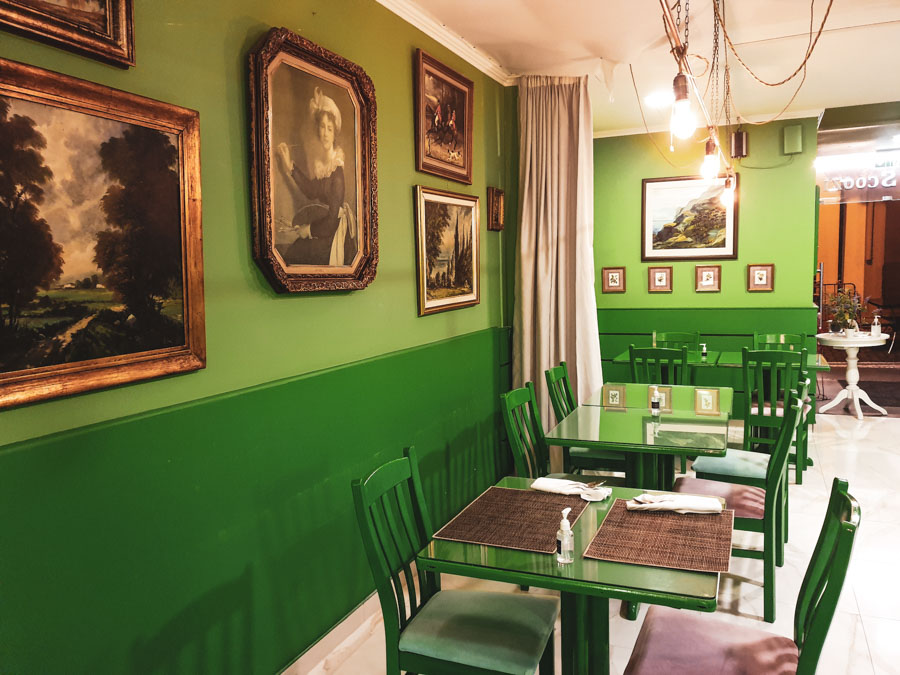 During our two night stay we also had breakfast included and we were so happy that this was the case. Se Boutique Hotel offers a vibrant setting to begin your day in the best possible way.
Here, you can start the day with a well-balanced and nutritious breakfast. I opted for some cereal, fresh fruit, coffee, juice and a selection of cold meats and cheese. They also offered tea, dried fruit, bread/toast, scrambled eggs, baked beans, pastries, desserts and nuts.
Find out more about their restaurants here
What to do in Madeira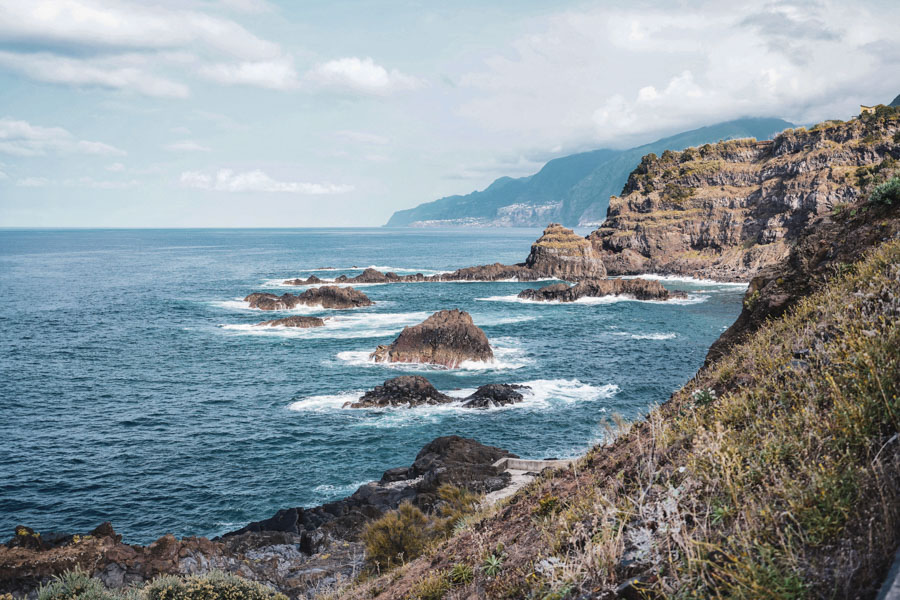 This island is like no other place I have ever come across during my travels around the world. From lush dense jungles to sweeping landscapes, rugged mountains and black sand beaches, it seems to have elements from Hawaii, Vietnam, Indonesia, New Zealand and Sri Lanka. Most of these attractions are easily accessible by car and you can easily tick off four or five them in a day if you are in a hurry.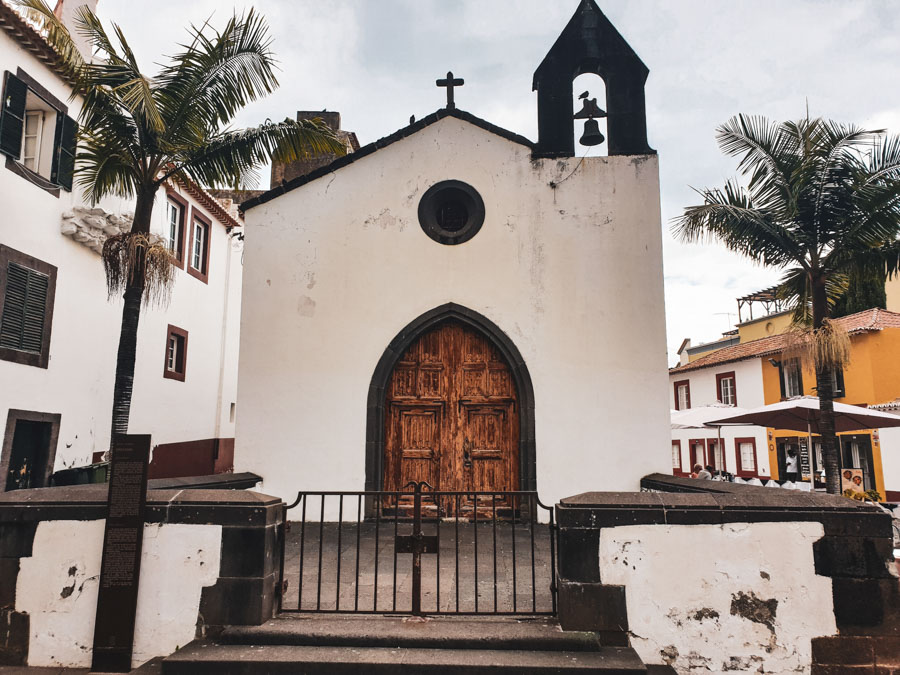 There is honestly so much to see and do here we needed more than just three nights. Next time we visit I think we will definitely have to put aside at least a week.
Whether you want to go hiking, swim with dolphins, or just laze on a beach, Madeira has a bit of everything for everyone.
Funchal Cable Car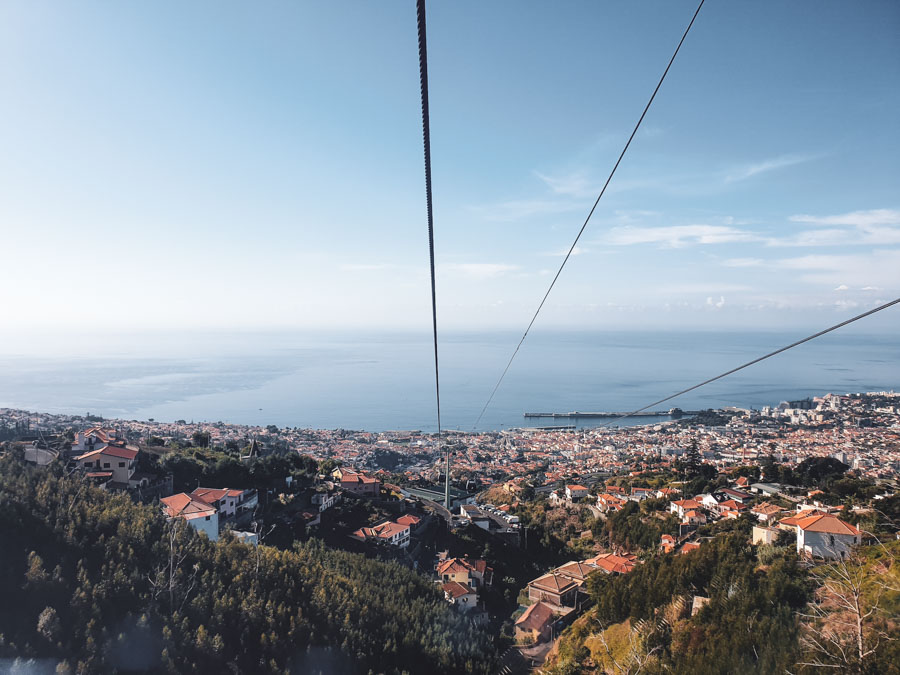 Conveniently located a short ten minute walk from the hotel, you will find this modern cable car system which will quickly whisk you up above the city skyline and into the upper suburb of Monte. From here you will be able to bask in the beauty of the city from a birds eye point of view and soak up the views of the ocean and the terraced mountainsides clustered with white houses.
This is a fantastic experience where you can get plenty of photo opportunities as well as visiting the Monte Palace Tropical Garden or the Church where Emperor Charles I is buried.
Hang out on a black sand volcanic beach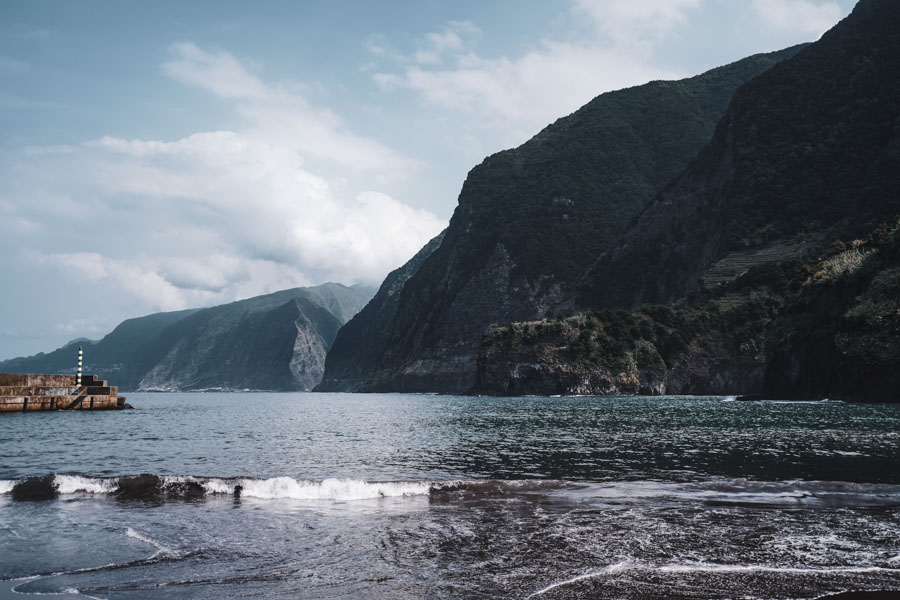 This is also known as Praia do Porto do Seixal, and it is a great place to spend a few hours or even a whole day enjoying the black sand, refreshing ocean and the jaw dropping rugged coastline which surrounds you.
Don't forget to pack your towels, plenty of water and food. There is a local shop nearby, but it is a bit of a walk up hill to reach (unless you stock up on your way down to the beach).
Hunt down some street art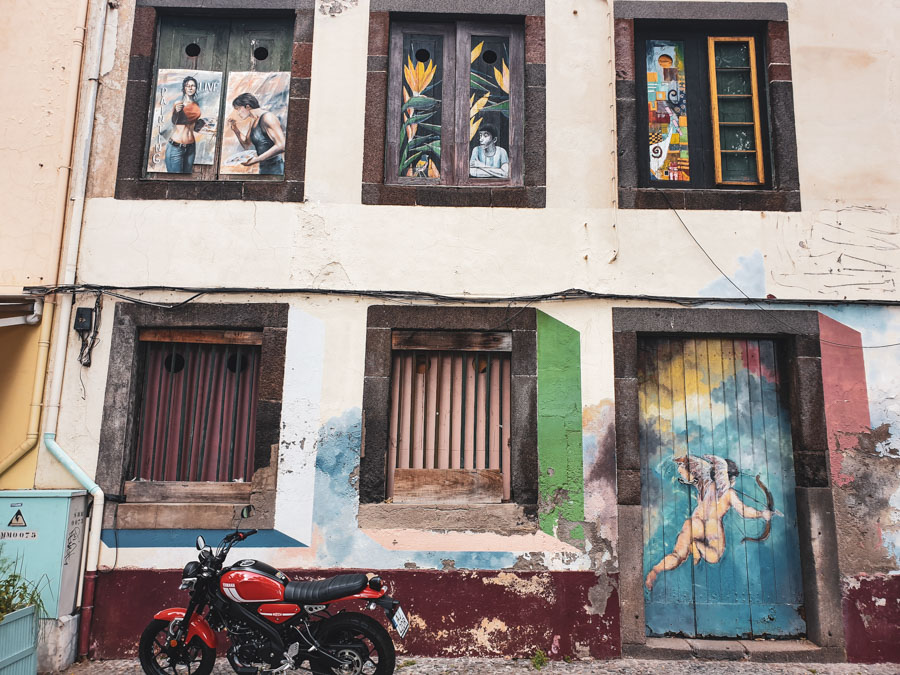 Just wander down the many alleyways and keep your eyes peeled for lots of different styles of art and very colourful imagery.
Explore Ribeiro Frio Natural Park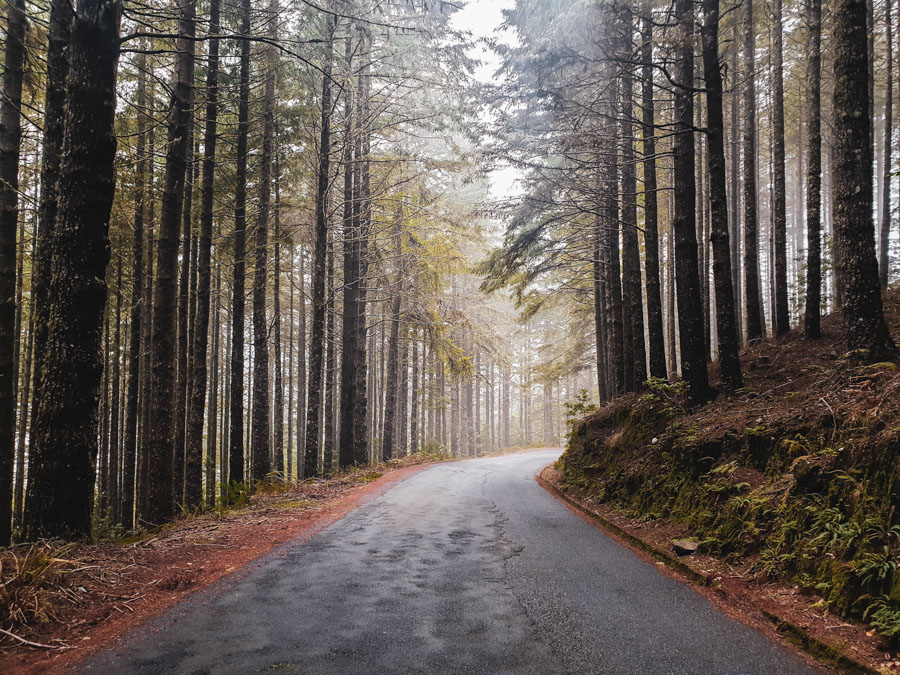 From the brochures, Madeira Island may seem like it is just beaches and sunshine, but with Ribeiro Frio Natural Park it is the perfect place to explore if you want to see a different perspective on island life. There are many trails which you can hike in and around the area, or you can just drive the long windy road which creates its own unique and slightly eerie experience.
We stopped off at the side of the road so I could do some skating and also explore some of the wildlife and foliage surrounded the area.
Miradouro do Guindaste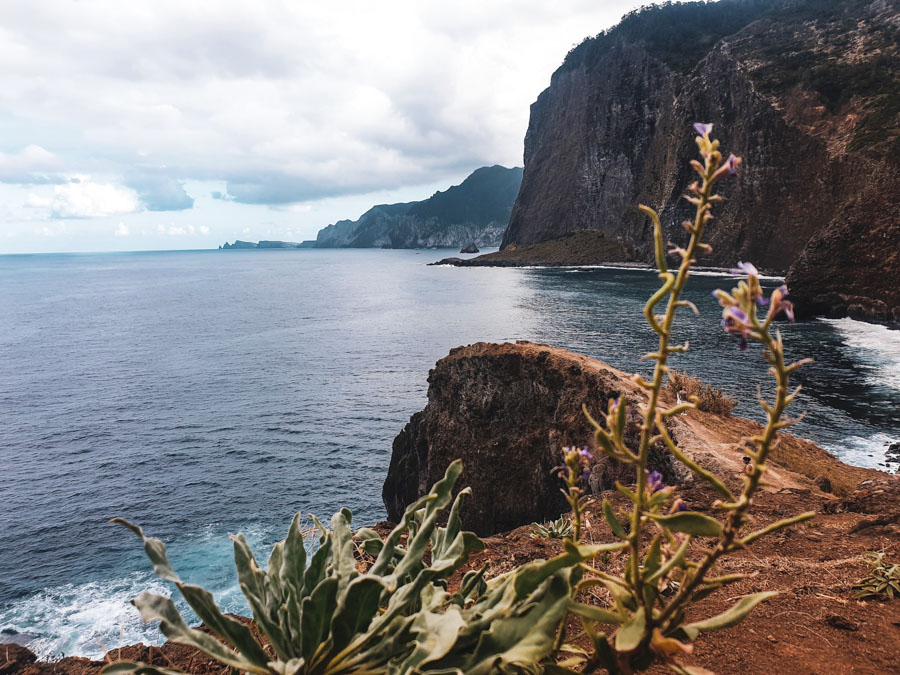 This incredible viewpoint is also accurately known as Crane viewpoint as it offers breathtaking views of the coastline and the stunning turquoise waters crashing and frothing below against the rocks. Here you will find the odd fisherman throwing out his line as far as it will go and and the calls of seabirds as they swoop overhead.
You can literally park your car and walk five minutes to this spot, making it probably one of the easiest places to visit. It is ideal for sunset here but just as magical at midday as well which is when we visited the first time round.
The Cristo Rey Viewpoint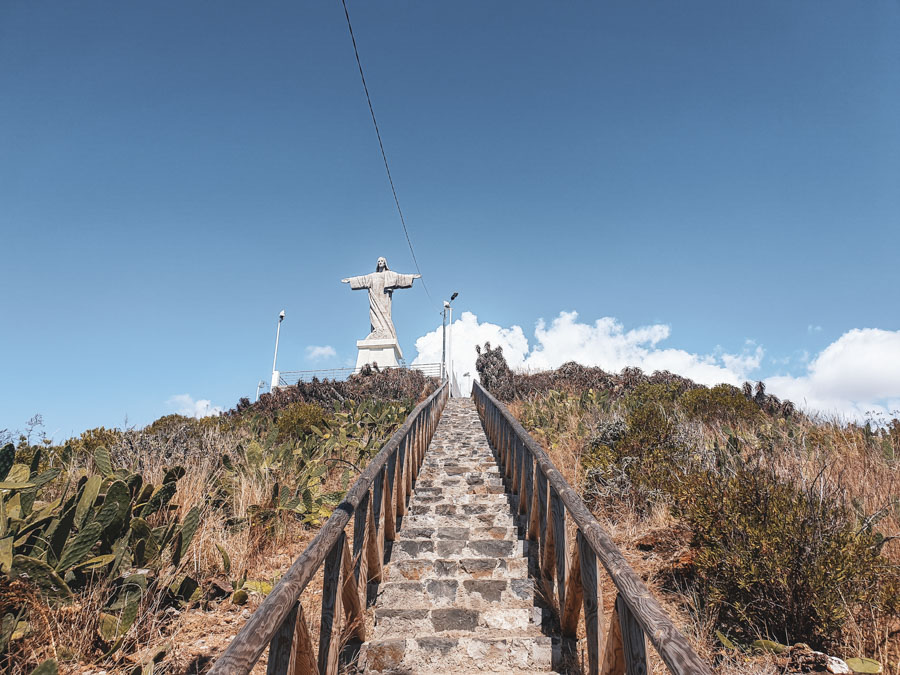 This majestic statue stands on top of a hill which drops into a steep ravine below towards the sea in Garajau. It looks a lot Christ the Redeemer in Brazil, but on a much smaller scale. This is such a beautiful place to visit while in Madeira and it is quite easy reach by car as the car park is a short walk away from the statue itself.
You will also find steps leading down to the bottom and this is also worth exploring as you will find some brilliant views of the coastline and also an impressive view of the statue towering above you.
Ribeira Da Janela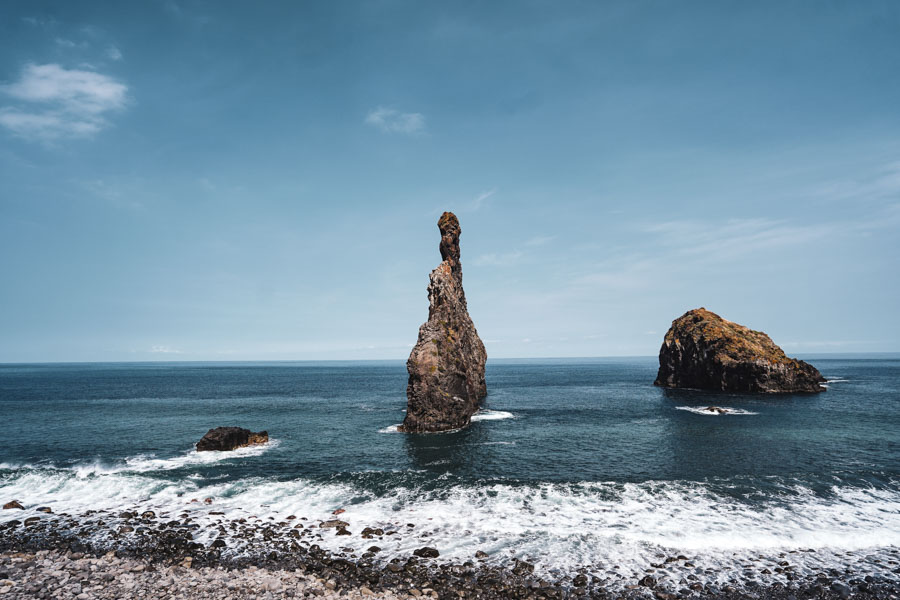 While it may just look like a giant rock in the ocean, it is actually a really impressive giant rock in the ocean and well worth visiting. To reach it you can take one of two pathways, one of which takes you through a hole that has been carved out solid rock and presents quite an impressive view. There is a pebble beach where you can relax and admire the force of nature while taking in the surrounding beauty.
Veu Da Noiva Waterfall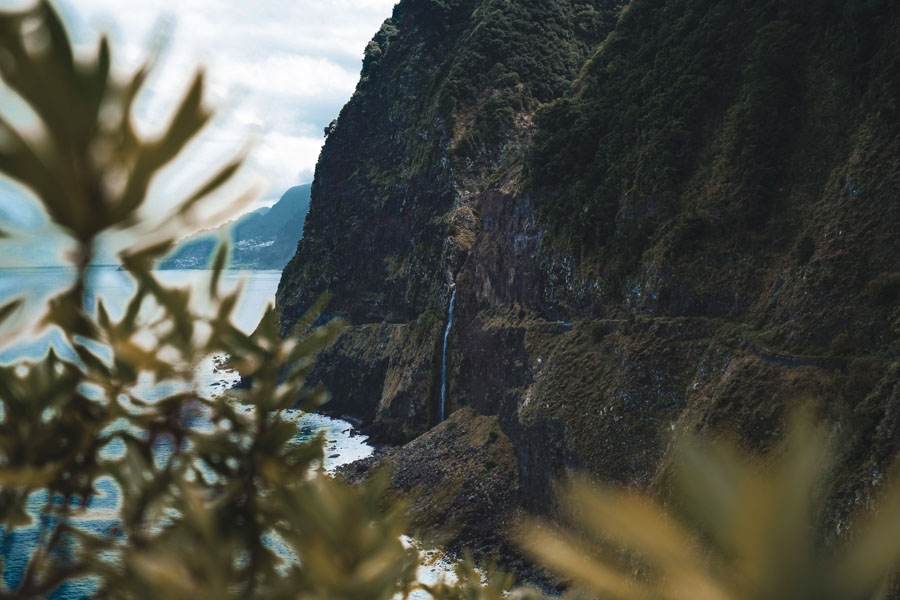 Ponta De Sao Lourenco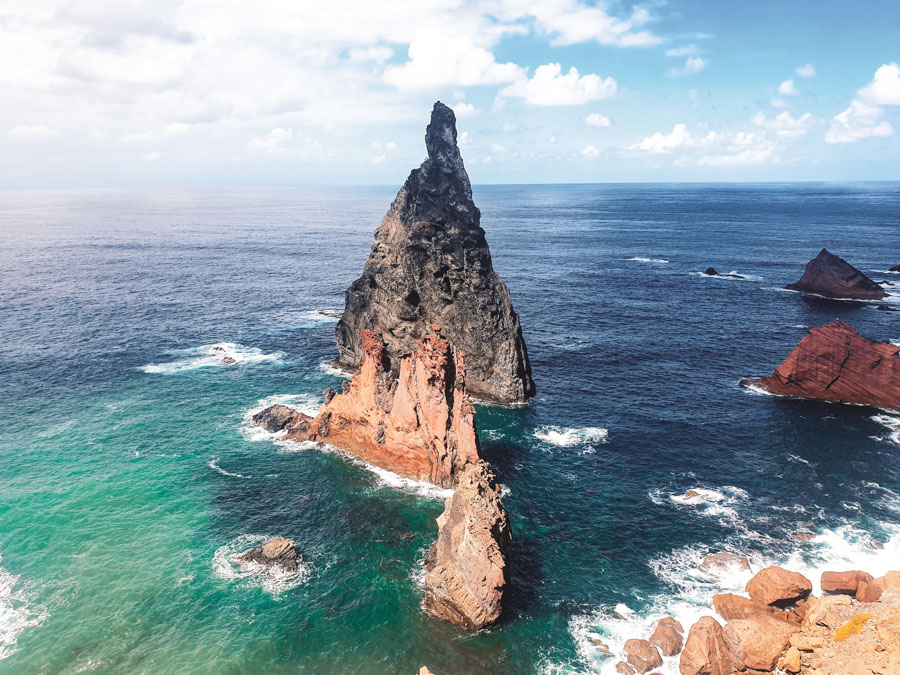 For those of you who love or don't mind a decent hike, then this walk is for you. The trail takes you along the eastern peninsula of the Madeira Island, which offers plenty of breathtaking views and you will more often than not find yourself stopping to take photos and admire them. My favourite spot is the one pictured above which is about an hours walk from the carpark. It offers an incredible view of coastline and you will find yourself mesmerised by the turquoise water crashing into the rocks below.
Remember to take plenty of water and snacks as it can get quite hot due to limited shaded spots and mostly up hill walking.
Sao Vincente Chapel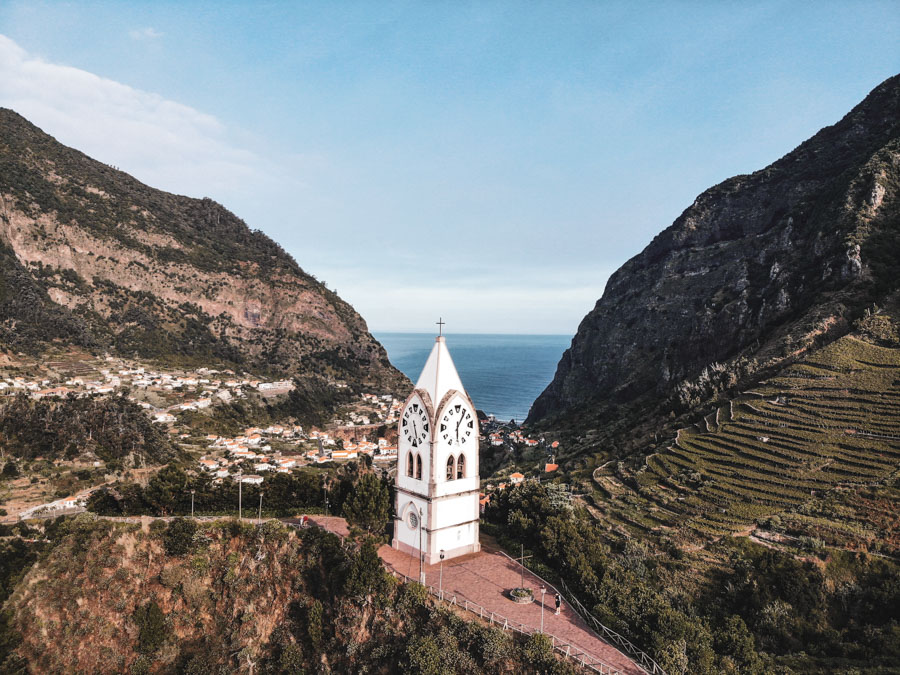 This is a 'must visit' when staying in Madeira. The chapel, which is also a clock tower can be found about 2km up the valley from Sao Vicente on top of a hill, which you can't miss. It is a beautiful little chapel and once you have parked at the bottom it is a short climb to the top.
The views from here are fantastic and it provides the perfect 360 degree landscape full of lush green rock faces, a deep valley and views of the ocean.
Piscinas Naturais Do Seixal (Seixal Natural Pools)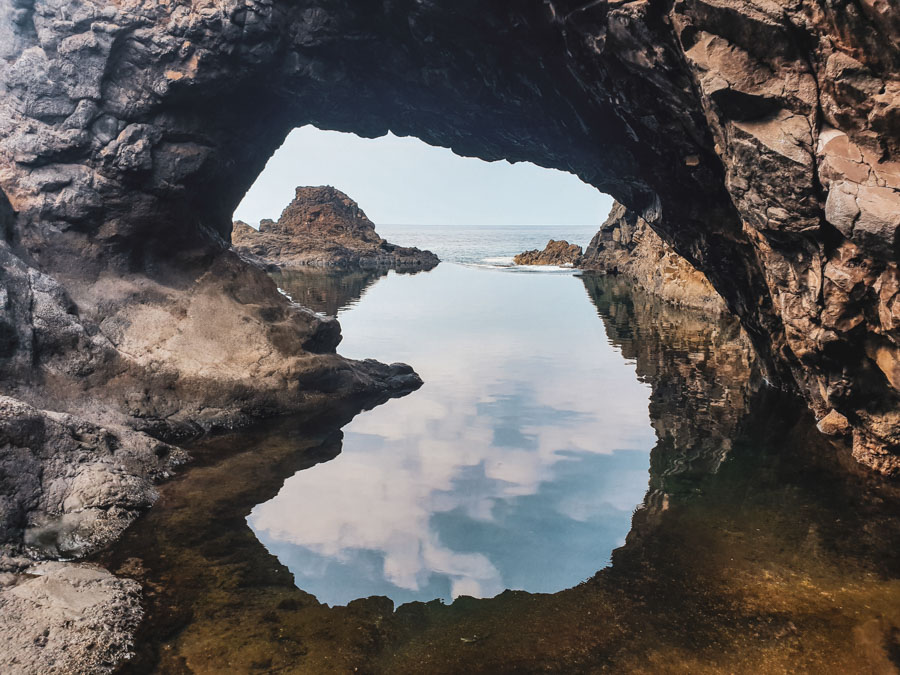 Located not too far away from the black sand beach you will find these stunning natural rock pools. They are a fascinating collection of volcanic, lava-rock tidal pools, which are perfect for swimming and relaxing in. There is one in particular which has a giant rock arch, and leads into a calm sea water infinity pool. If you catch it at the right time when the water is perfectly still it will have a perfect reflection and almost makes it look like bean.
This is a free attraction and it is one of the top things to do on the island.
How to get there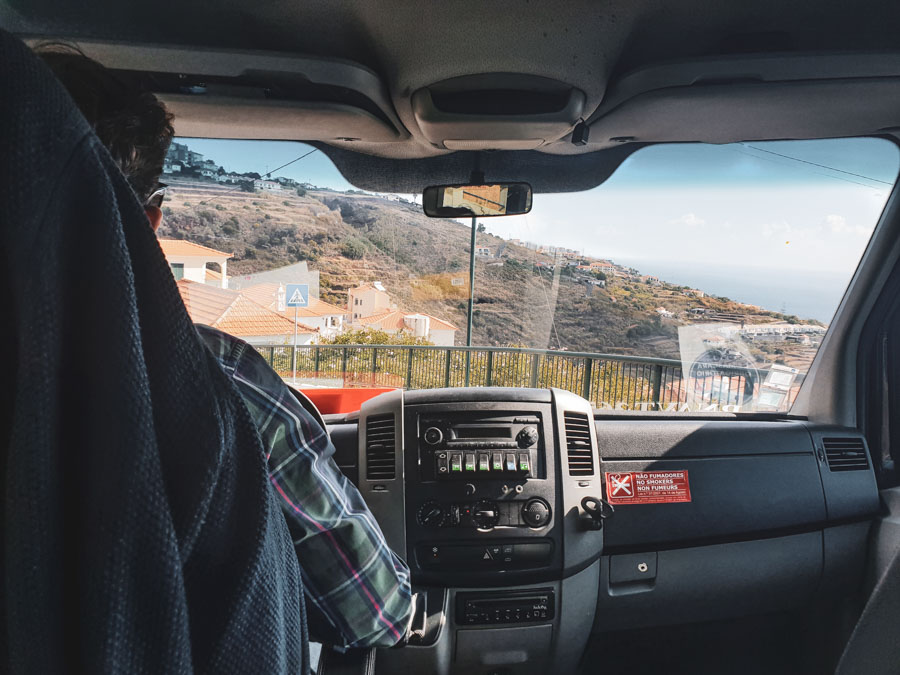 The hotel is in a great central location and you can easily reach it by taxi, car or coach from the airport and this will take roughly twenty five minutes one way.
Address: Travessa do Cabido, Nº 17, 9000-715 Funchal Madeira, Portugal
Contact: +351 291 224 444
Email: [email protected]
More details here
Prices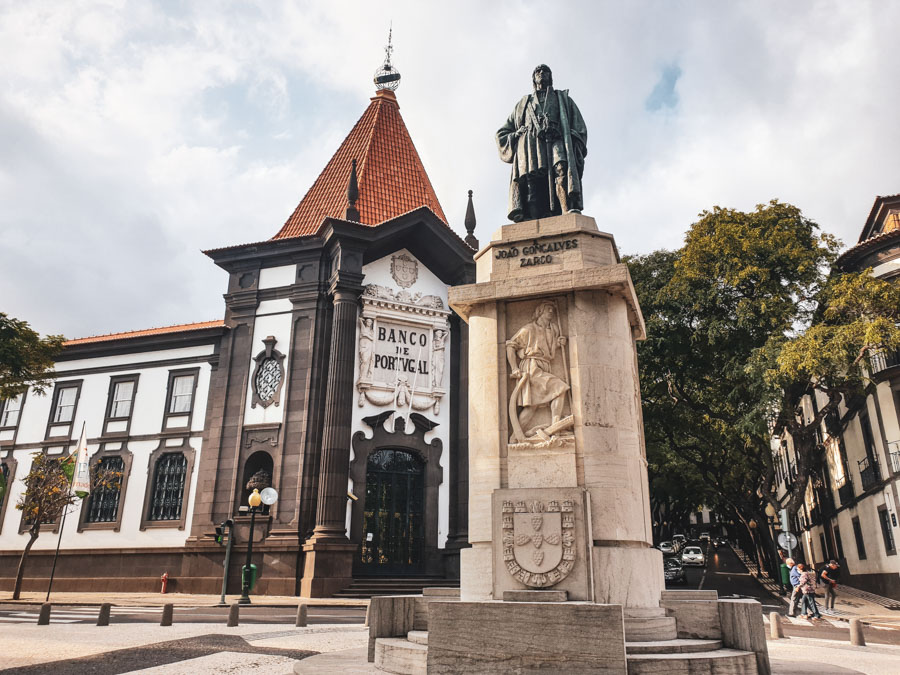 The prices will vary depending on what time of year you stay – to check out the pricing click here.
We stayed in September 2021 in the Deluxe Room with breakfast.
Extras
Wi-Fi is available in all areas and is free of charge
Plenty of space to relax in
Luggage storage
Secure front doors and rooms
Complimentary drinks upon arrival
Option to book tours and hire cars through the hotel
Summary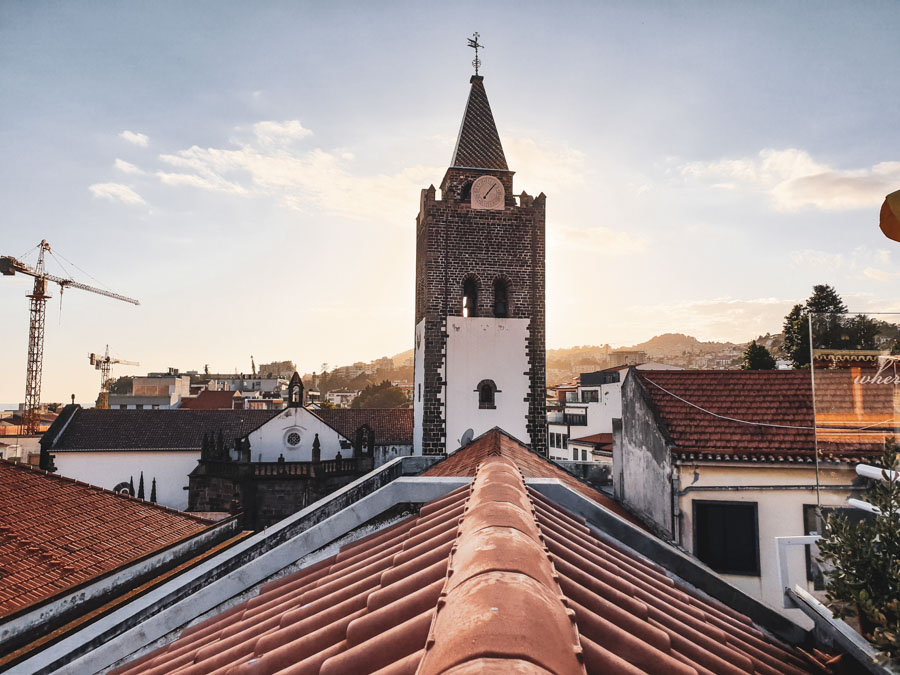 This hotel is a great place to stay due to its location, and the perfect place to stay while in Funchal, Madeira. I am so glad that we chose to stay here for a few nights – it's a unique place with everything you could need.
Experience an unparalleled chilled out atmosphere and relaxation at Se Boutique Hotel, where tranquility meets impeccable guest service and fantastic facilities that include fine dining, spa treatments and rooftop bar.
You will want to stay longer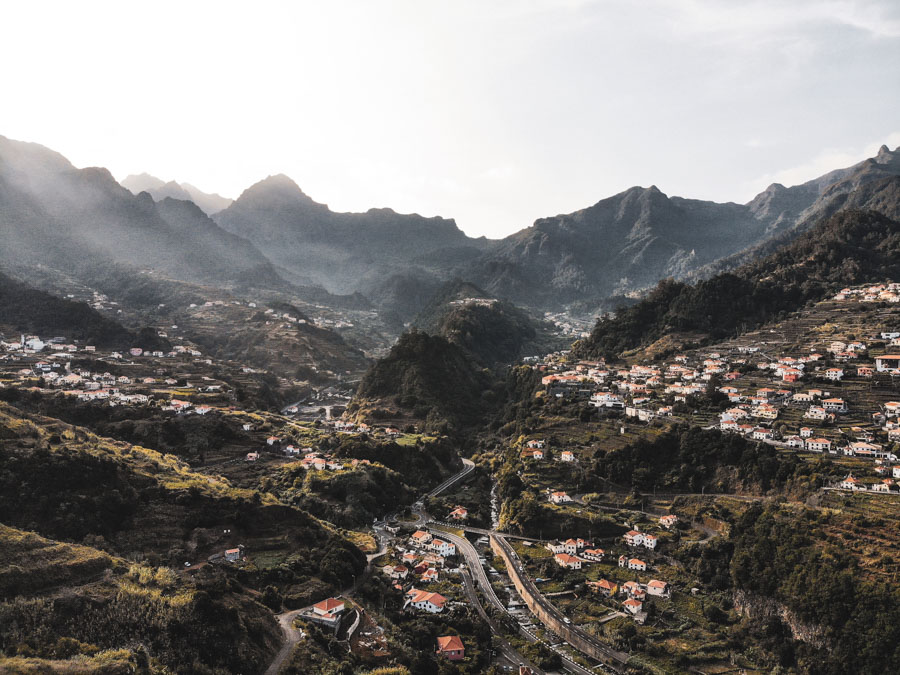 The room was fantastic, we had a super comfortable night sleep and really enjoyed watching the sun rise from our bed and window. The location was my favourite feature as it was super central and easy to get around from there. The staff are also so friendly; they can honestly not do enough for you to make your stay that little bit more comfortable than what it already is.
A special mention to Patricia who was incredibly helpful, friendly, answered all of our questions and was very knowledgeable. Thank you for all of your help!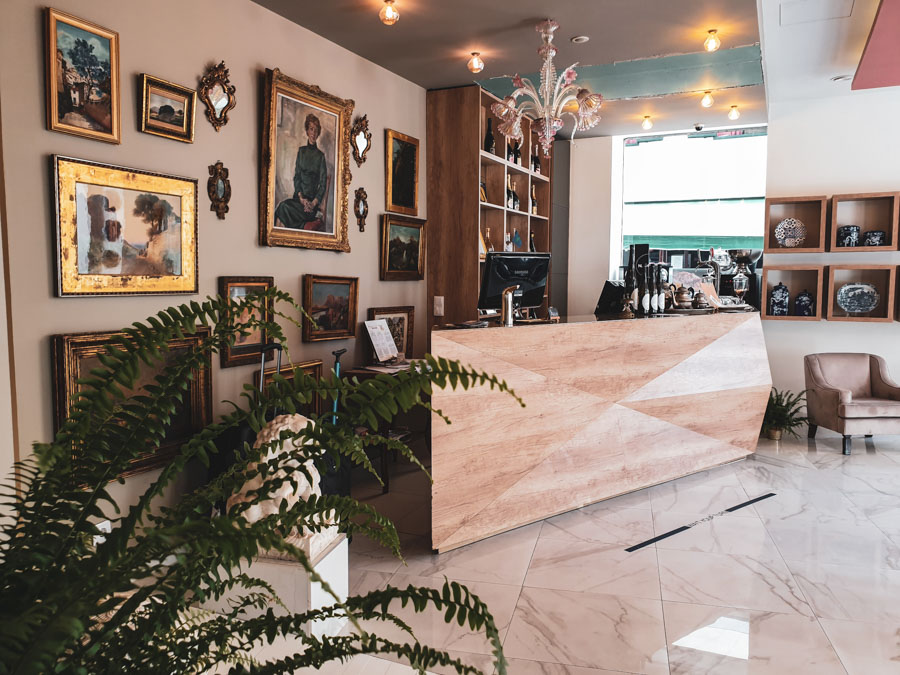 If you are looking for a super unique getaway and you want to have a great luxurious experience, then I would highly recommend Se Boutique Hotel.
Click to book your flights through Jet2.com here or your hotel stay here.
***Thank you to Jet2.com for kindly sponsoring this post. All opinions are 100% honest & completely my own.