A FLAGSHIP HOTEL FOR THOSE WHO LIKE TO TRAVEL
⇷☓⇸
Hotel the Flag is a delightful and modern 3 star hotel that is situated directly in the centre of everything you could possibly want to see and do in Osaka. Its a one minute drive from the exciting Shinsaibashi Shopping street where you can get your ultimate Japanese shopping experience. There is an abundance of restaurants and bars for you to explore nearby. Not to mention that Universal Studios Japan and the Kaiyukan Aquarium are right around the corner too.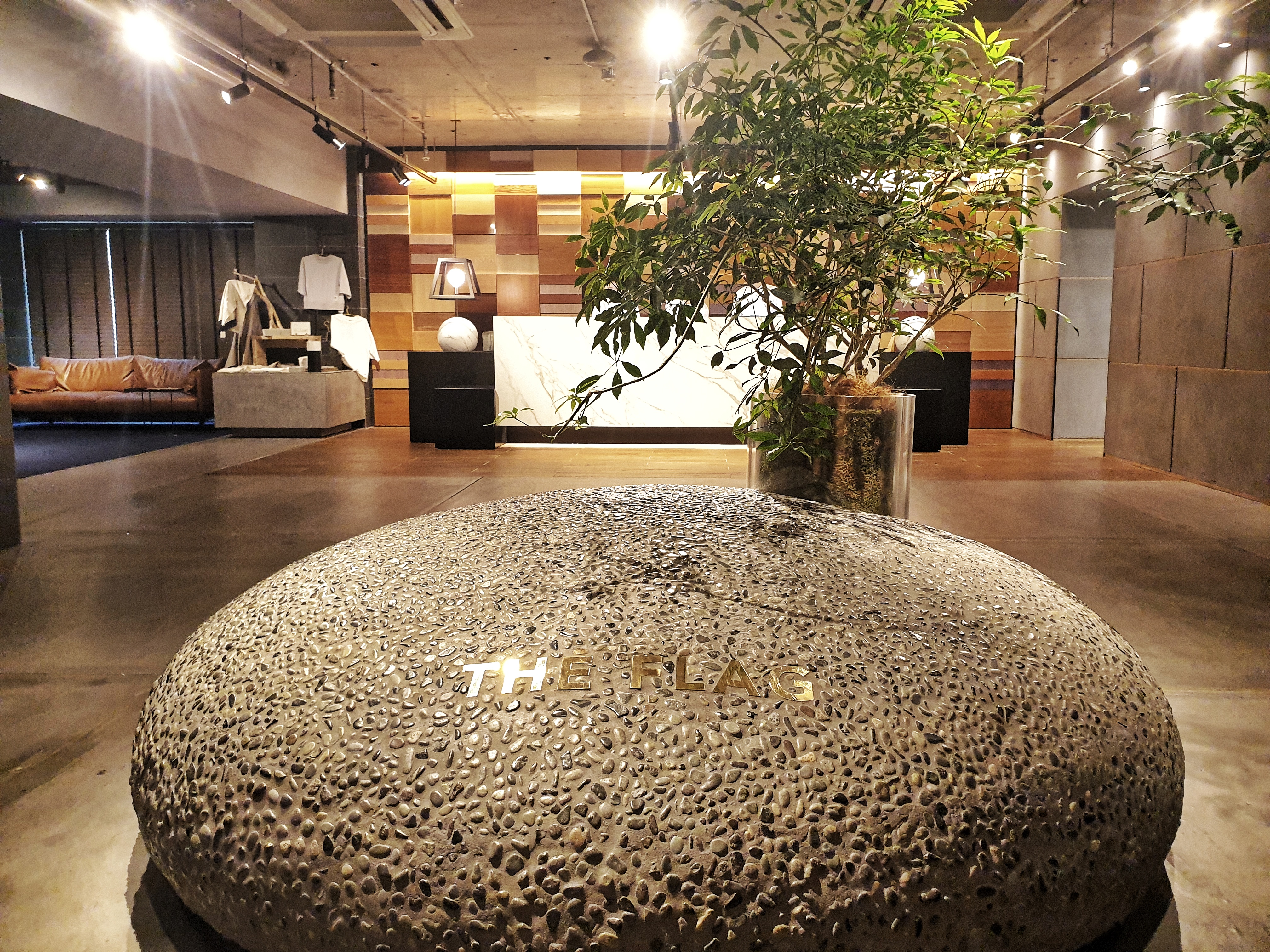 Osaka is such a beautiful place and if you are travelling through Japan then I would highly recommend to drop by and explore its many hidden delights tucked around the city. It is the second largest city in Japan and so you would ideally need at least two to three days to explore it properly, not to mention factoring in a day for Universal Studios.
Be sure to check in to Hotel the Flag for the ultimate Osaka experience!
Highlights
Beautifully modern and spacious rooms
Excellent central location to everything in Osaka
Fantastic staff service and care
Not too far from Universal Studios Japan
A library for every bibliophiles dream
Delicious and stylish dishes at their restaurant
Deluxe Double Room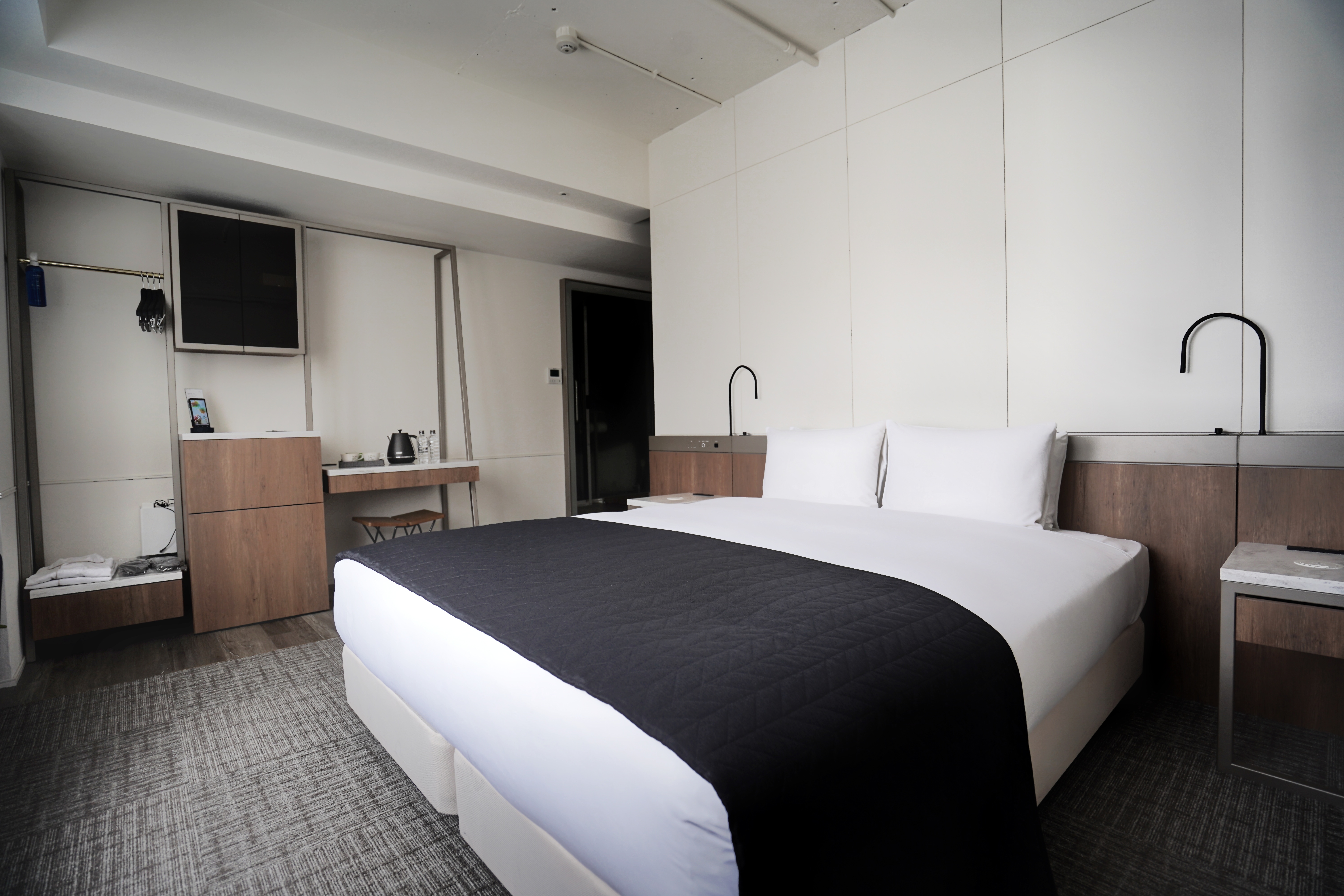 While we stayed at Hotel the Flag, we opted to stay in the Deluxe Double Room which was perfect for our needs during our time in Osaka and extremely comfortable. It was very spacious (25.7 sqm) and we were lucky enough to have some great views of the city from our window which our double bed directly faced.
Each air-conditioned room is equipped with a flat-screen TV and desk. Free toiletries and rain shower are provided in all rooms, while certain rooms feature a bathtub. Our bathroom was fantastic! It was all chrome, extremely modern and bright.
It also had great amenities such as slippers, sofa, a writing desk & lamp, safety deposit box, refrigerator, free luxury toiletries (soap, shampoo & conditioner), extra long beds (2 metres long), tea & coffee making facilities, mineral water and of course great Wi-Fi.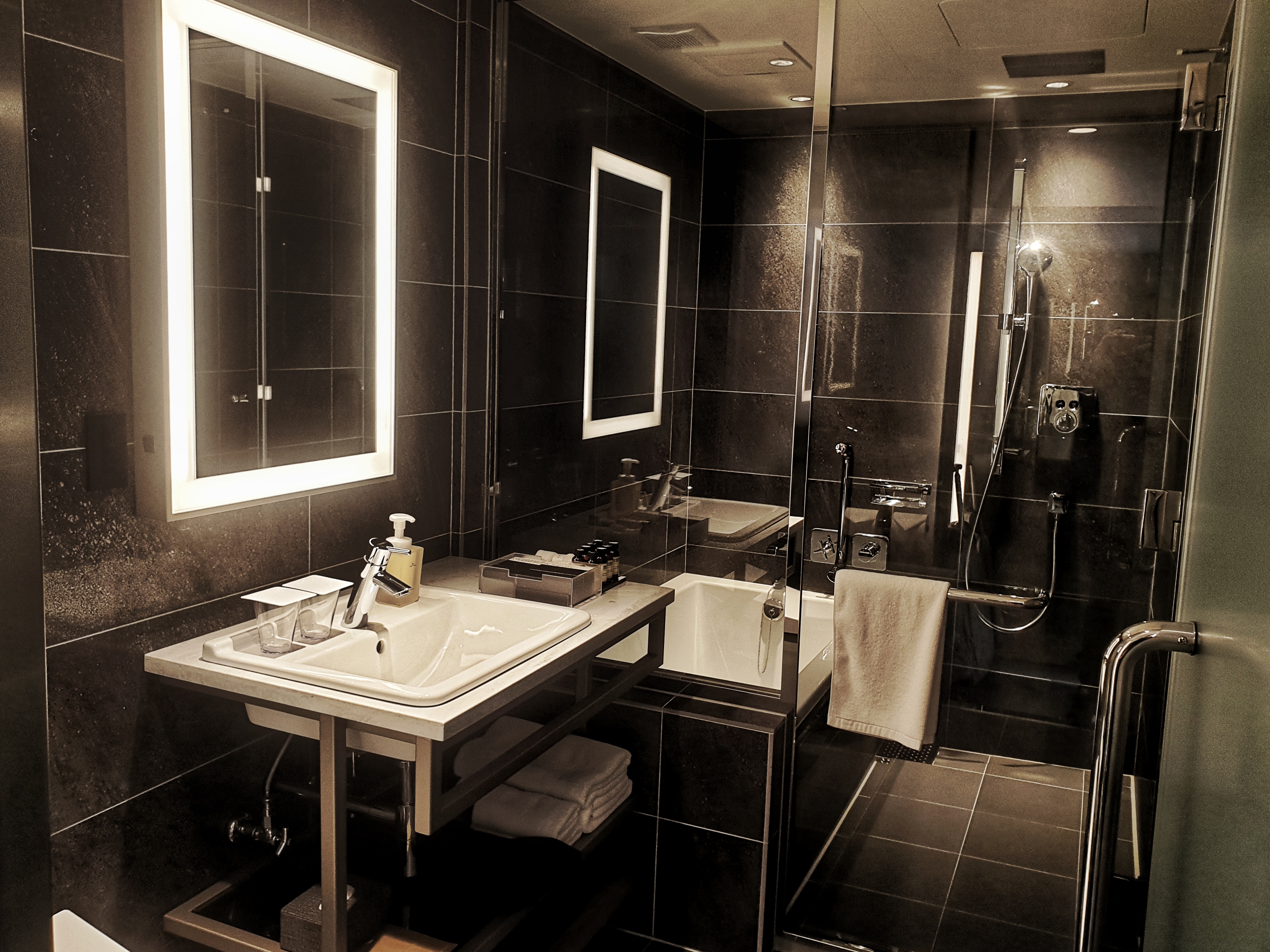 My favourite part was that it also came with a handy smartphone loaded with maps, tourist attractions, hotel information and local directions.
Hotel the Flag also has many different rooms for every need. To see their selection click here.
Activities
Relax in the lounge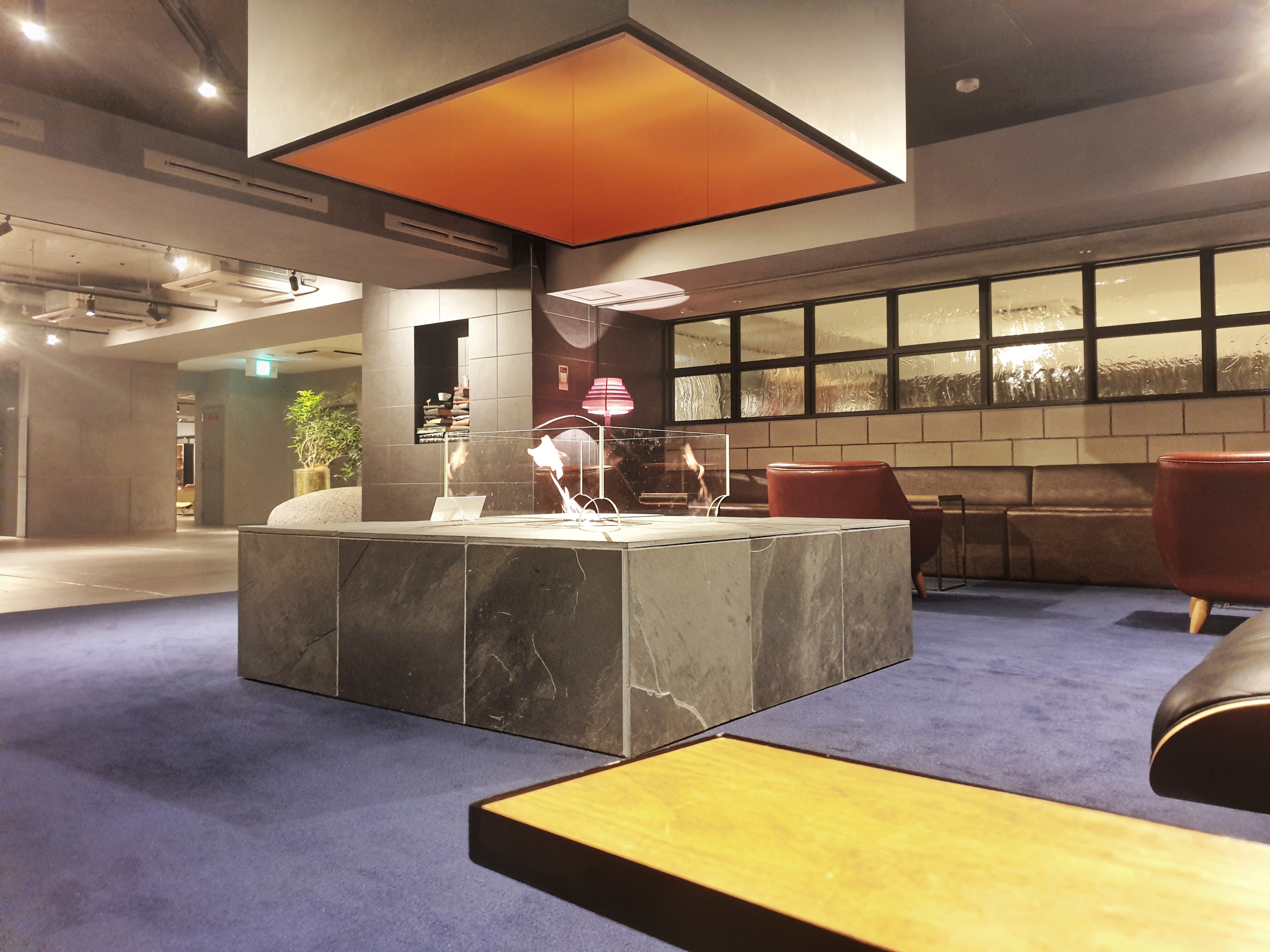 After a long day of travelling or exploring the city, Hotel the Flag has thought ahead and come up with their ultimate relaxing area which is outfitted with extremely comfortable armchairs which are centrally situated around a modern wood fire giving it a homely feel and you will instantly feel at home.
Shinsaibashi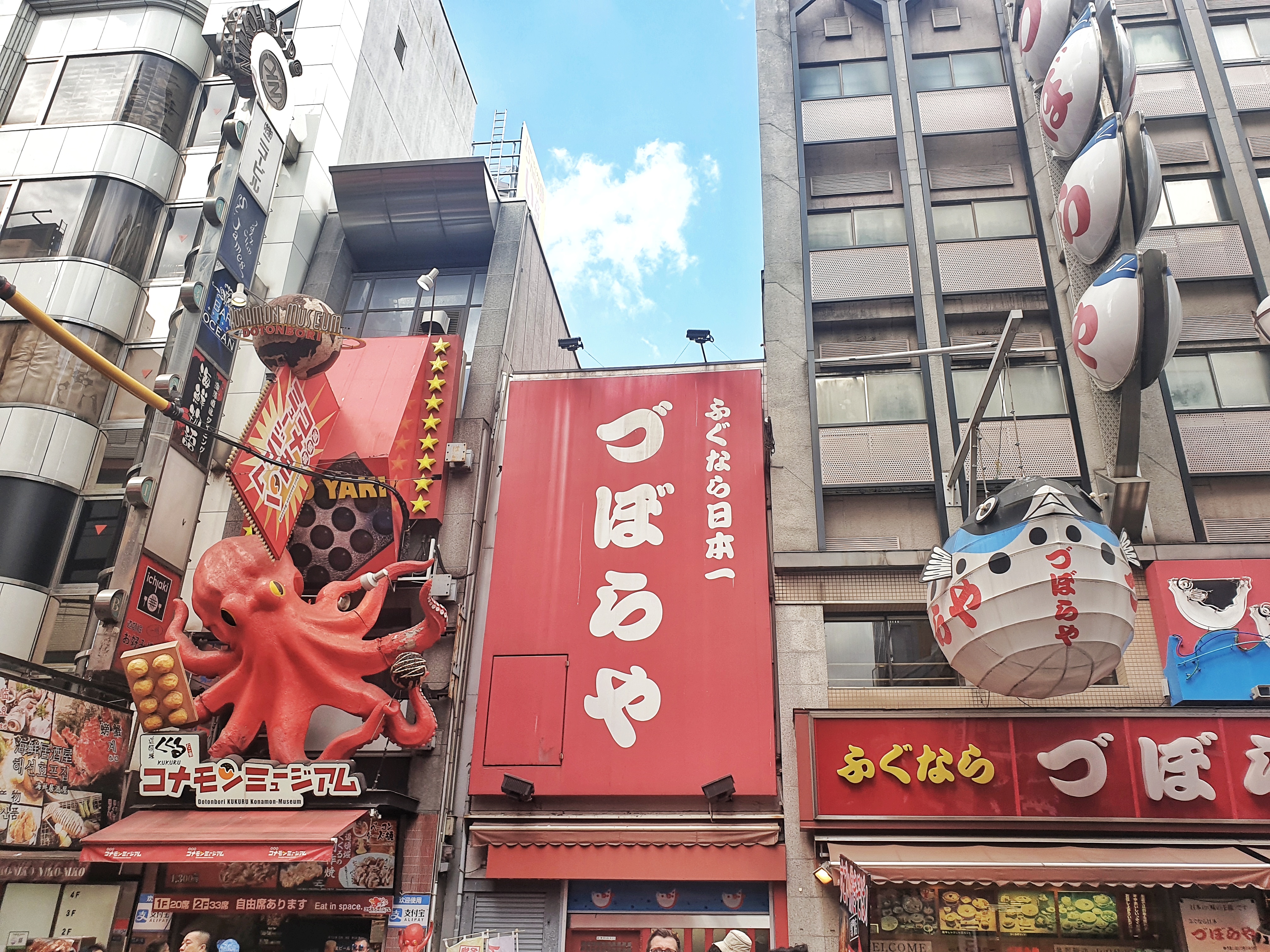 The hotel is located in the middle of the bustling Shinsaibashi area, with many delicious restaurants and stylish clothing stores surrounding them and only a few minutes walk. This is a great way to experience Osakas shopping scene, allowing you to taste delicious local craft beers, try on traditional Japanese clothing and delight your taste buds in their many restaurants and street food stands.
Universal Studios Japan
A short distance away is the famous Universal Studios which offers a exciting day out for all ages. With attractions such as Harry Potter & the Forbidden Journey, Wonderland, countless rides & rollercoasters and numerous shows, you would be hard pressed not to enjoy yourself here.
Giant Lions Head
Also know as the Nambayasaka Shrine, is a little-known places that are also worth checking out. This giant head and mouth is a great attraction and some photo worthy shots for its uniqueness! Even if you're expecting to see it, you can't help but be a little taken aback when you do. It is just so big, at 12 meters (39 feet) tall, 11 meters (36 feet) across, and 10 meters (32 feet) deep. The inside is a stage, which is used for dances during festivals and other events. Unexpectedly, there are even speakers in the nostrils!
Kaiyukan Aquarium
This is one of Japan's most spectacular aquariums, world-renowned for its innovative presentation. Kaiyukan shows the aquatic animals of the Pacific Rim at their most vibrant and dynamic, by recreating the natural environment of their habitats.
During your encounter with 30,000 creatures encompassing 620 species, you will see otters, sea lions, penguins, dolphins, whale sharks, rays, and jellyfish, to name just a few and will prove a deeply rewarding experience.
Osaka Castle
Osaka Castle is a Japanese castle in Chūō-ku, Osaka, Japan. The castle is one of Japan's most famous landmarks and it played a major role in the unification of Japan during the sixteenth century of the Azuchi-Momoyama period. Even though it is super touristy and it will be packed no matter what time of day you go, it is well worth the visit if you are ever in Osaka.
How to get there
HOTEL THE FLAG Shinsaibashi is located in central Osaka, 600 m from Dotonbori River and the Ebisu Tower Ferris Wheel, 700 m from popular music and shopping district America Village. Conveniently located in the Chuo Ward, the hotel is situated 2.4 km from Shinsekai. The hotel offers a 24-hour front desk with multi-lingual staff. Free WiFi is available at the hotel.
For the best detailed directions click here.
Hotel the Flag
Osaka-fu, Osaka-shi, Chuo-ku, Higashi Shinsaibashi 1-18-30
Prices
They vary depending on what time of year you go and which room you stay in as they have a few to chose from – click here.
We stayed in April 2019 and for our Deluxe Double Room we paid 23,889 JPY (£160) per night.
Extras
Free daily mineral water in the rooms

Shared lounge/TV area

Vending machine (drinks)

Designated smoking area

WiFi is available in all areas and is free of charge.

Extra Long Beds (> 2 metres)
Summary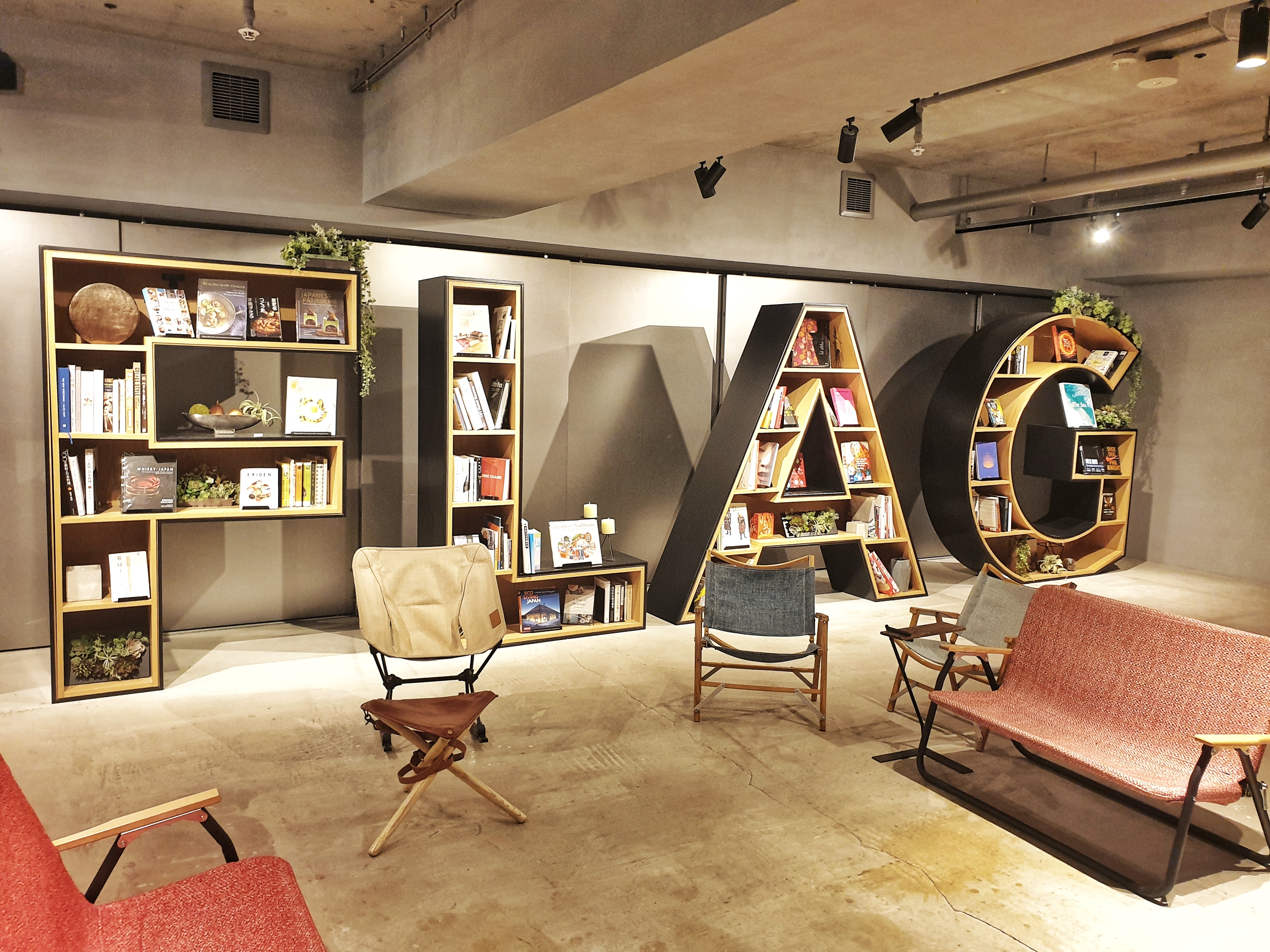 This place is absolutely incredible and I am so glad that we chose to stay here for a few nights – its definitely worth it! The rooms are spectacular, with traditional but modern Japanese influences and amazing views right from our bed. The hotel itself is super welcoming and the staff are so friendly, they can honestly not do enough for you to make your stay that little bit more comfortable than what it already is.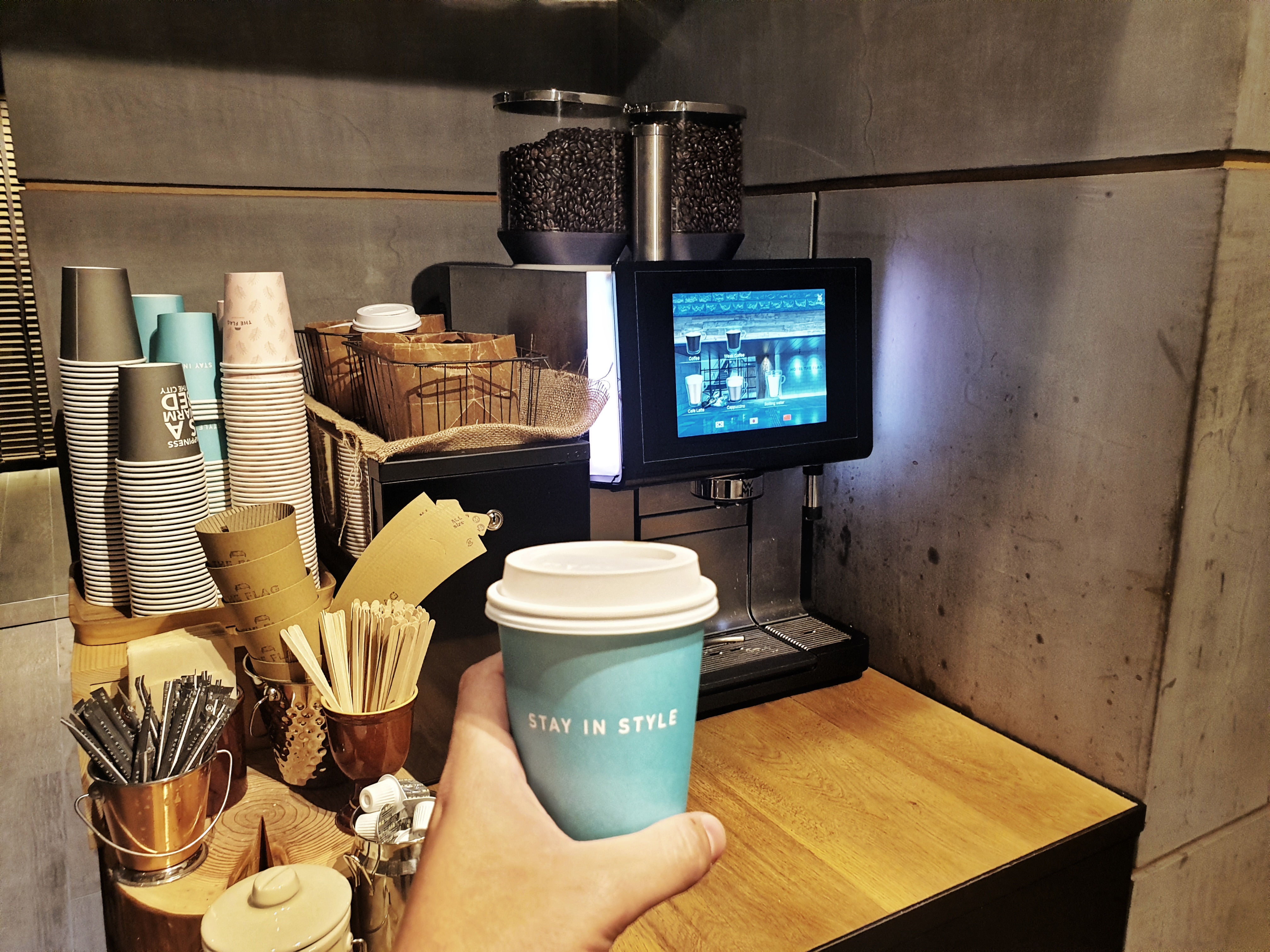 The common areas with the library, arm chairs and fireplace are hands down the best part about Hotel the Flag along with their fantastic and comfortable rooms! The views are spectacular at night time and we loved staring out at the city during the night. They are an experience just by themselves. Then throw in the fact that the location is so central to literally everything and you are instantly on to a winner.
But my ultimate favourite? The free takeaway coffee! What a great idea and I certainly made the most of it. (Includes Tea)
If you are in the Osaka, Japan and you want to have a unique experience, I would highly recommend Hotel the Flag!
Check out their Facebook and Instagram here.
***Thank you to Hotel the Flag for kindly sponsoring this post. All opinions are 100% honest & completely my own.