VIKINGS, WIZARDS AND CASTLES
Are you looking for the perfect staycation but not sure where to go?
Well, look no further as York has everything you need for the perfect weekend getaway. It is a city full of history and culture and is literally bursting at the seams with historical wonders located in this beautiful medieval city. York came to life in AD 71 when the Romans built a fortress there and the emperors Constantius I, Septimus and Hadrian all had a British seat in York while on campaigns.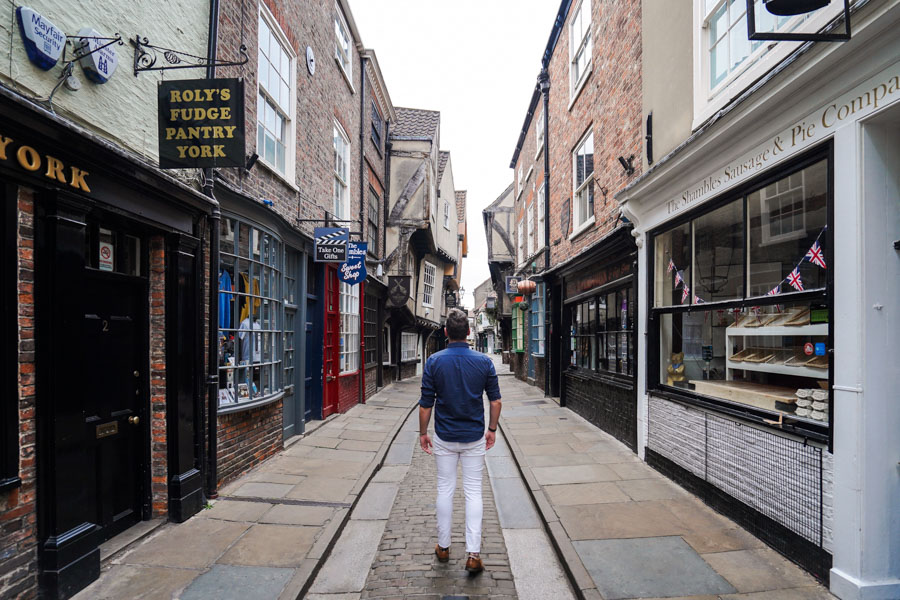 One of the main features which really makes York stand out are the impressive 2,000-year-old walls which surround the city and were the main form of defence. Located in the heart of the city is York Minster, which is an English Gothic masterpiece and will leave you staring in awe at its grand stained glass windows. It is also surprisingly the birth place of the Kit-Kat and you can often smell chocolate in the air as you walk around its cobbled streets and take in its sights.
Getting Around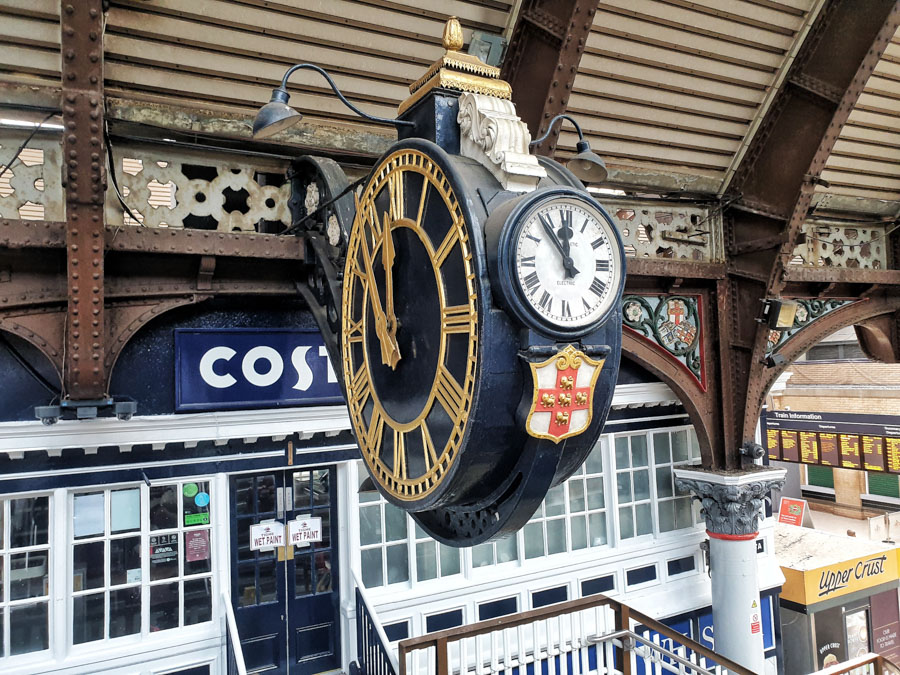 A great way to get around York, see its beautiful sights and have access to some incredible attractions is to purchase a York City Pass. Not only is this a great way to save you money but it is also great value for money. The pass itself costs £48 for an adult ticket and £30 for a child ticket. This will give you access to 45 plus attractions and you will feel like a VIP using it. Do remember to book in advance though due to ongoing Coronavirus restrictions.
For more information visit the website here
Where to stay in York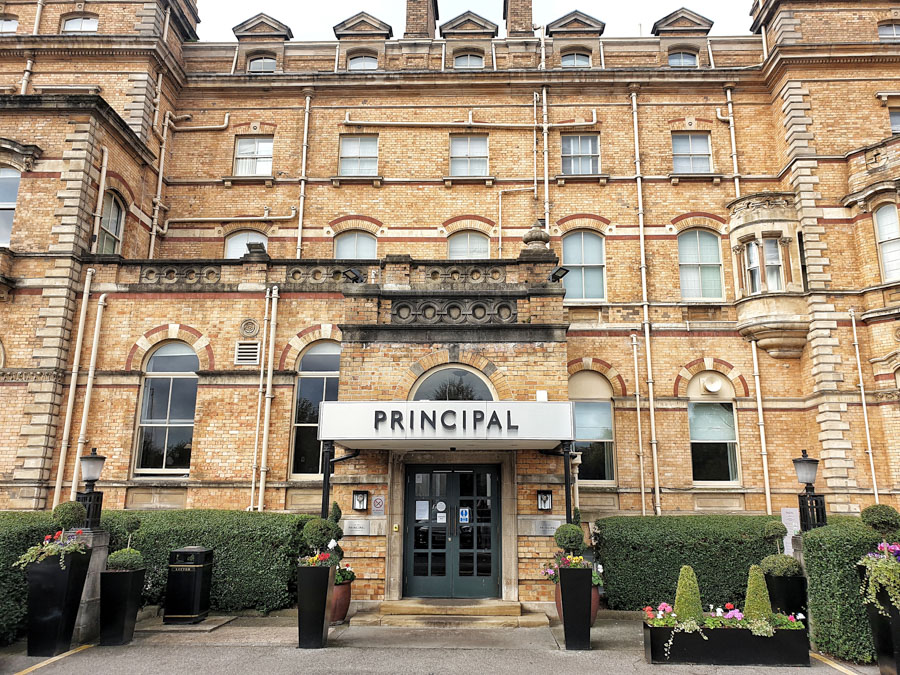 For our two night stay in York, we opted to try out the Principal York Hotel as it we central and had great facilities. To our complete surprise we didn't realise how close it actually was the train station which was perfect as we had travelled two hours from London Kings Cross and so we didn't have to go much further to get settled in.

The building itself is stunning, offering late-Victorian architecture creating a regal and luxury atmosphere which instantly draws you in. Once inside you are greeted by extremely friendly and welcoming staff who honestly cant do enough for you. We were given an Urban Double Room on the top floor with views overlooking the front of the property and lovely grounds below, with York Minster in the background.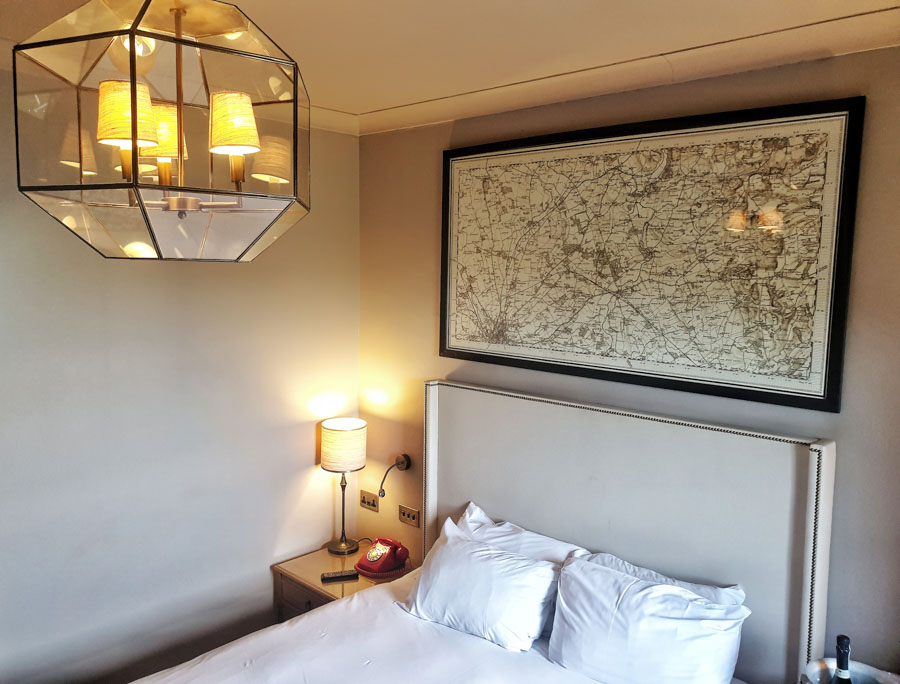 The room itself was perfect for our needs and we had two very comfortable nights rest here after long days of exploring York on foot. It offered aesthetically pleasing decor, spacious and comfortable furniture and we almost didn't want to leave to explore the rest of York. It came furnished with a lovely double bed, thick duvet, fluffy pillows, writing desk, large window, luggage space, flatscreen TV, free WIFI, tea & coffee making facilities, mini fridge and ensuite bathroom.
To view all of the other rooms and suites click here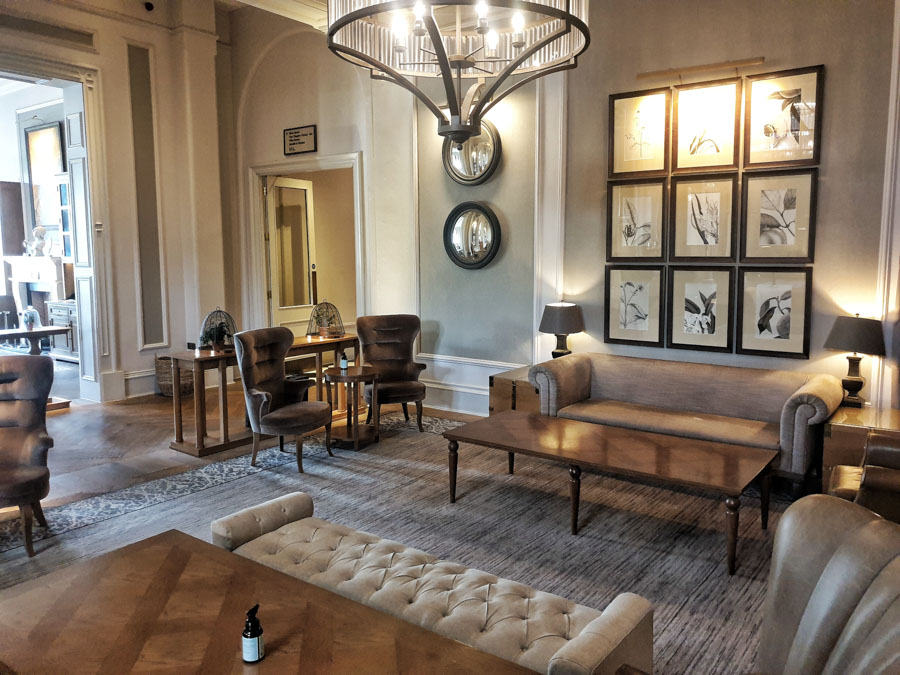 The hotel is very central to the main attractions and shops and only a short 10-15 minute walk. For the whole time we were there we didn't need the use of a car and walked to everything we wanted to see and do. Within the hotel you will be able to find the Refectory Kitchen & Terrace which serves some utterly delicious meals and breakfasts. For our first evening in York we opted to have a meal here and we were not disappointed. The staff were brilliant, charming and a pleasure to have around. A special mention to Uzuri who lovely and really looked after us for the evening.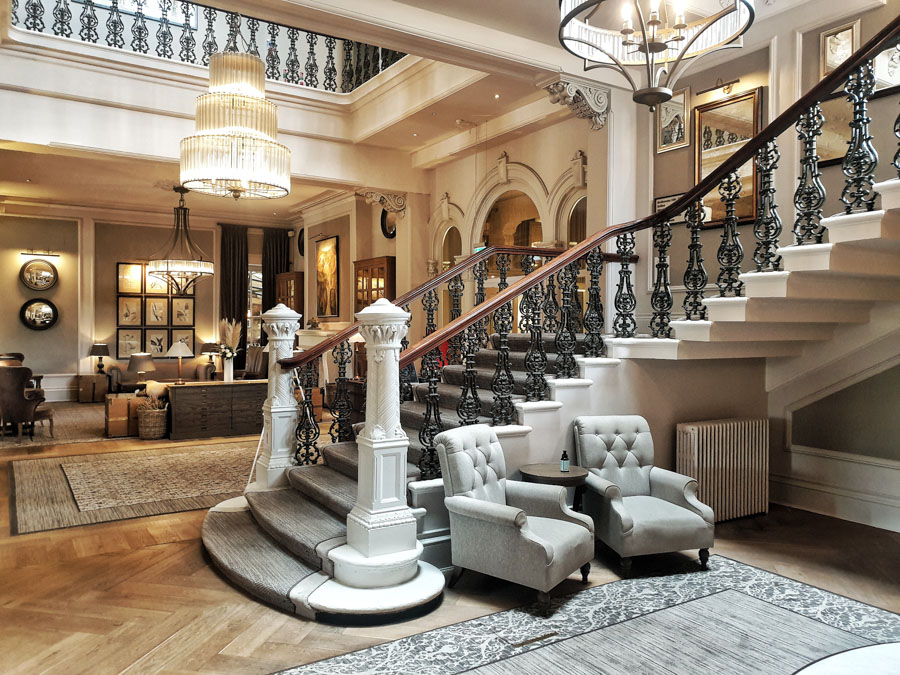 A lovely little touch which really made Tran and I smile was an unexpected surprise birthday cake and bottle of Prosecco waiting for us in the room for Trans birthday.
This hotel is definitely a great place to base yourself and I would highly recommend staying here whilst exploring York.
Top things to do in York:
1. The Shambles
Iconic in their own right, these beautiful picture perfect cobbled streets are lined with medieval shops, cafes, Harry Potter stores, bakeries, toy shops and a number of quirky boutiques. There is so much history here. The oldest of these corbelled and half-timbered buildings was built a staggering 700 years ago. It really does feel like you have gone back in time or magically transported to Diagon Alley for those of you who are Potter fans.
While you can now find an array of touristy gifts and delicious coffees, it was originally home to a variety of butchers and many of those had slaughterhouses in the back to ensure the meat was fresh for their customers. This is where the name 'The Shambles' came from. In old English, the word 'Shamel' means stalls or benches which meat would have been displayed on. This is also the reason why the buildings appear top heavy and wonky down very narrow streets as it was the best way to protect the shop fronts and keep the meat out of direct sunlight to keep them fresh.
2. York City Walls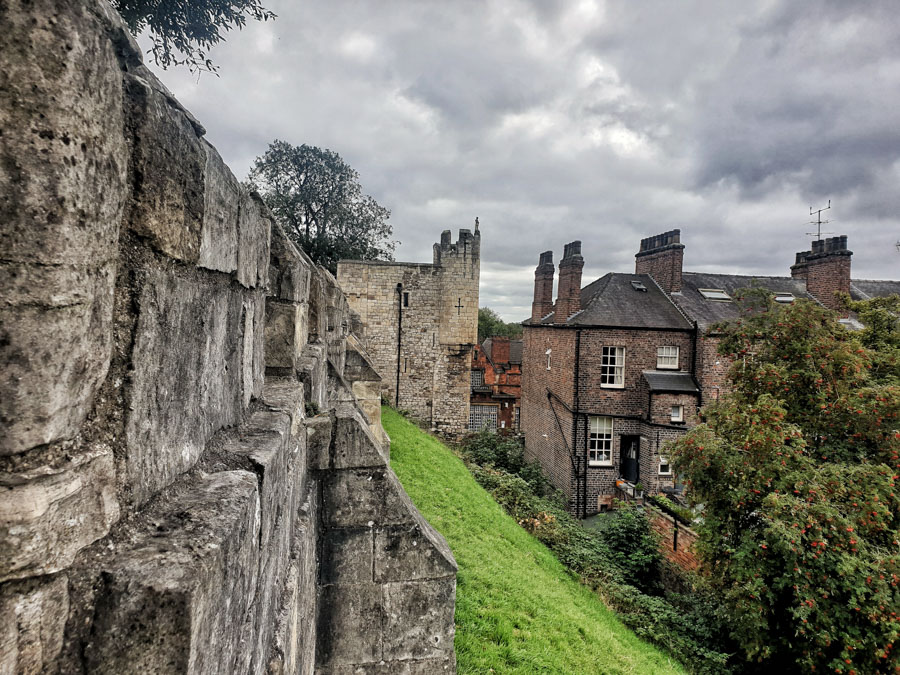 The city of York, for nearly 2,000 years have been surrounded by walls that were built by the Romans to defend itself from enemy attacks. Today, these walls provide incredible views for tourists to walk and explore, with a total 2.8 miles of medieval stone walkways. You can easily complete this walk within a few hours or possibly longer if you stop off at cafes and pubs along the way which I highly recommend doing.
There is a total of 45 towers and 4 main gates which are worth checking out. Be sure to check out Mickelgate (as shown above) and also Monk Bar which has a portcullis in working condition. There are a number of places you gain can access to the walls and they stay open from 8am until dusk.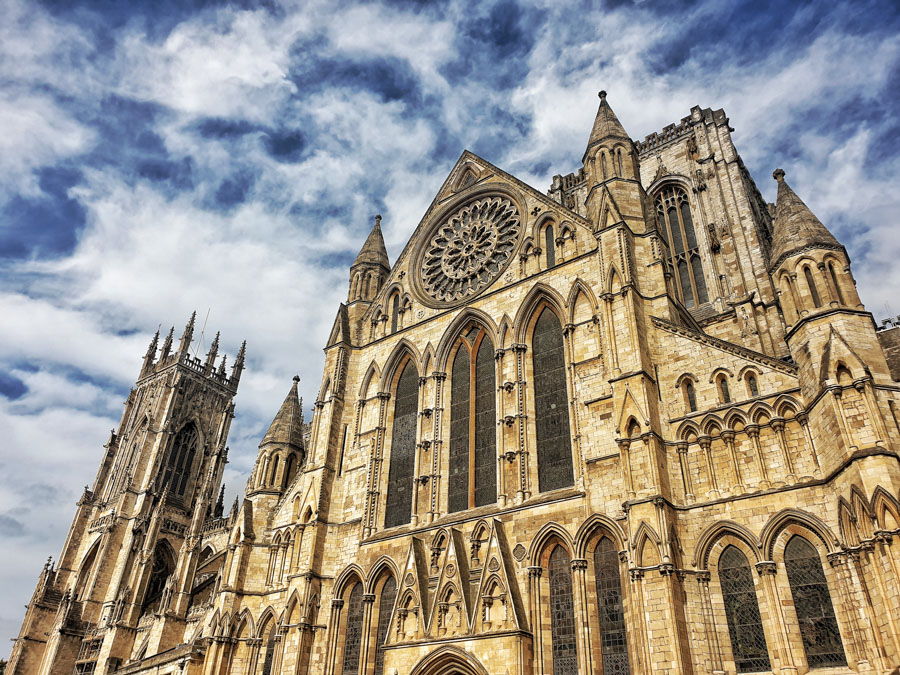 You can't not go to York and miss out on experiencing the stunning York Minster. It would also be pretty difficult as you can see it from most parts of the city, towering above the buildings and landscape. It is no surprise then that it is one of the biggest Gothic cathedrals in Europe. Built in 1472, it took over two centuries for the building to be completed and it is the tallest building in York. One of its more remarkable features are the 128 medieval stained glass windows, comprised of around 2 million pieces of glass.
Once you are inside there is plenty to keep you occupied and you will find your eyes wandering over every inch of the building, exploring its nooks and crannies. Of course, being a cathedral it has centuries of history which can you learn about in more depth as you wander around its high ceiling rooms and even a crypt. Fancy seeing the city of York from an aerial perspective? Head up the 275 steps which lead to the rooftop and stare in wonder at the incredible views and horizon.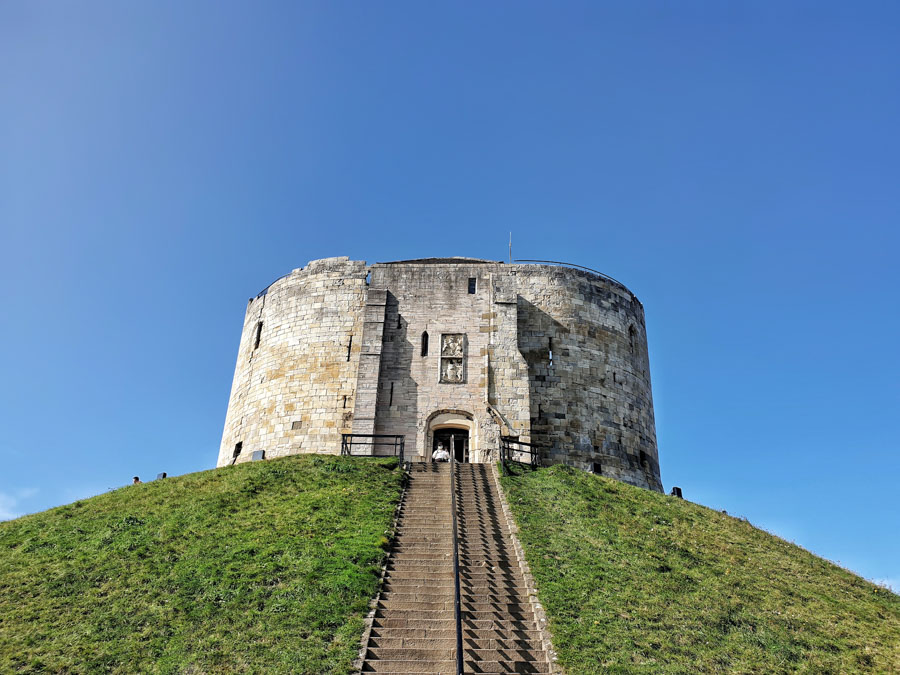 Standing proud on a grassy Norman motte, overlooking the sweeping vistas of York Minster is the last remaining piece of York Castle which is the ruined keep. It was originally built from wood and in the 11th century came to a horrible end in 1190, when there was a mass suicide of 150 Jewish people, and the tower itself was burned down. It was then rebuilt in the 13th century by King Henry III, but instead of wood they used stone.
Over the centuries it has been used for various reasons such as a treasury, prison, armoury and royal mint. The tower itself has little to explore once you are inside, but climb the spiral steps to the top and you will be greeted by some incredible 360 degree views of York and the moors in the north.
5. Immerse yourself in the wizarding world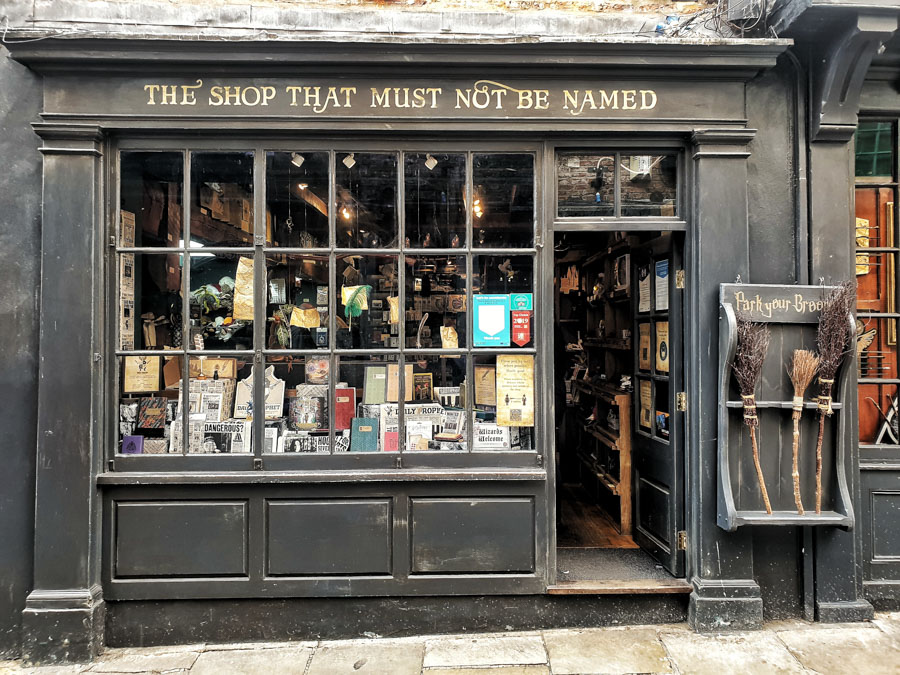 As mentioned previously, the Shambles will definitely remind Harry Potter fans of Diagon Alley which many believe is the inspiration for J.K.Rowling's books. Here you will find plenty of wizarding and magical shops such as the The Shop That Must Be Named, World of Wizardry, The Potions Cauldron and The Boy Wizard.
Inside you will find an array of gifts, tokens and even some potions for you to try out. Due to the crooked buildings, cobbled streets and unique store fronts you really will feel like you have been transported to another world where you may possibly bump into Hagrid ambling down the street towards you.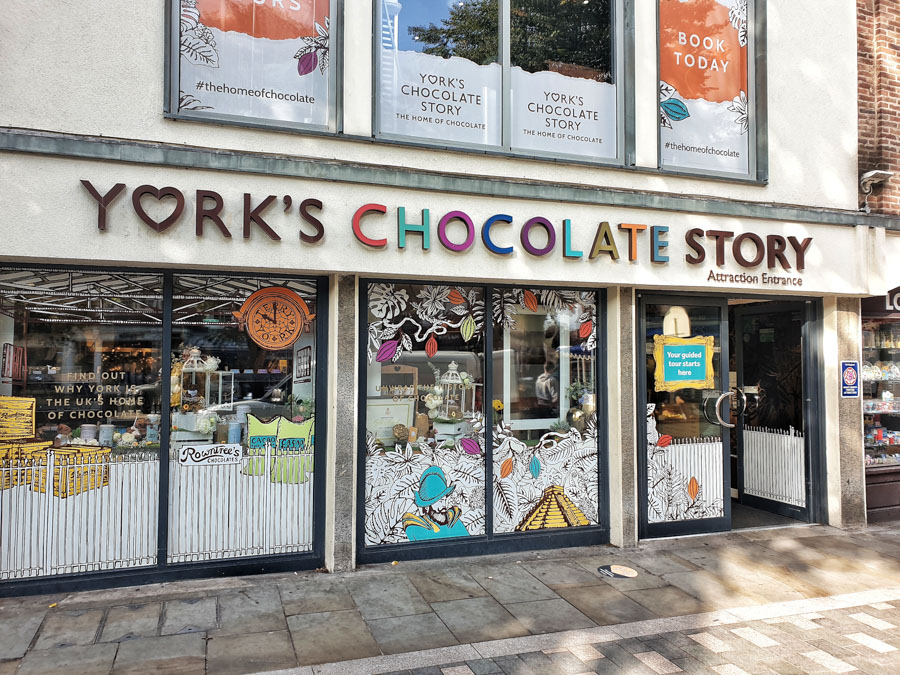 Quite surprisingly, York has a strong history connected with some of the most famous chocolate brand names that we know and love today. Home and birthplace to both Rowntree's and Terry's brands, this tour really is a must do on your trip here. The tour itself is fascinating and full of information such as York is the main provider of Kit-Kat's for the whole of the UK and they produce a staggering 6 million Kit-Kats daily.
During the tour, you are taken through a variety of rooms where you learn about the history of the different families and how our favourite sweets came to being. My favourite part was, of course, making and tasting my own chocolate lolly which was a fantastic experience. At the end, you are given a bag of goodies as well the lolly which you made previously. Still not enough chocolate for you? Well on your way out you can head into their store and feel like you are in Willy Wonka and the Chocolate Factory.
7. St Mary's Abbey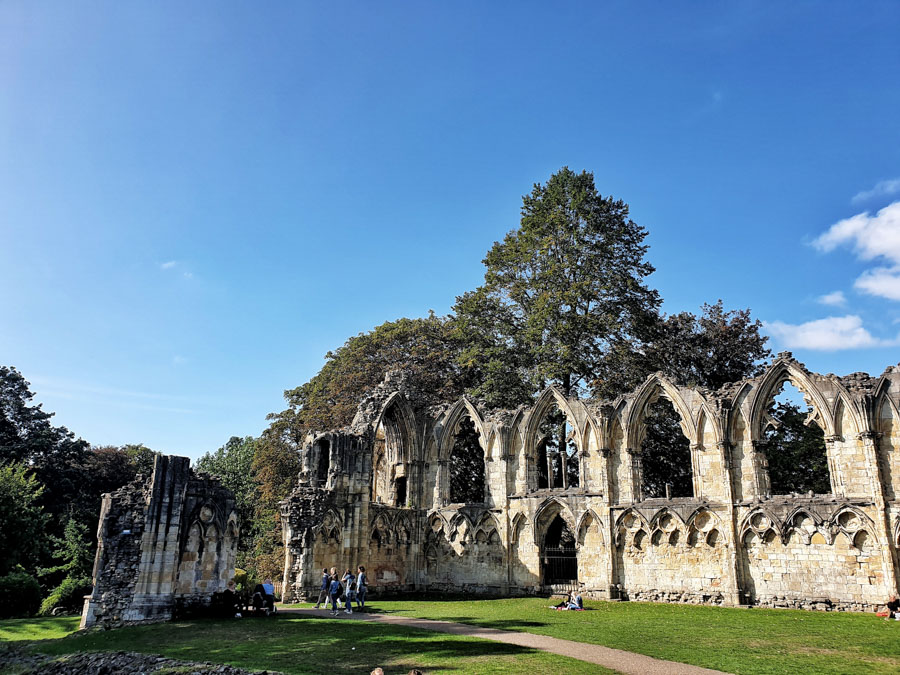 These magnificent ruins are found in the 10 acres of sprawling York Museum Gardens which are home to historical buildings, wildlife and foliage. Founded in 1088, St Mary's Abbey was one of the richest abbeys in North England. These days, there is only one side and a corner left which still looks pretty magnificent with its huge arches and Gothic architecture.
On a lovely summer day, this is the perfect spot to enjoy a delicious picnic or have a short walk around the gardens to get away from the hustle and bustle of the main city centre.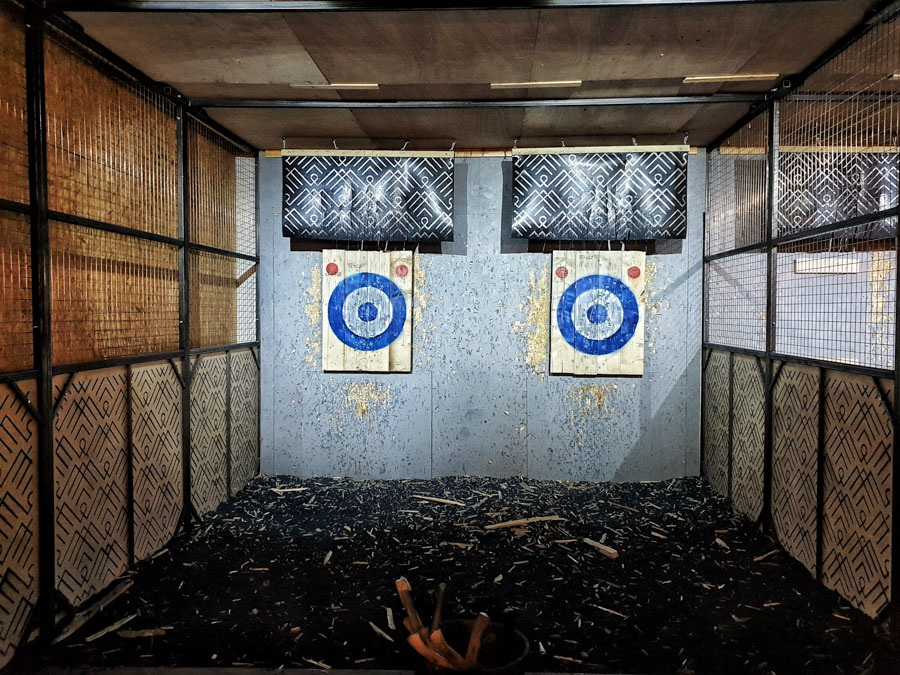 If you are ever in York then I would highly suggest pretending to be a viking and throwing axes at wooden targets. Not only is it exceptionally fun but well…who doesn't want to throw axes at things? The whole experience is an hour long and you will get throw not just one but also two axes at the same time with the guidance of the superb staff at the Hilt.
We had Alex teaching us the ropes and his humour was next to none! It made the whole thing a lot more fun and if you manage to win the little tournament then he may even let you throw his heavier more impressive looking axe. All in all a great way to spend and hour or two and definitely worth trying.
Where to eat in York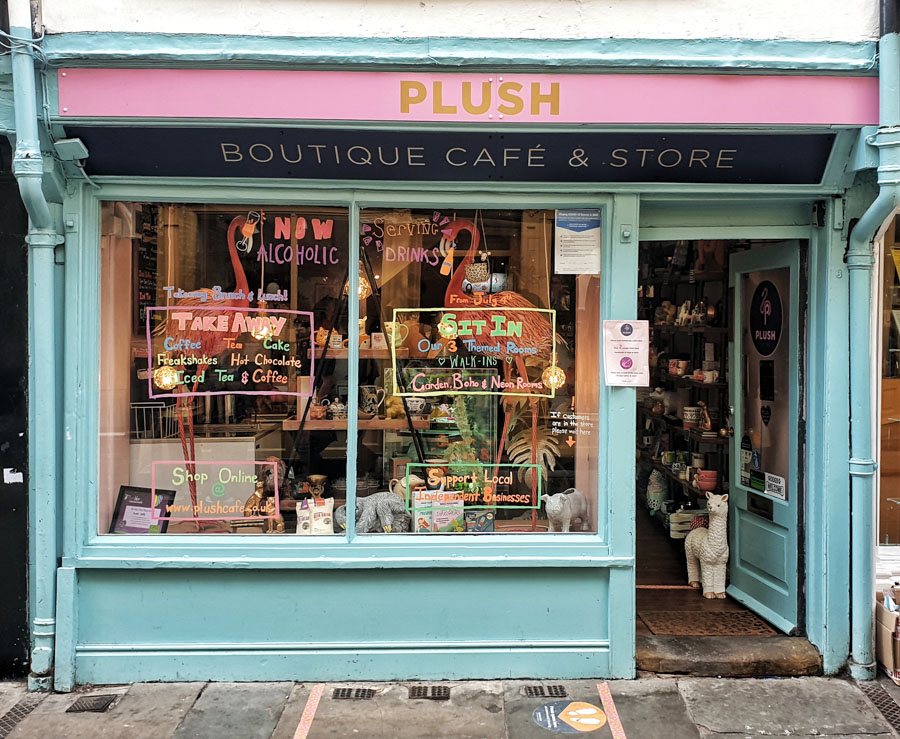 While there an abundance of cafes in York, Plush Cafe really stood out for us and we had to make a visit to try their exceptional menu. From the offset you are instantly drawn in by its vibrant shop front and colourful features. Inside is rather small, but they have maximised its space with quirky swings and unique furniture which makes it perfect for photos and intriguing dining.
We opted for the afternoon tea which included yummy finger sandwiches, delicious scones and decadent cakes/sweets. We washed this down with tea, coffee, juice and for me a donut freak shake! Overall we loved the atmosphere in Plush Cafe and the staff were extremely friendly and prompt. This is well worth a visit while in York.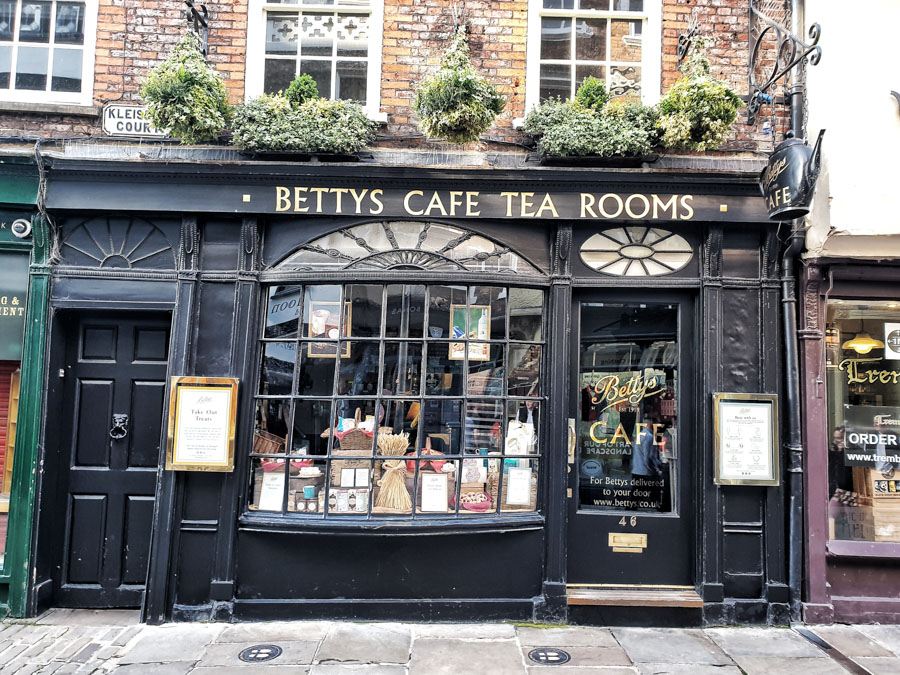 Before arriving in York we had heard a lot about Bettys Cafe and we were very excited to try out their teas and sandwiches whilst there. More often than not when we walked past there were long queues of people waiting to get in which always bodes well for an establishment. On our last day in York we hopped into a smaller queue and were seated pretty quickly. The safe were extremely friendly, efficient and took our orders pretty quickly.
We decided to try out some light sandwiches, some English breakfast tea and an Earl Grey to keep us going for our trip back to London. Sadly, we were a little underwhelmed. The presentation was fantastic and we loved the crockery, however the food wasn't anything special and the tea was average. It was a lovely environment though and we did buy some shortbread to take away with us which was incredible!
I loved Fancy Hanks! With a vibrant yellow shop front and welcoming aromas floating out into the street it was impossible not to duck in and try some of the food there. They offer a range of delicious southern American soul food such Buttermilk Fry Shrimp, Chicken & Waffle and Slow Braised Spare Rib.
We decided to try the Bourbon Glazed Belly Pork, Classic Mac, Double Cheese Burger with Bacon and the Slow Braised Spare Rib and were blown away. The service was impeccable and our waiter Callum was fantastic and honestly couldn't do enough for us. I highly recommend trying the food here!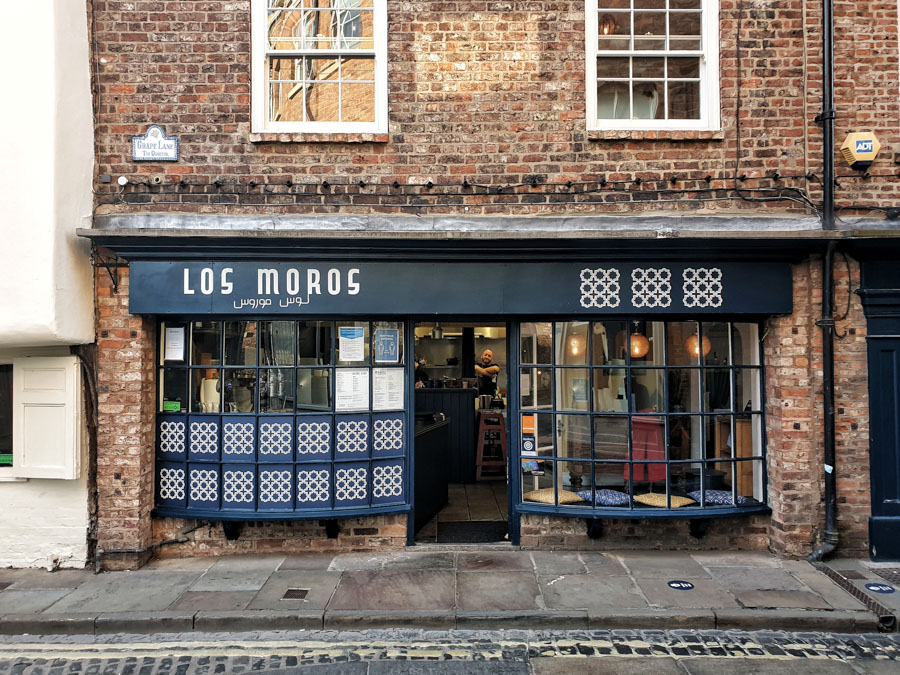 This North African restaurant is truely a hidden gem in York. Nestled away in the Shambles Los Moros which means 'the Moors' in Spanish, is partly influenced by different cultures, and their menu is full of these flavours and ideas. We chose to have the Falafel, ZFC Chicken, Beef Tanjia and Mechoui Lamb Shank which we can honestly say was some of the best food we have eaten so far in 2020.
The service was perfect and very friendly. The atmosphere was also brilliant and we felt like we could have stayed there for the whole evening just eating and drinking. If you do make it to York then I would definitely suggest giving this a try.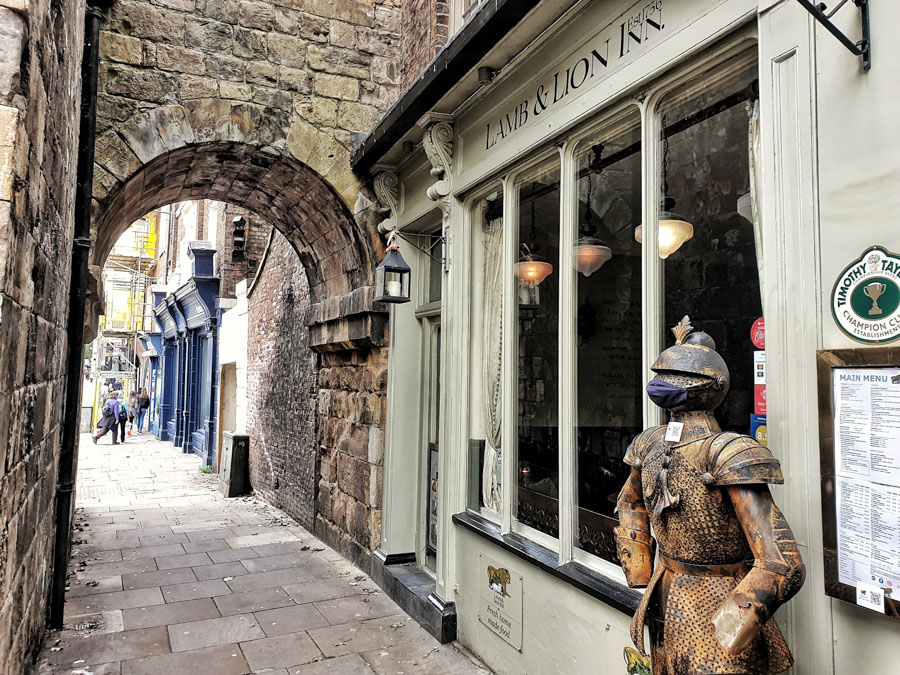 Situated directly below the York Wall's the Lamb and Lion Inn looks exactly like my kind of pub. With knights of armour standing outside guarding the entrance and ancient brickwork you just know that the food will be delicious British pub grub – and I wasn't wrong.
Tran and I decided to try the Southern Fried Chicken, Battered Halloumi, Beer Battered Haddock and Chicken Lollipop's. Each dish was a delight in my mouth and I was left feeling nicely full and contempt while basking in the medieval atmosphere and chatting with the friendly staff. This is a great place to come for a hearty meal, a cold or hot drink and a nice place to relax and rest your feet a while.
Overall thoughts of York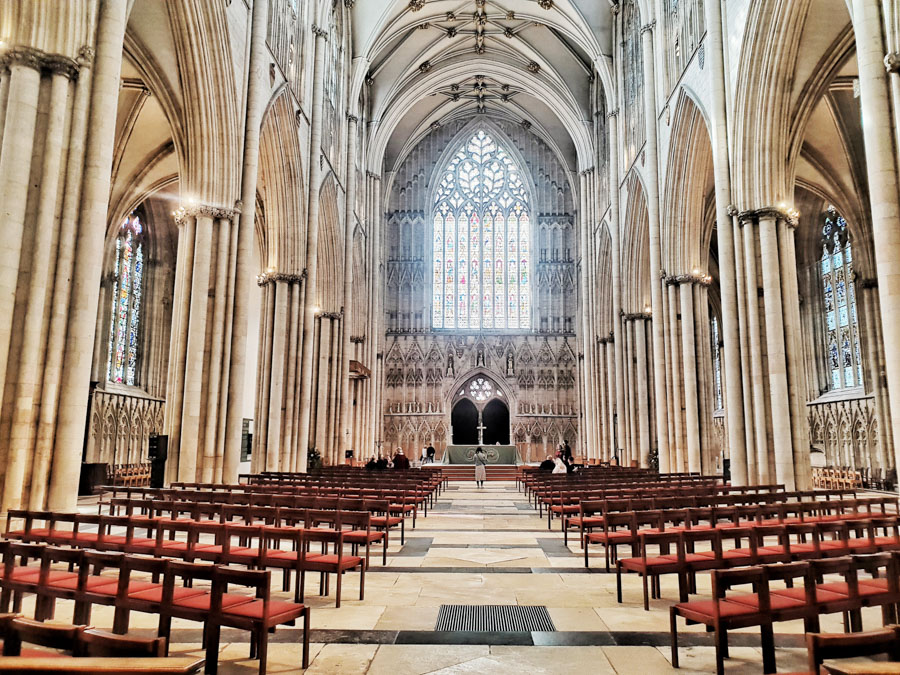 As soon as we stepped off the train at York station we were instantly wowed and knew straight away that we were going to love york – and we certainly were not disappointed. There is so much to do here and we only really scratched the surface, so watch out for a part two.
Tran and I just want to say thank you again to Visit York for helping us to arrange this staycation, as well as the other businesses that made our stay so enjoyable. We cant wait to come back!
Find out more information at Visit York.
***Thank you to Visit York for kindly sponsoring this post. All opinions are 100% honest & completely my own.