HA LONG BAY'S FINEST
Have you ever wanted to explore the famous Ha Long Bay on a luxury cruise? Then Paradise Luxury Cruise is the perfect answer. This beautiful traditional wooden junk has been designed for a personalised experience, with the perfect blend of chic, modern styling and traditional Vietnamese detailing.
With its spacious sundeck and comfortable lounge areas guarantees spectacular views of the karst limestone formations and emerald waters of Halong Bay. And with a world class day spa on board, this ship redefines luxury cruising in Halong Bay.
If you find yourself in Ha Long Bay, Vietnam then I highly recommend booking either a 1 night or 2 night cruise tour with Paradise Cruises.
Highlights
Travel in pure luxury around the islands
Soak up the beautiful decor
Plenty of activities to keep you busy
Luxury limousine pick up and drop off
Super friendly and welcoming staff
Deluxe Balcony Cabin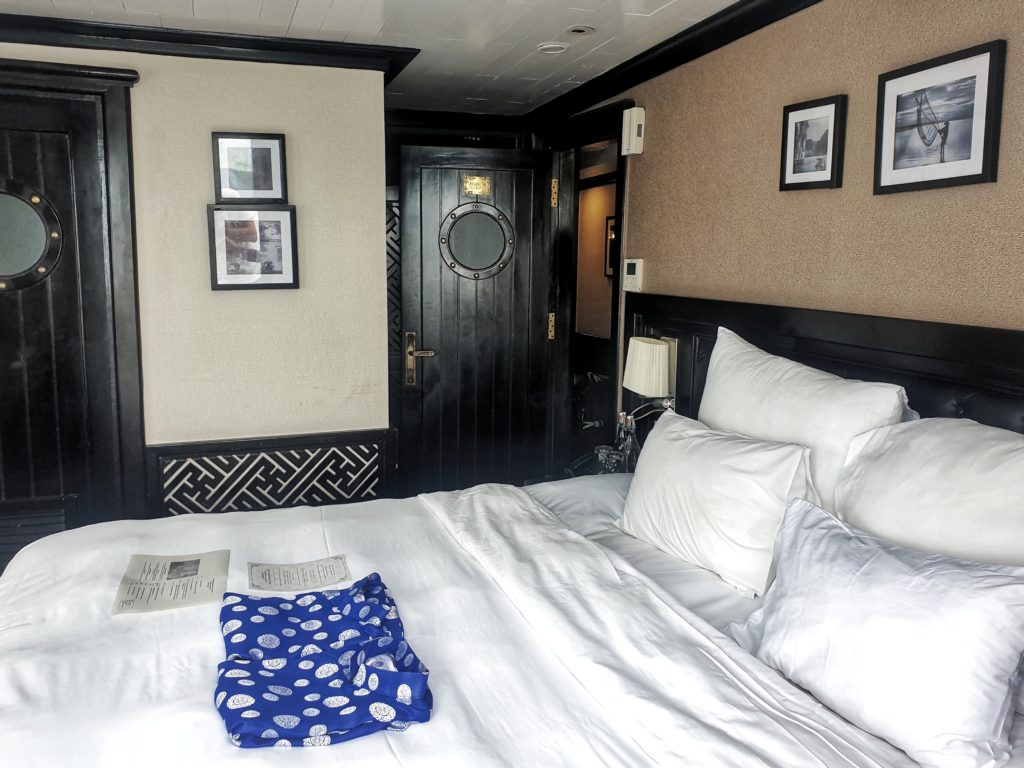 During our stay on the Paradise Luxury Cruise we opted to stay one night and two days in the Deluxe Balcony Cabin which honestly looked absolutely incredible from the word go as it was quirky, modern, and with fantastic Vietnamese touches to complete the atmosphere.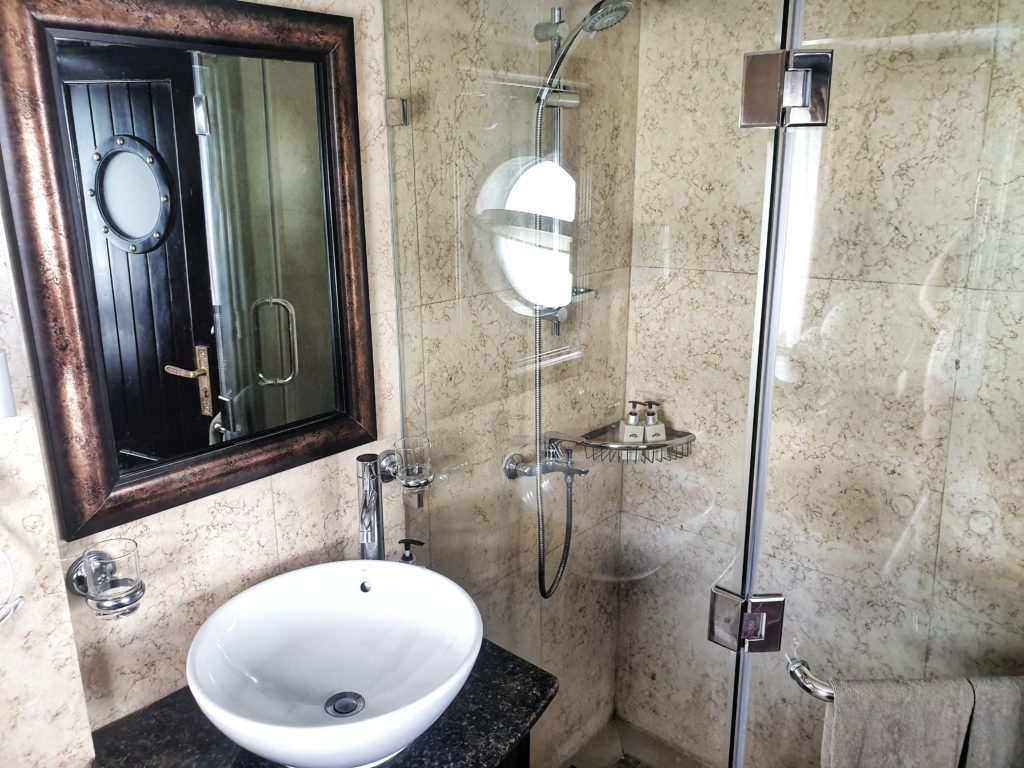 Furnished with a large double sized bed, big fluffy pillows, clean linens, soft towels, bed side tables, en-suite bathroom, a brilliant view overlooking Ha Long Bay from the private balcony, plenty of power points and touches of class. The aesthetics of the room were on point and it made for a very welcomed nights rest.
What you get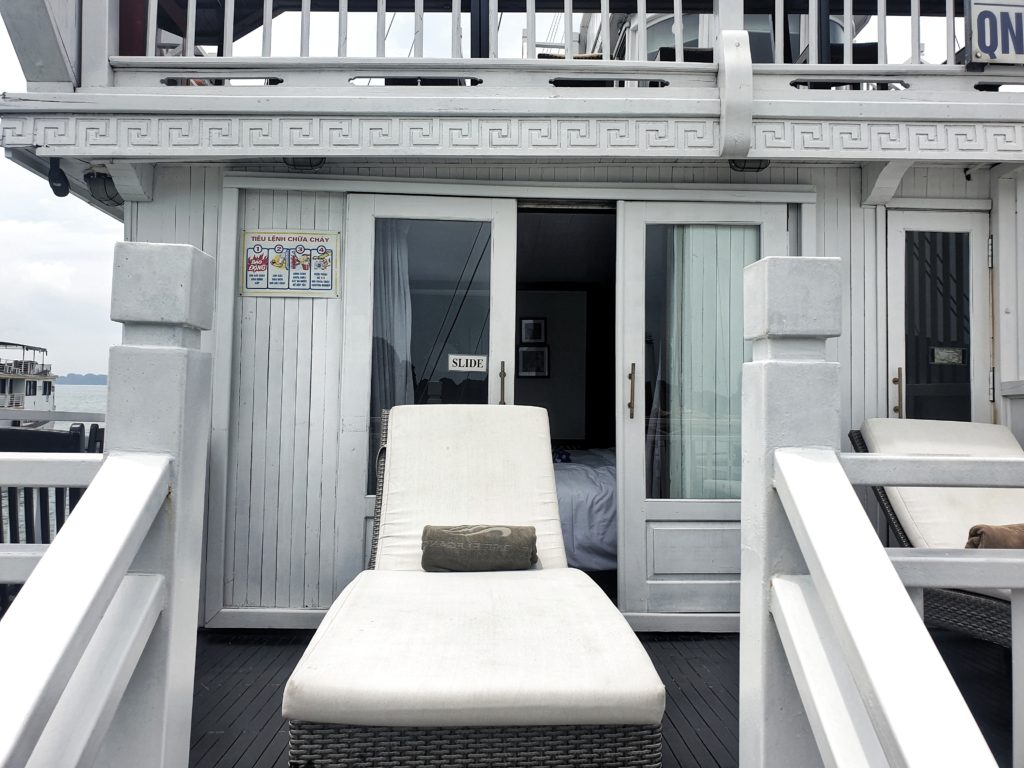 The cabin comes equipped with free toiletries, air-conditioning, free bottled water, wardrobe, safety deposit box, slippers, hair dryer and the option of room service. I especially loved that our balcony was at the front of the ship and had ample of space for two sun loungers and our own private space on the boat.
Click here to check out their other cabins
Activities
The Restaurant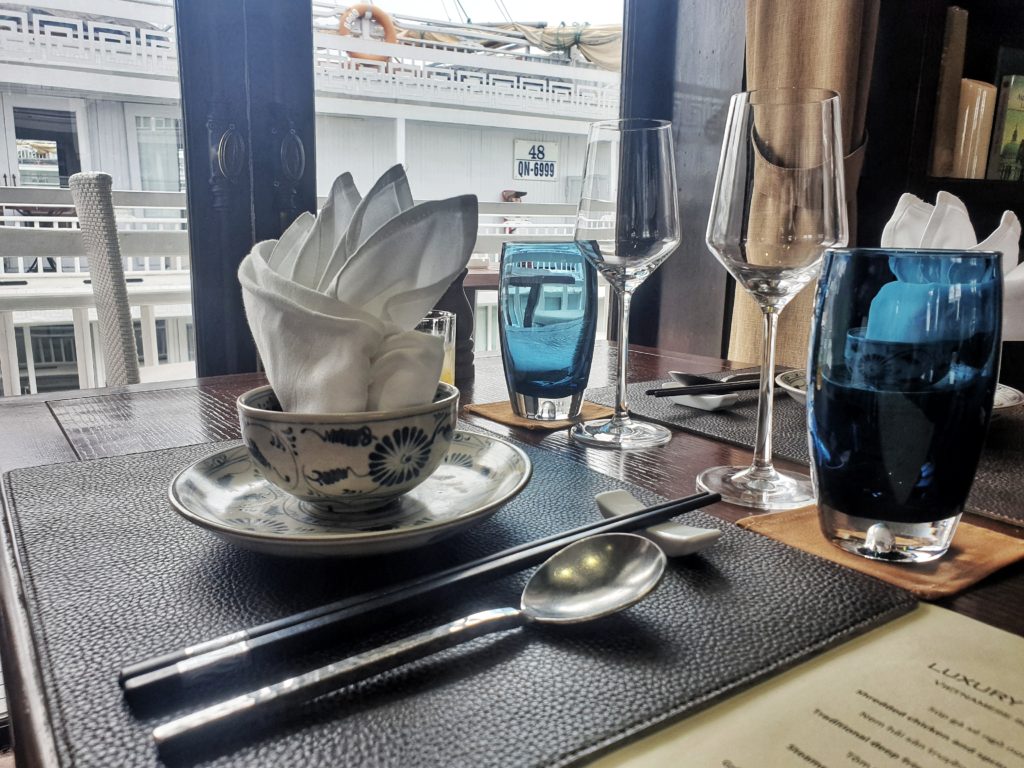 Inspired by the kings and queens of the ancient Imperial City of Hue, Paradise Luxury guests can dress in the Bao Dai style for the Paradise Royal dinner. With a choice of either authentic Vietnamese cuisine or international dishes from our à la carte menu, you will dine like royalty and delight in the freshness and quality of the ingredients, the creativity of our chefs, our hand-picked wine list.
Discover Hidden Treasures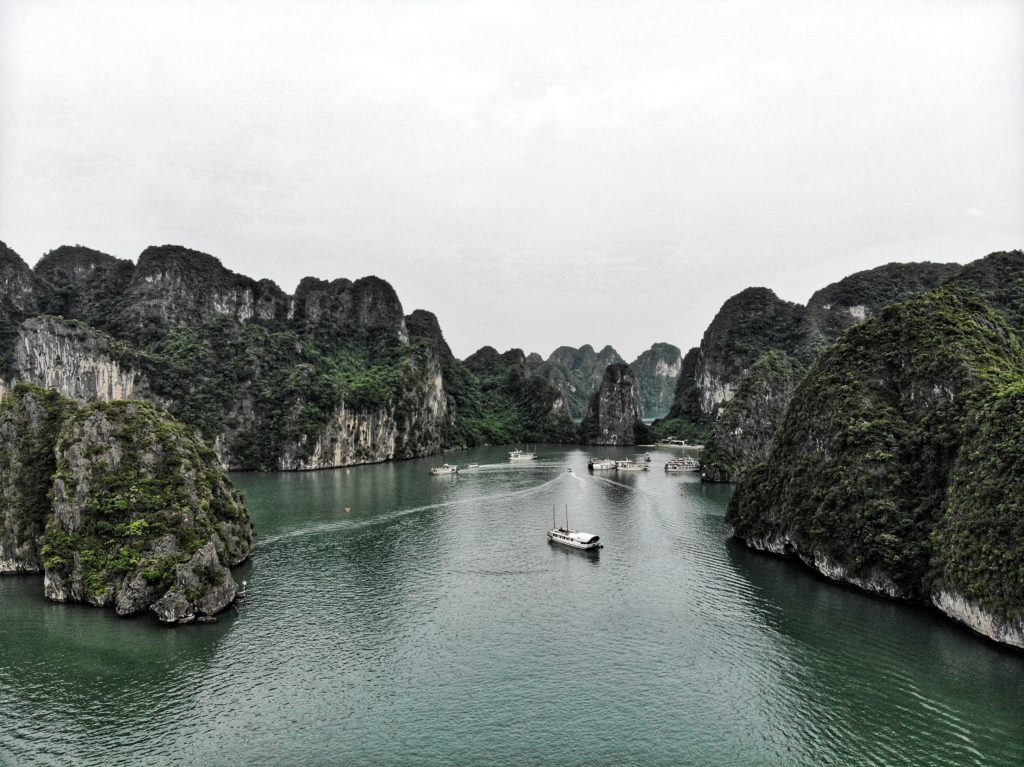 The island caves, caverns and grottoes of Ha Long Bay's islands and islets are treasures waiting to be explored. Here you can discover a myriad of magical worlds formed over millions of years by limestone and water. This is the crown jewel of what you have come to see and you certainly won't be disappointed.
Kayaking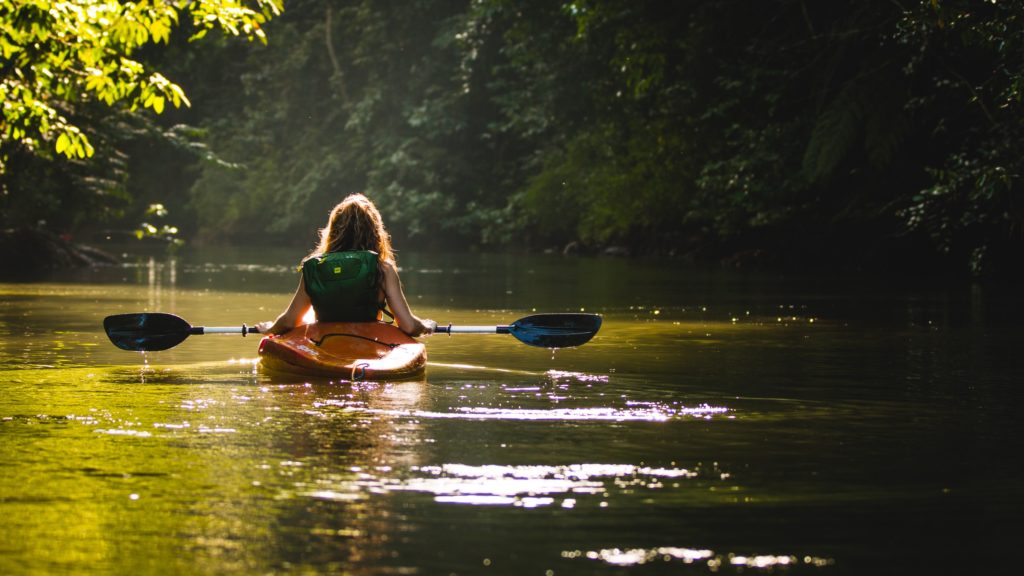 What better way to explore the islands, caves, caverns and other nooks and crannies than by kayak. by paddling around this gives you the ultimate freedom to explore and create your adventures and unique memories.
Cooking Classes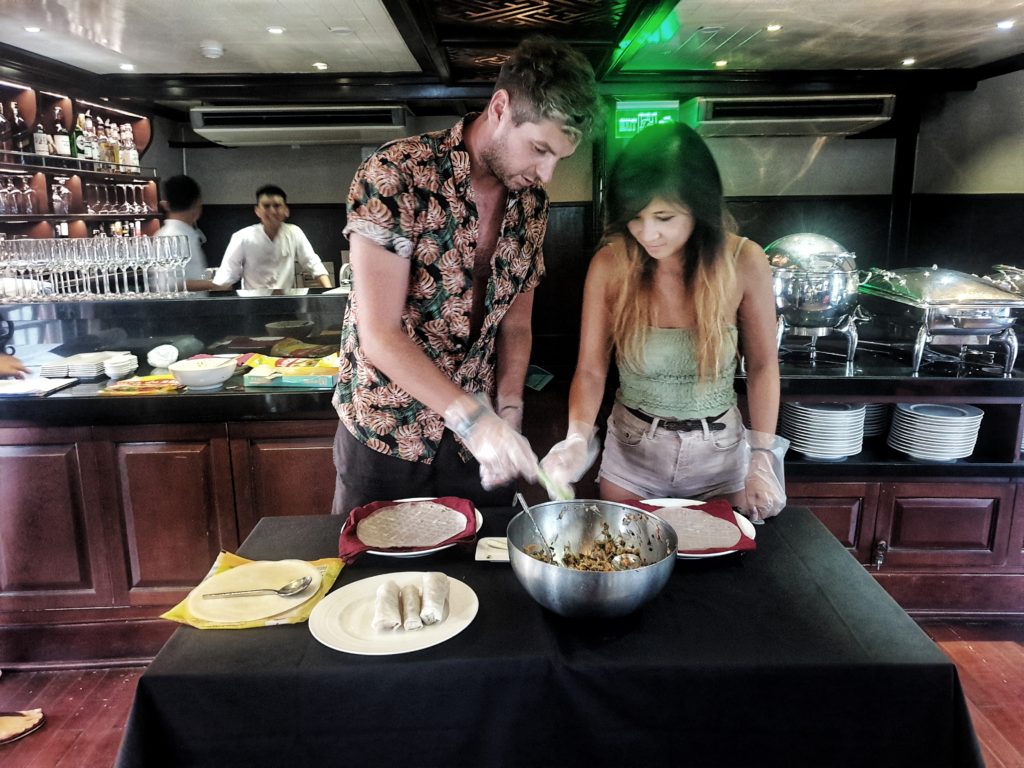 Vietnamese cuisine has so much to offer, with plenty of fresh flavours blended perfectly in a single dish creating a delicious experience for your tastebuds. With these onboard cooking classes you will certainly learn a thing or two that you will remember for the rest of your life.
Spa Treatment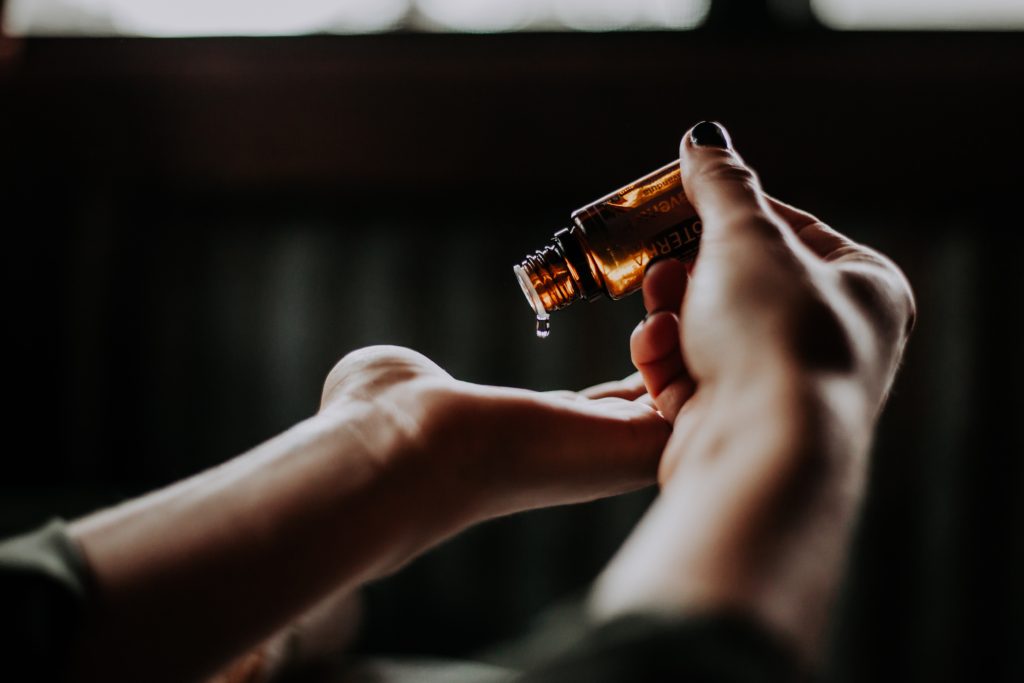 Nourish the mind and nurture the body with their extensive menu of wellness treatments. With both traditional and contemporary therapies available, carried out by their trained masseurs, you will be transported to a place of pure bliss. Le Parfum Spa comprises four treatment rooms and is conveniently located on the main deck of the boat.
The spa offers a variety of facial, body and foot treatments, so have our world class, fully trained therapists work their magic and pamper you for the ultimate in relaxation.
The Sundeck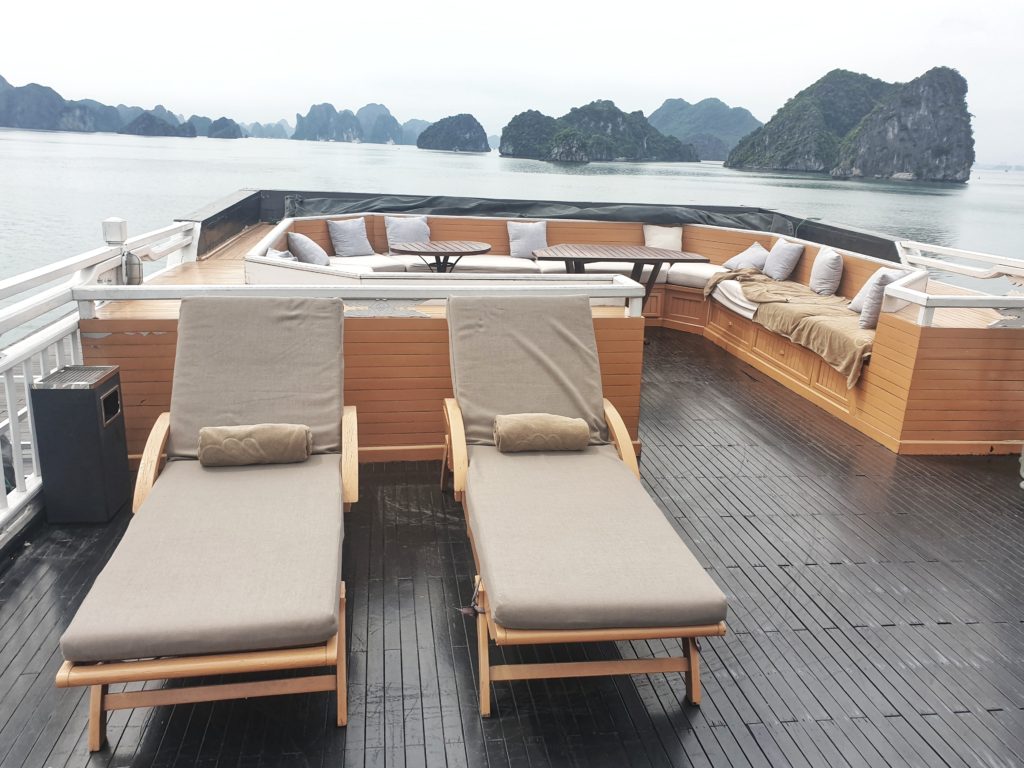 With the whole top deck to take your pick of sun loungers, grab your favourite, chill out, catch some rays and relax while the scenery changes before your eyes as the cruise takes you around some of the most beautiful islands in Vietnam.
How to get there
SHARED LUXURY LIMOUSINE SERVICE
Grab a luxury limousine with seating up to 8 passengers features pleasant lighting, complimentary WiFi connection, and mineral water. It takes around 2.5 hours to travel to Halong Bay from Hanoi or return, and a fee of USD 56 per person is charged for a Hanoi-Halong round trip, including a light lunch at the Paradise Suites Hotel on Tuan Chau Island before returning to Hanoi.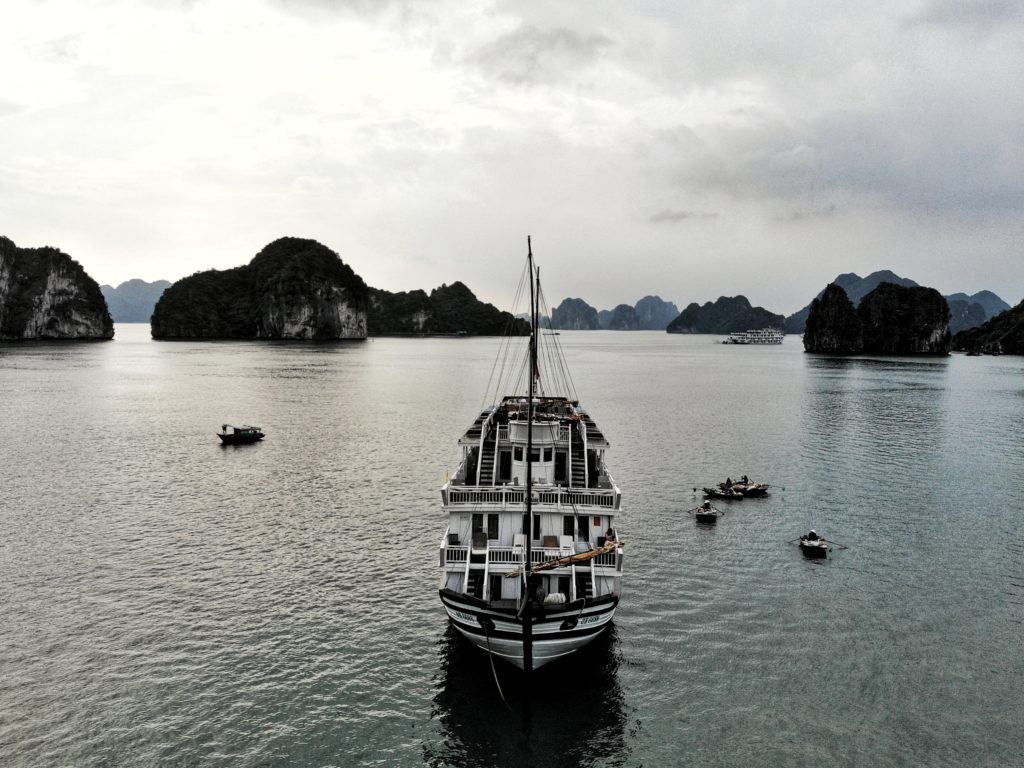 PRIVATE CAR (Car rent with driver)
Comfortable private cars including Toyota Innova, Ford Transit Luxury, Mercedes-Benz Vans, etc. can be arranged upon request. To ensure a pleasant trip, they recommend a maximum occupancy of 2-3 passengers for a 4-7 seaters car and 8 passengers for a mini-van. It takes 2.5 hours to travel to Halong Bay from Hanoi or return. A fee of USD 160 per 4-7 seaters car and USD 190 per mini-van would be charged for a round trip with maximum occupancy.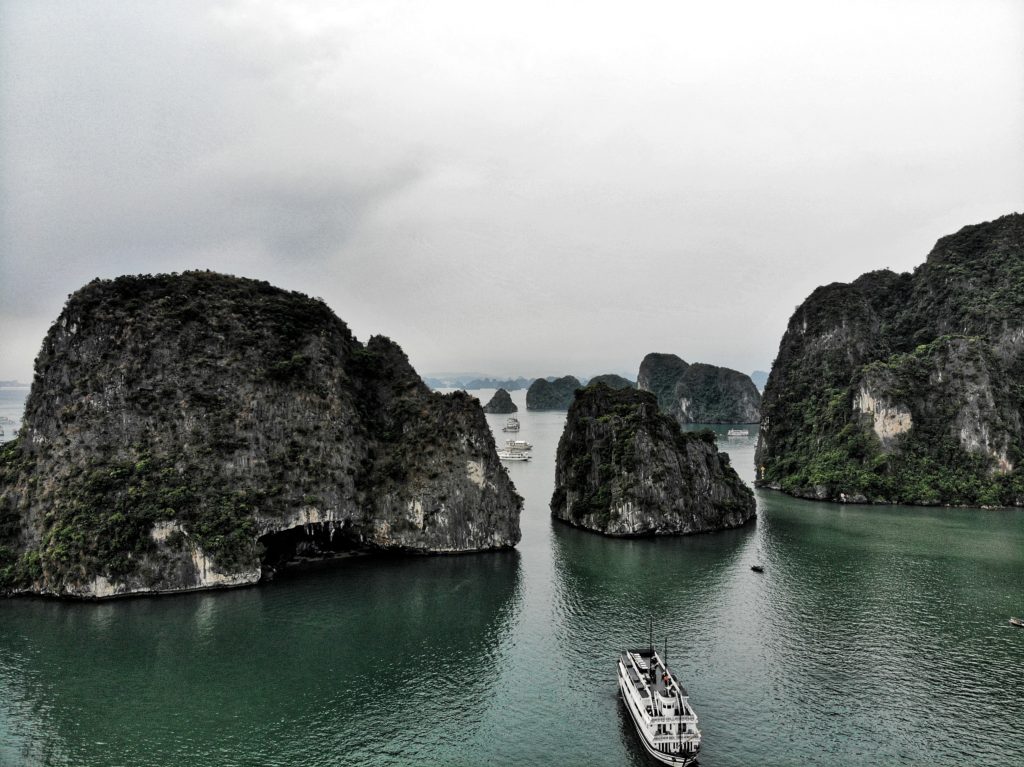 SEAPLANE
Travelling to Halong Bay by seaplane is a marvelous, luxurious experience, with views over the Bay from 300 meters during sea take-off and and landing. Customers who choose this option will enjoy a stylish and modern mode of transportation that takes just 60 minutes each way. There is a maximum capacity of 12 people, and features include wi-fi connection and photo opportunity. There is shuttle bus pick-up and drop-off points from guest/s hotels in Hanoi's Old Quarter to the airport. Outside this area, a private transfer is recommended.
Prices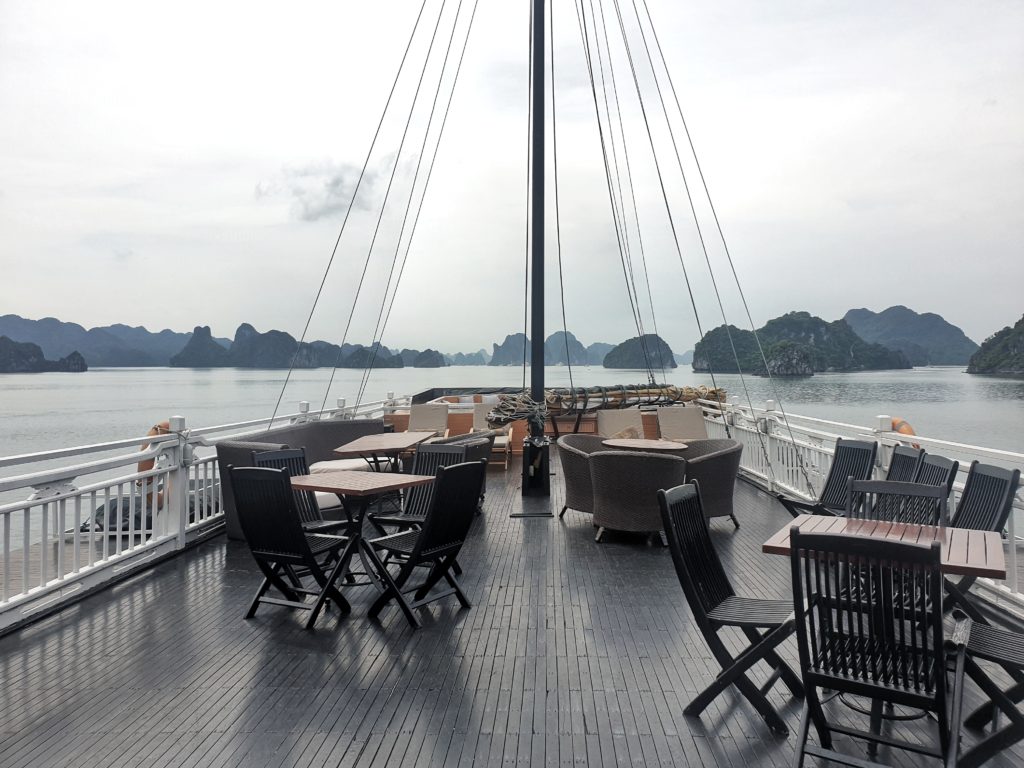 The prices will vary depending on what time of year you stay – to check out the pricing click here.
We stayed in August 2019 and for our Deluxe Balcony Cabin it would cost 5,094,474 VND (£176) per night.
Extras
Onboard insurance
Complimentary regular tea and coffee on board
Full board and afternoon tea
Cooking demonstration and Tai Chi session
Two bottles of water in cabin
Summary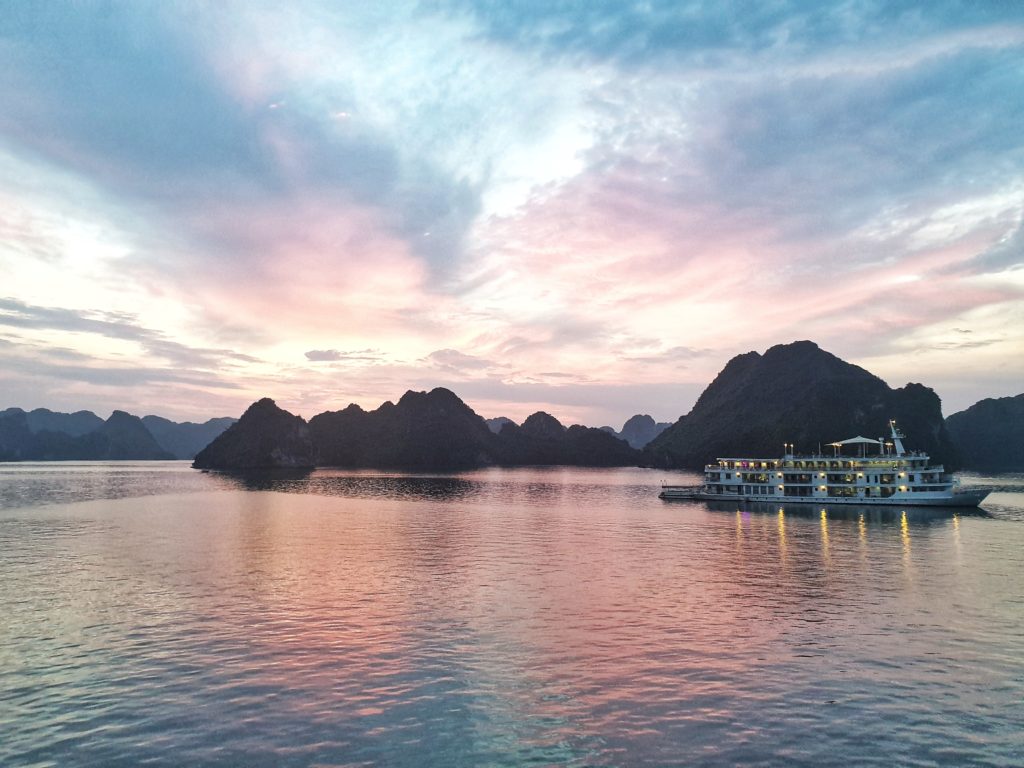 This luxury cruise is an absolutely beautiful, peaceful, and perfect way to explore the beautiful islands of Ha Long Bay. I am so glad that we chose to stay here for one night and two days – its the perfect Vietnamese island cruise experience!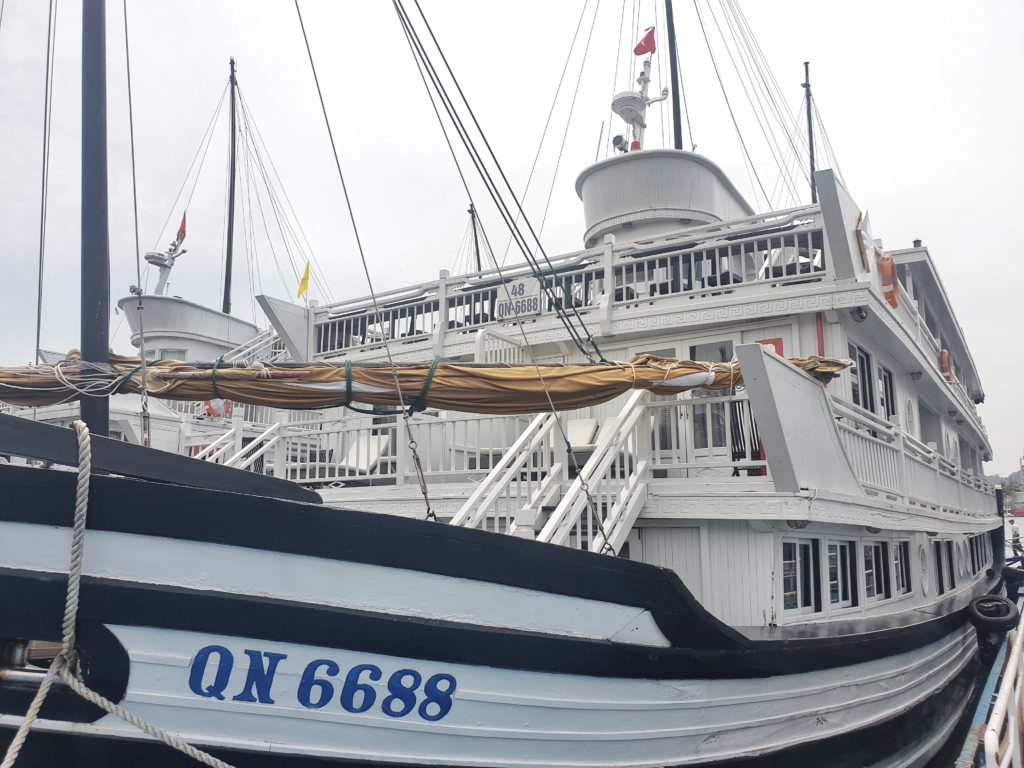 The cabin was fabulous, we had a super comfortable nights sleep and really enjoyed watching the exotic limestone cliffs from our bed and balcony. The kayaking was my favourite attraction as it is the perfect way to explore up close and personal. The staff were also so friendly, they can honestly not do enough for you to make your stay that little bit more comfortable than what it already is.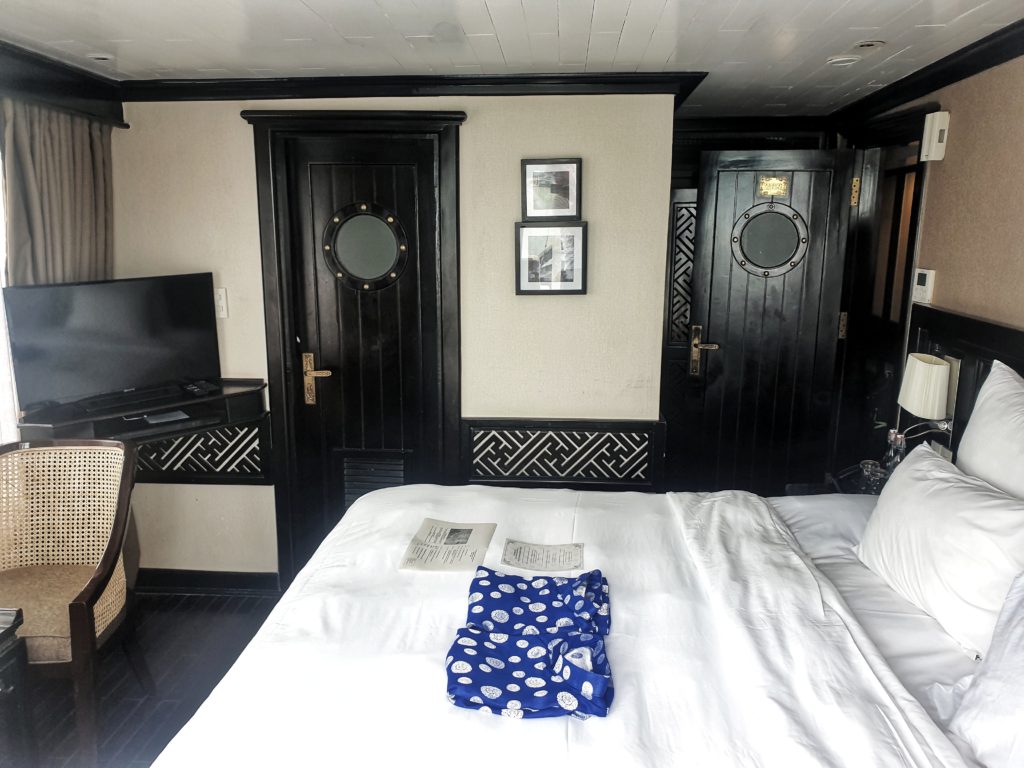 You will want to spend longer
The cruise has a fantastic and detailed intinerary and when you throw in the close proximity to the town, beaches, caves and all of the other attractions you are onto a winner!
If you are in Ha Long Bay, Vietnam and you want to have a unique Vietnamese island cruise experience, I would highly recommend Paradise Luxury Cruise.
***Thank you to Paradise Cruises for kindly sponsoring this post. All opinions are 100% honest & completely my own.