NHA TRANG'S BEST APARTMENTS
One of Vietnams most popular cities to visit, whether travelling or on holiday, Nha Trang has a little of something for everyone. Maple Hotel & Apartments is based only a short 2 minute walk from Tram Huong Tower and is centralised to most attractions. It is a stunningly modern hotel with fantastic service and plenty of facilities.
The main attraction being the rooftop pool and bar which is a great place to hang out and relax after a hot day exploring the surrounding sites and also enjoy some incredible sunsets in the evening. The onsite restaurant also provides some delicious western and Vietnamese food which you can enjoy overlooking the beach and mountains.
If you find yourself in Nha Trang, Vietnam then I would highly recommend booking a few nights stay at Maple Hotel & Apartments.
Highlights
The rooftop pool and bar
Daily free bottled water
Great central location to everything
Stones throw away from the beach
Extremely friendly and welcoming staff
Two bedroom Apartment with Sea View
During our stay at Maple Hotel & Apartments we opted for the Two Bedroom Apartment with Sea View to mix it up a bit and live in a more spacious environment compared to the hotel rooms we had been staying in previously. We loved it! and had some of the best nights sleep we've ever had here.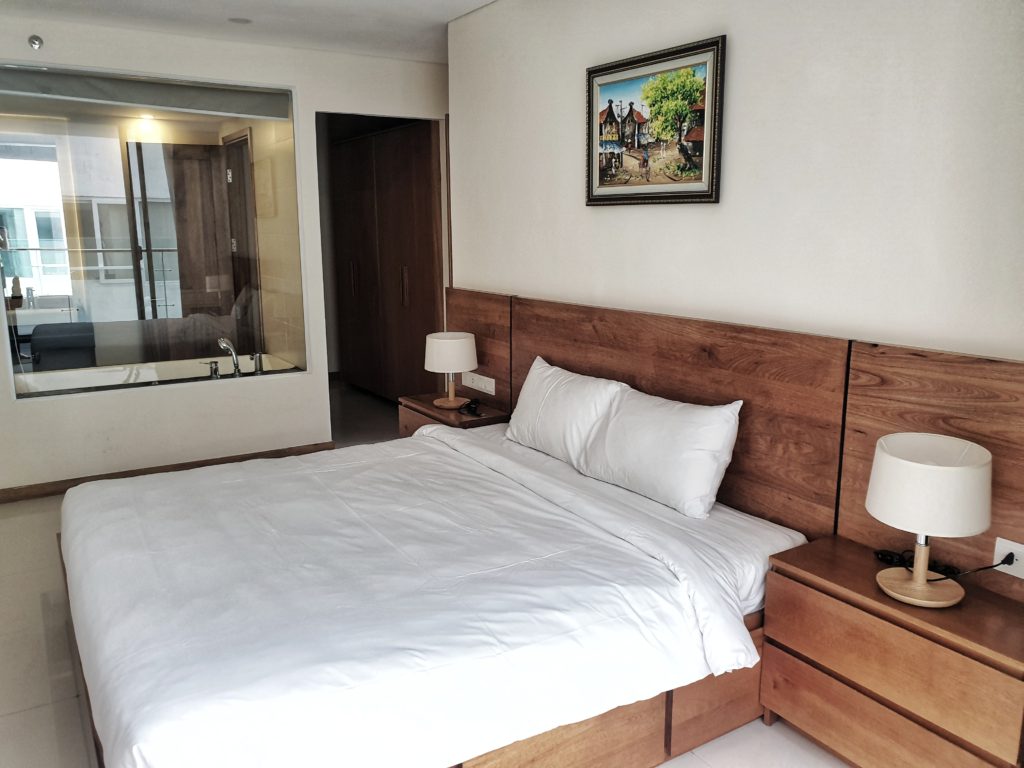 This large apartment came with two large bedrooms, two bathrooms, a living room, kitchen and two balconies. They were furnished with a super comfortable double size bed with fluffy pillows and clean linen surrounded by two bedside tables, lamps, large writing desk, copious amounts of storage for all your belongings, and private balcony overlooking the sea.
What you get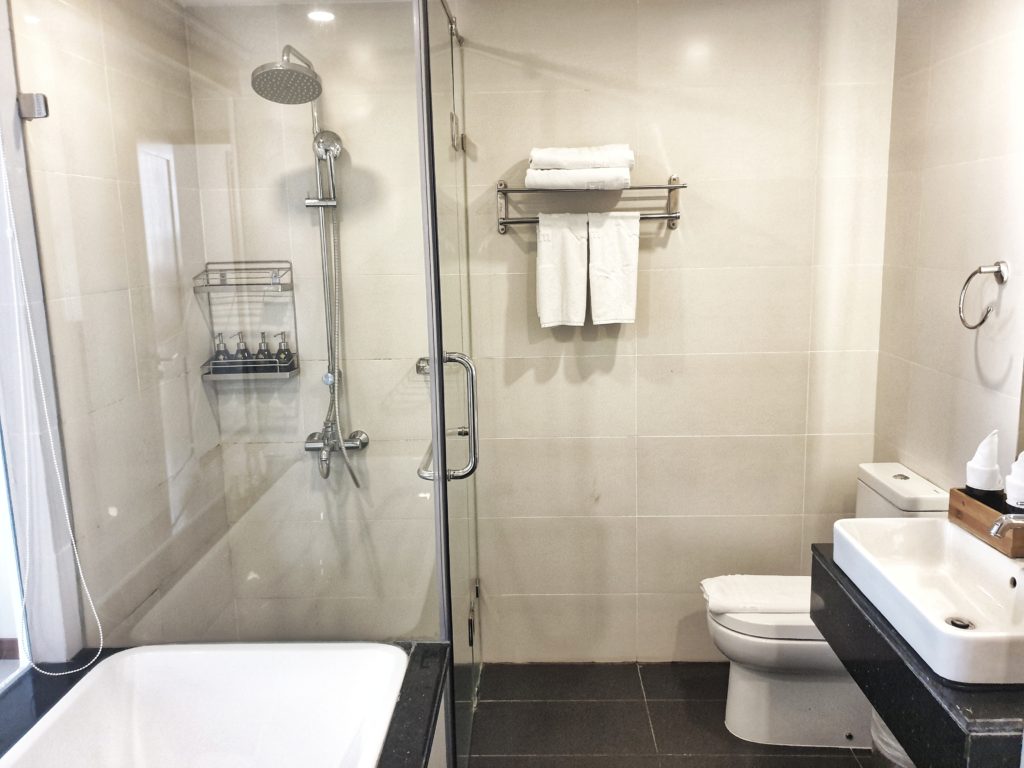 The room comes equipped with air-conditioning, large smart flatscreen TV, satellite TV, free toiletries, coffee & tea making facilities, mini bar, free daily bottles of water, safety deposit box, washing machine, fridge & freezer and fresh towels.
Extras are: Hair-dryer, iron, slippers, bathrobes, working table, microwave, kettle, rice cooker, cooking utensils, and dinner table with 4 chairs.
To check out more rooms click here.
Activities
The rooftop pool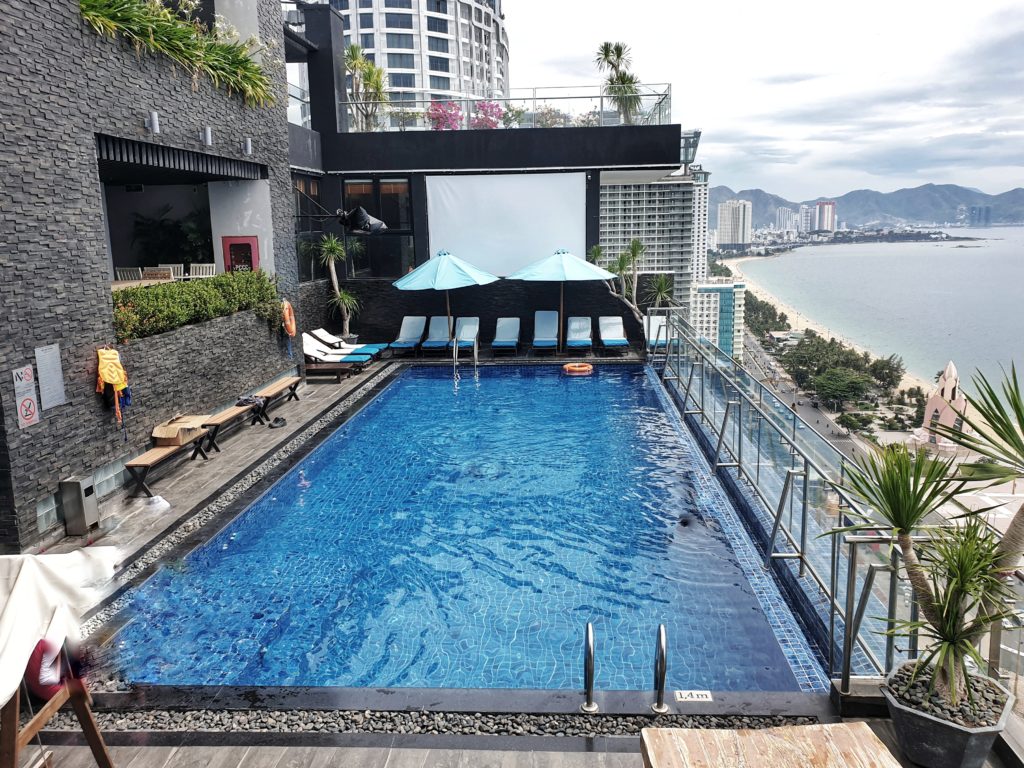 This has to be my favourite thing about the whole hotel as it is super unique, offers incredible views of the ocean and mountains and is a great way to cool down from the hot Vietnamese heat. It is definitely worth grabbing a beer from the bar next to it, have a float and watch the clouds float by above you. Perfect!
The Rooftop Restaurant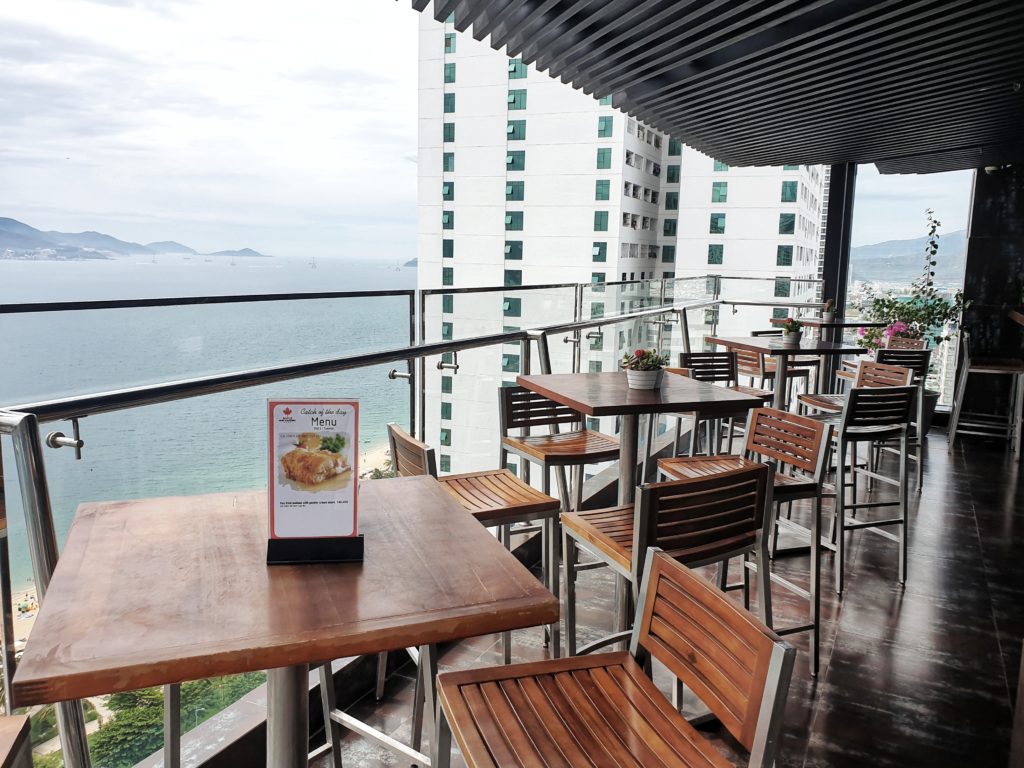 Located on the 25th floor of the hotel is this awesome restaurant which overlooks the beachfront and city and provides some delicious Vietnamese and Western cuisines. We actually ate here most nights as it was reasonably priced and delicious! I highly recommend the beef Pho which cost 60,000 Dong.
Hit the gym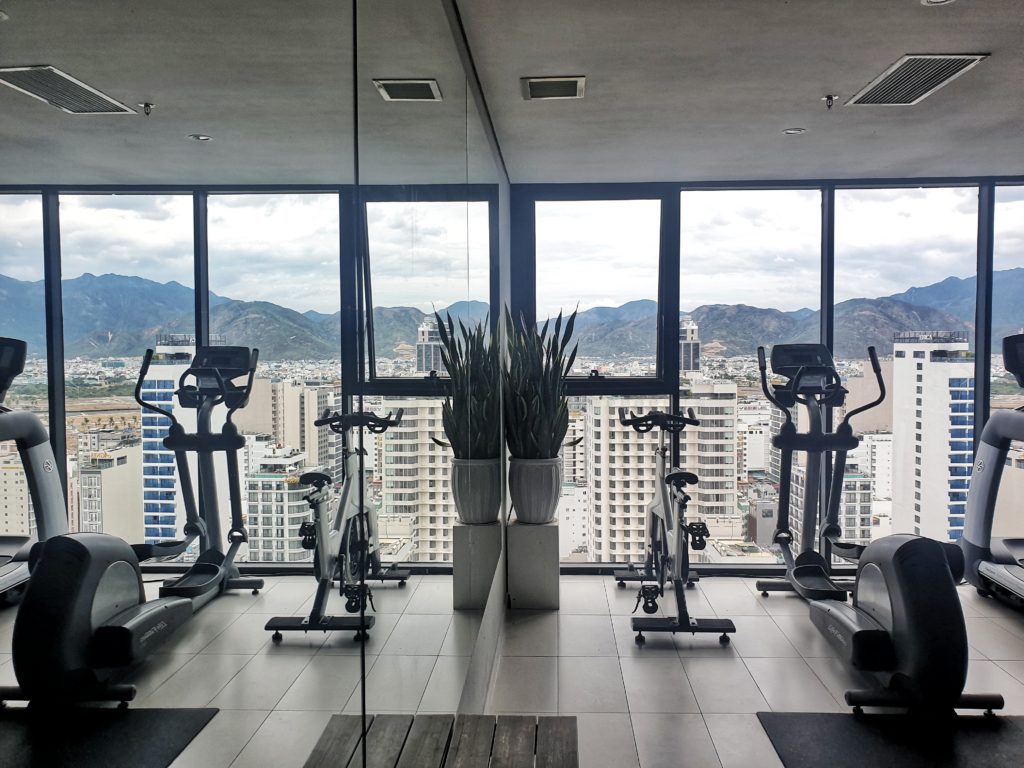 Thats right! This hotel has a fully equipped gym so there is no need to skip leg day. You will find an array of weights, cardio and muscle machines to help keep you in shape.
Sauna & Steambath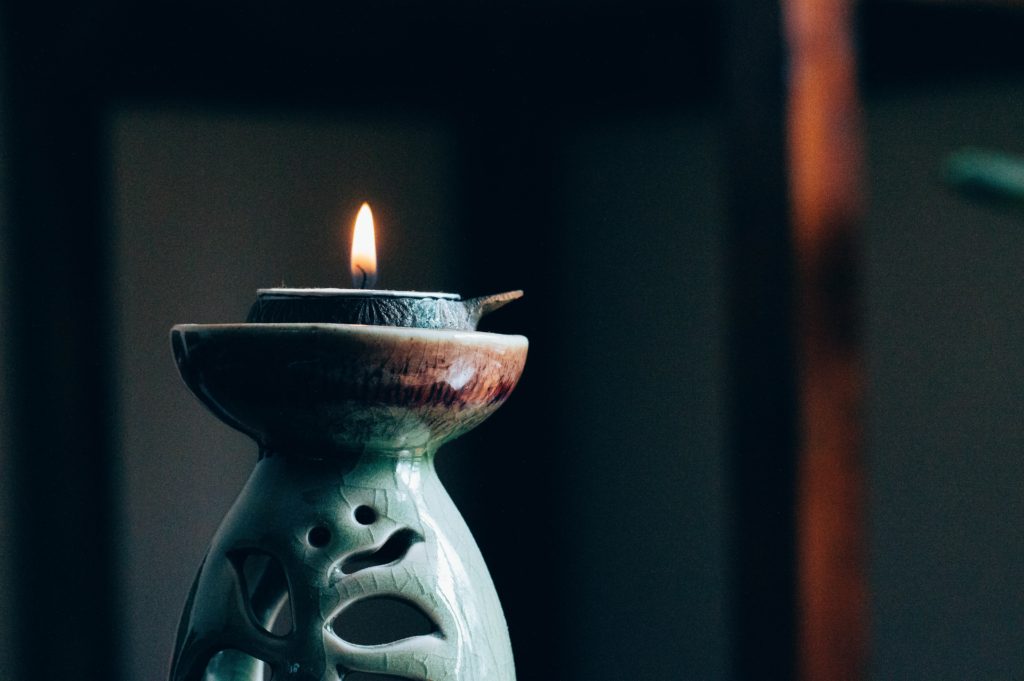 Located on the 25th floor you can treat yourself to a relaxing sauna or steamboat, or both if you so wish! This is another great way to help you relax after a stressful day of exploring or just travelling in general.
Tran Phu Beach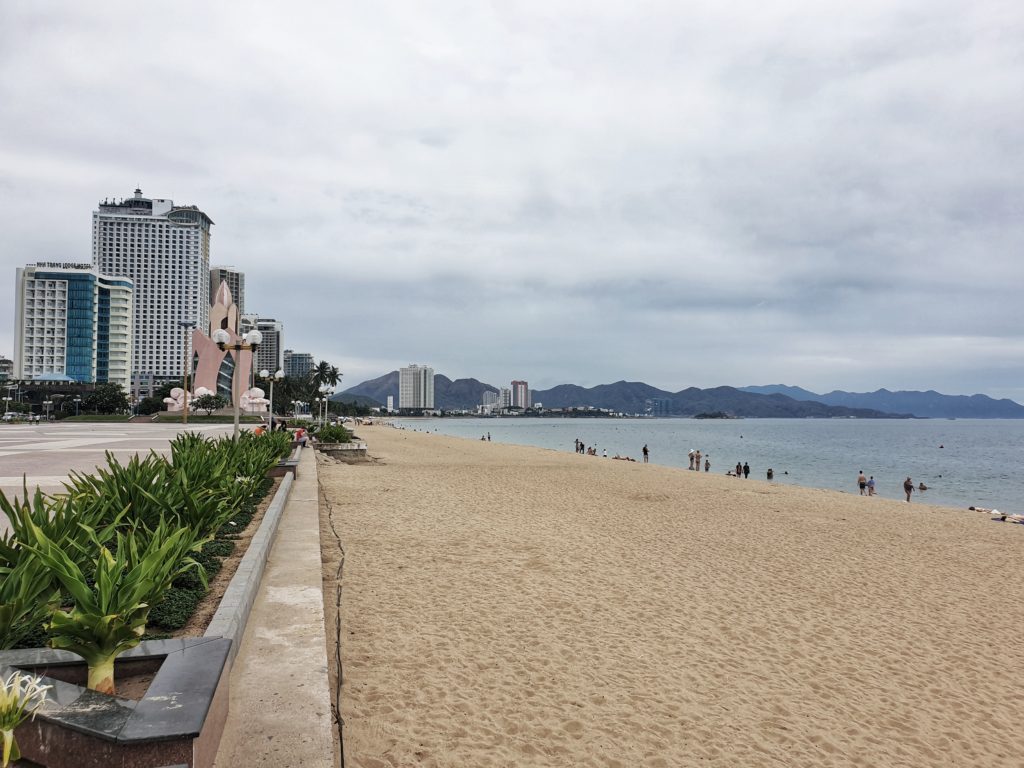 Tran Phu Street running down the coast of Nha Trang is the most popular street in the city, with high end resorts like Intercontinental and The Sheraton on one side, and a lively beach on the other. There are plenty of beach-side cafes, restaurants, bars and pubs for you to choose from that have their own little bit of beach with reclining chairs and parasols, so find one to suit your tastes and spend an evening lazing about.
Ponagar Tower
The Ponagar complex consists of three floors with a gate tower on the first floor which was totally destroyed. In front of the relic complex are two rows of 10 large pillars and two small pillars on the two sides. In the middle is an altar where the Cham people often organize cultural activities and solemn rites on festivals and special occasions. The second floor, called Mandapa (guest house), is the place where pilgrims can rest and prepare offerings and costumes before practising the rite.
On the third floor, there are four towers, including the 23m high Ponagar Tower which is the most outstanding and highest one. The four-storey tower symbolizes the beauty, art and creativeness of the Cham people. Inside the tower, there is a statue of a goddess made of black granite, 2.6m high, sitting on a lotus-shaped stone base, leaning back on a large fig leaf-shaped stone plate. The statue is considered a masterpiece of the Cham sculpture. The other three towers are dedicated to the Indian supreme God of Shiva and his two sons, Gods Sanhaca and Ganeca.
Long Son Pagoda
Situated at the foot of Tray Thui mountain, this pagoda was built in 1886 in typical Taoist style. Long Son Pagoda is where you can find the large white Buddha statue sitting atop the mountain crest that you can see from most places in Nha Trang town.
Nha Trang Cathedral
This is another still functioning religious monument that also serves as a tourist attraction. Despite being constructed using simple blocks of cement, the cathedral looks surprisingly elegant. Mass is held multiple times a day, and it is a great way to witness differences in religious routines compared to those back home.
Dam Market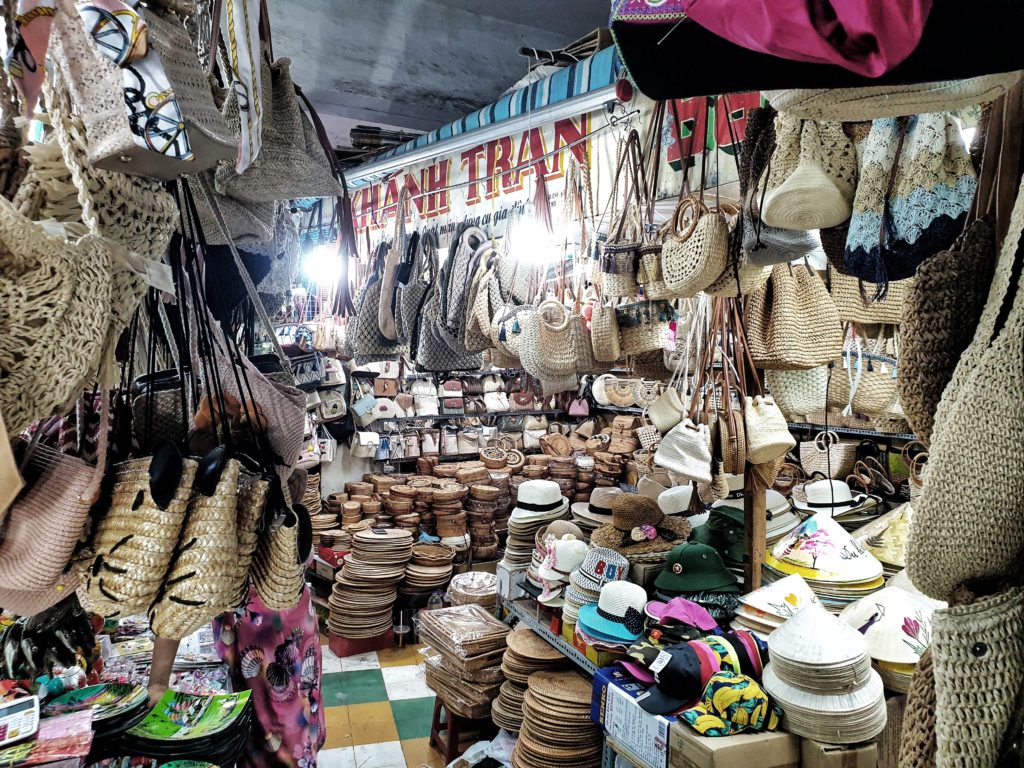 Dam Market (Cho Dam) is the largest and most popular one of all. With three floors full of stalls and boutique shops to explore, Dam Market is a bit of an overwhelming experience, but nevertheless a must-do. It is part tourist souvenir market and part local market. You will find all sorts of merch, from clothes, shoes and bags to tourist trinkets, art, designer knockoffs, electronics, dried and packaged foods and food stalls. The dried seafood section is worth your time, because you will find some of Nha Trang's most famous local specialties such as dried shrimp, squid and cuttlefish.
Ba Ho Waterfall
About 17 miles (27 kilometers) north of Nha Trang, reached via a beautiful coastal drive, is Ba Ho Waterfall which literally translated means "three pools." The waterfall is perfect for a morning dip and barely ever gets crowded. Wear good hiking shoes and follow the arrows painted on the rocks and trees.
How to get there
04 Ton Dan, Nha Trang, Khanh Hoa, Viet Nam
Prices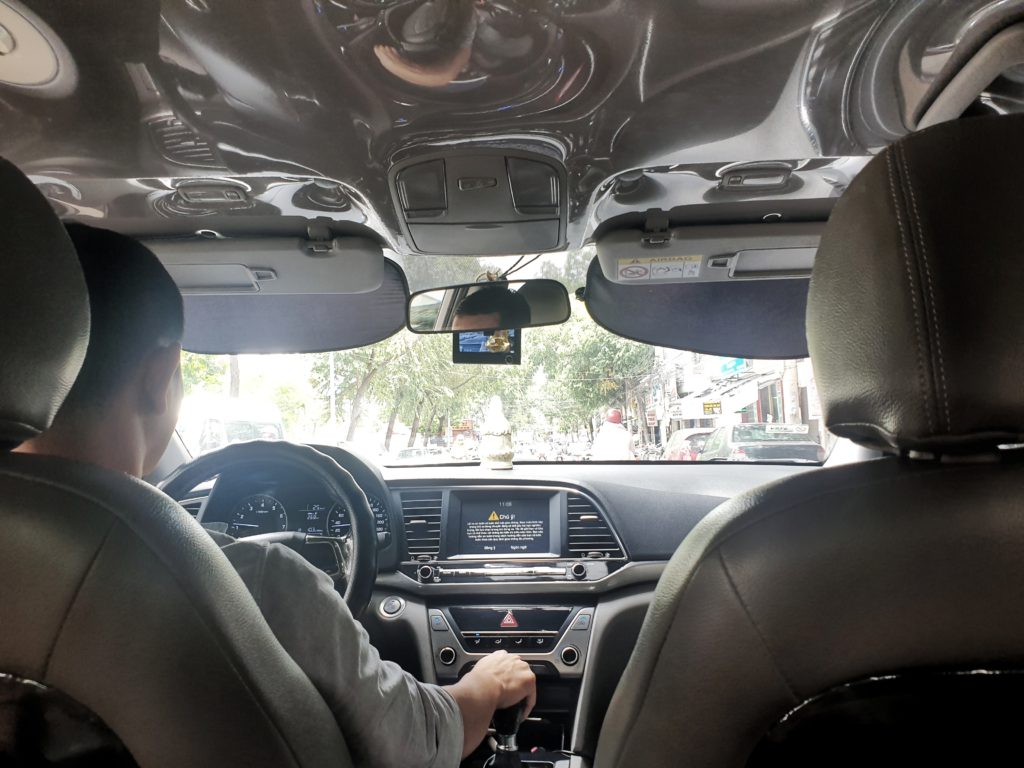 The prices will vary depending on what time of year you stay – to check out the pricing click here.
We stayed in July 2019 and for our Two Bedroom Apartment with Sea View it would cost 7,500,000 VND (£266) per night.
Extras
24 hour reception and staff
Welcome drink upon arrival
Laundry service
Tours and ticket office
Free Wi-Fi throughout the hotel
Summary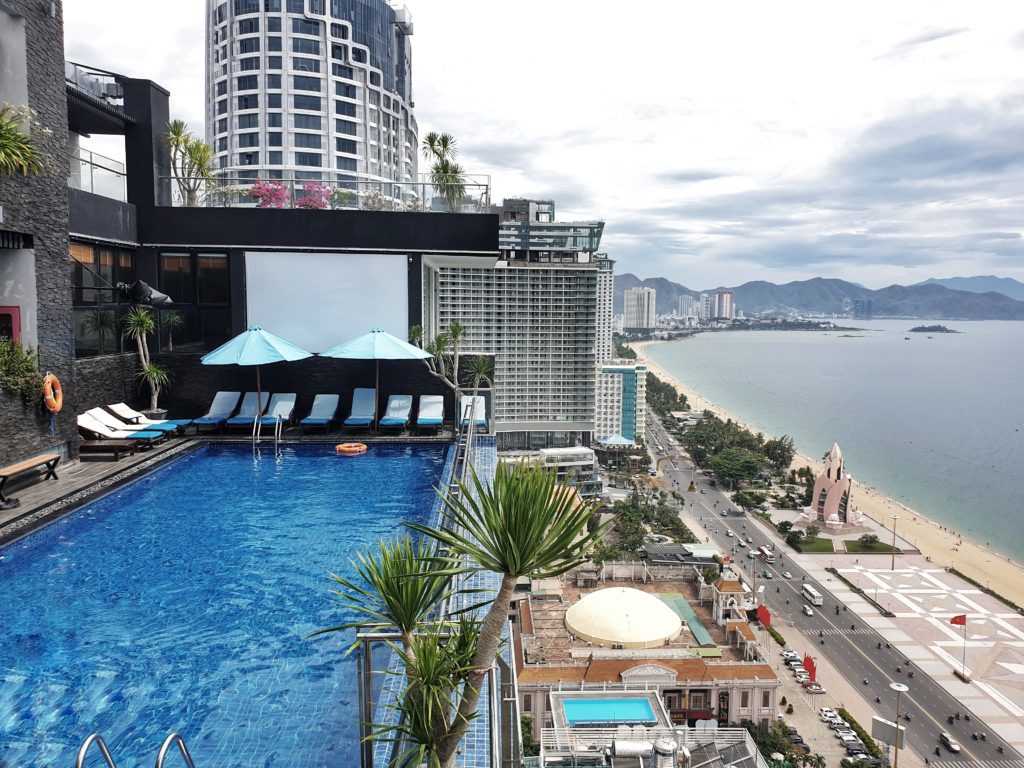 This hotel is absolutely modern, peaceful, and the perfect place to stay and relax while in Nha Trang. I am so glad that we chose to stay here for a few nights – its the best place to base yourself while here!

The apartment was fantastic, we had a super comfortable nights sleep and really enjoyed watching the ocean from our bed and windows. The rooftop pool was my favourite feature as it was super unique and the staff are so friendly, they can honestly not do enough for you to make your stay that little bit more comfortable than what it already is.
You will want to spend longer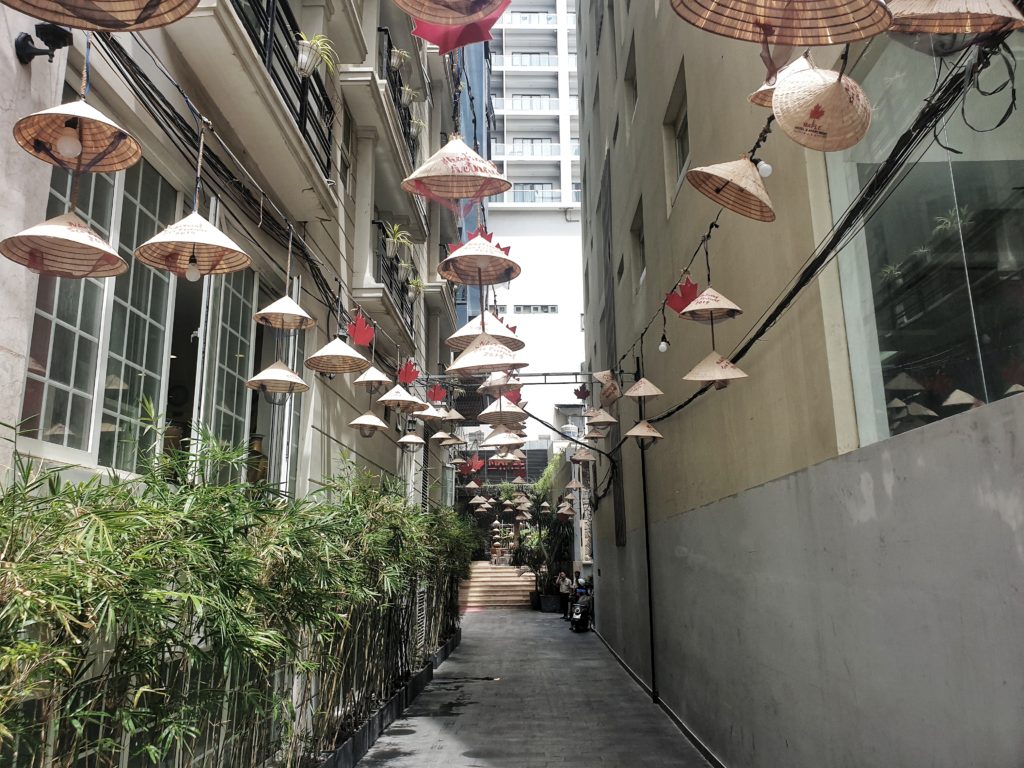 The hotel is quite simply superb and the views are breathtaking leaving you soaking them up the whole time you're there. When you throw in the close proximity to the beach, cathedral and all of the other attractions you are onto a winner!
If you are in Nha Trang, Vietnam, and you want to have a unique modern Vietnamese experience, I would highly recommend Maple Hotel & Apartments.
***Thank you to Maple Hotel & Apartments for kindly sponsoring this post. All opinions are 100% honest & completely my own.