EXPERIENCE TRUE BALI CULTURE
⇷☓⇸
If you're looking for the best things to do in Ubud then you have come to the right place!
Forget about the touristy areas such as Kuta and Seminyak and head instead to the beautiful and more relaxed Ubud where you will get to know the real Bali. This is where you can enjoy the picturesque rolling green rice fields, the dense monkey forests, jaw dropping infinity pools and copious amounts of vibrant temples.
Whilst becoming a more popular destination, it is still fairly quiet in terms of tourist to local ratios, without feeling like its too crowded. If you are after an incredibly budget friendly, naturally beautiful and culturally rich destination, then Ubud is definitely the right place for you!
These are the best things to do in Ubud:
1. The Sacred Monkey Forest
This is definitely one of most visited places by tourists and travellers when they head to Ubud and for a very good reason – hundreds and hundreds of cheeky monkeys.
The forest is home to around seven hundred monkeys that have slowly gained a reputation for being super mischievous, as they tend to grab sunglasses, water bottles, food and phones out of peoples hands. You definitely have to be super aware when you enter and be careful of your belongings.
Cheeky Monkeys!
You will find plenty of mother monkeys nursing the babies which is super cute to see and there are plenty of photo opportunities too. Not to mention the mystical temples that are hidden in the dense forest growth, a river and an epic bridge which is also worth checking out.
Entrance fee: 50,000 IDR.
2. Tirta Empul Tampa Siring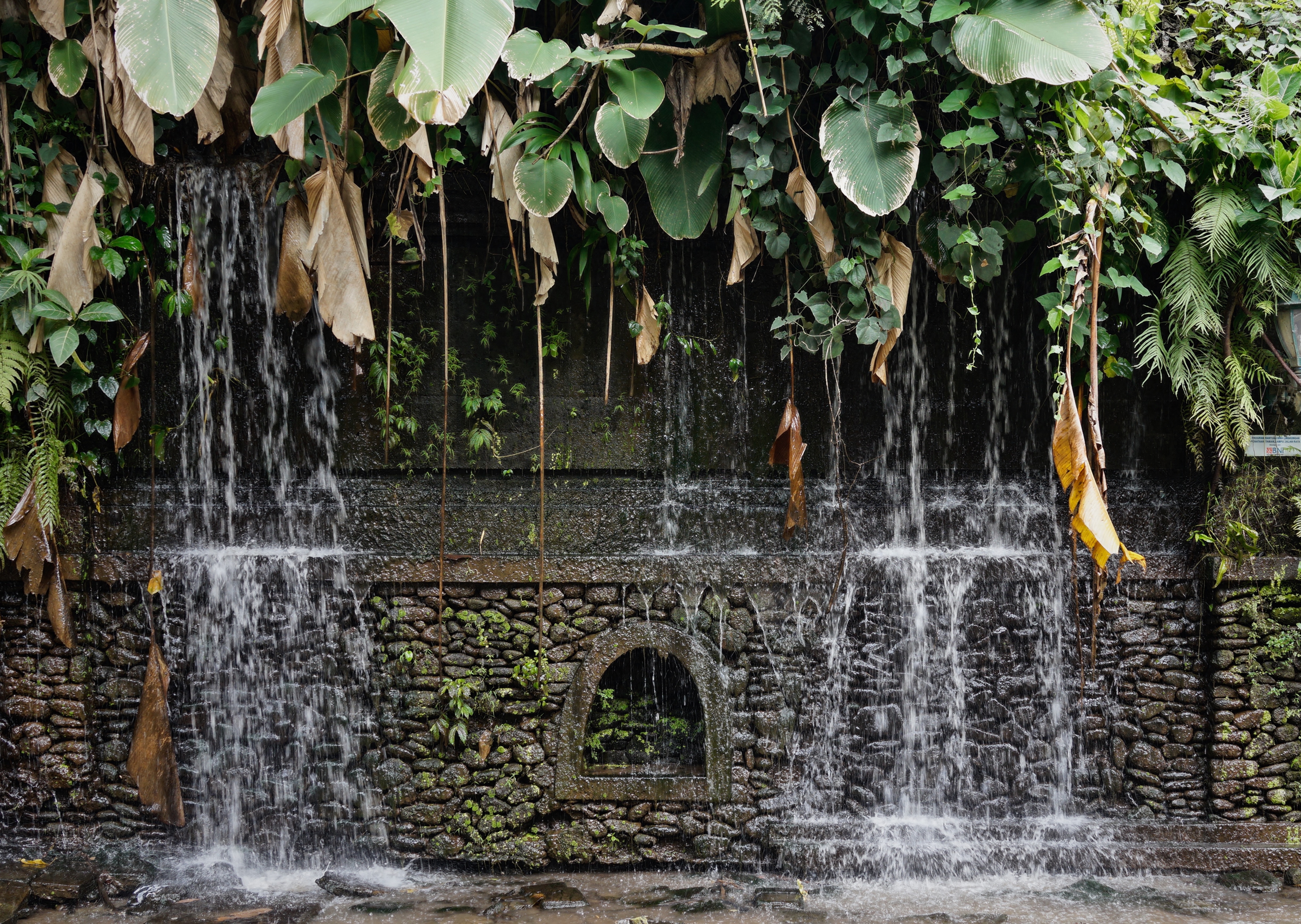 Also known the Holy Water Temple, many people flock here to bathe in the water that pours from the thirty water spouts that pour in the pools.
The water is believed to have spiritual and magical powers that allows the bather to purify themselves by standing under the spouts and washing themselves in the water. To perform the ritual you must start in the pool on the left and dip yourself under the first water spout.
Cleanse yourself
Once you have cleansed yourself under the first spout you then join the next queue which you then continue this process until you have been cleansed under each of the thirty waterspouts that fill the two purification pools. It isn't just pools there, but the temple itself is majestically beautiful and very much worth wandering around taking in its magnificence.
3. Mount Batur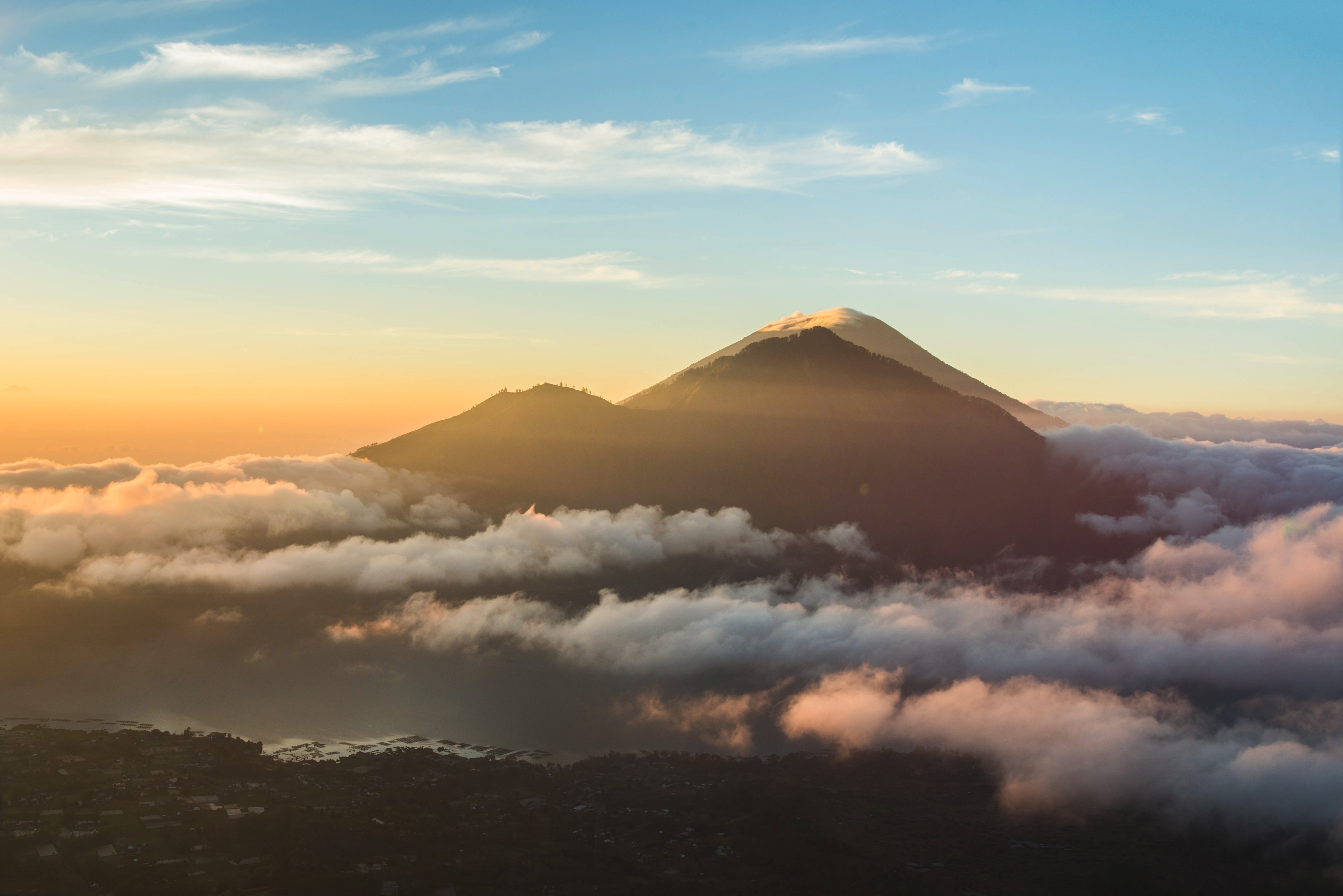 Sitting at 1717m high, this is an active volcano which is found near Batur Village and is a sacred place in Hindu religion. It is possible to climb this giant and usually takes around two hours to reach the summit by reasonably fit hikers and climbers.
It offers some beautiful natural sights as well as a challenging hike for those who are more inclined to tackle a worthy challenge. If that doesn't take your fancy you can always to one of the many restaurants that overlook the volcano and have lunch on a balcony taking in all of its glory.
4. Explore Gunung Kawi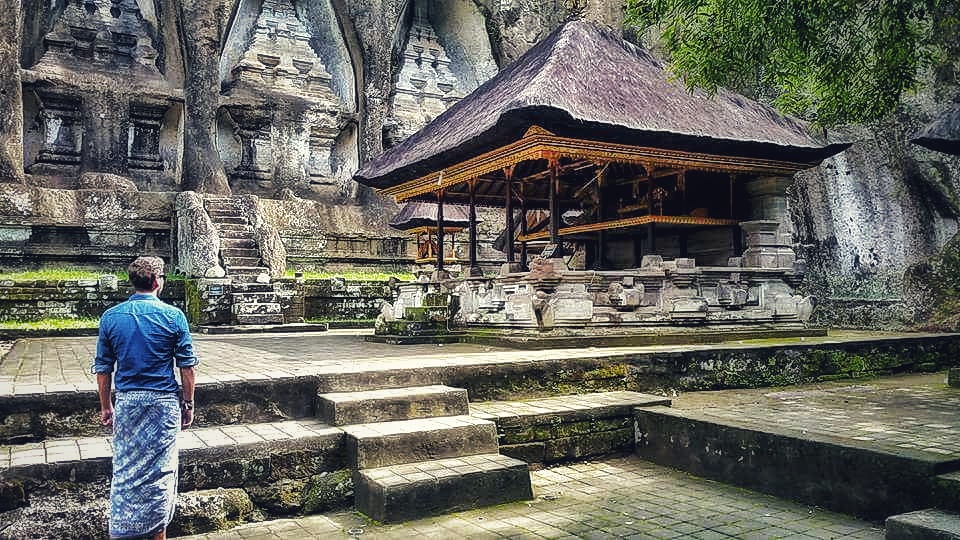 This is one of Bali's most unique archaeological sites, comprising a collection of ancient shrine reliefs carved into the face of a rock cliff. The main site overlooks the sacred Pakerisan River, which also flows by the Tirta Empul Temple a kilometre up north.
Across the river from the ancient reliefs is a temple courtyard featuring old Hindu shrines in a more contemporary architectural style, which is attended by pilgrims especially during its 'piodalan' temple anniversaries.
Be sure to have your camera charged because you will want to take a lot of photos here!
5. The Rice Fields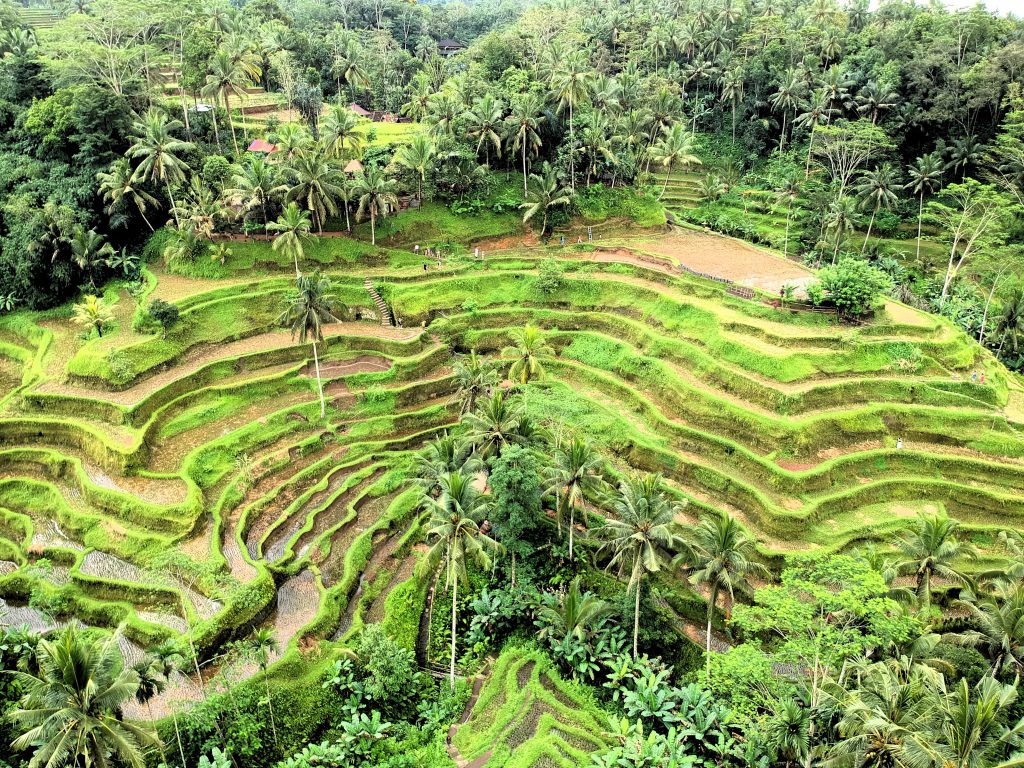 Other than the Monkey Forest, Ubud (even though they are 20 minutes outside of Ubud) is most notably known for its spectacular vibrant green rice fields and paddies that spread out as far as the eye can see – in particular Tegallalang which is the most famous.
The best way is to just get a taxi there or rent a scooter. The best part is that there is no entry fee to enjoy this natural beauty (although there are plenty of locals who will ask you for donations). This is also where you will find the famous 'Love Bali' sign which makes for some fun photos.
Overall the natural beauty of these fields and paddies will blow you away, especially during the sunset which creates some amazing tones and lighting over the hills and greenery.
6. Goa Gajah – The Elephant Cave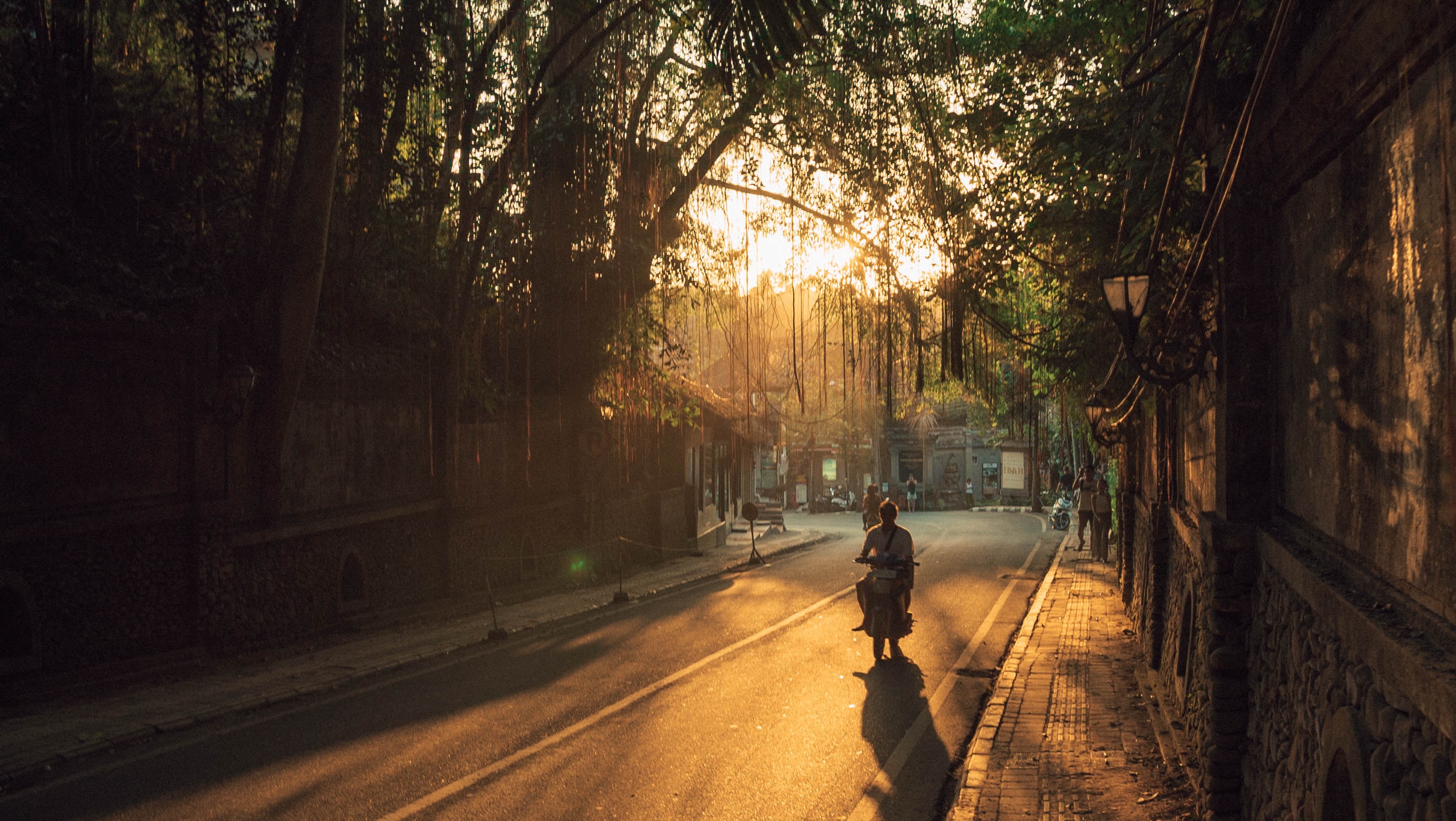 A slightly misleading name as there are no elephants to be found here, just that its face appears to look like an elephant. However, this is an archaeological site of significant historical value that makes it a special place to visit.
Located on the cool western edge of Bedulu Village, six kilometres out of central Ubud, you do not need more than an hour to descend to its relic-filled courtyard and view the rock-wall carvings, a central meditational cave, bathing pools and fountains. The pool, excavated in 1954, features five out of supposedly seven statues depicting Hindu angels holding vases that act as waterspouts.
Entry tickets are 15,000 rupiah for adults and 7,500 for children.
7. Ubud Art Market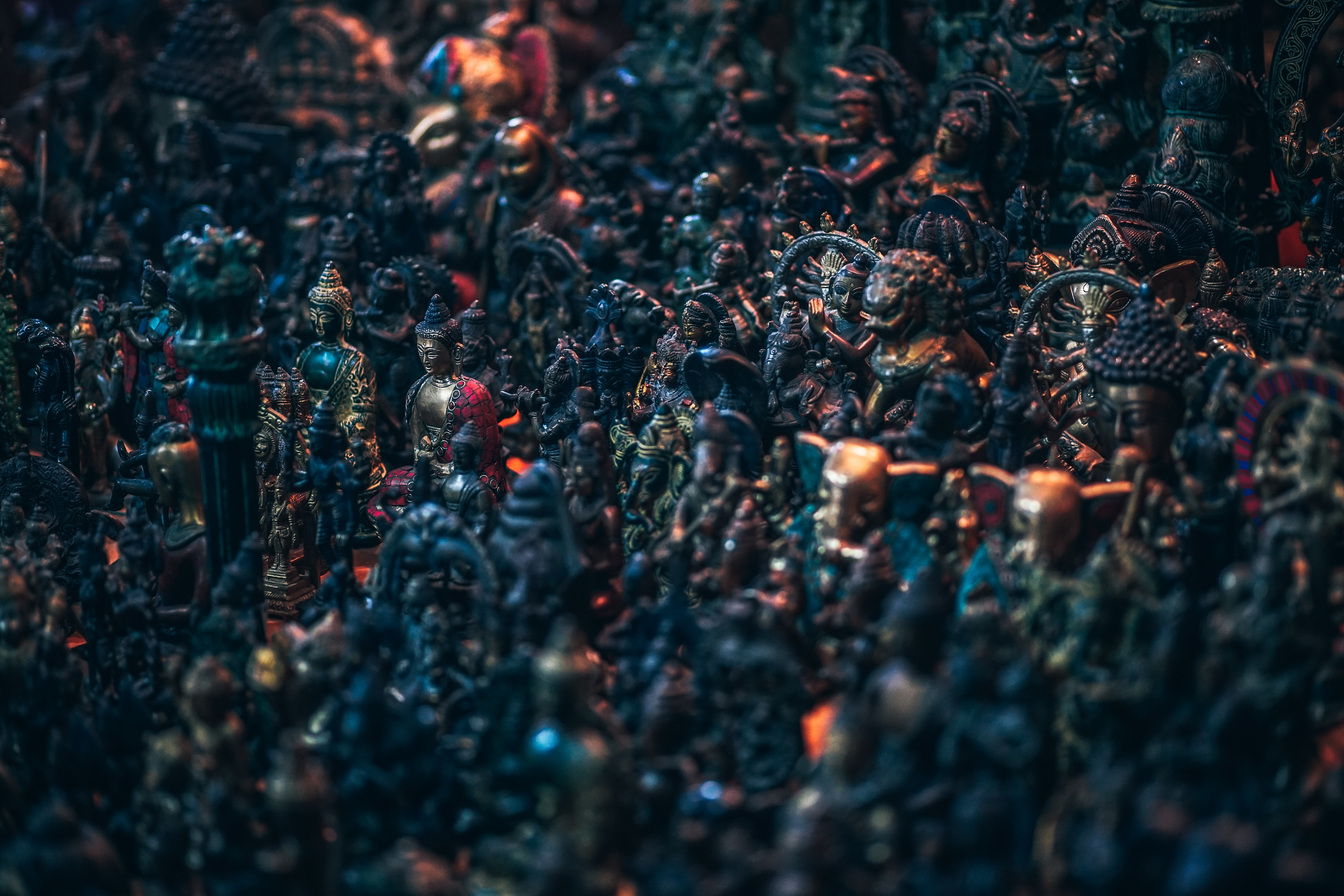 Some of you will recognise this market as the setting for the nomadic movie 'Eat Pray Love', which shows a scene where actress Julia Roberts opposite a male character strolling through the stalls which are frequently visited by foreign and domestic visitors in real life.
Here you can find beautiful silk scarves, lightweight shirts, handmade woven bags, baskets or hats; statues, kites and many other hand-crafted goods. It is so much fun to wander through these market stalls, taking in its brightly coloured and vibrant goods whilst of course haggling as you go.
A great way to spend a few hours of your time in Ubud!
8. The Pura Taman Saraswati Temple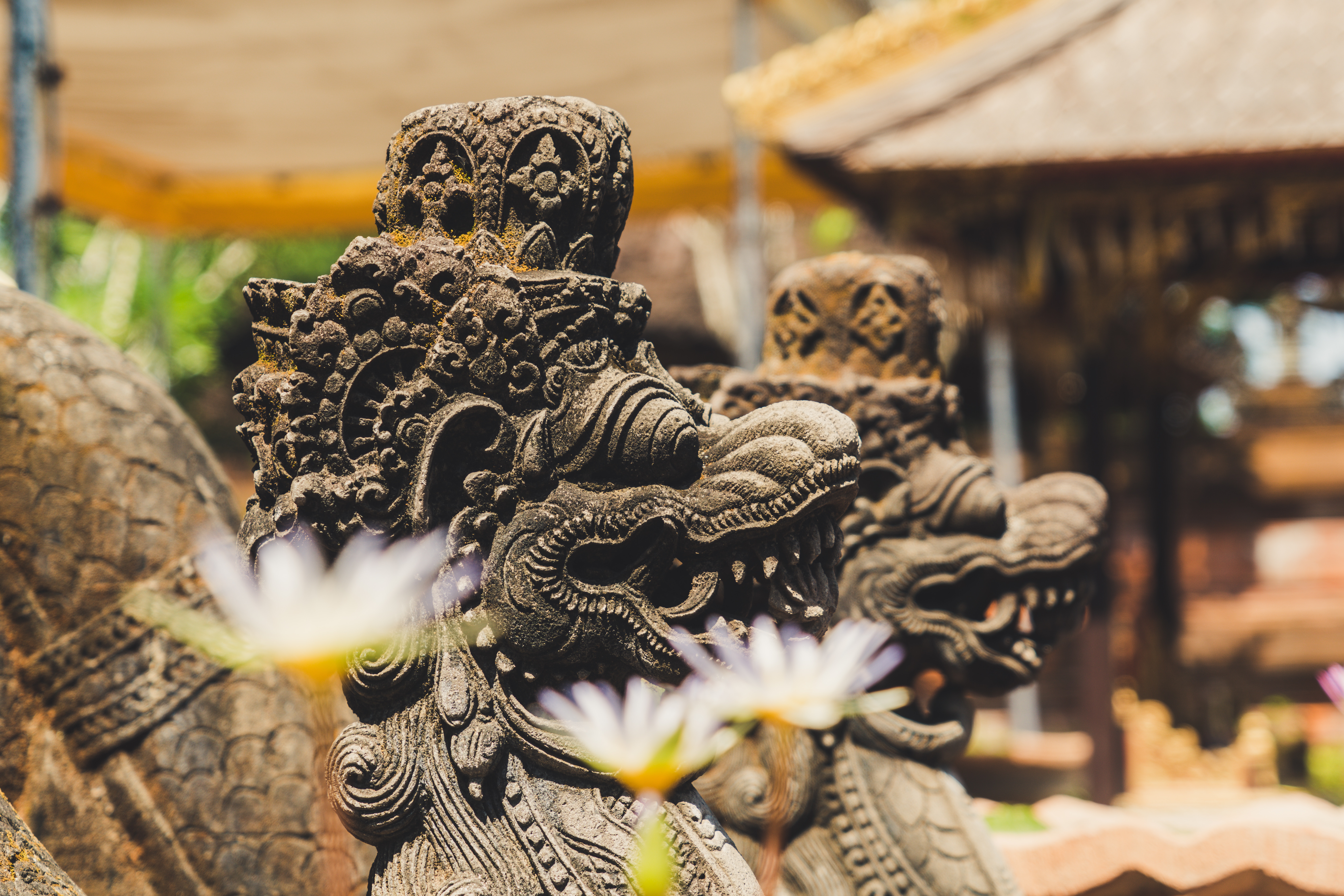 The Pura Taman Saraswati is a beautiful water temple in central Ubud, accessible from the Jalan Kajeng side street off the main road of Jalan Raya Ubud, just behind Café Lotus.
You can enter the temple behind its amphitheatre at any time of the day and admire the calming atmosphere, architectural features and sandstone bas reliefs that honour the Hindu goddess of knowledge and arts, Saraswati. Entry into Pura Taman Saraswati is free but, as with any temple visit in Bali, a sash and sarong around the waist is compulsory.
You can also drop into Café Lotus for a minimum dinner cover charge of IDR 200,000 or USD 15, which will get you the best view over the lotuses and to the temple's open stage, where regular traditional dance performances are held in the evenings from 19:30.
9. Goya Boutique Resort Infinity pool
We stayed at this lovely boutique for two nights in a private villa, which by itself was incredible! However, add the infinity pool into the scenario and you are left with something close to utter paradise.
The pool itself hangs on the edge of the boutique and overlooks the Sacred Monkey Forest and miles of dense greenery leaving you breathless! Grab a cocktail, an inflatable flamingo and relax under Bali's beautiful rays whilst wishing you never had leave.
10. Tegenungan Waterfall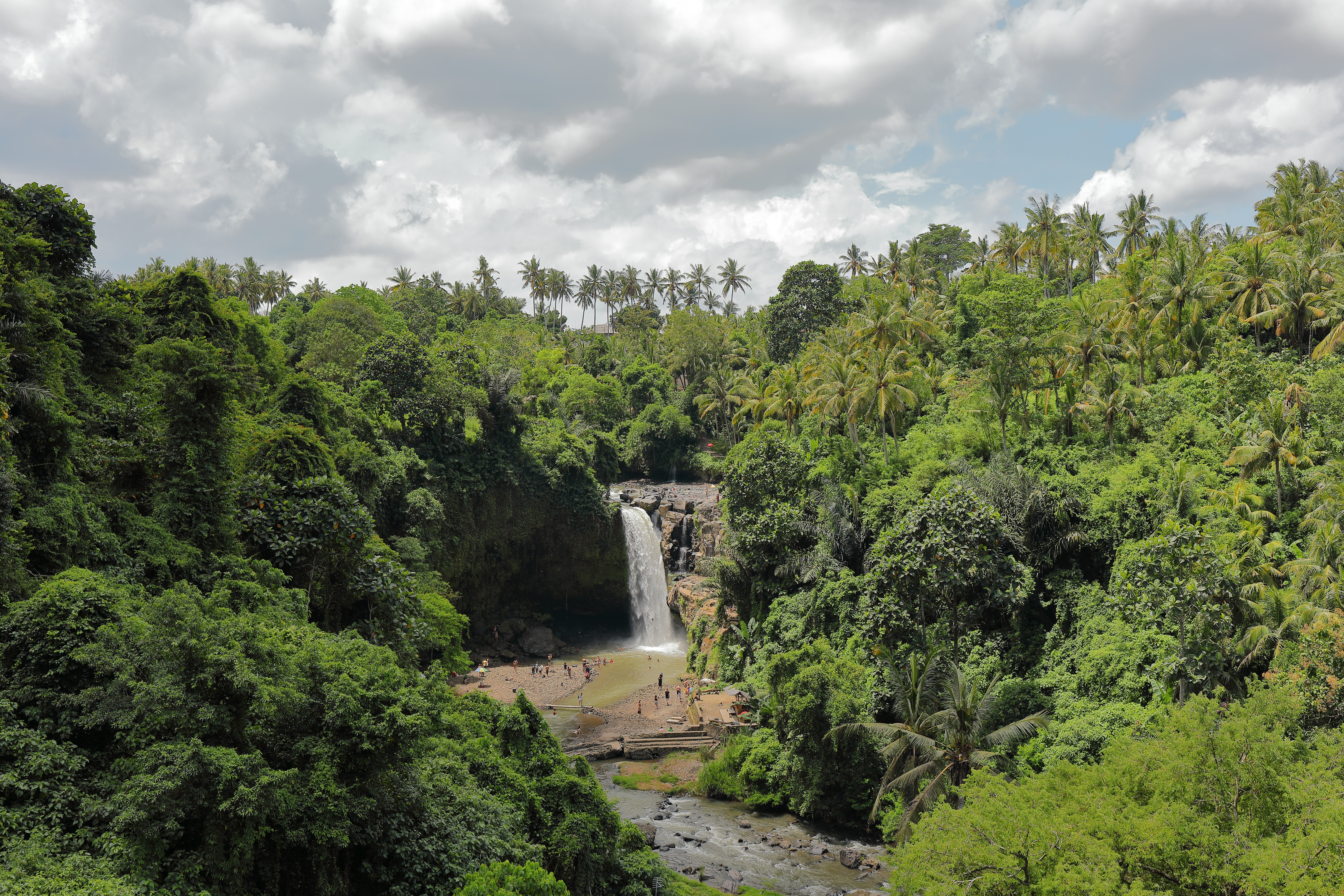 These falls are conveniently located halfway between Ubud and Bali's provincial capital of Denpasar, and is considered the closest natural attraction of its kind that you can reach within only a half-hour transfer southeast from Ubud town.
If you want to get to the falls, it is a pleasant drive down paved village roads lined with stretches of green rice fields on both sides. To get to the falls, you follow down a trail beyond rows of souvenir shops, with green valley panoramas in view.
Dense foliage frames the falls, and the water volume is impressive at almost any time of year.