THE MOST ENCHANTING PLACE IN UBUD
⇷☓⇸
Welcoming guests in Ubud with a relaxing and quaint atmosphere, Honeymoon Guesthouse is a charming Bali-Chic oasis with an outdoor salt-water swimming pool, a yoga studio, and a spa centre. It also houses a restaurant and a bar for guests to enjoy delicious Balinese dishes as well as refreshing tropical drinks.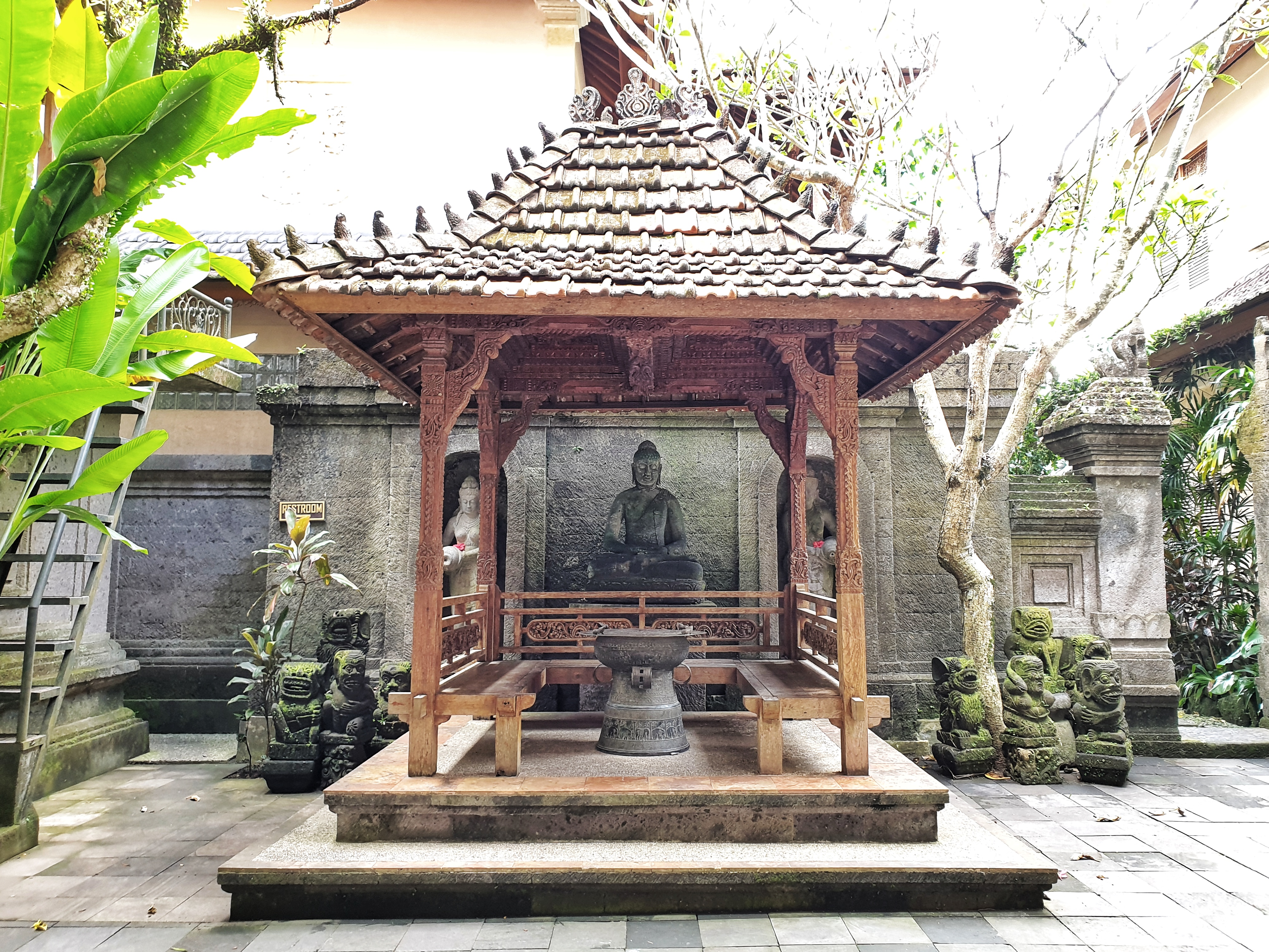 Immerse yourself amongst the vibrant gardens lined with hand-carved stone gateways, pamper yourself with a massage for the ultimate relaxation, grab a drink and chill by the luxurious pool or take a cooking class. There is literally something for everyone here and not to mention its fantastic location nestled in Ubud's centre.
If you find yourself exploring one of the most spectacular destinations in Bali then I would highly recommend booking yourself a few nights stay here for an utterly unique experience.
Highlights
Tropical sea-water pool
Traditional Balinese food
Beautiful comfortable and clean rooms
Daily yoga and massages
Super close to Ubud's markets and attractions
Indra Deluxe Room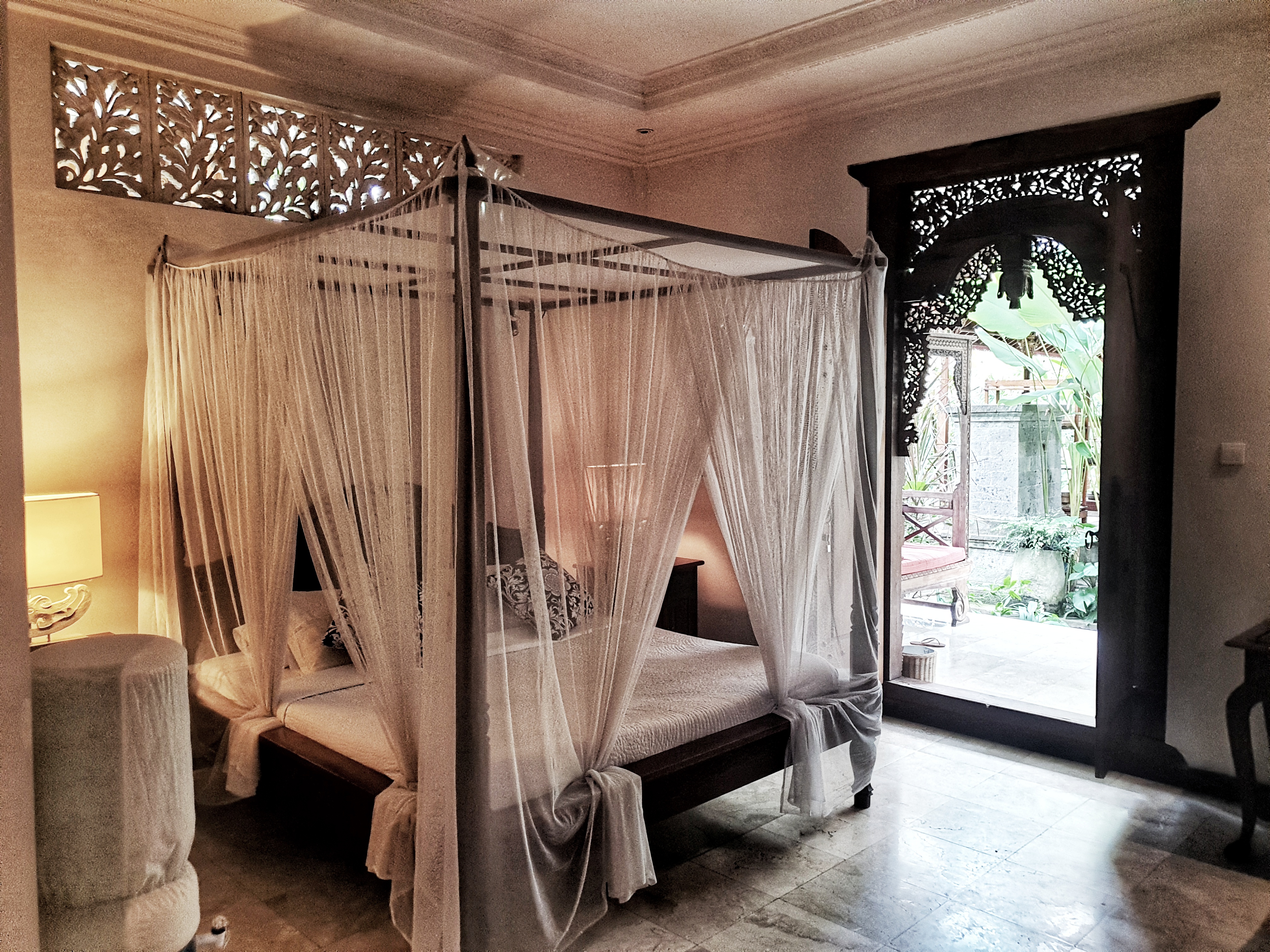 During our stay at Honeymoon Guesthouse, there were many choices of rooms but we opted to stay in the Indra Deluxe room and we were so happy we did as it suited us perfectly.
The room itself was super modern and very spacious with a queen sized four poster bed, Balinese themes running throughout and the bathroom was breathtaking. We had out own balcony seating area with table where we could relax in the mornings and evenings while getting ready or having some food & drinks.
What you get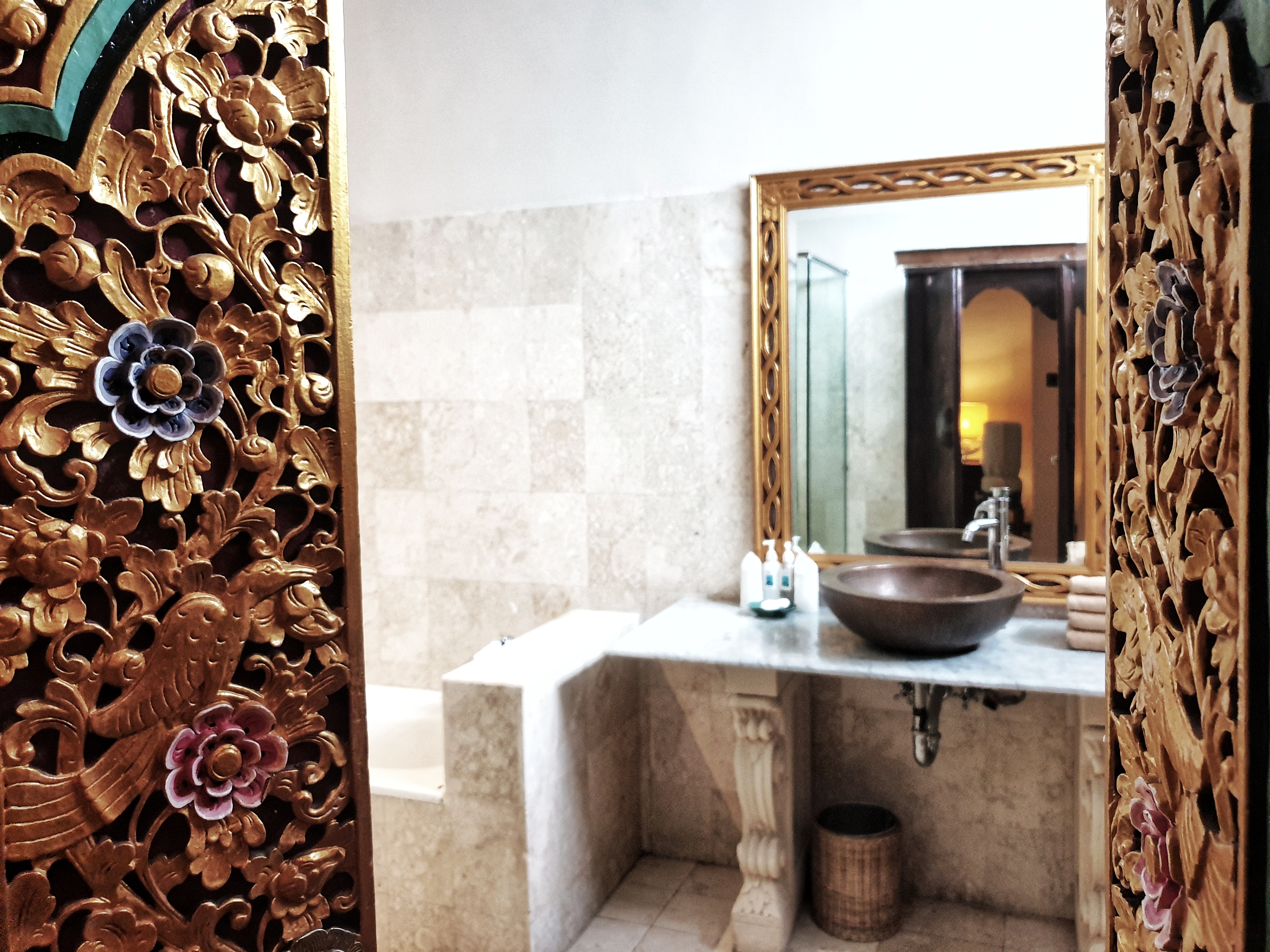 It was air conditioned, with a desk, free toiletries, towels, mosquito nets, daily housekeeping, bar fridge, tea & coffee making facilities, as well as a water dispenser.
There are many other styles of rooms which you can check out here.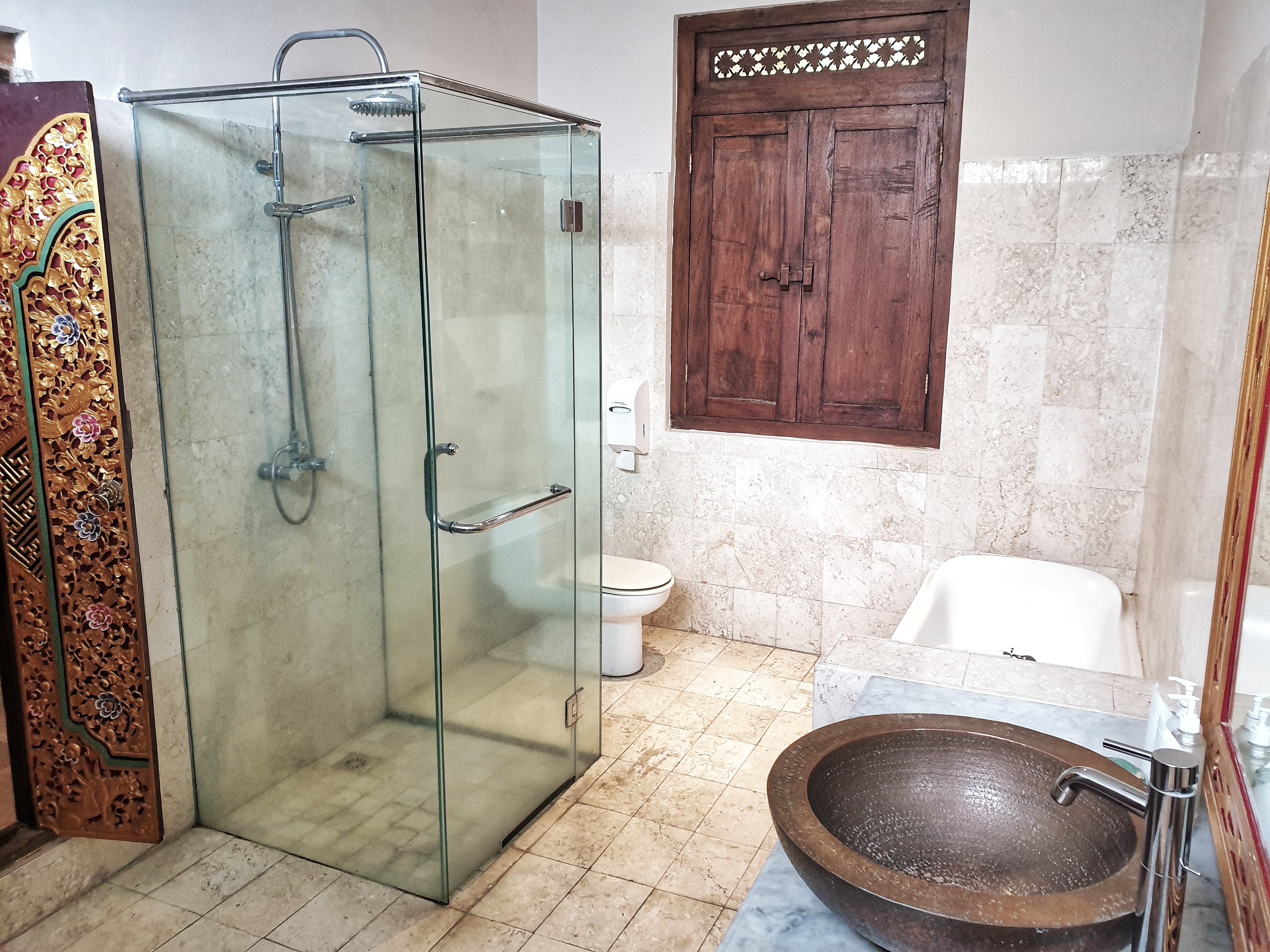 Activities
Yoga & Relaxation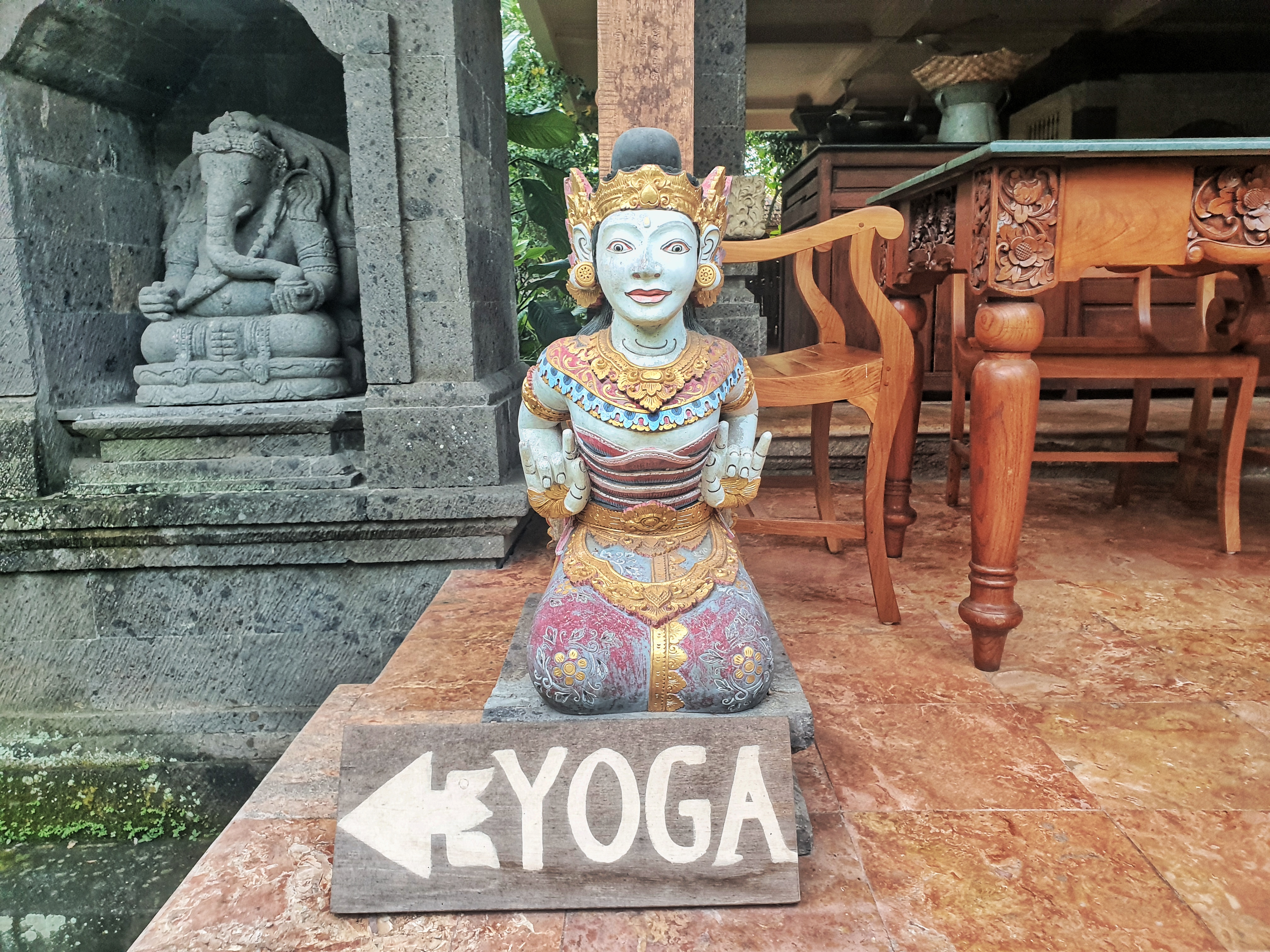 Have a go at some Yoga. They offer relaxed, personalised classes that focus on the wisdom to be gained in this spiritual, health-giving practice.
Treat yourself to a day of pampering at their highly regarded Spa & Wellness centre with Traditional Javanese Lulur, Balinese Boreh Spice Ritual, Aromatherapy Facial, Anti-Aging Facial, Swedish Massage and Stone Massages. You will be guaranteed to be left feeling utterly relaxed and not wanting to move for days.
Cooking Classes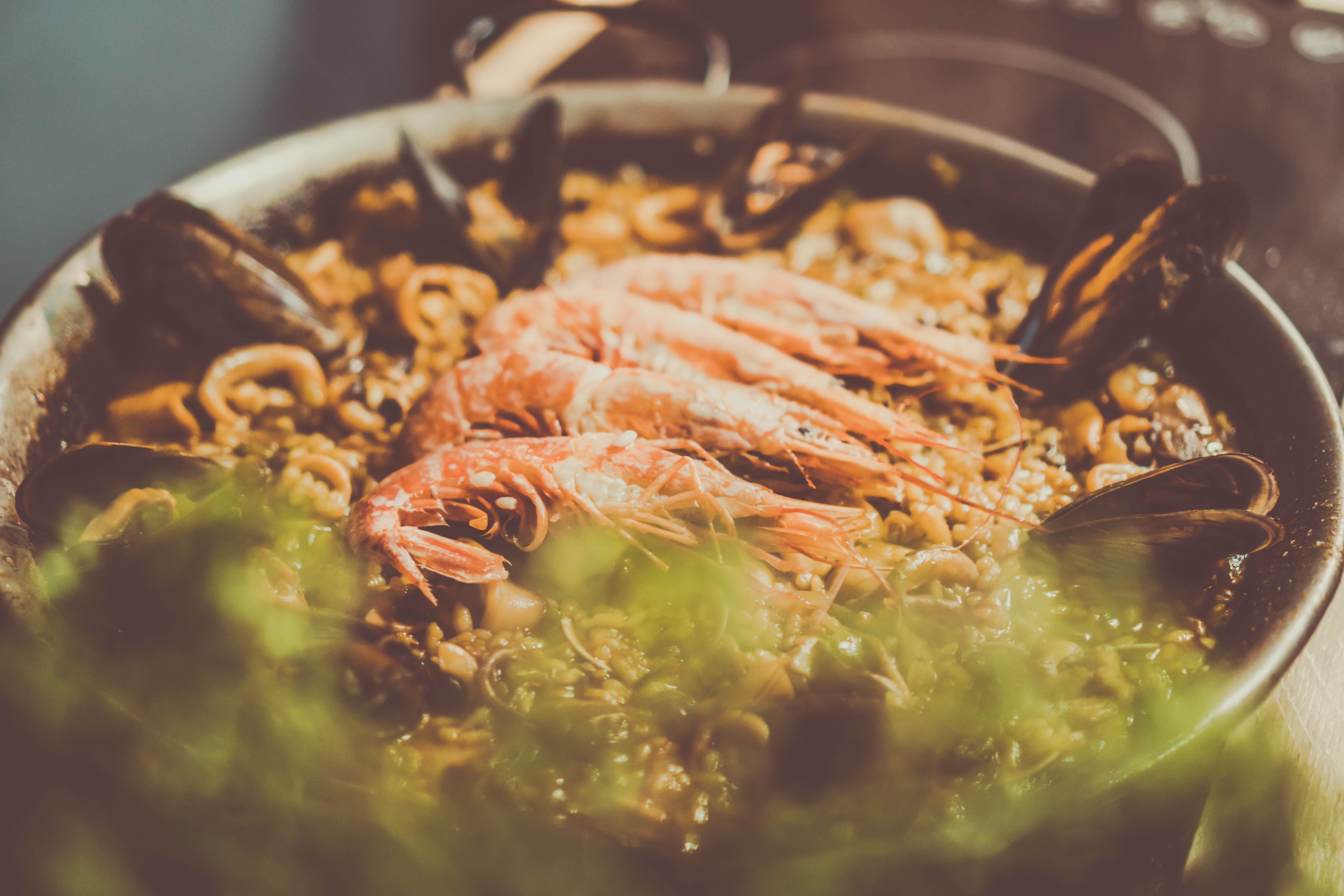 This was so much fun and I highly recommend giving this a try and dabble at some traditional Balinese cooking. Each day they have a different form/theme of cooking and you can sign up to anyone of these. Classes are part demonstration, part hands-on and are held in the lush grounds of the Second Honeymoon Guesthouse. It was particularly interesting to learn about the exotic herbs and spices used in ceremonial and everyday dishes with a focus on their unique healing properties. A lavish Balinese feast is then prepared together and enjoyed with homemade hibiscus tea.
The Swimming Pool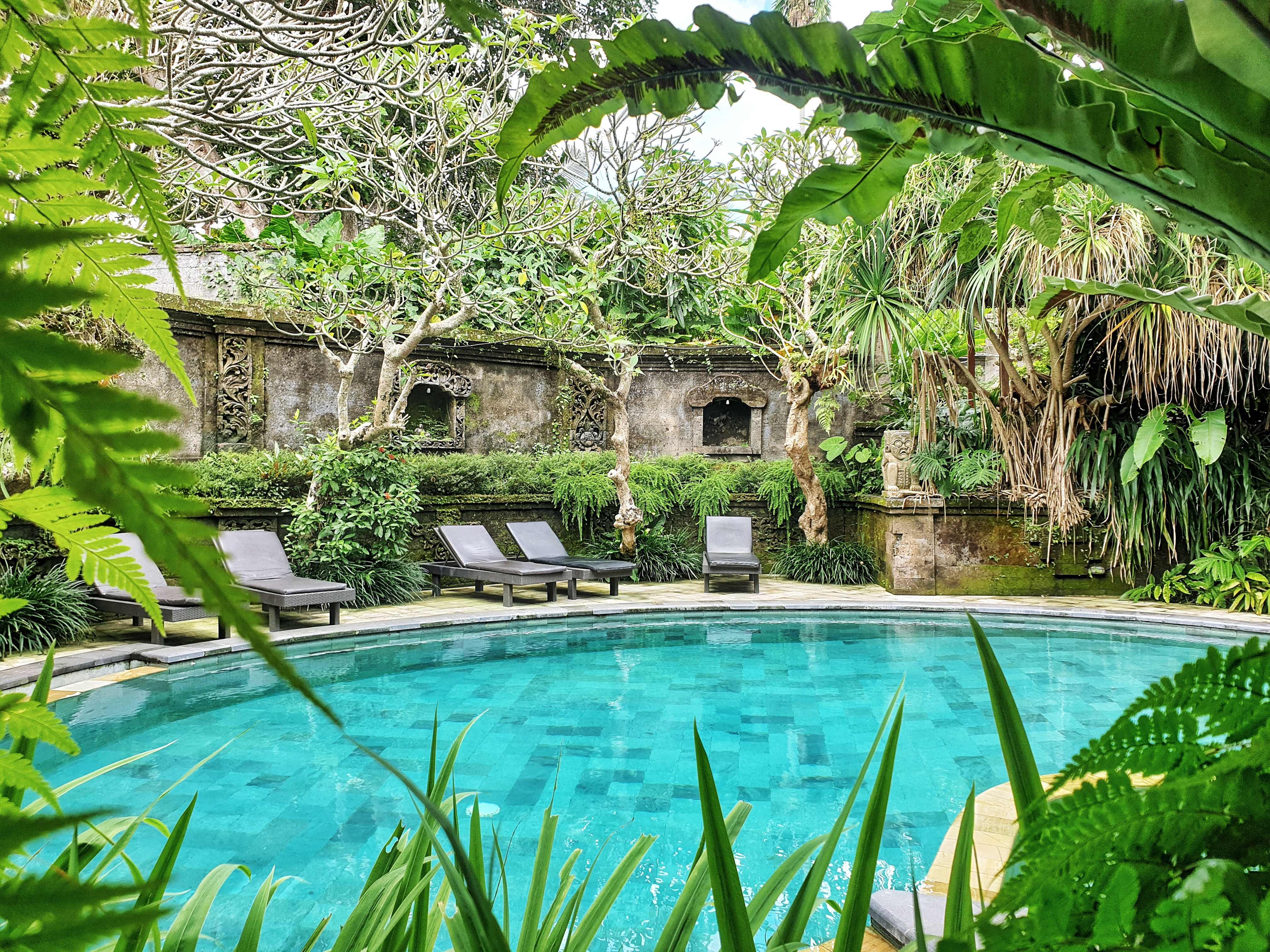 One of my favourite parts about Honeymoon Guesthouse was the pool. It was large, plenty of sun loungers and surrounded by exotic plants, Balinese statues and a great way to cool down from the hot sun. I found that it was often empty and you could have the whole place to yourself which was fantastic!
Go on an adventure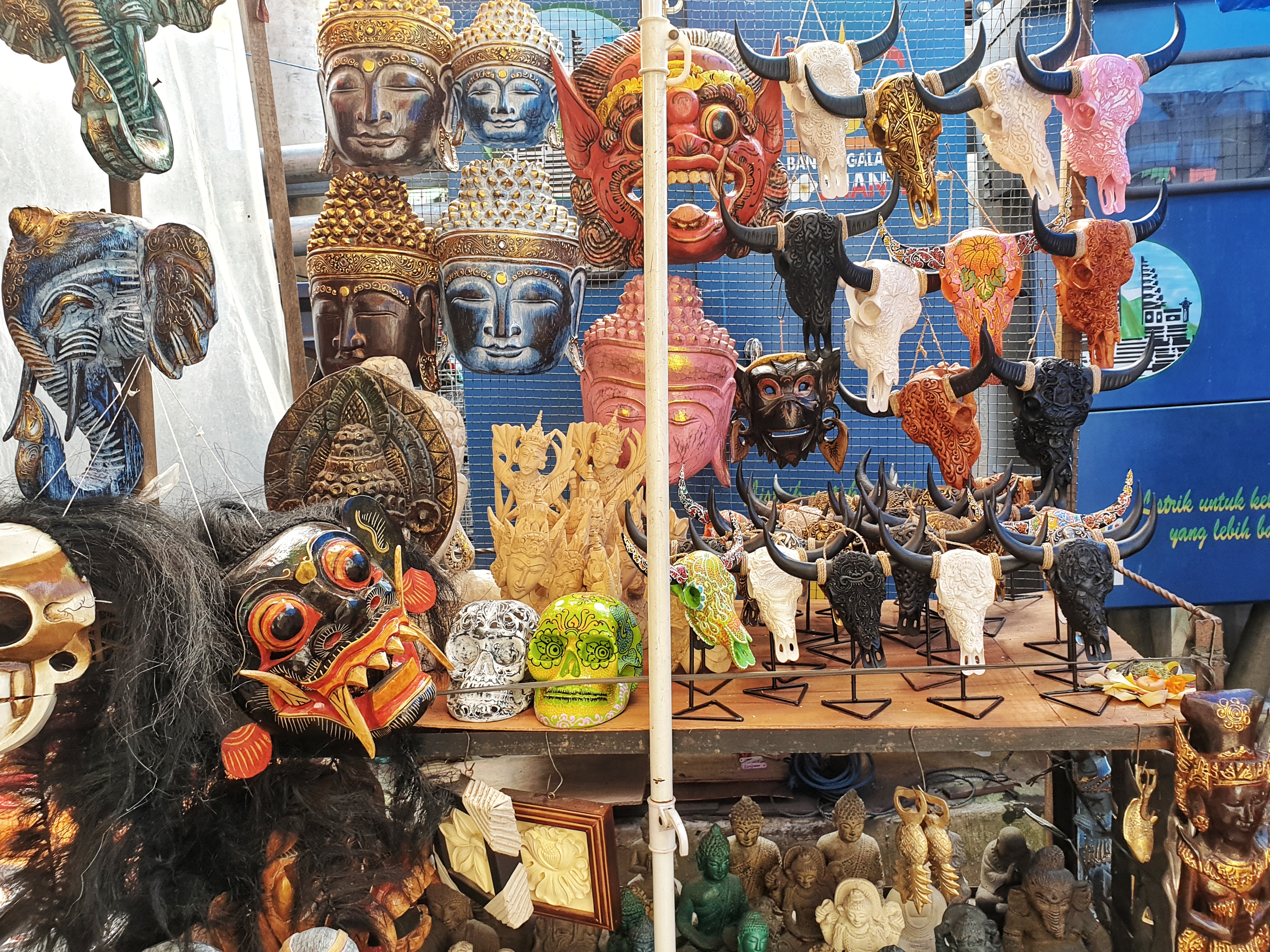 Ubud has plenty of tours and attractions which are definitely worth checking out during your stay here. The Guesthouse offers a number of tours which include transport to see the volcano, temples, rice terraces, waterfalls, coffee plantations, markets, beaches, lakes and dolphins. Click here to see what they have to offer.
Visit the Emporium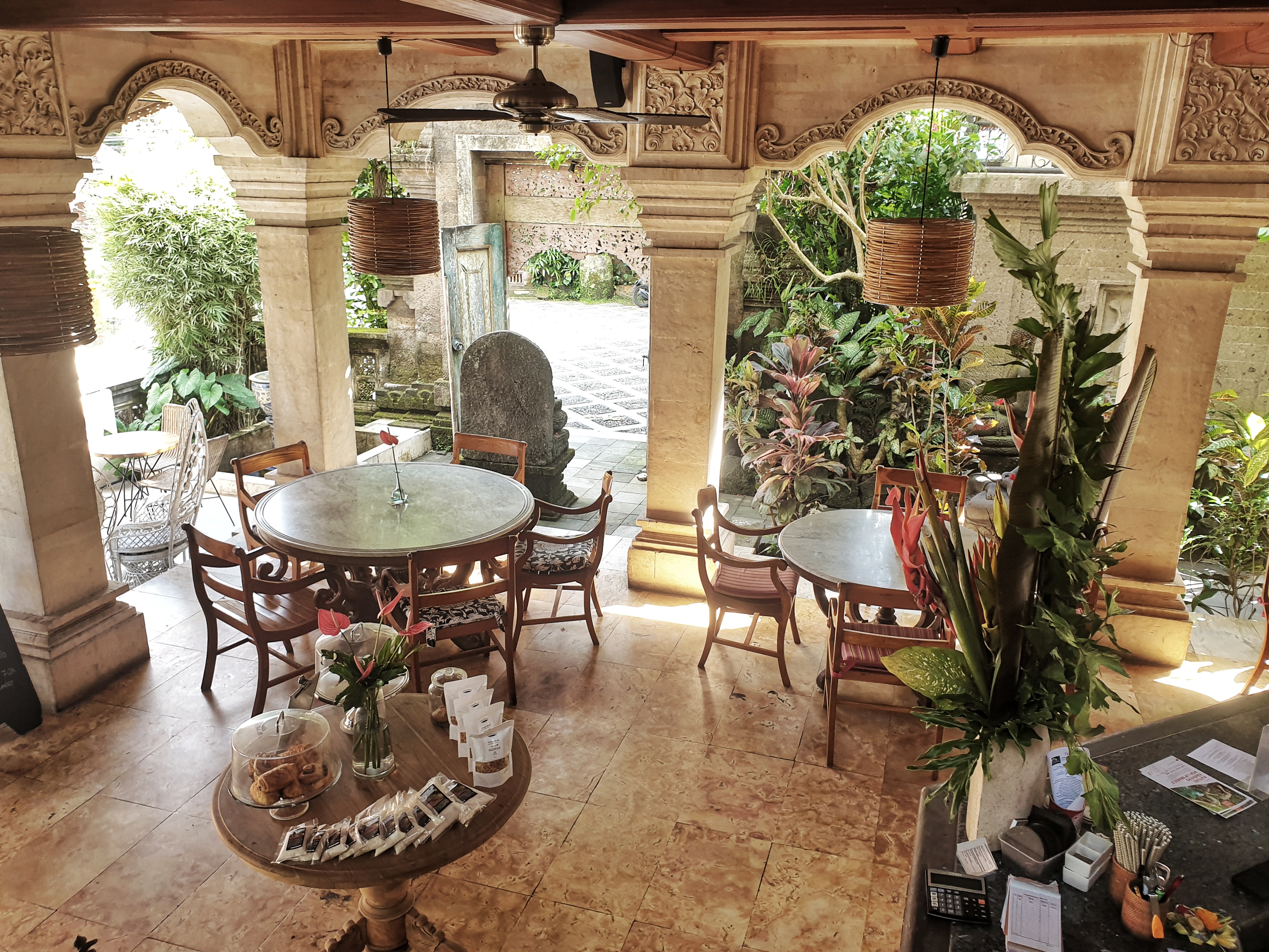 Situated downstairs at Casa Luna, The Emporium is a treasure trove of Indonesian hand-woven textiles, sculpture, bronze statues, batik and paintings, as well as, the exclusive range of Janet DeNeefe homewares featuring cotton bed linen, cushions and home accessories. It proudly supports local women weavers from Bali and other islands, as well as, artisan craftsmen as part of their mission to create the sustainability of traditional crafts from across the archipelago. Their stories are an important part of Indonesia's cultural heritage. Purchase one of their genuine pieces and become an ambassador of these unique cultures.
How to get there
It is centrally located in Ubud and Ubud Market and Ubud Palace are each located only 500m from Honeymoon Guesthouse. The nearest airport is Ngurah Rai International Airport, which is 28km away.
Honeymoon Guesthouse
Jl. Bisma, Ubud, Kabupaten Gianyar, Bali 80571, Indonesia
Airport transfers are available upon request, Ngurah Rai International Airport is about 38 km away from the villa and it takes up to an hour and a half by car. IDR 350.000 net/car/one way (with maximum 4 persons)
Prices
They vary depending on what time of year you go and whether you stay in any number of the different styles of rooms they have. Click here to see their selection.
We stayed in May 2019 and for our Indra Deluxe Room we paid 861,520 IDR (£43) per night.
Extras
Air conditioning

Mosquito net

On-site coffee house

WiFi is available in the hotel rooms and is free of charge.
Free private parking is possible on site (reservation is not needed)
Summary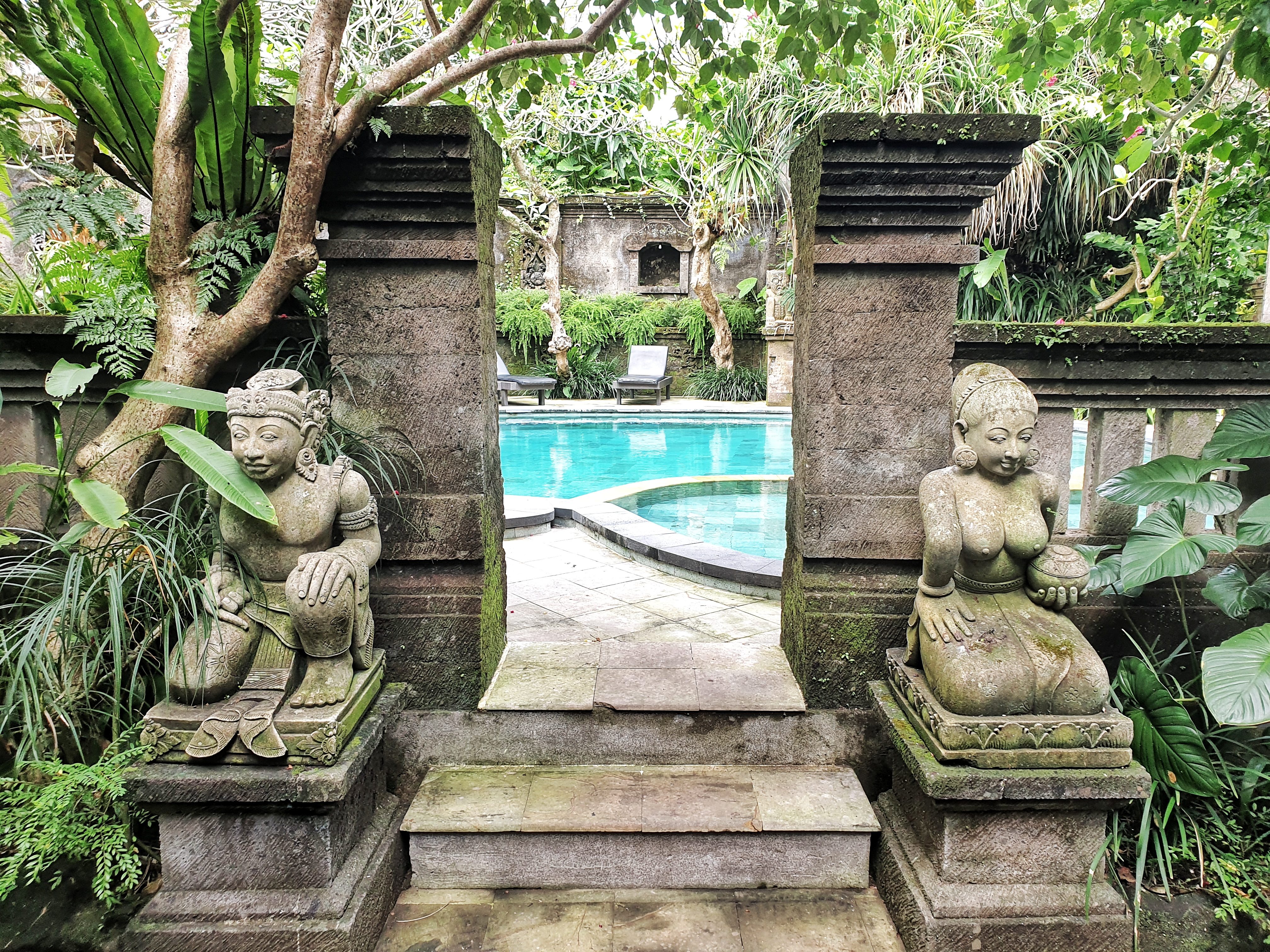 This place is absolutely beautiful and I am so glad that we chose to stay here for a few nights – its definitely worth it!
The room was spectacular, with traditional but modern Balinese influences and amazing views right from our bed. The guesthouse itself is super welcoming and the staff are so friendly, they can honestly not do enough for you to make your stay that little bit more comfortable than what it already is.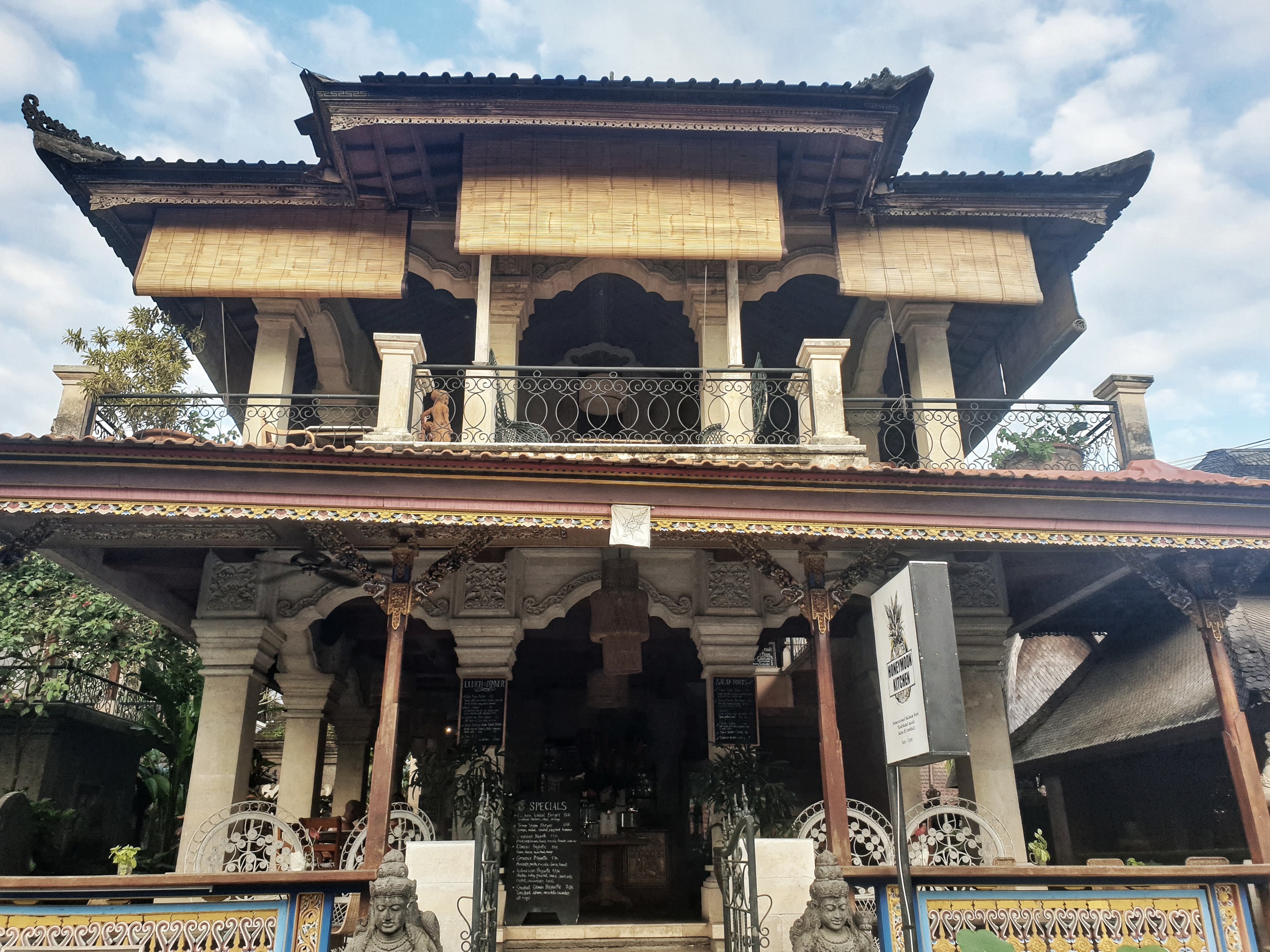 The sea water pool and Wellness Spa are hands down the best part about Honeymoon Guesthouse! The location was amazing and with the added tours that are available it honestly has everything you could possibly wish for.
If you are in Ubud and you want to have a unique experience, I would highly recommend Honeymoon Guesthouse!
Check out their Facebook and Instagram here.
***Thank you to Honeymoon Guesthouse for kindly sponsoring this post. All opinions are 100% honest & completely my own.