YOUR MAGICAL JOURNEY THROUGH THE GALAPAGOS
When you think of the Galapagos, you instantly think of Charles Darwin, exotic animals and David Attenborough narrating the beautiful islands and its unique wildlife roaming freely without interference from the modern world.
So, if you're planning a cruise to experience the Galapagos Islands, the ship you choose makes all the difference. Size, itinerary, service and amenities come into play. My partner and I were guests on the Santa Cruz II, a 90-passenger ship owned by Metropolitan Touring, and this is our review of our time aboard.
Highlights
Super friendly, knowledgeable and welcoming staff
Comfortable, modern & clean rooms
All inclusive food and drinks
Two fantastic jacuzzi's
Excellent guided tours of the islands and animals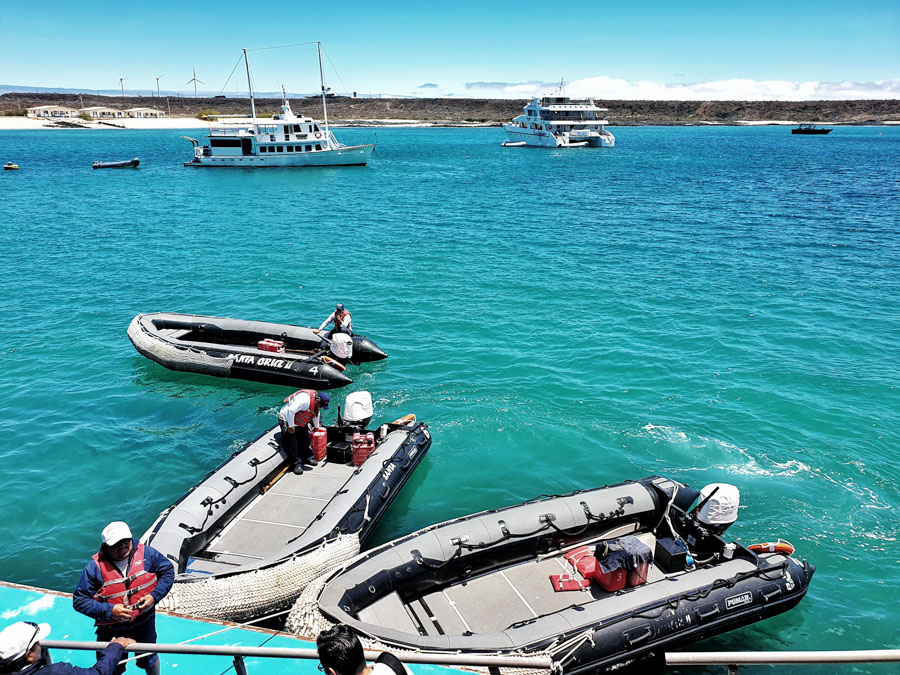 About the Santa Cruz II
The exotic Galapagos Islands are a vast spread of lava rock, which ultimately seem to be like a world that time forgot. With its unworldly birds, playful sea lions and giant tortoises, it really is extremely secluded and separated from the rest of the world. No wonder it's one of the most intriguing destinations on earth. Forget about the David Attenborough TV shows and experience it for yourself instead.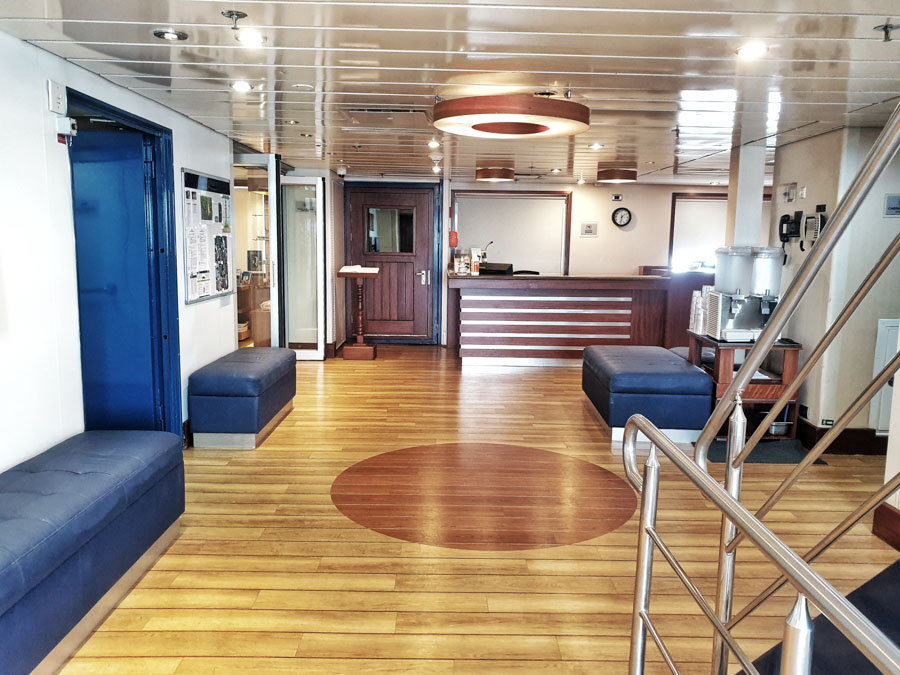 This is where the wonderful Santa Cruz II comes in and takes you on the trip of a life time and one that can only really be truely experienced first hand in person. This stylish luxury expedition ship was launched in 2015 and still upholds its clean-sleek lined modern look and really resonates with its tagline – 'Stylish Simplicity'.
Coming in at just over 70 metres long, it is the largest of the three ships owned by Metropolitan Touring, a well-established travel company that was one of the first to lead expeditions to the Galapagos back in the 60s.
Advantages of this ship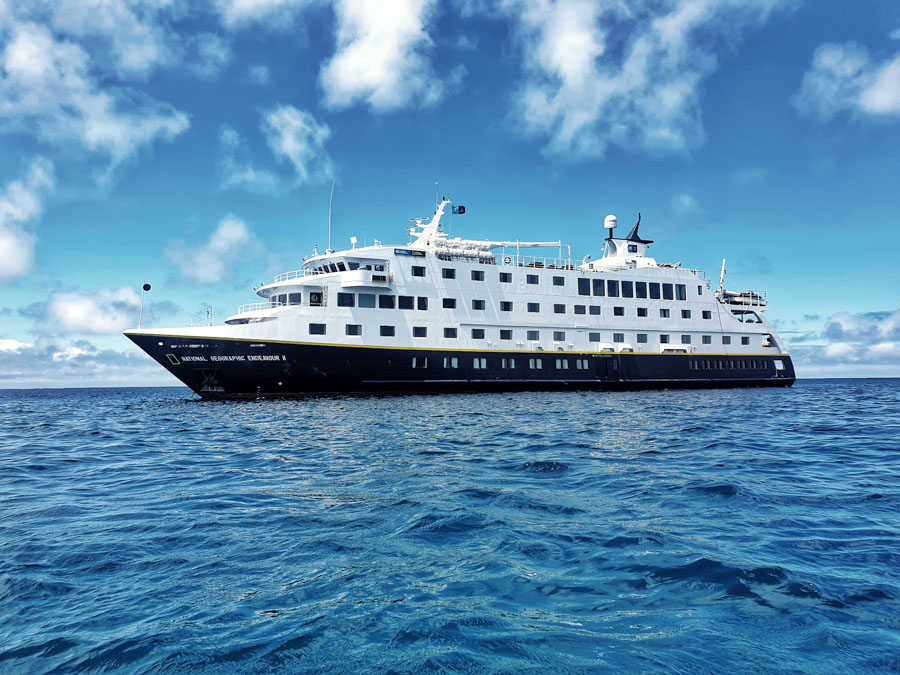 One of the best reasons to choose the Santa Cruz II is due to it being a much larger ship which is crucial for the amount of social space and freedom you can have onboard. With its five decks, you will be able to find a bar, two jacuzzi's, a fully stocked library with coffee machine, discovery/games room, restaurant/dining room, gym, small gift shop, sun deck and a couple of lounges.
We found that one of the most popular gathering points for all the guests is the Panorama Lounge, which is a light wood window-lined room filled with natural light and with a mid-century modern feel. After dinner most guests (including ourselves) would be drawn outside to its large outdoor deck, where it was perfect for watching the sun setting.
The Explorer Cabin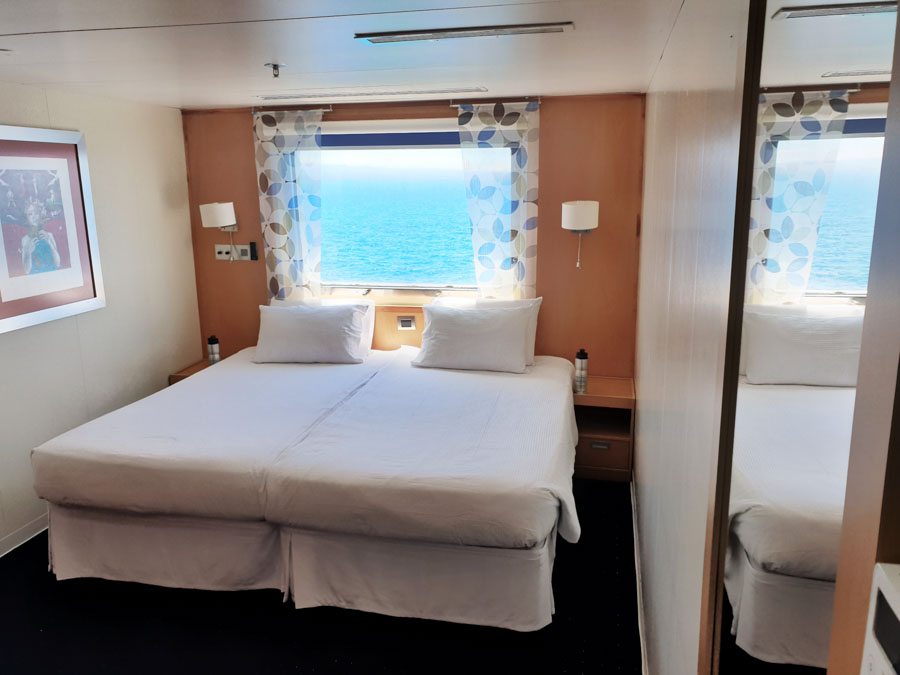 During our stay on the Santa Cruz II we opted to stay in the Explorer Cabin which was perfect for our needs and provided a very comfortable night's sleep. With fantastic ever-changing daily views, aesthetically pleasing decor, spacious and comfortable furniture we almost didn't want to leave to explore the Galapagos.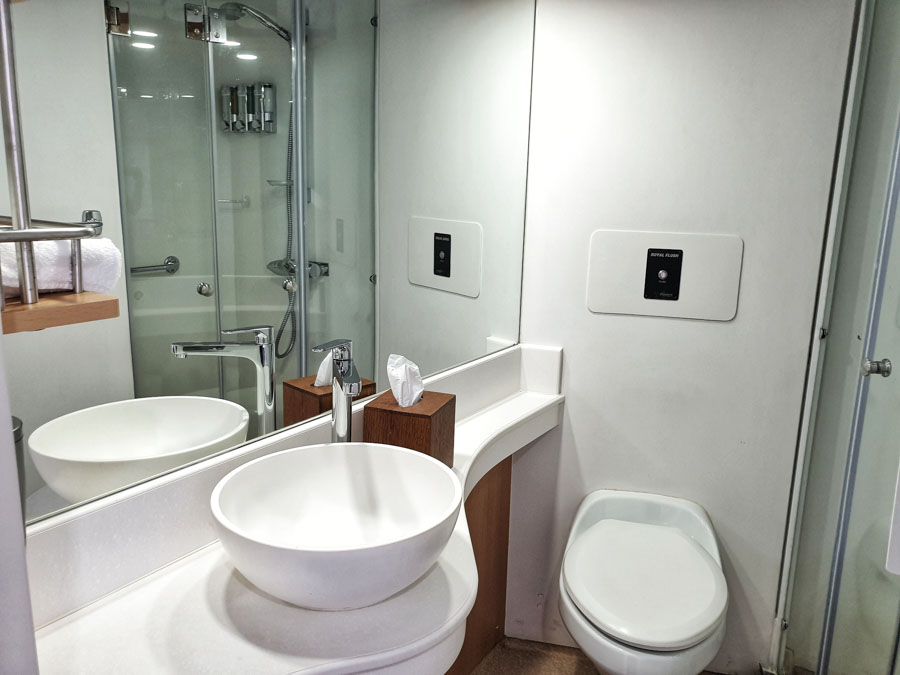 Furnished with a large window, it was a brilliant way to wake up in the morning and figure out where we were currently moored. The design is Scandinavian contemporary. It comes with a double bed that was honestly so comfortable we really did struggle to get up in the mornings. We had our own modern ensuite bathroom, table & chair, air-conditioning, plenty of power points, coat hooks, mirror and a unique framed print.
What you get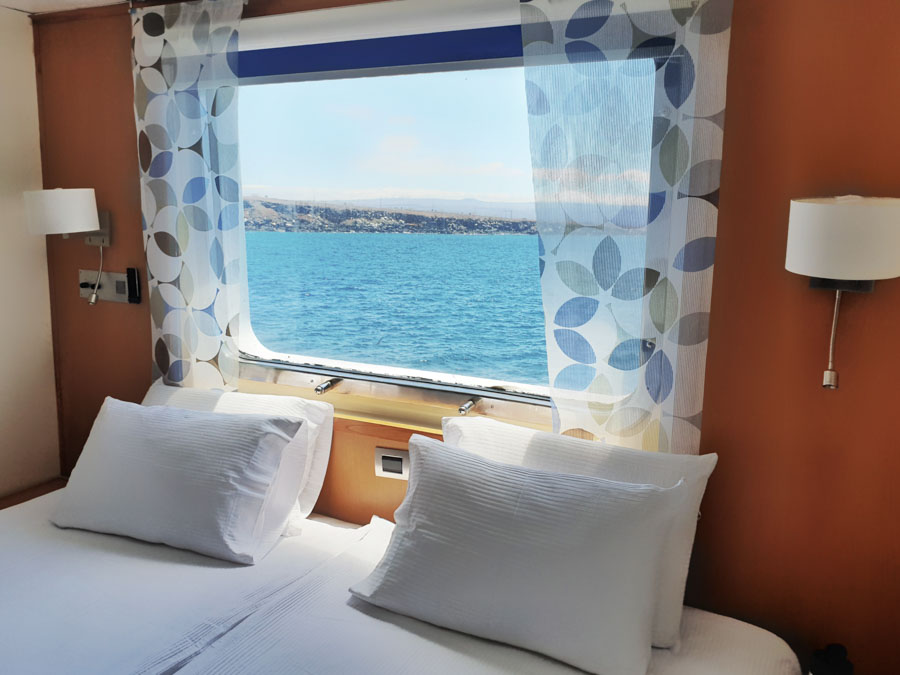 The cabin comes equipped with free biodegradable toiletries, Wi-Fi (if you purchase it), fluffy pillows, plenty of clean towels, soft linens, hairdryer, safety deposit box, reading lights, superb sound-proofing and lots of space for you to relax in.
We also loved that the rooms were cleaned at least three times a day, and in the evenings we would always receive a delicious pillow chocolate before we went to sleep.
To view all their other rooms click here.
Daily Briefings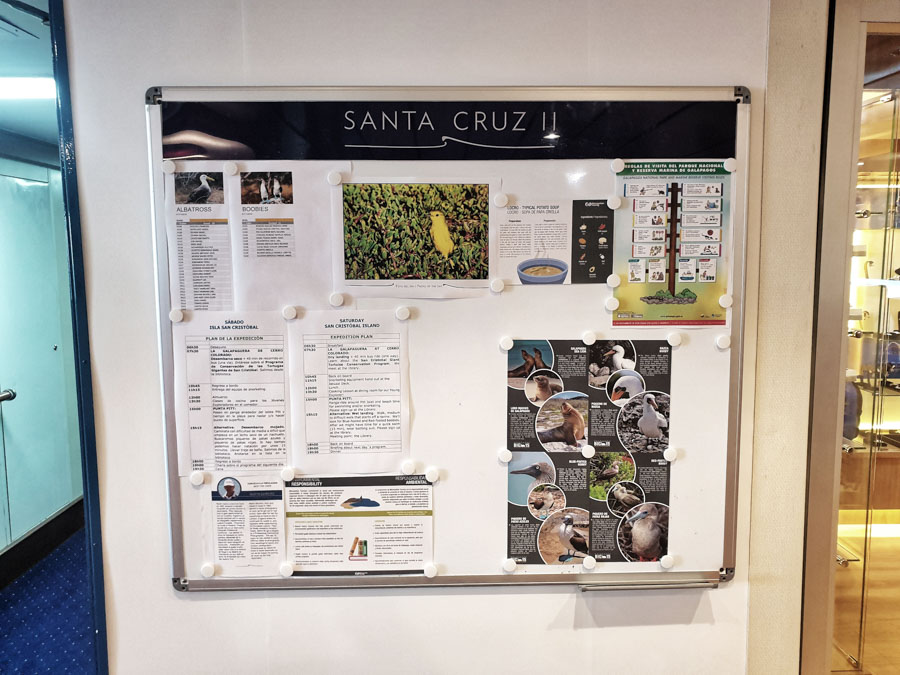 The daily briefings are usually held in the afternoons at the Panorama Bar and are a mix of mini lectures, instructions for the next day's activities and a chance to get to know the other guests. Here, you will also find delicious small snacks such as sushi, breaded prawns, mini pizza's, popcorn and other yummy finger food.
If you forget everything that you have been told during this lecture, then not to worry as they pin up the next days activities on the notice boards which can be found on each floor.
Activities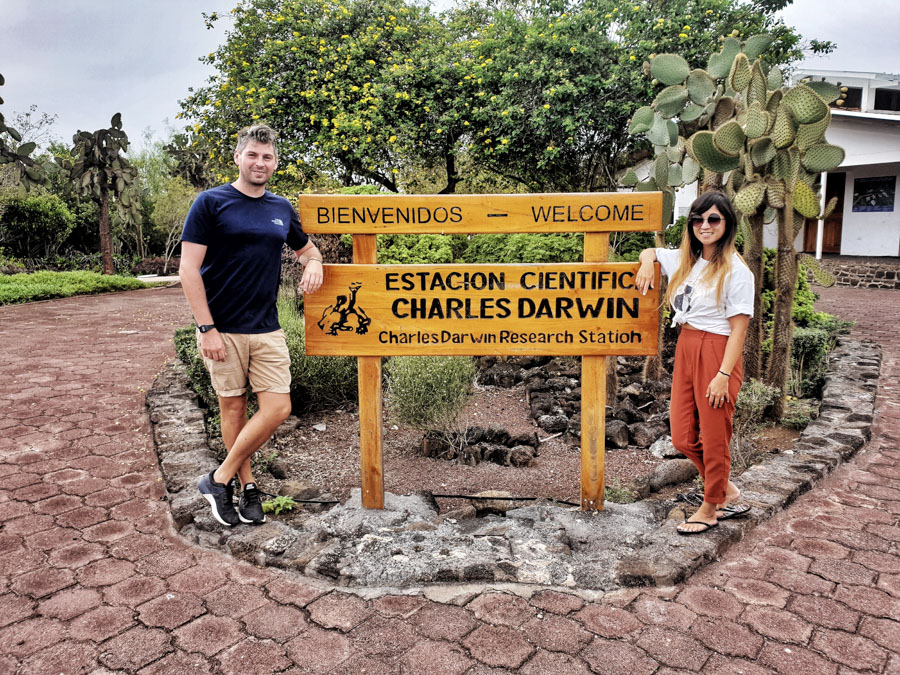 The thing I love most about this cruise is that its not an 18-30's party boat or with over extravagant evening shows that are quite honestly a little cringeworthy at times.
Instead what you get is an expedition boat where the main focus is to explore the Galapagos islands and you will quite often find yourself waking up at 5am for a 6am start of hiking the islands and searching out all of that wildlife you have only seen on TV. Many of the animals here are endemic, meaning they exist nowhere else on earth. And if your ship happens to be modern and comfortable, with jacuzzi's and 24-hour coffee & tea facilities then there's not much to complain about.
Seven-day Eastern Galapagos Islands Cruise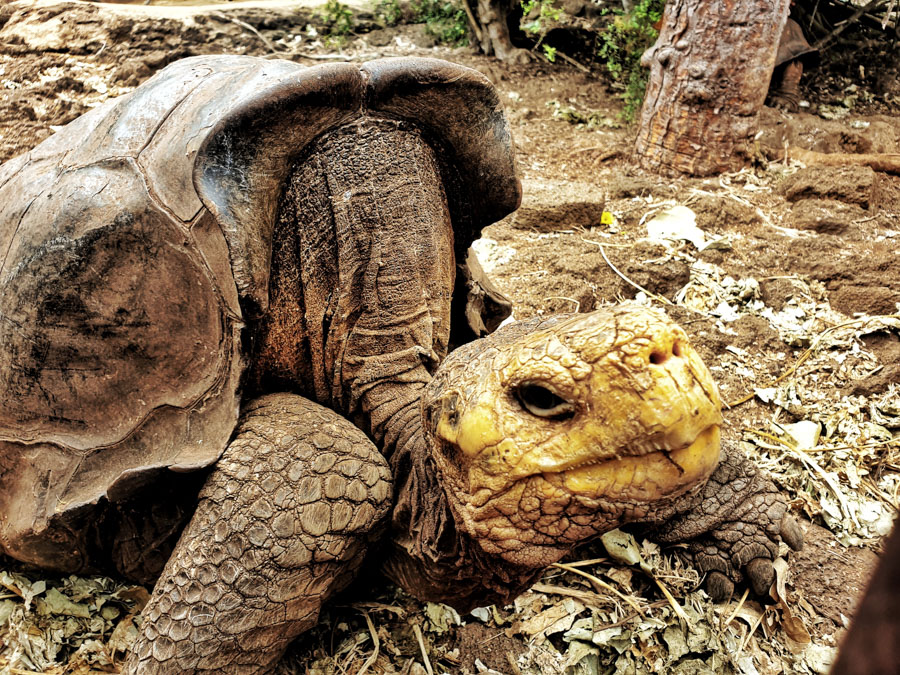 There are three tours available:
The Five-day Northern Galapagos Itinerary
The Five-day Western Islands Galapagos Cruise
And the one I took – Seven-day Eastern
From Baltra the seven-day cruise travels to the oldest islands in the Galapagos Archipelago. Highlights include the sea lions of Mosquera Islet, the red-footed boobies in San Cristobal and the land iguanas on Santa Fe Island. There are also stops at the South Plaza, the Charles Darwin Research Station on Santa Cruz Island, Española Island, North Seymour and Eden Islet.

For a day by day guide please click here
The Island Hike's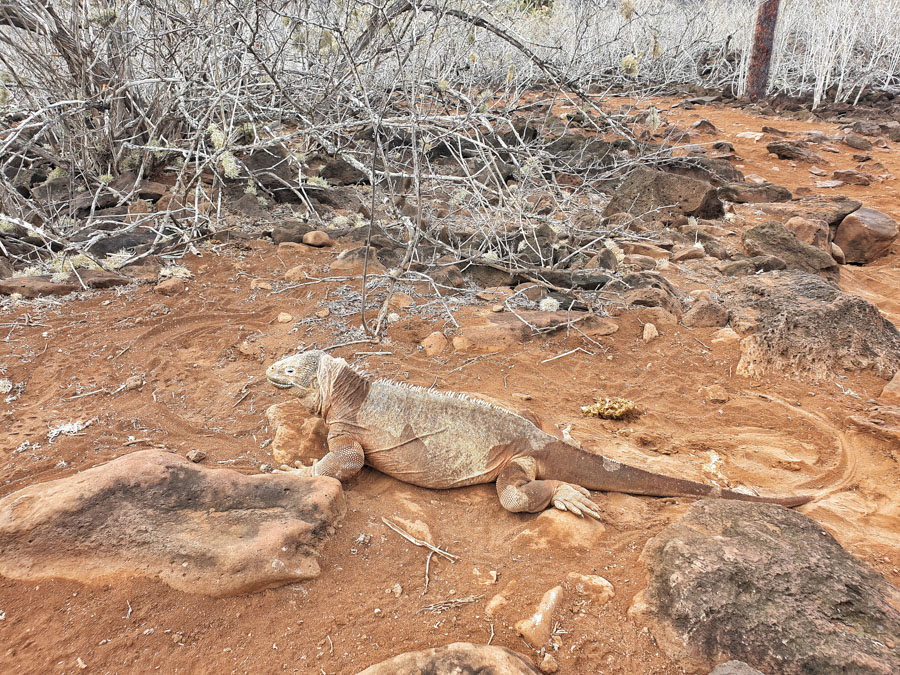 Most days there are usually one to two daily hikes ranging from 40 minutes to two hours and can be split into slow and fast paces. Some are quite easy walks, while some are more challenging with only boulders as your pathway. However, each one is more stunning than the next as you get to see volcanic craters and beaches of black, red, white or golden sand.
Along these walks you will also get to see sleepy sea lions, fur seals, flamingos, giant tortoises, red-footed boobies, blue-footed boobies, Nazca boobies, frigates, sharks, diamond rays, herons, sea turtles, iguanas and much more.
Water Sports
When it comes to fun activities, Santa Cruz II really packs a punch when it comes to water sports, as you can kayak, snorkel, standup paddle boarding or glass bottom boats, which is always good fun. The ship can provide all the gear which includes wetsuits (additional cost of $10 USD), snorkels, masks and flippers. I tried all three, and all were unique ways to experience the landscape. They also run Zodiac trips for those who are less able and can still provide a great tour of the oceans.
Relax in one of the two Jacuzzi's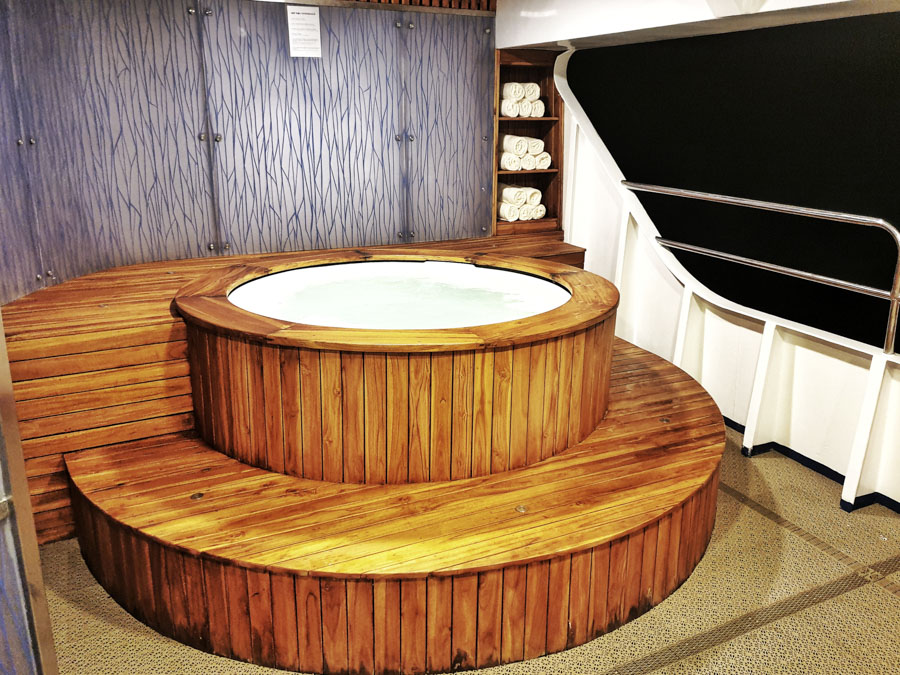 Situated on the back of the ship are two fabulous jacuzzi's which face out to the rear and sides, providing you with some of the most incredible views I have ever had while relaxing in one. The best time is definitely at sunset with a cold drink in hand and marvel at the amount of colours that appear on the horizon.
Immerse yourself in the Discovery Room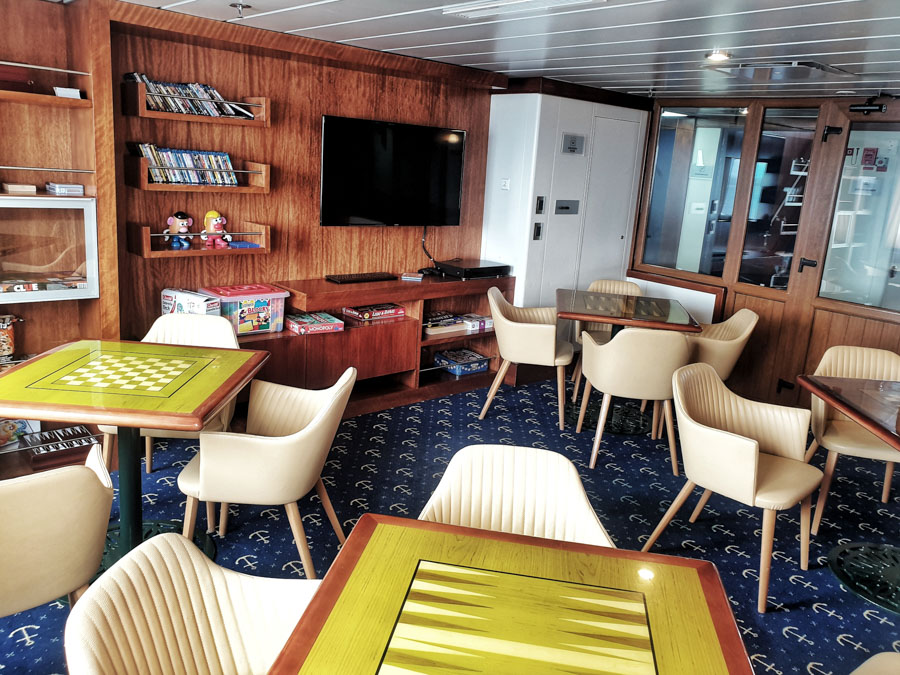 Found on the 2nd floor of the ship, this room is packed with games that will keep you entertained for hours, not to mention plenty of movies to select and watch on the large flat screen TV. It is also the perfect quiet spot to sit and chill with a good book while drinking a nice cup of tea or coffee.
Hang out in the Library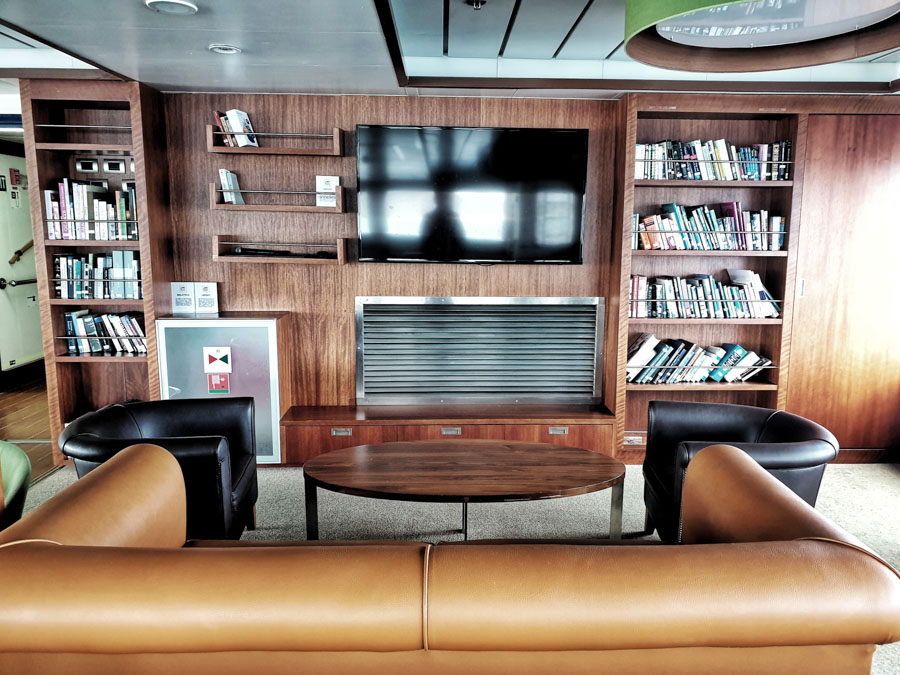 Just down the corridor from the Discovery Room is the library which is packed full of books ranging from popular fiction to historical non-fiction and lots of information relating to the Galapagos Islands. There are lots of cosy chairs, sofas and tables to settle yourself down in and it also has the coffee and tea machine with an endless supply of biscuits and crackers.
The Gym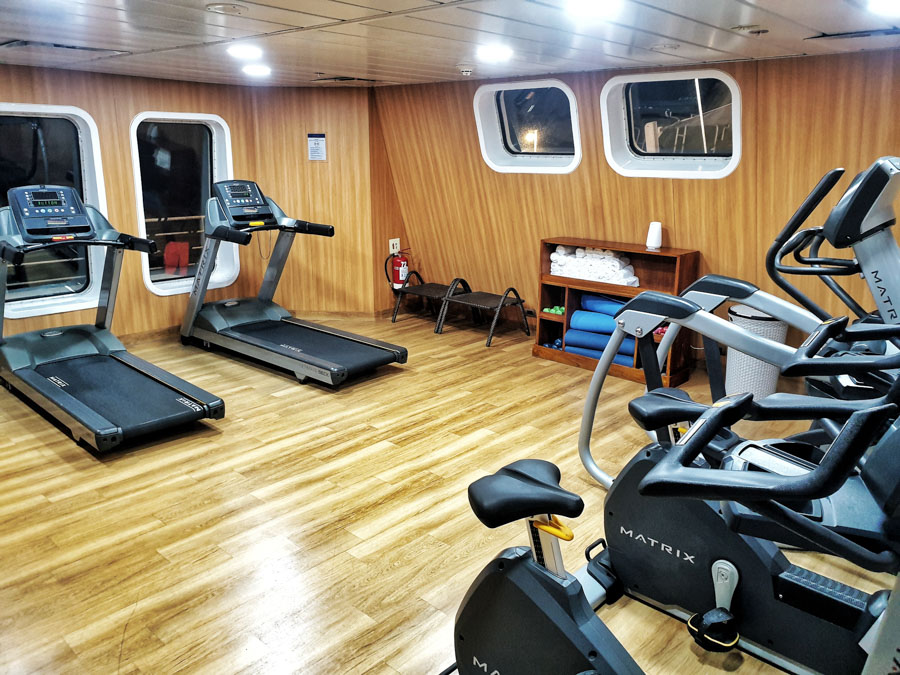 If hiking twice a day and countless water sports don't tire you out, then you can head to the top floor to use their gym equipment which has amazing views from their large windows. Complete with running machines, small free weights, cycle machines, yoga mats and free water.
Stock up at the Gift Shop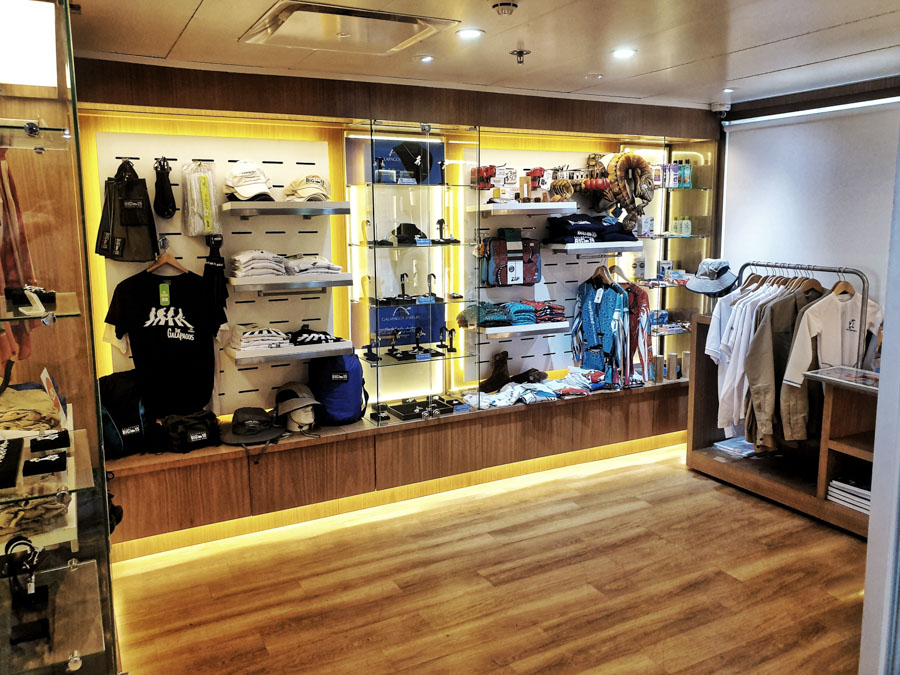 If you forget to bring something such as sun cream, insect repellant etc then not to worry as this can all be found in the gift shop. They also stock souvenirs such as t-shirts, hats, magnets, books, scarves, trousers, sunglasses and much more. The captain also has his own book on sale which he will happily sign for you if you decide to purchase it.
The National Park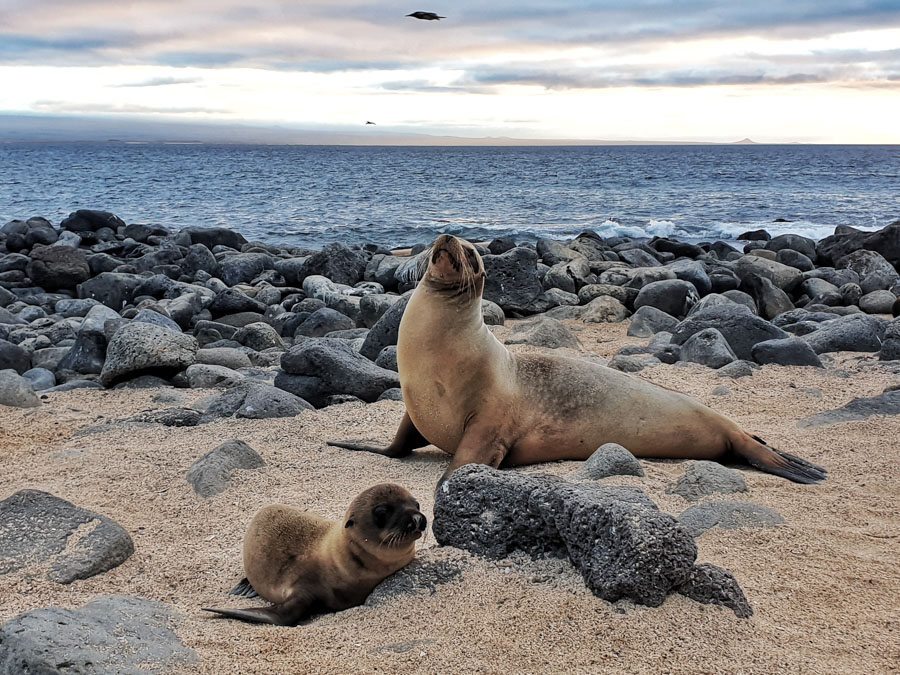 To say there is plenty of wildlife to get close to in this isolated archipelago 965 km (600 miles) off the coast of Ecuador is an understatement of huge proportions.
Ninety-seven percent of the Galapagos is a national park, and the vast majority is off limits to the public. Made up of some 20 islands, 42 islets and hundreds of lava rocks, this volcanic region in the Pacific covers an expanse of 138,000 square kilometres (53,282 square miles) altogether.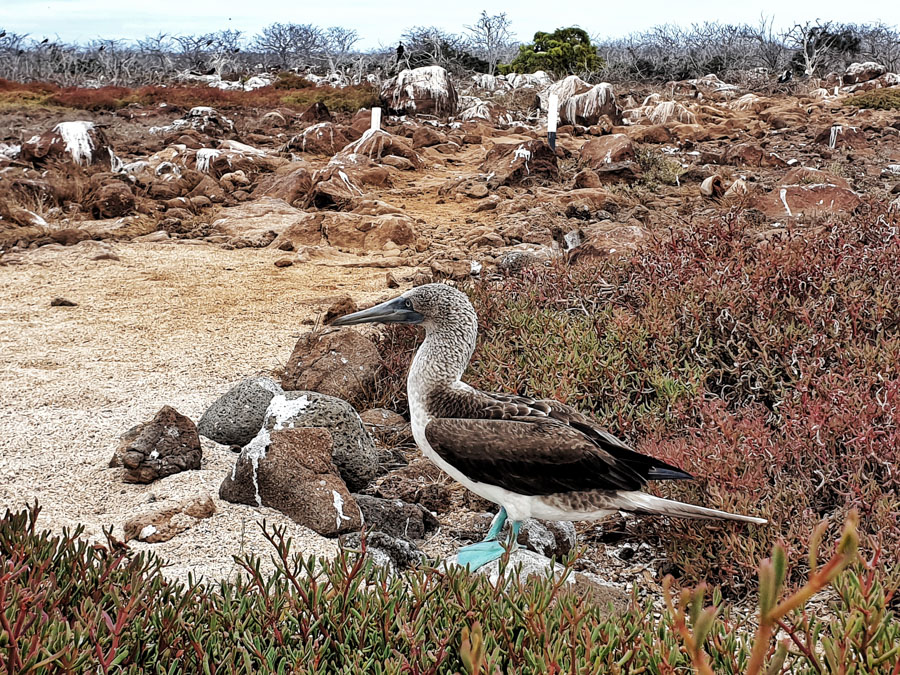 Depending on what islands you visit and what season you're visiting in, the number of animals you'll see will vary, but you're guaranteed to see a mind-blowing crazy amount.
During our trip in November we came across a staggering amount of Sea Lions, Sea Turtles, Sting Rays, Blue Footed Boobies, Red Footed Boobies, Darwins Finches, Heron's, Albatros, Parrot Fish, Frigates, the Galapagos Hawk, Sharks, Iguanas, Lizards, Crabs, Giant Tortoises, Lava Gulls, Nazca Booby, Mockingbirds and much more.
The Restaurant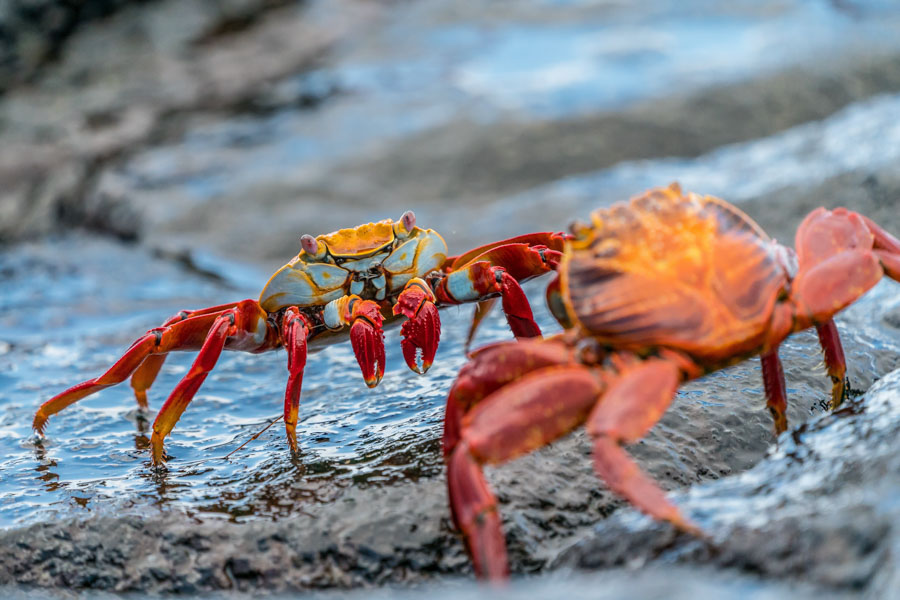 After experiencing a full on day (with maybe just a small siesta at lunch time) the main restaurant, the Beagle, is on the sea level Ocean Deck and perfect to stock up on some much needed calories. It features Ecuadorian and international cuisine which is perfect as there is something for everyone.
The menu is locally sourced whenever possible, and you can expect fresh fish, organic fruit and vegetables and meat and poultry options from the highlands of Santa Cruz, the second most populated island in the Galapagos. The fried plantains are quite often popular and the desserts are utterly delicious.
Breakfast, lunch and dinner are buffet style with quite a relaxed atmosphere while eating. Your waiters will very quickly get to know you and will almost immediately remember how if you have tea, coffee or something stronger and how you have it which is a quality I feel shouldn't go unrecognised.
Extra's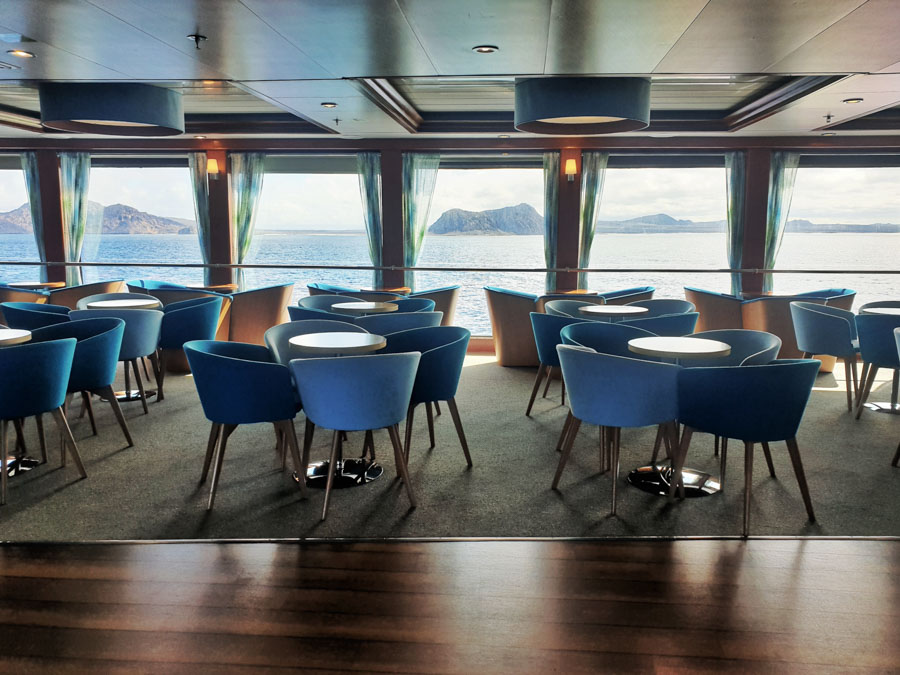 The ship manages to squeeze in a few other events when we're not out doing shore or water excursions. There is a photography lesson on one evening, star gazing another and also a Gin and Tonic Happy Hour with BBQ snacks on the Panorama Outer Deck.
But does it get too crowded you may wonder?
I know personally I am not often a fan of guided tours, just purely because they oversell them and it ends up being a free for all to get the shots you want and usually its too noisey so the group just scares off any animals within a close proximity.
However, in the case of the Santa Cruise II this isn't the case at all. No matter the size of the ship, the rules of the Galapagos National Park are the same. Land-based activities can't be in groups larger than 16 people, and for every 16 there needs to be a naturalist guide.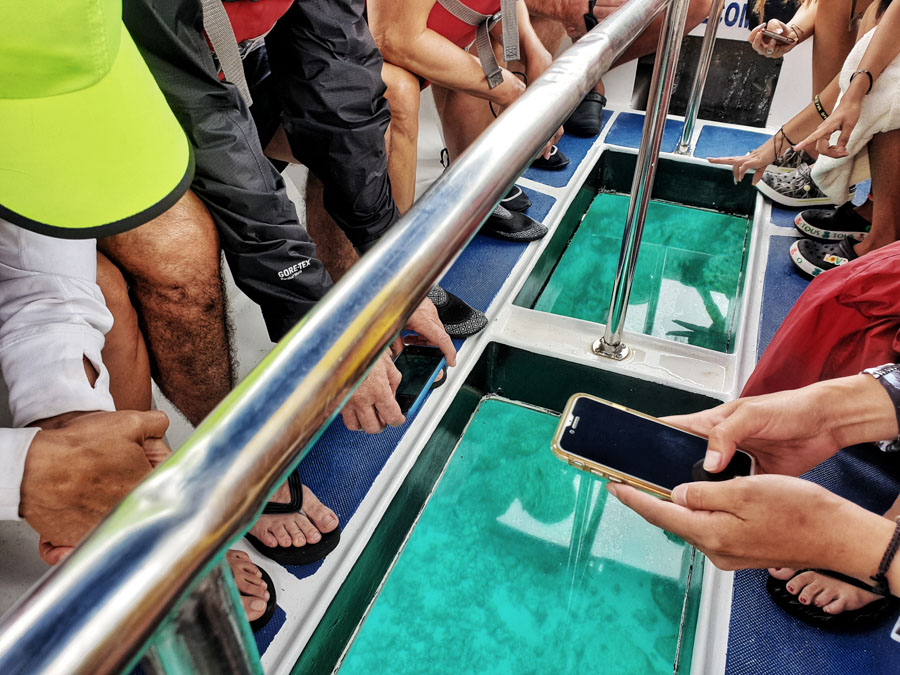 Often on our hikes we can see other groups down the beach or path, but the walks are carefully timed so that you don't tend to bump into one another too much. The fact that your group is on the smaller side is perfect too as everyone is more organised, forming queues and waiting their turn to get the perfect shot.
Is the Santa Cruz II good for families?
Yes, there are activities for 'young adventurers' including a Pirate's Program, bridge tours led by the captain and dedicated panga rides. Out of the 50 rooms onboard 36 are adjoining, good for families and intergenerational groups.
Protecting the environment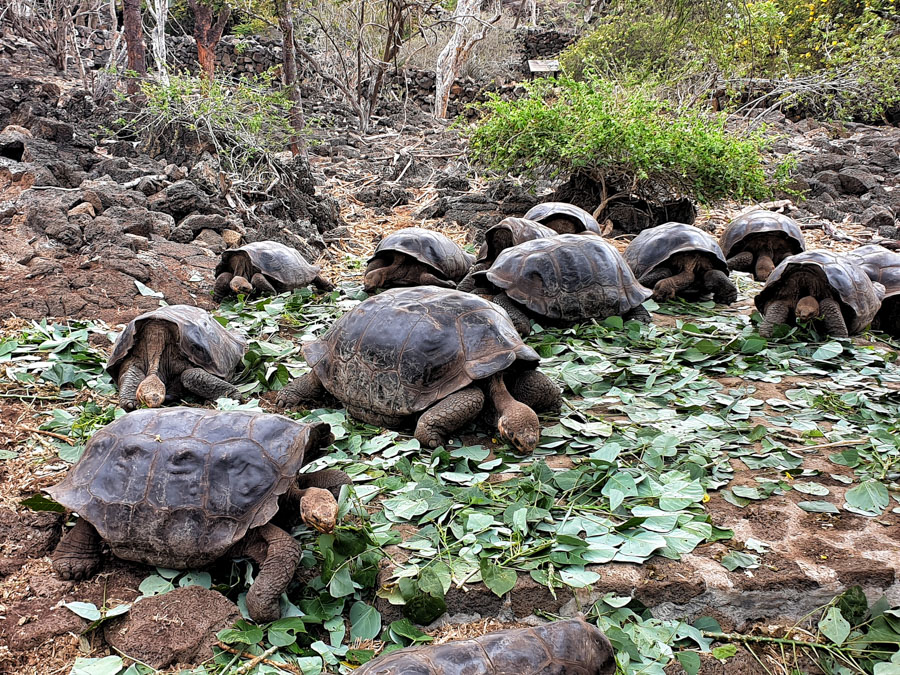 The Galapagos is a beautiful environment with ecosystems that are some of the most fragile and unique in the world. It takes a huge effort to keep it the way we found it and to continue its growth with no harm coming to anything on the islands.
The great part? Metropolitan Touring takes great care to reduce its footprint, as the Santa Cruz II has its own waste water treatment plant onboard, an organic waste processor and low-impact generators and engines. The water that is provided to all guests is produced onboard by desalination (which means it's safe to drink, too) and ship lights are designed to limit the attraction of insects in order to avoid the accidental dispersal of species.
As you can imagine, guests are encouraged to do their part as well and provided biodegradable shampoo and they also receive a reusable stainless steel water bottle on arrival which you can take home with you.
Looking after the local community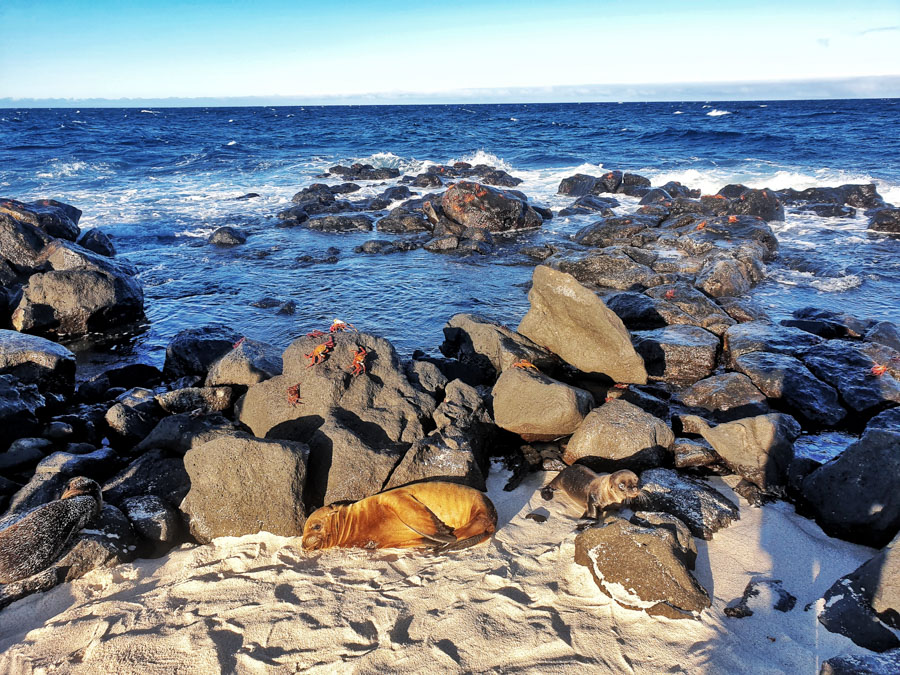 In the Galapagos, there are roughly 30,000 people, with 25,000 of those being on Santa Cruz (the unofficial capital). Metropolitan Touring regularly hosts local children and schoolteachers on the Santa Cruz II so that the youth of the Galapagos can learn more about the environment they live in and will one day be the caretakers of, which is just utterly fantastic!
Metro Touring also participates in local training projects in areas such as the English language, responsible tourism, natural history, geology, endemic flora and volcanology. By training and hiring galapagueños naturalist guides, they create sustainable job opportunities.
How to get there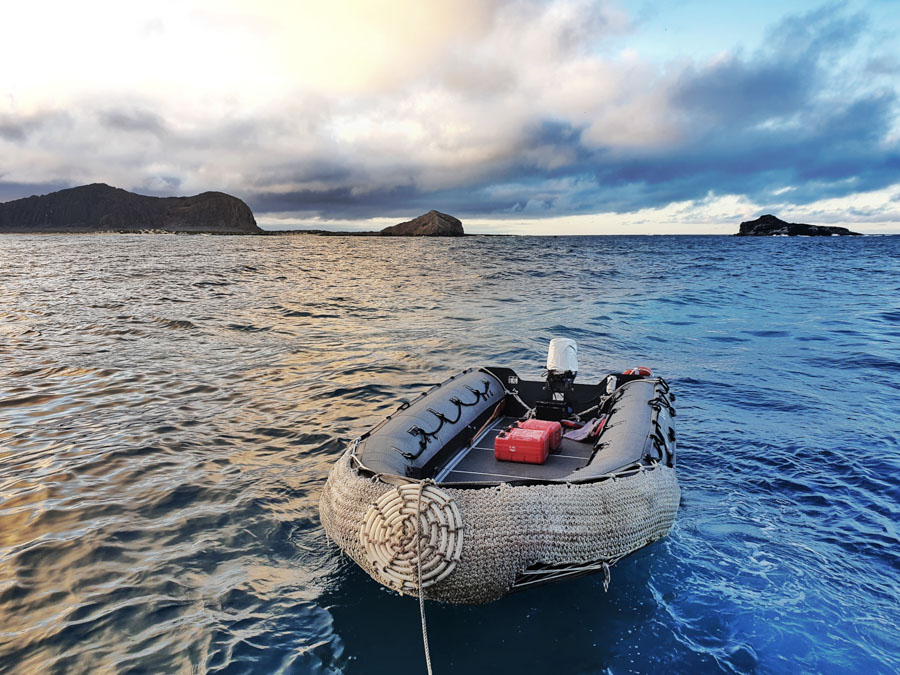 All of the tours start and finish on Baltra Island which is right next door to Santa Cruz and is the main airport which you will fly into from Ecuador. Once you have landed and collected your luggage, you will be met by one of the super friendly and welcoming team members who will get the group organised and onto a private bus.
This bus will then take you to the port where you will don a life vest and get whisked across the harbour on a Zodiac dinghy to the ship where you will climb aboard the Santa Cruz II.
Metropolitan can arrange flights, tours and hotel stays post or pre-trip. Most travelers stay in Quito or Guayaquil, Ecuador, overnight due to early flight times to Baltra Island in the Galapagos where your cruise begins.
Click here to find out more information
Prices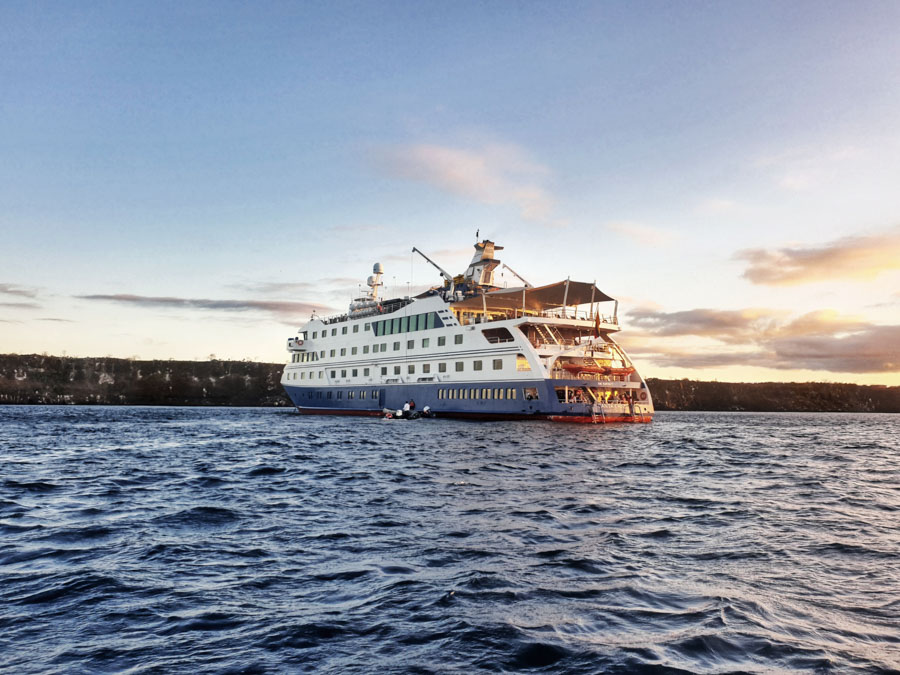 The prices will vary depending on what time of year you stay and which itinerary you decide to go for – to check out the pricing click here.
We stayed in November 2019 and for our Explorer Cabin it would cost $5942 USD (£4640) per night.
NOTE: The Galapagos National Park entrance fee ($100 USD) and migration control card fee ($20 USD) is not included and will cost a total of $120 USD per person.
Click here to view other rooms, itineraries and prices
Extras
Wifi is available but is an additional cost of $40 USD
Juices and small snacks are provided after every activity
Plenty of space for luggage
Alcohol is available at an additional cost
Summary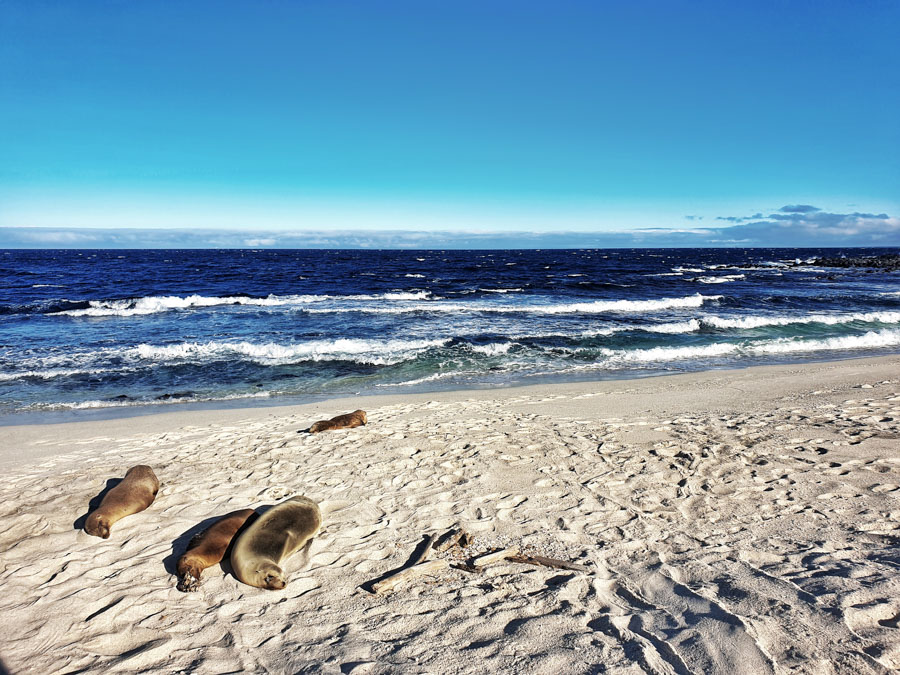 This cruise really ticked all of the boxes and it is the perfect way to explore the islands while in the Galapagos. I am so glad that we chose to stay on the Santa Cruz II for six nights/seven days – it's a unique place with everything you could need.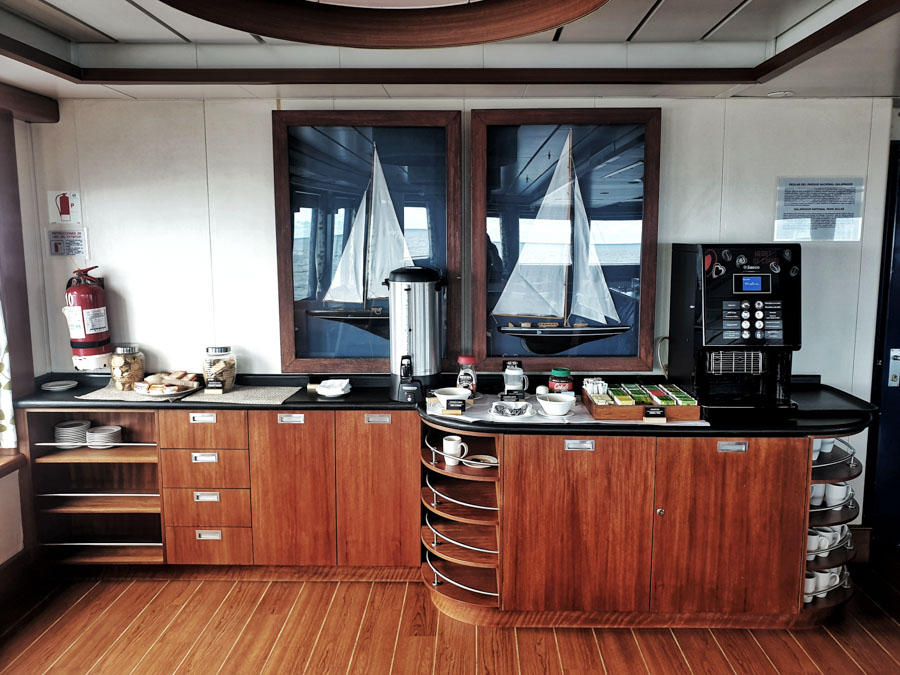 Experience unparalleled privacy and relaxation on the Santa Cruz II cruise, where tranquility meets impeccable guest service and luxurious amenities that include the jacuzzi, state-of-the-art fitness centre, library, games room and buffet style restaurant.
You will want to spend longer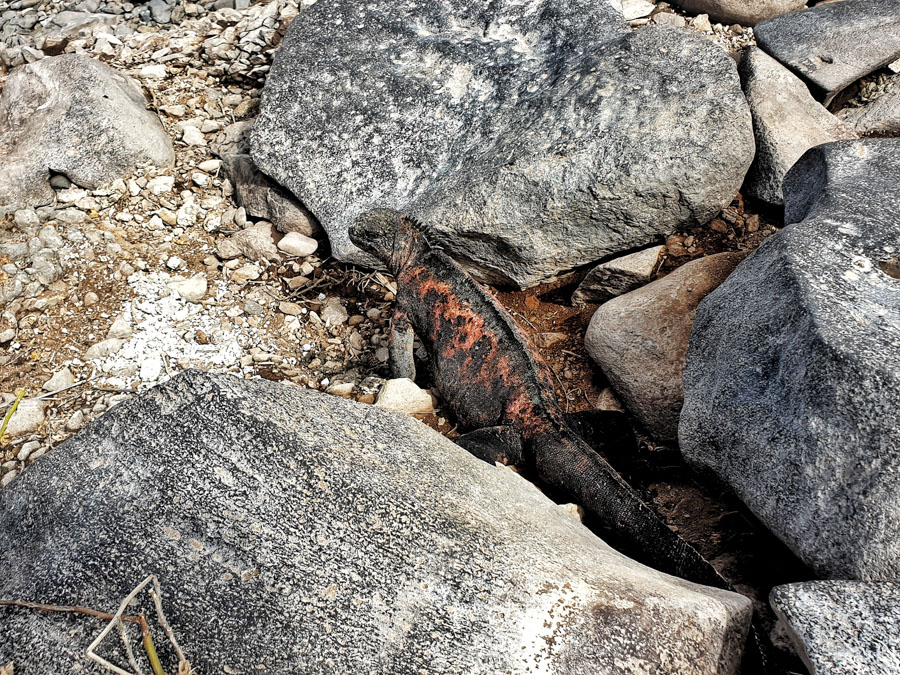 The cabin was fantastic, we had a super comfortable night sleep and really enjoyed watching the sun rise from our bed and large window. The seven day itinerary was perfect for us to fully explore the Galapagos and really immerse ourselves with nature and the wildlife. The staff are also so friendly; they can honestly not do enough for you to make your stay that little bit more comfortable than what it already is.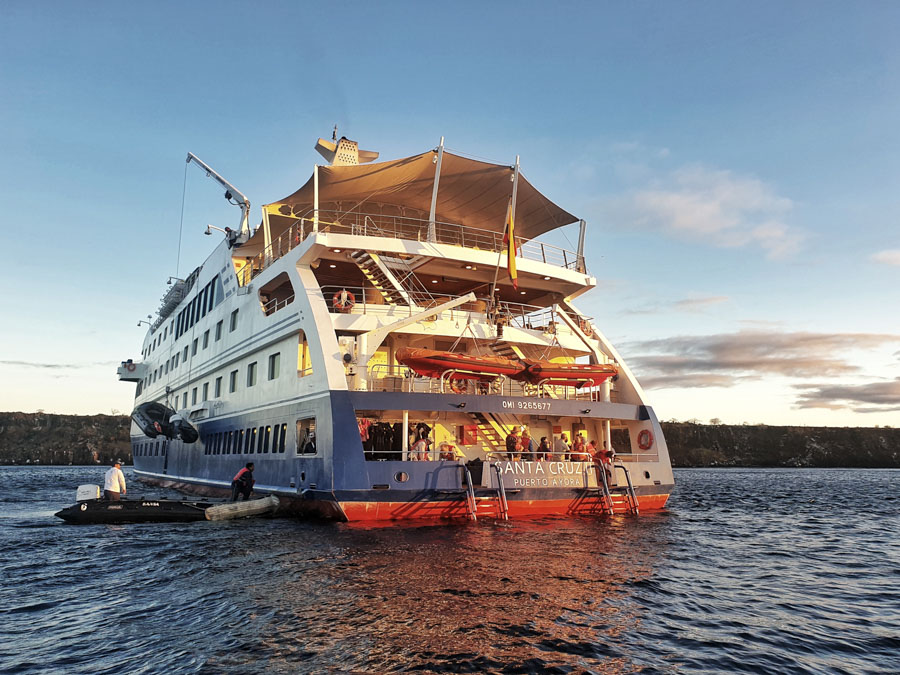 The cruise is a nice mixture of full on activities with the option to chill and relax too. You are always surrounded by beautiful beaches, rugged islands, bountiful history and interesting wildlife which are absolutely breath-taking and you will find yourself soaking them up the whole time you're there. Everyday you will be find something that will suit your wants and needs and the crew really do look after you day after day no matter issues may pop up.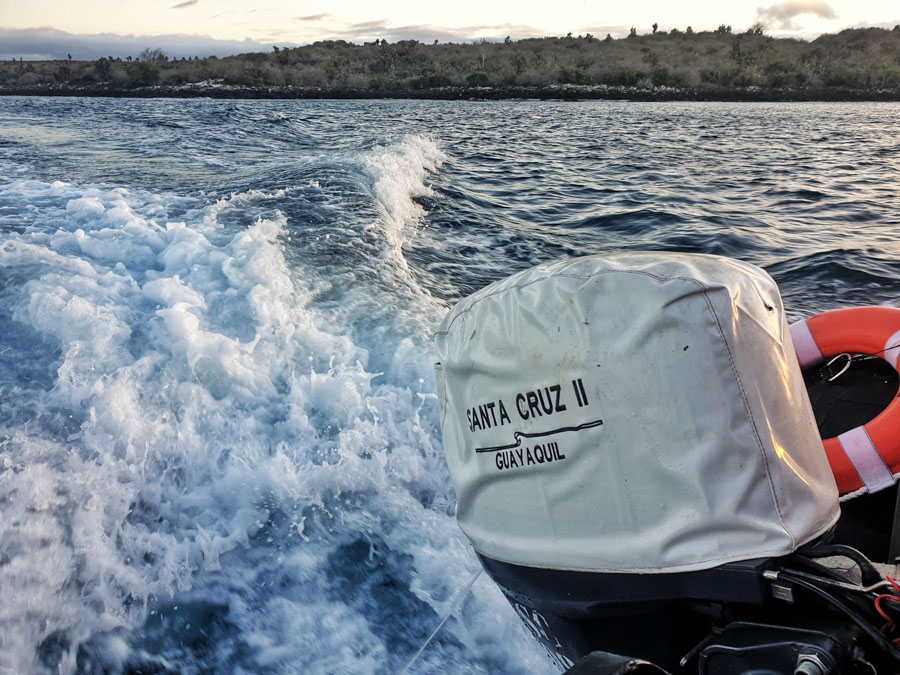 If you want to visit the Galapagos or you are in Ecuador and want to have a great all-inclusive experience, I would highly recommend the Santa Cruz II with Metropolitan Tours. You will honestly feel like you're in a David Attenborough documentary.
***Thank you to Metropolitan Tours for kindly sponsoring this post. All opinions are 100% honest & completely my own.