A PEACEFUL PARADISE
Located in the highlands of Santa Cruz, Enchanted Galapagos Lodge is a beautiful place to stay and it is an ideal base for those who want to explore the Galapagos. This tranquil sanctuary, is tucked away from the hostel bustle of the main town and here you will find wild tortoises around and a short drive away from the Charles Darwin sanctuary.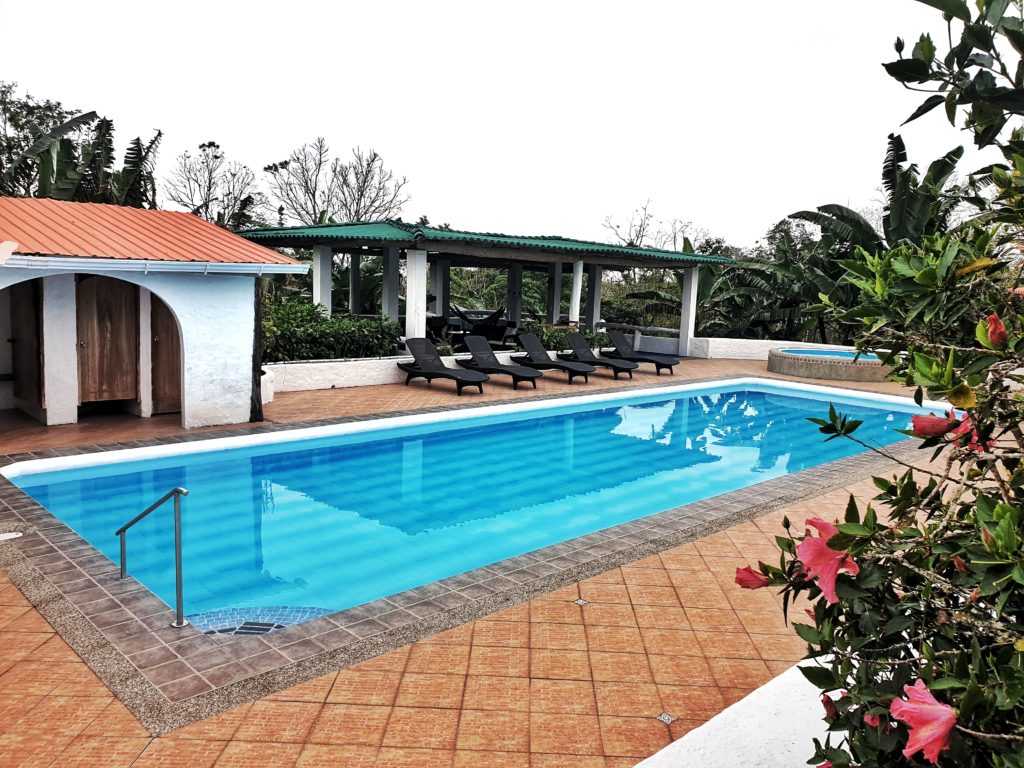 Situated just a short drive away from the airport, local shops & restaurants, you will find yourself in an energetic and lively city, oozing sunshine and unique decor making it extremely comfortable, cosy and stress free. The rooms are brilliant, offering cosy furnishings and amenities, designed with your comfort in mind.
It is a place to connect with nature, rest after a cruise around the Galapagos, or to use as a base while exploring the many visitor sites on Santa Cruz Island.

Every morning awake to the sound of birds, enjoy breakfast in their open air dining room, venture off on a bike trip to the nearby Garrapatero beach, do some yoga on the deck that overlooks a coffee plantation, and finally unwind from your day and enjoy a glass of wine by the fireplace.

If you find yourself in Santa Cruz, Galapagos, then I would highly recommend booking a few nights stay at Enchanted Galapagos Lodge.
Highlights
Super friendly and welcoming staff
Comfortable, modern & clean rooms
Delicious breakfast and free tea & coffee
A fantastic large pool with sun loungers
Plenty of hammocks to chill out on
Superior Matrimonial Room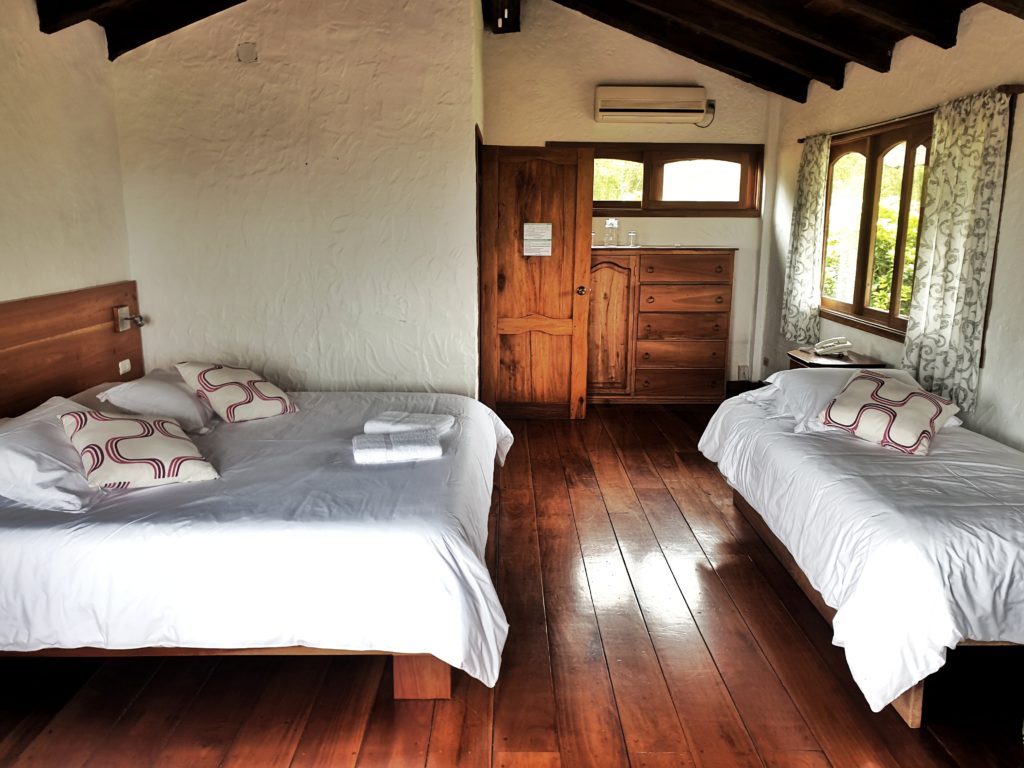 During our stay at Enchanted Galapagos Lodge we opted to stay in the Superior Matrimonial Room which was perfect for our needs and provided a very comfortable night's sleep. With fantastic views, aesthetically pleasing decor, spacious and comfortable furniture we almost didn't want to leave to explore the rest of the Galapagos.
Furnished with a large windows, it was a brilliant way to wake up in the morning and admire the surrounding natural world. It comes with a large king size bed that was honestly so comfortable we really did struggle to get up in the mornings. We had our own ensuite bathroom, table & sofas, air-conditioning, plenty of power points, coat hooks, mirror and also a single bed.
What you get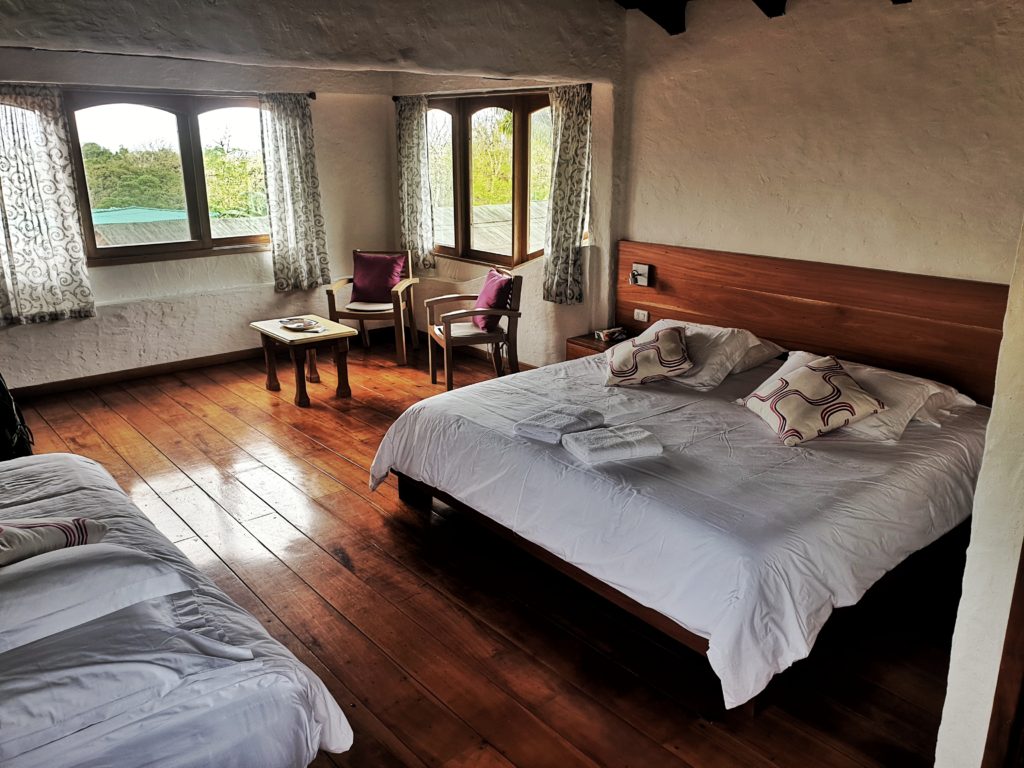 The room comes equipped with free toiletries, Wi-Fi, fluffy pillows, clean towels, soft linens, hairdryer, bed side table, lamps, chest of drawers, a bench, and plenty of space for you to relax in and store your luggage.
To view all their other rooms click here.
Activities
Take a plunge in the outdoor pool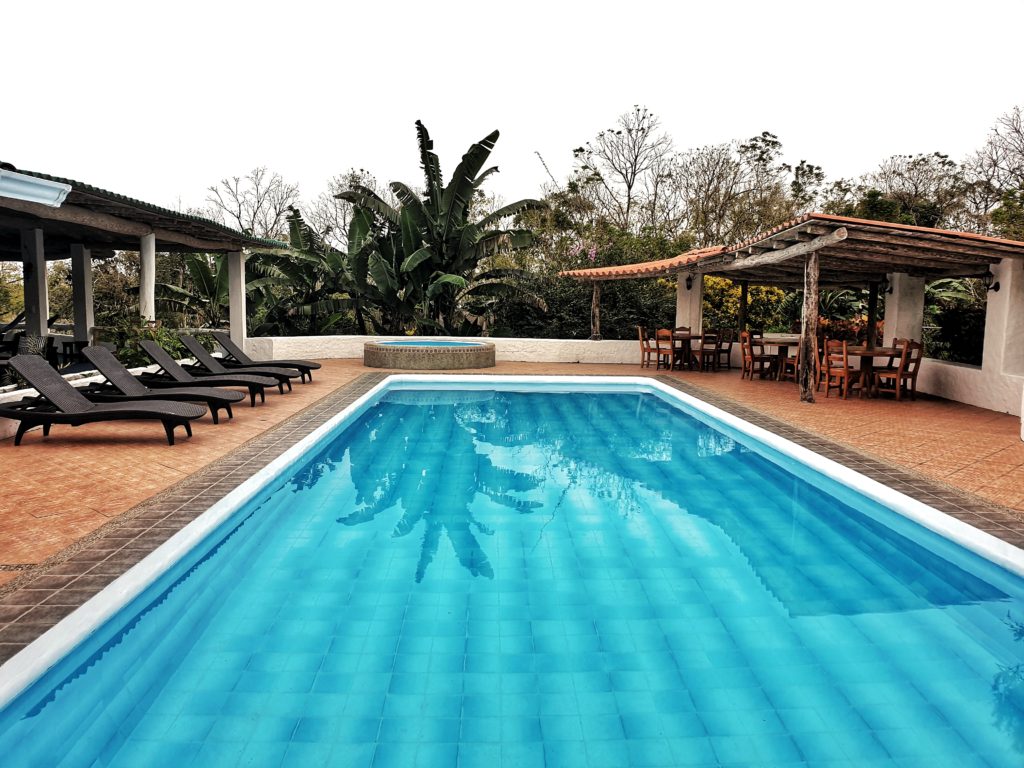 I really enjoyed taking a dip in this lovely swimming pool, as it was the best way to cool off after a hot day of exploring the island. Surrounded by sun loungers there is plenty of space to hang out, chill out, relax and take in the wildlife around you. With free towels to hand, hammocks located near by and of course a nice cold drink, this is a great way to spend your day.
The Jacuzzi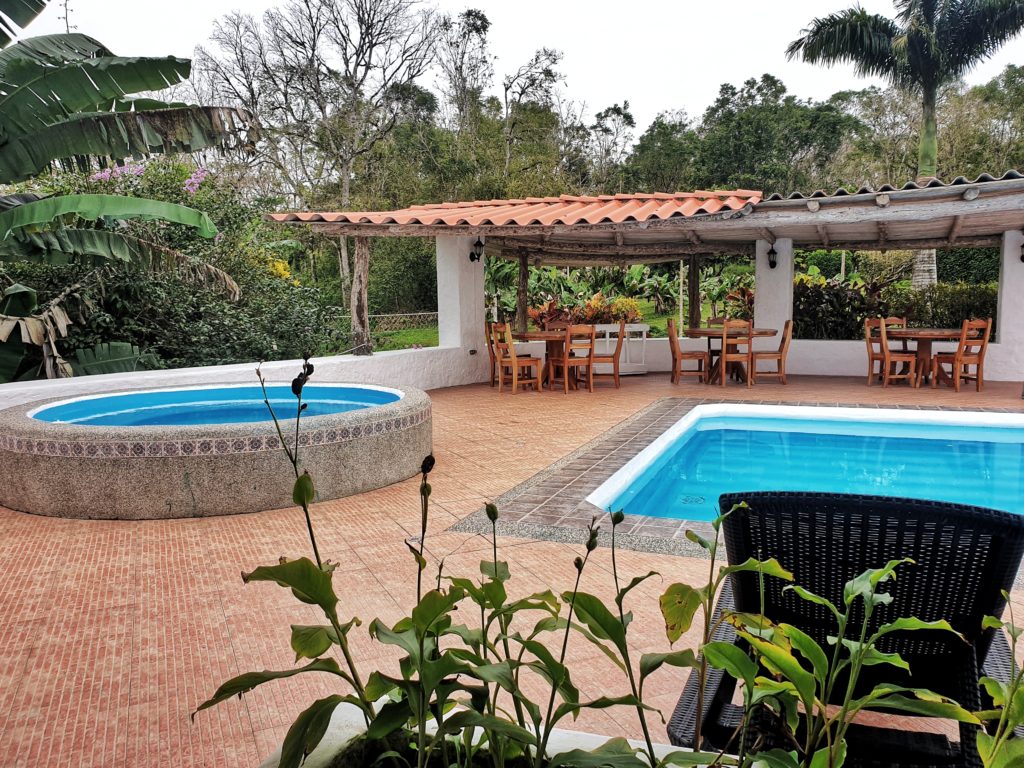 Situated right beside the pool is a fantastic hot jacuzzi which is again perfect for relaxing in and massaging those sore muscles after a day of walking along the beaches and cycling up the steep mountain roads. Getting a bit too hot? Step out and jump into the pool. Perfect!
The Charles Darwin Centre
With a visit to the Charles Darwin Research Station you will discover about the history and conservation efforts for the giant tortoise after which the islands are named. This is the perfect place to encounter giant Galapagos tortoises including Diego who is the star tortoise now that Lonely George has sadly passed away.
Relax or surf at Tortuga Bay
Have you ever seen an absolutely perfect beach? We've seen a lot of beautiful beaches but we both agree that Tortuga Bay just might be our number one. It is a long beach that is a popular spot with the local marine iguana population which you will find scattered everywhere. Also keep an eye out for sea turtles too!
Whether you are looking for relaxation, nature or activities, this beach has you covered. If you fancy a swim though, walk a little further to Playa Mansa as the currents here are dangerous.
Walk amongst giants at a Giant Galapagos Tortoise Reserve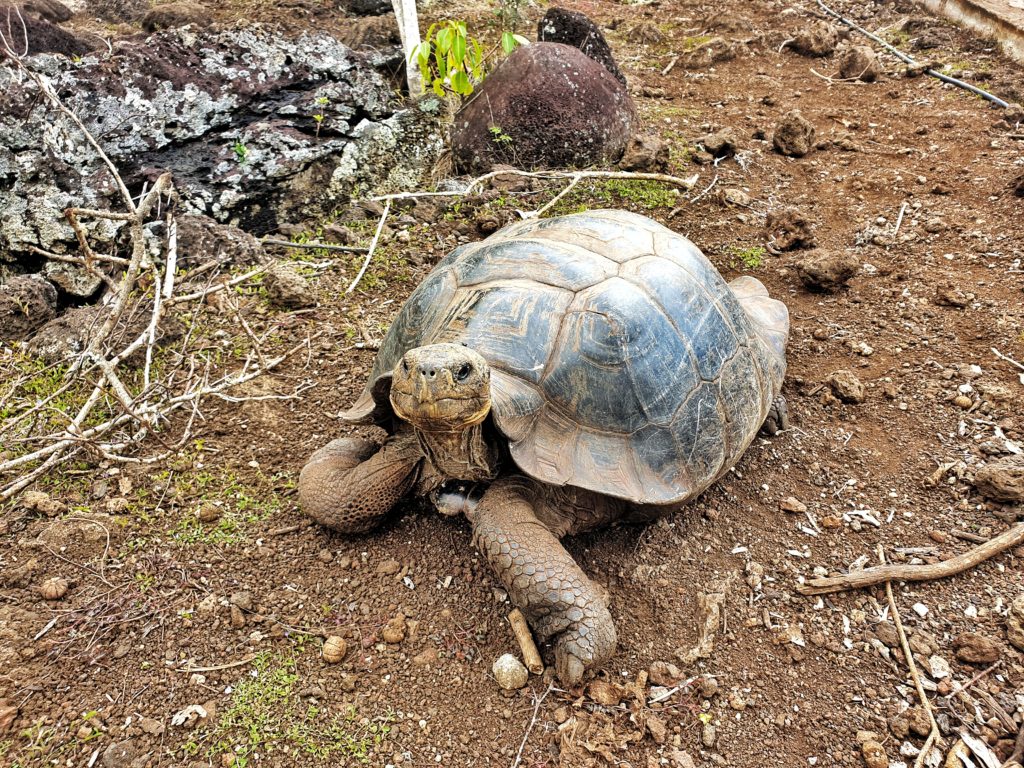 Did you know the Galapagos Islands were named after the giant tortoises found here? It's near impossible to visit the islands and not go to a reserve to watch them roam wild in the highlands. The ranches are the best place to see them although the fences are designed so as not to keep them confined. This means you could always stumble across one on the side of the road!
We were blown away by just how huge some of them actually were and this is well worth a visit!
How to get there
This beautiful lodge is located about 15 minutes from the main town of Puerto Ayora on 38 hectares of private land. The area is surrounded by trees and gardens giving a perfect opportunity to relax. The town of Bellavista is about 5-7 minutes away, and Playa Garrapatero is about 8-10 minutes away.
You will have to fly into Baltra Airport where you will then catch a bus to the ferry port (5 USD per person). The ferry then takes you Santa Cruz for a mere 1 USD each and you can either catch your own taxi or have one arranged by Enchanted and usually costs around 25 USD one way.
Via Garrapatero Km. 7, Santa Cruz, Galapagos
+593 961356272
[email protected]
Prices
The prices will vary depending on what time of year you stay – to check out the pricing click here.
We stayed in October 2019 and for our Superior Matrimonial Room it would cost $170 USD (£132) per night.
Extras
Wi-Fi is available in all areas and is free of charge.
Plenty of space to relax in
Luggage storage
Secure front doors and rooms
Free distilled water dispenser
Hammocks to hang out in
Warm and cosy fireplace with sofas
Summary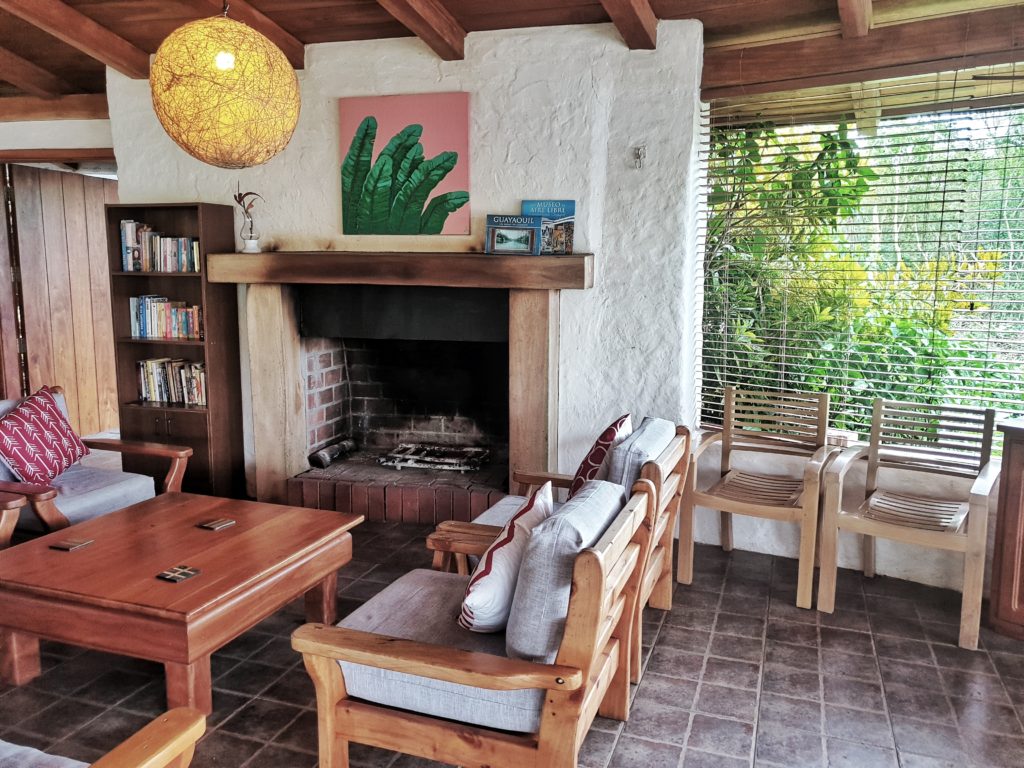 This lodge is a great place to stay due to its location, and the perfect place to stay while in Santa Cruz. I am so glad that we chose to stay here for a few nights – it's a unique place with everything you could need.
Experience unparalleled privacy and relaxation at the Enchanted Galapagos Lodge, where tranquility meets impeccable guest service and modern amenities that include the jacuzzi, pool and restaurant. Not to mention the loveliest owners and staff who really make you feel welcome and you will honestly won't want to leave.
You will want to spend longer
The lodge is quite sleepy, but in a great way. It is surrounded by beautiful foliage, bountiful history and interesting wildlife which are absolutely breath-taking and you will find yourself soaking them up the whole time you're there. When you throw in the close proximity to the shops, bars, restaurants and all of the other attractions you are onto a winner!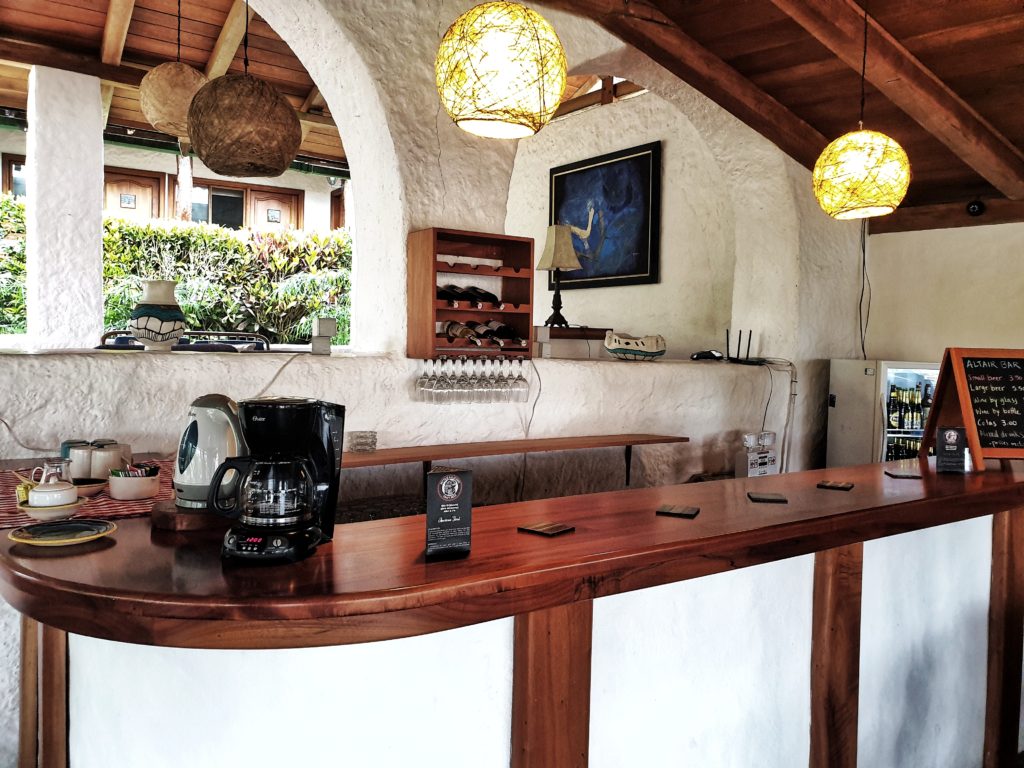 If you are in Santa Cruz and you want to have a great Galapagos experience, I would highly recommend Enchanted Galapagos Lodge.
***Thank you to Enchanted Galapagos Lodge for kindly sponsoring this post. All opinions are 100% honest & completely my own.