An Oceanfront Sanctuary of Luxury
Located in central Cancun, Haven Riviera Cancun is a beautiful all inclusive modern resort and it is an ideal base for those who want to explore Mexico. Home to lush pristine beaches, shops, fine dining restaurants, bars and plenty of history, there is something for everyone, making it the ultimate holiday destination.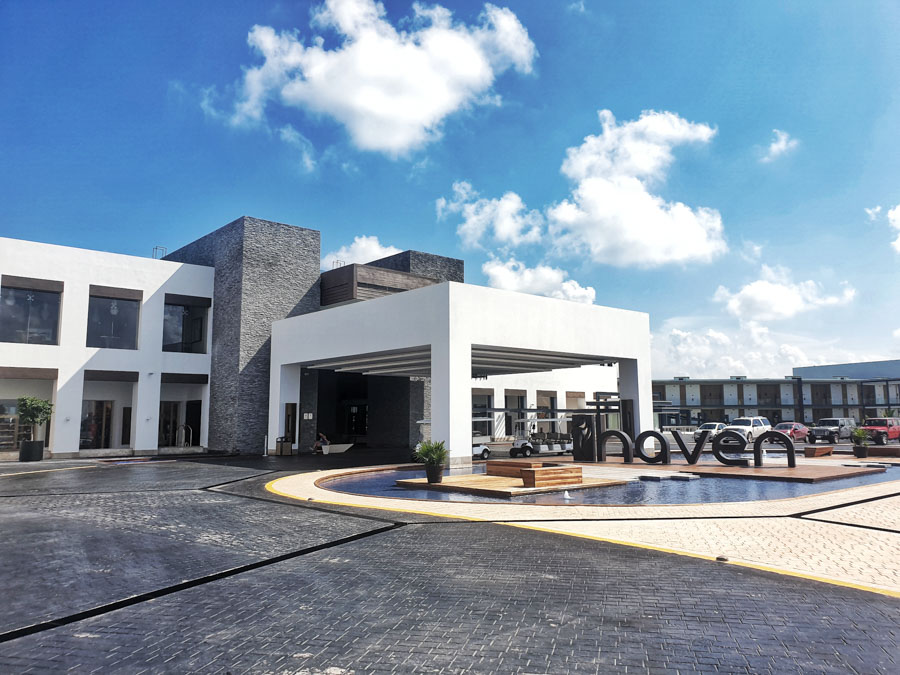 Situated just a short drive away from the airport, local shops & restaurants, you will find yourself in an energetic and lively city, oozing sunshine and unique decor making it extremely comfortable, cosy and stress free. The rooms are brilliant, offering cosy furnishings and amenities, designed with your comfort in mind.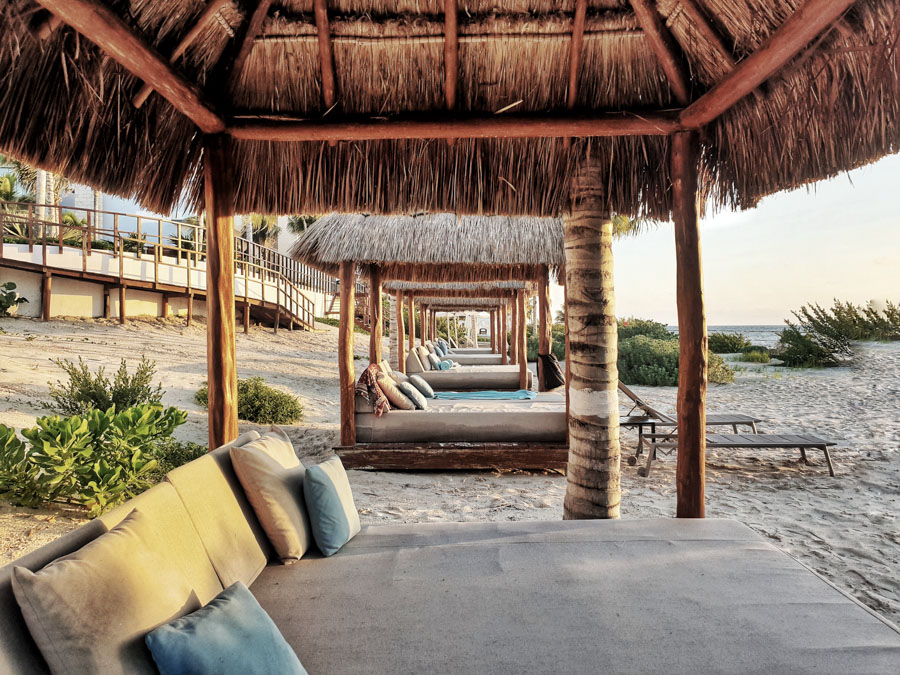 Escape to an exclusive realm of style, glamour and seclusion, where you will feel as if a tiny sliver of Mexico coastline has been reserved just for you.
If you find yourself in Cancun, Mexico, then I would highly recommend booking a few nights stay at Haven Riviera Cancun All-Inclusive Resort.
Highlights
Super friendly and welcoming staff
Comfortable, modern & clean rooms
All inclusive food and drinks
Two fantastic large pools with sun loungers
Right on the beach with direct access to the ocean
Junior Suite Partial Ocean View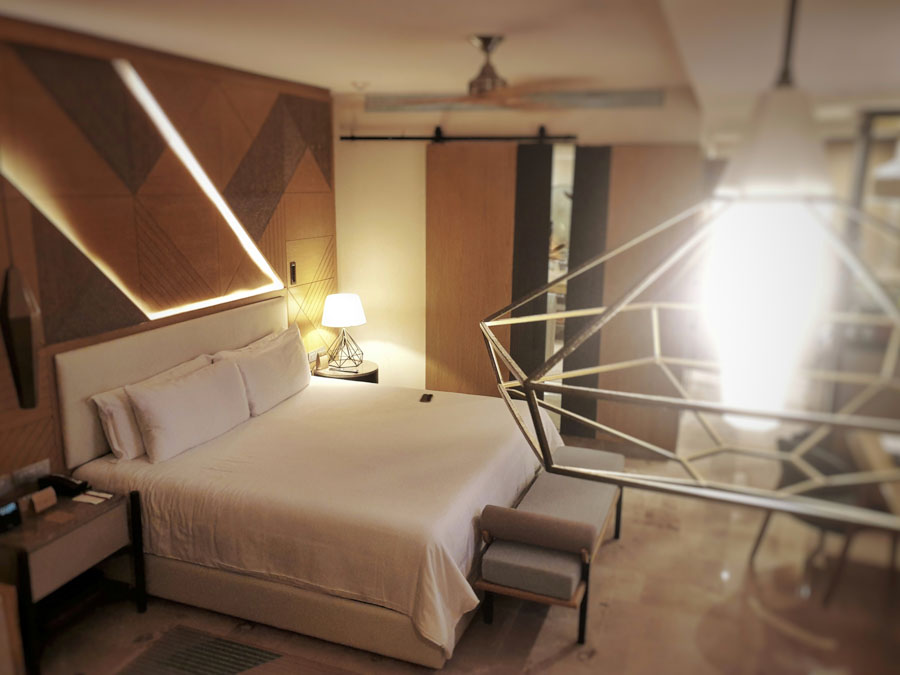 During our stay at Haven Riviera Cancun we opted to stay in the Junior Suite Partial Ocean View which was perfect for our needs and provided a very comfortable night's sleep. With fantastic views, aesthetically pleasing decor, spacious and comfortable furniture we almost didn't want to leave to explore the rest of Mexico.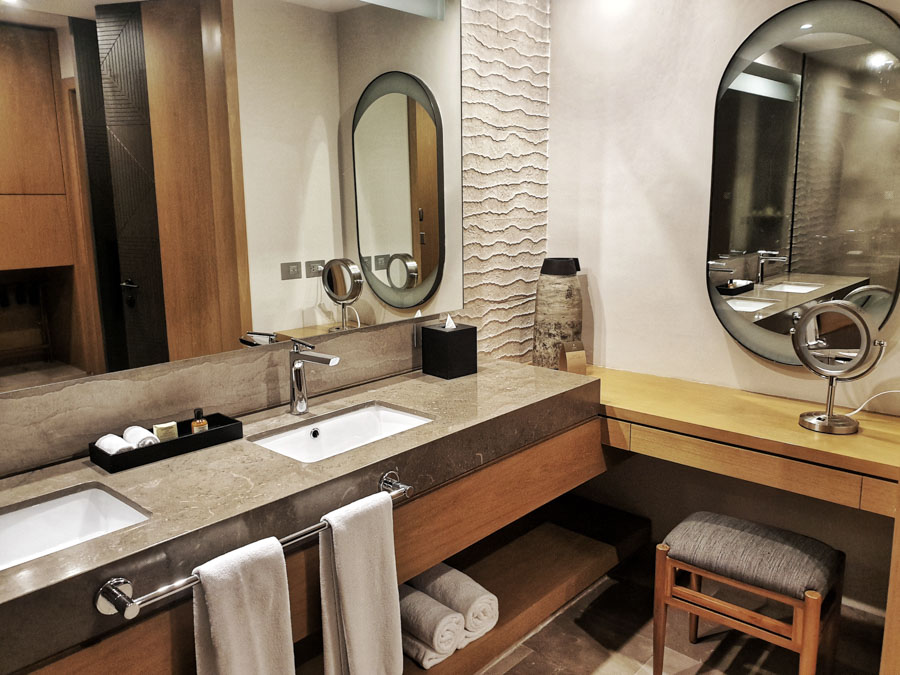 Furnished with a large bay window, it was a brilliant way to wake up in the morning and walk out to our own swimming pool. It comes with a large king size bed that was honestly so comfortable we really did struggle to get up in the mornings. We had our own modern ensuite bathroom, table & sofas, air-conditioning, plenty of power points, coat hooks, mirror and a 50" flat-screen TV with Cable/satellite television channels.
What you get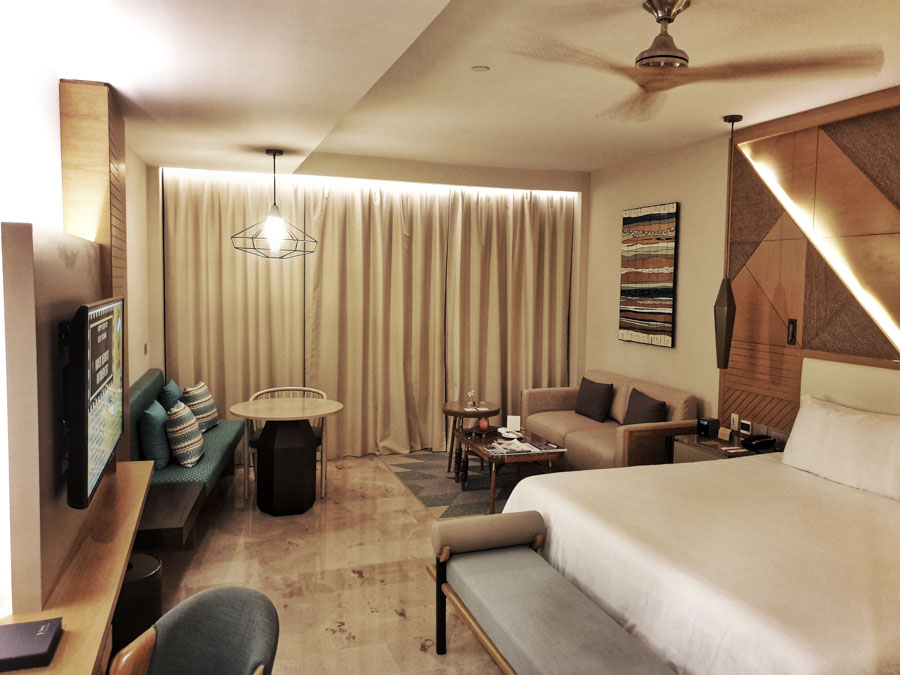 The suite comes equipped with free toiletries, strong Wi-Fi, fluffy pillows, clean towels, soft linens, hairdryer, steamer, safety deposit box, Nespresso coffee machine with capsule menu, daily stocked personalised mini bar, bathrobes and plenty of space for you to relax in.
To view all their other rooms click here.
Activities
Jump in both of the outdoor pools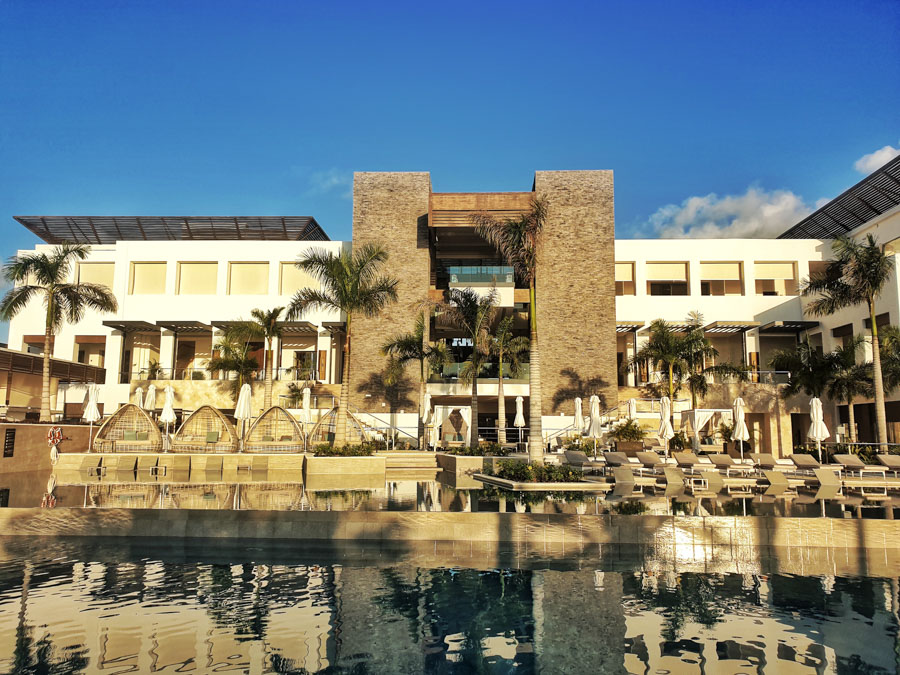 Need to cool off from the hot Mexican heat? Then look no further than the two main outdoor swimming pools, situated at the back of the property with views of the ocean with their own bars and restaurants near by. Surrounded by plenty of sun loungers, this is a great place to chill out, relax and enjoy some sunshine.
Relax in your own personal pool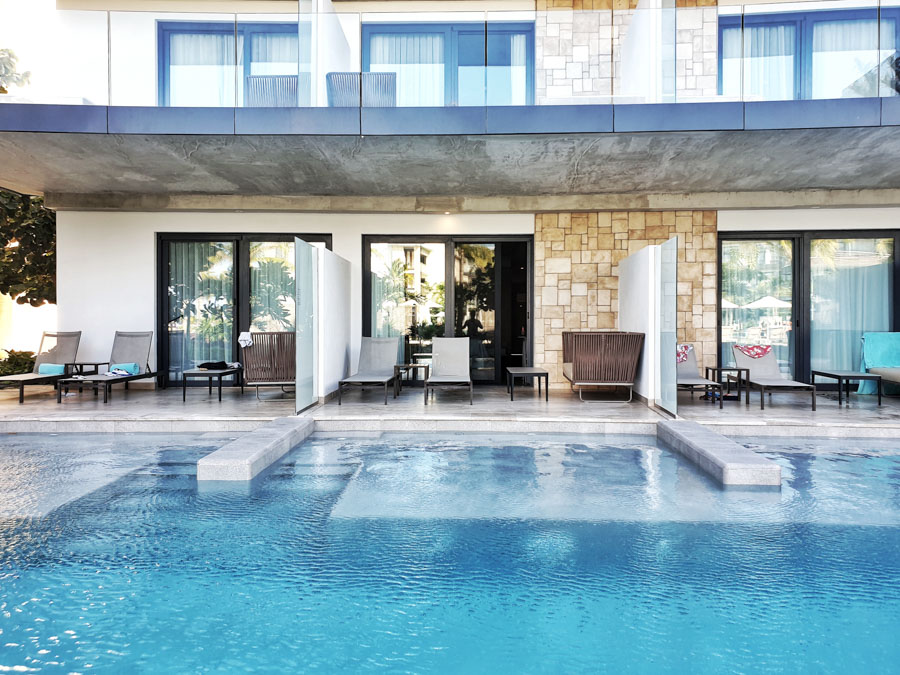 With the suite we had chosen it comes with its own walk in pool located through the patio doors. Here you can swim the length of the building and also chill out on your own private terrace with sun loungers and towels.
Head to the beach
The best part about Haven is that it is directly on the beach and with easy access you can head straight down to the soft sand, grab one of the cabanas or a sun lounger and relax whilst getting a tan. The ocean water is pretty clean, warm and a great way to refresh yourself once you get too hot in the sun.
Hit the gym and have a workout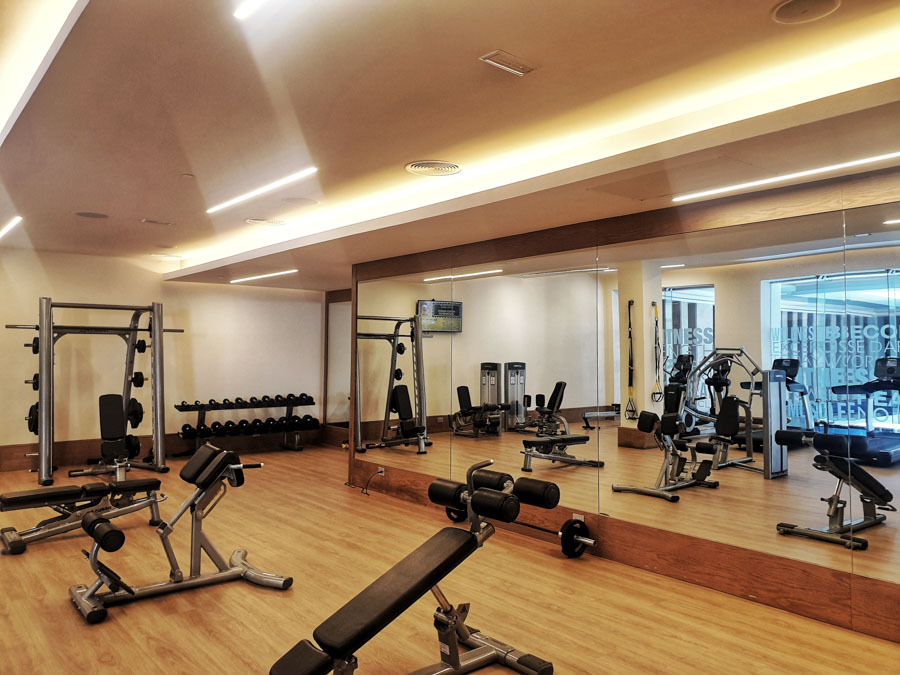 This state of the art fitness centre comes equipped with everything you could possibly want and need to have a great workout after indulging in the all-inclusive restaurants. The gym has treadmills, free weights, bicycle machines and free water.
Spa & Wellness Centre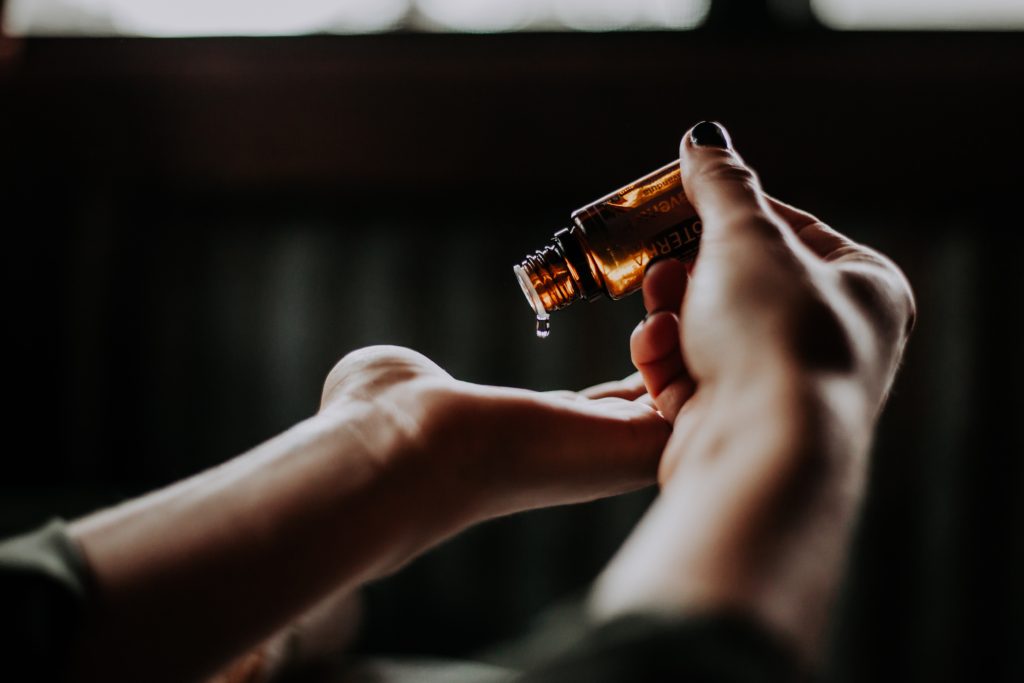 One of the best new spa retreats in the Mexican Caribbean, the MySenses Spa at Haven Riviera Cancun is a 15,700-square-foot sanctuary offering tranquil ambiance, cutting-edge services and customised therapies incorporating Mayan healing philosophies to create a wonderfully unique experience of peace and Well-being.
Indulge in one of the many restaurants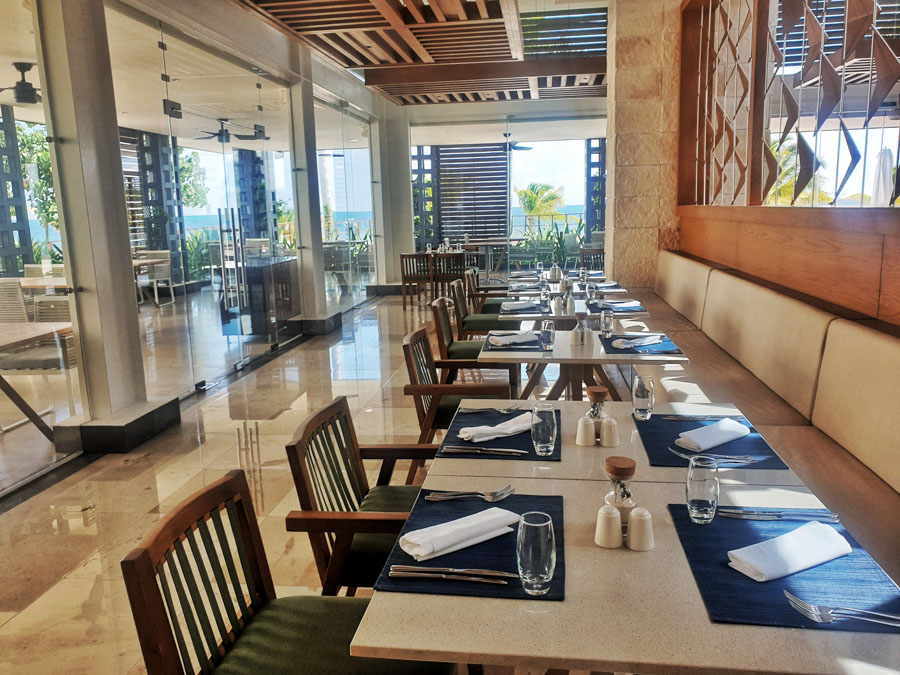 With a diverse spectrum of restaurants ranging from global fine dining experiences with mesmerising ocean views, to a toes-in-the-sand Beach Stand the restaurants at Haven Riviera Cancun are a celebration of the flavours, beauty and vibrancy of the Mexican Caribbean. The best part? Its all inclusive!
Are you a coffee fiend?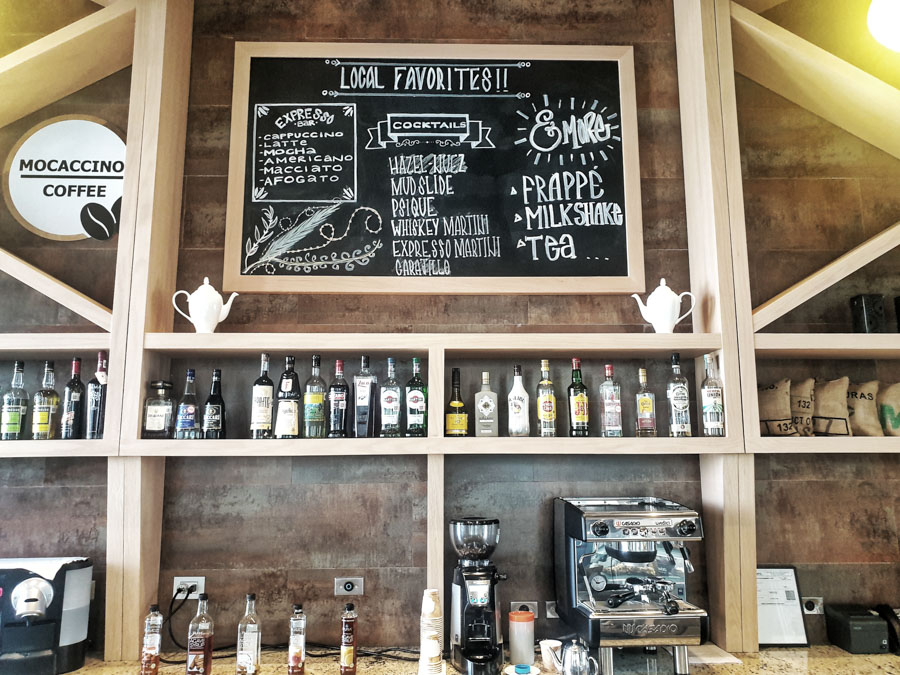 Located in the main lobby, Mocaccino is a great place to enjoy your favorite specialty coffee drinks, teas and an assortment of pastry specialties and baked goods anytime throughout the day.
Visit the mysterious Chichen Itza
Chichen Itza is arguably one of the largest tourism draws near Cancun and was even named one of the new 7 Wonders of the World. This ancient Mayan site was one of the largest Mayan cities and was a major economic power in the region. On top of it all, Chichen Itza is thought to be one of the great mythical cities of Mesoamerica.
Check out Tulum
If you haven't quite reached your quota of ancient things to do in Cancun, then you may want to visit Tulum. Tulum was once a walled port city that was protected from invasion and continued operating normally for nearly 70 years after the Spanish Conquest.
Sitting on the cliff-side overlooking incredible beaches and perfect blue water, Tulum was one of the largest cities built by the Mayans.
Explore the Cenotes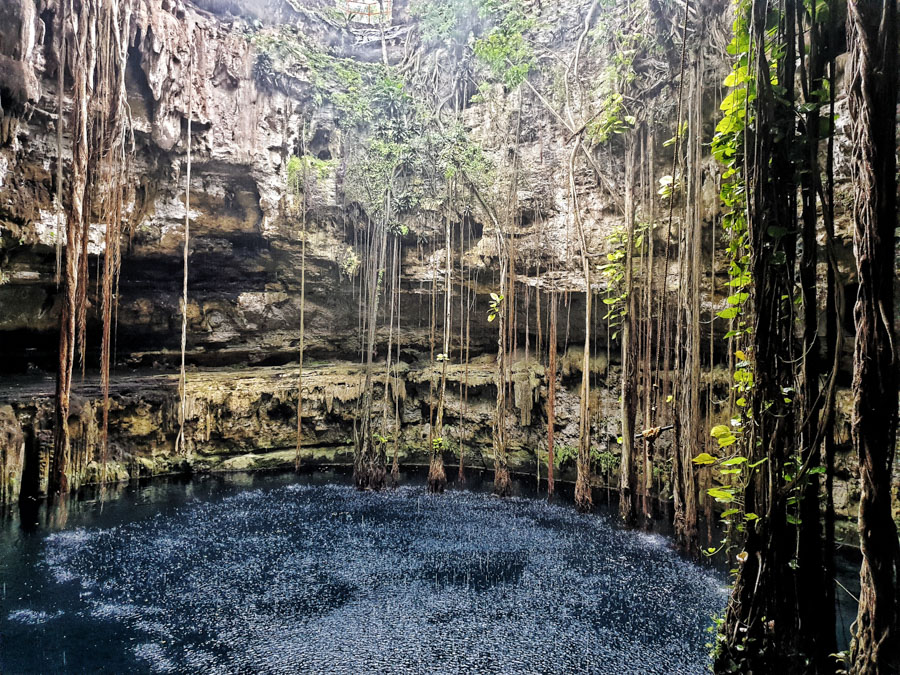 Cenotes are underground caverns that are formed after limestone caves in leaving a giant hole in the earth. This hole typically leads to a pool that in most cases has beautiful aqua-coloured water.
Swimming, snorkelling, walking and scuba diving in cenotes is one of the things to do in Cancun that is enjoyed both by tourists and locals. Ik Kil is one of the most popular cenotes for swimming and is located near Chichen Itza and Valladolid. Another popular one is near Valladolid named Cenote Zaci.
Walk around Valladolid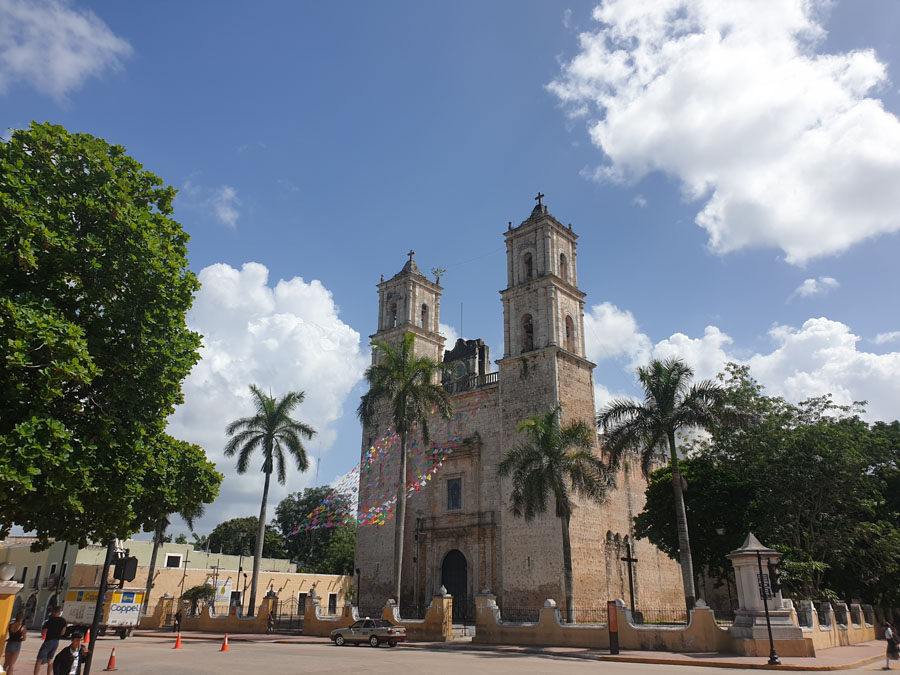 Of all the places in Cancun and its surrounding region, Valladolid is arguably the most magical and quaint town, making it the perfect destination for a day trip. The most popular site in the small town is the towering Cathedral of 'San Servacio o Gervasio.'
Located about an hour and a half to two hours from Cancun, Valladolid channels its Spanish roots in looks, but also showcases its Yucatan history and culture. Most of the town's layout consists of large blocks of buildings and houses with lavish, green courtyards in the middle. These beautiful courtyards make amazing places to grab some lunch and view the Spanish inspired architecture.
How to get there
There are transfers between Cancun International Airport and Haven Riviera Cancun Resort & Spa are provided in cooperation with Amstar, a reliable independent destination management company operating throughout Mexico. This is at an extra cost.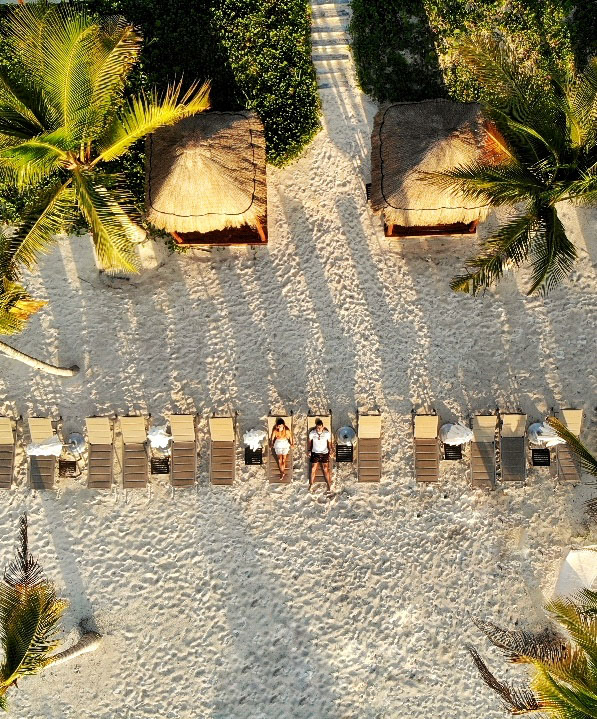 The easiest way would to either get a taxi or a shared mini bus. We went with Greenline and it only cost $9 USD each.
Address: Ctra. Federal 307, Chetumal – Pto. Juarez, ​​Km 335, Puerto Morelos, Cancún – Q. Roo 77569 Mexico
Phone: +52 998 889 9600 | Reservations: +52 998 889 9600
Prices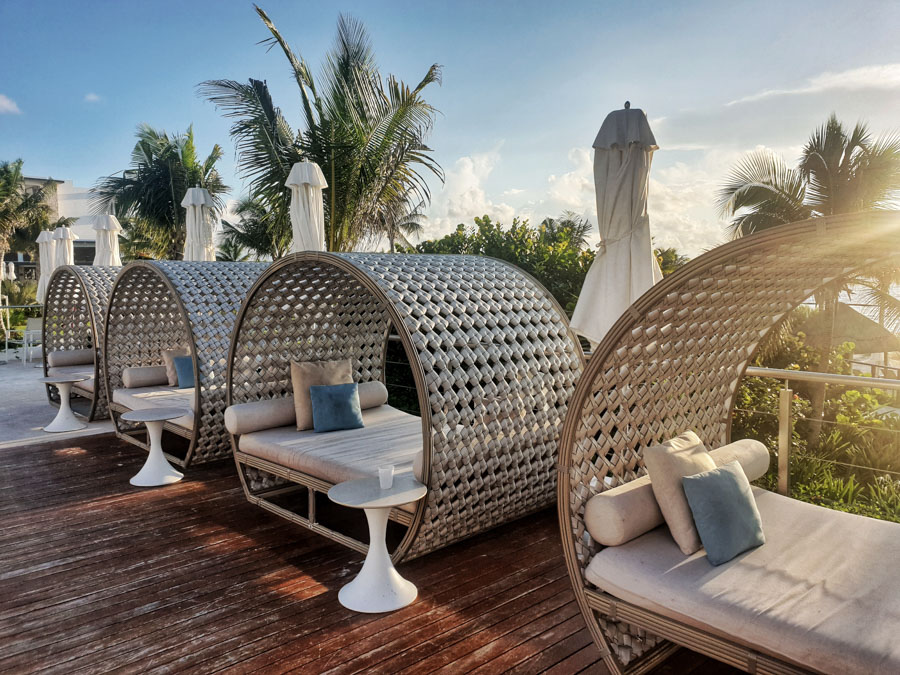 The prices will vary depending on what time of year you stay – to check out the pricing click here.
We stayed in October 2019 and for our Junior Suite Partial Ocean View it would cost $406 USD (£316) per night.
Extras
Wi-Fi is available in all areas and is free of charge.
Plenty of space to relax in
Luggage storage
Secure front doors and rooms
Close proximity to restaurants and shops
Summary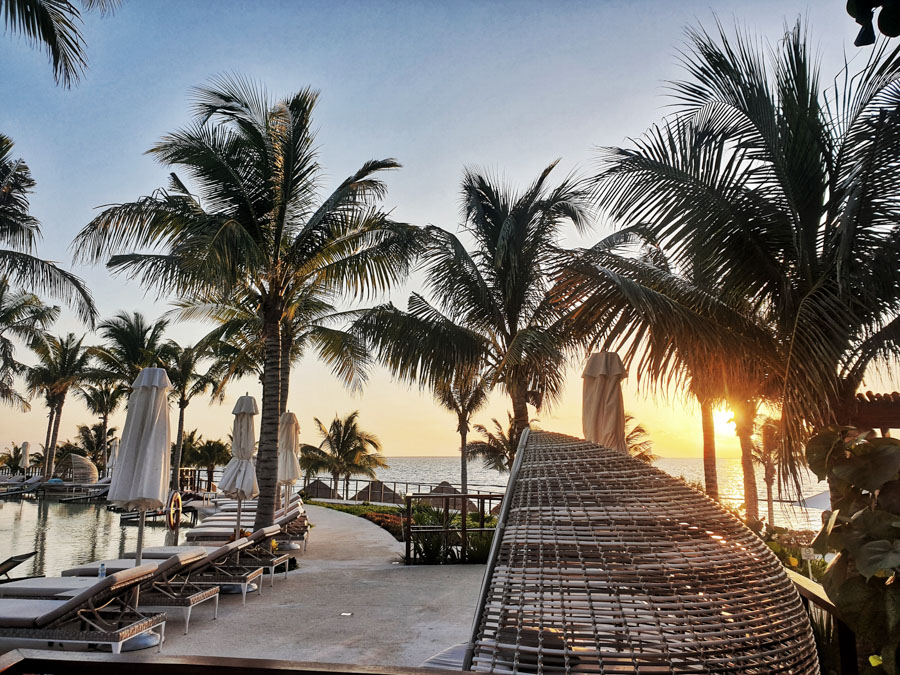 This resort is a great place to stay due to its location, and the perfect place to stay while in Cancun. I am so glad that we chose to stay here for a few nights – it's a unique place with everything you could need.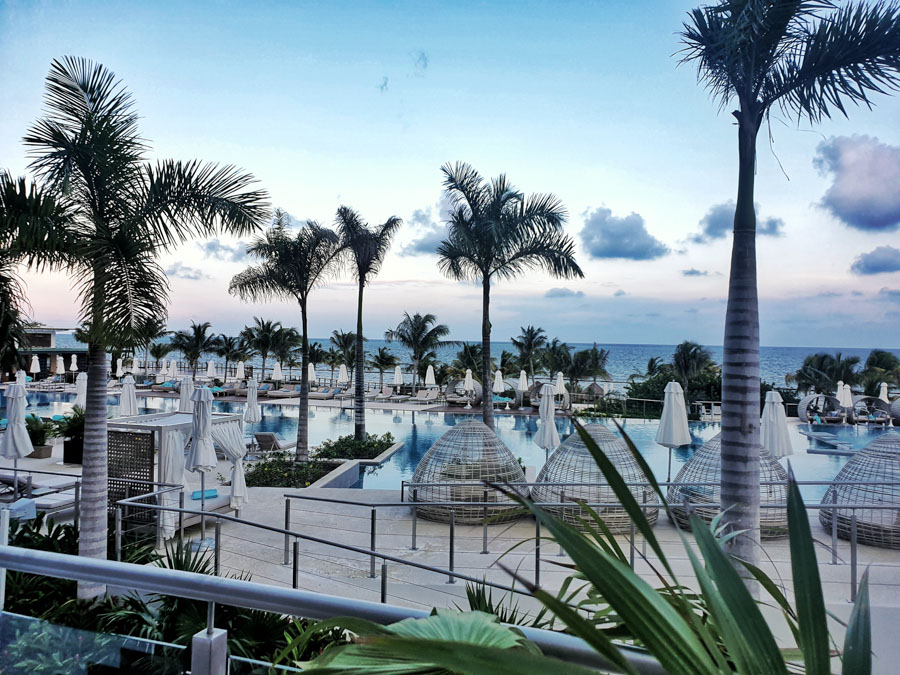 Experience unparalleled privacy and relaxation at the Haven Riviera Cancun, where tranquility meets impeccable guest service and luxurious amenities that include the Spa, pool, state-of-the-art fitness centre, and all-inclusive restaurants.
You will want to spend longer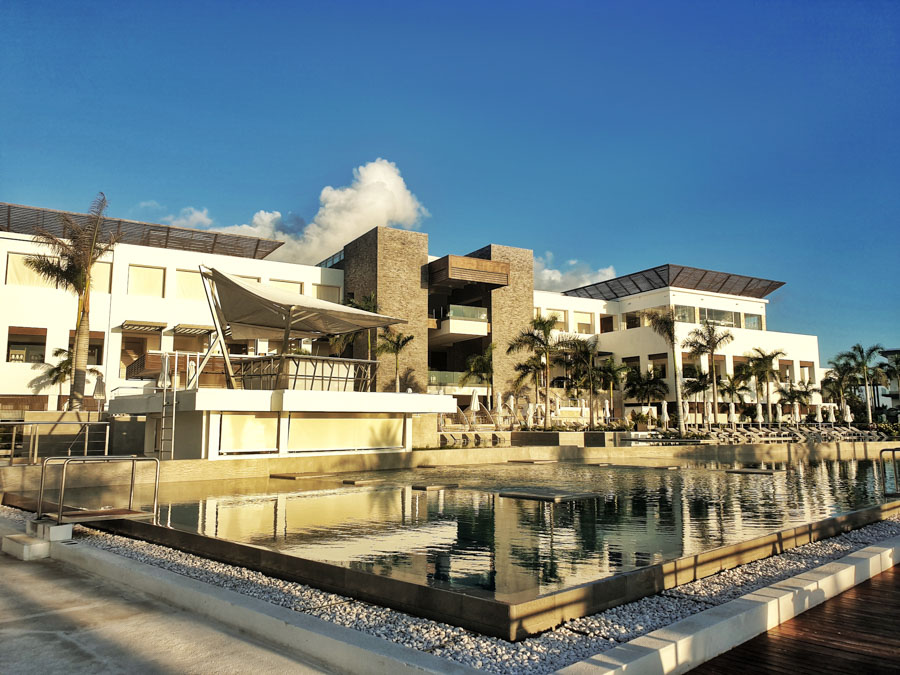 The suite was fantastic, we had a super comfortable night sleep and really enjoyed watching the sun rise from our bed and large window. The location was my favourite feature as it was super central and easy to get around from there. The staff are also so friendly; they can honestly not do enough for you to make your stay that little bit more comfortable than what it already is.
The resort is quite lively, but in a great way. It is surrounded by beautiful beaches, bountiful history and interesting wildlife which are absolutely breath-taking and you will find yourself soaking them up the whole time you're there. When you throw in the close proximity to the shops, bars, restaurants and all of the other attractions you are onto a winner!
If you are in Cancun and you want to have a great all-inclusive experience, I would highly recommend Haven Riviera Cancun All-Inclusive Resort.
***Thank you to Haven Riviera Cancun All-Inclusive Resort for kindly sponsoring this post. All opinions are 100% honest & completely my own.