A HOTEL WITH HISTORY

⇷☓⇸
Hotel Metropole is a palatial five-star stay in the centre of the bustling city of Brussels. Dripping with grandeur and opulence it offers a very unique experience that will truely leaving you wanting to stay longer.

There is so much history here, it will leave you marvelling at the French Renaissance architecture embedded with an Indian-inspired lounge, glitterati hangout Bar Le 31 and the fabulous Art Nouveau Cafe Metropole.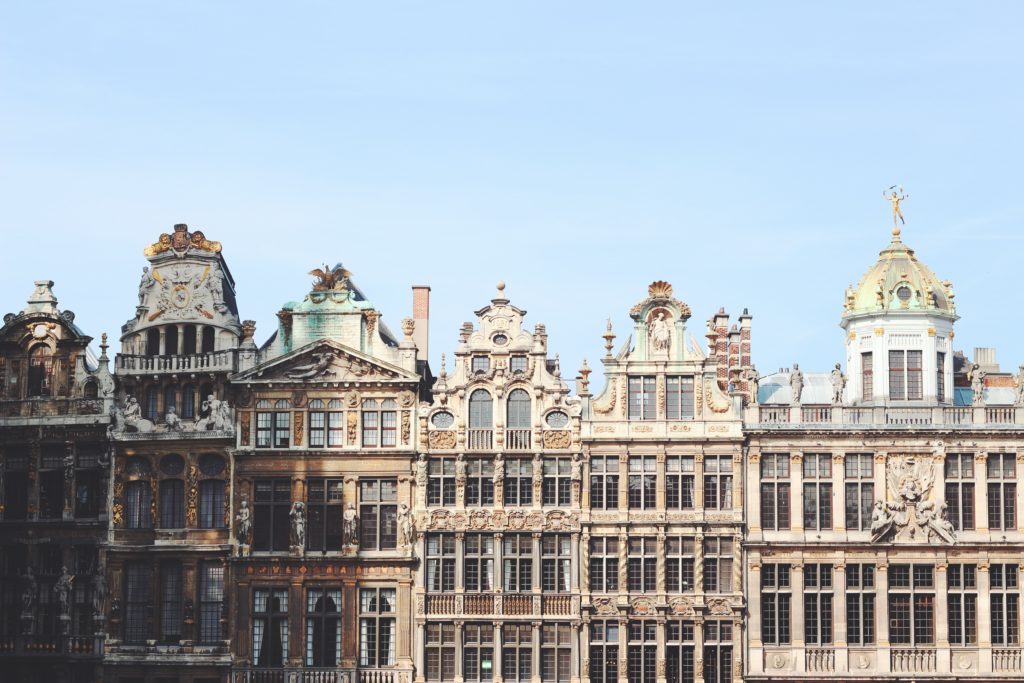 Not to mention the amount of  royalty, American Presidents and celebrities that have stayed here – Including 50 Cent, Rupert Grint and Stephen Hawkins. With all the main city attractions right on your doorstep, there is little more you could wish from your grand Brussels location.

If you find yourself in Brussels then I would highly recommend booking a few nights at the Hotel Metropole. 
Highlights
Amazing location and in the heart of the city
Beautiful & comfortable bedrooms
Exquisite decor in and around the hotel
Excellent selection of craft beers
The stunning historic cage elevator
Super friendly and helpful staff
High speed fibre-optic Wif-Fi
Giacomo Puccini Suite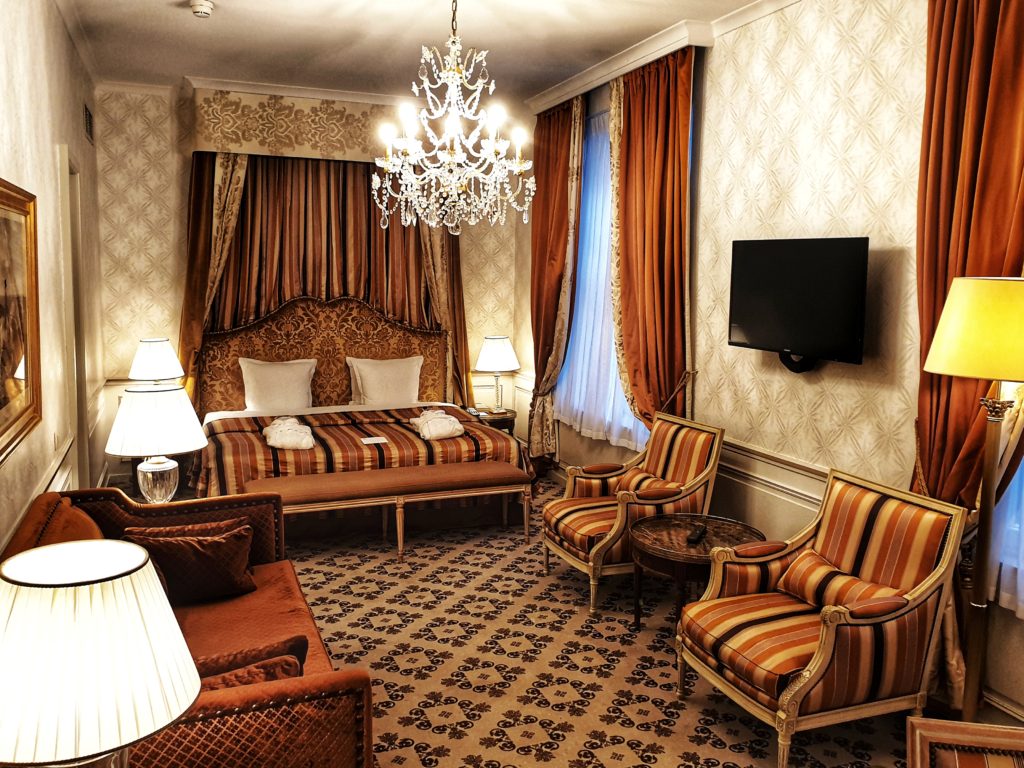 During our stay at Hotel Metropole Brussels, we opted for the Giacomo Puccini Suite with two double beds and we were blown away by our surroundings and furnishings.

The first thing you noticed as you walk into the room is the sheer grandness of it all and this is no surprise since Some their hotel rooms are furnished with furniture designed specially for the Hotel Metropole by Cartisane Décor Cy (interior decoration office) which gives it a regal feel.

What you get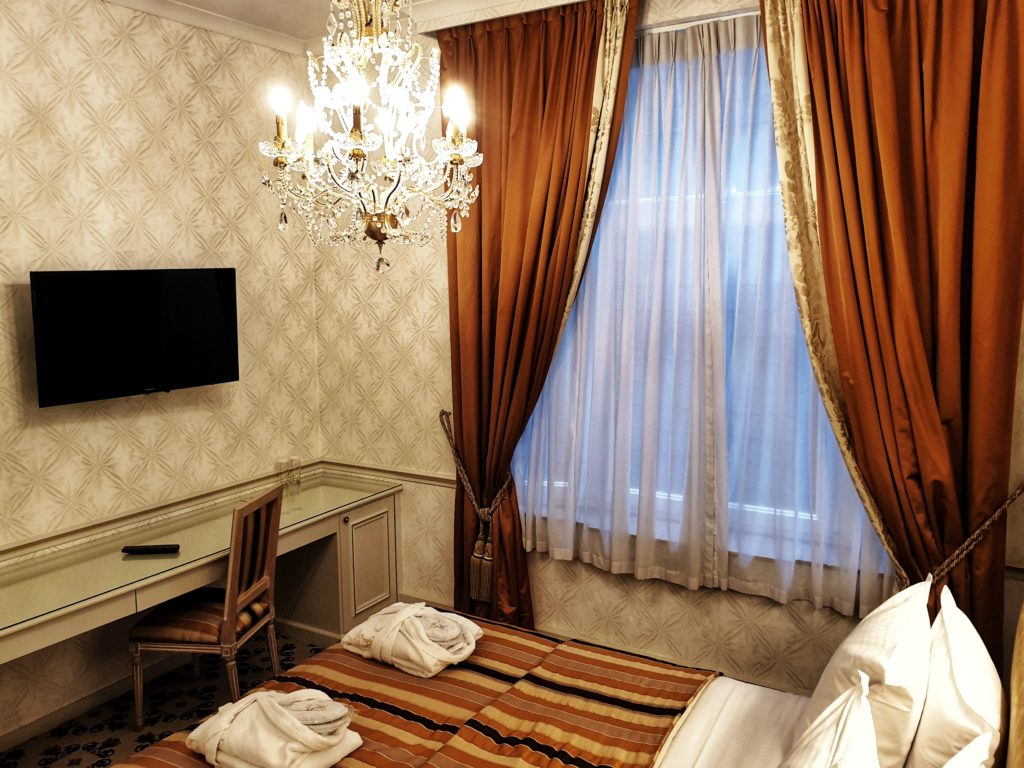 Each room is equipped with a double bed (although there are options for Twin & King too), satellite TV, an iron press, high speed fibre-optic Wi-Fi, Minibar (with a selection of six free drinks), in-room safe, toiletries, large writing desk and fantastic views of the city.
Each bedroom has its own bathroom, one with bath and shower and the other with a large bath. In the suite itself, it has a large three seater sofa with two arm chairs, a large writing desk, five side tables, seven lamps, large bench and plenty of wardrobe space.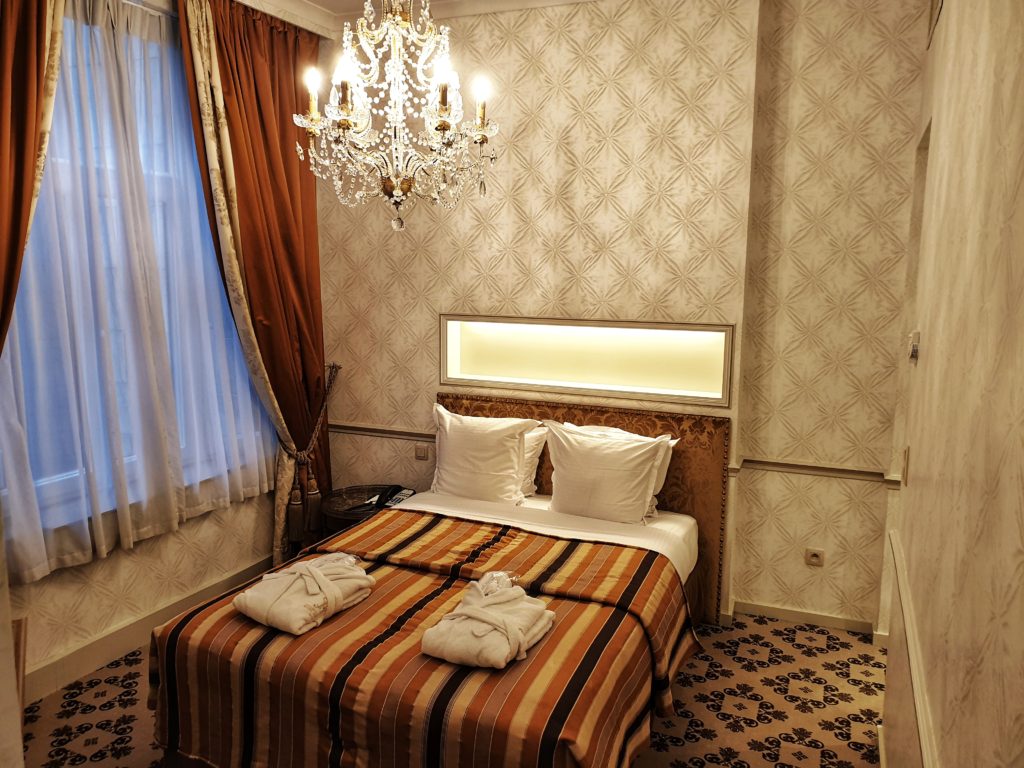 It was certainly very comfortable and clean in the rooms, offering some of the best nights sleep I have had in a long time and a homely feel to it. We especially loved the personalised hand written notes, free chocolates, nuts and delicious crisps.

To view more styles of rooms click here.

Dont forget to splurge on the room service as Hotel Metropole has its own catering range with a menu that is 24 hours a day.
Activities
Exploring Brussels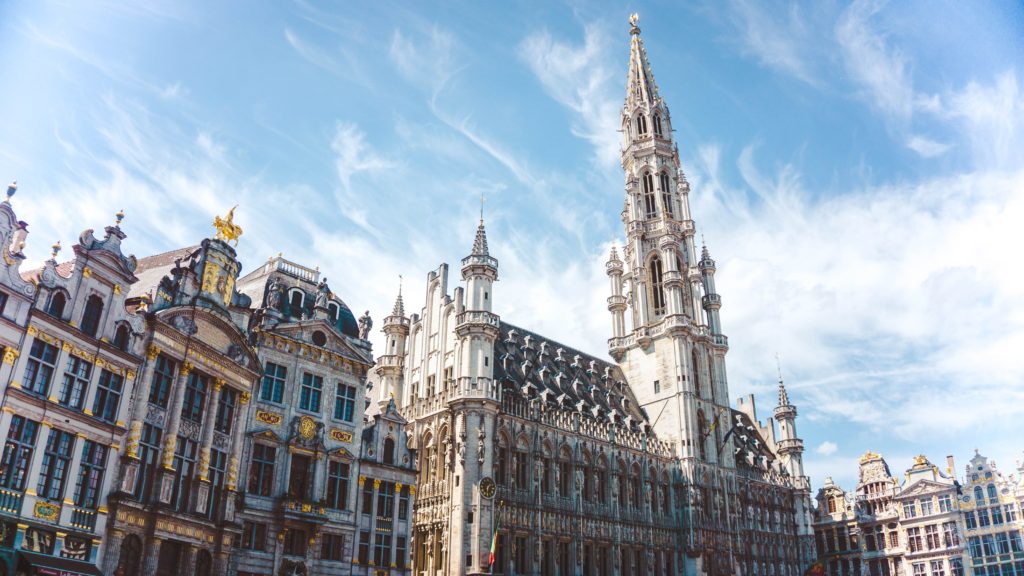 It's a short walk to the Cathedral of St. Michael and St. Gudula and 10 minutes from the Mannekin Pis fountain. The cafe-lined Rue de Bouchere is close by, while Bourse and Munt theatres are within easy walking distance. There is even a cinema across the square and the main high street directly behind the hotel.

Be sure to check out the best places to visit in Brussels. 

Brasserie-Restaurant " Cafe Metropole "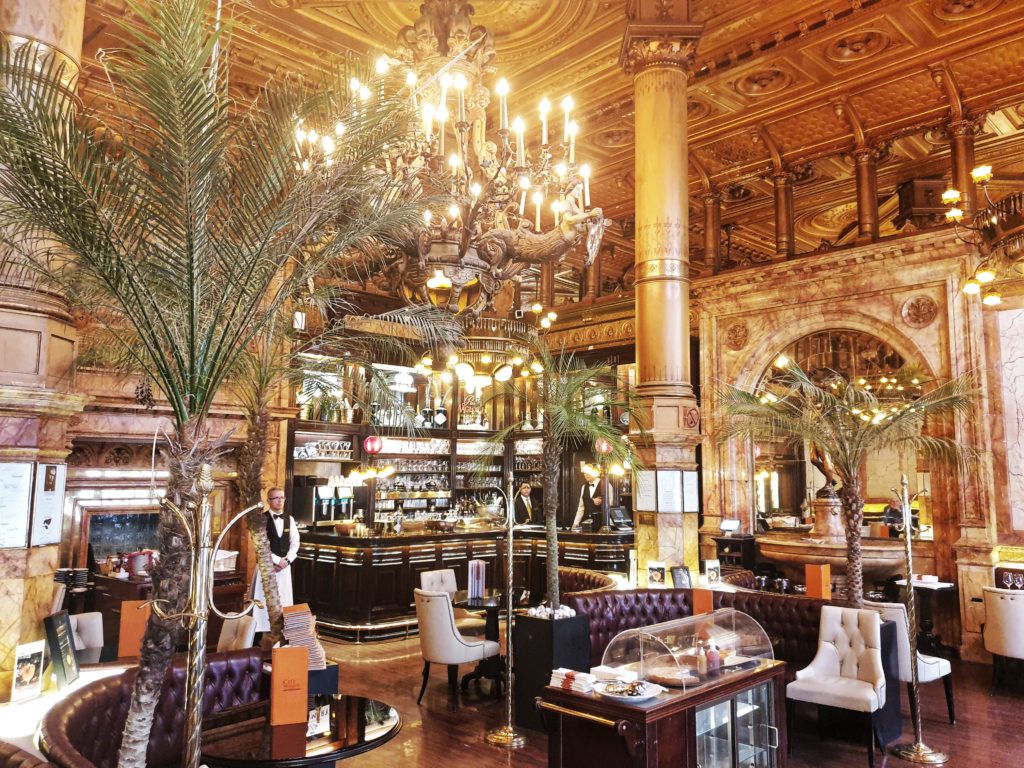 This luxurious brasserie restaurant welcomes its guests to dine on classic cuisine in an Art Nouveau environment, in which the original décor has been kept. With a selection of delicious drinks and food, you will feel extremely comfortable while you sit in one of the grand chairs and watch the world go by outside.
Unique Decor
For private or business cocktails, lunch, standing buffet, after work party, dinner, or banquet then they offer historic venue rooms which can accommodate your dining event in an exceptional and unique decor.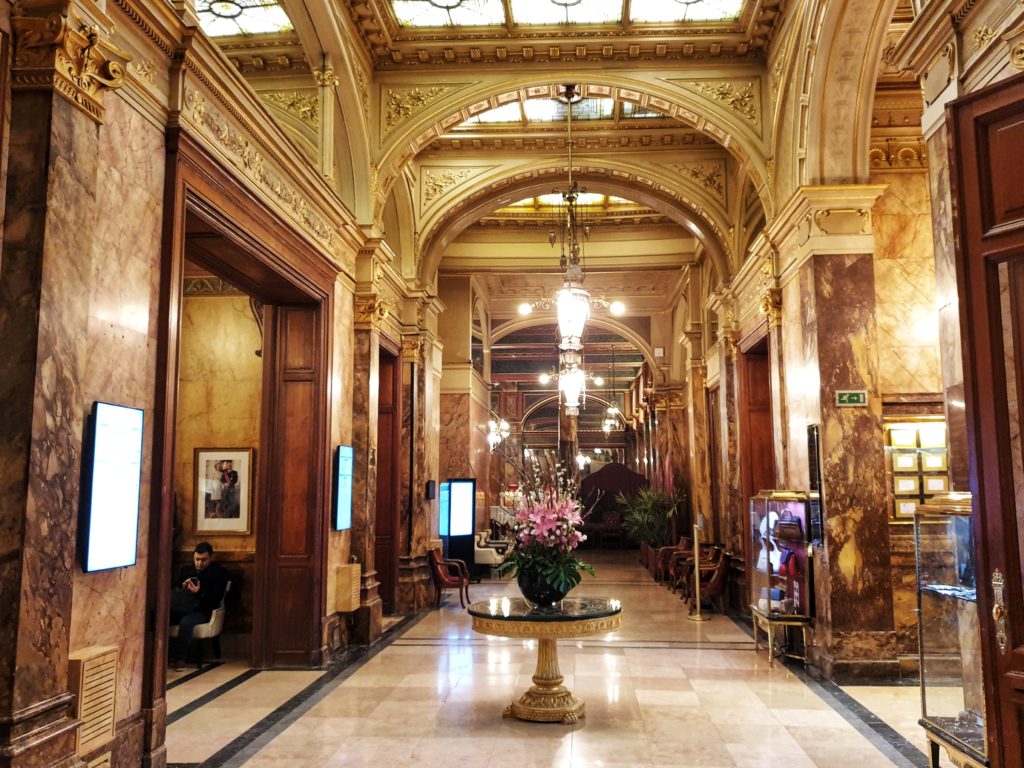 Hit the Gym

The Metropole also offers a fitness room with exercise equipment including cycles and weights. This is definitely the best way to start the day before enjoying a delicious breakfast and then exploring the city.

Hangout in the Public Areas

There is a huge offering of comfortable chairs, sofas and nooks in which you can relax, have a drink, read a newspaper or a book and enjoy watching people come and go. Not to mention a grand piano to tickle some ivory should you be so inclined. My favourite place was the fireplace in the reception area.
Grand Place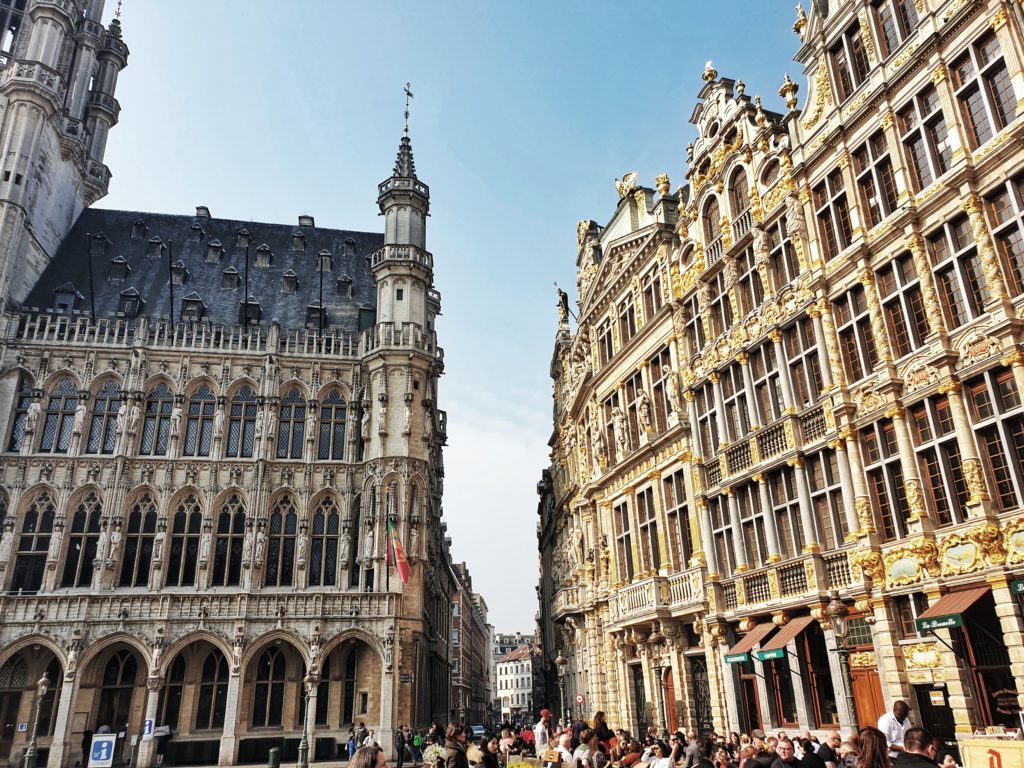 This is the main hub of Brussels where you will find every man and his dog (literally so many gorgeous Bernese dogs can be spotted here) and rightly so as it has some of the most jaw dropping and awe-inspiring architecture you will find in Europe. Surrounding by beautiful buildings you will constantly find yourself looking up at the many towers, turrets, statues and glass pane windows.
Delirium Cafe Bar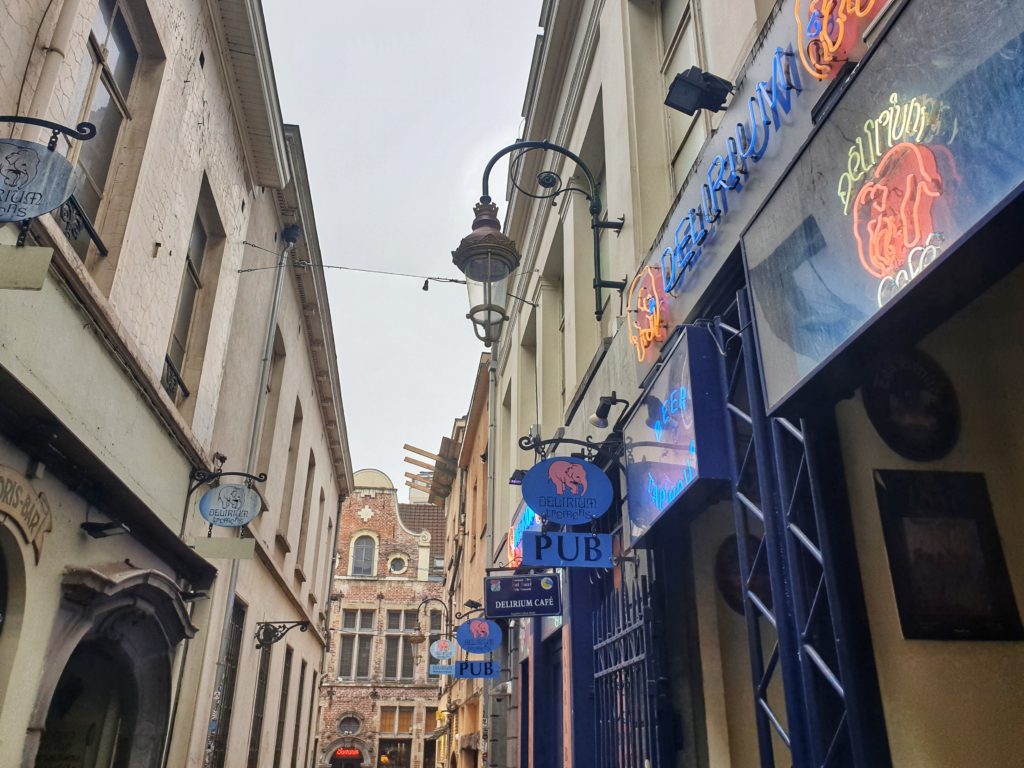 This Guinness Record holding bar is known for its hundred of different types of beers, lagers and ales which you couldn't possible drink without spending a few months there. Styled by its infamous pink elephant logo, you can easily spend the whole day and evening here sampling different alcohol beverages, enjoying the music and relaxing with your friends.
Manneken Pis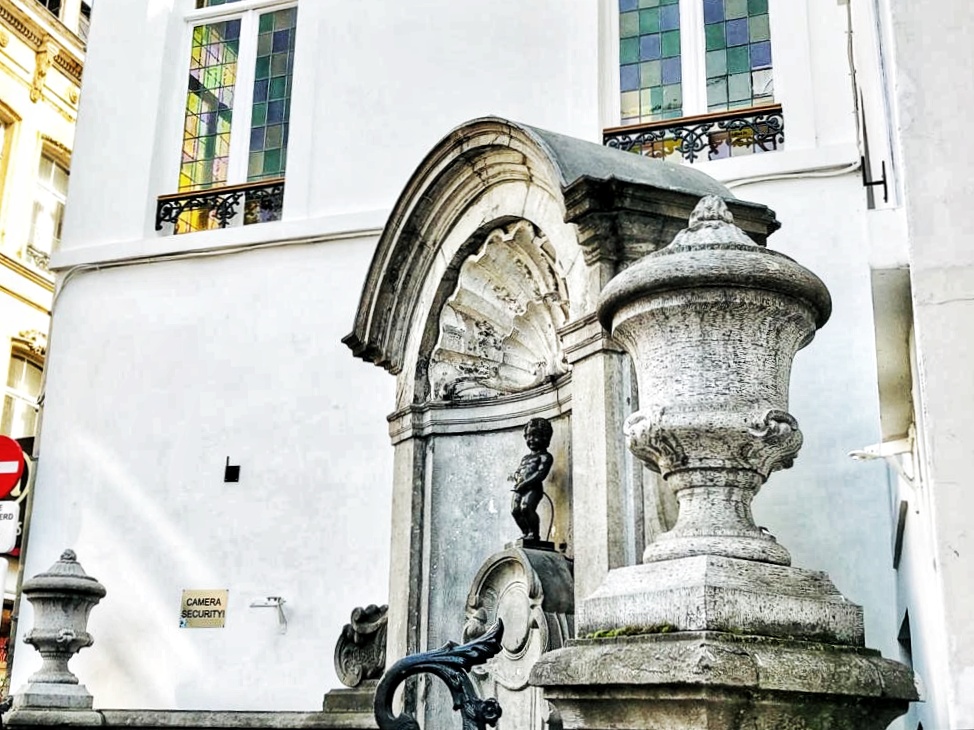 This is pretty much what Brussels is renowned for and you will find thousands of touristy souvenirs like keychains, glasses, statutes, lighters, t-shirts and much more of this little boy having a wee into a fountain. Every year they will dress him up in some unique outfit relating to some event, but mostly he is just butt naked enjoying life without a care in the world. Check out his sister and dog which are also hidden around Brussels.
Goupil Le Fol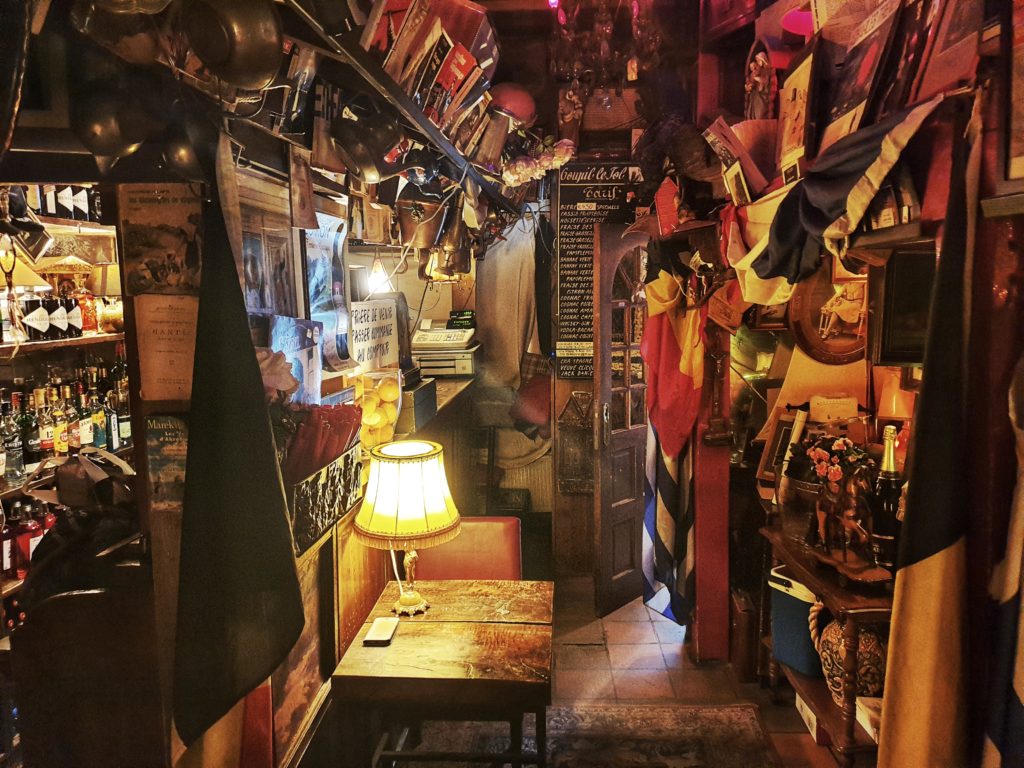 This is such a unique bar and one you could easily walk past on the street without even known its there. Located a short distance away from Grand Place, you enter through a narrow door and greeted straight by so much clutter and knick knacks you won't know where to look first. Grab a beer and settle yourself on one of the three floors with lots of sofas, arm chairs and nooks and crannies. This is well worth a visit!
How to get there
Hotel Metropole lies at the heart of the historic city centre in the capital of the European Union. Their hotel has a prestigious downtown address, perfect for business and leisure travellers in Brussels, Belgium.T

Transport

Transportation too and from downtown is easy, as the hotel lies just 12 km from Brussels International Airport, 1 km from Brussels Central Station, and 2 km from the Brussels-South/Brussels Midi/Gare Du Midi Train Station.

Car: follow signs for "centre / de Brouckère", rue Fossé aux loups.
Train: the Midi-Zuid station with TGV, Thalys, Eurostar (at +/- 3km), Central station (at 500m) and North (Noord/Nord) station (at +/- 2km)
Plane: Brussels International Airport located 12 km away.
Public transportation: "de Brouckère" metro station 50m from the hotel entrance.
Hotel Shuttle: The hotel also offer pick up and drop off for 65 Euros each way. Be sure to book this in advance.
We actually used Uber to get to the hotel from the airport and only cost 27 Euros in total which isn't too bad at all. Use the airports wifi to connect and you will be at the hotel within about 25 minutes.
Location

This Brussels hotel near Grand Place is situated in the Place de Brouckère, just a few steps away from famous attractions, including the Hotel de Ville (Town Hall), the Palais des Beaux Arts (Center For Fine Arts Brussels), and the Royal Museum of Fine Arts.
Valet

They also offer a valet parking service which is at your disposal to park your vehicle in one of the nearby car parks. The cost for this service is €27,00 per 24 hours. Additionally, there are several convenient nearby parking options.
Address

N.V. HOTEL METROPOLE S.A.31, place de BrouckèreB-1000 Brussels, BelgiumT +32 2 217 23 00LOCATION & DIRECTIONS
Prices
They vary depending on what time of year you go and whether you stay in any number of the different styles of rooms they have. Click here to see their selection.
We stayed in April 2019 and for our Giacomo Puccini room it cost 160 Euros (£138) per night.
Extras
Tickets to attractions or shows (Extra charge)
Pay-per-view Channels
Air-Conditioning
Daily maid service
Concierge service
Luggage storage
Currency exchange
Summary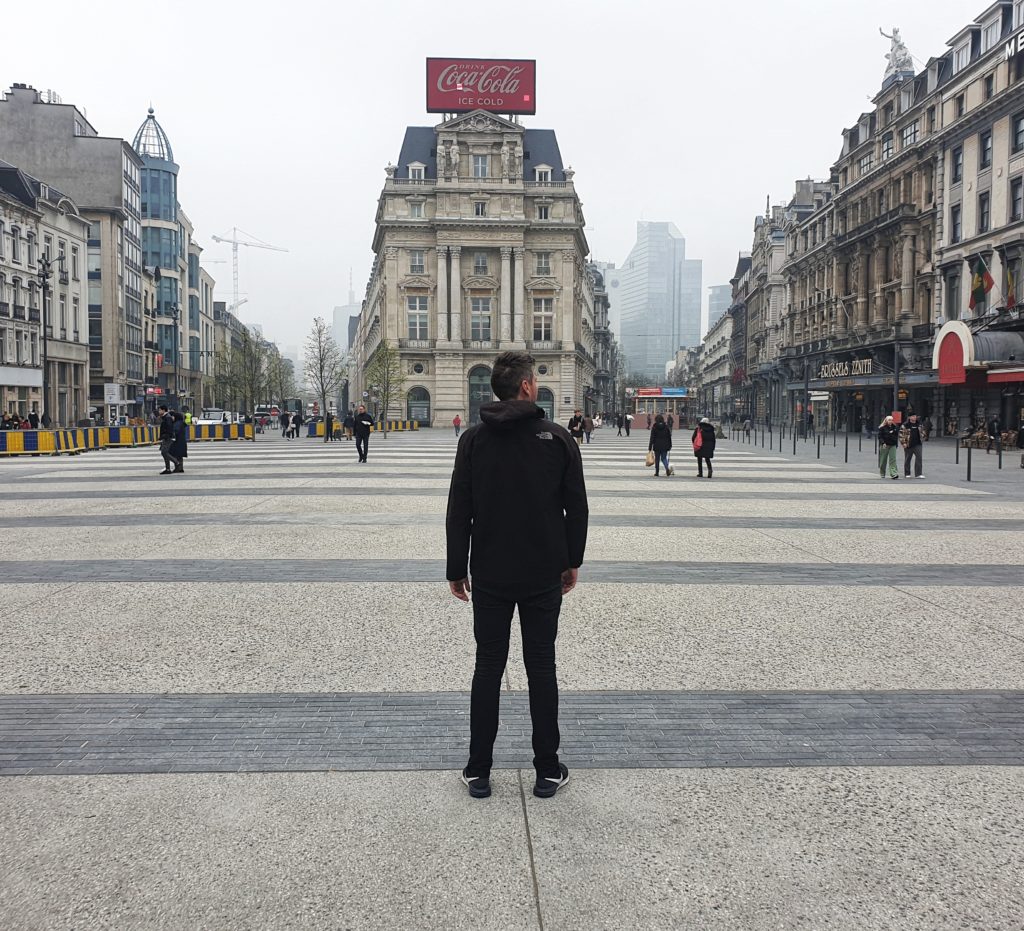 This place is absolutely beautiful and I am so glad that we chose to stay here for a few nights – it is the ultimate regal hotel experience!
The room was spectacular, with beautiful decor, furnishings and amazing views right from our bed. The hotel itself is incredibly welcoming and the staff are so friendly, they can honestly not do enough for you to make your stay that little bit more comfortable than what it already is.
You will want to spend longer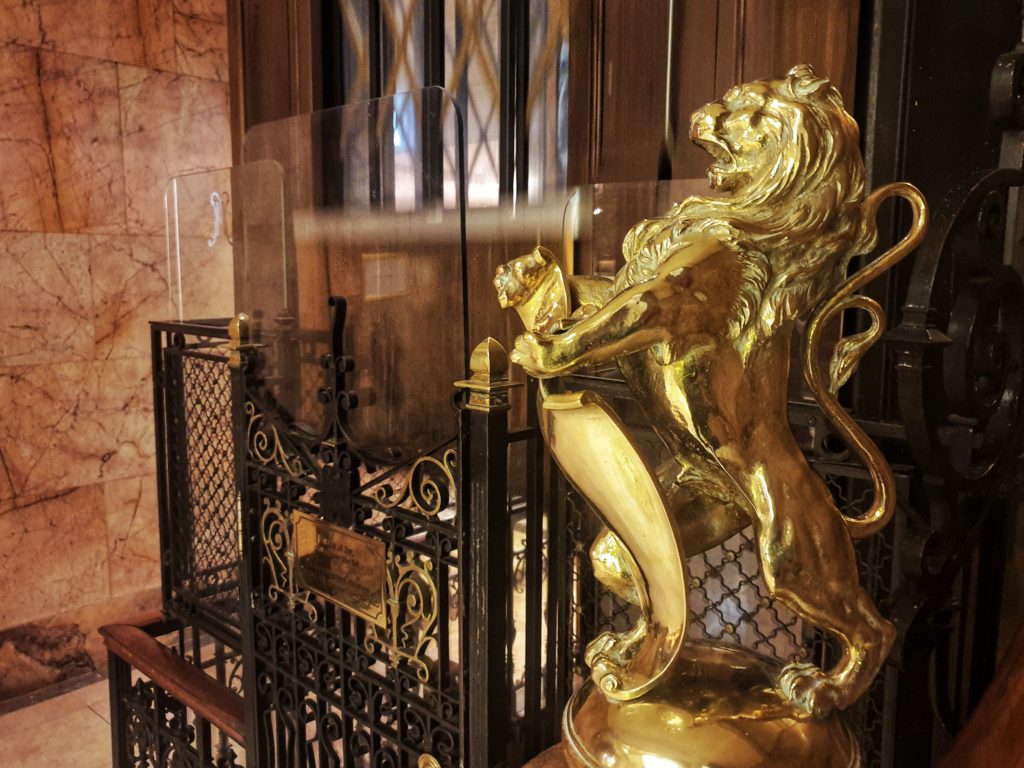 The public areas are very unique and the location itself are hands down the best part about Hotel Metropole Brussels. When you throw in the fitness centre, the delicious restaurant food and bar you are on to a winner! I personally loved the old school elevator (as shown above) and the incredible fireplace in the reception.
If you are in Brussels, Belgium and you want to have a unique hotel experience, I would highly recommend Hotel Metropole Brussels.
Check out their Facebook and Instagram here.
***Thank you to Hotel Metropole Brussels for kindly sponsoring this post. All opinions are 100% honest & completely my own.