WHISTLERS UNIQUE ACCOMODATION
Located right in the centre of whistler's town centre, Pangea Pod is considered one of the best places for those who want to explore the shops, bars, clubs, restaurants and attractions. From watching bears roam through the mountains to hiking, biking, kayaking playing golf or relaxing at a spa, you have found the hotel that surrounds you with all of these things and more.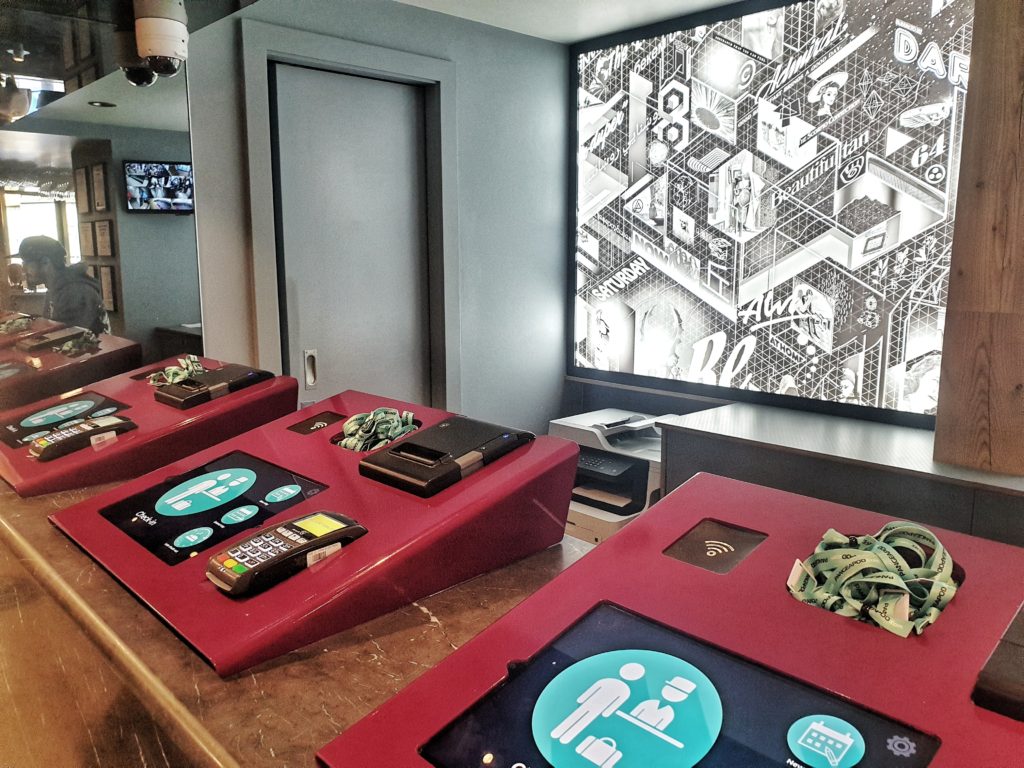 Imagine you could stay in a boutique hotel but only pay for the part of it you actually use. At Pangea Pod you get designer pod accomodation that's affordable, social and central. With a rooftop patio to hangout on and have a few drinks and a restaurant onsite with delicious food its a great place to be.
If you find yourself in Whistler, Canada then I would highly recommend booking a few nights stay at Pangea Pod.
Highlights
Free strong Wi-Fi in all areas
Parking is offered on-site
Super central location in the middle of the village
Very friendly and welcoming staff
Unique sleeping accomodation
The Pod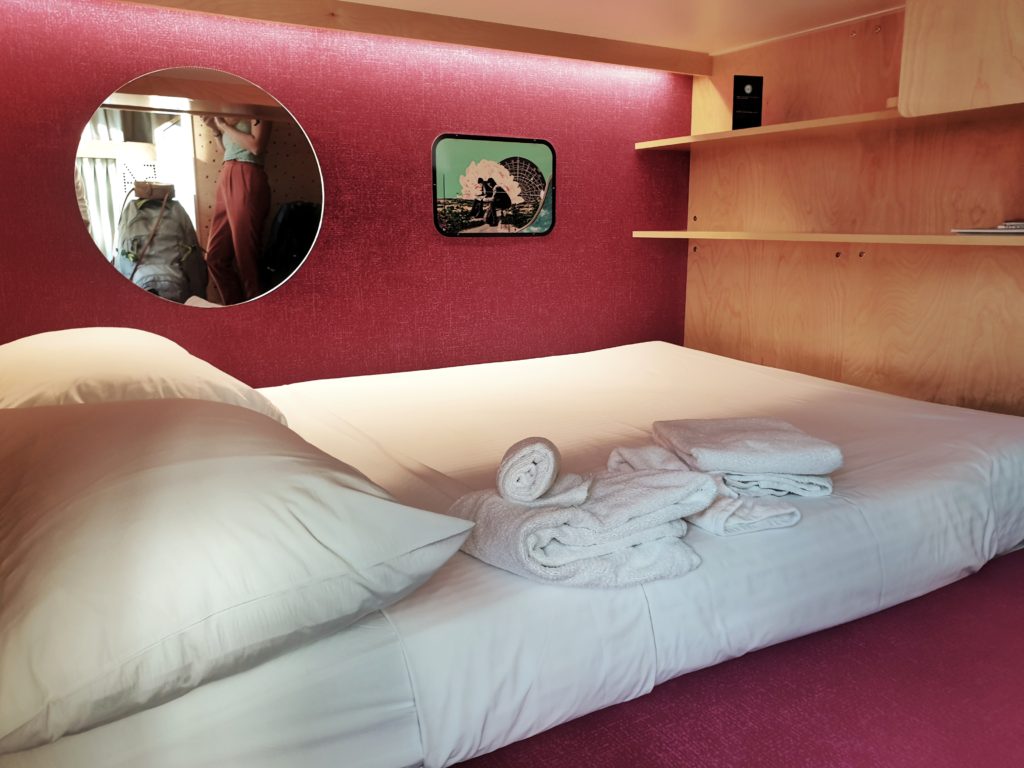 During our stay at Pangea Pod we opted to stay in The Pod which was perfect for our needs, provided a very comfortable night's sleep and was super unique. With aesthetically pleasing decor, comfortable surroundings and every we needed we almost didn't want to leave to explore the village.
This room is perfect for couples or solo travellers with room for you to move around and relax in.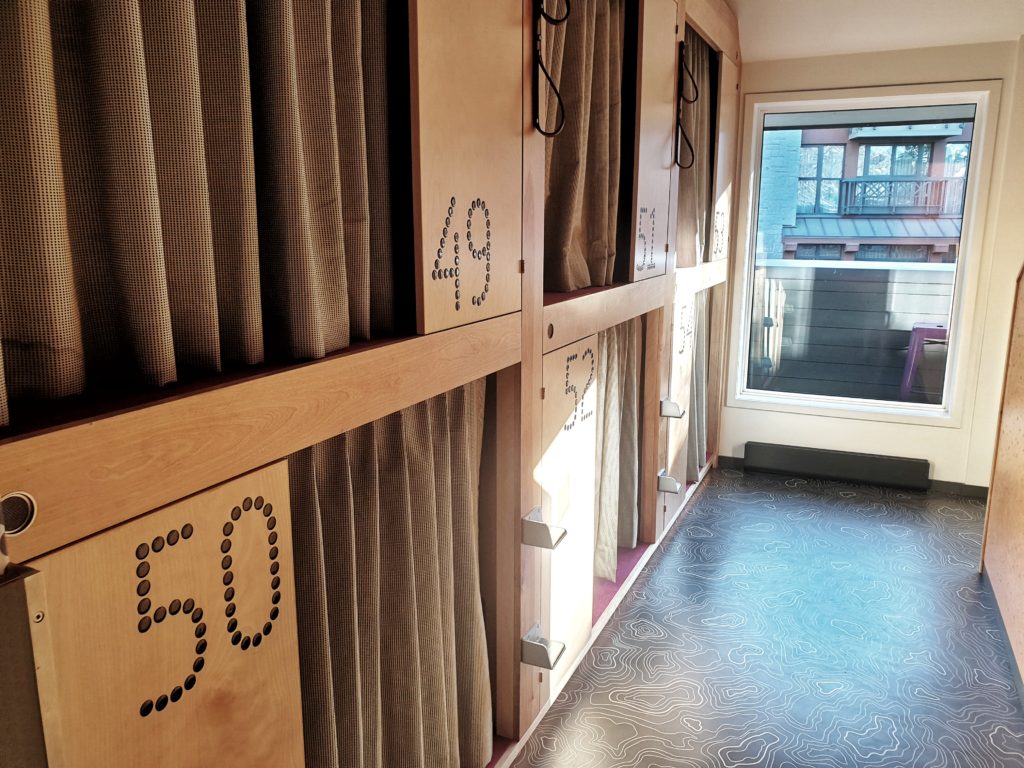 Furnished with a retractable curtain for privacy, the Pod comes in two tiers. For our stay we were given the bottom Pod. It comes with a double mattress, shared toilets, showers and changing rooms, shelving units, luggage storage, a fan, plenty of power points, hangers, secure locker and art work. Clean lines, sleek surfaces and light bedding are fresh and minimalist, which focus attention on the room's featured decor.
What you get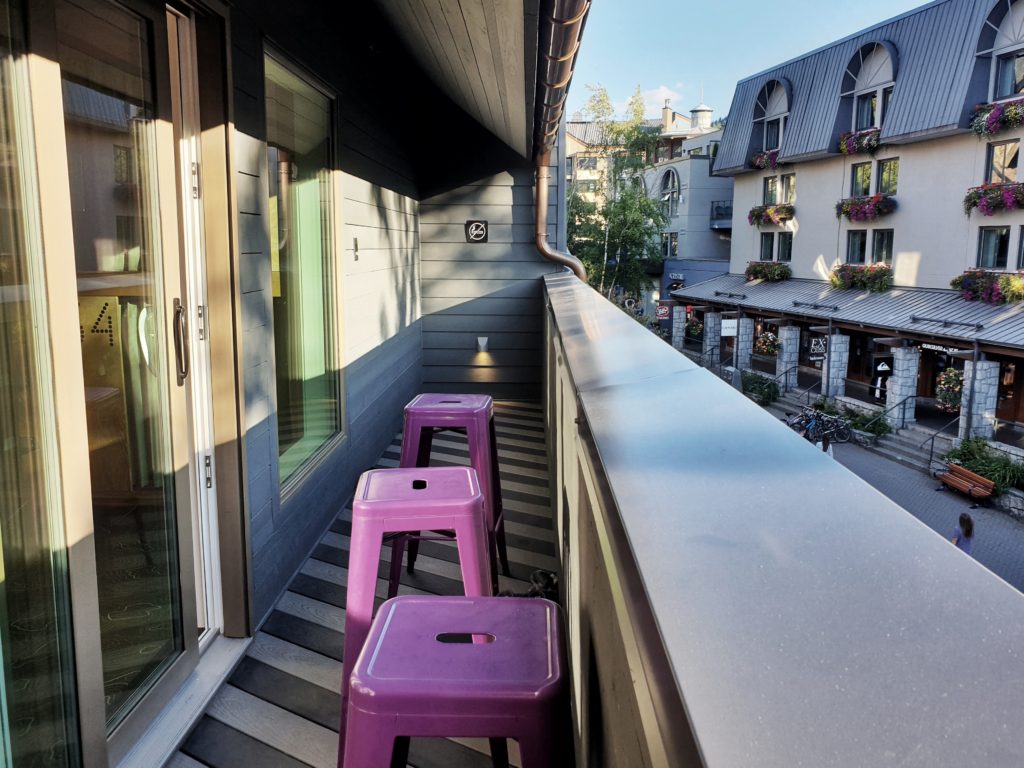 The Pod comes equipped with free toiletries in the shower areas, strong Wi-Fi, air-conditioning in the main room, fluffy pillows, security safe, clean towels, soft linens, USB charging points, access to a balcony overlooking the village and plenty of space for two people to relax in.

To view all their other rooms click here.
Activities
The Living Room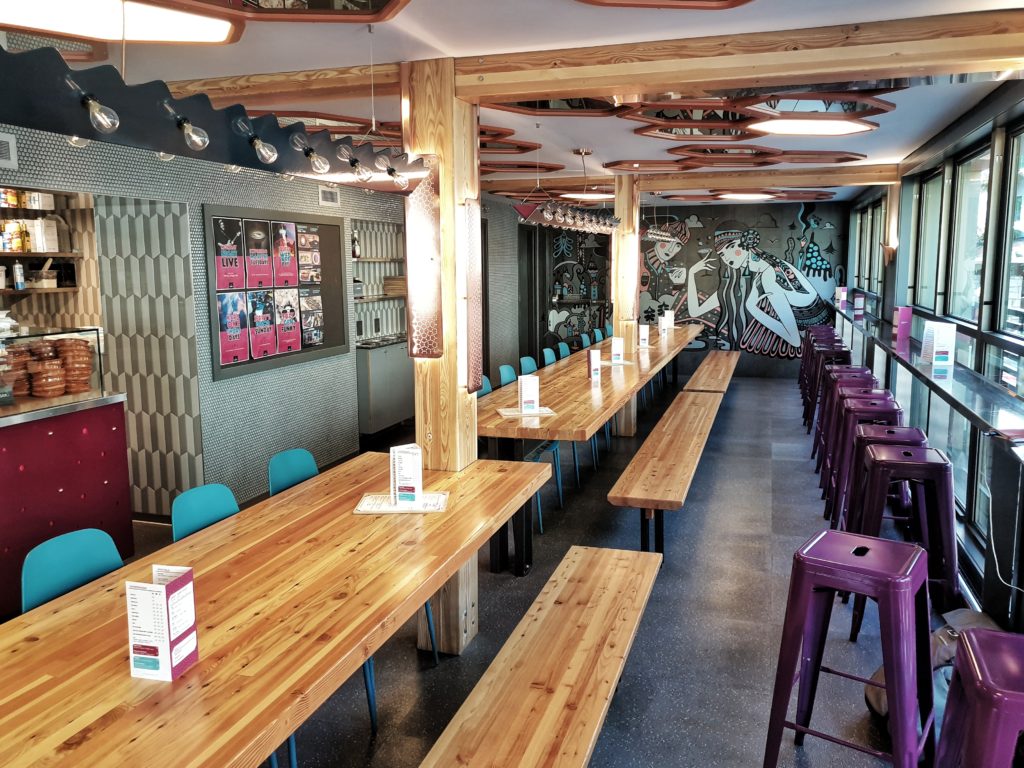 This is a vibrant communal area which has a cafe and bar that serves delicious food, drinks and a great place to meet new people or take some time to check emails, social media and relax. The prices are fairly reasonable too considering the rest of Whistler village making it the best place to not break the bank too much.
Peak to Peak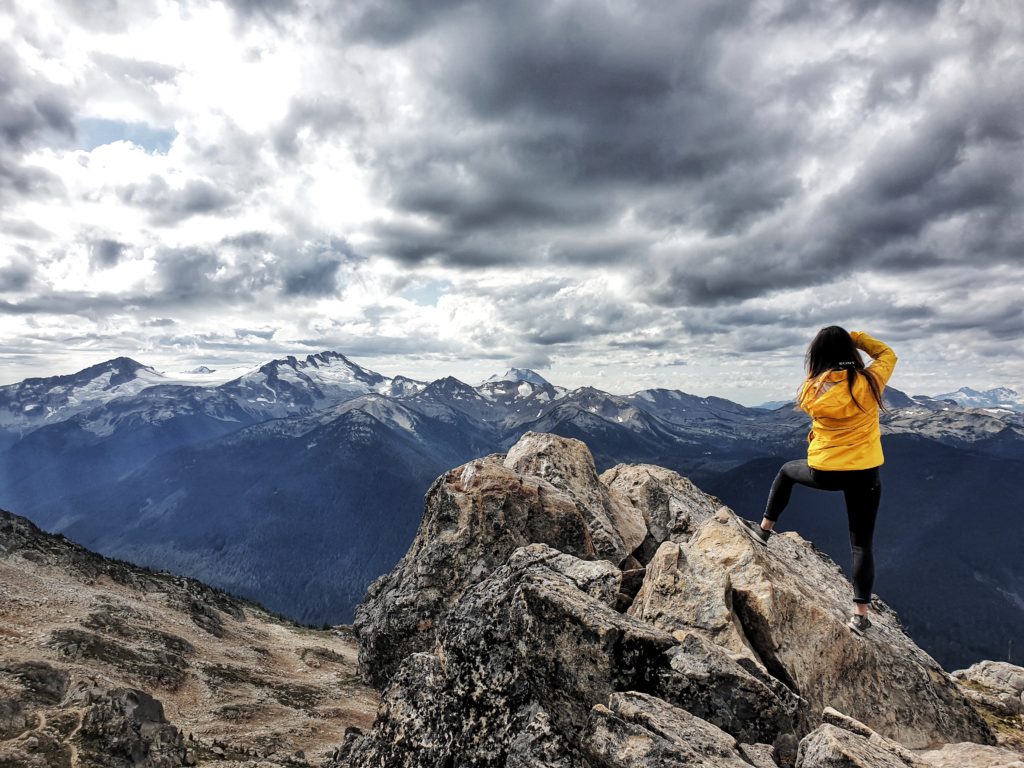 A ride in the cheery red cabins of the PEAK 2 PEAK Gondola is one of the most iconic things to do here in Whistler, summer or winter. The gondola links Blackcomb and Whistler, the two mountains that make up part of the skiing, biking and hiking paradise.
It's a feat of engineering boasting an unsupported lift span of 3.024 kilometres or 1.88 miles. It's also the highest lift of its kind with an elevation of 436 metres (1,427 ft). Needless to say with those numbers it offers some pretty spectacular views of the village, valley and surrounding mountains – 360 degree views in fact.
Cloudraker SkyBridge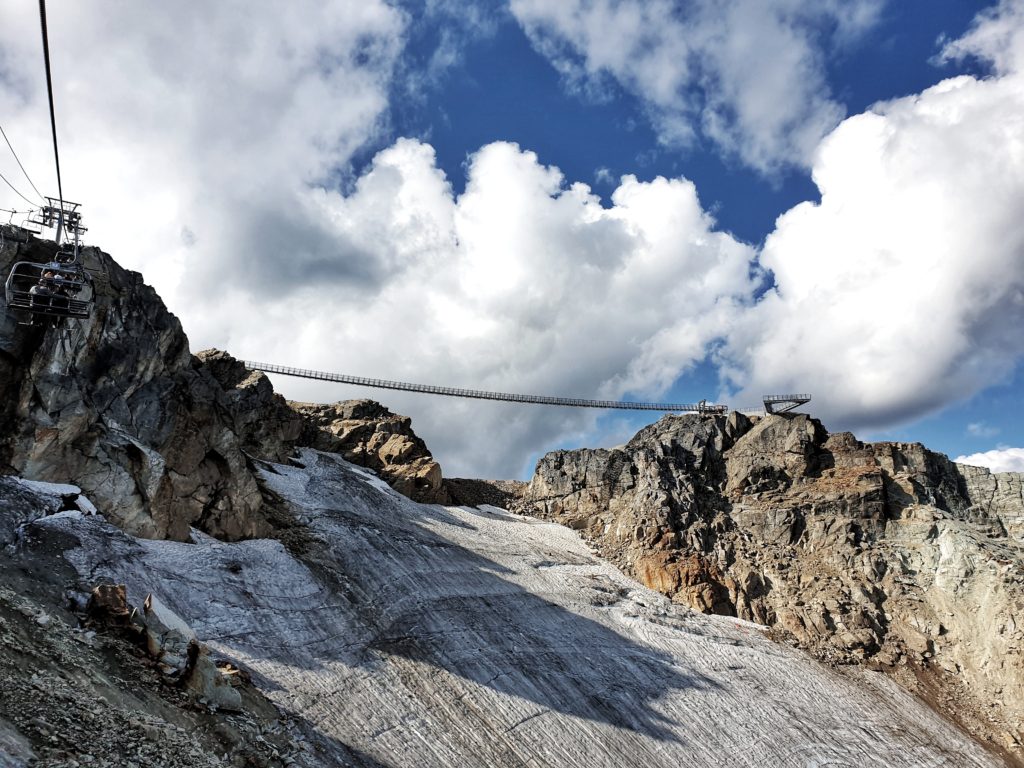 The suspension bridge is located right beside the top station of Peak Chair on Whistler Mountain. Access is included in the PEAK 2 PEAK 360 Summer Experience ticket, so you can make this trip part of a full day of adventure. You can also access the Raven's Eye Cliff Walk from the bridge on the West Ridge Lookout.
Vallea Lumina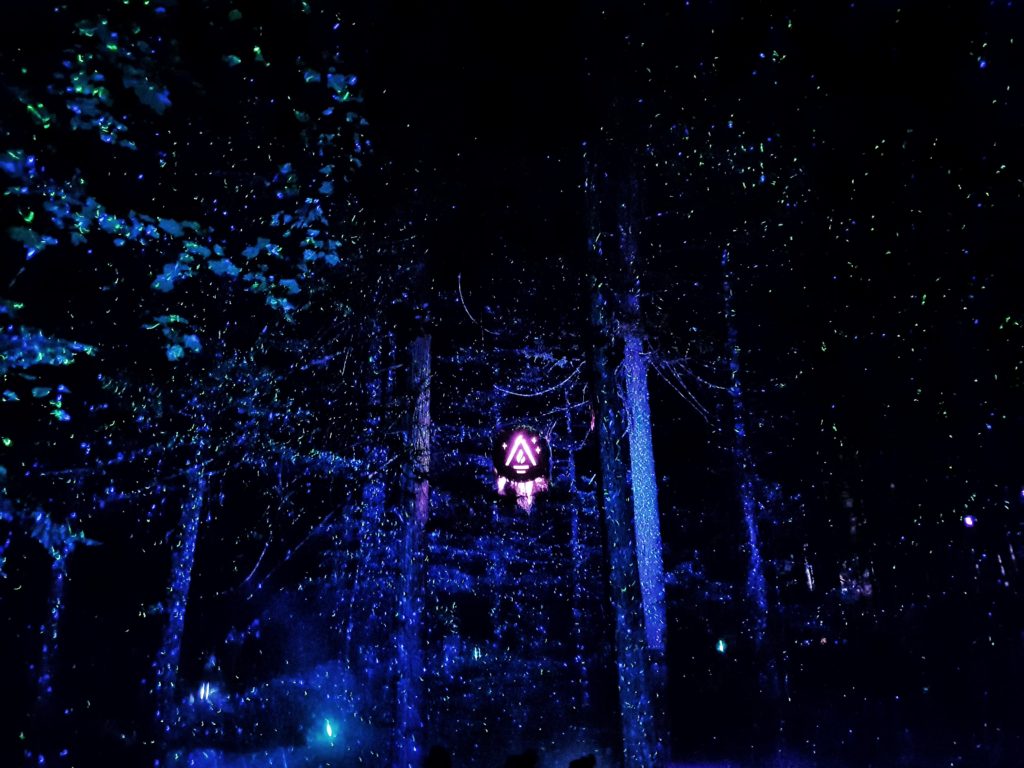 Old stories tell of the wondrous things that happen near Whistler. Between the trees, in the shadow of mountains, legends say there's a hidden valley where stardust falls from the sky, filling all living things with its pure light.

Join an evening excursion and follow cryptic radio transmissions and the lingering traces of two long-ago hikers to find the scenic trailhead where the real journey begins… This pathway leads toward a place filled with beauty, and proof that the legends of Whistler are true.
The Train Wreck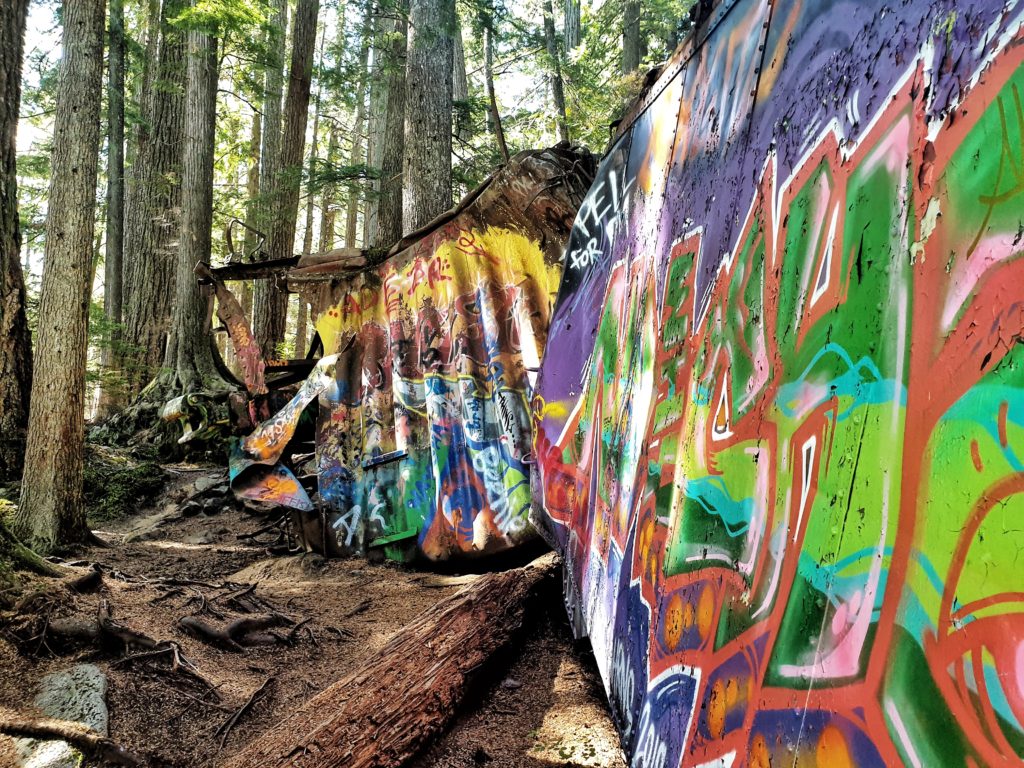 A part of Whistler's historical and cultural identity, the Train Wreck site is a popular attraction and is located near the Cheakamus River just south of Whistler. The short hiking trail follows the Sea To Sky Trail and crosses a suspension bridge, offering scenic views of the Cheakakmus River rushing below before arriving at the colourfully painted box cars, which have sat in the forest since 1956.
The Lost Lake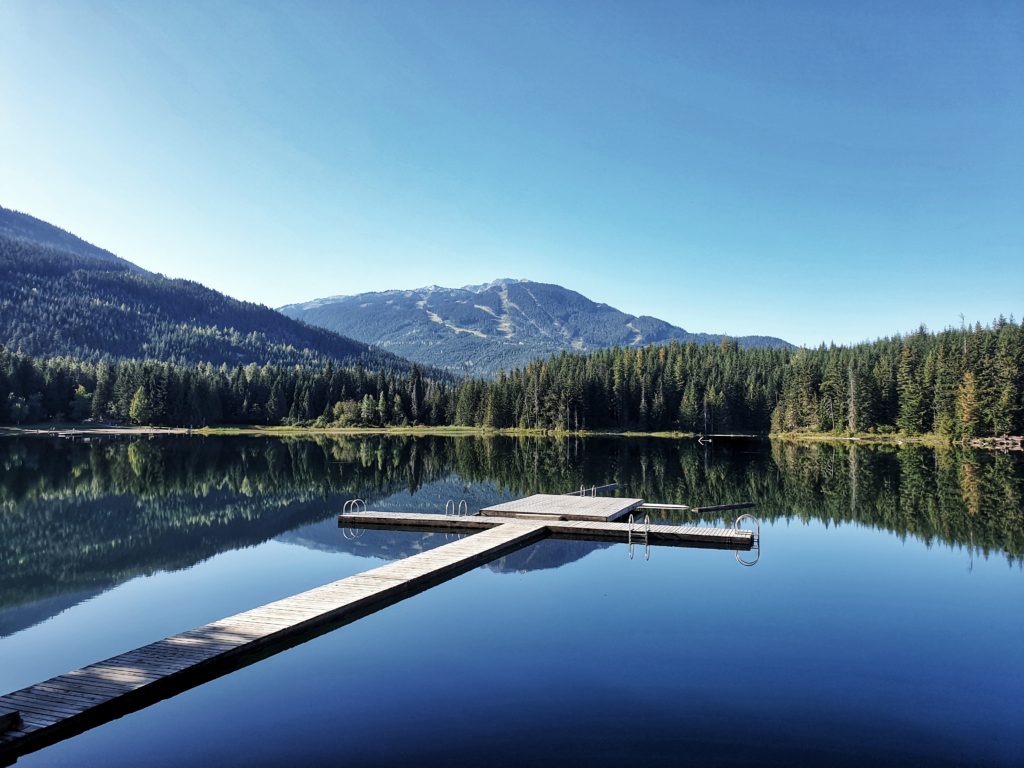 Lost Lake is a small lake within walking distance of Whistler Village and is a popular attraction with a beach area and surrounding trails for hiking and biking. The Lost Lake Nature Trail is a less traveled hiking path from the Cross Country Connection ski rental shop, on the other side of the creek from Lorimer Road near Blackcomb Way.
It is perfect for swimming, sun bathing, or just enjoying the incredible reflective views of the mountains on the calm flat lake water.
Brandywine Falls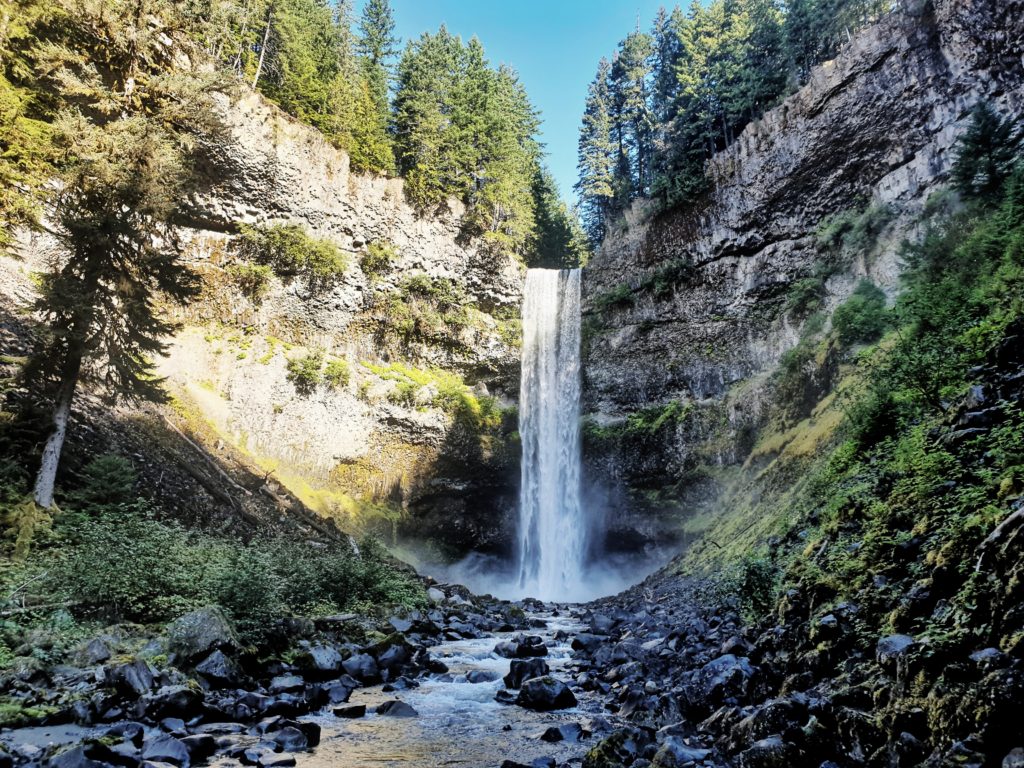 Brandywine Falls (the spectacular 70 metre waterfall) is best seen from the viewpoint which also presents some marvelous views of Daisy Lake and the surrounding mountains.
This park provides opportunities for hiking, picnicking, mountain biking and viewing of the waterfall. There is a rarely used trek down to the bottom, however, it requires a bit of rock climbing and good intuition, plus there is the chance of receiving a $115 CAD fine if caught.
How to get there
Address: 4333 Sunrise Alley, Whistler, BC V8E 1M7
Phone: (604) 962-1011
Pangea Pod is super central in Whistler Village and fairly easy to find. If you require parking it is best to get in contact before you arrive as the spaces get booked up quite quickly.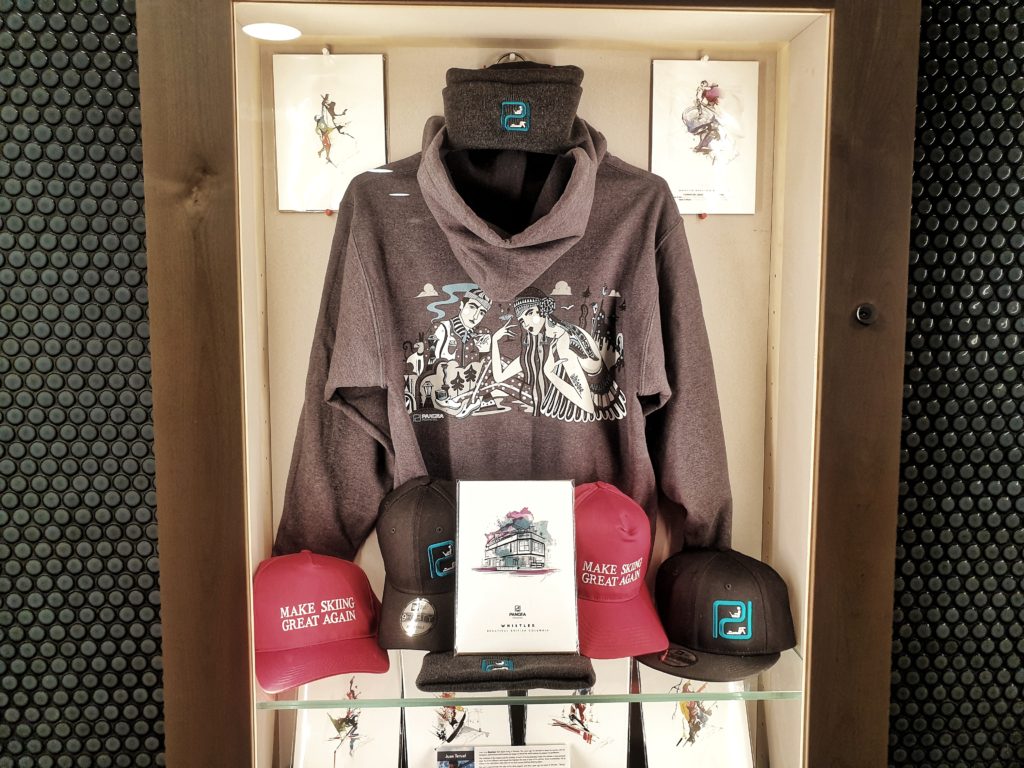 Prices
The prices will vary depending on what time of year you stay – to check out the pricing click here.
We stayed in August 2019 and for The Pod it would cost $84 CAD (£52) per night.
Extras
Wi-Fi is available in all areas
Bike storage is available
Tours are available to book at reception
Luggage storage
24-hour reception
Summary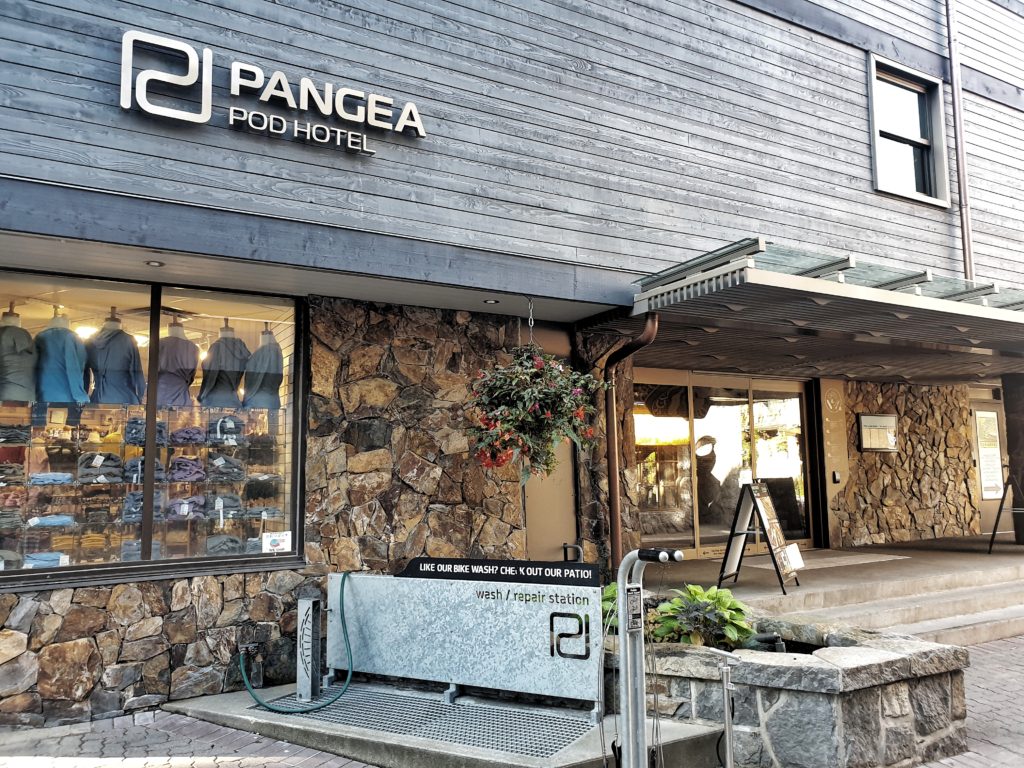 This hotel is absolutely quirky, unique, and the perfect place to stay while in Whistler. I am so glad that we chose to stay here for a few nights – it's the most enjoyable place in the village!

The Pod was fantastic, we had a super comfortable nights sleep and really enjoyed the unique decor which makes the Pod really interesting especially when you see all the others together in the suite. The location was my favourite feature as it was super central and the staff are so friendly, they can honestly not do enough for you to make your stay that little bit more comfortable than what it already is.
You will want to spend longer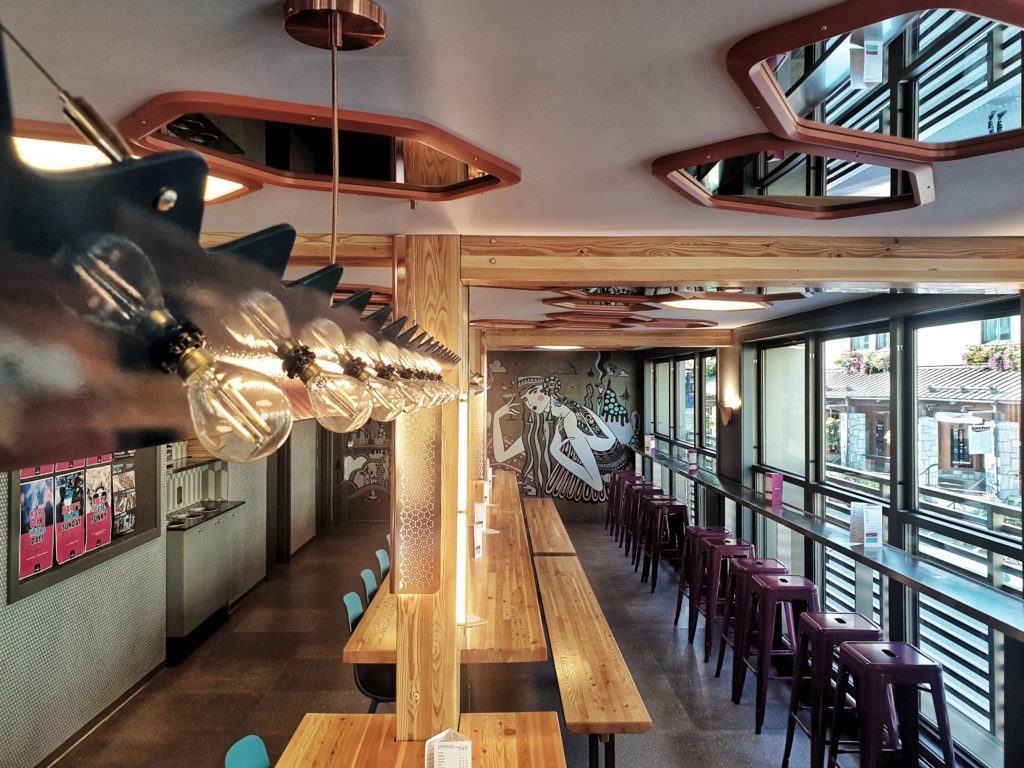 The village is very lively with lots to do, but on the outskirts, remains the beautiful surrounding mountains and countryside which are absolutely breath-taking and you will find yourself soaking them up the whole time you're there. When you throw in the close proximity to the shops, bars, restaurants and all of the other attractions you are onto a winner!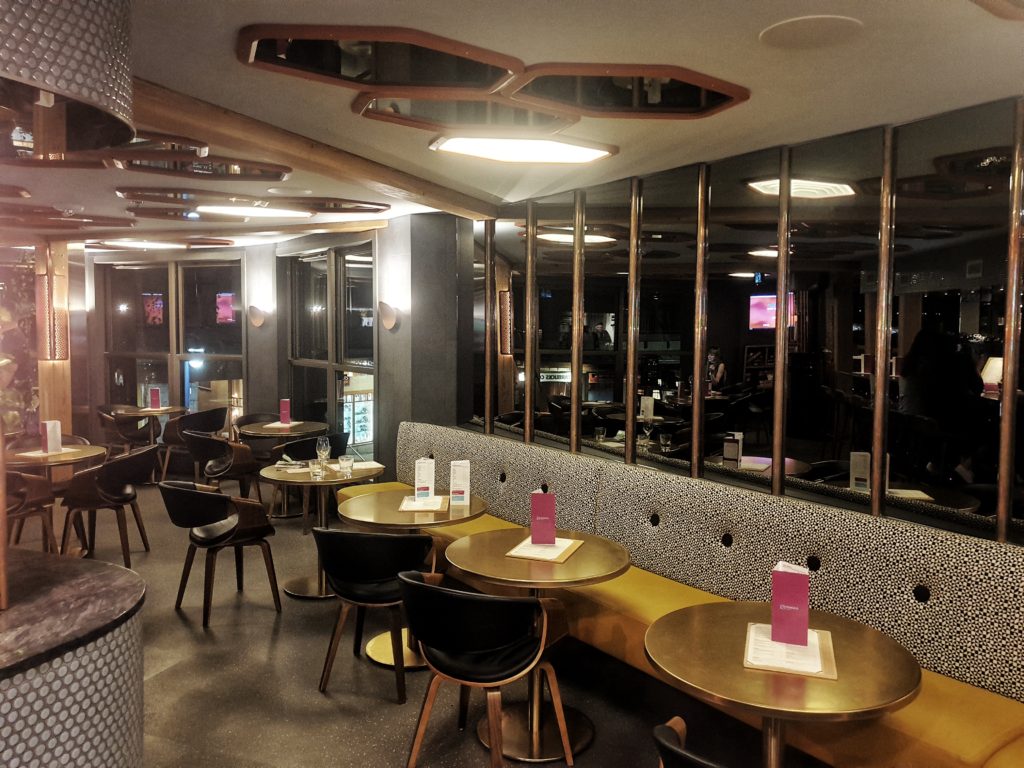 If you are in Whistler, Canada, and you want to have a unique & quirky Canadian experience, I would highly recommend Pangea Pod.
***Thank you to Pangea Pod for kindly sponsoring this post. All opinions are 100% honest & completely my own.