Everything you need to know 
⇷☓⇸
Picking the right backpack is an important part of any trip. Too big, and you'll have too much extra weight. Too small, and you'll never fit anything in. Pick the wrong material, and your stuff will be soaked in the rain. There are so many options out there that it can be very confusing.
There are many backpacks in the world and even more places where you can purchase one. I've tried, seen, and experienced many backpacks over the years. I know what works. So in order to save you hours upon hours of research, I'm going to lay out all the good qualities a backpack should have, so when you find one that matches these criteria, you can simply purchase it knowing it's amazing and going to last forever.
What to look for:
​
Water-resistant material – While your pack does not need to be 100% waterproof, make sure your bag is made out of a semi-waterproof material so everything doesn't get wet in a drizzle (many packs come with tarps you can put over them in case of a severe downpour). Moreover, make sure the material won't stay wet long and thereby get musty. I look for material that is thick but lightweight. I should be able to pour a cup of water over it without the insides getting wet. I'm not traveling a lot during torrential downpours or monsoons, but I have been caught in small rainstorms before, and because my backpack is made out of a good material, I've never opened my bag to find wet clothes.
Lockable zippers – Make sure each compartment has two zippers so you can lock them together. While am not really worried about people breaking into my bag and stealing my dirty clothes in a hostel, I like locking up my bag when I am traveling. I'm always paranoid that someone is going to put something in my bag or that a grabby baggage handler in airport is going to take my stuff.
When purchasing locks, make sure the package says they are TSA-friendly locks — these locks have a special release valve that allows the TSA to open the lock without breaking it so they can check your bag. You can purchase TSA locks at any large retail store, such as Target or Walmart. If your pack doesn't have two zippers, you can always get Pacsafe (www.pacsafe.com), which wraps a lockable metal mesh around your whole bag and can be tied to a large object. It means that not only is no one breaking into your stuff, no one is walking away with it either. Pacsafe is a good form of protection for your bag, especially if you are going to be somewhere where your bag will be unattended for a long time. One thing to remember about Pacsafe is that this metal mesh also adds a lot of weight to your bag and it can be burdensome to carry around. Most people I know who use Pacsafe are photographers who carry a lot of expensive equipment around.
Multiple compartments – A good bag must to have multiple compartments. This way, you can break up your belongings into smaller sections so it's easier to access and find the stuff you need. For example, my clothes are in the main compartment of my bag, my umbrella and flips-flops in the top, and my shoes in the separated side compartment (that way they don't get everything dirty). It saves having to dig around your bag.

Internal frame – The majority of backpacks today are internal-frame packs, meaning the support rods and frame are built into the backpack and hidden from view. However, there some are still external-frame backpacks, where the rods are separate from the actual pack and stick out (think of those backpacks you see in old hiking movies or movies about people backpacking Europe in the 1970s — a big, clunky metal frame). Don't get one of those. Make sure you buy a backpack with an internal frame. It not only looks better but the rods won't get caught on anything and your bag will also be slimmer, making moving around easier. Additionally, internal-frame packs tend to be lighter as the frame is composed of a carbon fiber or tough plastic, which makes them easier on your back as well as more durable.

Padded hip belt – Most of the weight you will be carrying around will be pushing down on your hips, so you'll want a padded belt to make supporting the weight more comfortable. The belt will help provide support and distribute the load more evenly on your back, causing less strain. The hip belt should also be adjustable so you can tighten it for extra support.

Padded shoulder straps – These make carrying your load more comfortable, as the weight of your pack will also be pushing downward on your shoulders. The pads will put less pressure on your shoulders and also help take pressure off your lower back. Make sure the padding is very thick and made up of a single piece of material as it will be less likely to split and thin out.​

Contoured/padded back – A lumbar-shaped pack makes carrying it more comfortable, as it helps distributes weight more evenly — the same principle applies as is used in contoured chairs. It allows for a more natural arch ensure no back pain. Moreover, this type of pack creates a small space between your back and the bag, allowing air to move through and help keep you slightly cool (lugging your bag around can build up a sweat!).

Side Opening Zips – This crucial! You want a backpack that will open up like a suitcase so you arent forever having to dig to the bottom from the top of your bag which is just a nightmare. Having size zips make it pain free to access whatever you need from anywhere in your bag.
Does size matter?
One of the most frequently asked questions about backpacks is about their size. Everyone wants to know what the perfect size is. No one backpack size is better than another. What matters is that your backpack should be proportional to your body — that might mean a backpack that is 40 liters or 80 liters. If your backpack is too big or too small, the weight won't be balanced properly and will cause back pain or maybe even make you topple over. You don't want a skyscraper rising up from your back, but you also don't want a pack that is clearly too small and overflowing with your stuff.
You want a backpack that is big enough to hold just a bit more than the stuff you are bringing and not more than that. If a backpack fits everything you want, has a bit of extra room, and feels comfortable, then you have found the perfect backpack size. Manufacturers also have suggested torso and waist sizes for each model they produce, but I've found that the best way to know if a backpack feels right is to simply try it on.
When you are at the store (and any good camping/outdoors store will do this), they should be able to stuff your backpack with the equivalent of 30 pounds (15 kilograms) so you can see how that much weight feels on your back.
It's important to remember that the bigger your backpack is, the less likely it is that you'll be able to carry it on the airplane. Additionally, since you can no longer bring liquids in containers larger than three ounces on airplanes, if your bag has soap and liquids in it, you'll be forced to check the bag. The only inconvenience will be having to wait at baggage claim for your bag.
You won't face any baggage fees from the major airlines for checking your bag when flying internationally. Budget airlines, on the other hand, charge a fee for checking a bag based on weight, so the more your bag weighs, the more you will have to pay to check it at the gate.
Suitcase or backpack?
I hate suitcases. Despise them. Your luggage is going to get thrown about and piled high on buses in random countries. It will get used and abused, and it's simply hard to walk up hills and stairs with your suitcase bump-bump-bumping everywhere. Suitcases are a pain in the butt.
Suitcases are great for weekends away or if you'll be staying in one place for a long time. But if you are moving around a lot, it is far better to have a backpack. Backpacks are simply more versatile. They're easy to carry up stairs and pack into tight places, and overall, they just make life simpler. I don't need to pick them up when getting on the escalator. I can just walk on. Simple. Easy.
Even if you are only going on a two-week trip, I still suggest ditching that oversized, heavy suitcase. Backpacks just make more sense, which is why this page is devoted to them and not suitcases.
Note: If you have back problems and can't use a backpack, a smaller suitcase with wheels and a long handle can be a good substitute. It will still be difficult carrying it up and down stairs, and annoying as you roll it across uneven sidewalks, but there are many companies (those listed at the end of this section) that make fairly good and lightweight travel cases.
What I use:
I bought my backpack from Kathmandu – the Hybrid 70L Trolley.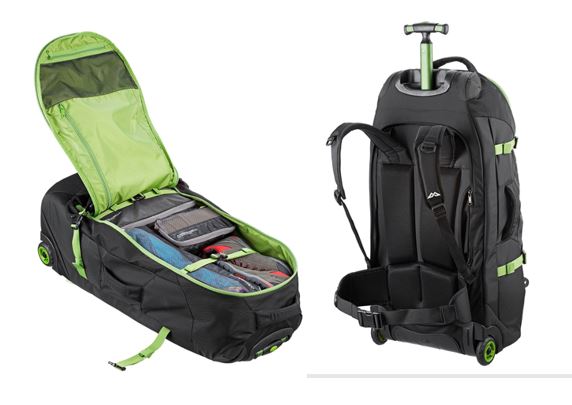 Don't let your bag slow you down. The latest 70L Hybrid Trolley is a lightweight trolley bag that quickly converts into a backpack – because travel can be unpredictable. After a decade and a half of design evolution, the hugely popular Hybrid Trolley is better than ever. We went through every tiny detail of the bag to strip out weight without compromising strength. Where we took out weight, we added in comfort to make it our most comfortable, lightweight Hybrid yet. We improved the harness and we updated the look. Rugged, durable and good-looking with no extra weight, this is the bag you'll take everywhere.
It includes:
Capacity – The large rucksack holds up to 70 litres, and can come with a daypack that holds up to 20 litres
Detachable Daypack – Great for longer travels, the daypack detaches from the main part of the rucksack so you can leave most of your belongings at the hostel when out on day trips

Adjustable Back System – Allows you to adjust the shoulder straps to find your most comfortable position and prevent unnecessary back pain

Wheelie system – Extendable handle for easy wheeling if you don't want to carry it anymore

Straps – Straps at the chest and hips help to stabilise the bag and distribute the load securely and comfortably

Compression Straps – Used to reduce the bulk of the rucksack. Also aids balance

Lockable Zips
I have had this bag for just under two years now and it is still going strong and would highly recommend.