The Essential Travel Gear Guide
⇷☓⇸
Travellers don't carry a lot of gear on the road but making a mistake in getting the gear you are supposed to get can lead to wasted money, carrying too much stuff, and being unable to stay connected on the road.
First, the short answer to what you should pack: take as little as possible. I take only the essentials, and if I really need something, I buy it. It's not that hard to find medicine, clothes, or anything else you may need overseas. I also try to stick to the same climate during my trips to avoid carrying lots of different clothes. I don't want to be lugging sweaters around Thailand!
However, plans can change, and if that happens, I buy a light jacket. I keep it until it is a burden and then I leave it behind. The more I travel, the more I realise I don't need a lot of stuff.
Everything I own fits into one backpack. Packing light is a cliché, yet one that has a lot of truth to it. But the long answer to what you should pack?
Well, below is my suggested packing list: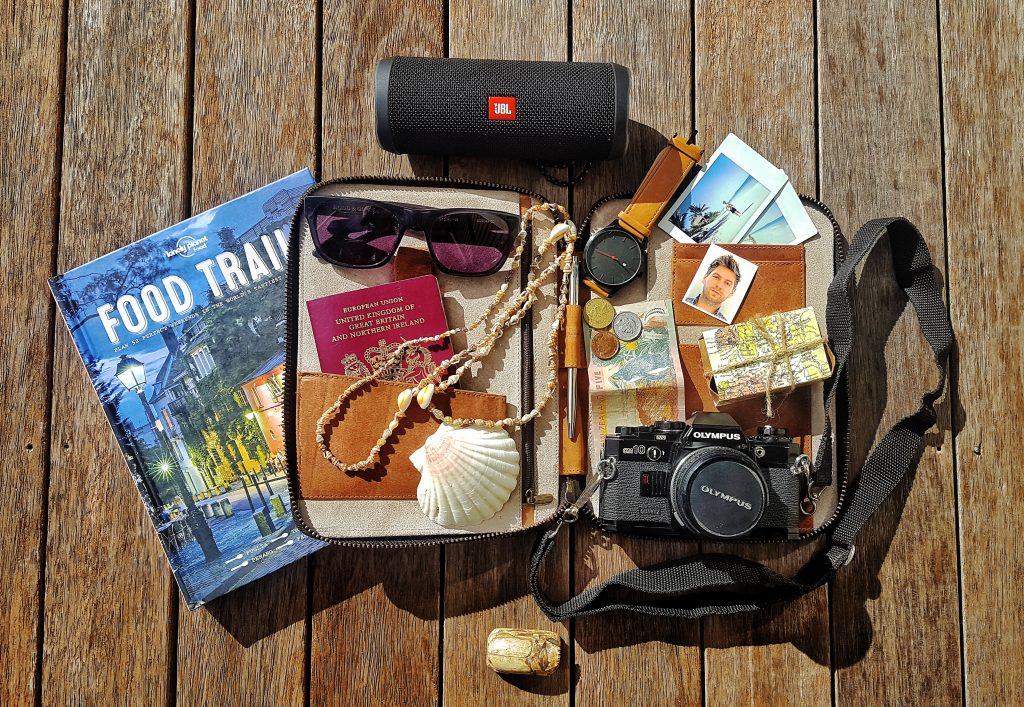 Clothes
1 dress shirt for when I go out to a respectable place in the evening
1 pair of jeans (They may be heavy and not easily dried, but I wear them a lot.)
2 pairs of shorts
1 pair of swim shorts
6/7 t-shirts (one for each day)
1 long-sleeve t-shirt (for those sunburn or chilly days)
1 pair of flip-flops
1 pair of trainers
7 pairs of socks
7 pairs of boxer shorts
1 towel (preferably a micro/lightweight one)
1 lightweight travel raincoat
Toiletries
1 toothbrush
1 tube of toothpaste
1 razor
1 small bottle of shampoo (refill often at hostels)
1 small bottle of shower gel (refill often at hostels)
Hair wax
Deodorant
Small bottle of aftershave
Mouthwash
Small Medical Kit
Band-Aids/Plasters – All different sizes and waterproof
Antibacterial cream
Ear drops (especially if you will be in the water a lot)
Earplugs – I cant stress enough how much you will want these! Buy a bag of 20 on Amazon
Doctor-prescribed antibiotics if you can get them
Hand sanitizer
Small scissors
Medical tape
Bite cream
Tweezers
Sun cream 30+
Aloe Vera
Paracetamol
Tiger Balm
A Dry Sack – Mines here
Insect repellent (the highest amount of deet you can get)
Gear
A sturdy and reliable travel wallet
Slim and lightweight Laptop
A decent DSLR
Mobile phone with decent camera and storage
Universal power adapter
Large portable power bank
Spare wires for everything
Headphones
MP3 Player
Portable Speaker
Go Pro and accessories
See more here
Miscellaneous
A key or combination lock
Zip-top bags
Plastic bags
Notebook
Pens (biros and a marker)
Sellotape
Toilet Paper/Tissues
Condoms
Luggage scales
Lighter/Matches
Travel pillow
Sunglasses
Swim Goggles
Special tip: Buy a small backpack so you won't be tempted to overpack. We subconsciously like to fill empty space, so if you have a big bag, you're more likely to overpack just so you don't waste space.
I've found that this list leaves me wanting for nothing. I'm sure many of you will read this and say "But what about X?" or "You really don't need Y." Well, that works for you, and this list works for me. Tailor your list to suit your travels.