THE BEST ISLAND LIFE
The Nuansa Penida Hostel is one of those unique and quirky places that you really must experience to enjoy island life. It is a small and friendly family run boutique hostel which is in a great location for all your adventure needs.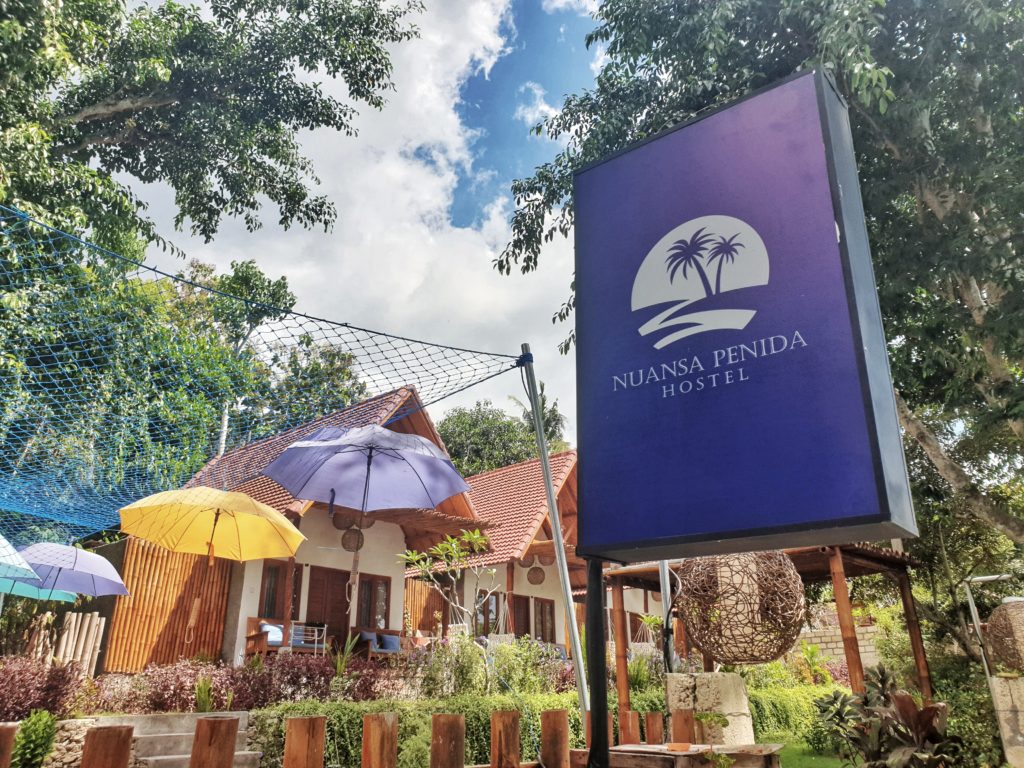 It is essentially a small village of huts that are dorms and private rooms bringing a sense of close knit community and a great way to meet other like minded travellers. The location is perfect too as its about an hours scooter drive to Kelingking Beach and Diamond Beach and then only 6 mins drive to the main town and Karma Diving.

If you are in Nusa Penida then I would highly recommend booking a few nights stay at Nuansa Penida Hostel.
Highlights
Traditional Indonesian themes and culture
Super comfortable rooms and beds
Friendly and helpful staff
Free and decent Wi-Fi available
Scooters are available to explore the island
The 4 Bed Dorm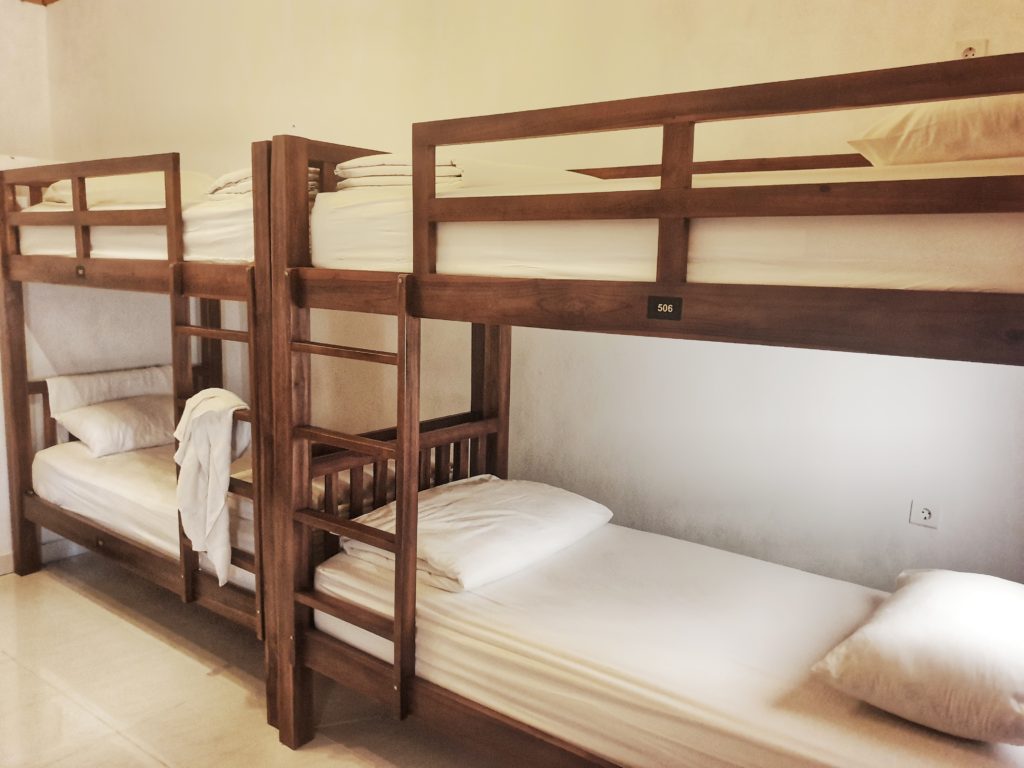 During our stay at Nuansa Penida Hostel we opted to stay in one of the 4 bed dorms occupying two beds and it definitely lived up to expectation. The huts are a traditional but modern Indonesian theme and rather spacious.

There are two bunk beds which are extremely clean, comfortable and tidy. The mattress is very comfortable using high quality King Koil with a snugly duvet. They also come with their own en-suite bathroom which you share with whoever else is in the room with you.

What you get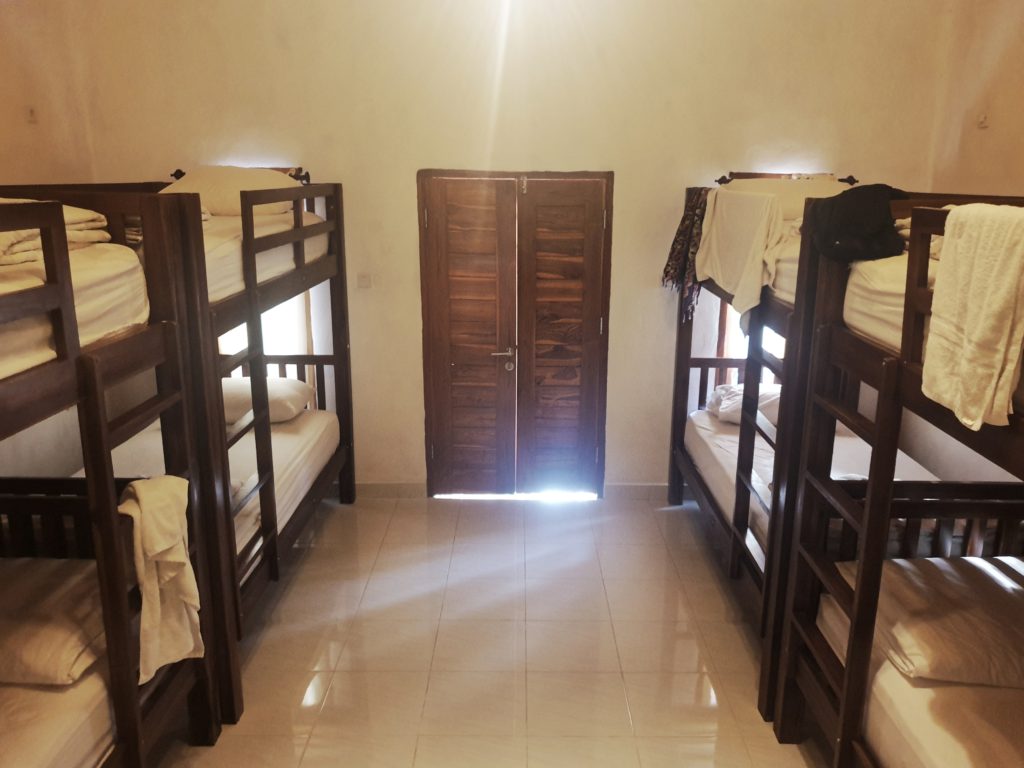 It is quite basic, but at the same time very homely. Outside there are little benches on the terrace where you can chill and relax and the bathroom comes with a jungle shower, toilet and free toiletries. Thankfully there is also air-conditioning which is definitely needed in that heat.

You also get all the essentials such as wardrobe with lock, luggage storage, umbrellas, towels, linen, breakfast buffet and wifi.

For other rooms available click here.
Activities
The Pool and chill out area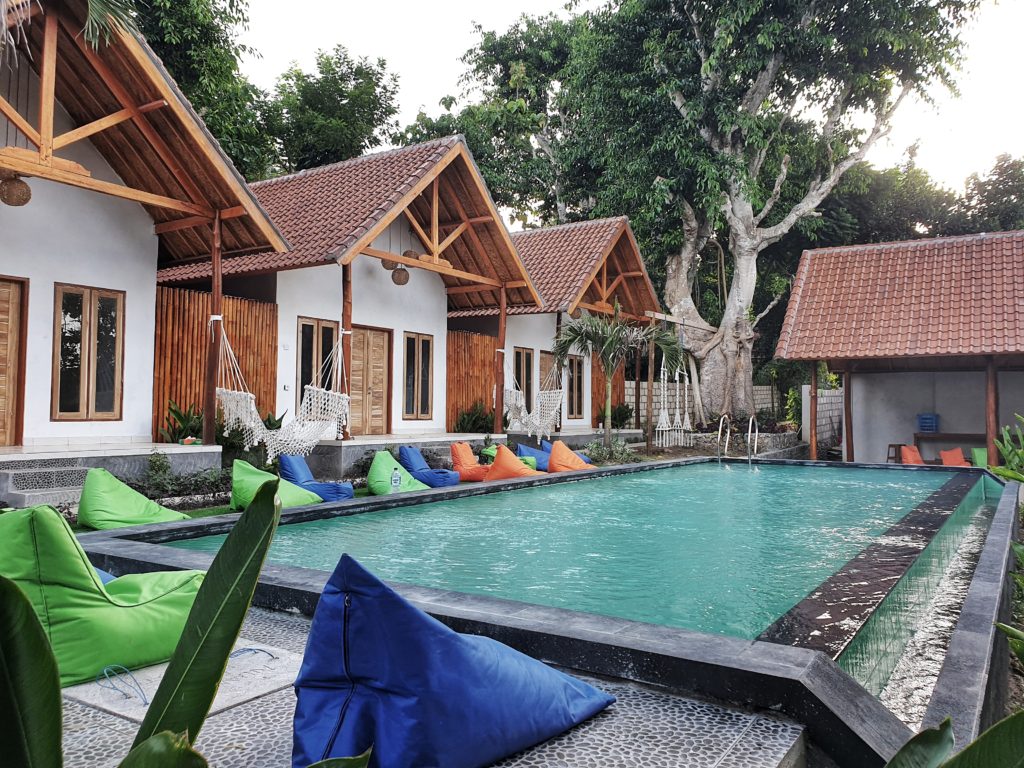 The hostels pool has only recently this year (March 2019) and it is a fantastic edition to the already lovely accomodation. It is a pretty decent size, clean and a perfect way to chill out from the intense Indonesian sun and heat. Grab an ice cream or cold drink from the shop located next to the reception and have a super chilled out day.
Pura Goa Giri Putri Cave

This is perched half way up a mountain, which is accessible by a steep winding staircase. Before being allowed up the staircase we had to rent a sarong – so bring your own if you can remember. With no idea what we had walked in on we were blessed with some water to the forehead before crawling through a tiny crack in the ground.
Once inside, the roof opened up and we were inside a 300m long cave. More prayer was underway but no-one seemed to mind us looking around. I would have loved to yell out and hear the echo in this massive underground temple. Instead, we wandered around, enjoyed the smell of the incense and the eerie atmosphere before crawling out again.

Atuh Beach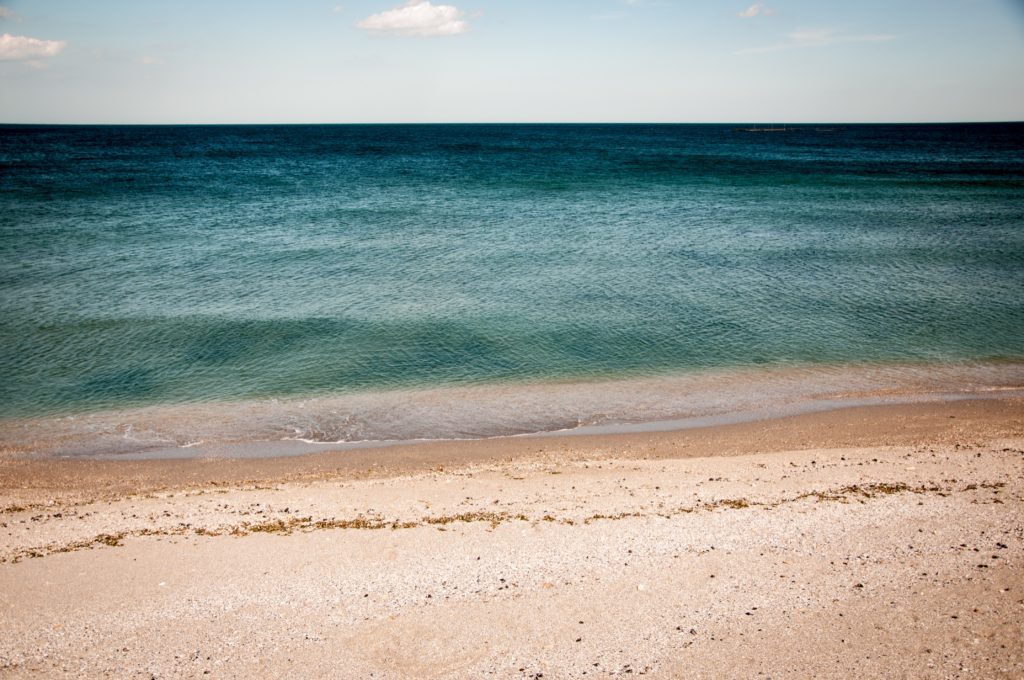 This is a stunning white sand beach surrounded by the huge cliffs and remarkable rock formations. An arch sits directly out from the shore while several islets splitting off into the distance. Grab a coconut for $2 and watch the world pass you by.

Broken Beach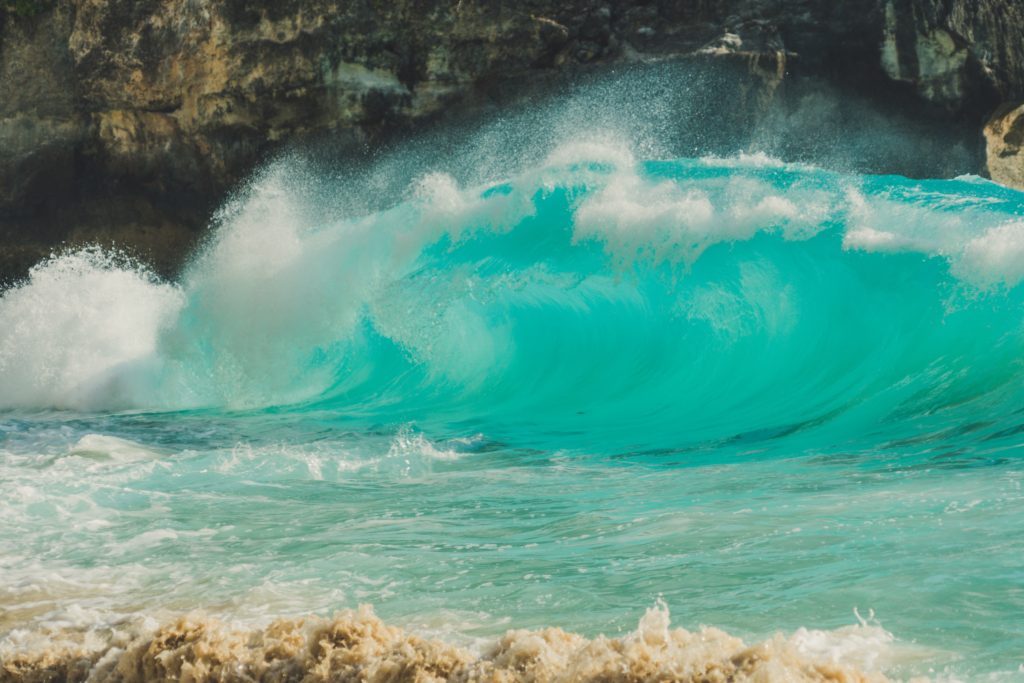 Broken Beach is a stunning natural formation on the coast of Nusa Penida. Despite its name it's not actually a beach. It's a natural bridge that makes for an unreal setting. It is super popular now and a well sort after Instagram photo destination.

Angels Billabong

Billabong is the stuff Instagram dreams are made of. It's basically a little lagoon, set in the middle of the black and craggy volcanic rock. It's located on a cliff right down the path from Broken Beach. Nusa Penida's massive waves crash into the cliff and splash water into the lagoon. It is possible to swim in the lagoon (something that's super popular with the selfie crowd) but be warned that people have been swept out to sea by the powerful waves.
Diamond Beach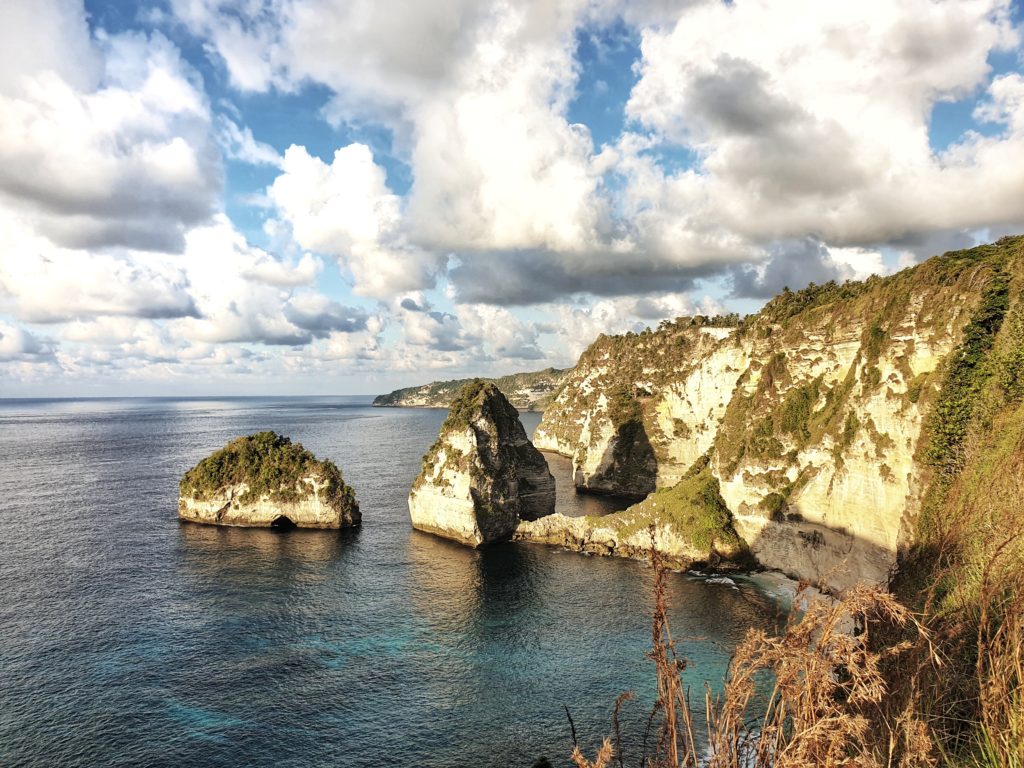 This is one of the most beautiful beaches you have ever seen. One that came straight from the postcards. Diamond Beach is an untouched, white-sand and silky blue water bay on the eastern tip of Nusa Penida with the Instagram famous steps leading down to it. Do beware, however, that these steps are not for the faint hearted and are pretty narrow and steep.
Kelingking Beach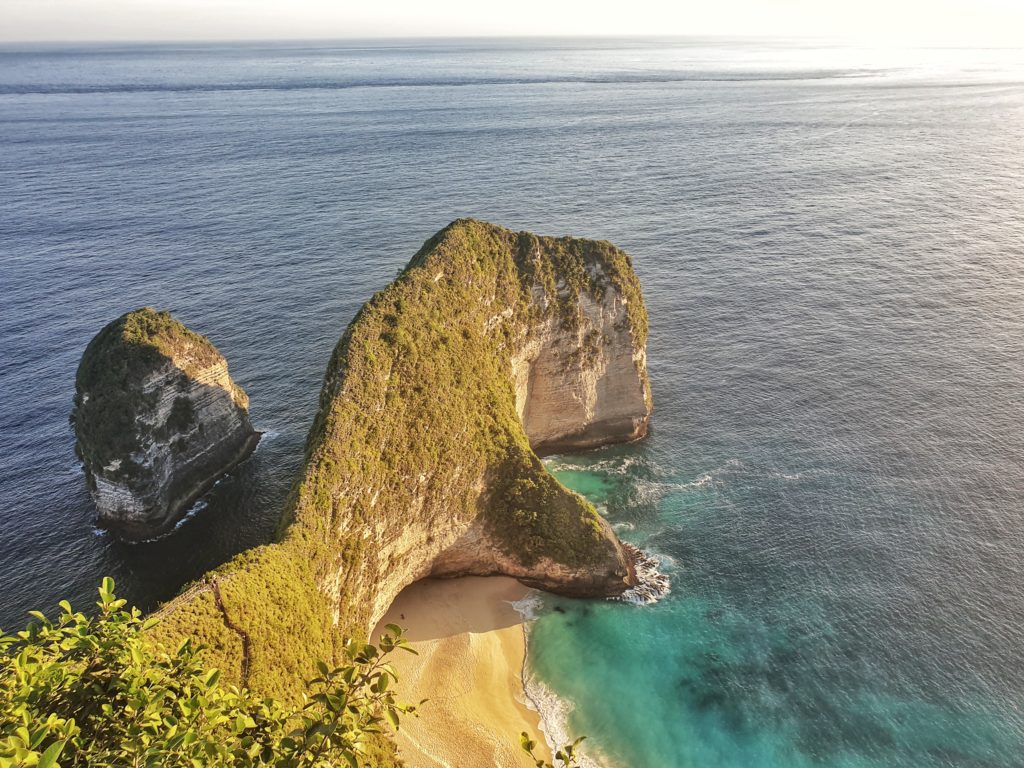 This is a hidden beach in the village of Bunga Mekar, on the southwestern coast of Nusa Penida island. You can enjoy one of the most breath-taking views over the hills and small strip of white sand from atop a hill of the same name. The sight features a limestone headland covered in green, against the deep blue waters of the open Indian Ocean.
This unique formation is reminiscent of a Tyrannosaurus Rex head, hence its nickname 'T-Rex Bay'. The secluded beach itself is down a rugged 400m cliffside hike. This is recommended only for the fit and adventurous.
Scuba dive with Karma Diving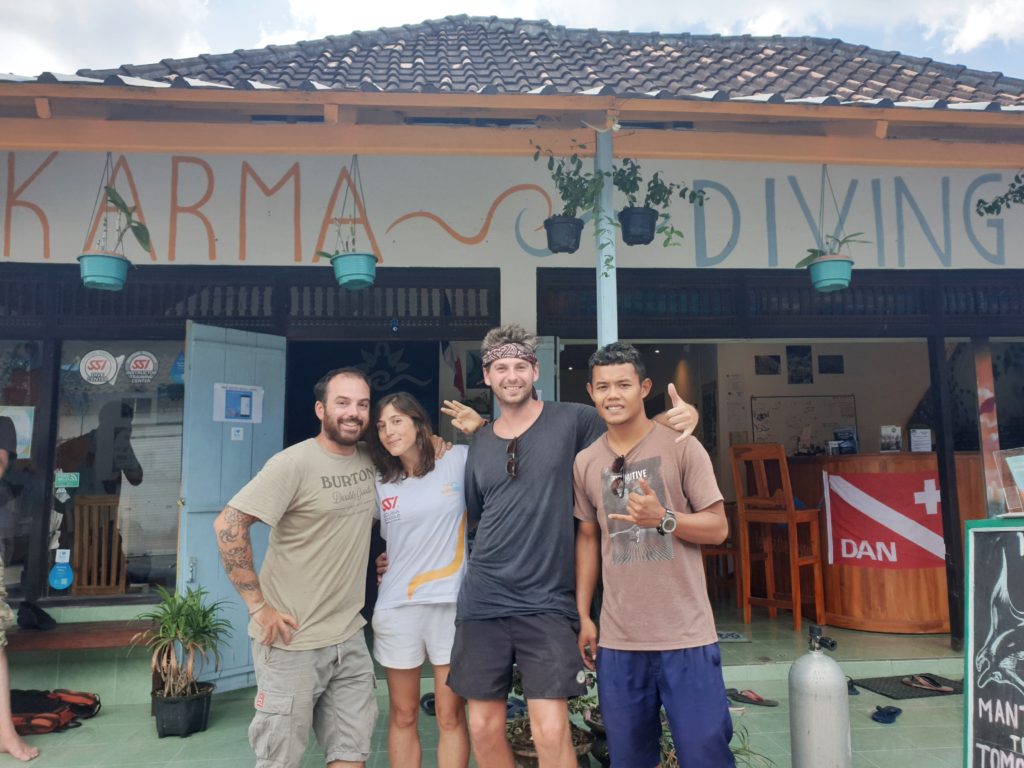 I was super lucky to have the opportunity to dive with this fantastic scuba diving company called Karma Diving. They offer some of the most amazing trios around Nusa Penida – my favourite being Manta Bay where, yep you guessed it, you can swim with Manta Rays. The owners Laura and Raphael are super friendly and know everything there is to do with diving. Whether you want to gain your Open Water or Advance PADI or just do some fun dives, they have it all.
The best part is that the office is about 5 mins walk from the boat and getting your gear is super straight forward. My dive master was superb, and after each dive I was offered tea or coffee, plenty of water and some yummy watermelon.

Check out their website HERE or their Instagram and Facebook.
Fun things to do at the hostel

The hostel will also arrange all kind of activities such as snorkelling, diving tours, village tracking and fishing tours, speedboat tickets and scooter hire.

How to get there
They offer a return airport transfer including speedboat ticket and pick up transfer from the harbour to hostel. Their offer includes a new scooter rider "Bike + Driver" option.

Jl. Banjar Anyar – Sebunibus
Nusa Penida, 80771
T: +62857-3731-4685
E: [email protected]
Prices
Each hut provides a 4 bed dorm so nothing for privacy unfortunately, but it is still a great experience. Click here to view the rooms.

We stayed in May 2019 and 2 beds in a 4 bed dorm it would cost 437,927 IDR (£24) per night.
Extras
Free private parking is possible on site (reservation is not needed).
Cooking class
Luggage storage
Picnic area
Shared kitchen
Drying rack for clothing
Summary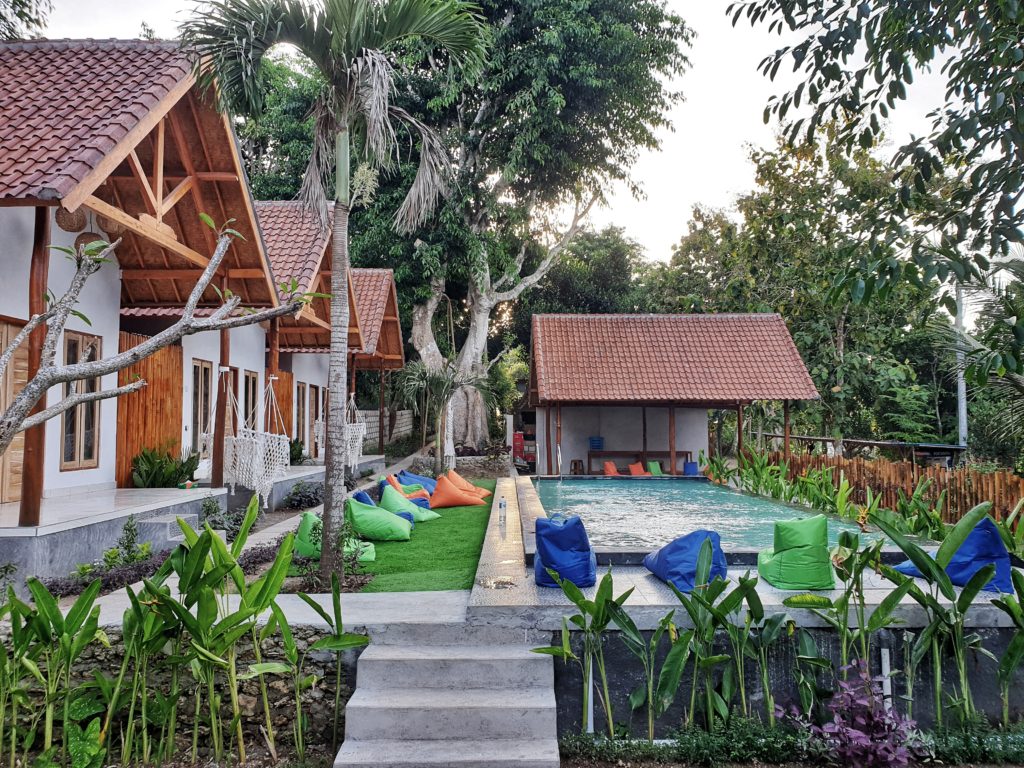 This place is absolutely beautiful and I am so glad that we chose to stay here for a few nights – its the ultimate Indonesian boutique experience!
The room was pretty basic but the lovely en-suite bathroom and comfortable beds definitely make up for it. The hostel itself is super welcoming and the staff are so friendly, they can honestly not do enough for you to make your stay that little bit more comfortable than what it already is.
You will want to spend longer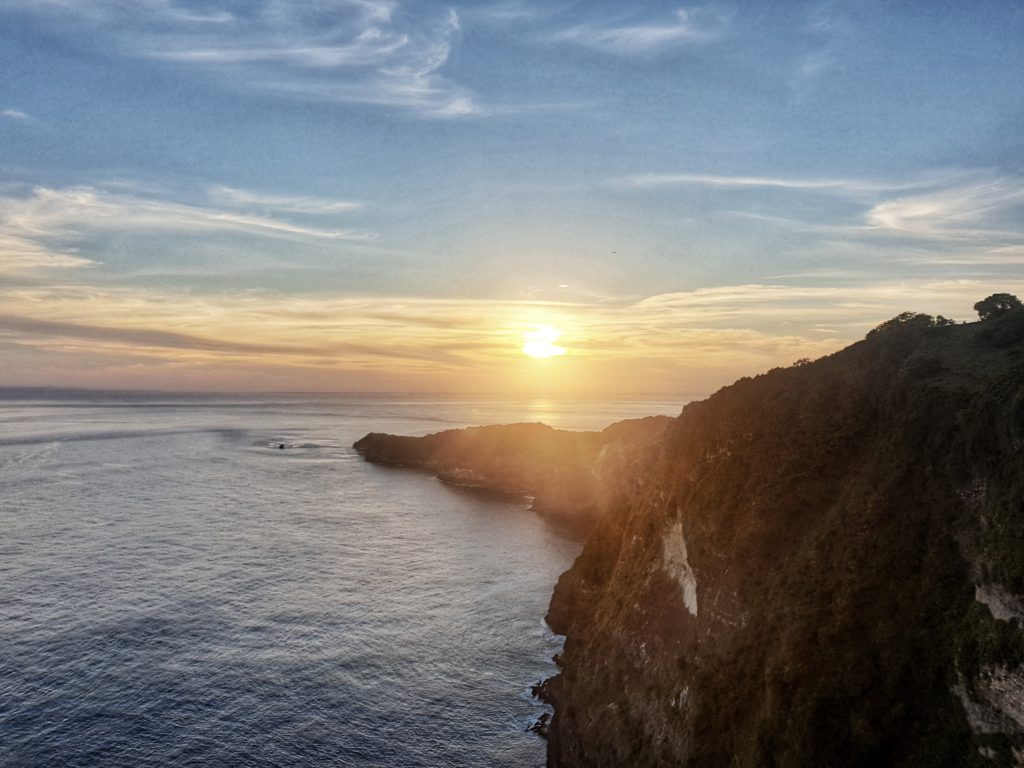 The chill out seating areas are fantastic and the location itself are hands down the best part about Nuansa Penida Hostel. When you throw in the tours that you can do around the islands, the beaches and crystal clear waters you are onto a winner!

If you are in Nusa Penida, Indonesia and you want to have a unique boutique experience, I would highly recommend Nuansa Penida Hostel.
Check out their Facebook and Instagram here.
***Thank you to Nuansa Penida Hostel for kindly sponsoring this post. All opinions are 100% honest & completely my own.