YOUR BOUTIQUE ESCAPE
⇷☓⇸
Hotel Tugu, is a luxury art hotel and you can tell that there has been some real love poured into its heart and soul. You will find yourself walking this beautiful building admiring the unique collection of art and antiques that you won't find anywhere else in the world.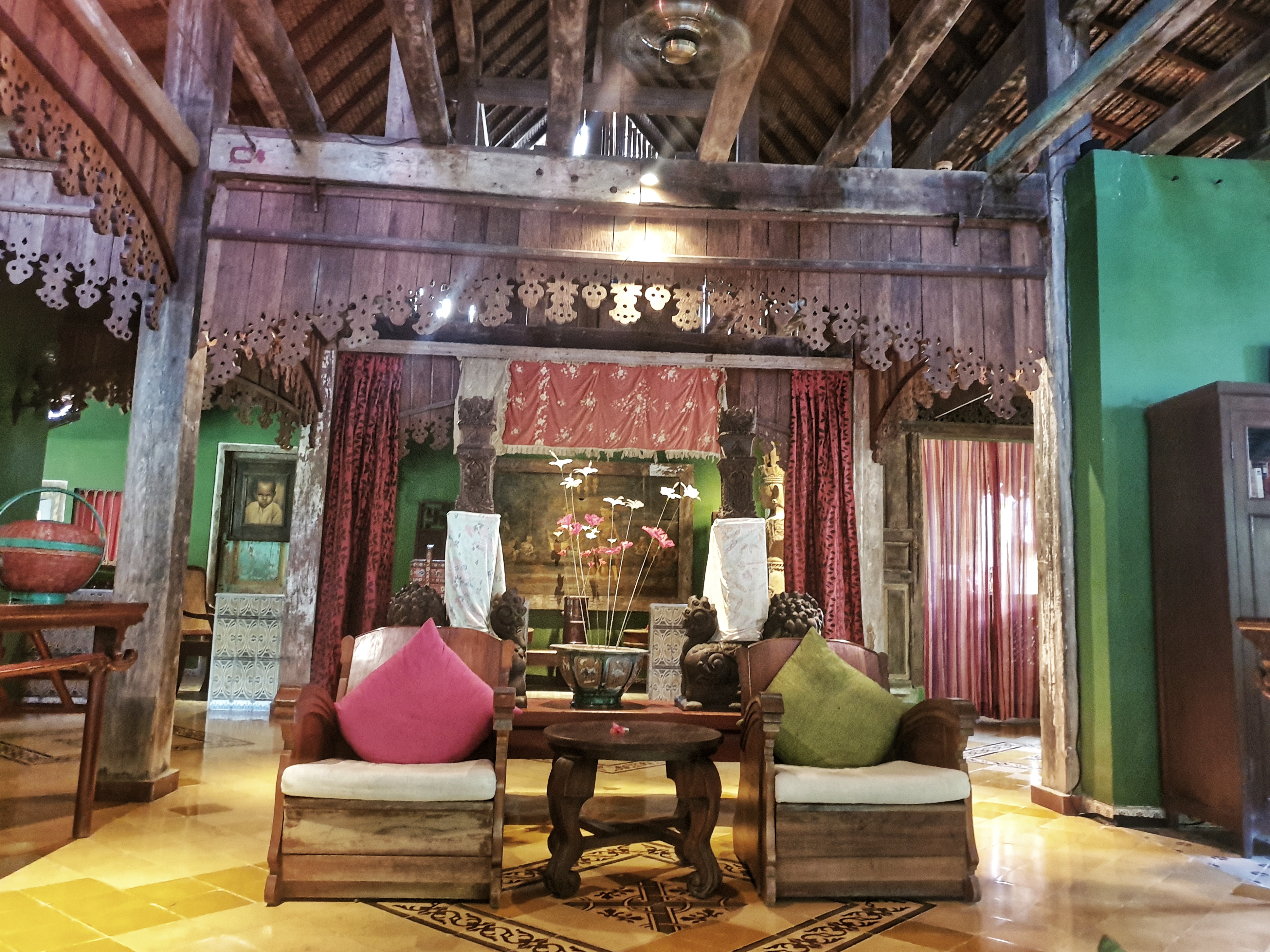 'Tugu in the Indonesian language, means 'monument', and Tugu properties are monuments of art, history, and culture of Indonesia'
The location is impeccable being only a stones throw away from the pristine Sire beach and hosts the most relaxing spa and wellness therapies you will ever experience in your life time. There is a certain romanticism to its atmosphere and you will easily find yourself wishing to stay longer than you expected.
If you find yourself in Lombok then I would highly recommend booking a few nights at Hotel Tugu.
Highlights
Welcome foot and shoulder massage (30 minutes)
Spacious & clean vintage Balinese rooms
Insane views of the ocean and Mount Rinjani
Two exotic swimming pools to relax in
Ultimate privacy & solitude
Daily high-tea with local delicacies wherever your heart feels
Aloon-Aloon Garden Villa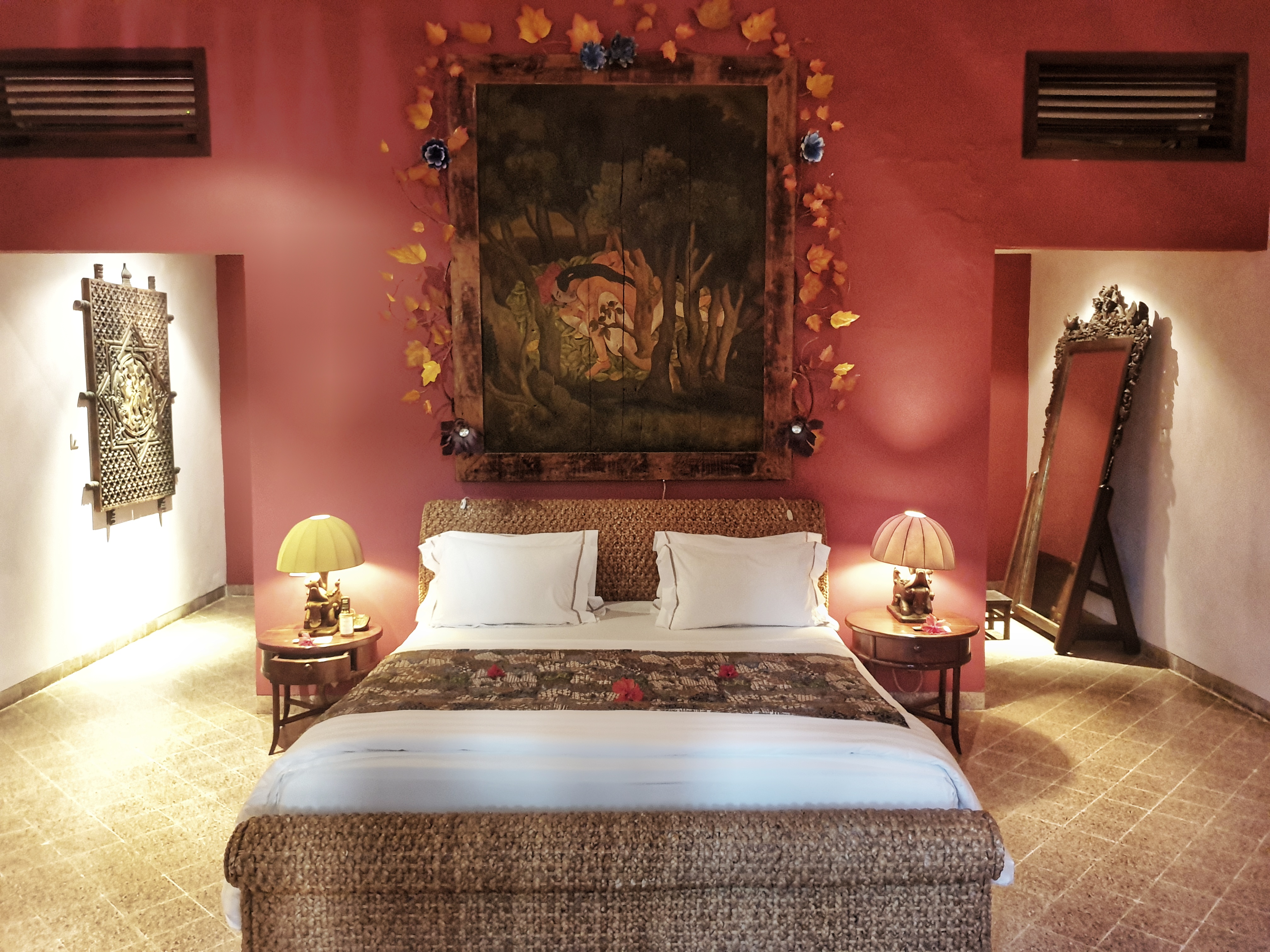 During our stay at Hotel Tugu we opted to stay in the Aloon-Aloon Garden Villa and we were definitely not disappointed at all.
The villa itself came with a huge king size bed which was super comfy, as well as some amazing views of the gardens and our private entrance, a hidden flat screen TV, sunbed, safety deposit box, seating area, ensuite private bathroom with free toiletries, slippers, tea and coffee making facilities and plenty of space. It was very modern with air conditioning and free Wi-Fi.
What you get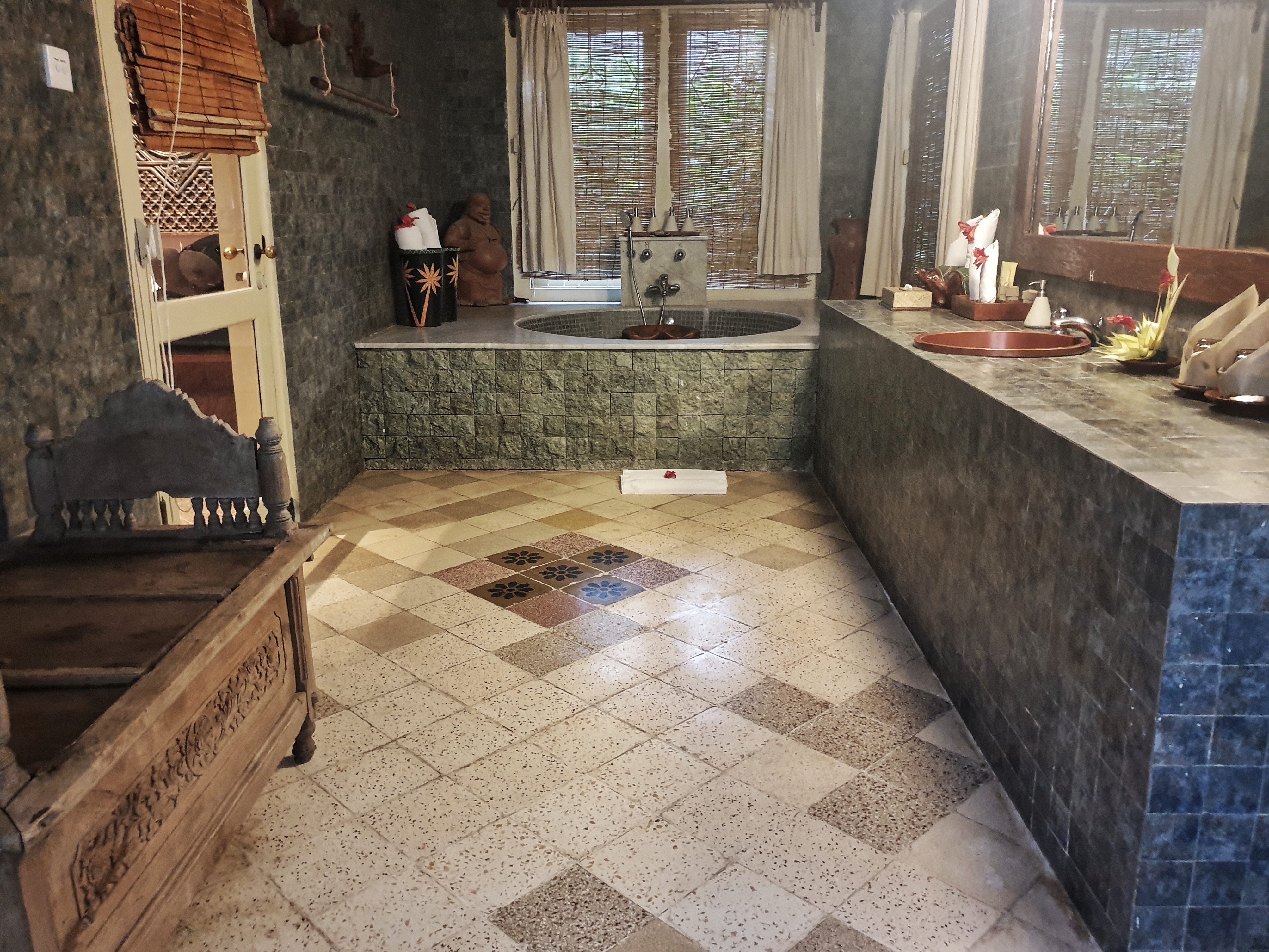 It had everything we needed and was perfect to chill out in after a long day of exploring or getting ready to go out with a few drinks on the balcony watching the sunset – perfect! There was ample of storage, a large mirror, a big bath tub, rain shower, writing desk, plenty of power sockets and daily water.
There are many different rooms available which you can check out here.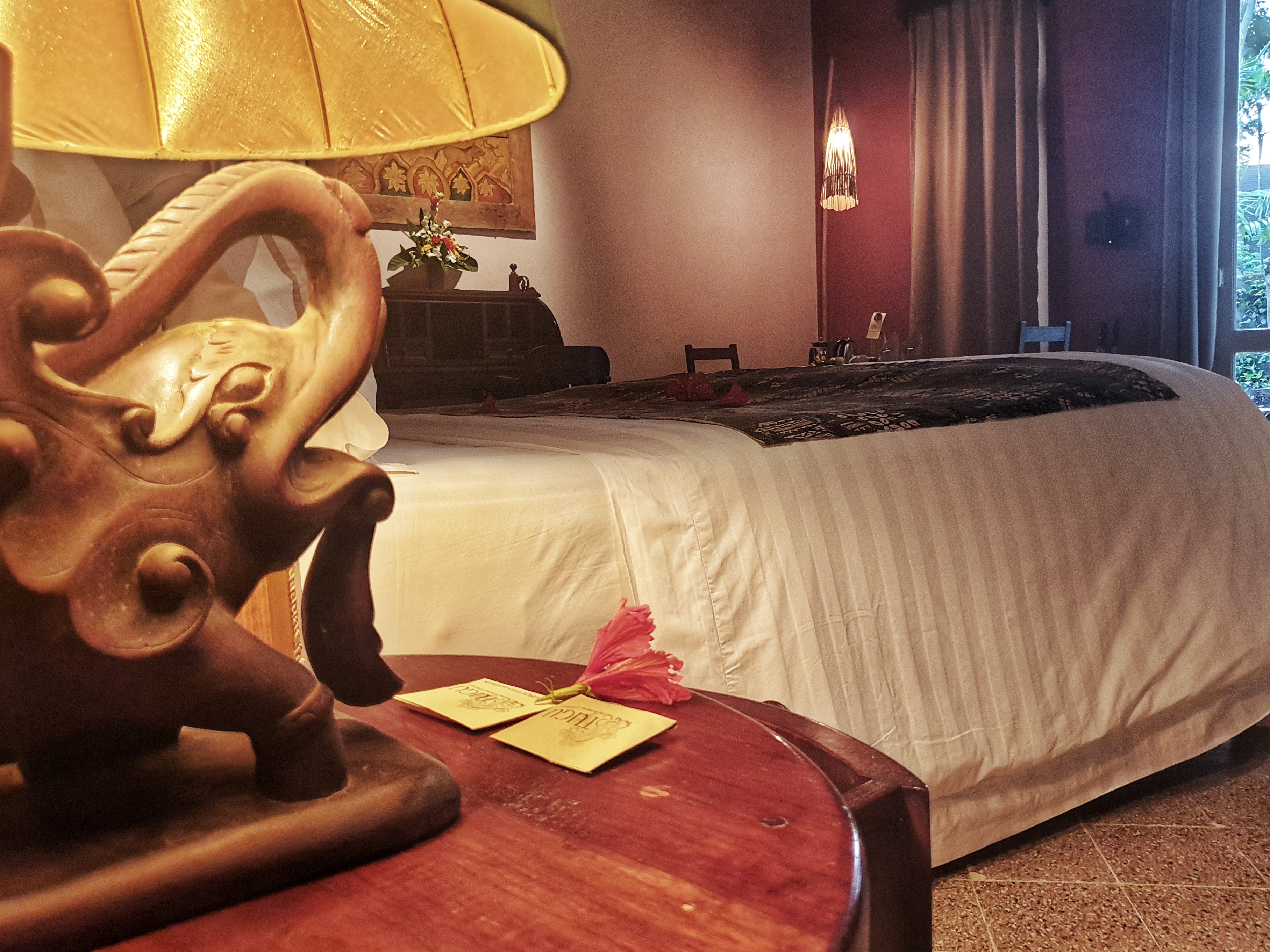 Activities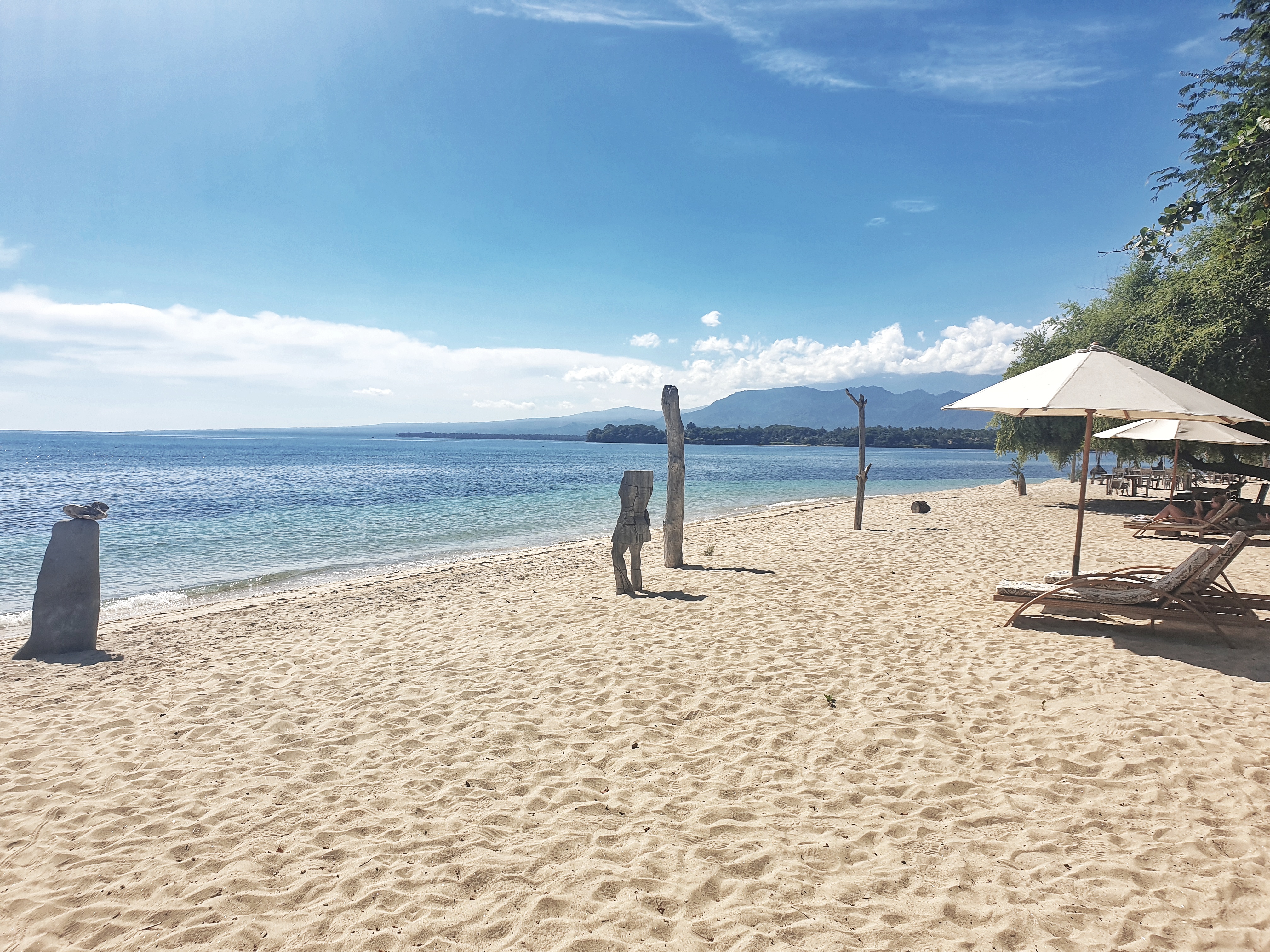 It's virtually private, and the only other non-guests we see are a handful of vacationers from neighboring, ultra-luxurious mega mansions. On this pearl-white sandy beach, with lounge chairs and umbrellas spaced far apart, we can truly decompress in peace and tranquility. This was hands down one of my favourite beaches in Lombok!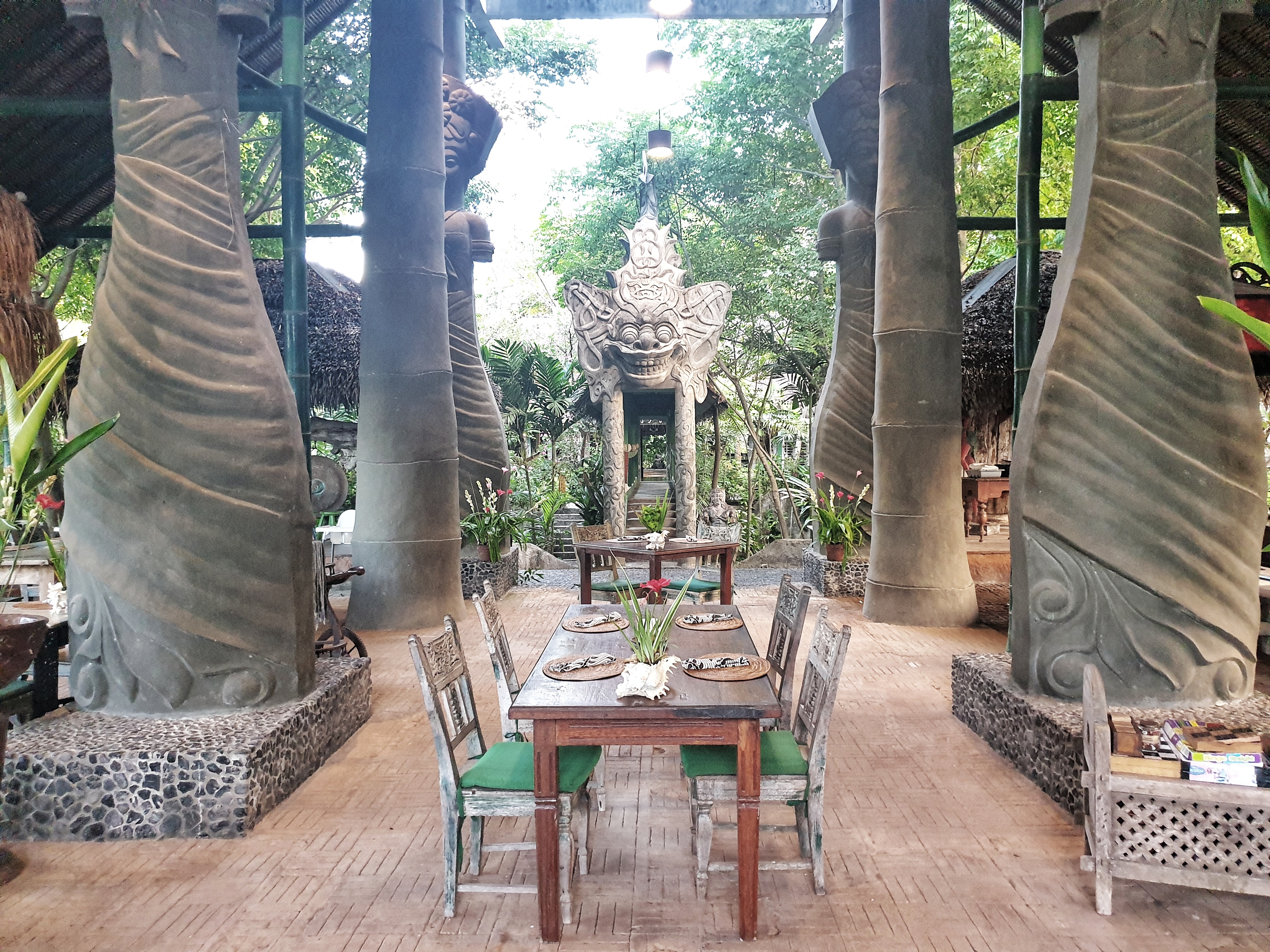 I have honestly never experienced anything like my stay at Hotel Tugu before with the way that food is presented here.
For breakfast we are greeted every morning, with a palm leaf on which has been written in silver: 'Dear Lee & Tran, enjoy your breakfast.' And we certainly did! You can have literally anything off of the menu and as much as you want. I think my favourite combo was a Nutri Bowl, Yellow Smoothie, Orange juice, Fresh fruits platter, Bakery basket, Salmon Eggs Benedict, Pancakes and a fresh Java coffee. Delicious!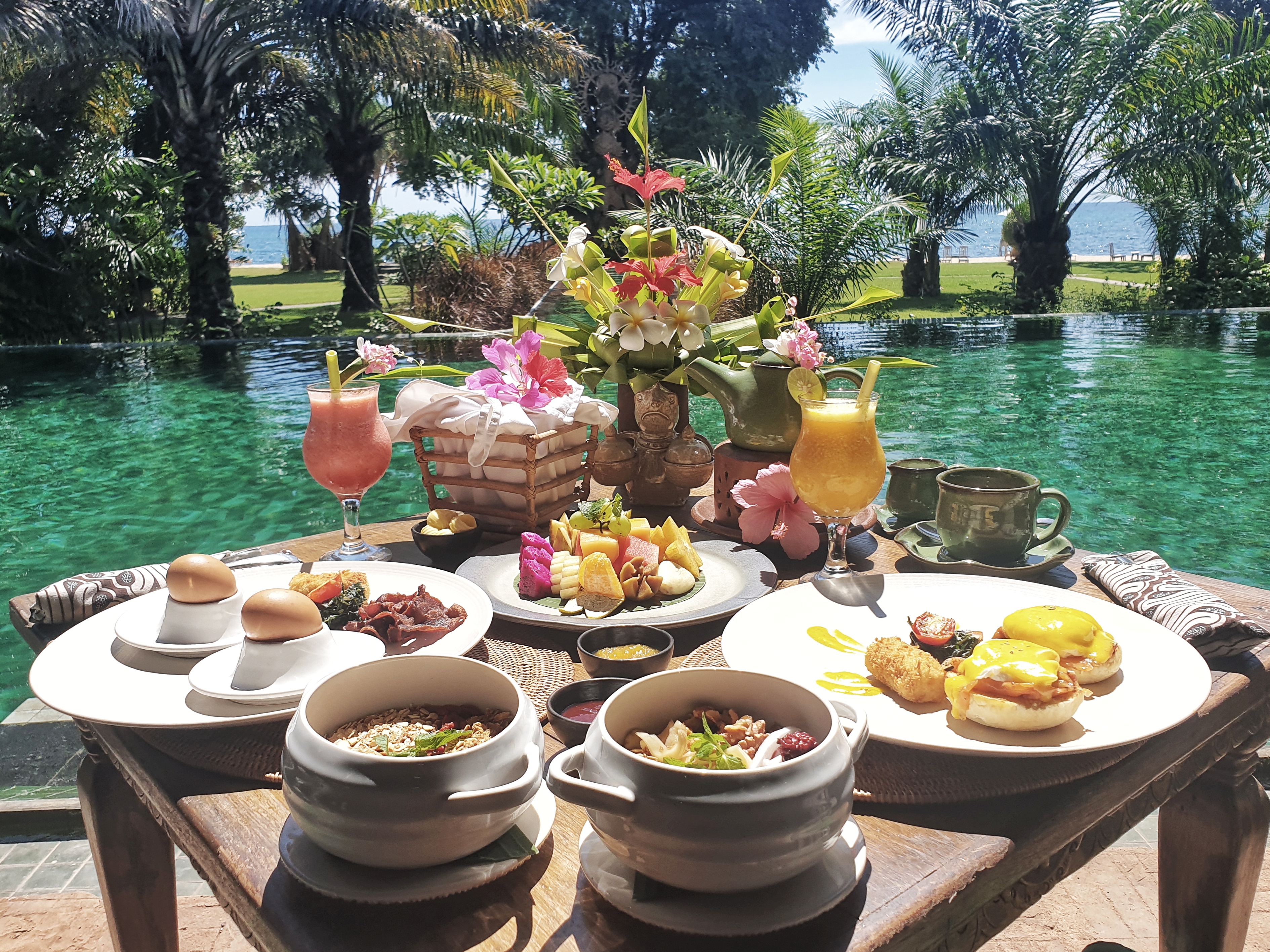 We don't need to eat again until afternoon tea, which is served between 16:00 and 18:00 pm. Then, out on the lawn, seated on tiny wooden chairs, we sample an array of savoury fritters, chocolate muffins, coconut pastries and banana cake to go with our tea or coffee.
Dinner is just as spectacular as well with the option of dining on the sand, eating too many culinary delights to list while digging our toes into the warm sand, watching the sun set and thoroughly enjoying every moment.
I absolutely loved these fresh water pools! They are super exotic and I spent most of my days half submerged in the water overlooking the beach and watching the ocean waves with a drink in my hand. It was perfect for chilling out and cooling down when the heat got a bit too much.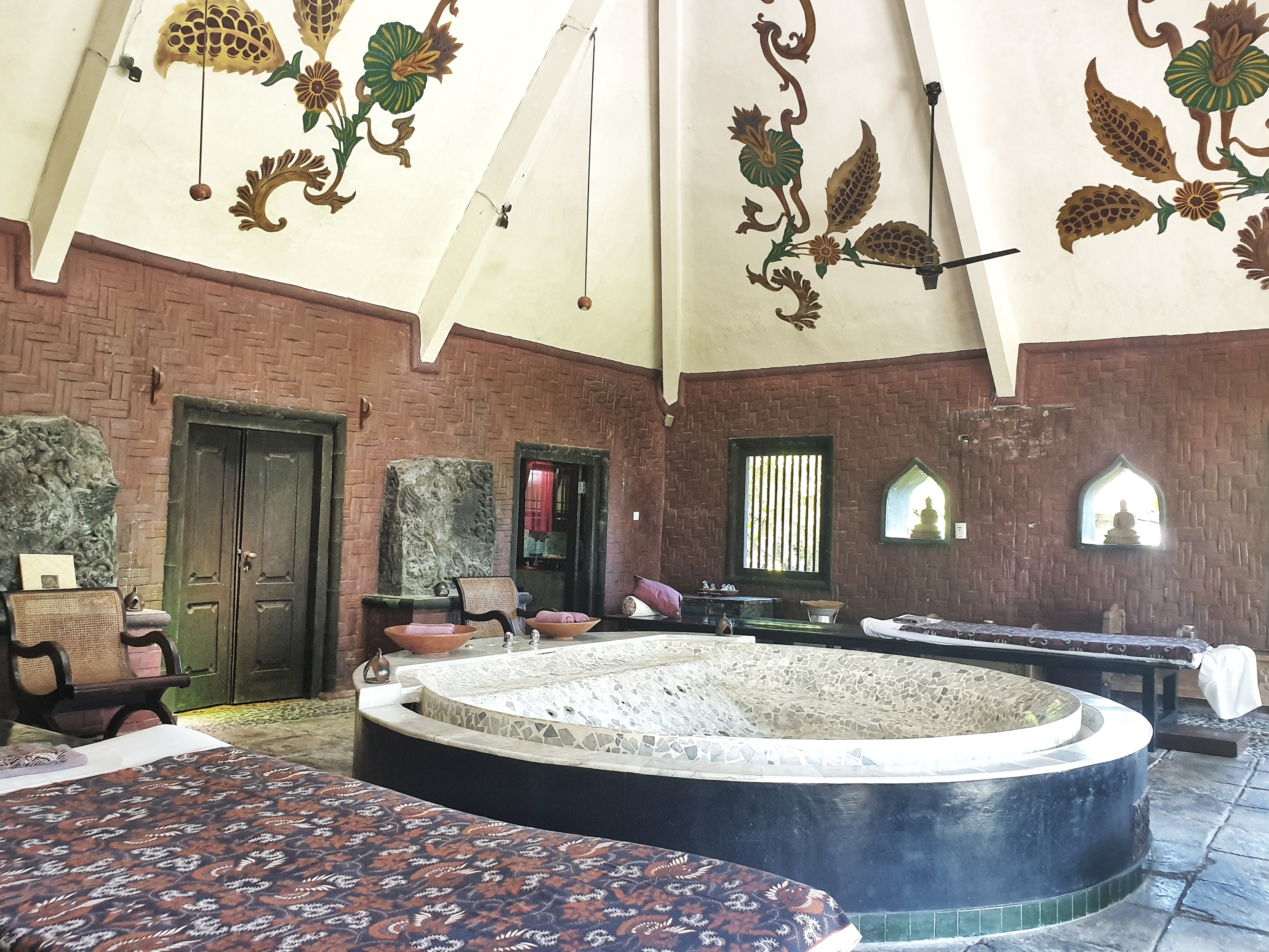 The Hening Swarga Spa consists of a giant open-air temple spa room with nooks lit by oil lamps, an extra-long spa bed for both spouses to enjoy treatment head-to-head, a giant jacuzzi bathtub with jets, fully facing the Indian Ocean, hundreds-years-old relief of temples on display, and staircases leading up to the top of the temple, where a magical dinner under the full moon, yoga or meditation can be held next to the soaring tower of beautiful Singhasari and Majapahit statues as well as 180 degrees of oceanview, surrounded by palm trees. The spa shop sells jamus and spa spices from the archipelago.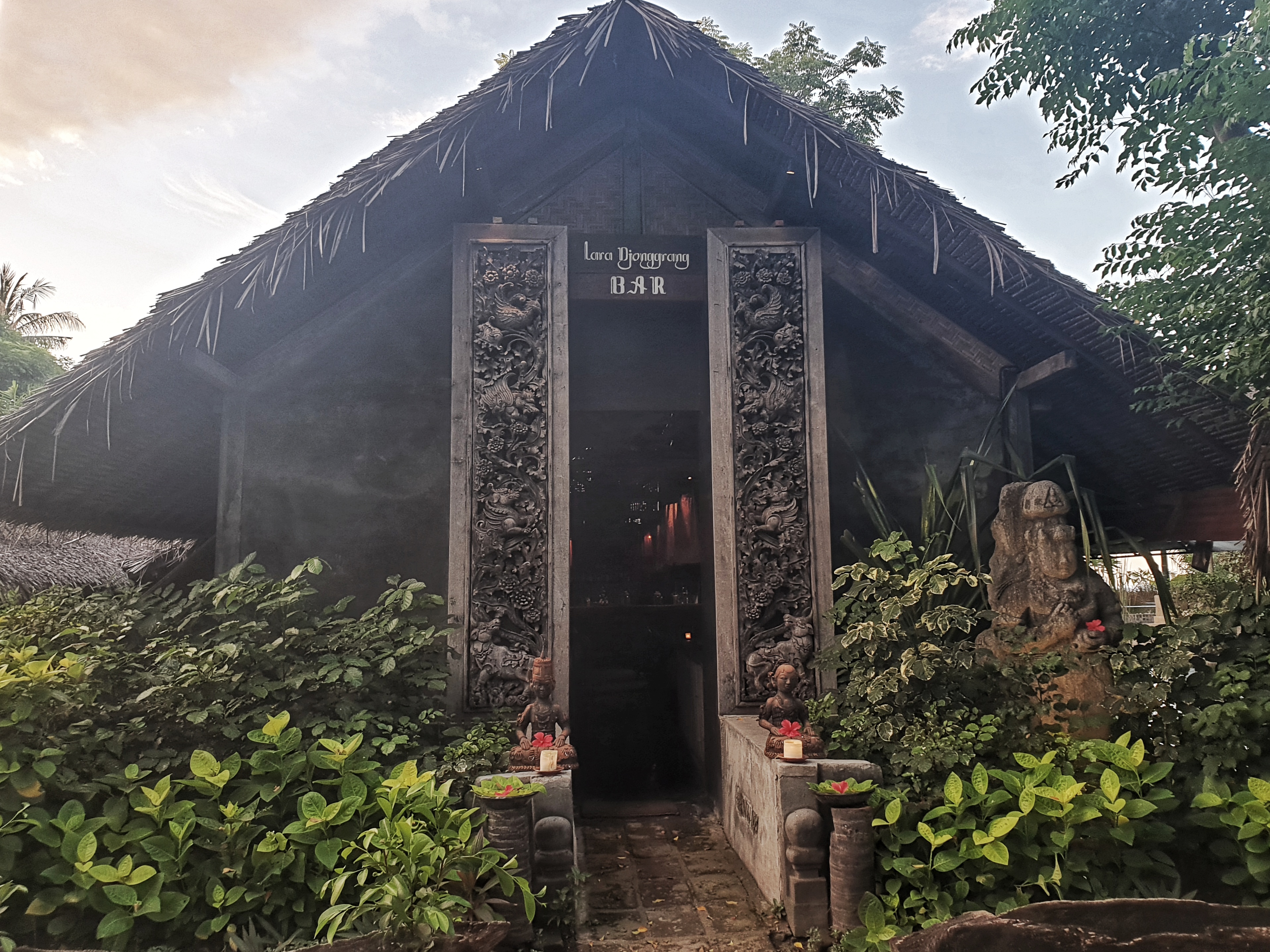 If you can bare to tear yourself away from the beautiful hotel there are many other things you can partake in such as water sports, play some golf on the 18-hole golf course, take a cruise on an original dragon boat, hit up the bar for some cold drinks or admire the beautiful art gallery.
Bukit Selong
These beautiful fields are nestled amongst the surrounding mountains creating a picturesque view and some fantastic photo opportunities. However, this a 2.5-3 hour scooter one way (6 hours round trip) and so not for the faint hearted. We found it truely rewarding and well worth the adventure, especially as we got to see loads of Lombok and the smaller villages that encompass it.
How to get there
The Hotel Tugu Lombok is on a side road off Jalan Pantai Sire in northwest Lombok, 20 minutes boat ride in front of the Gili islands. The immediate area is framed by beautiful nature, miles-long stretch of white sand beach, view over sunrise behind Mt Rinjani and the 18-hole seaside golf course.
Hotel Tugu Lombok
Jl. Pantai Sire, Desa Sigar Penjalin,
Kecamatan Tanjung,
Kabupaten Lombok Utara, Nusa Tenggara Barat 83352 Indonesia
+62 370 6120111
+6281937995566

Reservations: [email protected]
Prices
They vary depending on what time of year you go and whether you stay in any number of the different styles of rooms they have. Click here to see their selection.
We stayed in May 2019 and for our villa it cost 3,345,455 IDR (£183) per night.
Extras
Fruits

Bottle of water

Free private parking is possible on site (reservation is not needed)
WiFi is available in the hotel rooms and is free of charge

Shops (on site)

Breakfast in the room

Bar

Delicious coffee!
Summary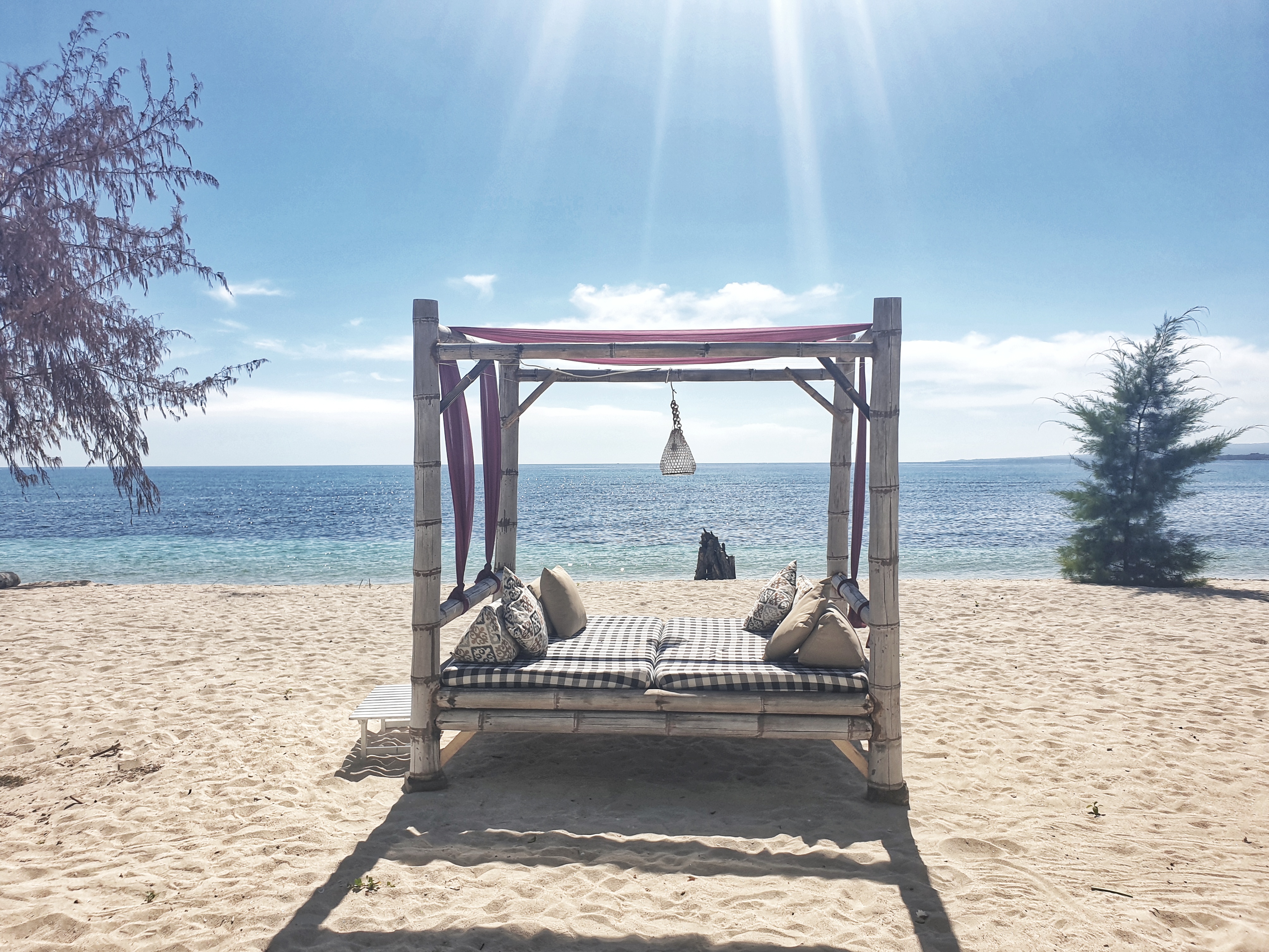 This place is absolutely beautiful and I am so glad that we chose to stay here for a few nights – its definitely worth it!
The room/villa was spectacular, with vintage and highly unique Balinese influences and amazing views right from our bed. The hotel itself is super welcoming and the staff are so friendly, they can honestly not do enough for you to make your stay that little bit more comfortable than what it already is.
A vintage dream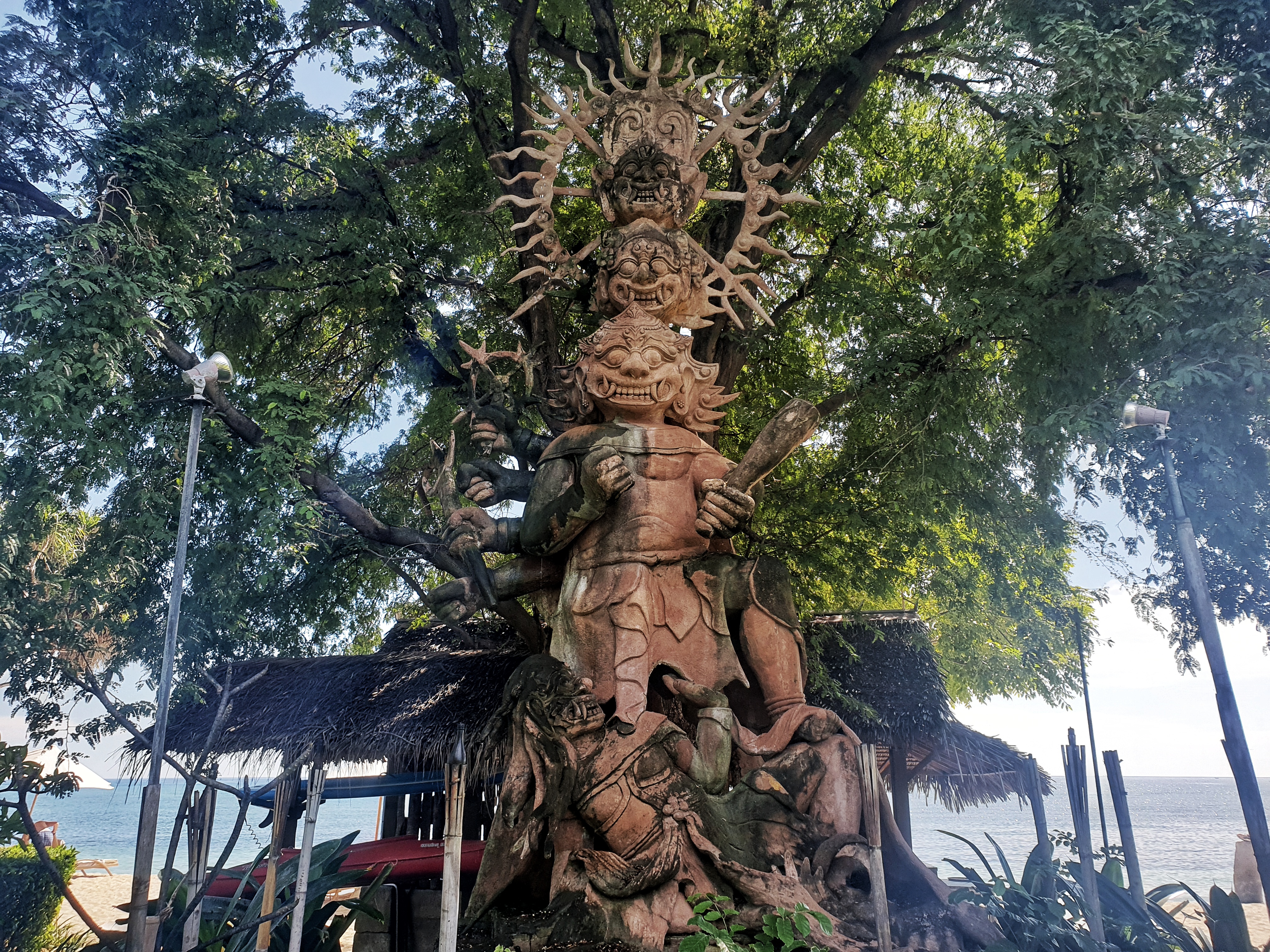 The pool is delightful, especially with its infinity views over the beach and the hotel itself are hands down the best part about Hotel Tugu! The location was amazing and with the added tours that are available it honestly has everything you could possibly wish for. The breakfast was hands down one of my favourites I have ever had so far in any hotel and I cant stress enough how delicious it was.
If you are in Lombok and you want to have a unique experience, I would highly recommend Hotel Tugu.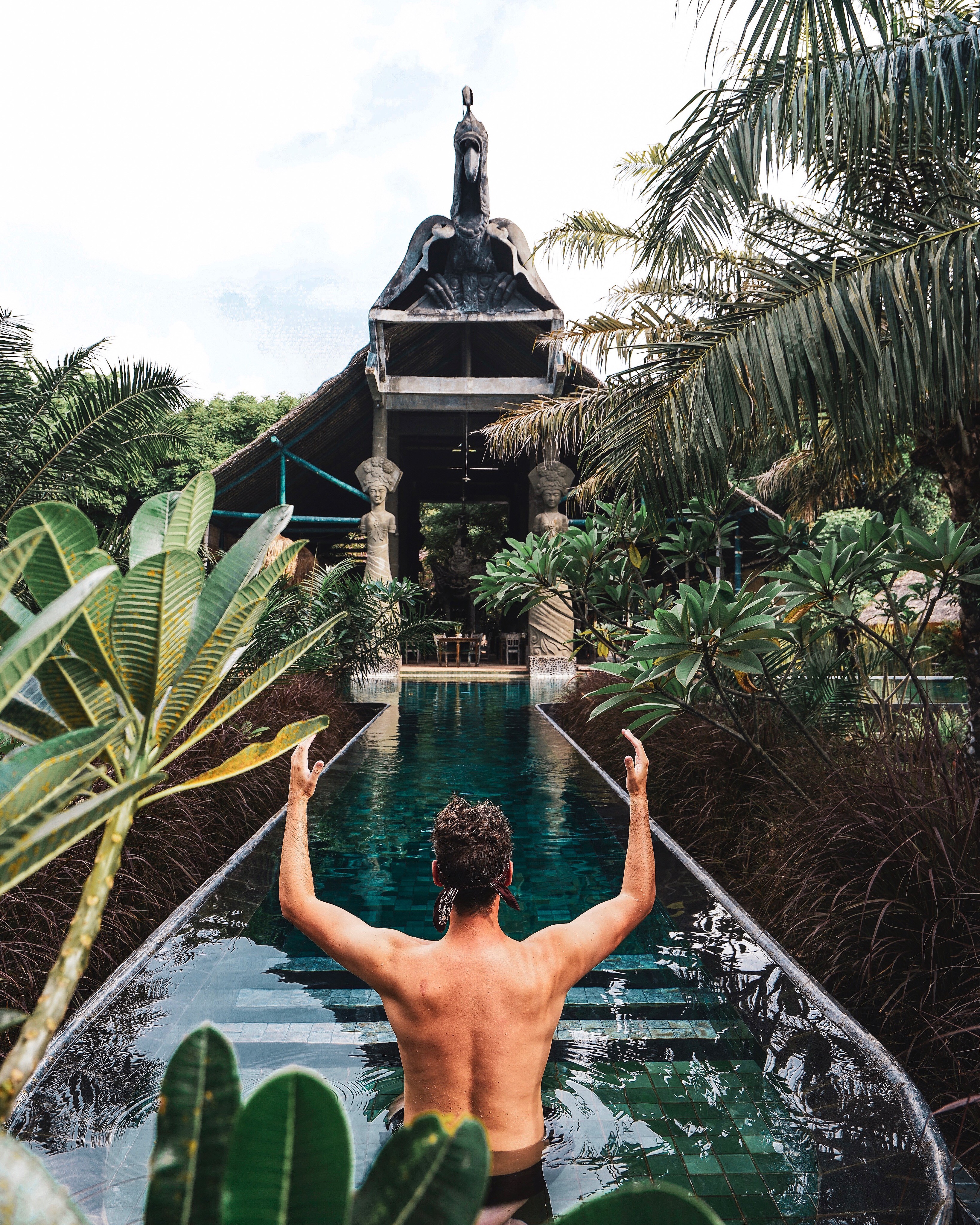 ***Thank you to Hotel Tugu Lombok for kindly sponsoring this post. All opinions are 100% honest & completely my own.