NESTLED IN THE MOUNTAINS
Located right in the centre of Pemberton, BC, Pemberton Valley Lodge is considered one of the best places for those who want to explore the local town, waterfalls, lakes and surrounding mountain side, including the beautiful Joffre Lakes. An idyllic adventure paradise, Pemberton offers four-seasons of outdoor adventure from skiing, golfing, and river rafting to horseback riding and hiking. Pemberton Valley Lodge is a comfortable retreat offering a home away from home for guests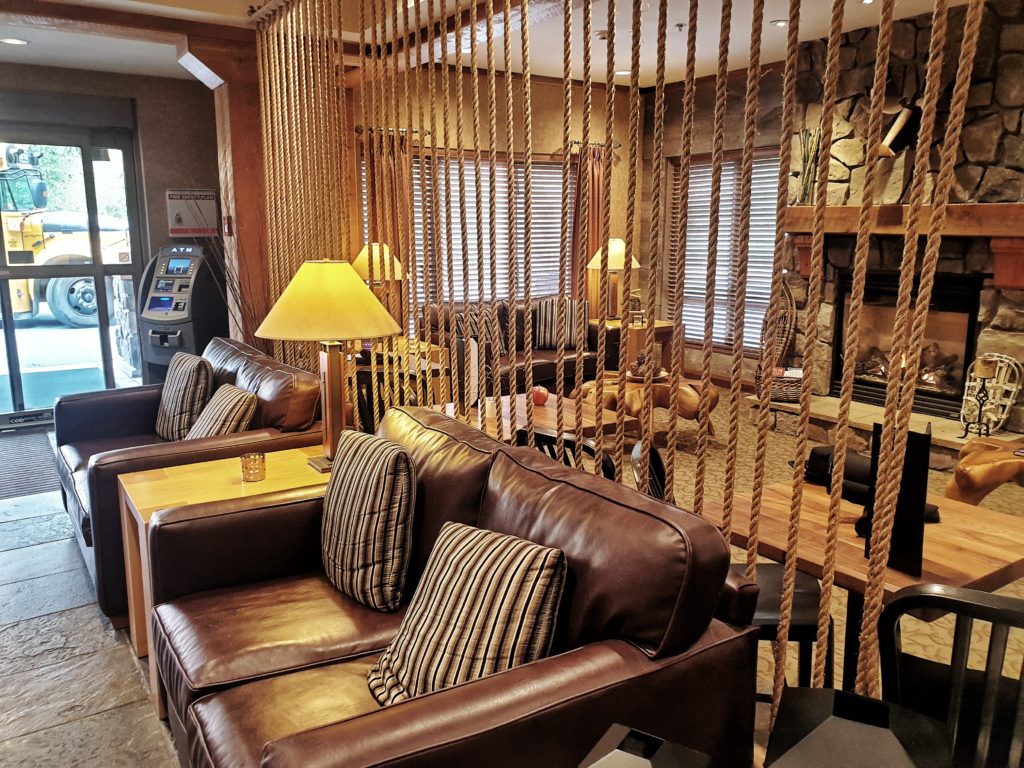 Just half an hour away from Joffre Lakes, this is perfect for those who like to be surrounded and immersed in some intense natural beauty. The apartment is beautiful, spacious and you are surrounded by stunning views of the mountains and countryside. Not to mention the outdoor pool, hot tub, sauna, fitness room.
If you find yourself in Pemberton, Canada then I would highly recommend booking a few nights stay at Pemberton Valley Lodge.
Highlights
Fantastic central location to the lakes and local attractions
Very friendly and welcoming staff
Lovely accomodation & comfortable rooms
Refreshing outdoor swimming pool & hot tub
Incredible views surrounding the property
One Bedroom Suite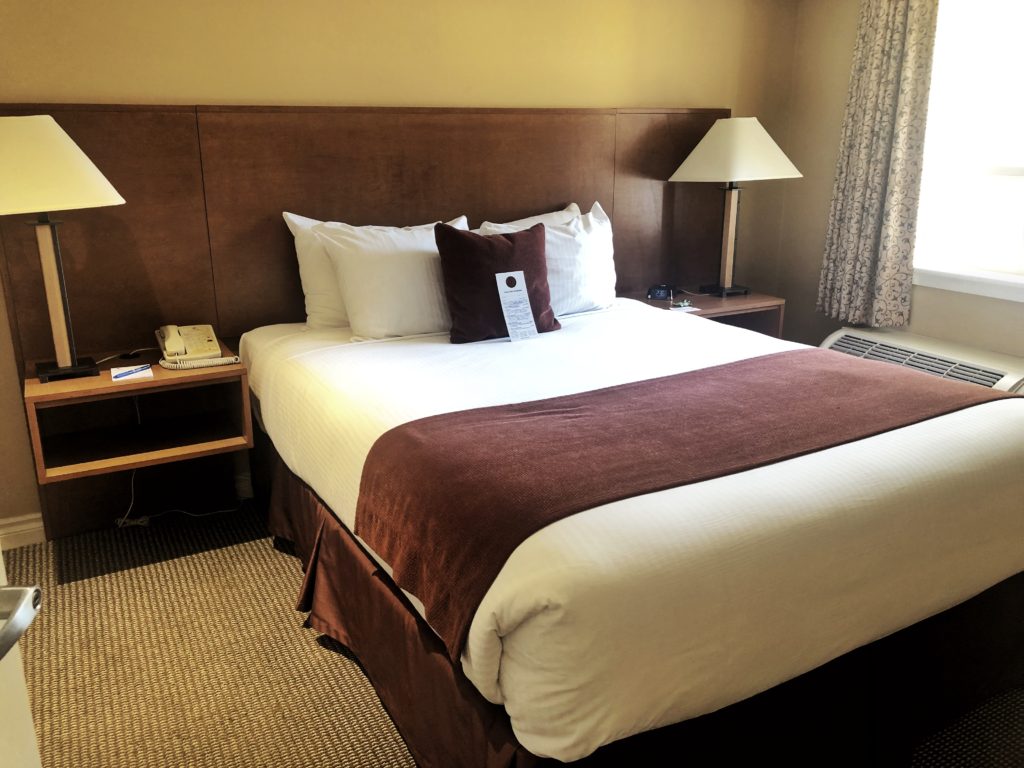 During our stay at Pemberton Valley Lodge we opted to stay in the One Bedroom Suite which was perfect for our needs and provided a very comfortable night's sleep. With aesthetically pleasing decor, spacious and comfortable furniture we almost didn't want to leave to explore the town.
This room is perfect for couples, families or business travellers with plenty of space for you to move around and relax in.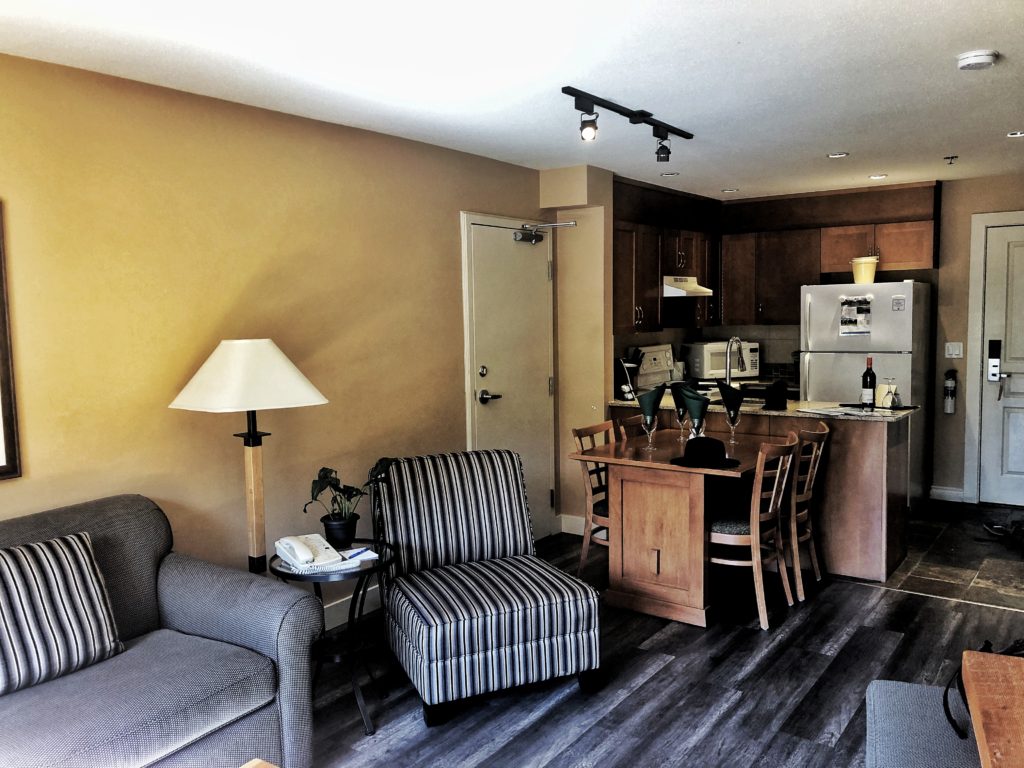 Furnished with a large window overlooking the mountains it was a great way to wake up in the morning and take in those views. It comes with a queen size bed, private ensuite bathroom, two bedside tables, air-conditioning, plenty of power points and a wardrobe to store all your luggage and clothing. There is also a large balcony with seating area, fully functioning kitchen, washer & drier and a large sofa which doubles as queen size pull out bed.
What you get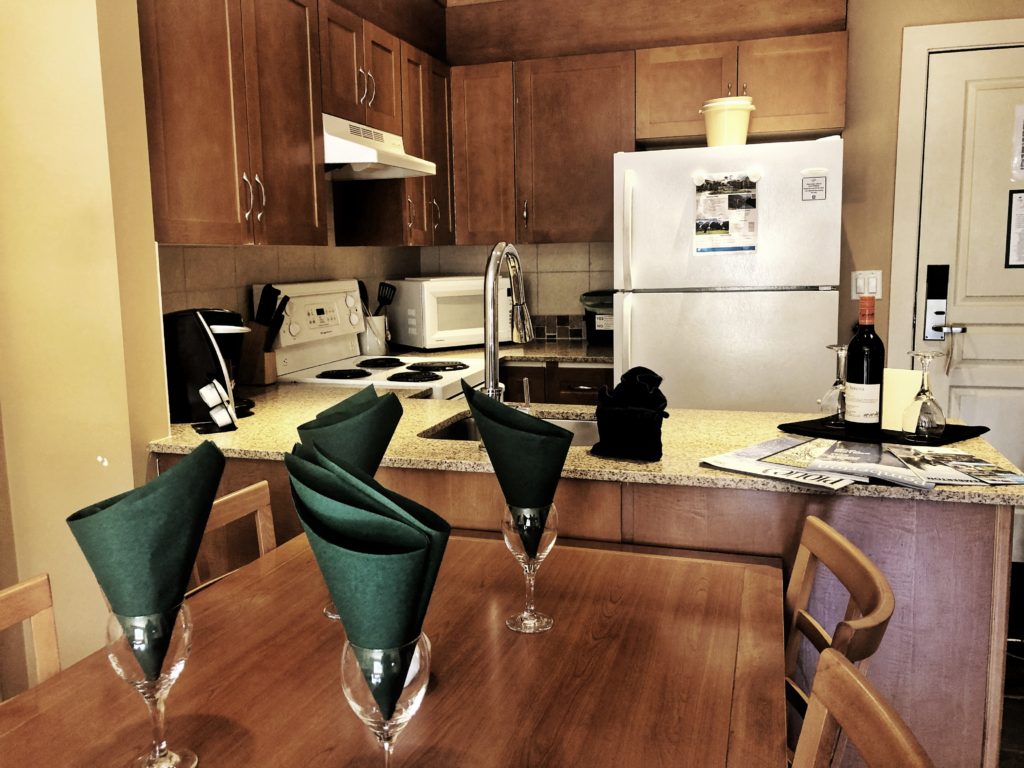 The room comes equipped with free toiletries, tea & coffee making facilities, strong Wi-Fi, air-conditioning, fluffy pillows, large flat screen TV, dining table & chairs, iron with ironing board, clean towels, soft linens, fireplace, fridge, oven, hobs, microwave, kettle, pots & pans and plenty of space for up to four people to relax in.

To view all their other rooms click here.
Activities
The Cafe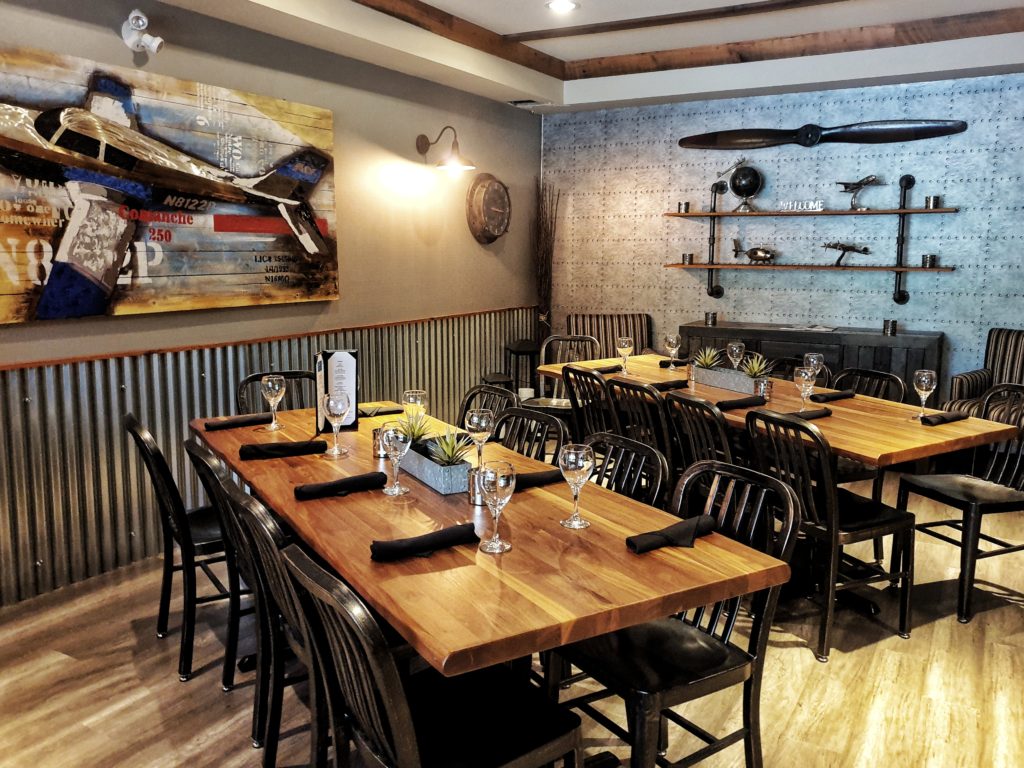 Café YPS is located next to the Lodge lobby and features a great atmosphere offering B.C. beer, wine (including Lillooet's own Fort Berens Estate Winery) and a light café menu that can be enjoyed in the cafe or our relaxing fireside lounge or poolside.
The cafe offers food from 11 am to 9 pm and beverages available from 11 am to 10 pm daily.
The Fitness Studio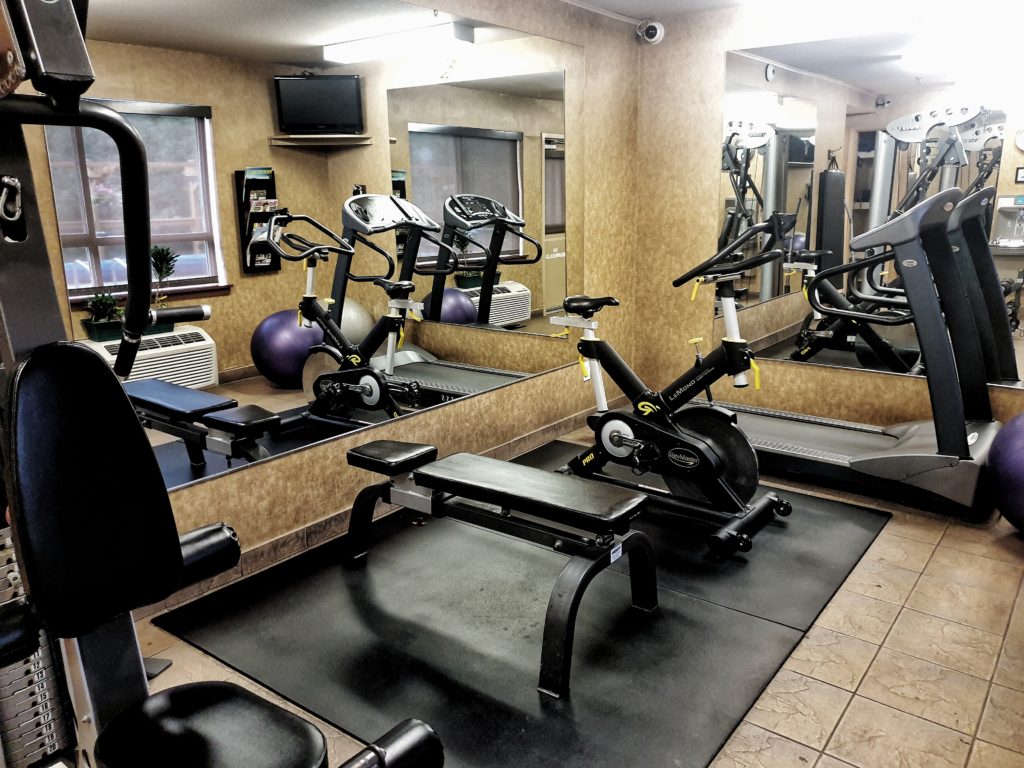 This is located on the main floor and is available to guests 24 hours per day. There is a private changing room and showers available with towels and a hair dryer and bathroom amenities. It features a multi-station weight training machine, free weights, elliptical trainer, treadmill equipment, Yoga mats + DVD's and a steam room.
Try out the free bikes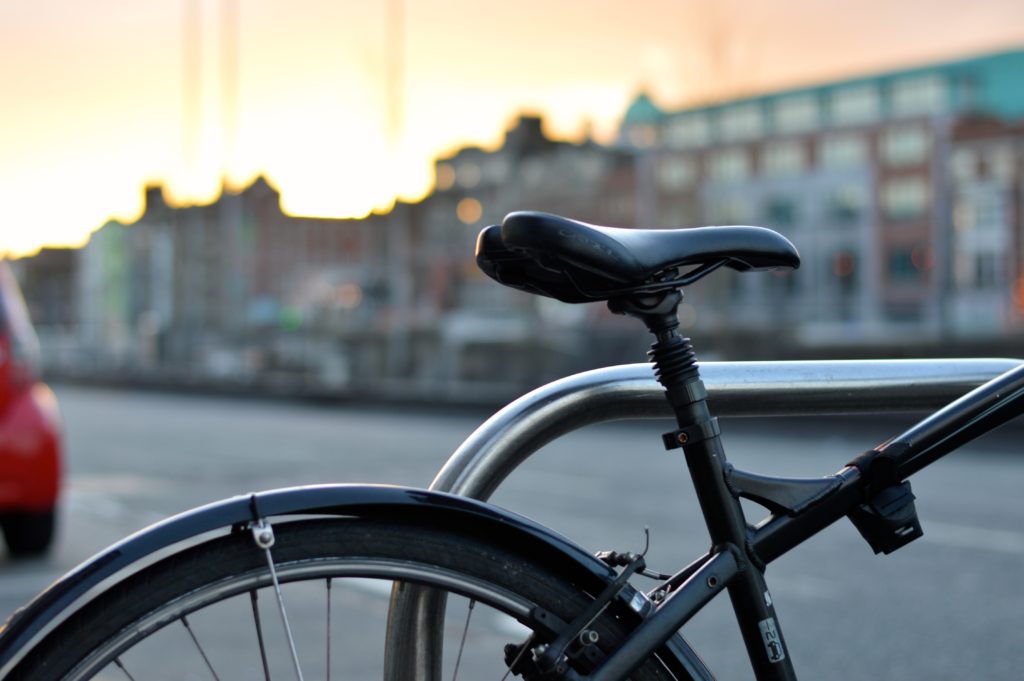 Pemberton Valley Lodge offers secure bike storage for all their guests. The bike rack is located in the Bike Storage/Ski Locker area in the secured underground parking.
They have mountain bikes available for complimentary guests use. They are locked in the bike rack located across from the elevator in the parkade, with complimentary bike helmets that come in 2 different sizes. A $100 deposit is added to guest's folio while using the bike, once the bike is returned and the key brought back to our front desk, this amount is reversed.
The outdoor pool & hot tub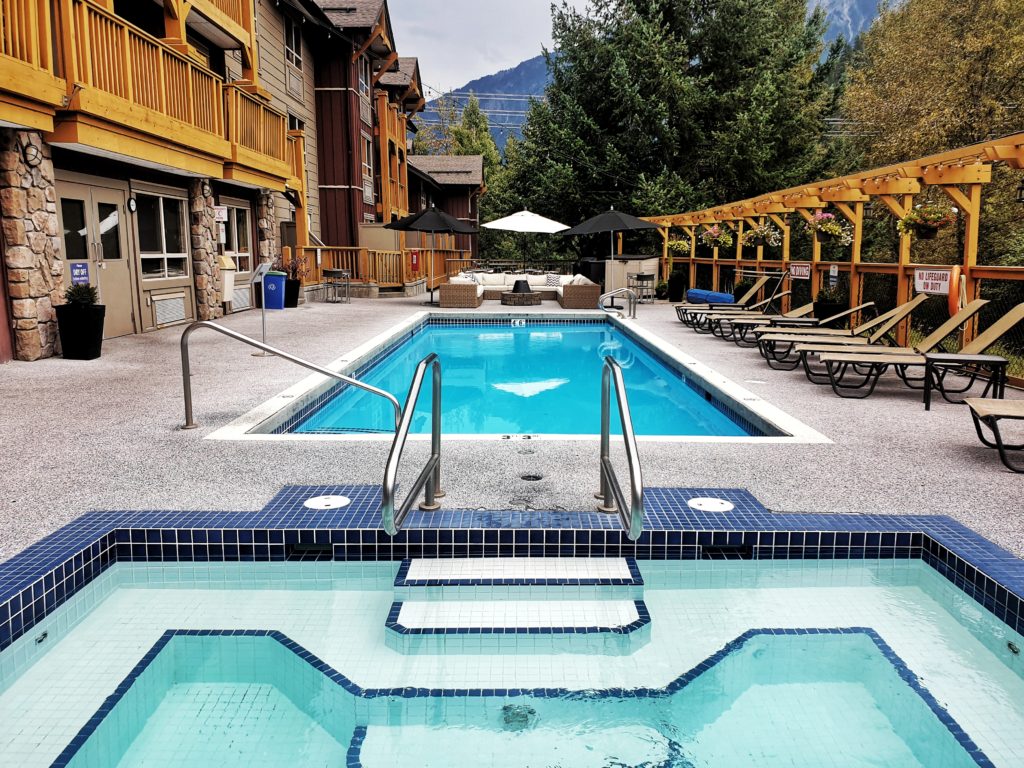 For me this was personally one of the highlights of the lodge as it offers a superb and refreshing swimming pool outdoors surrounded by beautiful mountains and lush countryside. There are plenty of sun loungers and cosy sitting chairs to relax in, not to mention a hot tub as well to get your ultimate chill on.
The stunning Joffre Lakes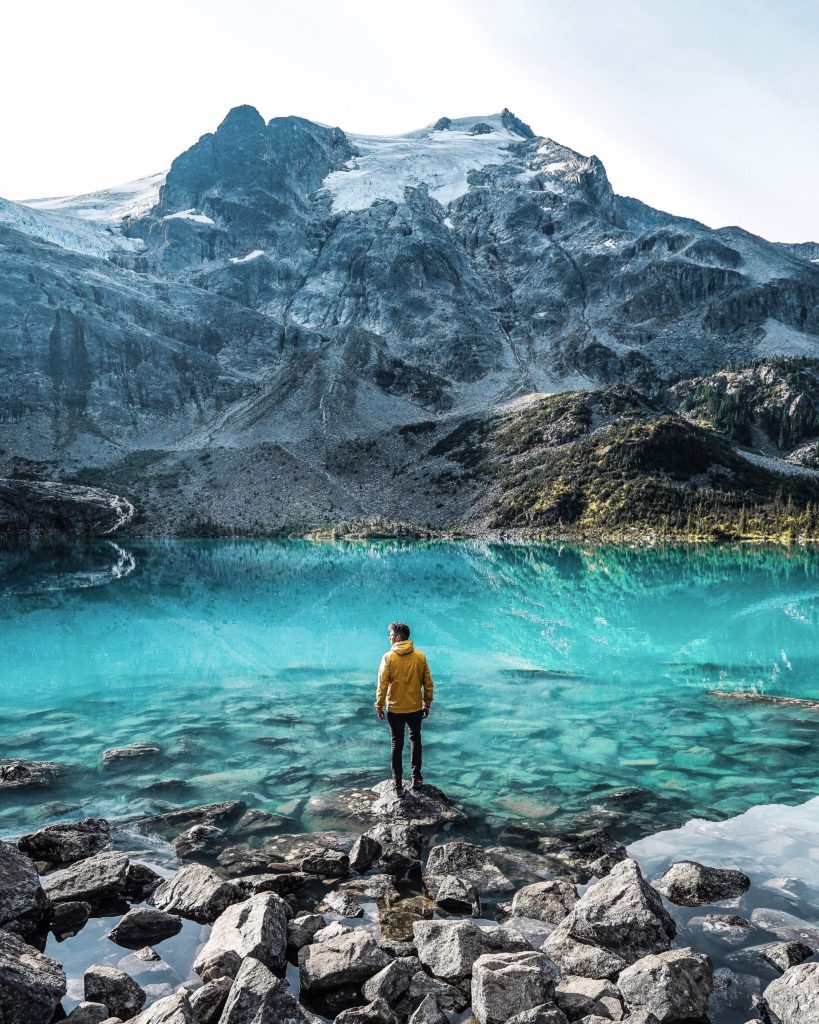 This has to be hands down one of the most beautiful hikes that we have ever done and for good reason too. There are three individual lakes, aptly names lower, middle and upper lakes which are a serene turquoise blue that look like someone has seriously turned the saturation up. The hike itself is around 8km and pretty much all up hill with not many flat bits.
Overall it took us around 2 hours to reach the upper lake and we are so happy we went all the way to the top – it is so worth it! With so many photo opportunities and beautiful nature you will soon be wrapped up in its essence. TOP TIP – Start hiking at sunrise to miss the HUGE crowds.
Nairn Falls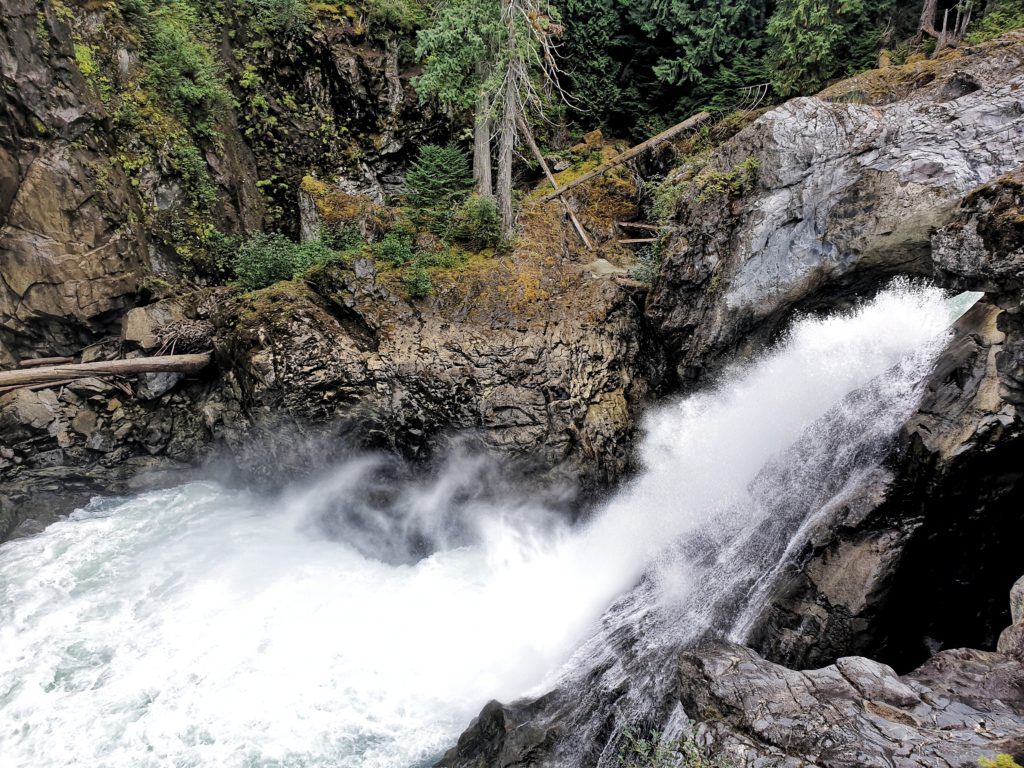 Located along the Sea To Sky Highway (Highway #99) between Whistler and Pemberton. It's a nice, short hike to a beautiful waterfall. Due to the time of year we went (September), the snow caps had started to melt and the river was raging which was truely a great spectacle to witness.
One Mile Lake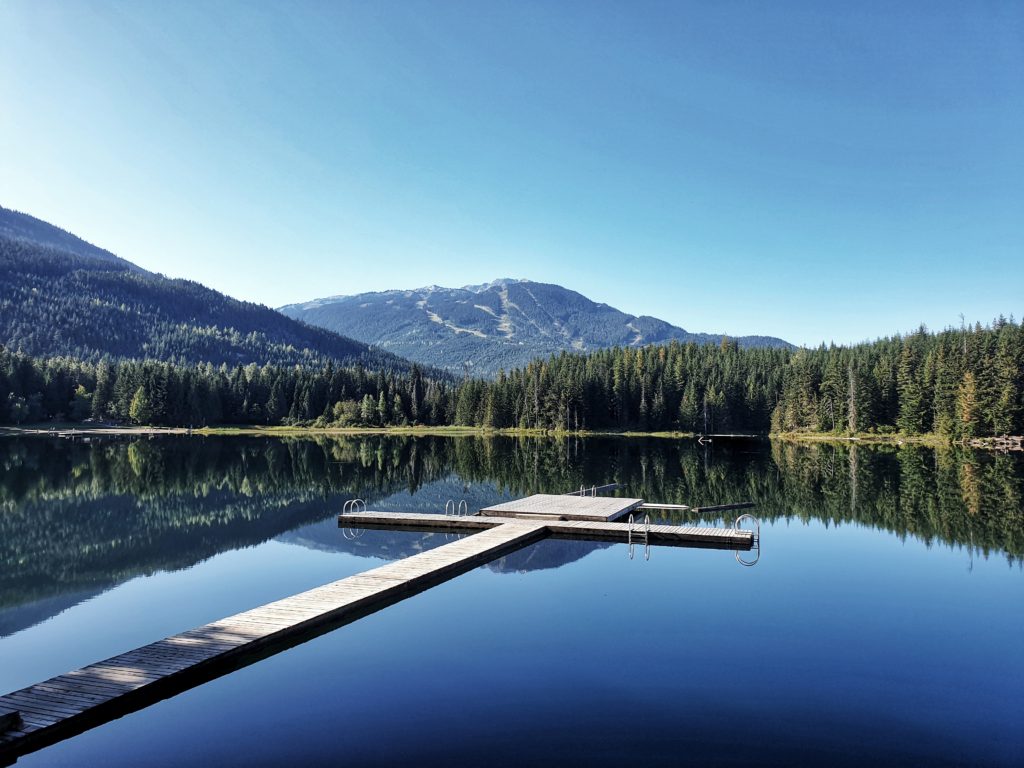 This lake is hard to miss! One Mile Lake is located just at the entrance to Pemberton, just a few minutes away from Nairn Falls carpark. There is a park at the south end of the lake, complete with picnic tables, fire pit and designated swim area. An accessible trail loops right around the lake, which is perfect for a walk during all seasons.
How to get there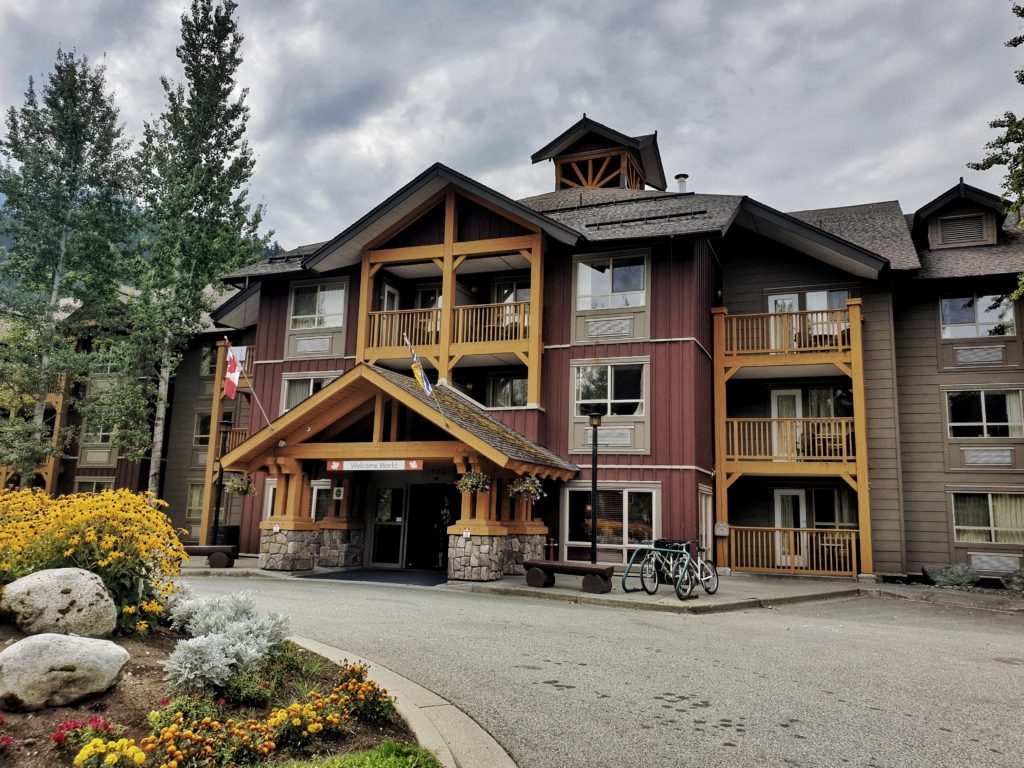 Address:
Pemberton Valley Lodge
1490 Sea to Sky Highway,
Pemberton, British Columbia
Canada
V0N 2L1
Toll-free: 1.877.894.2800
Local: 604.894.2000
Fax: 604.894.2002
Maps & Directions:
Interactive Map
Driving Directions
Prices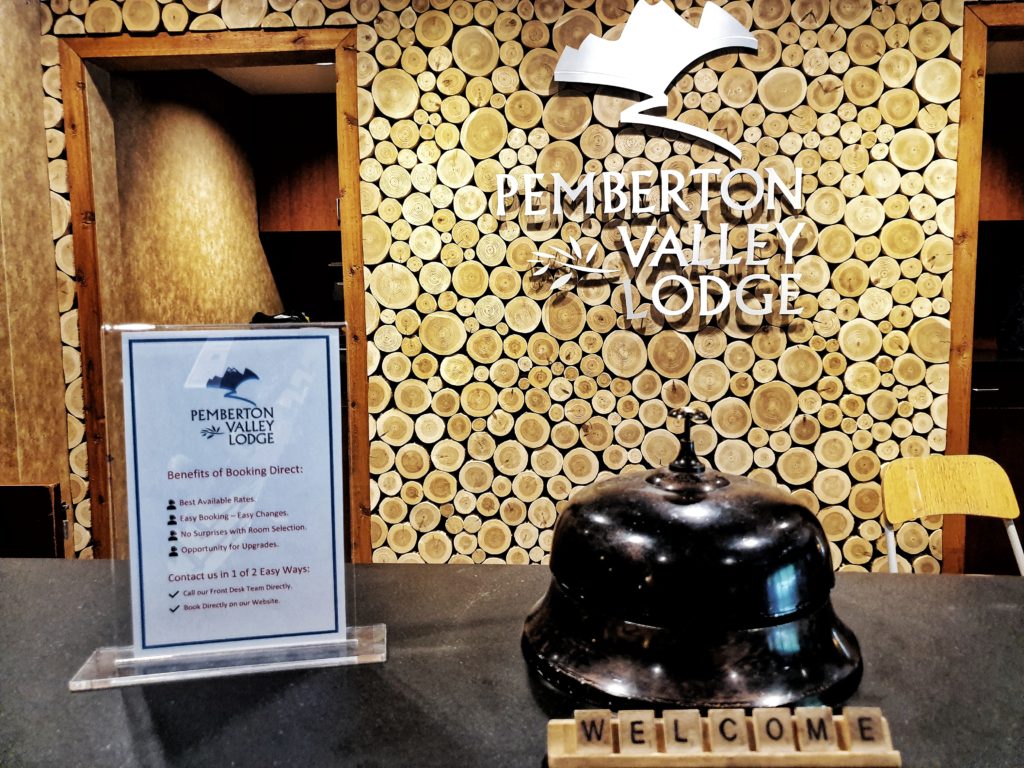 The prices will vary depending on what time of year you stay – to check out the pricing click here.
We stayed in September 2019 and for the One Bedroom Studio it would cost $204 CAD (£125) per night.
Extras
Free Wi-Fi is available in all areas
Bike storage is available
Tours are available to book at reception
Luggage storage
Free bottled water daily
Summary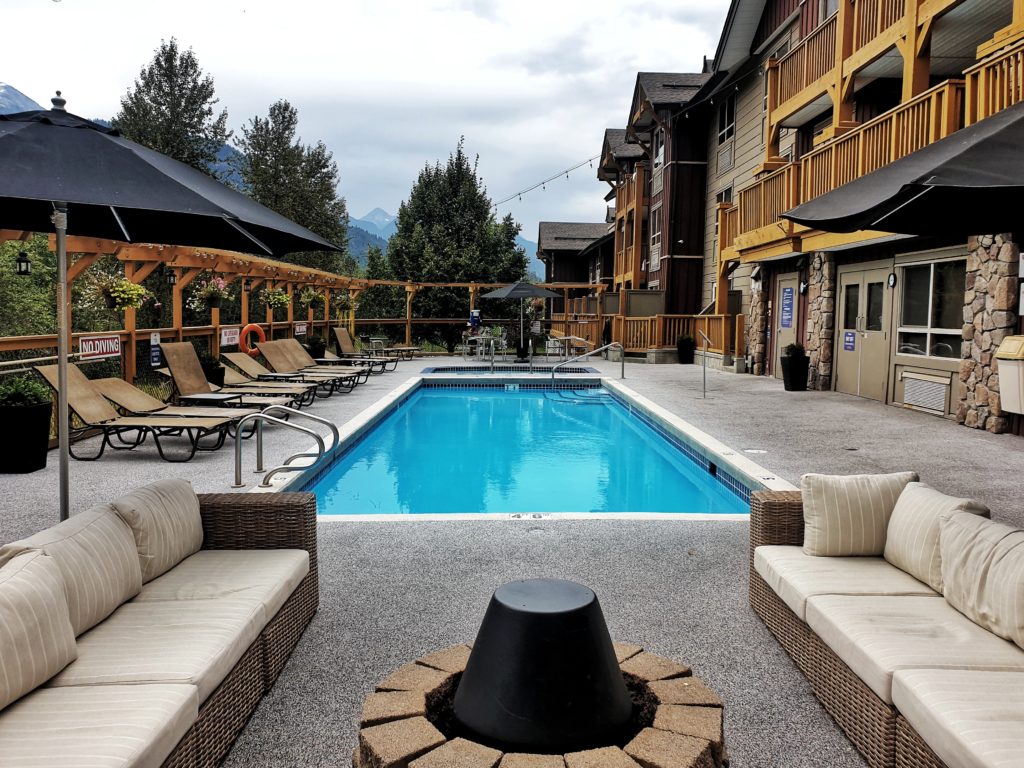 This lodge is absolutely stunning, homely, and the perfect place to stay while in Pemberton. I am so glad that we chose to stay here for a few nights – it's the most relaxing place in the town!

The suite was fantastic, we had a super comfortable nights sleep and really enjoyed the unique decor which makes the room really interesting especially when you throw in the views of the mountains. The location was my favourite feature as it was super central and the staff are so friendly, they can honestly not do enough for you to make your stay that little bit more comfortable than what it already is.
You will want to spend longer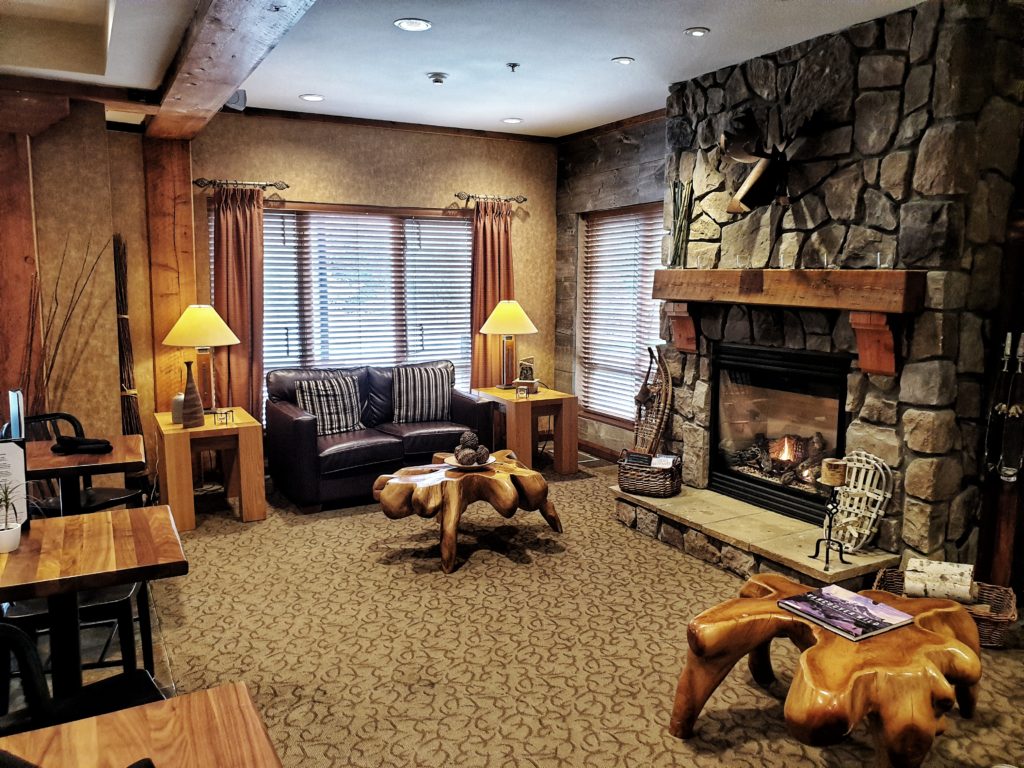 The town is very sleepy, but on the outskirts, remains the beautiful surrounding mountains and countryside which are absolutely breath-taking and you will find yourself soaking them up the whole time you're there. When you throw in the close proximity to the Joffre Lakes, waterfalls and all of the other attractions you are onto a winner!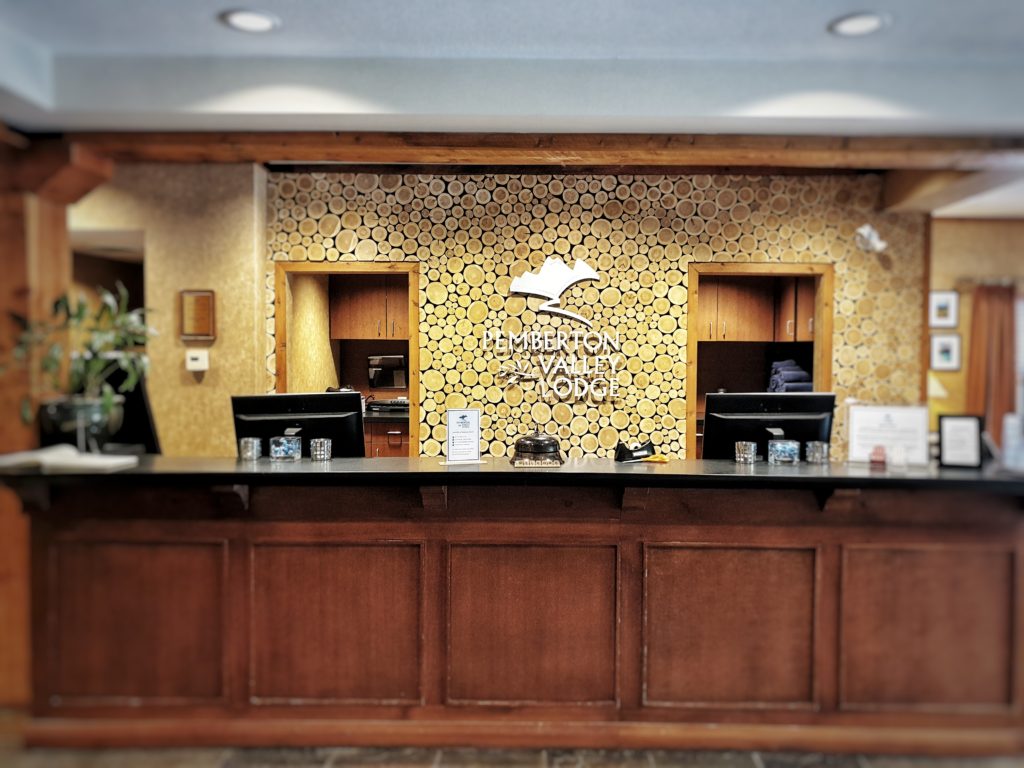 If you are in Pemberton, Canada, and you want to have a unique relaxing Canadian experience, I would highly recommend Pemberton Valley Lodge.
***Thank you to Pemberton Valley Lodge for kindly sponsoring this post. All opinions are 100% honest & completely my own.