TRAVEL BOOKS FOR THE WANDERLUSTER
⇷☓⇸
There is nothing better than settling down with a delicious drink of choice, some snacks and an evening full of adventure, suspense, love and travel to help get your motivated to go travelling and see the world.
With bounteous amounts of books out there to choose from, it can get a little bit overwhelming when it comes to dedicating your limited time to something you may not enjoy. That is why I have taken my own time to save you the trouble and provide the best books to fuel your wanderlust.
Not only can you read these books over and over again but once you have finished them, you will feel the instant urge to log onto Budgetair.co.uk, book a flight, pack your bag and head out to create your own adventures.
These are my top 10 to kick your wanderlust into high gear and start planning those trips:
1. The Alchemist – Paulo Coelho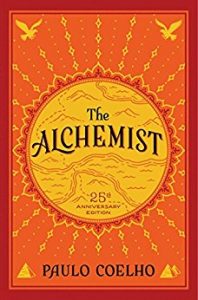 Paulo Coelho's enchanting novel has inspired a devoted following around the world. This story, dazzling in its powerful simplicity and inspiring wisdom, is about an Andalusian shepherd boy named Santiago who travels from his homeland in Spain to the Egyptian desert in search of a treasure buried in the Pyramids.
Along the way he meets a Gypsy woman, a man who calls himself king, and an alchemist, all of whom point Santiago in the direction of his quest. No one knows what the treasure is, or if Santiago will be able to surmount the obstacles along the way.
But what starts out as a journey to find worldly goods turns into a discovery of the treasure found within. Lush, evocative, and deeply humane, the story of Santiago is an eternal testament to the transforming power of our dreams and the importance of listening to our hearts.
2. The Beach – Alex Garland

This is probably one of my favourite travel books of all time and really sparks the desire to go travelling to hidden paradise islands. This exotic action packed story follows Richard as he learns about a secret hidden island in Thailand where a tribe live in complete bliss. That is until he arrives anyway.
Following him are a French couple and they risk their lives to get there. They are eventually welcomed into the group but things start to deteriorate quickly after a series of events set in motion the end of the tribe and island. The best part? You can actually visit this island! It's called Maya Bay and in the South of Thailand.
3. Eat Pray Love – Liz Gilbert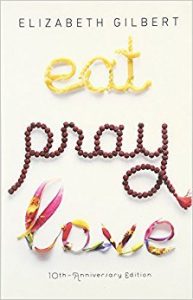 Eat – Italy, Pray – India, Love – Bali. This is such a fun book to read as it is based and is a true story which Elizabeth experienced. She takes us through her transformational journey as she attempts to get over a messy divorce and uproots herself from the comfort of her bubble and heads to Italy where she starts her self-discovery by eating the local cuisines.
She then heads to India where she attempts praying and finding herself through mediation and getting to know a few loveable characters building her soul and making her stronger as a person. Finally, she heads to Bali where she stumbles across many different types of love and will leave you feeling wholesome.
4. A Walk In The Woods – Bill Bryson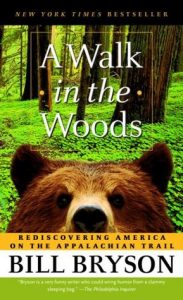 Rediscovering America on the Appalachian Trail. The Appalachian Trail stretches from Georgia to Maine and covers some of the most breathtaking terrain in America–majestic mountains, silent forests, sparking lakes. If you're going to take a hike, it's probably the place to go. And Bill Bryson is surely the most entertaining guide you'll find.
He introduces us to the history and ecology of the trail and to some of the other hardy (or just foolhardy) folks he meets along the way–and a couple of bears. Already a classic, A Walk in the Woods will make you long for the great outdoors (or at least a comfortable chair to sit and read in).
5. Into The Wild – Jon Krakauer
Immediately after graduating from college in 1991, McCandless had roamed through the West and Southwest on a vision quest like those made by his heroes Jack London and John Muir. In the Mojave Desert he abandoned his car, stripped it of its license plates, and burned all of his cash. He would give himself a new name, Alexander Supertramp, and, unencumbered by money and belongings, he would be free to wallow in the raw, unfiltered experiences that nature presented.
Craving a blank spot on the map, McCandless simply threw away the maps. Leaving behind his desperate parents and sister, he vanished into the wild.
6. Shantaram – Gregory David Roberts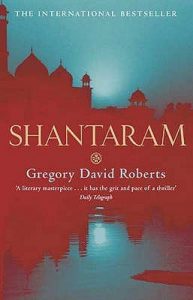 As a hunted man without a home, family, or identity, Lin searches for love and meaning while running a clinic in one of the city's poorest slums, and serving his apprenticeship in the dark arts of the Bombay mafia. The search leads him to war, prison torture, murder, and a series of enigmatic and bloody betrayals.
The keys to unlock the mysteries and intrigues that bind Lin are held by two people. The first is Khader Khan: mafia godfather, criminal-philosopher-saint, and mentor to Lin in the underworld of the Golden City. The second is Karla: elusive, dangerous, and beautiful, whose passions are driven by secrets that torment her and yet give her a terrible power.
This is a chunky book but well worth the time and is a very rewarding read.
7. Off Track Planet's Travel Guide for the Young, Sexy, and Broke

This all-encompassing travel guide features approximately 100 exciting destinations like Buenos Aires, Brazil, Columbia, Greece, and Thailand, and everything college students, grads, and those in their twenties and thirties want to know about them, including: the cities with the craziest sex shops; the best places to get a tattoo; where to check out some amazing street art; why you should try fried bugs; the best clubs to party until dawn; and much more.
Broken into three parts, the first section focuses on what to do and where: food, fashion, music, sports, sex and partying, and more. The second half of the book dives into practical tips and advice on budgeting, hostels, and transportation, and the third section offers great ideas about extending your stay. Entertaining and informative, this lively guide also includes fun charts and graphs and 100 to 150 full-color photos throughout.
8. Way of the Peaceful Warrior – Dan Millman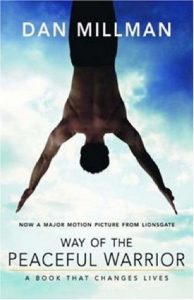 Way of the Peaceful Warrior is based on the story of Dan Millman, a world champion athlete, who journeys into realms of romance and magic, light and darkness, body, mind, and spirit. Guided by a powerful old warrior named Socrates and tempted by an elusive, playful woman named Joy, Dan is led toward a final confrontation that will deliver or destroy him. Readers join Dan as he learns to live as a peaceful warrior.
This international bestseller conveys piercing truths and humorous wisdom, speaking directly to the universal quest for happiness.
9. The Hundred-Year-Old Man Who Climbed Out of the Window and Disappeared – Jonas Jonasson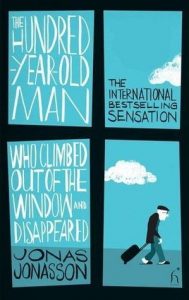 It all starts on the one-hundredth birthday of Allan Karlsson. Sitting quietly in his room in an old people's home, he is waiting for the party he-never-wanted-anyway to begin. The Mayor is going to be there. The press is going to be there. But, as it turns out, Allan is not… Slowly but surely Allan climbs out of his bedroom window, into the flowerbed (in his slippers) and makes his getaway. And so begins his picaresque and unlikely journey involving criminals, several murders, a suitcase full of cash, and incompetent police.
As his escapades unfold, we learn something of Allan's earlier life in which – remarkably – he helped to make the atom bomb, became friends with American presidents, Russian tyrants, and Chinese leaders, and was a participant behind the scenes in many key events of the twentieth century.
10. Around the World in Eighty Days – Jules Verne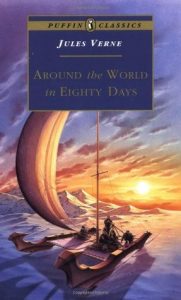 This is a classic travel book and one that should definitely have a home in your bookcase.
The story starts with a bet and Phileas Fogg sets out with his servant Passeportout to achieve an incredible journey – from London to Paris, Brindisi, Suez, Bombay, Calcutta, Singapore, Hong Kong, San Francisco, New York and back to London again, all in just eighty days.
There are many alarms and surprises along the way – and a last-minute setback that makes all the difference between winning and losing