UNWATUNA'S BEACHFRONT PARADISE
This beautiful hotel is heavily designed around classy nautical themes, invoking mystical legends of western world ships navigating around the world and Arabian night style stories. It is a luxury hotel, on the beach front with views for days, and it is a place where you can just be yourself. The name itself is very unique and surfaced from the poem 'The Owl & The Pussycat' by Edward Lear.
'The poem spoke to me about an age of innocence, of less sophistication and more fun.

– Reita Gadkari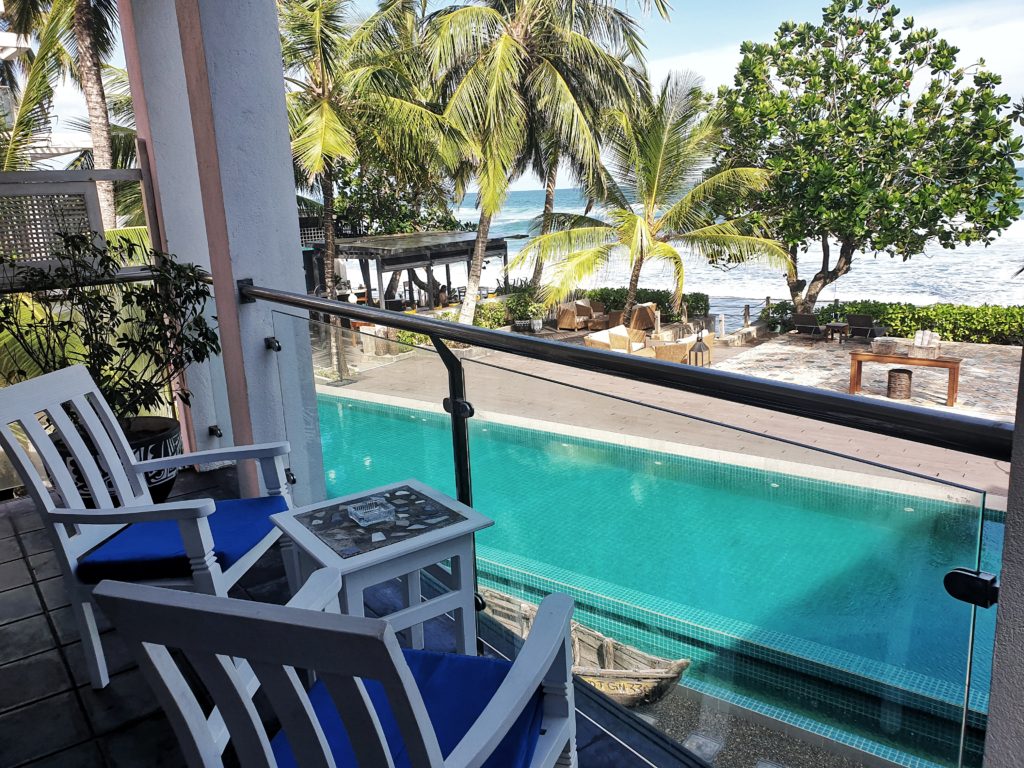 Boasting a beautiful and refreshing swimming pool, it overlooks the tropical coconut trees and beachfront instantly setting you at ease and very relaxed. There is an onsite restaurant serving up delicious snacks and meals, or you can head to the nearby town for a selection of cuisines.
If you find yourself in Unawatuna, Sri Lanka then I would highly recommend booking a few nights stay at The Owl & Pussycat Hotel.
Highlights
Intriguing and quirky architecture
Beautiful refreshing swimming pool
Directly on the beachfront
Extremely friendly and welcoming staff
Great location to all main attractions
Suite E Pie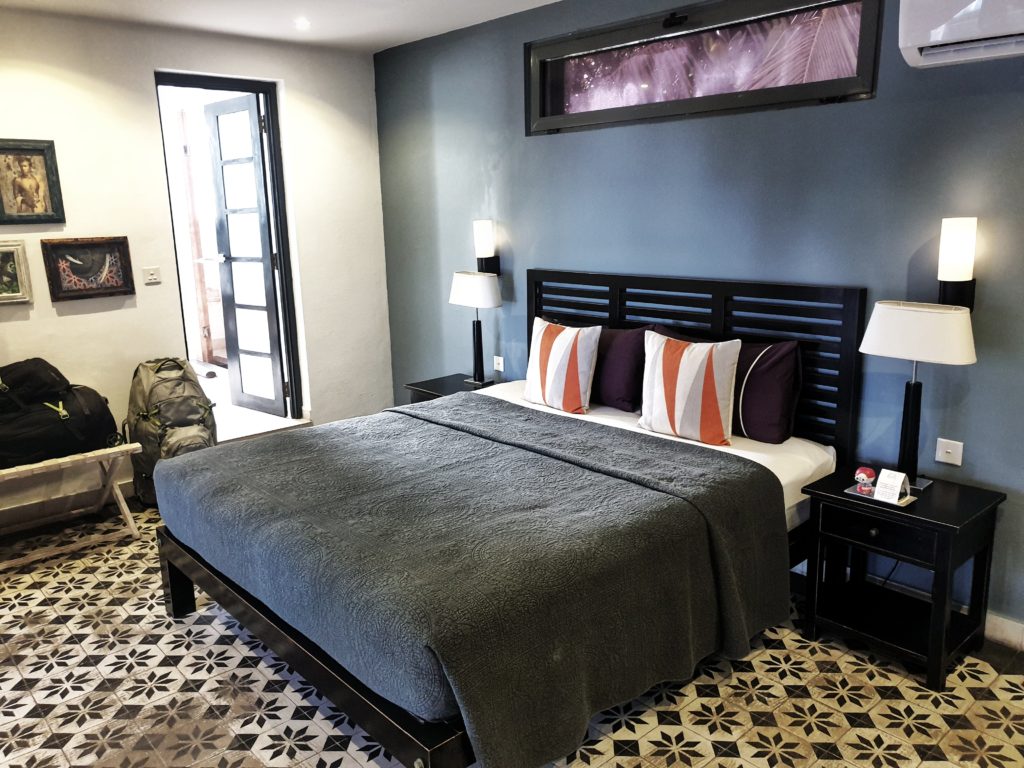 During our stay at The Owl & Pussycat we opted to stay in one of the lovely suites which was huge and practically an apartment. It had a comfortable and spacious room, decorated with arty pictures and decorations to make a cozy atmosphere. We found this perfect for our needs!
The room has king size bed, its own private balcony overlooking the ocean, some chairs and a large wardrobe to place all your clothes in and an en-suite bathrooms which is very modern, clean and has a nice powerful shower. It comes equipped free toiletries, fresh towels, clean linens, mosquito spray, air-conditioning and a 'his and hers' style mirror.
The Living Room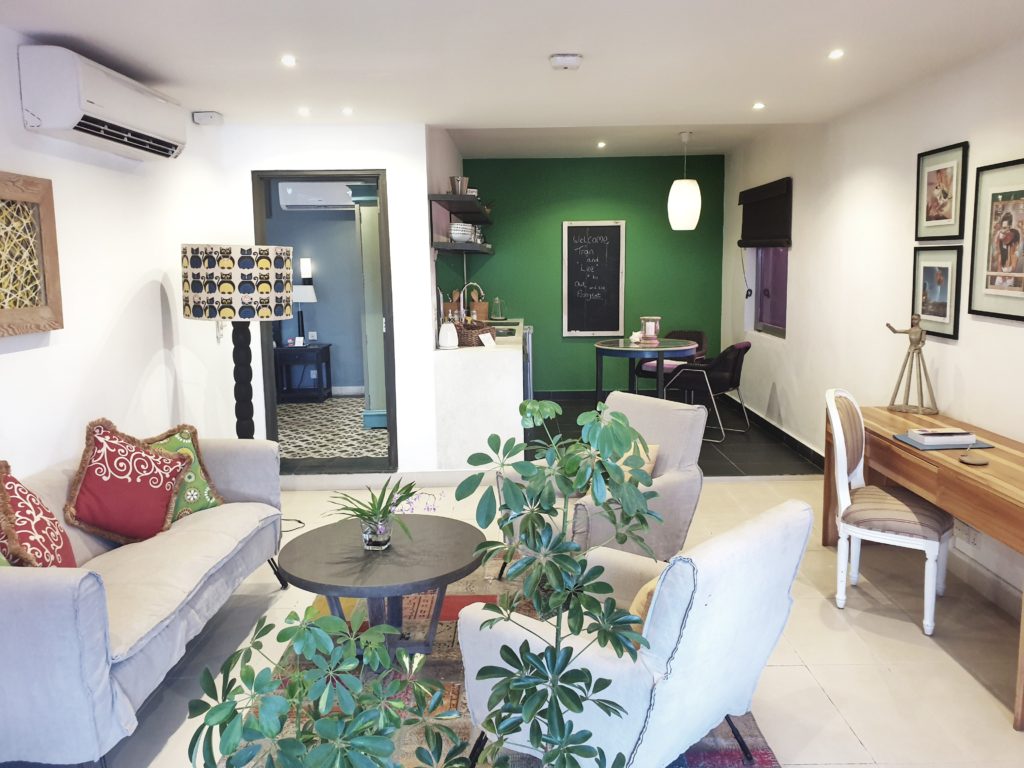 When you enter the suite you arrive in the fantastic and extremely spacious living room which includes a sofa, two comfy armchairs, a coffee table, writing desk, writing chair, some potted plants, books, and a few lamps, creating a super homely feel. The second balcony which overlooks the pool and ocean is directly off this and provides plenty of natural light into room as well.
The Kitchen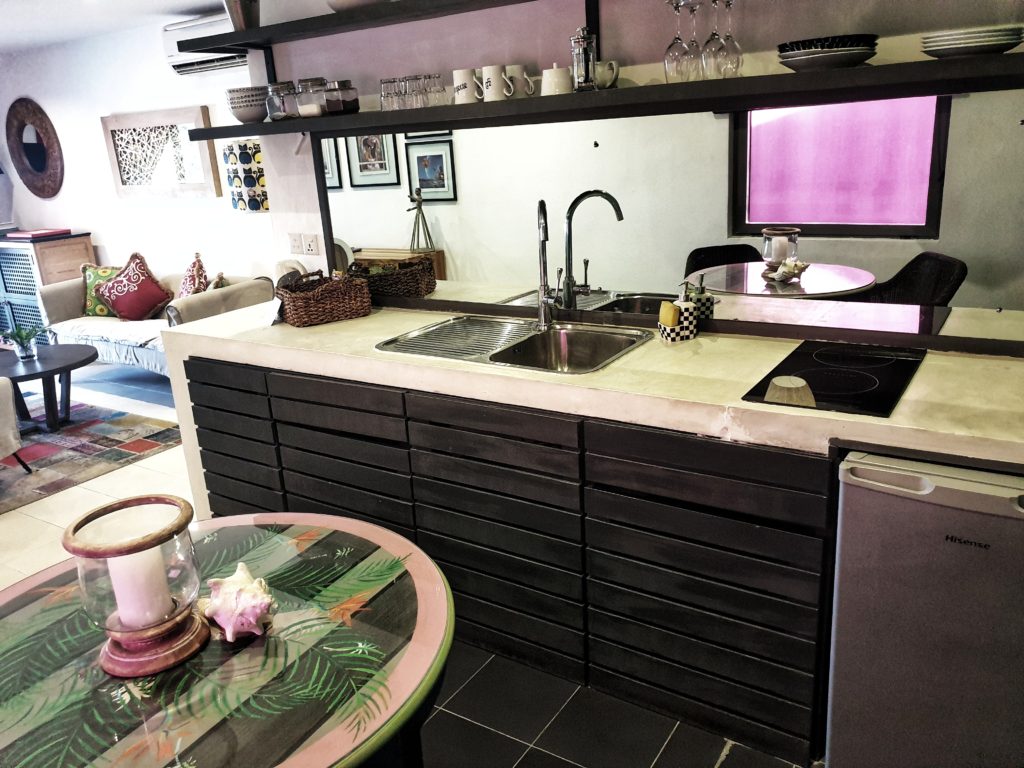 To complete the apartment feel, the suite also has a fully functioning kitchen which comes complete with hobs, fridge (stocked with some drinks and snacks which are chargeable), a kitchen table, two chairs, tea & coffee making facilities, sink, cooking utensils, plates, glasses, cups and cleaning products.
The Bathroom
I have to mention this again because it is definitely a highlight of the suite. It is connected via the bedroom, and comes with a powerful enclosed shower with body wash, shampoo & conditioner, toilet, 'his and hers' mirror which runs along the whole back wall, mosquito repellent, air freshener, sanitary products, towels, power sockets and extremely spacious.
Click here to view their other rooms & suites.
Activities
The Ocean Edge Swimming Pool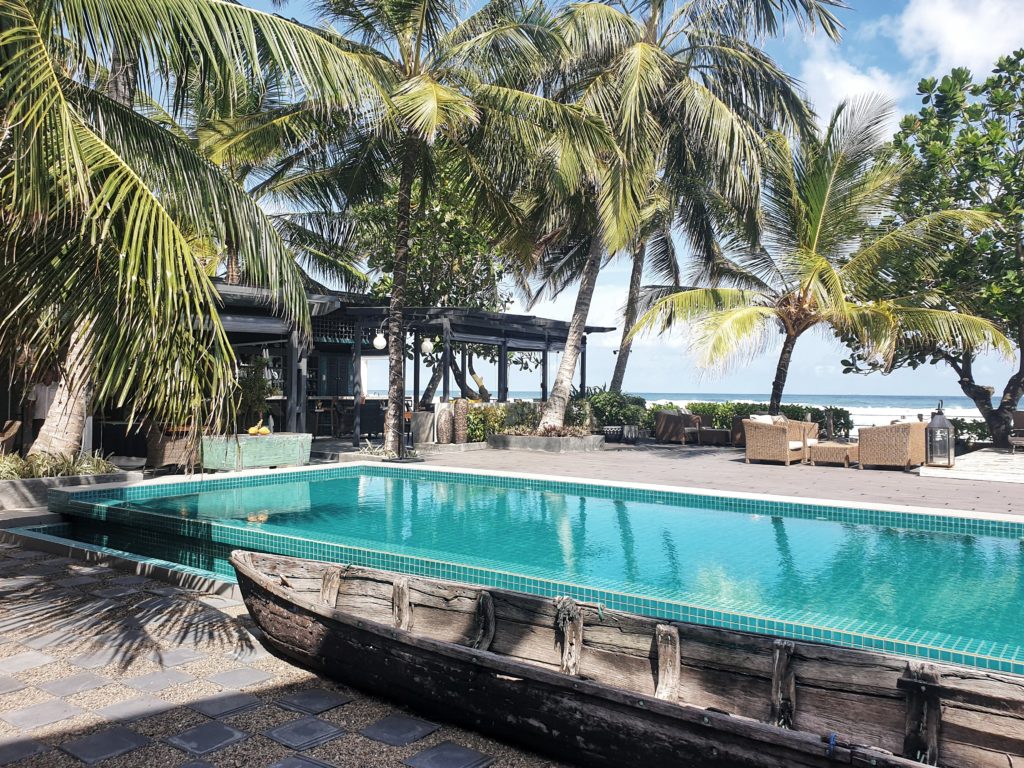 Whats better than being the beachfront? Having an ocean edge swimming pool is what! You can have the laziest day at the lightly sea-salted, 18mt. ocean-edge turquoise swimming pool, with staff on hand to provide fresh amenities like water, drinks and fresh fruit. The lovely pool deck has sun beds overlooking the ocean. Perfect!
The Drawing Room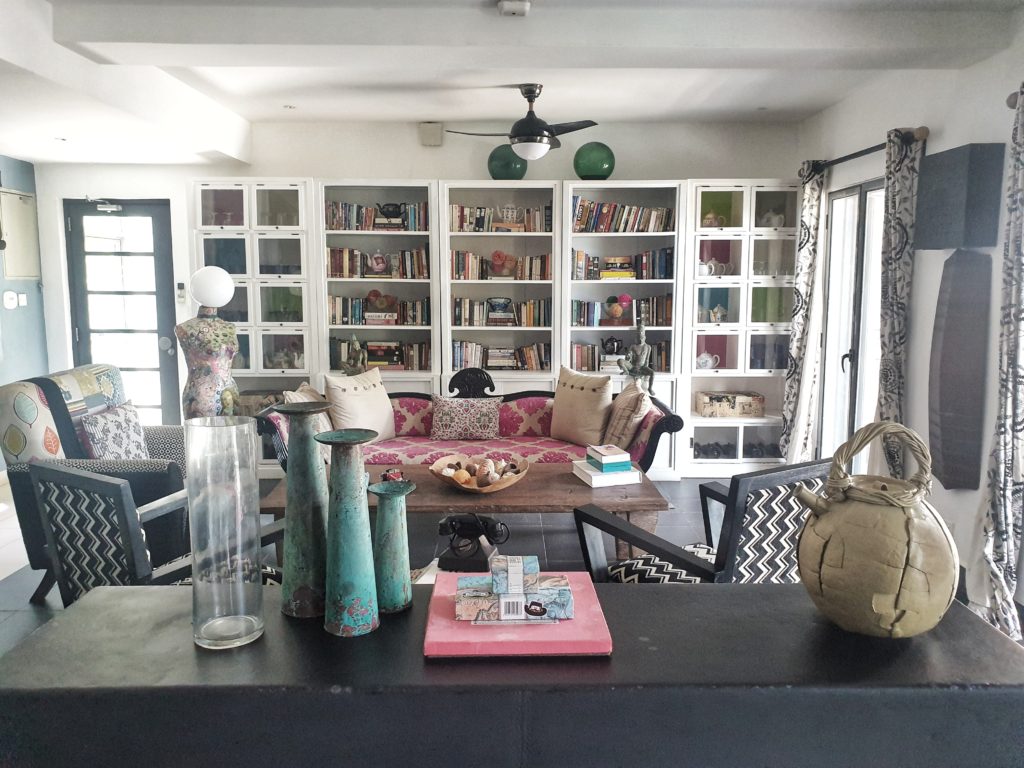 For hotel guests only, there is a beautifully appointed drawing room with eye-catching art and artefacts made especially by international artists and artisans. There is an eclectic book collection on various interesting subjects. This is definitely the place to relax, read in the heat of afternoon or play board games while sipping a nice cup of Ceylon tea.
Wellness Spa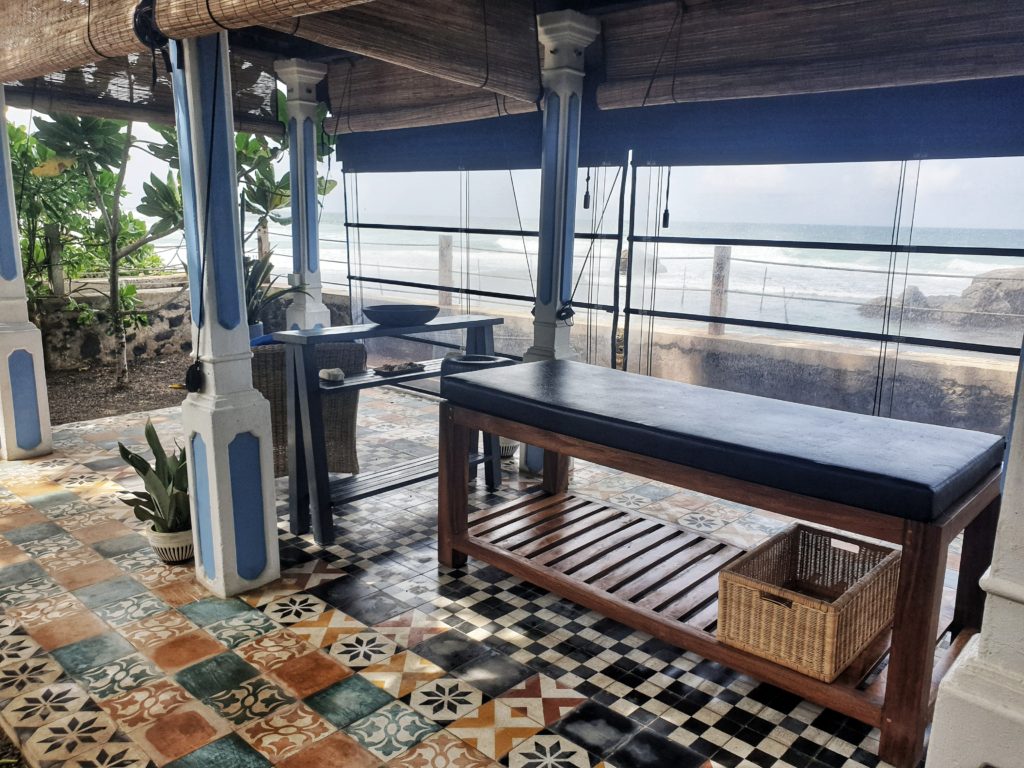 Their unique open-air therapy hut offers no-frills seaside massages where you can relax with a fabulous hot oil massage while listening to the sound of the waves. Or get a deep tissue massage to relieve tension. Their therapist can also give you the prettiest hands and feet in Sri Lanka while you sip one of their detox infusions.
Try some yoga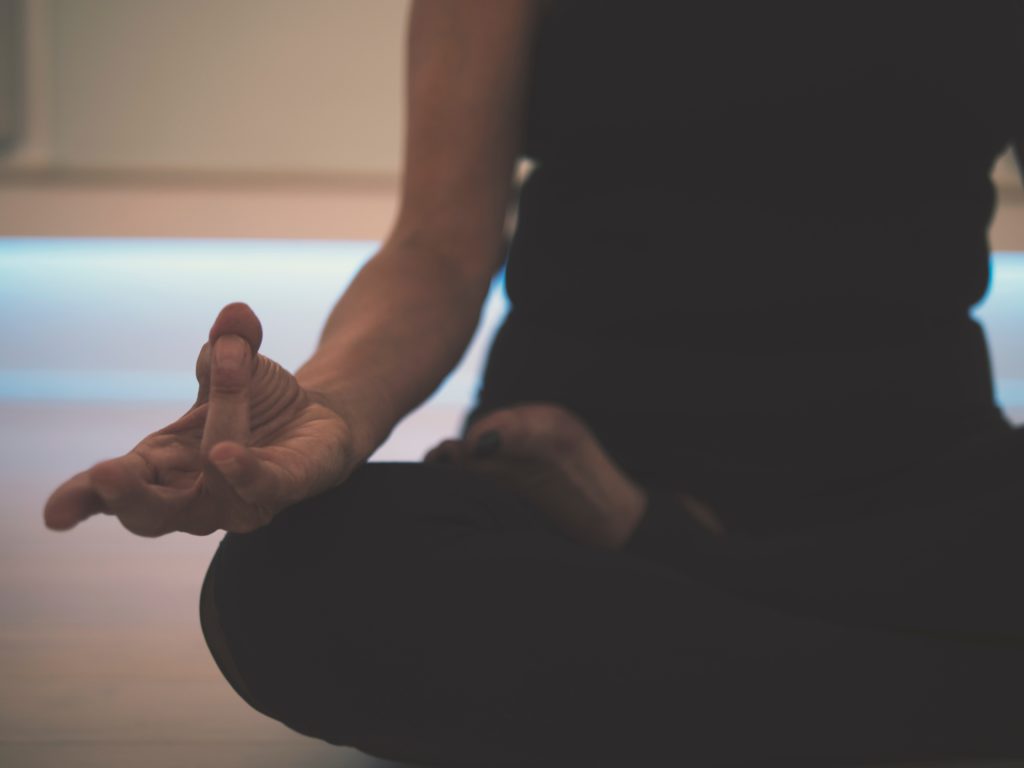 A yoga platform with an idyllic location over the edge of the sea, allows for morning and evening yoga practice with their specialised instructors upon request. All spa treatments and yoga classes must be booked in advance.
Hit the gym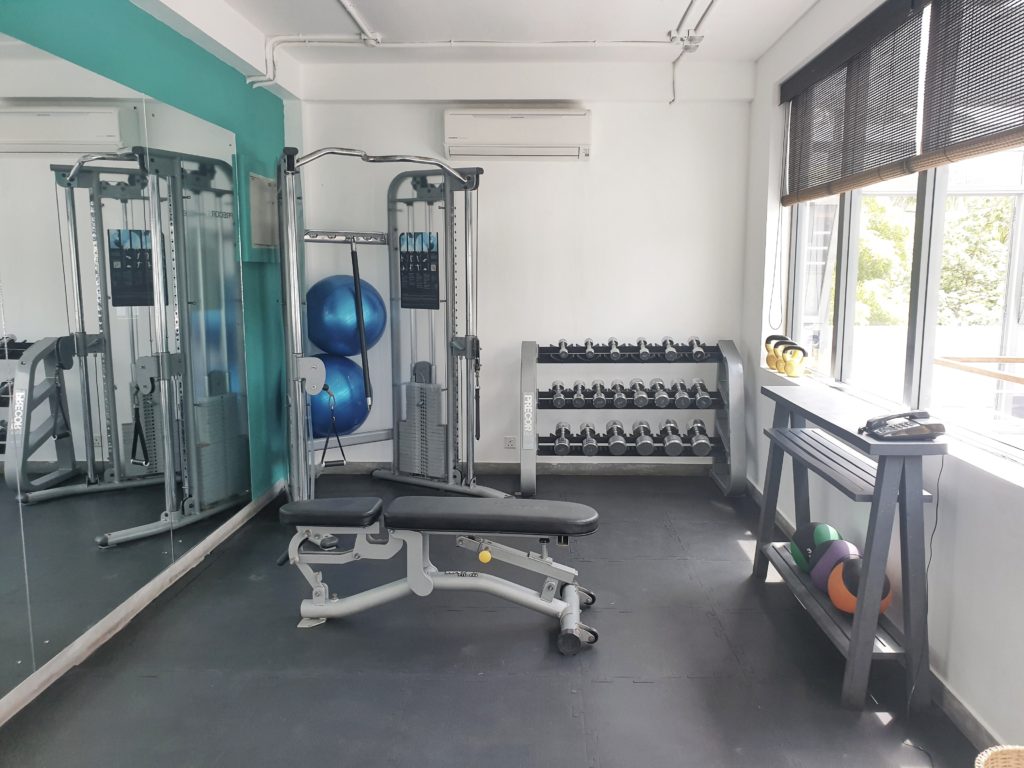 A small fitness room is located on the top floor of the blue building with views to the Indian Ocean. The gym features an exercise bike and treadmill, a small multi-gym, weights 2kg-15kg, kettle bells, a bench and exercise balls. Water and fresh fruit is available. There is a large terrace for outdoor stretching, floor exercise and yoga. A personal trainer can be made available upon request.
Chill with some TV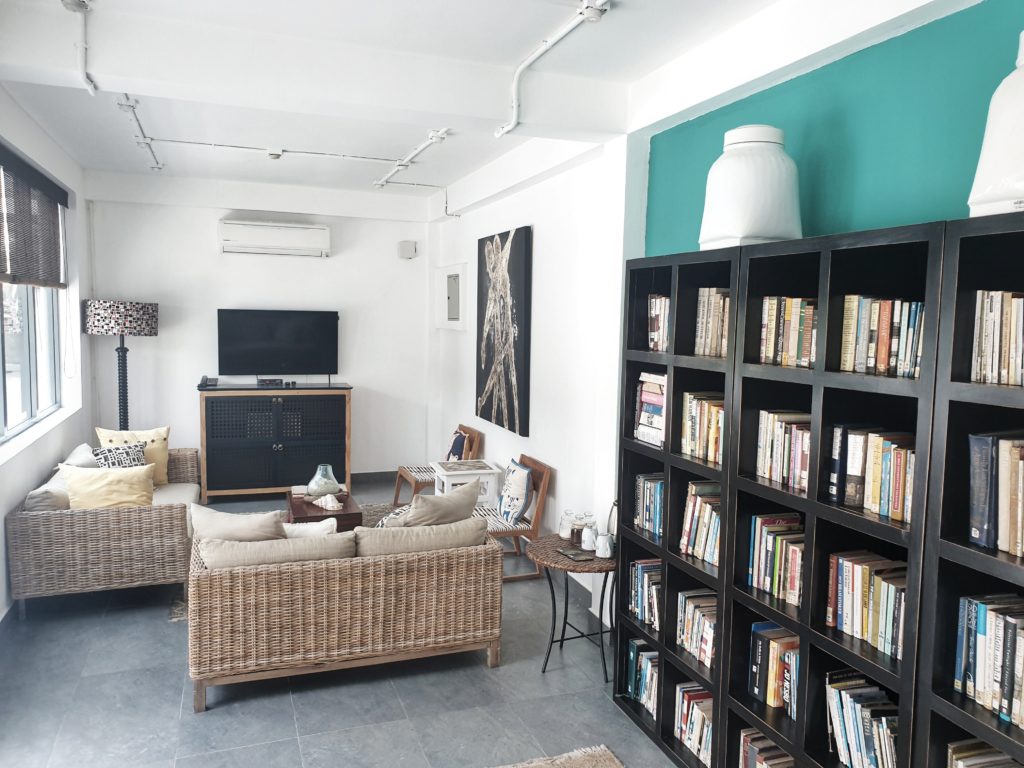 There is also has a separate TV room, with 52-inch flat TV featuring local and international TV channels. It is a quiet place for guests to read or work if needed. This place is set up for travellers to be able to connect their tablets or laptops to the TV and watch their own movies as well.
Unawatuna Beach
The main beach at Unawatuna is popular with both tourists and locals. The wide stretched beaches offer some good swimming and a part of the beach is occupied with sunbeds to rent. On the west end of the beach, there is a little walk to a pagoda statue overlooking the bay. The beach is directly connected to the city center with loads of little restaurants and bars. There is a great beach vibe going on here even after sunset.
Wijaya Beach (Beach Swing)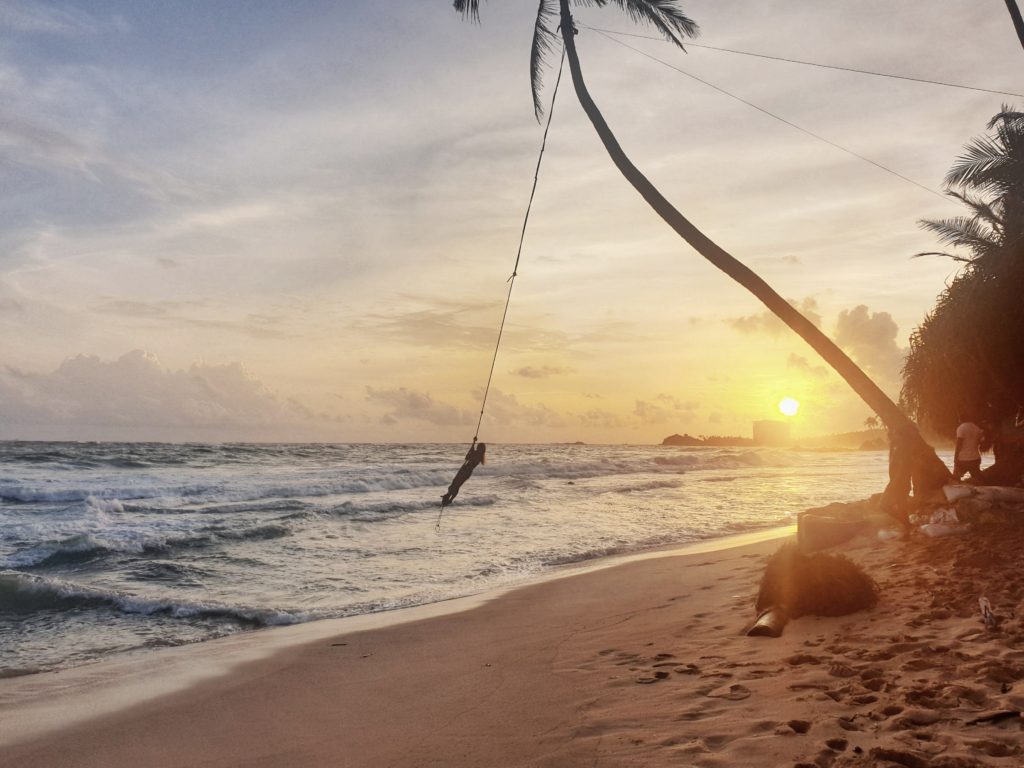 This is definitely one of the most Instagrammed places of Sri Lanka at the moment and is without a doubt the best beach swing in the whole country. If you search on Google Maps for Dream Cabana, Unawatuna then this is where you will find it. It will cost you 500 LKR for 3 swings per person, but its totally worth it ad the proceeds go towards helping the turtle nurseries.
The Frog Rock (as the locals call it)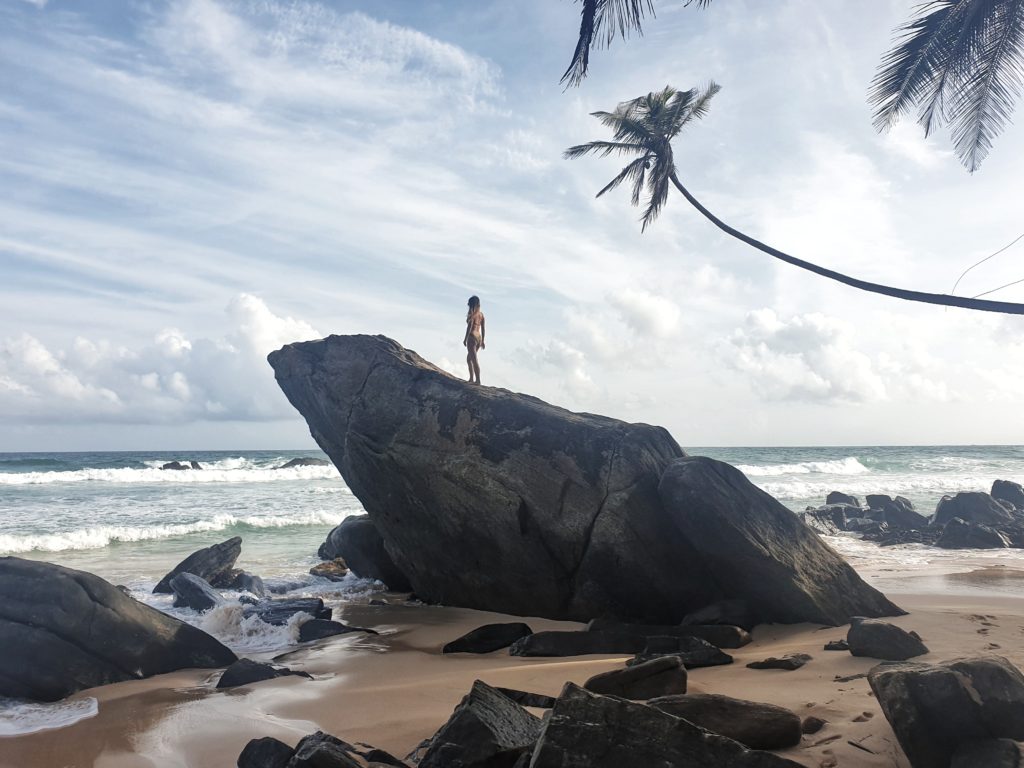 This has also become super popular on Instagram and it is definitely worth checking out whilst in Unawatuna. It is literally about a 10 minute walk from the swing (if you're facing the swing, turn right and keep walking till you see it). Or if you are coming from the road side, head to Sri Gemunu, and either try and cut through the hotel, or find a way around either side of it. This place is also pretty awesome for surfing too and there have been known to be turtles in the shallows here as well.
The Restaurant & Bar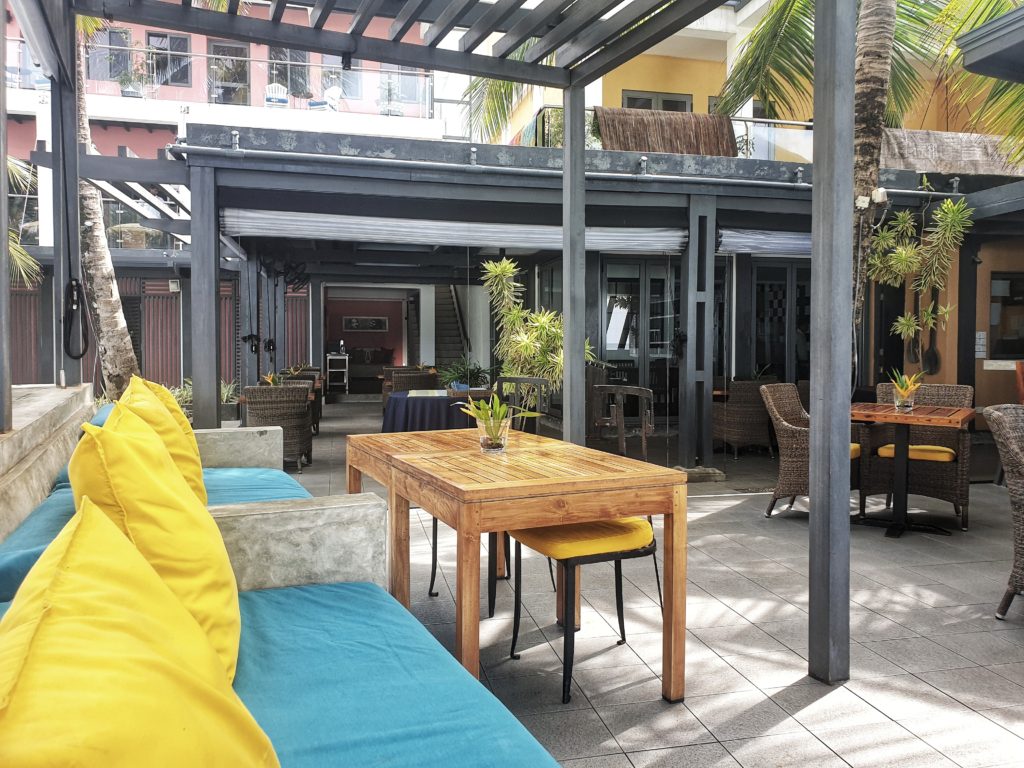 This is a great place to hang out, have some drinks and enjoy some delicious food. It is right on the beachfront and also next to the pool so you will have some fantastic views – especially at sunset!
How to get there
N.788, MATARA ROAD, THALPE, GALLE,
SRI LANKA.
Hotel Contact:+94 91203 0600
Reservations Contact: +91 12448 35000
Mail:[email protected]
Prices
The prices will vary depending on what time of year you stay – to check out the pricing click here. 

We stayed in July 2019 and for the suite and pool/ocean view it would cost 50,377 LKR (£228) per night.
Extras
Free daily filtered water
Free tea & coffee
Laundry services (at extra cost)
24/7 security with guard and gates
Beach bag and mat
Summary
Our suite is absolutely beautiful and typically Sri Lankan which I loved and I am so glad that we chose to stay here for a few nights – its the best unique Sri Lankan experience in Unawatuna!
The room was fantastic, we had a super comfortable nights sleep and really enjoyed sitting on the balcony watching the sun set. The swimming pool was also a great feature and the staff are so friendly, they can honestly not do enough for you to make your stay that little bit more comfortable than what it already is.
You will want to spend longer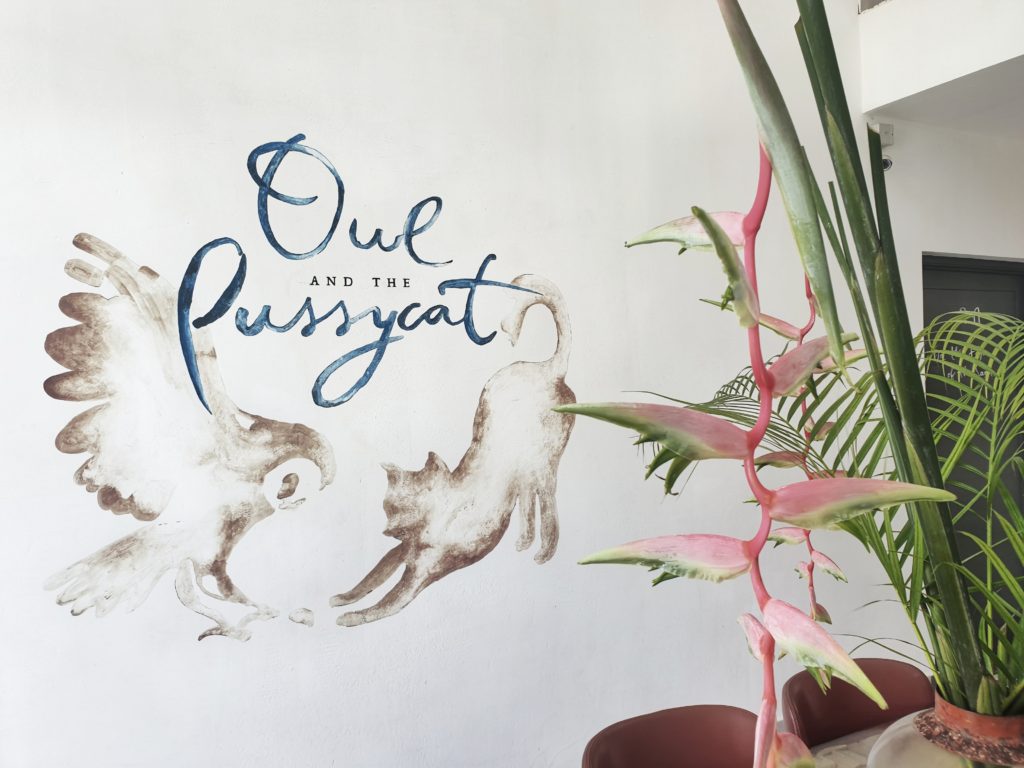 The landscapes around the hotel are breathtaking and you will find yourself soaking them up the whole time you're there. When you throw in the close proximity to town centre, Galle, other beaches and all of the other attractions you are onto a winner!
If you are in Unawatuna, Sri Lanka, and you want to have a great Sri Lankan villa experience, I would highly recommend The Owl and Pussycat.
***Thank you to The Owl & Pussycat for kindly sponsoring this post. All opinions are 100% honest & completely my own.