GET THAT FAMOUS SHOT
While New York is infamously known for its bright lights, yellow taxi cabs and the Empire State Building, there are a lot more unique and quirky attractions hidden just under the usual tourist spots. The city that never sleeps truly does run 24/7 and as soon as you step out into the hustle and bustle you will instantly be swept up in its magical charm.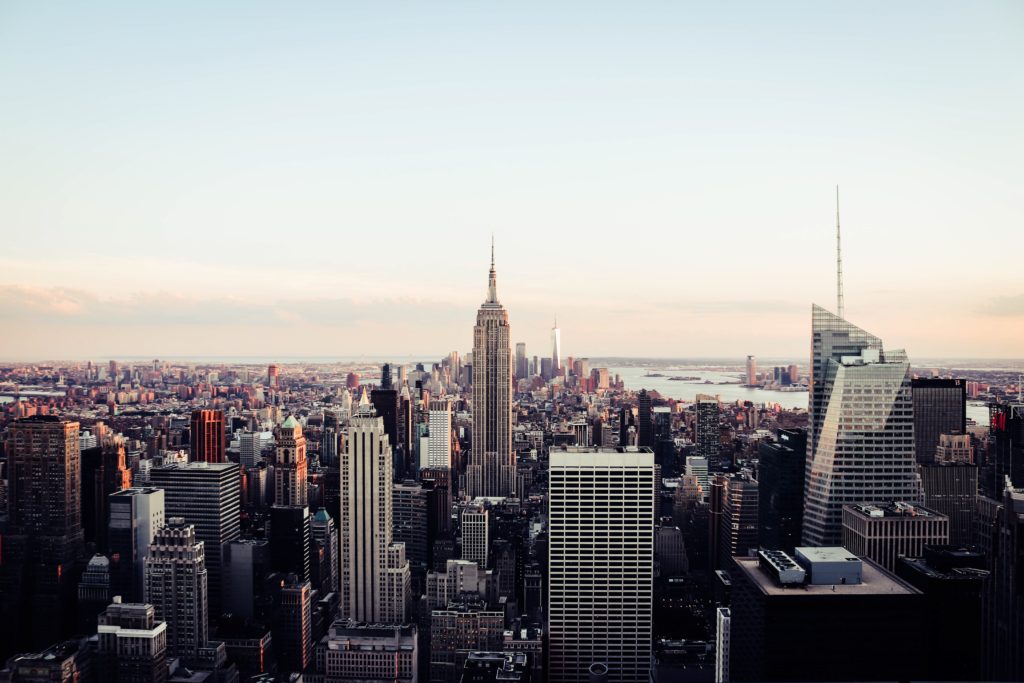 For those of you that have either been before or would rather try and avoid the usual touristy areas I have collected some of the best Instagram hot spots that really shouldn't be missed.
Staple Street Bridge
It may look like just another alleyway in a busy city, but this is a street unlike any other in New York. Staple Street is one of the smallest streets in the city, running just two blocks. And then there's that curious feature suspended over this tiny passage. Look up from Staple Street, and you'll see a cast-iron bridge, connecting two buildings with separate addresses, suspended three stories above the ground.
The buildings connected by this bridge once belonged to New York Hospital and eventually, the hospital moved, but the Skybridge has stayed put over 100 years later. This makes it a great location to get some unique Instagram shots and you may well come across other photoshoots taking place here as well.
The Vessel
This unique piece of architecture is literally a stairway to nowhere, and it was designed by Thomas Heatherwick, which has stairs climbing 150 feet in the air, providing some interesting views. More recently slated by locals and tourists alike as being an expensive waste of space, I truly loved it there and it is really easy to capture some amazing shots here.
I must admit, this structure does seem like it was purely made with Instagram in mind, but it works and the best part is that it is completely free. When you get to the Vessel scan the barcode for a ticket and you're given a time slot within a 3-hour period and away you go.
Aliz Hotel Times Square
This perfectly situated boutique hotel is located right next to Times Square and offers sophistication to the highest standard, whether you are staying in one of their chic rooms or checking out the rooftop bar. It is Dear Irving that you should definitely head to if you want a unique photo above the city on the 40th & 41st floor with beautiful skylines in the background as you sip on a delicious cocktail and watch the sunset.
Want to spend a bit longer? Stay overnight in one of their rooms which have fantastic views of Times Square both at night with the bright lights and during the day which will leave you mesmerized. You will find bountiful photo opportunities here as well as a great atmosphere.
Top of the Rock
The top of the Rockefeller building is the best place in NYC to take in the breath-taking 360-degree panoramic views of the Big Apple from Top of the Rock's iconic observation deck. You will be able to see from Central Park to the Empire State Building and all from an aerial point of view making it clear and unobstructed.
For the best shots head straight to the top where you will either need a second photographer or a tri-pod to capture you taking in the magic on NYC from the incredible viewpoint. Be sure to capture the viewing stands as well to add a classic touch.
Dumbo Brooklyn
It is one of New York City's hippest, historic neighbourhoods with unsurpassed views and some delicious cafes. The best part? This street is free to visit and not only can you get an Instagrammable photo but it also includes Manhattan Bridge and the Empire State Building through the arch. Make sure your camera battery is charged and ready to go!
I would suggest getting there for sunrise as it gets extremely busy during the day with locals, traffic, tourists and other photographers and you will find it to be a lot quieter. There are lots of other areas around the bridge for more unique shots as well, have a walk around and you will be surprised at what you will find.
Brooklyn Bridge
The best part about this spot is that the Brooklyn Bridge is open and accessible 24 hours a day and it is beautiful no matter what time you go, but sunset is a must. From the bridge, you can take in the views of both Brooklyn, Manhattan and the Statue of Liberty while there is still light out and then watch as all the sights come to life with electric wonder.
The bridge itself is a hybrid cable-stayed/suspension bridge which is neo-gothic in architectural style with characteristic pointed arches above the passageways through the stone towers. Be sure to encompass the cables into your photo as this really adds to the atmosphere of your surroundings and creates a unique shot.
A Black A Frame, Kerhonkson
This is a fantastic Airbnb A Frame cabin nestled away in the secluded forest of Kerhonkson, located a few hours outside of NYC and is truly a great place to relax for a few days with just yourself, a wood fire and some hot cups of tea. With only a few neighbours dotted around you truly are out in the wilderness where you can get back to nature and take some time out from the hustle and bustle of the city.
The best part? It provides some excellent photo opportunities as well which are very unique and you are not apt to get anywhere else in New York. If you are lucky you will also see quite a lot of the wildlife roaming around such as deer, squirrels, rabbits and some friendly local dogs.
The Oculus
Designed by famed Spanish architect and structure engineer Santiago Calatrava, this luminous space is intended to resemble 'a bird flying from the hands of a child,' bringing a sense of hope to the site of the 9/11 tragedy. It really is a wonderful piece of architecture that will constantly have you looking up at it in awe and wonder.
It is also a really great backdrop for some Instagram photos as the white, modern structure really stands out in the background which is really like nothing else in NYC. Be careful though as we got ushered out after taking photos for about 10 minutes as apparently, you are required to have a permit and they will kick you out even if you are only taking photos as a tourist.