HA LONG BAY ON LAND
This beautiful ecolodge is nestled near the Mua Mountain, a region often referred to as "Ha Long Bay on land" and is surrounded by lush rice fields and magnificent limestone mountains. A gorgeous landscape dominated with waterways, bamboo hedges, fruit trees and vegetable gardens that brings you closer to nature.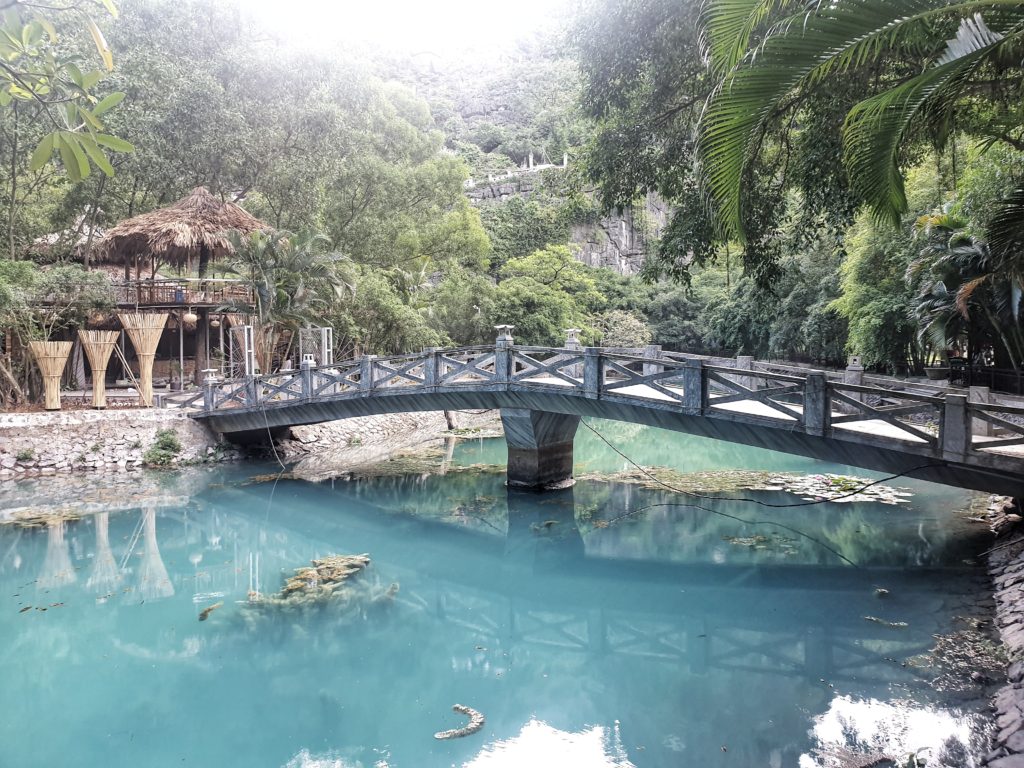 Built in a rural architectural style, Mua Caves Ecolodge evokes the image of an authentic Tonkin village with tile-roofed houses, green bamboo hedges, lush paddy fields and cultivated vegetable gardens. Staying here is a great way to discover the living environment of Tonkin farmers and to learn more about green and cultural tourism.
If you find yourself in Ninh Binh, Vietnam then I would highly recommend booking a few nights stay at Mua Caves Ecolodge.
Highlights
Super close to Hang Mua attraction & free entry
Beautiful rooms and accomodation
Super friendly and welcoming staff
Delicious food & restaurant on-site
Great location and base
Deluxe Double Room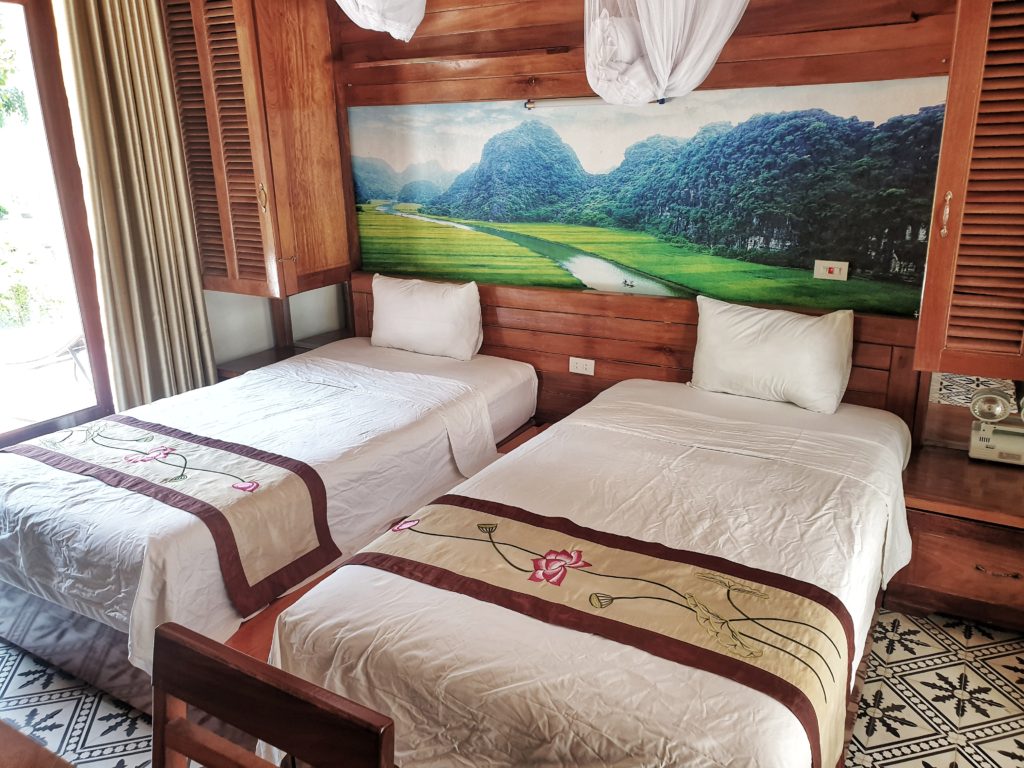 During our stay at Mua Ecolodges we opted for the Deluxe Double Room and we were certainly not disappointed with our few nights there. The room was spacious, and there was plenty of space for us to chill out and relax in. It comes complete with an ensuite bathroom and a private terrace with plenty of natural light and views of the natural beauty surrounding you.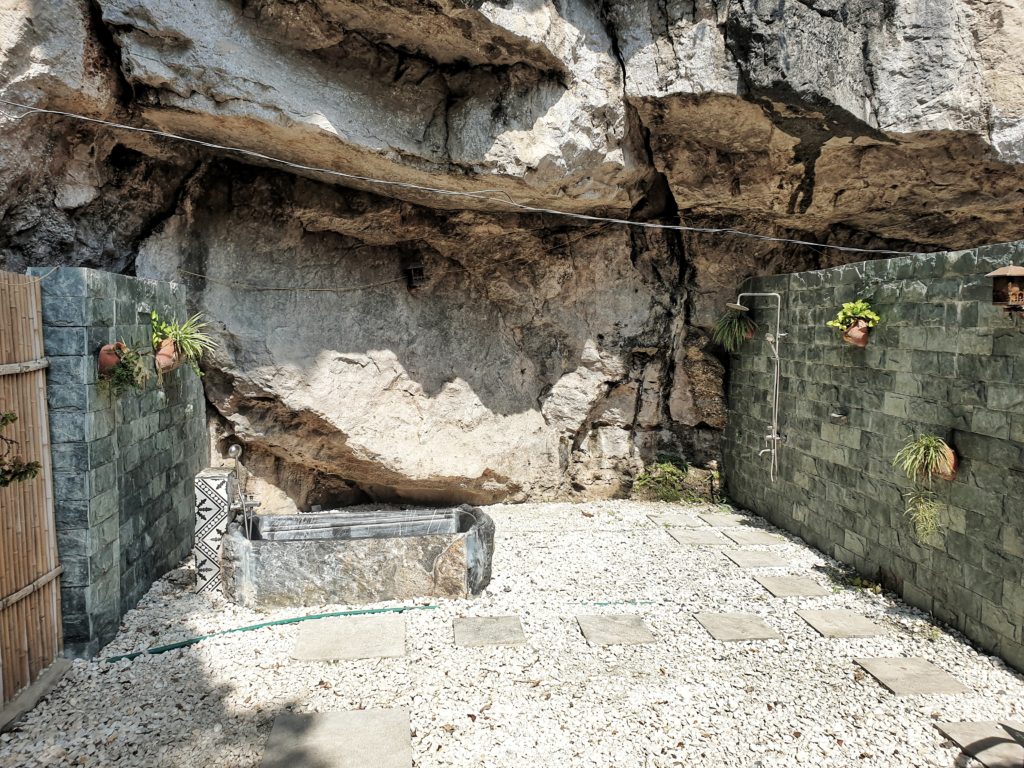 The lodges are a stunning combination of modern material combined with nature, providing a perfect balance of looking after the environment while providing comfort for their guests at the same time. There is an en-suite bathroom which is built into the mountain rock creating a unique bathing space you will never have experienced before. It still comes with towels, shower, bathtub, toilet and sink.
What you get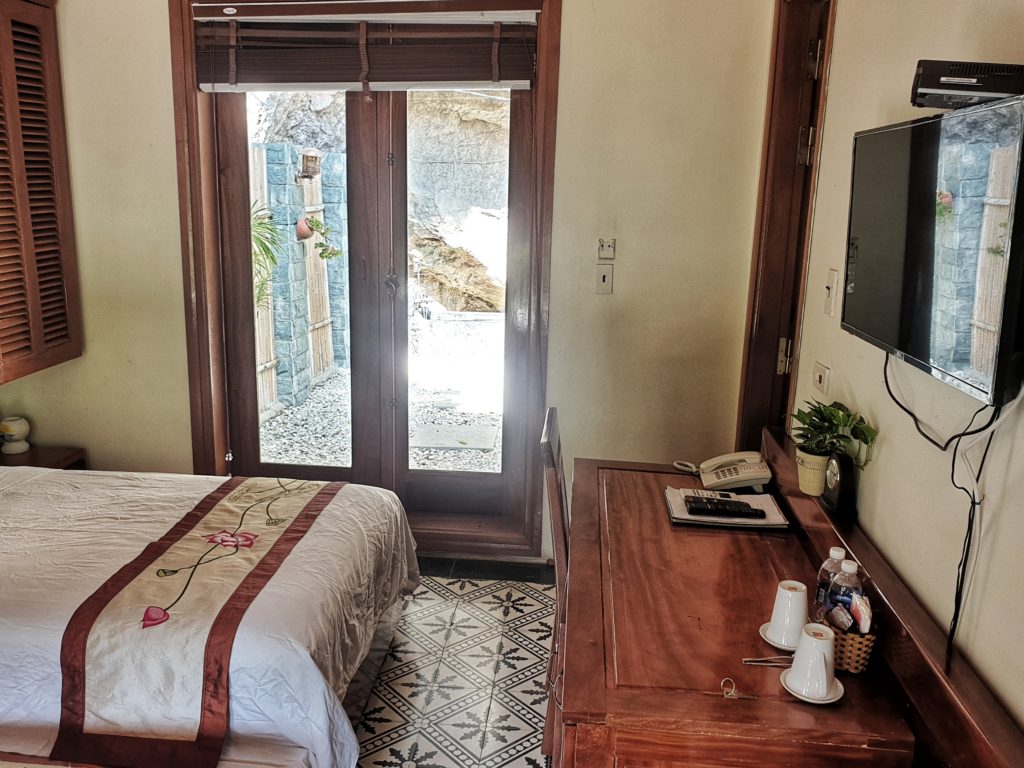 The room comes furnished with a super comfortable twin bed with fluffy pillows and clean linen surrounded by two bedside tables, lamps, mini bar, tea & coffee making facilities, air-conditioning, free Wi-Fi, free toiletries and lots of space for your luggage.
Click here to check out their other available rooms.
Activities
Check out Tam Coc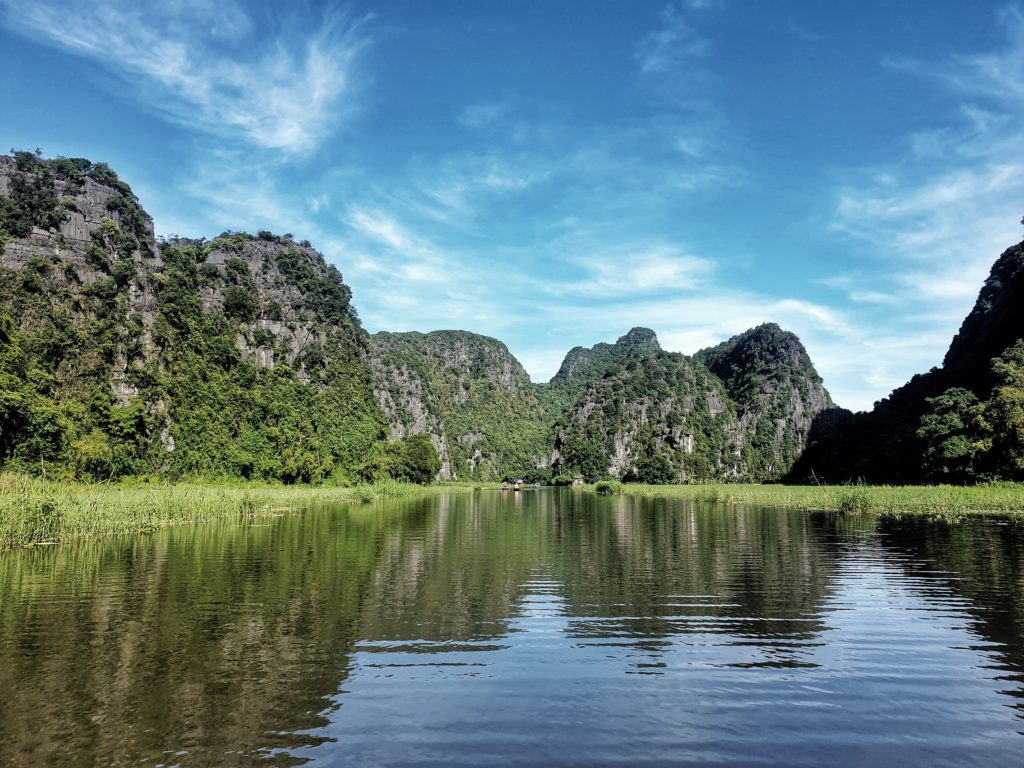 Located outside of Ninh Binh town, Tam Coc is one of the best nature destinations in Vietnam although it remains firmly off the tourist trail. It is known for its karst landscape which is similar to the better known Halong Bay, although here you will find some scenic limestone hills which are dotted amongst emerald green rice paddies.
Halong Bay has larger cliffs, although it is also more crowded, so Tam Coc is the place to come if you want to get off the beaten track and you can explore the area by boat which takes around two hours.
Explore Van Long Nature Reserve
If you want to keep exploring outside of Ninh Binh then you can head to Van Long which is a wetland reserve that is the place to come for keen birdwatchers. As this is a protected area of land, it is teeming with local flora and fauna, so if you are a nature and want to check out the Vietnamese wildlife then don't miss it off the itinerary.
The wetlands are the home to a number of Vietnamese species like monkeys, reptiles, and birds.
Bich Dong Pagoda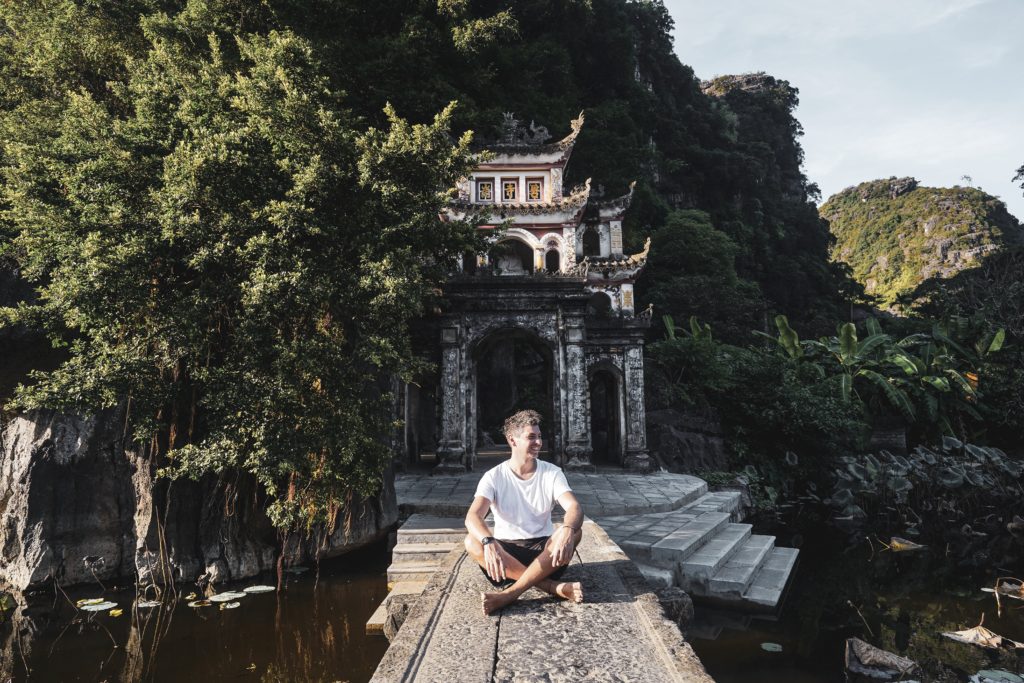 Just past Tam Coc you will find one of the most interesting pagodas in the region which dates from the 15th century. The Bich Dong Pagoda is located on the side of a mountain and is made up of three levels called the Ha, Trung and Thuong Pagodas.
The temples are also built so that they back on to caves which you can also explore as part of a visit here. As you would expect from pagodas built into a cliff, the path to the top is steep but the views are well worth it.
Explore Mua Cave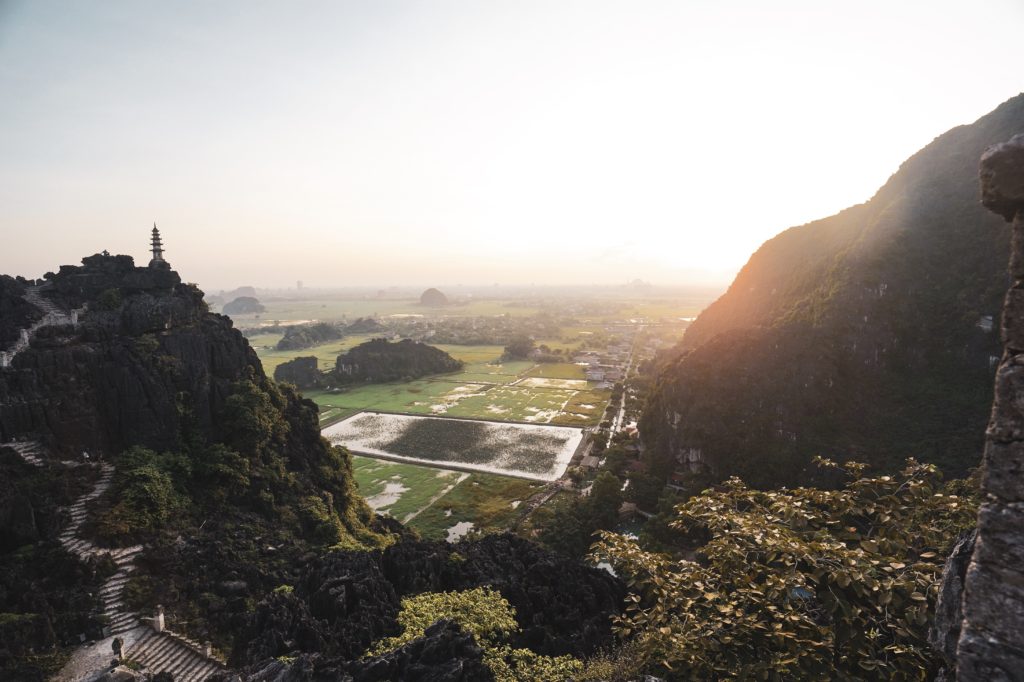 Located close to some scenic rice paddies is the Mua Cave which has gorgeous views over the surrounding peaks. There is a stone staircase that takes you up to the mouth of the cave and past eerie karst formations.
Once you have climbed the 500 steps to the top, you will get to the altar of Quan Am who is the revered Goddess of Mercy and the vistas are spectacular as you can see all the way down to the Ngo Dong River.
How to get there
Mua Cave is located in Khue Dau Ha village (Ninh Xuan commune, Hoa Lu, Ninh Binh) at the foot of Mua Mountain.
Phone: (+84) 378 699 330

Email: [email protected]

Address: Khe Ha, Ninh Xuan, Hoa Lu, Ninh Binh
Prices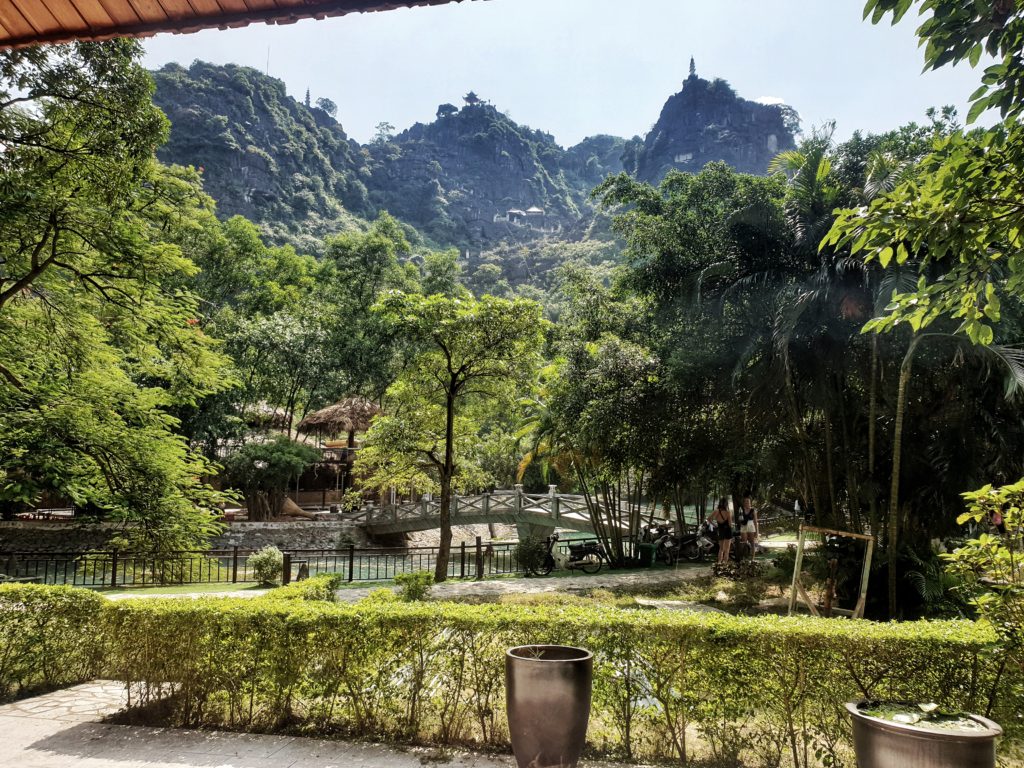 The prices will vary depending on what time of year you stay – to check out the pricing click here.
We stayed in August 2019 and for our Deluxe Double Room it would cost 2,416,655 VND (£83) per night.
Extras
Free public parking is possible on site (reservation is not needed).
WiFi is available in the hotel rooms and is free of charge.
Luggage storage
Airport shuttle (additional charge)
Shops (on site)
Summary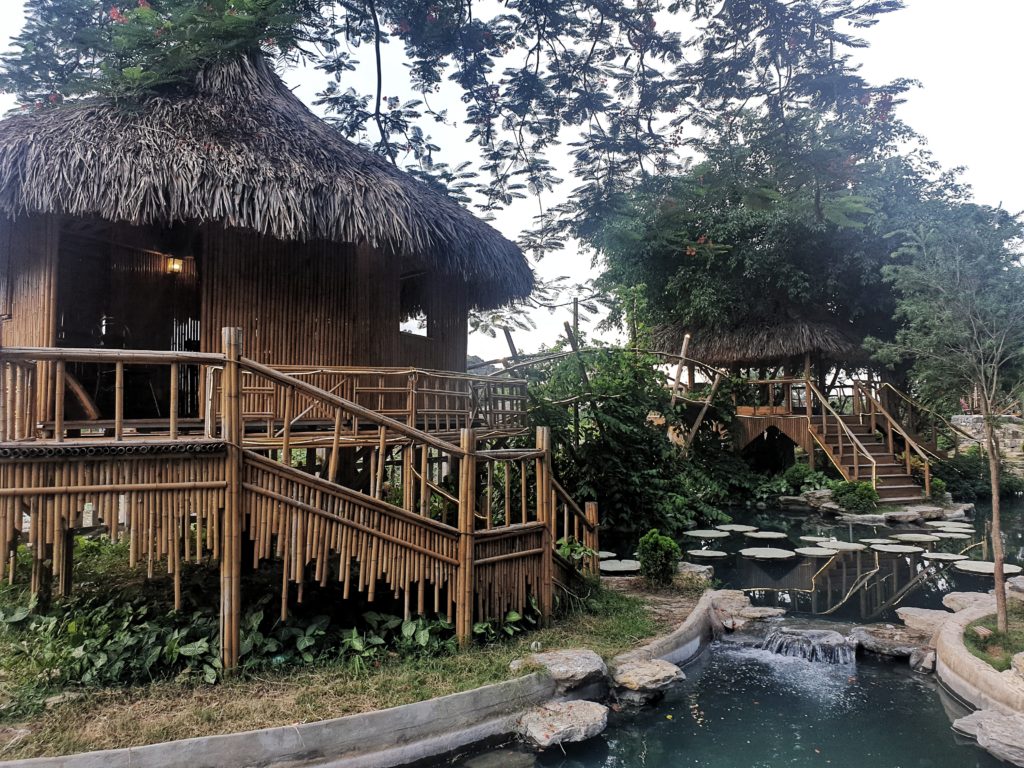 This exotic slice of Vietnamese paradise is absolutely beautiful, peaceful, and the perfect place to stay and explore while in Ninh Binh. I am so glad that we chose to stay here for a few nights – its the best place for checking out the Mua Caves and surrounding area!

The room was fantastic, we had a super comfortable nights sleep and really enjoyed watching the surrounding natural beauty from our bed and windows. The eco buildings and structures were my favourite feature, plus the staff are so friendly, they can honestly not do enough for you to make your stay that little bit more comfortable than what it already is.
You will want to spend longer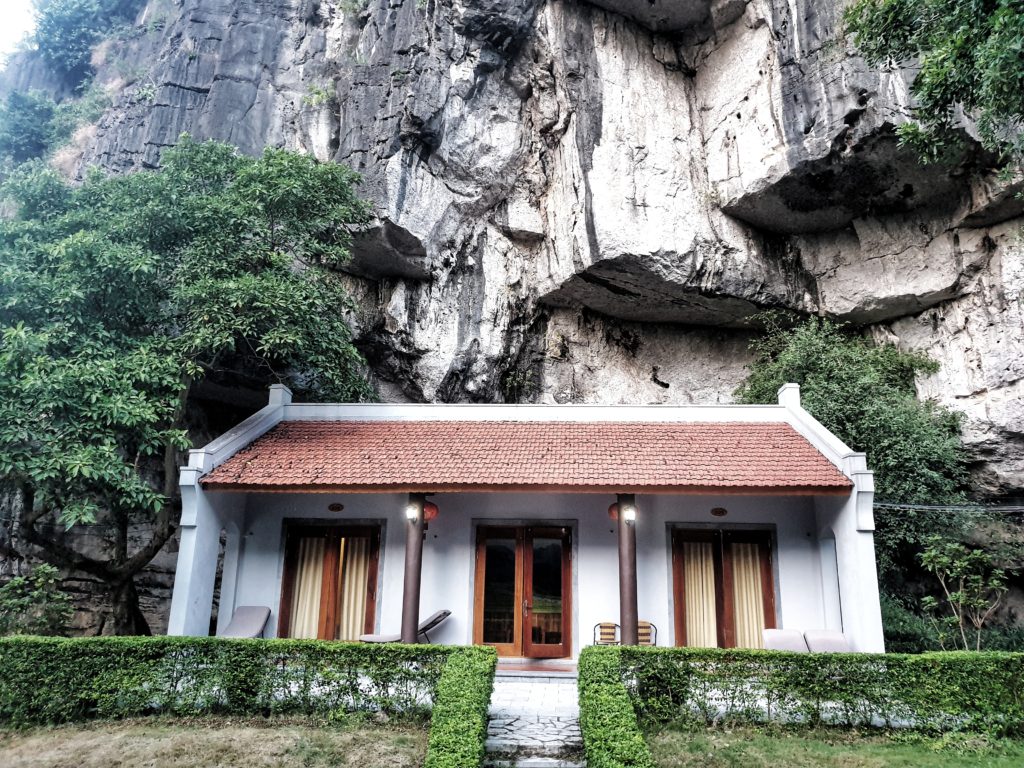 The lodge is quite simply superb and the views are breathtaking leaving you soaking them up the whole time you're there. When you throw in the close proximity to the river, Ninh Binh town and all of the other attractions you are onto a winner!
If you are in Ninh Binh, Vietnam, and you want to have a unique Vietnamese eco experience, I would highly recommend Mua Ecolodges.
***Thank you to Mua Ecolodge for kindly sponsoring this post. All opinions are 100% honest & completely my own.