A TASTE OF LUXURY
Tri Lanka is a beautiful sustainable luxury design hotel which blends the exoticness of Sri Lanka and contemporary architecture into something magnificent. Only a short distance away from Galle, it can be found nestled among the trees on the shores of Koggala Lake and within reach of the local beaches.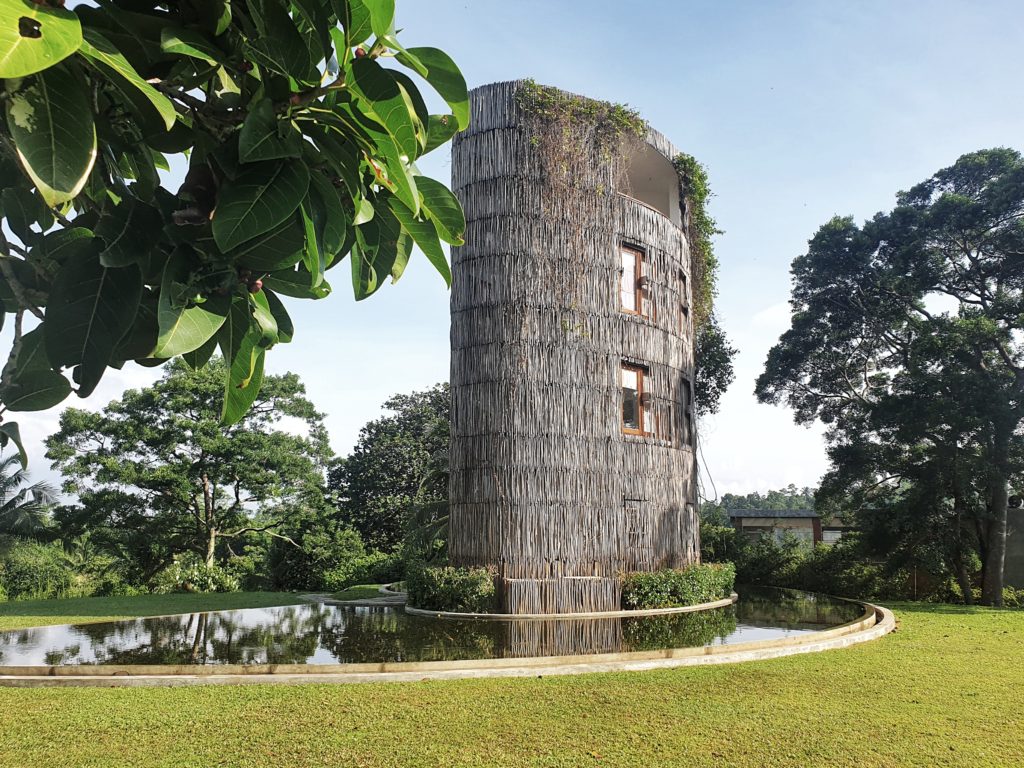 It is a fantastic place to relax, unwind and really appreciate the heart and soul that has been poured into the resort. With a wellness spa on site, the lake, and refreshing swimming pools you won't really want to leave during your stay. If you do however, manage to pull yourself away, then you can always visit the Galle Fort, beaches and surrounding towns which are well worth a visit.
If you find yourself near Galle, Sri Lanka then I highly recommend booking a few nights stay at Tri Lanka.
Highlights
Stunning architecture
Gorgeous lake and surrounding countryside
Very friendly and welcoming staff
Great location to Galle, Mirissa and Unawatuna
Relaxing vibes and chilled out atmosphere
Lake Villa with Pool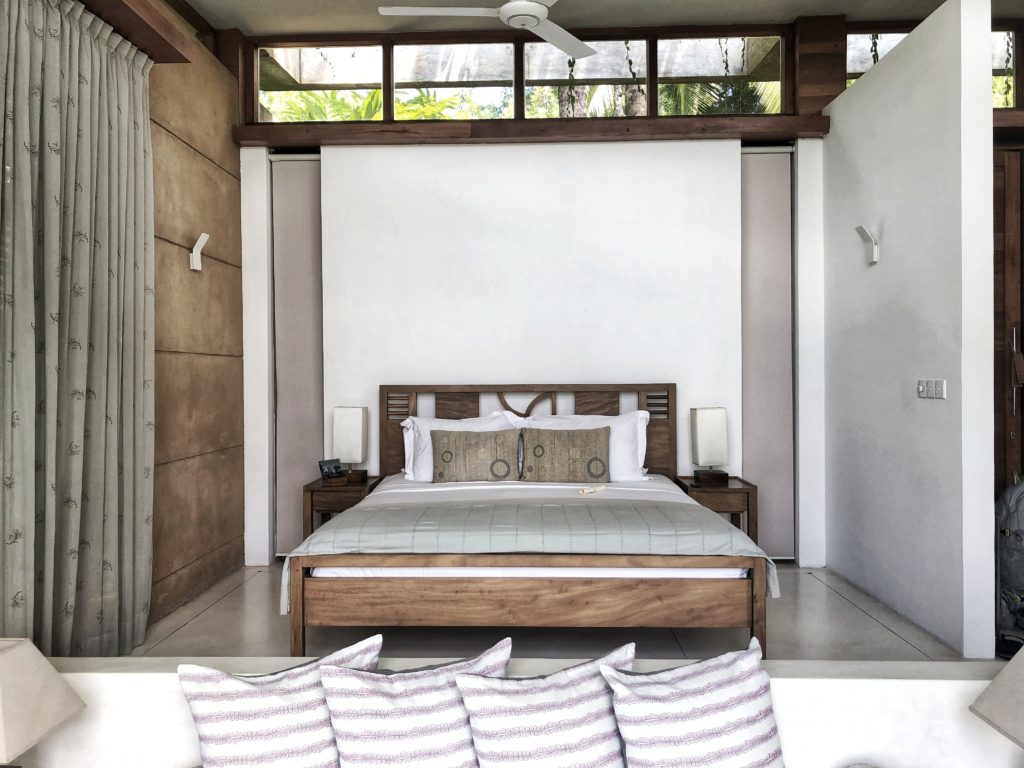 During out stay at Tri Lanka, we opted to stay in the Lake Villa with Pool for a few nights and we were certainly not disappointed. It far exceeded our expectations and we truely wished we could have stayed longer to fully enjoy it more. There is decent Wi-Fi throughout the resort as well as in the rooms.
The Bedroom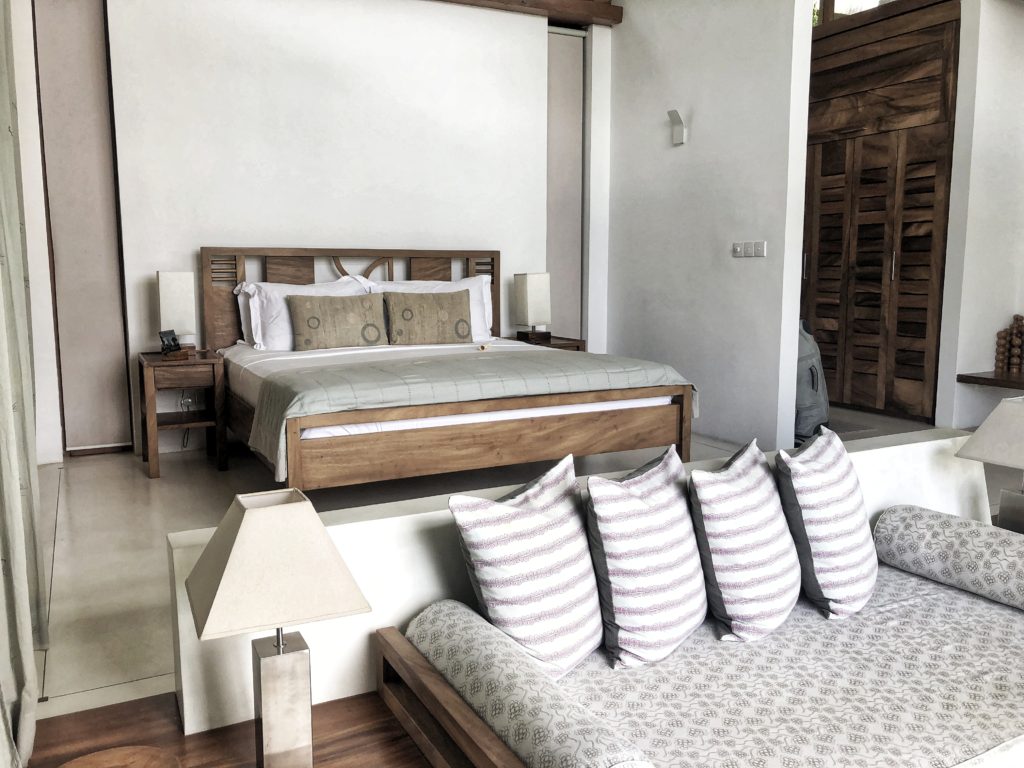 The villa is an open space with a bedroom, living room area, terrace/balcony, and large bathroom. It comes equipped with a large comfortable king size bed, two bedside tables, lamps, torch, umbrellas, dressing gowns, large wardrobes and storage space, a ceiling fan, air-conditioning and a personal mobile phone for services such as the reception, bar and restaurant.
The Living Room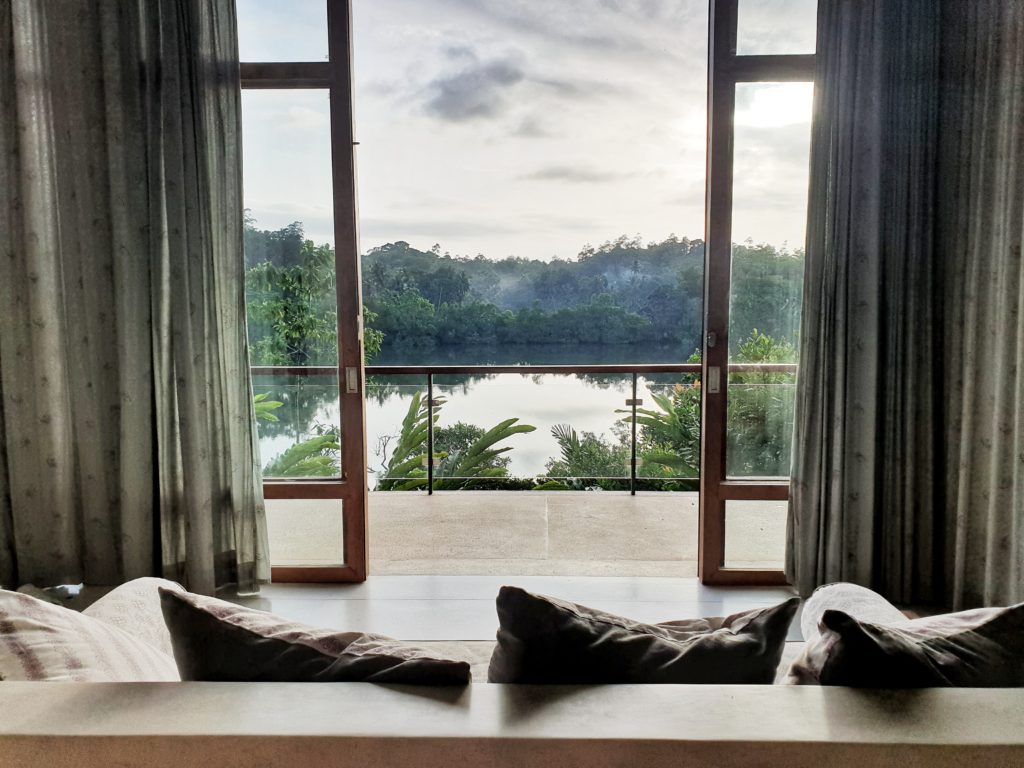 At the foot of the bedroom is the living room which consists of a large sofa with pillows, plenty of power sockets, and a great view through the terrace windows over the lake and surrounding countryside. You can exit through these doors onto the balcony which leads round to the infinity pool. Also included are free daily water, free snacks, and space to put your bags.
The En-suite Bathroom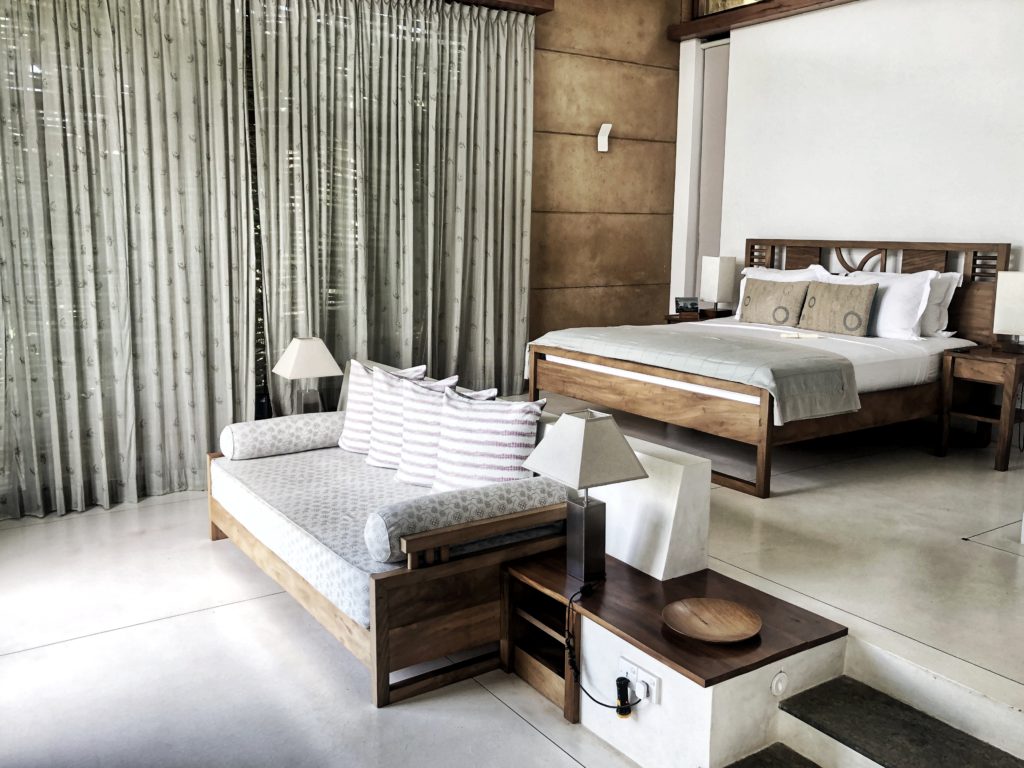 This was very spacious with a large mirror & sink, fresh fluffy towels, free toiletries, toilet, rain shower shower and very modern furnishings. There is a rack to dry your towels and wet swim wear, and a door that leads onto the balcony and to the infinity pool.
The Infinity Pool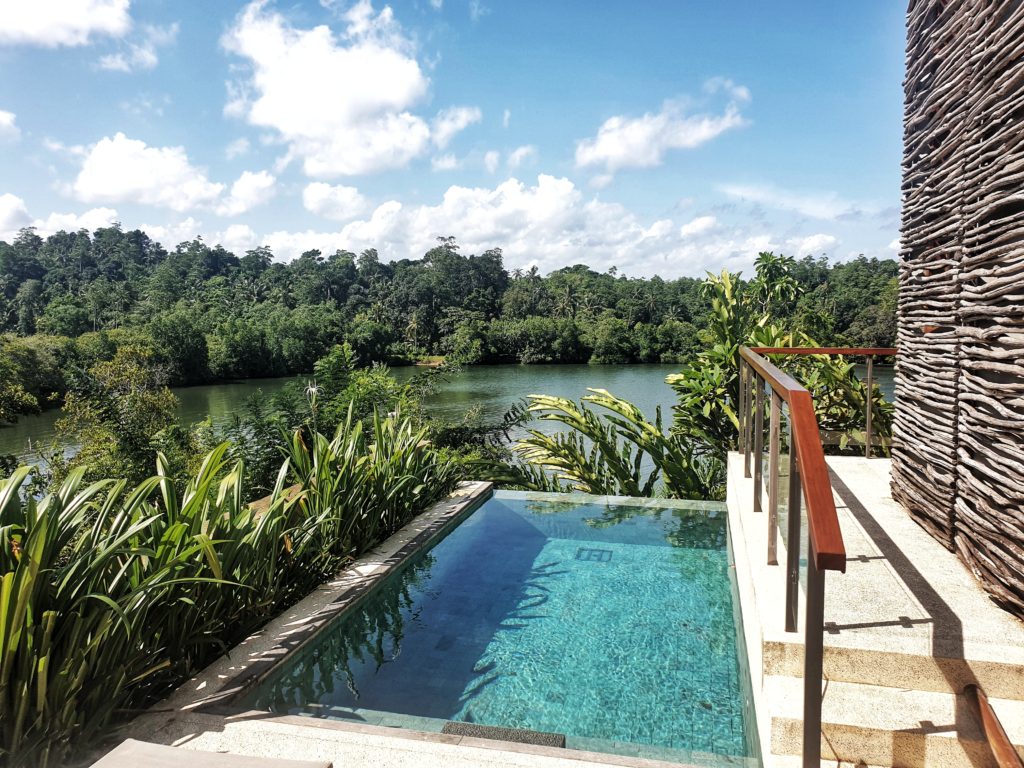 Once outside of the villa, you can access the pool via the balcony and is situated to the side of the property. It comes with two sun loungers, an umbrella, and of course the pool with incredible views over the beautiful lake. It is the perfect place to relax, sunbathe, chill out, take some incredible photos and watch the sunrise in the morning. Now this is what I call living in luxury!
Click here to check out their other rooms
Activities
The Infinity Pool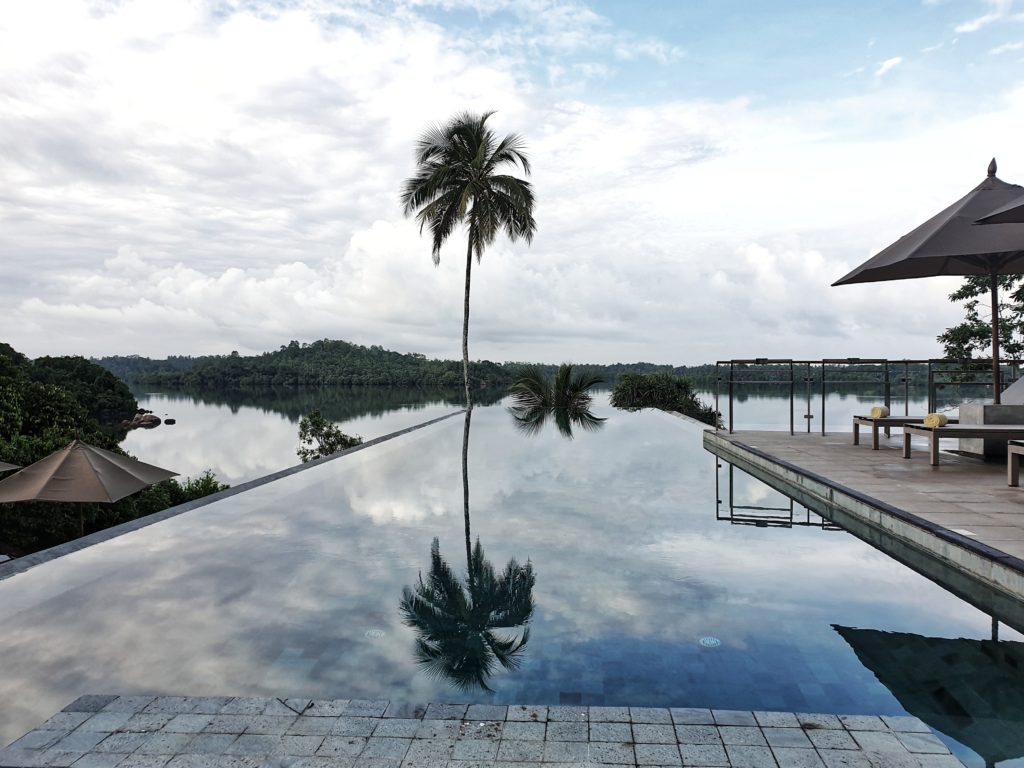 Tri Lanka is especially well known due to its famous and stunning infinity pool overlooking Lake Kogalla and the surrounding lush green countryside. The iconic coconut tree stands at the end of the pool creating brilliant reflections in the pool and makes for some great photo opportunities (especially at sunrise and sunset).
And of course for swimming! It is quite long in length (21m) and is great for getting some laps in. Or chill in the shallow end while sipping some cold drinks…totally up to you. There are also plenty of sun loungers with umbrellas and free beach towels for your use.
The Bar & Reception Area
This is quite a massive space which has a lovely modern, clean and relaxed feel to it. Here you will find the bar which provides alcohol, soft drinks, smoothies, water, tea and coffee as well as small bar snacks and doubles up as the reception area. This is surrounded by comfortable chairs and tables for you to relax in and also has good Wi-Fi for your own use.
The Restaurant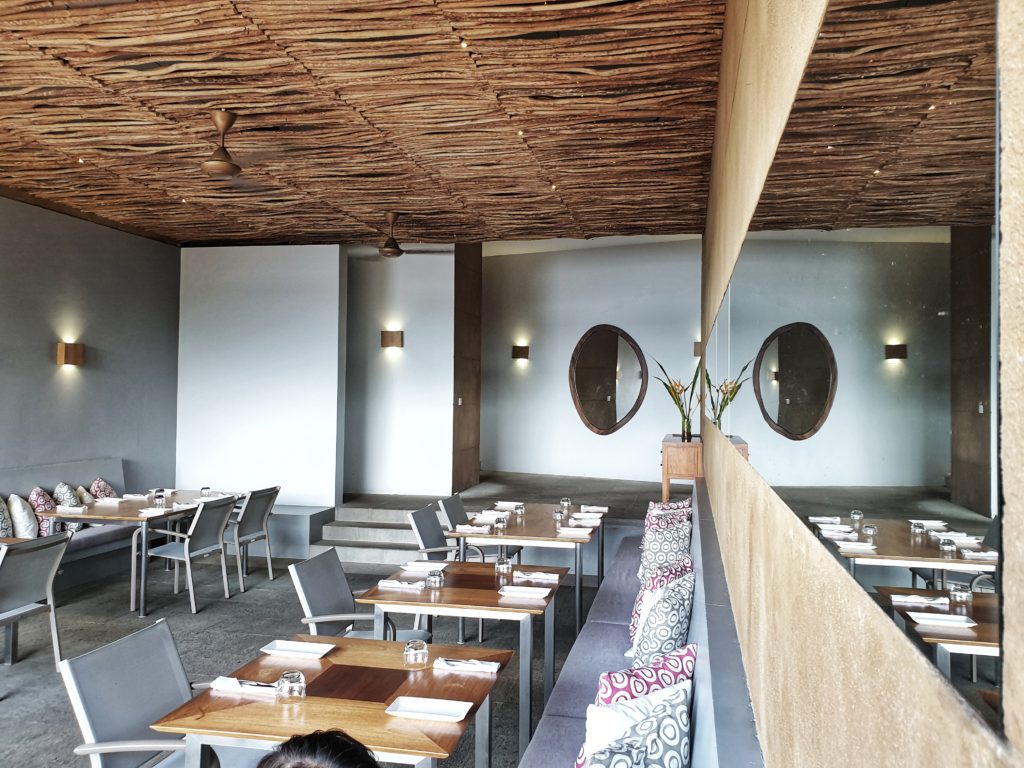 Located under the bar area is the delightful restaurant serving up some delicious cuisines daily including breakfast, lunch and dinner options. From lake to table, and garden to plate, dining at Tri is as organic and seasonal as it gets.
The guiding culinary concept under chef Neil Wager's expertise is fresh Sri Lankan fusion: contemporary, creative dishes that are as delicious and appealing as they are nutritious and local, all presented on unique handmade crockery. Food and drink is a highlight of staying at Tri and we honestly couldn't get enough of this fine dining experience.
The Library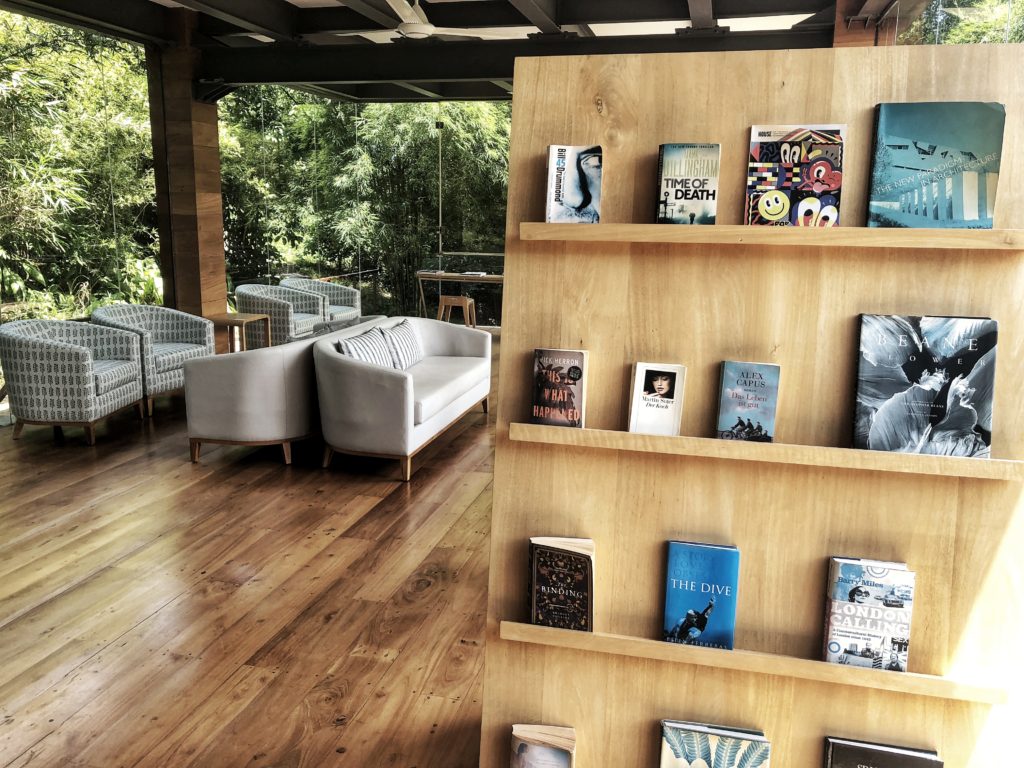 Tucked away from the bar and pool area is a seperate building which holds this beautiful library providing books of all genres and a quiet space to enjoy them.
The Wellness Spa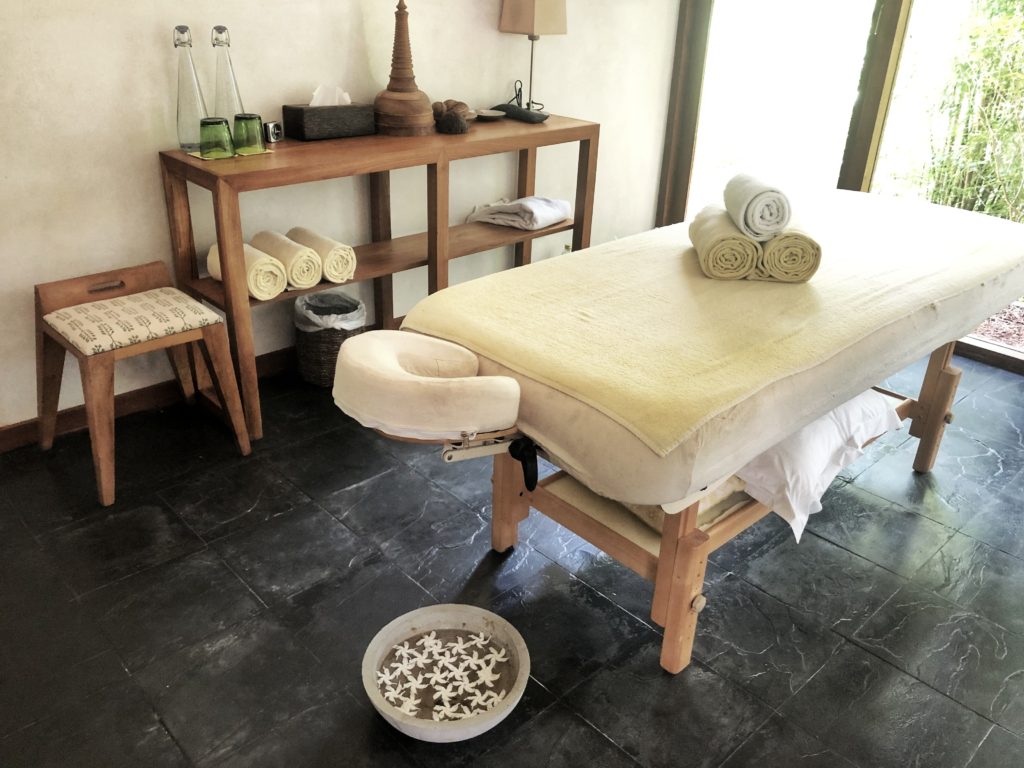 Light and airy, the spa comprises two ensuite treatment rooms with cool white terrazzo walls, natural slate floors and large windows that catch the breeze and overlook the treetops. A sheltered relaxation area – with handpicked granite flooring and soothing water feature is flanked by stone walls, tall bamboo and banks of scented white flowers. The tranquil steam cavern has white terrazzo walls and an outdoor shower surrounded by nature. Perfect!
Yoga Classes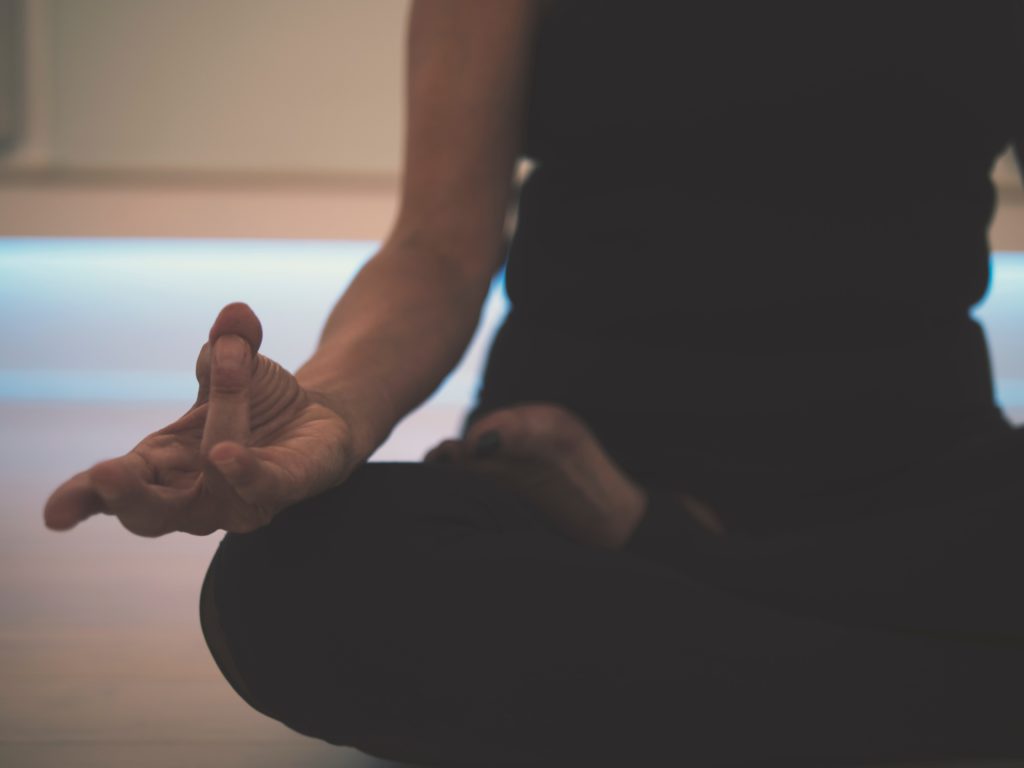 The yoga shala is an elegant, elevated retreat space for the physical and spiritual practice of Quantum Yoga. This powerful platform offers individualised and dynamic self-healing through yoga, breath and meditation.
Take a boat trip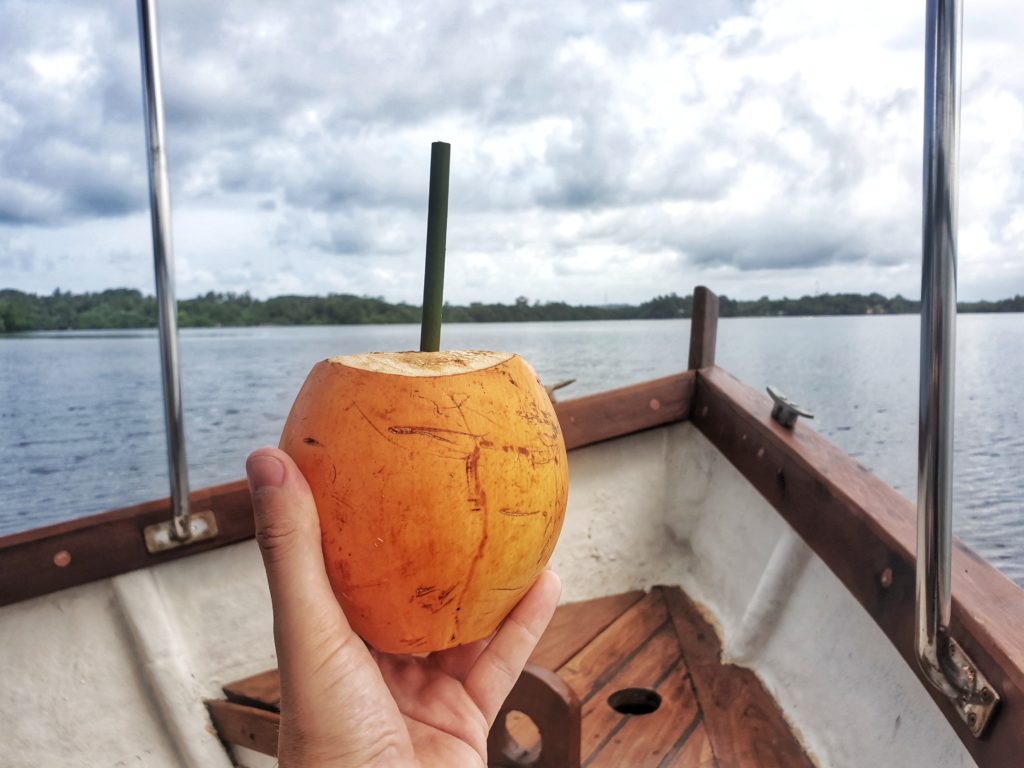 Like the whole of Sri Lanka their tropical gardens are home to a wide variety of wildlife from the cute palm squirrels to the harmless but imposing monitor lizards. The lake is particularly inundated with many birds, with over 50 species recorded on our site, from tiny sunbirds to loud and proud peacocks, chattering parakeets to graceful eagles and fruit bats. If you are lucky enough you may catch a rare glimpse of one the small number of crocodiles that inhabit the lake.
How to get there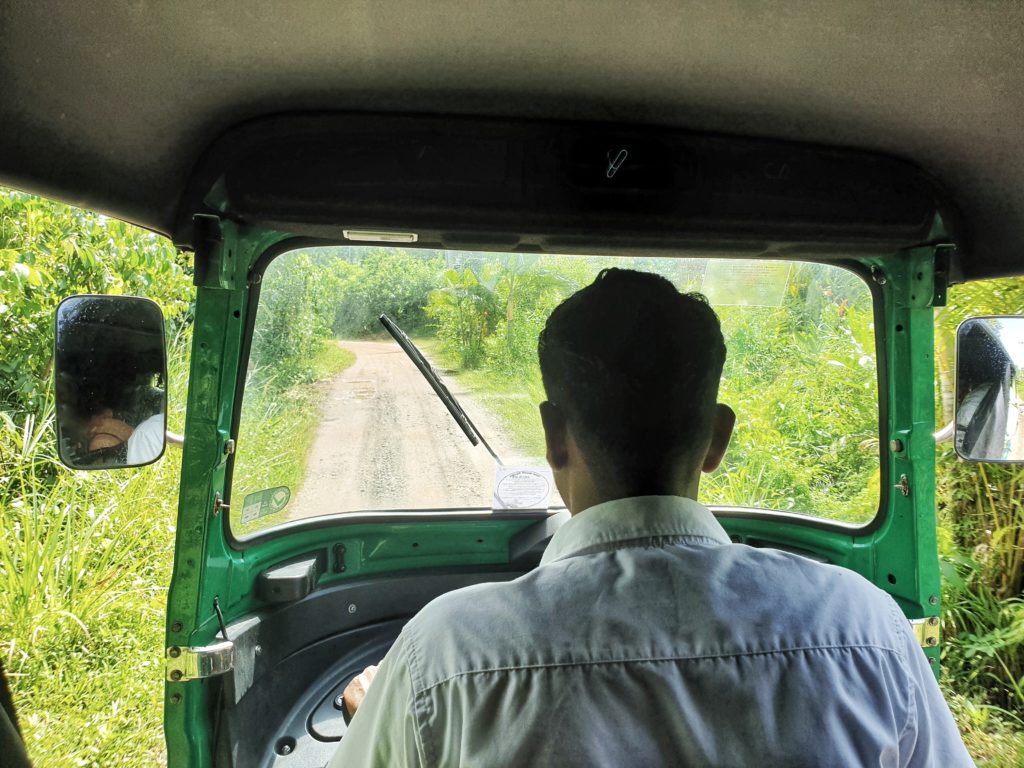 Car
Despite its tranquil natural location Tri is extremely well connected with the outside world. If you are travelling by road Tri is 15 minutes from the airport-Matara highway and an easy 2-2.5 hours from Colombo international airport (BIA).
Flights
More excitingly, Tri can offer either scheduled flights or bespoke charters on the seaplane service to Koggala Lake from most parts of the island, notably the international airport and the tea country.
Train
For the adventurous, guests can arrive via train to Galle and onwards to Koggala where there is a village station.
Boat
Finally, for a uniquely charming arrival, Tri's boat (dhoni) will collect guests from near the main road or Koggala airbase and land guests directly onto their private jetty.
Prices
They vary depending on what time of year you go – Click here to check out prices.
We stayed in July 2019 and for our lake villa with pool it would cost 61,143 LKR (£279) per night.
Both breakfast and dinner are included within the quoted rate, that also includes all local taxes and service charge. For dinner you may enjoy their daily evening menu (which may be either a 6-course tasting menu or our home style rice and curry), or order a la carte from their all-day dining menu. Drinks are not included.
Extras
Evening room treats
24-hour front desk & reception
24-hour security on site and gate
Free private parking is possible on site (reservation is not needed).
Cooking class Additional charge
Summary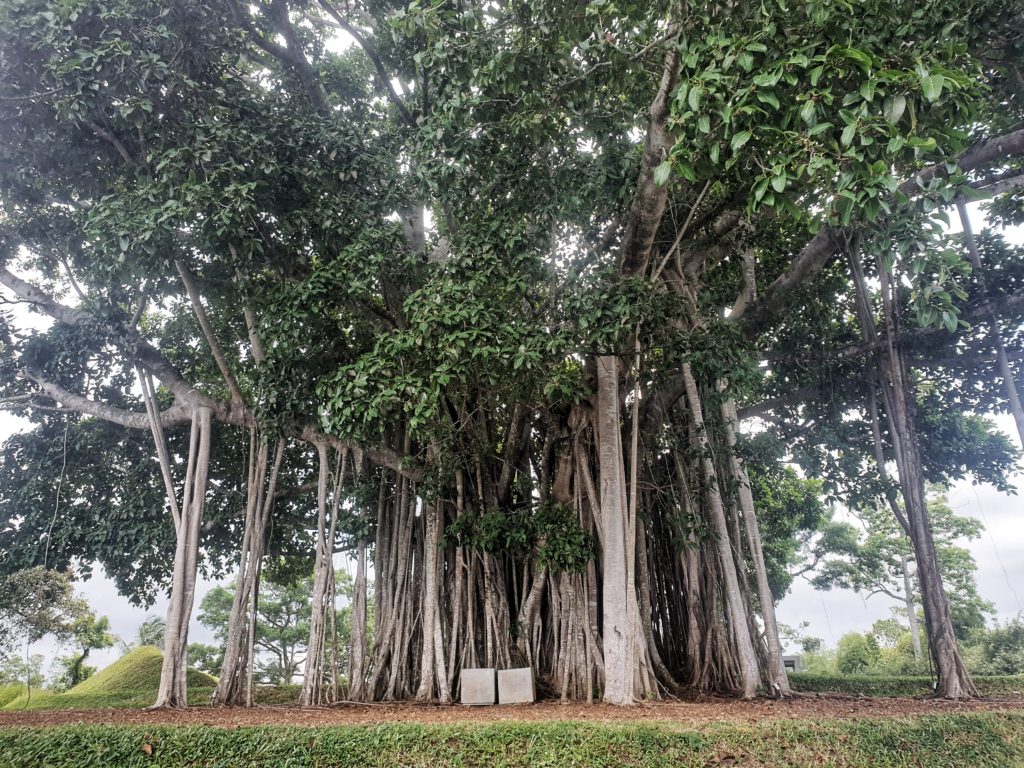 This resort is absolutely beautiful and I am so glad that we chose to stay here for a few nights – its the ultimate Sri Lankan retreat experience and I honestly did not want to leave.
The villa with pool was spectacular, with traditional but modern Sri Lankan influences and amazing views right from our bed. The room itself is super clean and we loved that it had its own private plunge pool. The staff on-site are so friendly, they can honestly not do enough for you to make your stay that little bit more comfortable than what it already is.
You will honestly want to spend longer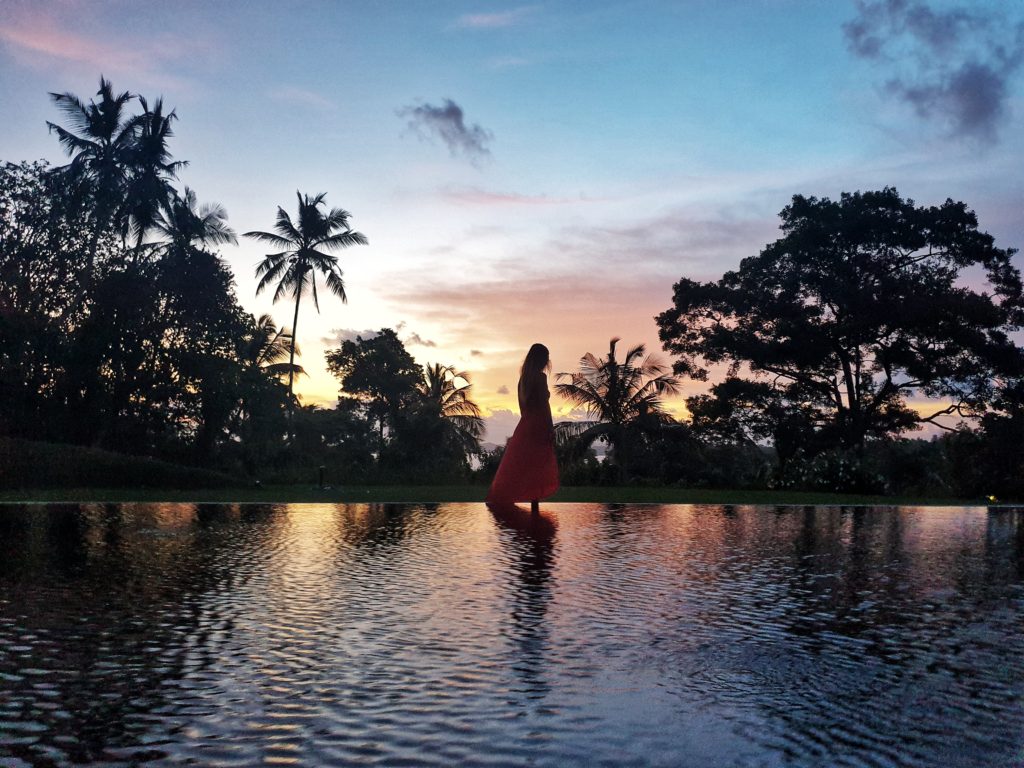 The main infinity pool is very unique and the location itself are hands down the best part about Tri Lanka. When you throw in the short driving distance to Unawatuna, Mirissa & Galle, the onsite library, yoga classes and restaurant – you are onto a winner!
If you are in Galle, Sri Lanka and you want to have a unique luxury retreat experience, I would highly recommend Tri Lanka.
***Thank you to Tri Lanka for kindly sponsoring this post. All opinions are 100% honest & completely my own.