NEW YORK'S FAVOURITE CABIN
Located in Kerhonkson, New York , A Black A Frame is a unique and homely cabin which is nestled in some secluded woods away from the hustle and bustle of NYC. It is perfect for quiet getaways, to immerse yourself in nature and take some time to relax and chill out. Complete with a fireplace, plenty of firewood, full equipped kitchen, terrace area, BBQ and two bedrooms, this is a great place to stay!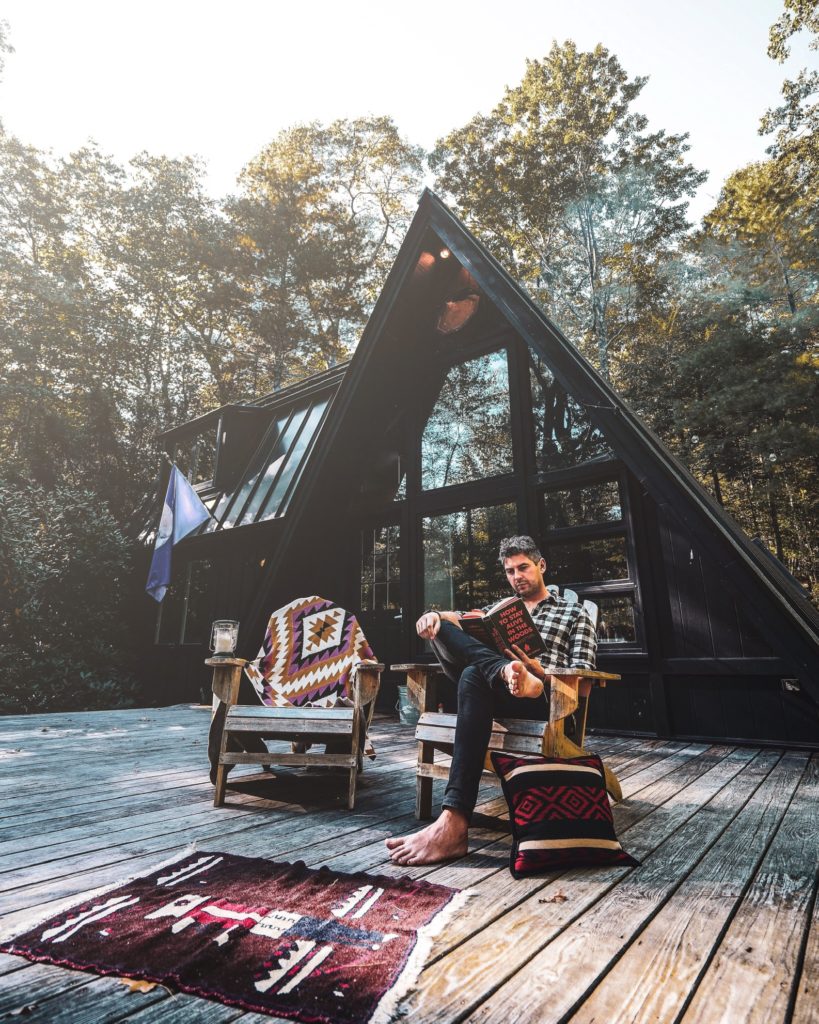 With only a couple of neighbours nearby, you will find yourself in a private location with a cosy atmosphere, fresh air and unique decor making it extremely comfortable, relaxing and stress free. The rooms are brilliant, offering cosy furnishings and amenities, designed with your comfort in mind.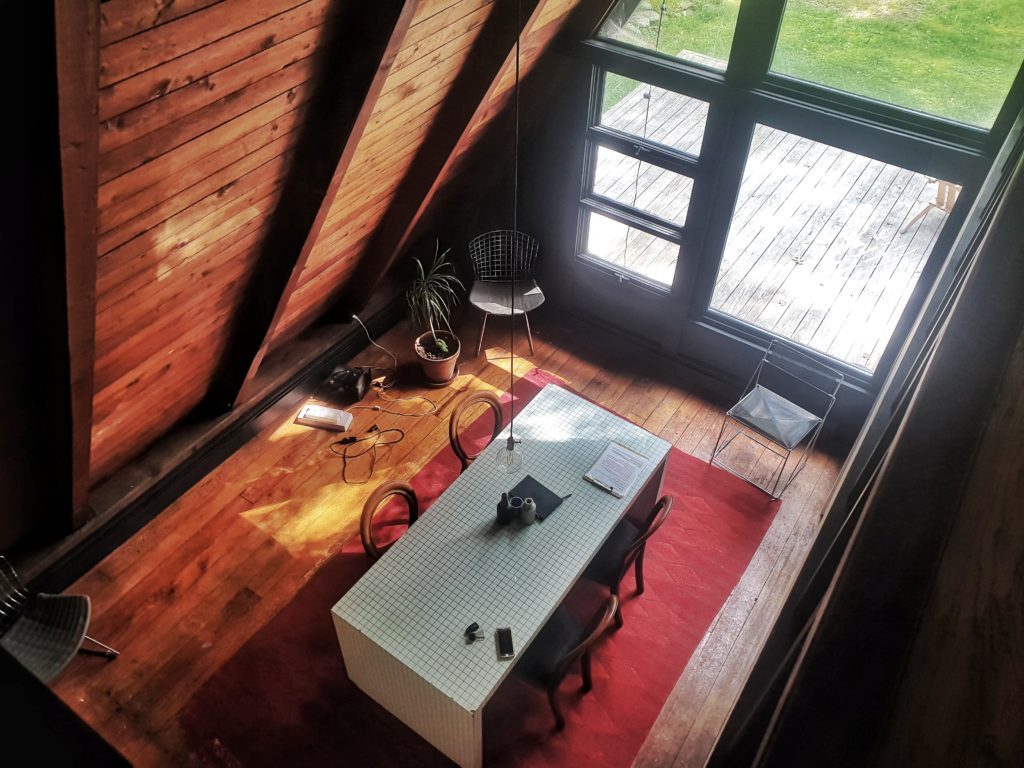 If you find yourself in New York, United States then I would highly recommend booking a few nights stay at A Black A Frame, as it is only a few hours drive away.
Highlights
Super friendly and welcoming atmosphere
Comfortable, cosy, clean rooms
A fantastic large terrace area with chairs
Working fireplace and plenty of wood
Nicely secluded away from the hustle and bustle
The Cabin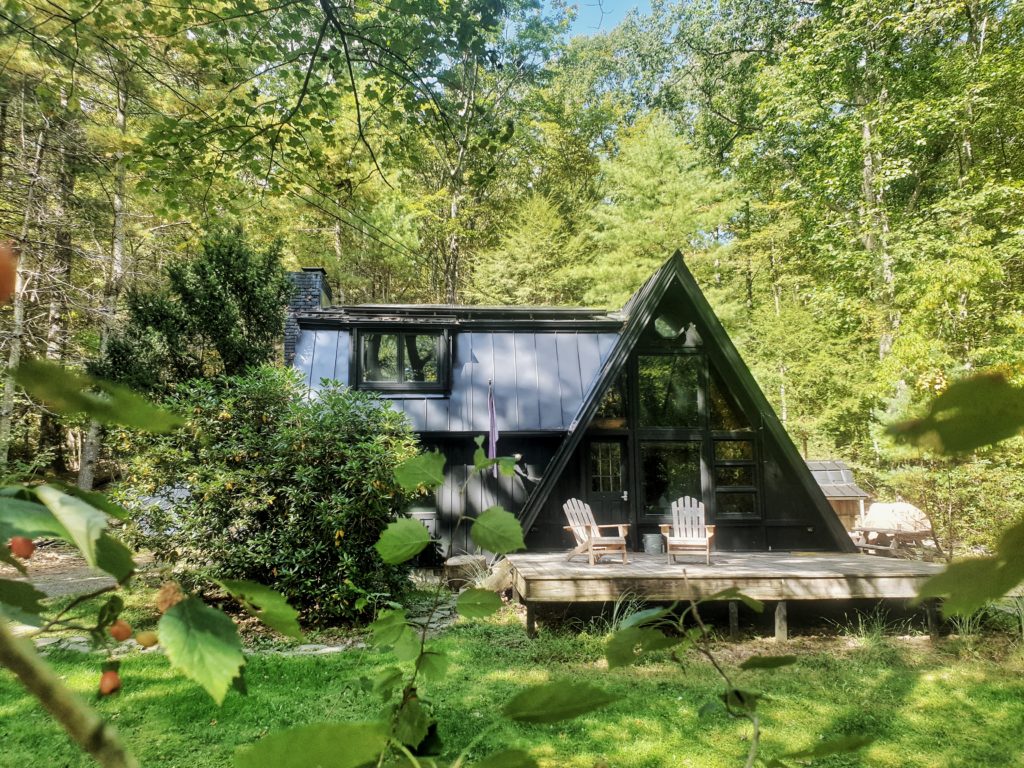 During our stay at A Black A Frame we opted to stay in the master bedroom at the front of the cabin which was perfect for our needs and provided a very comfortable night's sleep. There is also a second large bedroom at the back which also offers a double bed, wardrobe space and comfortable surroundings. With fantastic forest views, aesthetically pleasing decor, spacious and comfortable furniture we almost didn't want to leave.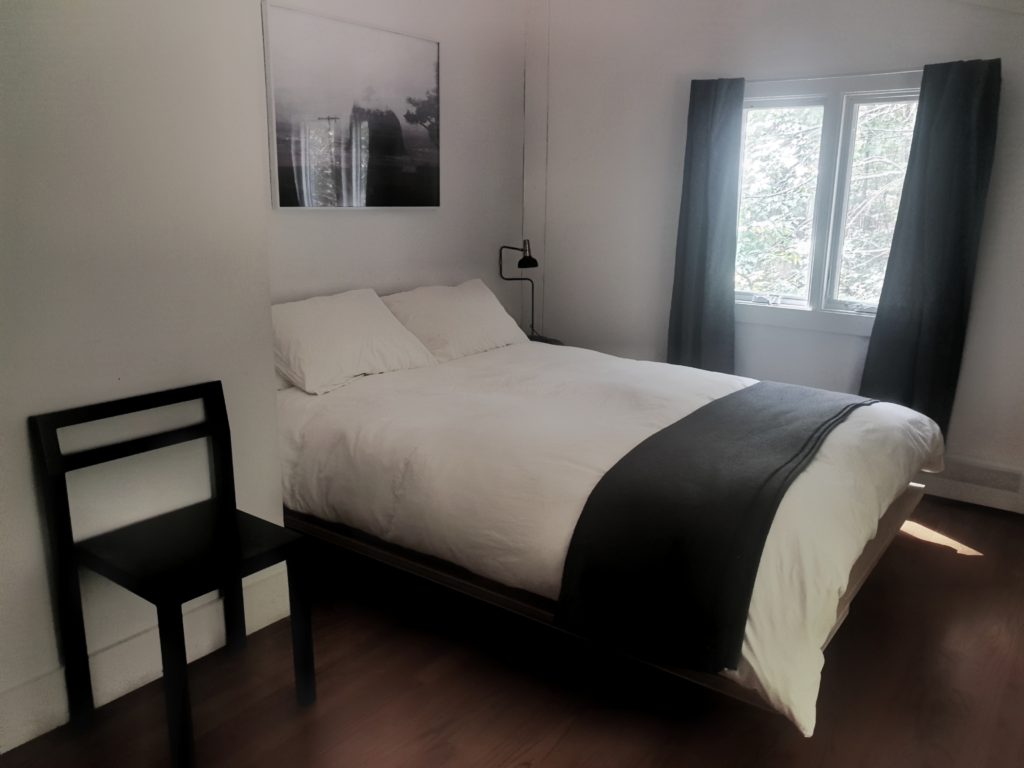 Furnished with plenty of windows, it was a brilliant way to wake up in the morning and look out into the forest where you can spot deer roaming around. It comes with a large queen size bed that was honestly so comfortable we really did struggle to get up in the mornings. There are two bathroom's (one up and one downstairs), dining table, fireplace, plenty of power points, coat hooks, mirror, vinyl player and a small TV in the master bedroom.
What you get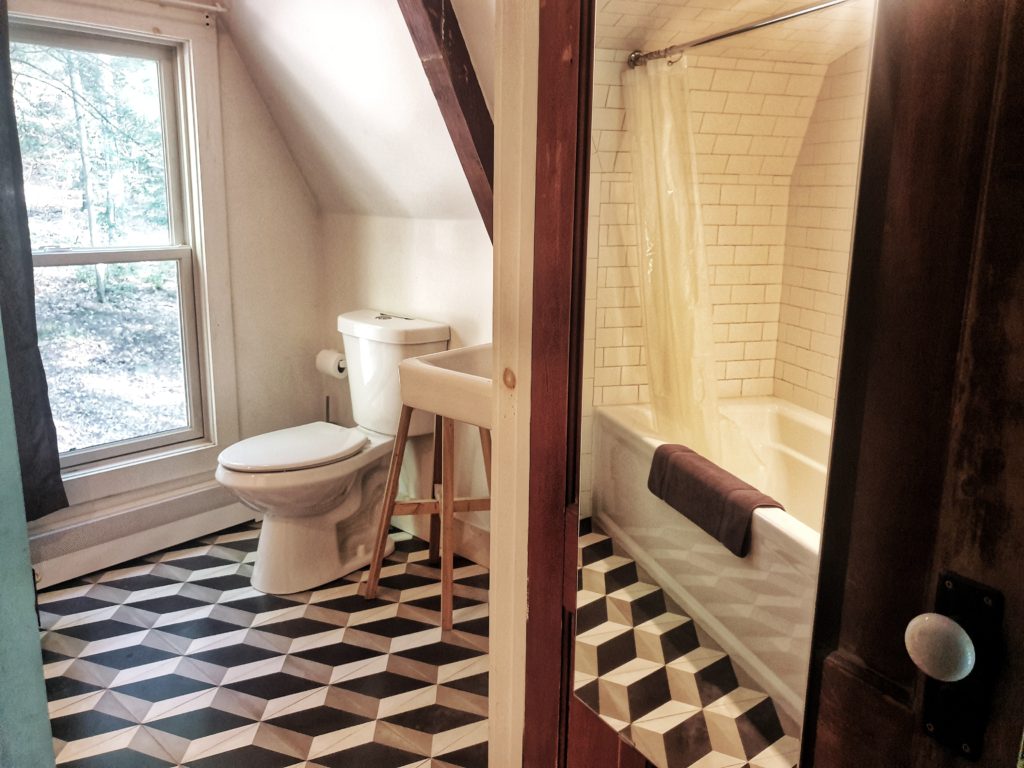 The cabin comes equipped with free toiletries, strong Wi-Fi, fluffy pillows, clean towels, soft linens, firewood, sofas, chairs, deck chairs, fresh spring water, plenty of books, board games, blankets, free parking and plenty of space for you to relax in.
To view more of the cabin click here
Activities
Light up the fireplace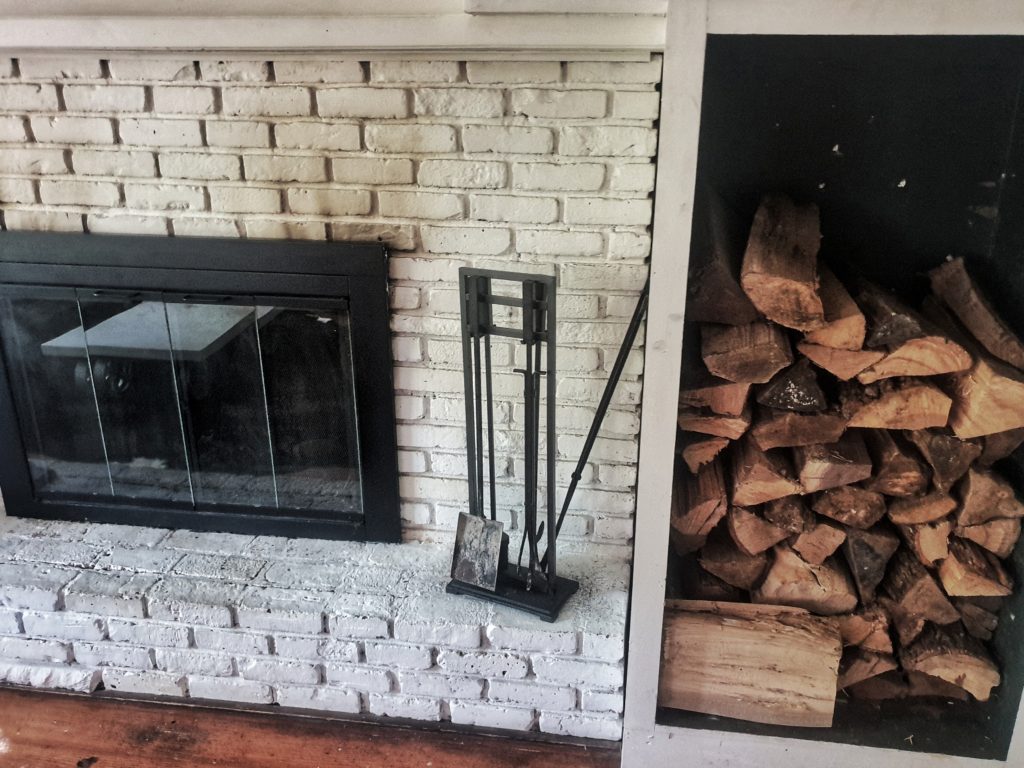 This honestly made our stay really authentic and was one of the highlights as we thoroughly enjoyed keeping the fire lit and roasting marshmallows over the flames while make smores and relishing in the heat. This was a perfect way to spend the evenings, watching the flames dance, with a movie on and having some drinks.
Explore the surroundings areas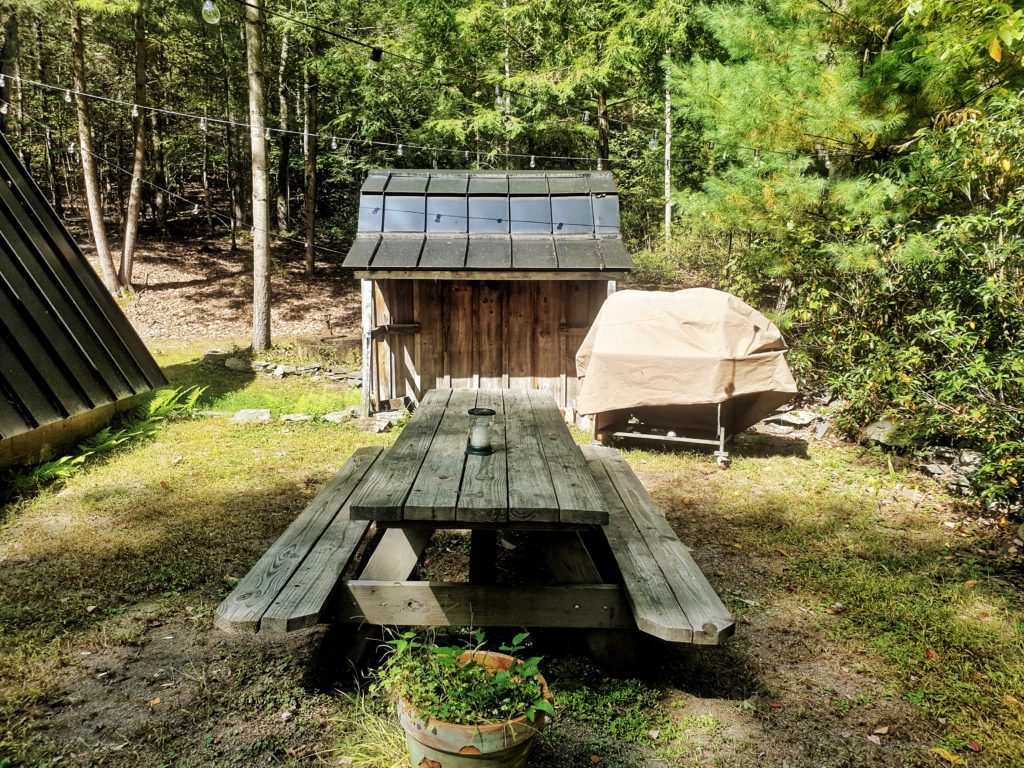 There are many fantastic things to see and do in the area including great breweries, vineyards, excellent hiking, skiing, swimming, shopping and more. For a complete list of suggestions please visit their listing.
Just relax and unwind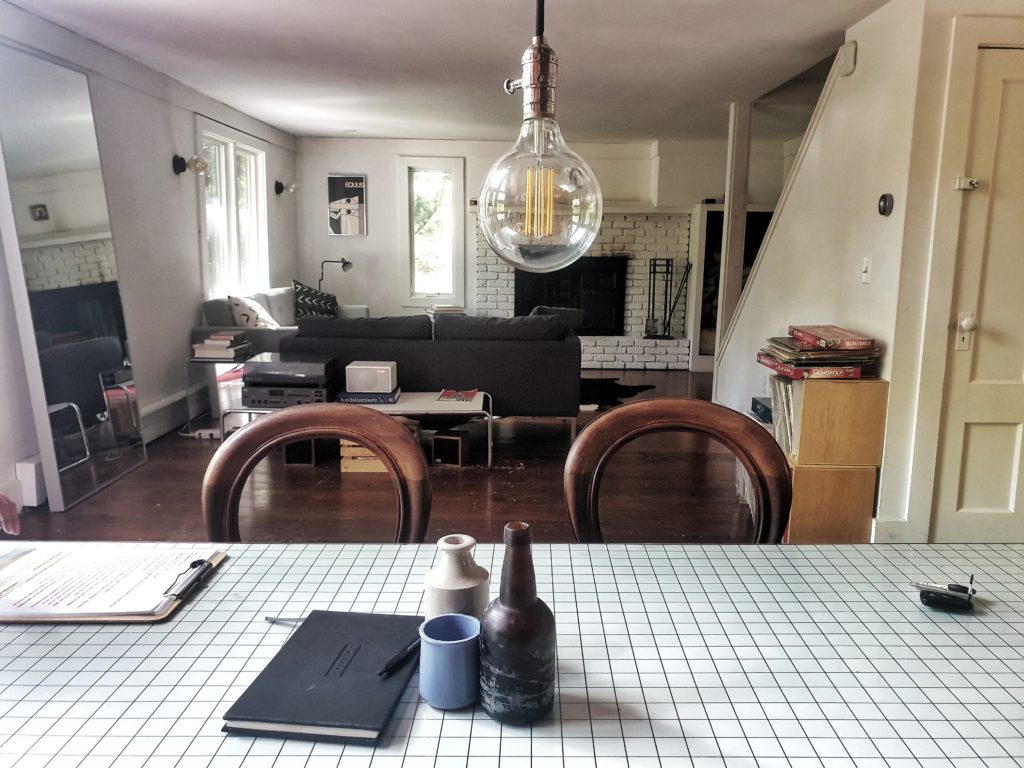 The best part about staying at the cabin is that is really secluded from the outside world, surrounded by nature and it is a great way to really unwind. Find yourself a cosy spot, grab a book or just take some time yourself and watch the wildlife go by. There are also plenty of boardgames to keep you entertained or even play some vinyls on their turntable.
The Statue of Liberty
If you want to get up close and personal with Lady Liberty, then I would suggest doing the tour. You can combine this with Ellis Island too if you wish.
If you choose this option, you definitely want to get the New York CityPASS, as it is one of the included experiences. You can buy this online and they have two options you can pick from.
Head to the Top of the Rock
There's no better way to get a feeling of the the sheer size of this city than by seeing it from above. There are many buildings and rooftop bars that offer good view of the Big Apple, but two of the most popular views are the Top of the Rock and the Empire State Building. Luckily, both are part of the NYC CityPASS.
The Empire State Building
Just like Top of the Rock, the Empire State building is superb for those iconic aerial shots of the city with views for miles. Not only that, but it is also one of the most well known and famous buildings in the world. Having been featured in most films or TV shows, it is well worth a visit to this beautiful piece of architecture.
9/11 Memorial & Museum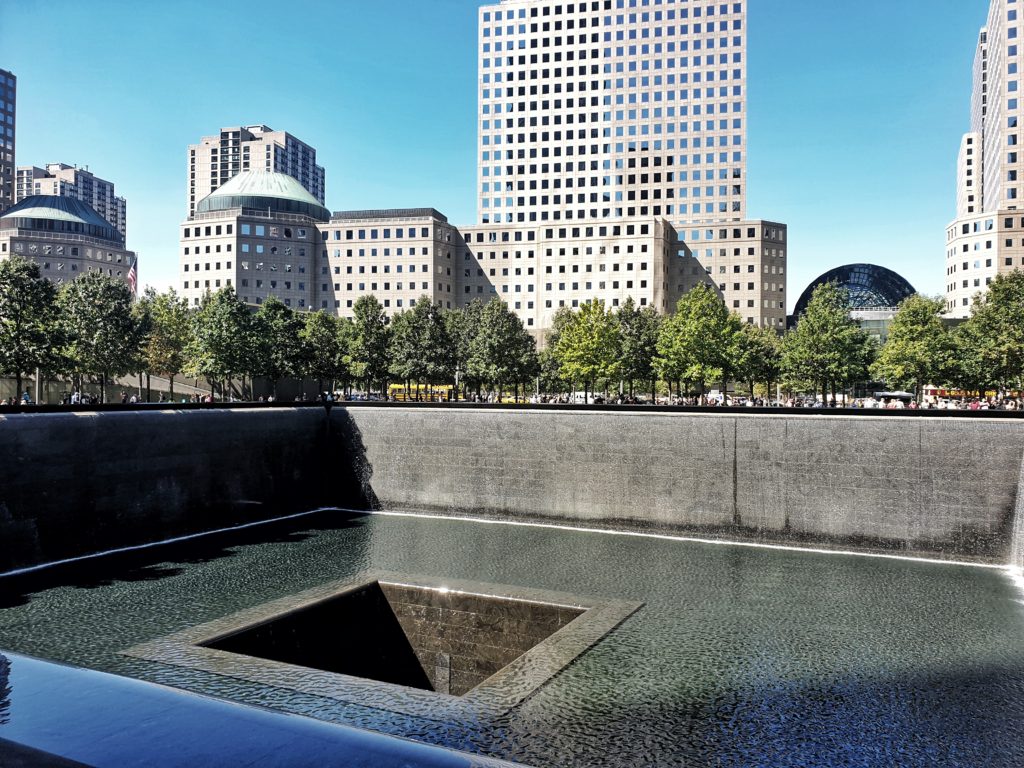 Visiting Ground Zero is, in my opinion, a must when you visit New York City. The museum is incredibly well-done and very powerful. It gets busy, so we'd recommend going as early as possible to avoid the rush.
Be sure to stop inside the Oculus, the train station adjacent to Ground Zero is meant to look like a dove taking flight and it looks stunning person.
The Oculus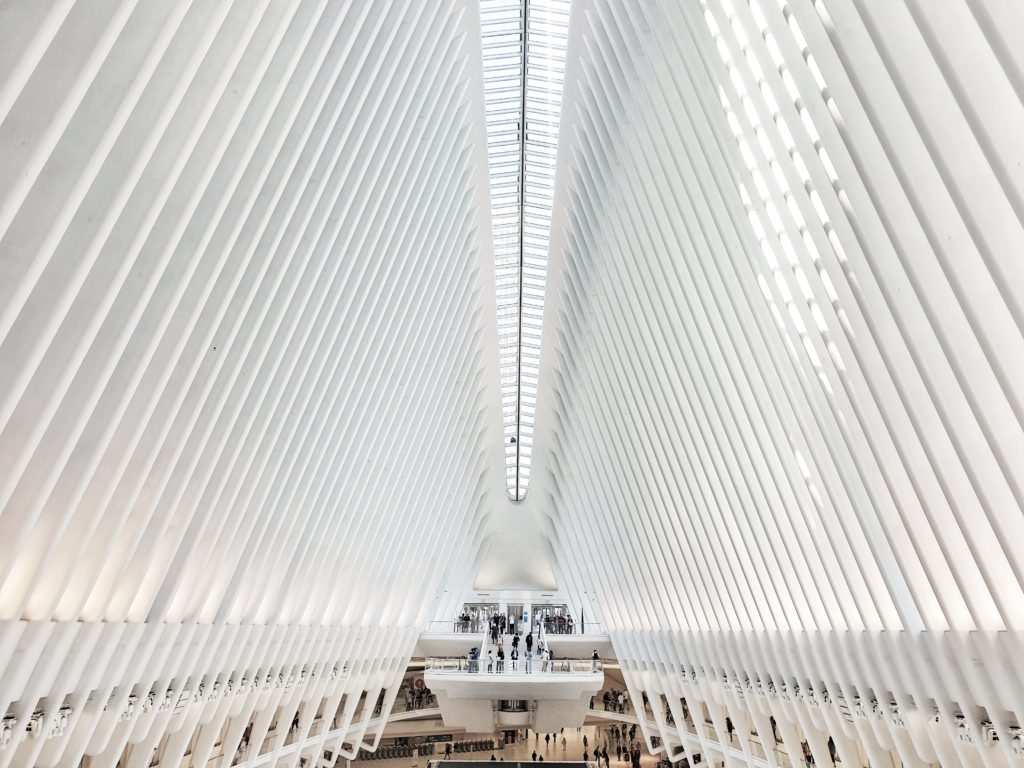 This train station replaced the one that was destroyed in 9/11, twelve years after the terrorist attack. This impressive glass and steel structure is well worth a look as it's suppose to resemble a dove taking flight.
I bet you've never seen a train station quite like it. And that makes sense, since not many other stations have the same budget as this one that cost a reported $4 billion to build.
Check out a Mets or Yankees Game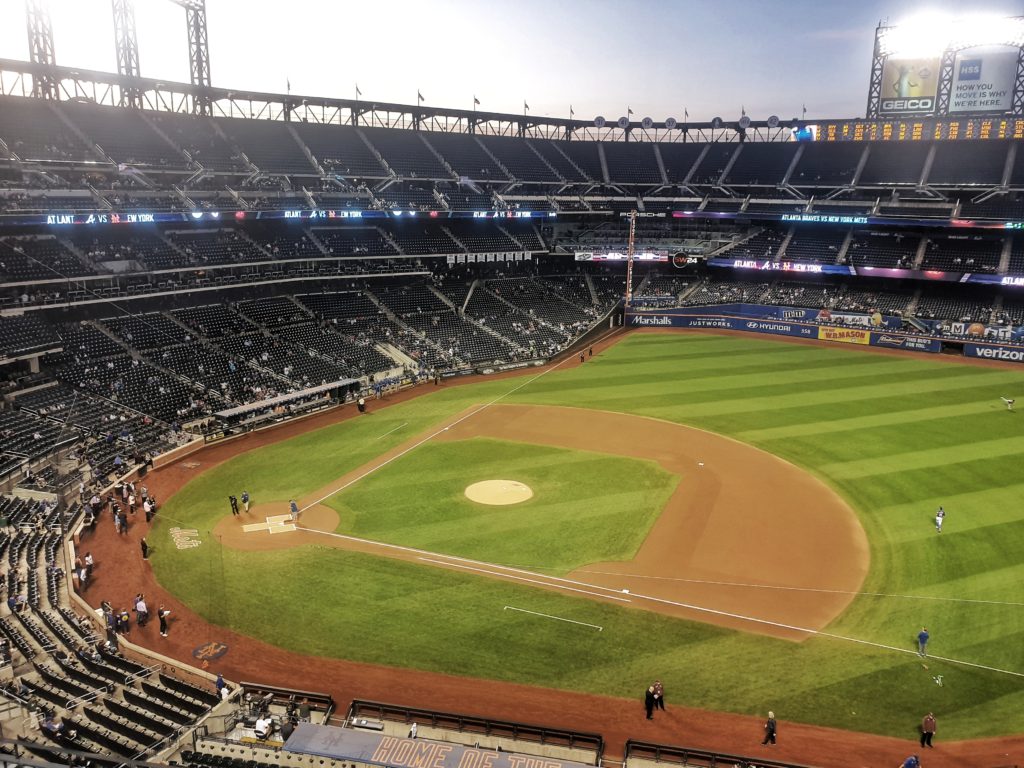 If you're a fan of baseball or just American sports then you might want to try making it to a game while you're in the Big Apple. The Yankee Stadium is one of the most famous in the country, and is surely a Bucket List experience for all you big sports fanatics out there.
Walk Brooklyn Bridge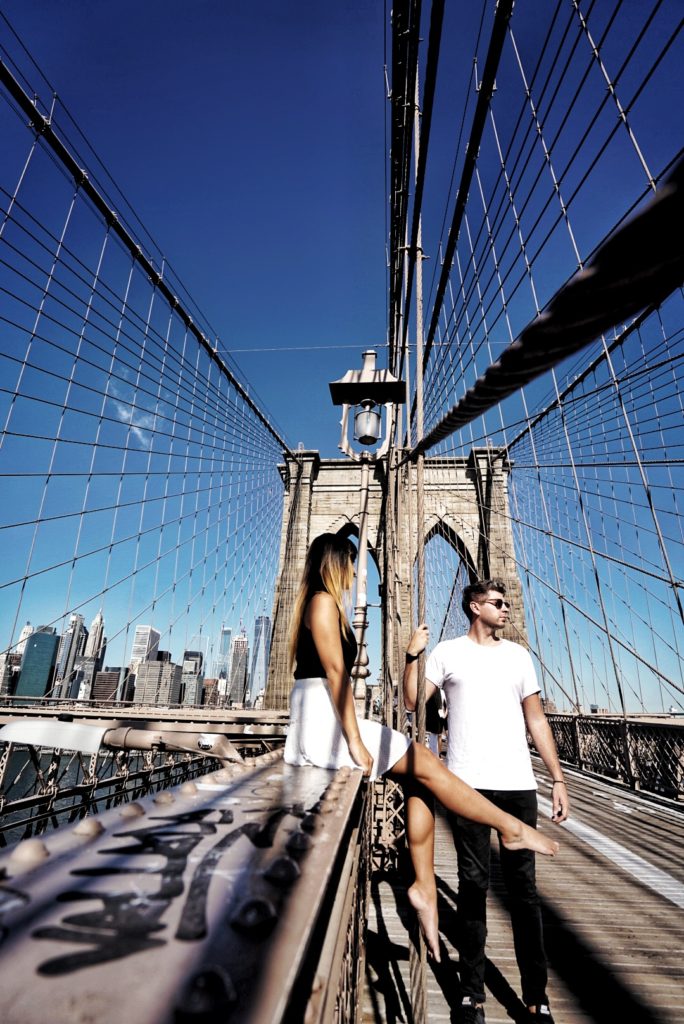 One of the most iconic bridges in the world, the Brooklyn Bridge is a top thing to do on many visitors' itineraries. It takes about 20 minutes to walk fully across while taking pictures and dodging people. For great photos, the best time to go is in the morning when there will be few people there and the lighting is beautiful.
Dumbo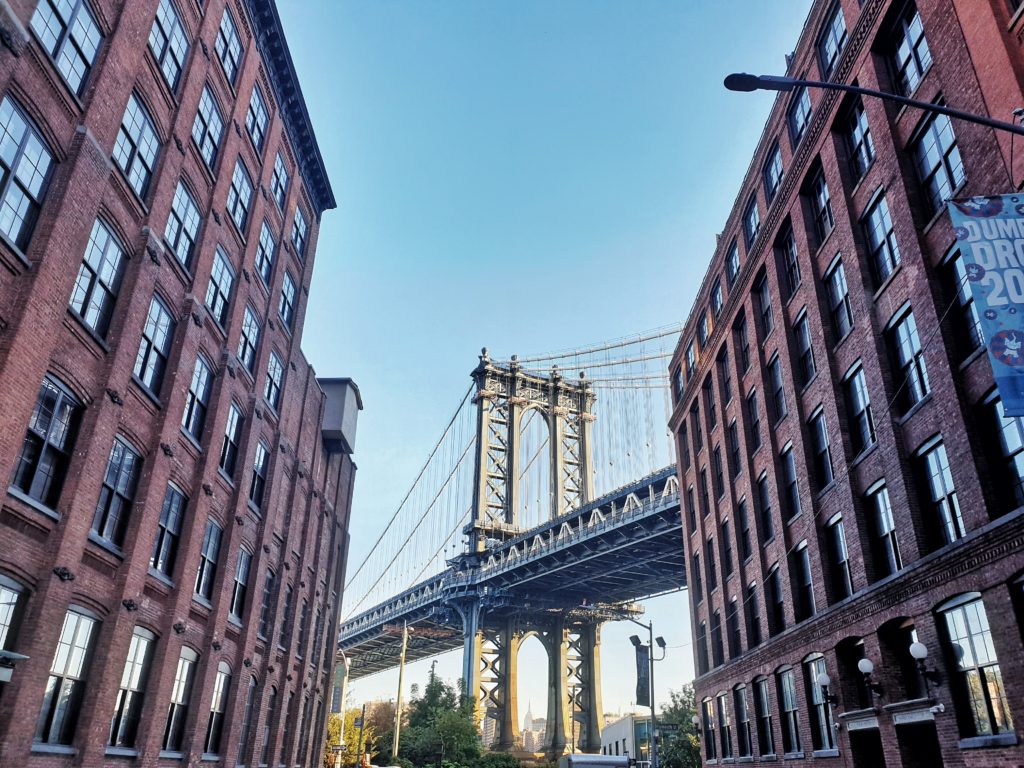 Once you'e successfully crossed the bridge, head to the Empire Fulton Ferry Park or the Main Street Park for some beautiful views and spend a bit of time exploring the Dumbo neighbourhood. The most famous spot is here (see photo above) where this street perfectly alines with the bridge and through its archway you can see the Empire State Building.
Central Park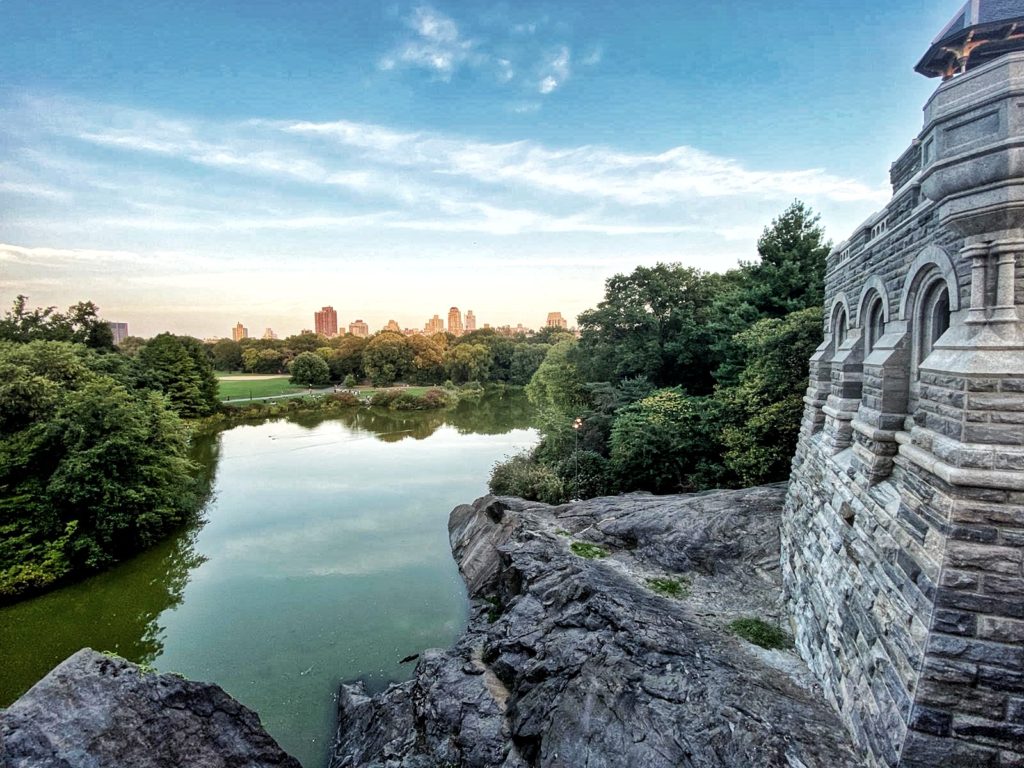 Central Park is just as good as it looks in all the movies. But it was even more massive than you would expect. It is really good fun to just get lost in its winding paths and make some discoveries along the way. Rent a bike or lace up your walking shoes and prepare for an adventure!
The Friends Apartment Building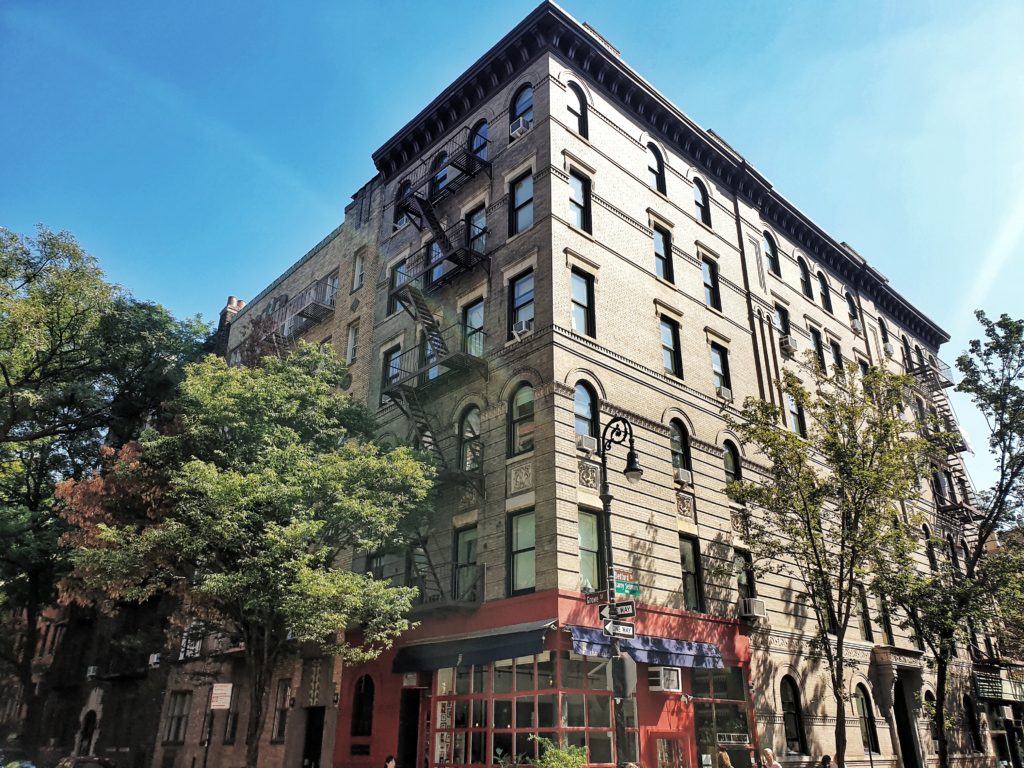 "I'll be there for you…" on the corner of Bedford Street and Grove Street this building was used for the filming of the famous Friends TV show.
Times Square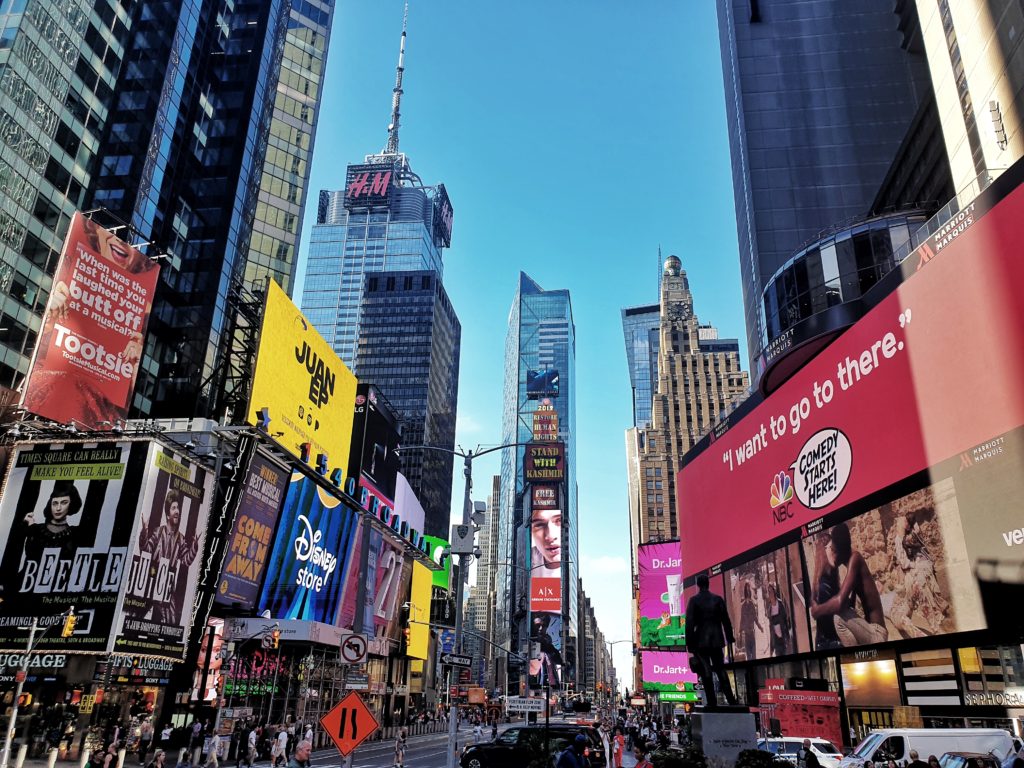 Lets face it, everyone knows that this is a tourist trap, but it really is somewhere that you need to visit while in NYC. With the inviting bright neon lights, hustle & bustle and bright yellow taxi's – it's just like the movies. Not to mention lots of possible photo opportunities as well.
Grand Central Station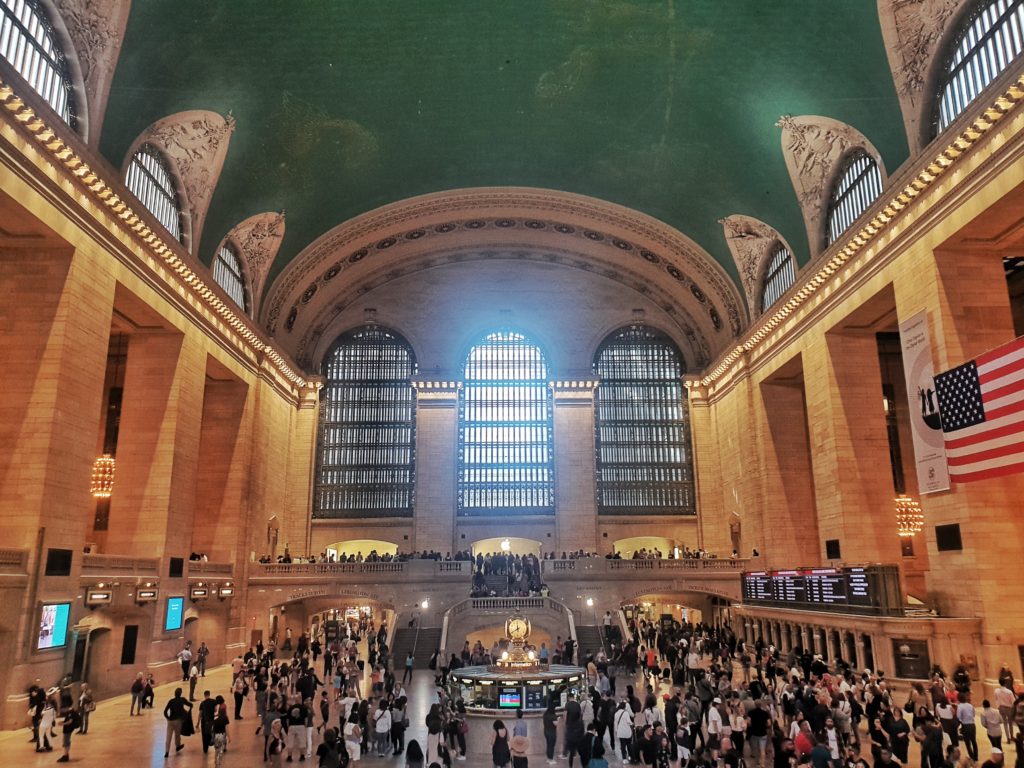 Grand Central Station is one of those iconic places that shows up in all sorts of movies and TV shows, so it's pretty cool to see in real life if you have time. It's likely that you'll need to make a transfer here anyway, so pop upstairs and take a quick look. The ceiling is painted with constellations, and is a sight in itself.
Staple Street Bridge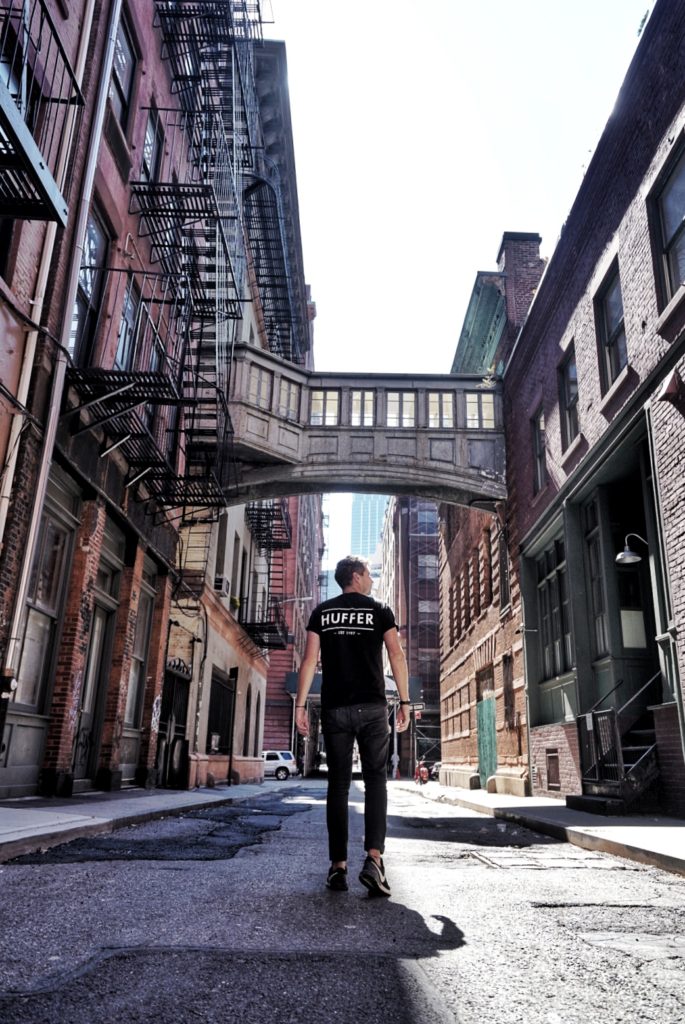 This is starting to become more well known now, but relatively quiet if you head there early morning. This unique piece of architecture really stands out in NYC and makes for some awesome photoshoots.
Sea the City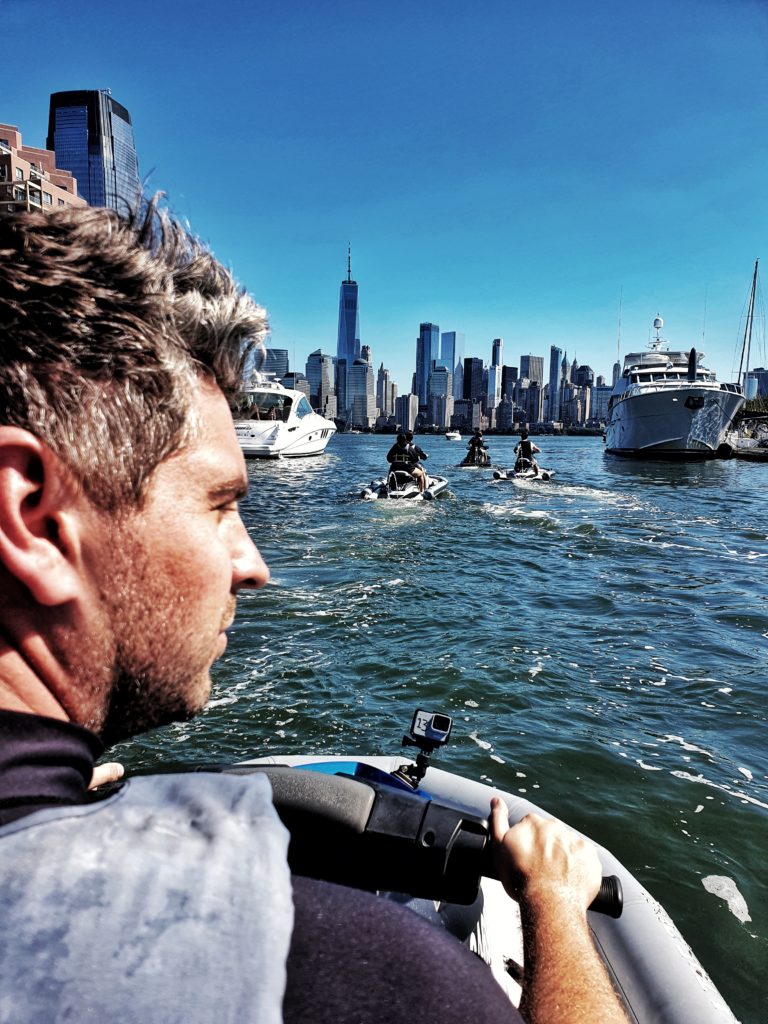 A truely unique way of seeing the city! Jump on a jet ski and speed across the harbour taking in all of the famous sights including Manhattan, the Statue of Liberty and the Brooklyn Bridge all from the water. This is definitely a once in a lifetime type of experience.
The Vessel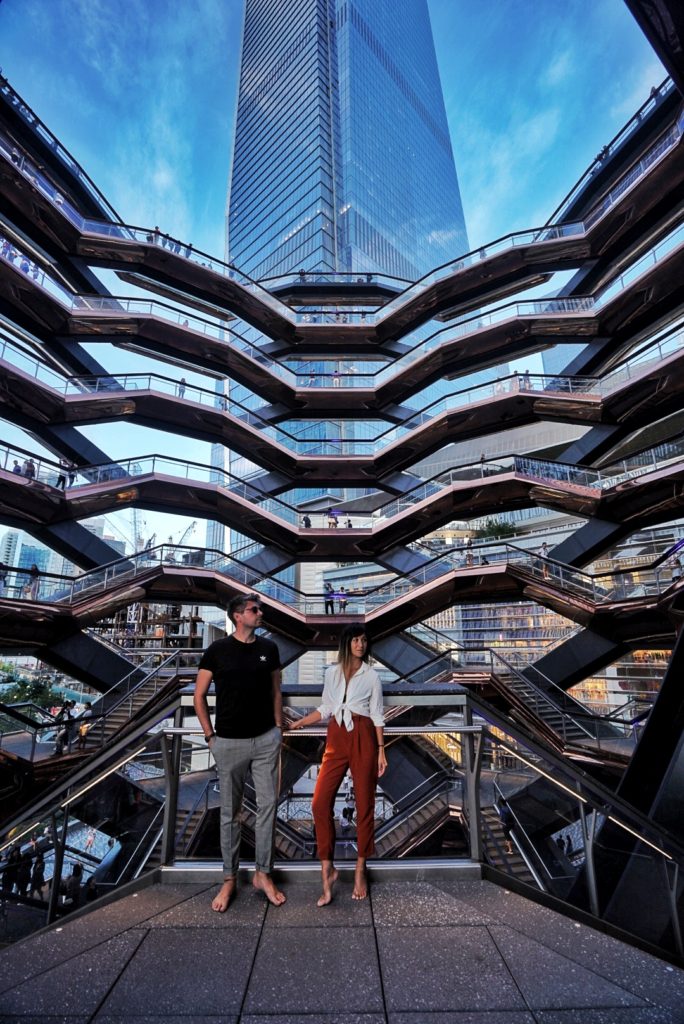 The extraordinary centerpiece of Hudson Yards is its spiral staircase, a soaring new landmark meant to be climbed. This interactive artwork was imagined by Thomas Heatherwick and Heatherwick Studio as a focal point where people can enjoy new perspectives of the city and one another from different heights, angles and vantage points.
How to get there
Unfortunately, as this is an Airbnb listing I can't give out its address and details. To reach the cabin I would suggest renting a car and driving there.

However, it is in Kerhonkson and if you head to their website you will be given all the details you need once you book. Click here.
Prices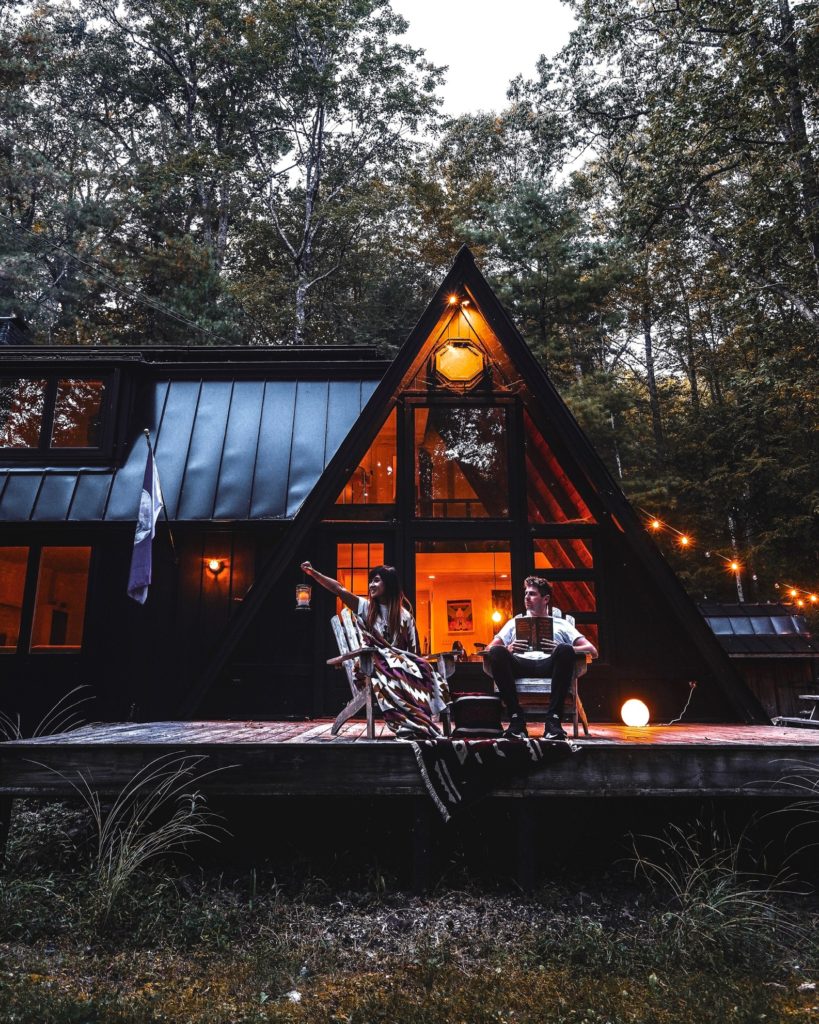 The prices will vary depending on what time of year you stay – to check out the pricing click here. 
We stayed in September 2019 and for the whole A Frame it would cost $255 USD (£207) per night.
Extras
Wi-Fi is available in all areas and is free of charge.
Plenty of space to relax in
Plenty of luggage storage
Secure front door and rooms
Laundry machines are available
Summary
This cabin is a great place to stay due to its secluded location, and the perfect place to stay for a different kind of getaway. It is perfectly ideal for a honeymoon getaway or just a vacation in nature. I am so glad that we chose to stay here for a few nights – it's the most humble place we have ever stayed in and would happily go back multiple times.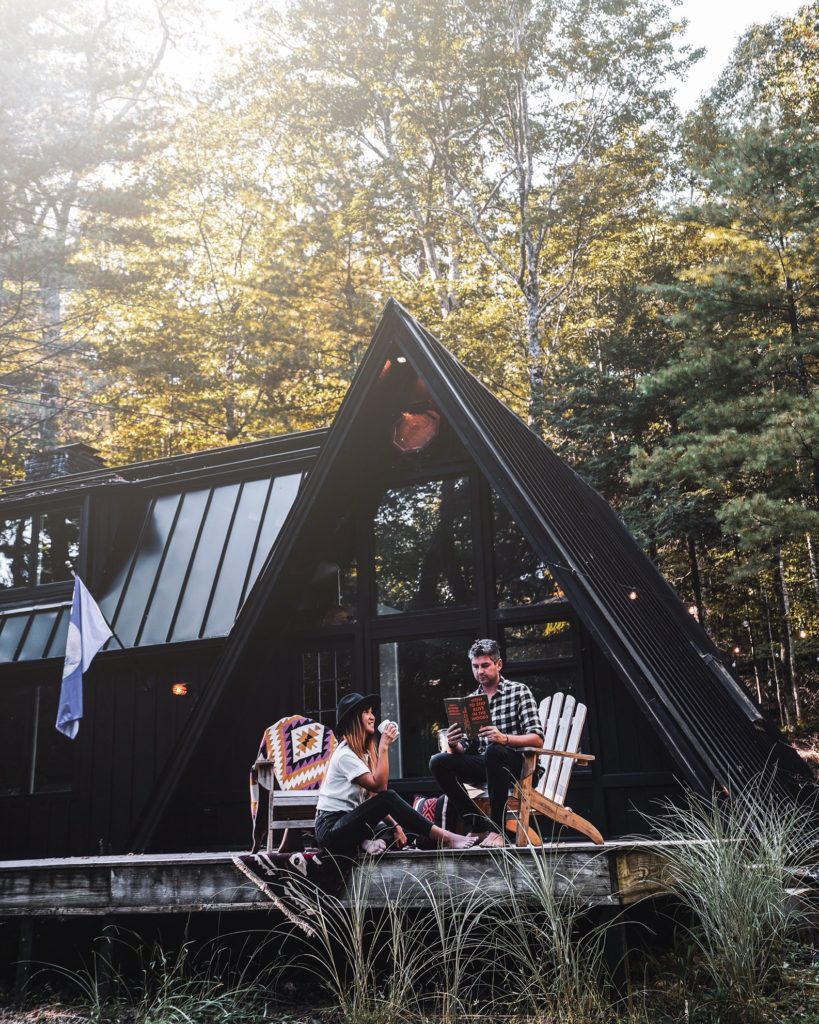 The rooms were fantastic, we had a super comfortable night sleep and really enjoyed watching the sun rise from our bed and large window. The location was my favourite feature as it was super secluded surrounded by trees and foliage and easy to get to from the city. Be sure to take groceries with you before you head there as the nearest supermarket is quite a distance away.
You will want to spend longer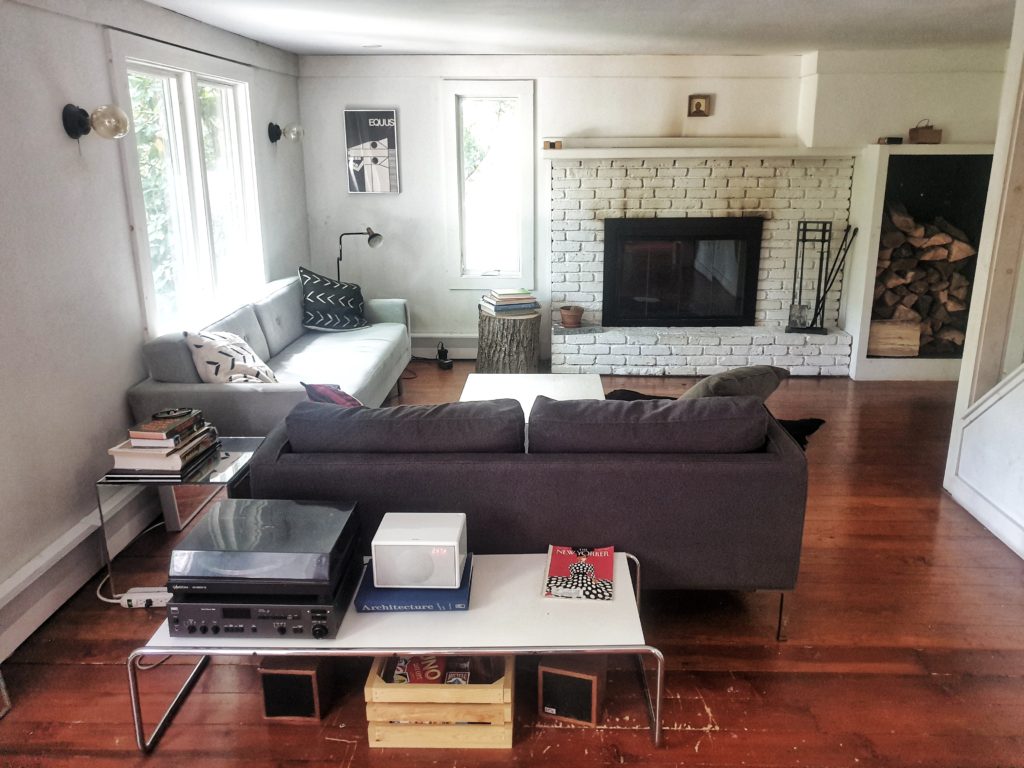 The city is pretty hectic, which makes this A Frame the perfect getaway into the countryside. It is surrounded by beautiful forest, bountiful history and plenty of wildlife which are absolutely breath-taking and you will find yourself soaking them up the whole time you're there.
If you are in New York, United States and you want to have a unique A Frame experience, I would highly recommend A Black A Frame.

***Thank you to A Black A Frame for kindly sponsoring this post. All opinions are 100% honest & completely my own.