THE MOUNTAIN HIDEAWAY
Located near the centre of Banff town centre, HI Banff Alpine Centre is a superb lodge style hostel and it is an ideal base for those who want to explore Banff National Park which is home to glaciers, lakes, mountains and wild animals. It is also a short drive to the local shops, bars, restaurants and attractions which are surrounded by beautiful countryside. Complete with a restaurant, bar, pool table and much more, this is a great place to stay!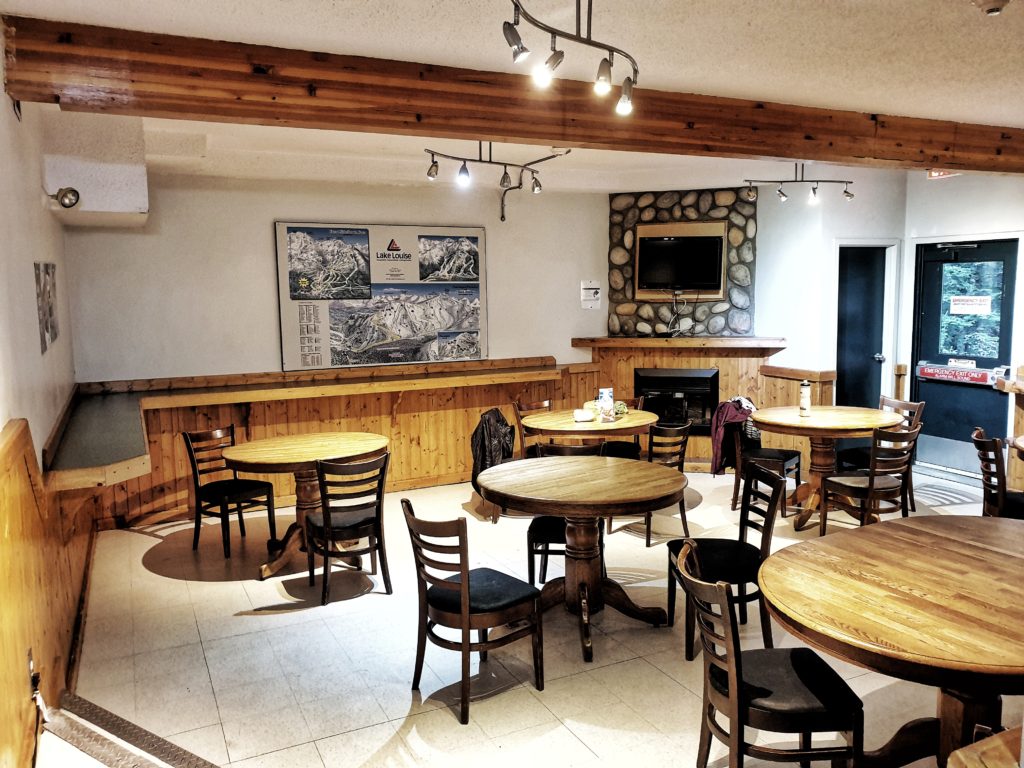 At HI Banff Alpine Centre, you will find yourself in an atmosphere completely derived from rugged, rustic and unique decor making it extremely comfortable, homely and stress free. The dorms are brilliant, offering cosy furnishings and amenities, designed with your comfort in mind.
If you find yourself in Banff, Canada then I would highly recommend booking a few nights stay at HI Banff Alpine Centre.
Highlights
Super friendly and welcoming staff
Comfortable and clean dorm rooms
A fantastic fully equipped kitchen
Chill out area with pool table
Great central location to everything
Private Cabin Suite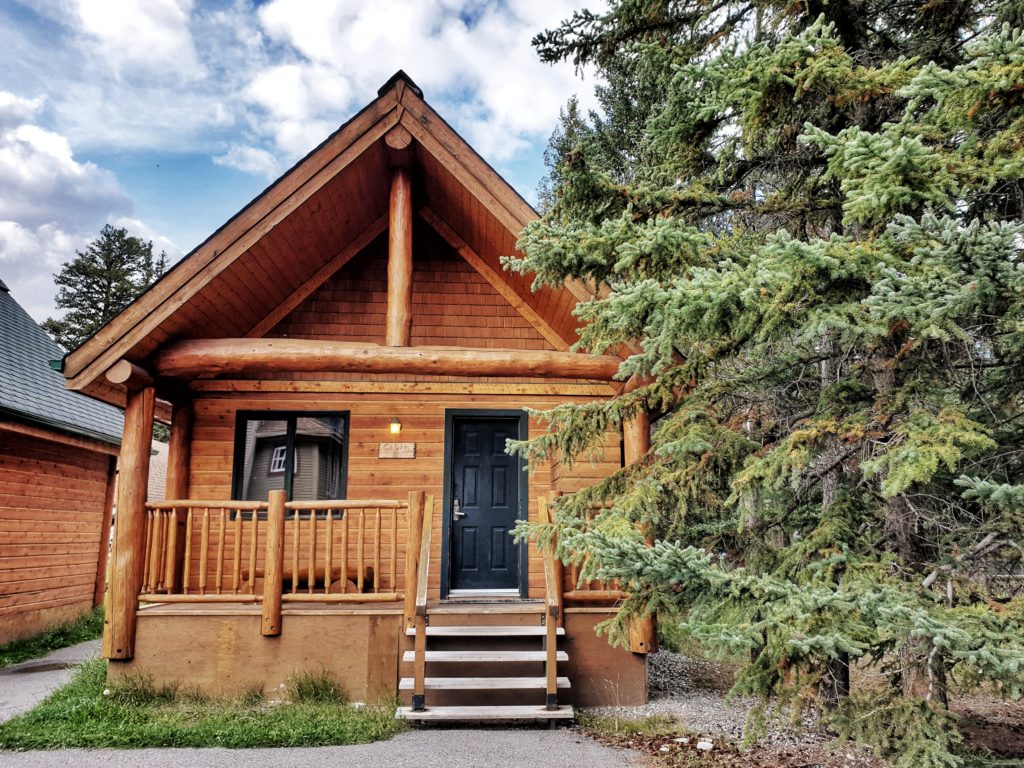 During our stay at HI Banff Alpine Centre we opted to stay in the Private Cabin Suite which was perfect for our needs and provided a very comfortable night's sleep. With fantastic mountain views, aesthetically pleasing decor, spacious and comfortable furniture we almost didn't want to leave to explore the National Park.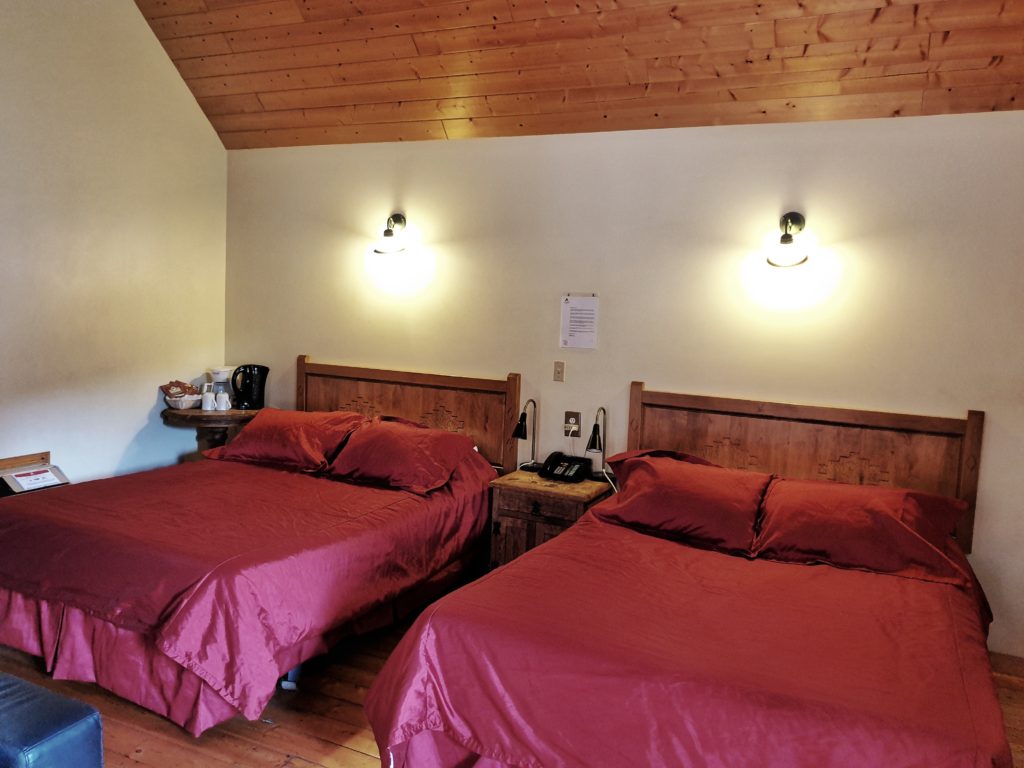 Furnished with a large window overlooking the mountains, it was a brilliant way to wake up in the morning and seeing those views. It comes with 2 large double beds that were honestly so comfortable we really did struggle to get up in the mornings. We had a private ensuite bathroom, sofa, chairs, table, bench, air-conditioning/heater, plenty of power points, secure lockers, coat hooks and mirror.
What you get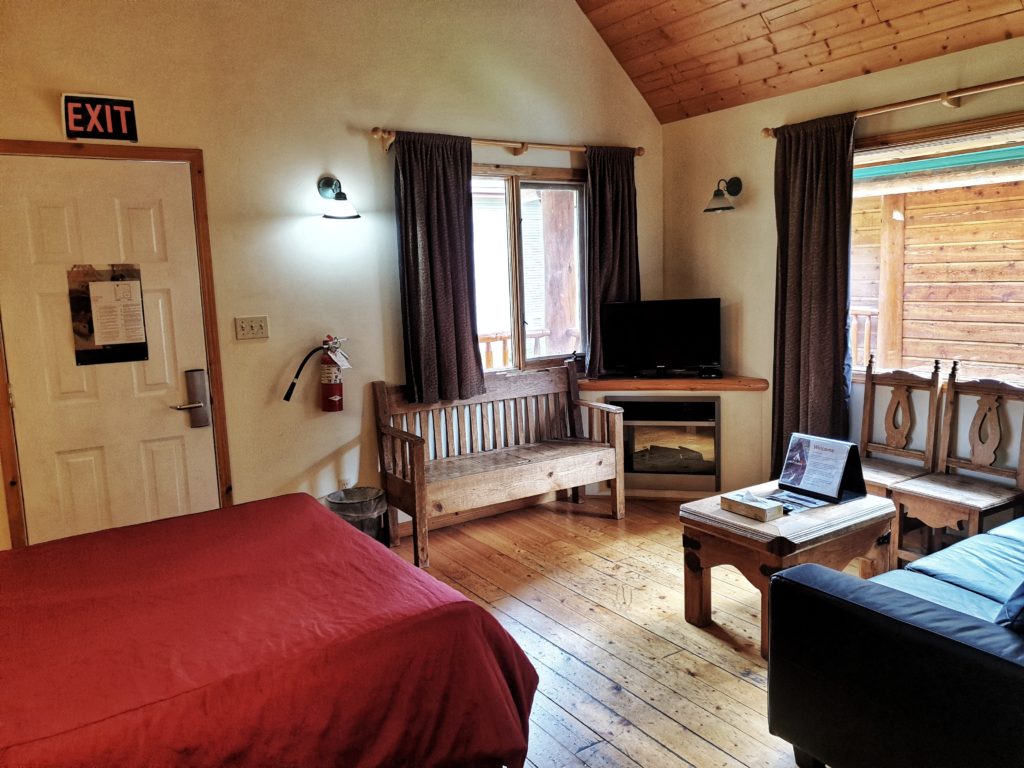 The suite comes equipped with free toiletries, strong Wi-Fi, fluffy pillows, clean towels, soft linens, coffee making facilities, large TV, fireplace, terrace with chairs, and plenty of space for two-four people to relax in.

To view all their other rooms click here.
Activities
Chill out in the common area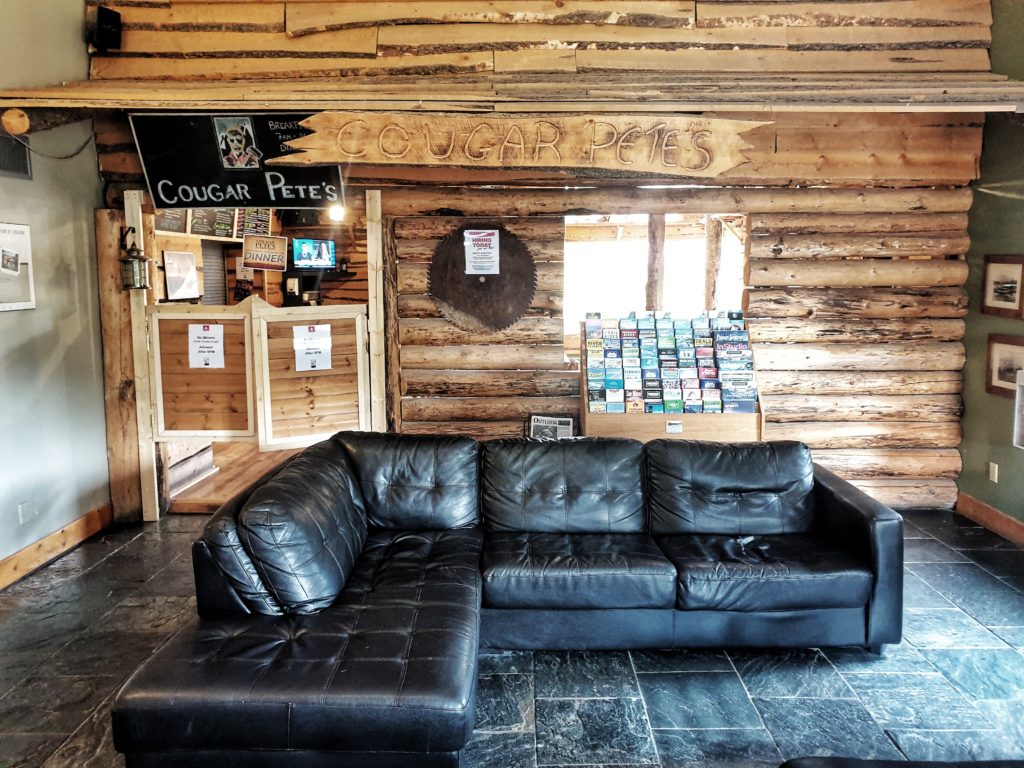 The ultimate lodge life, the common area is situated dead centre of the hostel next to the restaurant, bar and reception where you can chill out on super comfy sofas and chairs while enjoying the strong Wi-Fi. With plenty of books to choose for a quiet read or just somewhere to sit and chat with friends, this is an ideal place to hang out and relax.
Cougar Pete's Restaurant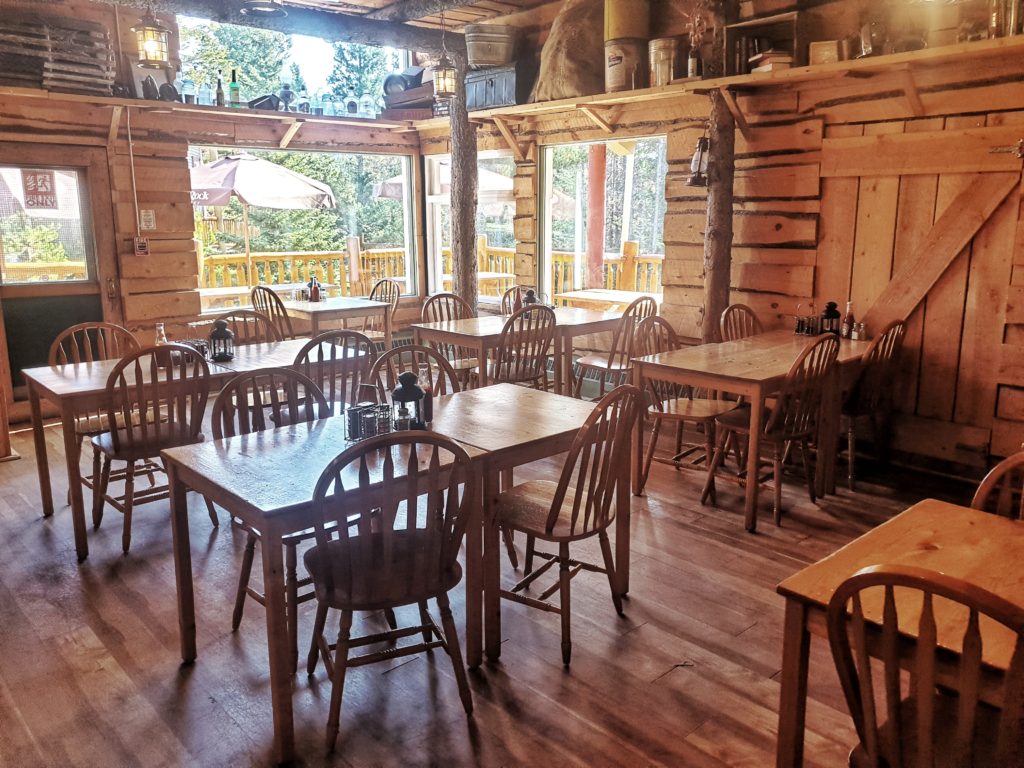 This fantastic restaurant has some of the best decor I have seen for a lively lodge and cooking up some delicious food to help curb those hunger pains or help ease the hangover after a good night out at Storm Cellar. From nachos, fish n chips and burgers to sandwiches, soups and breakfast there is something for everyone here.
Storm Cellar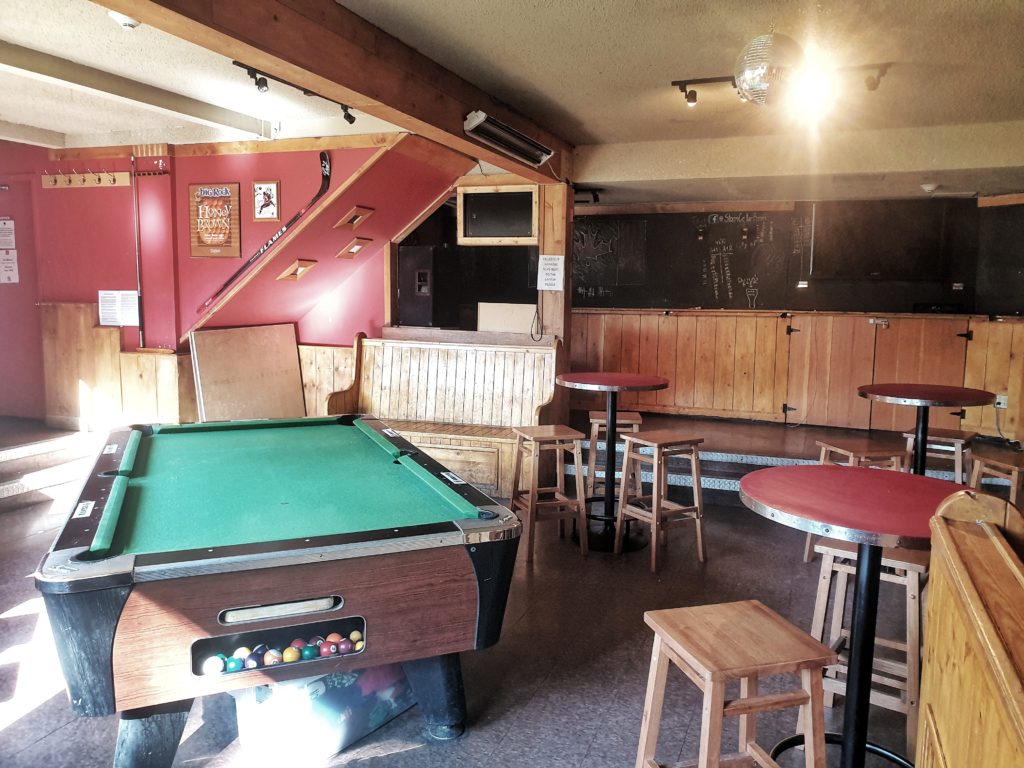 This bar is aptly named as it is indeed in the cellar of the hostel, but not as dingy as you may think. Lined with light wood panelling, plenty of windows to let in natural light and views of the mountains, this is a great place to have a drink. Equipped with a pool table, darts and a fooz table it's a great place to hang out with friends, let your hair down and enjoy unwinding after a day of exploring.
Lake Louise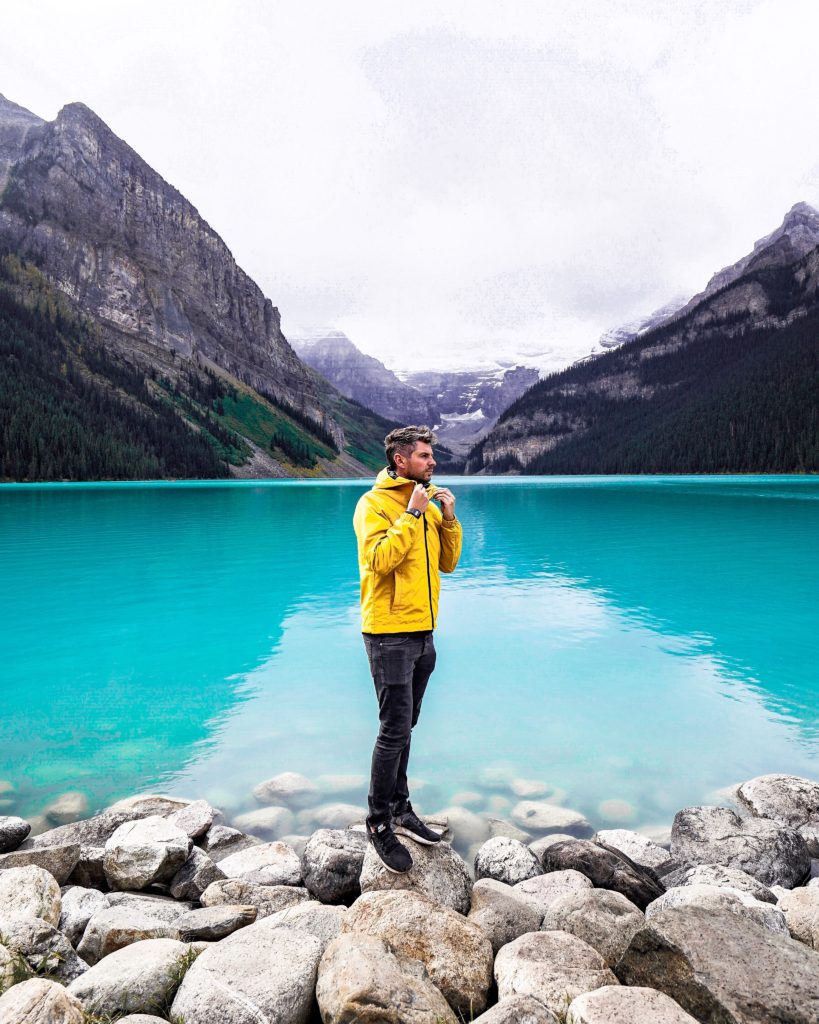 One of the more famous lakes and destinations within Banff and Canada, Lake Louise is certainly highlight and a natural wonder. With breath taking crystal blue water, gorgeous mountains in the background and dense lush foliage this is certainly a great place to explore. With many trails, canoes and viewpoints you can create some awesome photos and memories here. Be sure to pop into the Fairmont for a cup of tea and look out over the lake views.
Have a soak in the Upper Hot Springs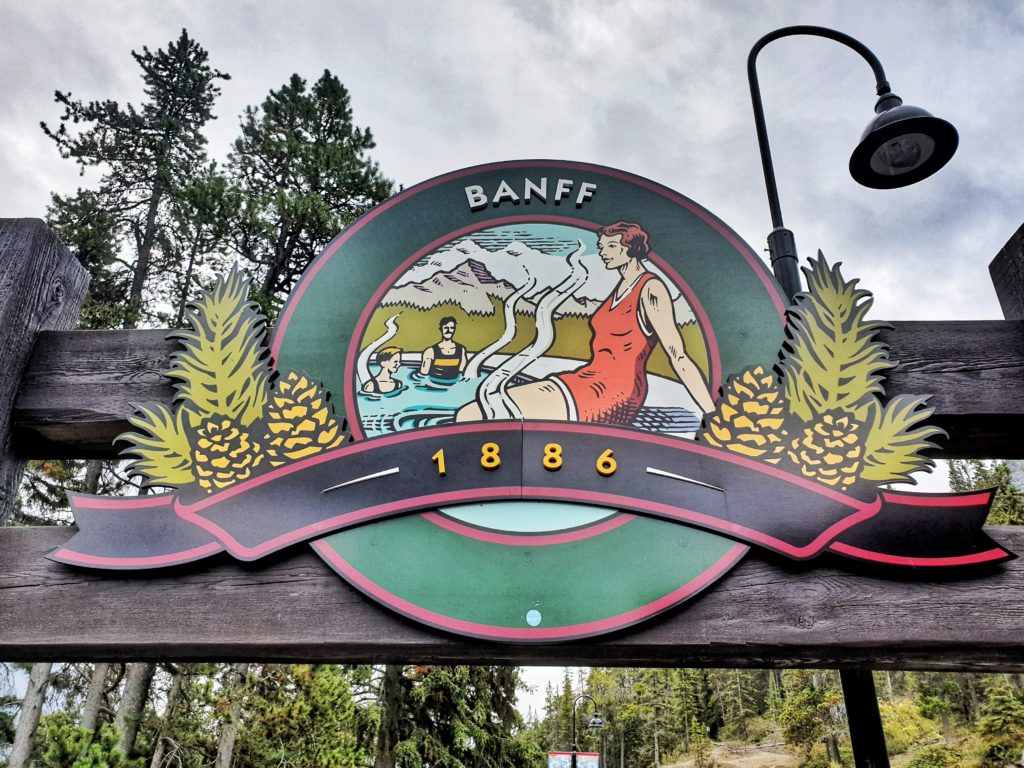 The unique properties of these springs make them one of the best tourist attractions in Banff, and they're a great spot to visit all year round. The Springs are pretty much laid out like a public swimming pool, in that they're equipped with all of the latest modern amenities, such as railings, ladders, lockers, and even a café.
What sets them apart though is that the pools are fed by natural hot springs, and this is the main reason they're so relaxing. Coupled with the fact that the surrounding scenery is stunning, these hot springs can easily relax both the body and the soul.
Head to Moraine Lake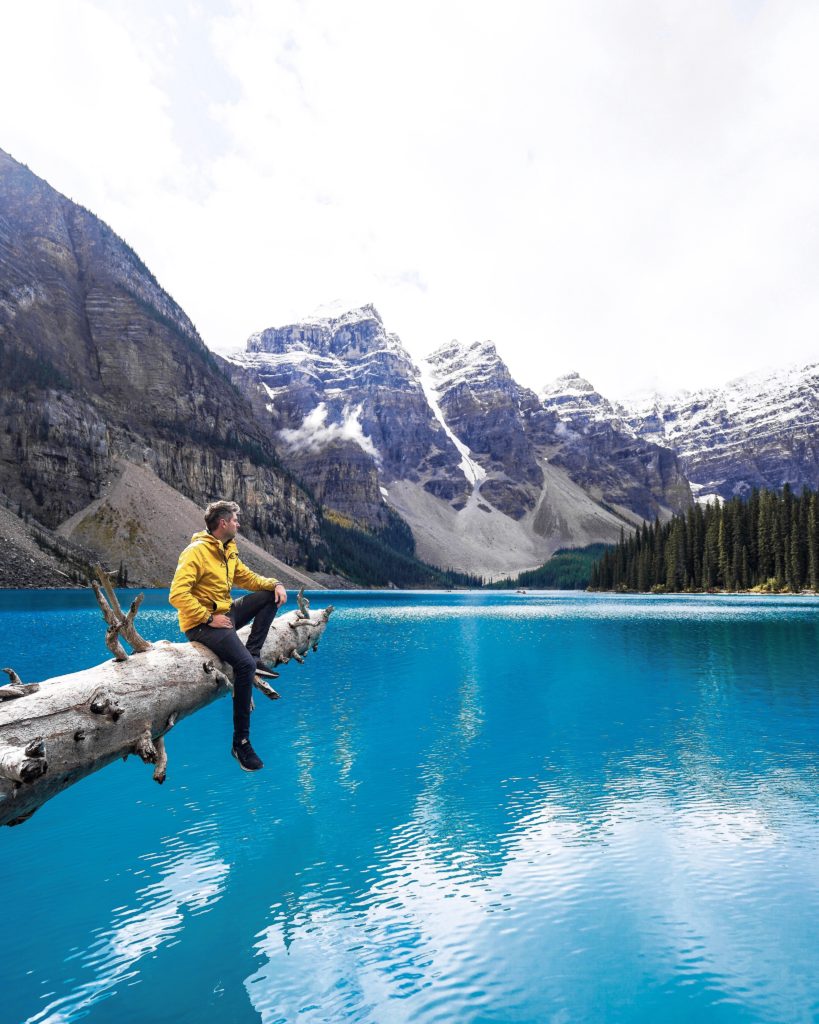 I have to say that in all of my years of travelling, Lake Moraine is hands down one of the most natural beautiful places I have ever laid eyes on. The wonderful natural landscape and terrains means that no matter where you go you'll be greeted by unforgettable beauty, and one of the most gorgeous destinations is Moraine Lake.

The hikes are relatively easy, and the best view being at the top of rock hill which takes about 10 minutes to climb and presents a stunning view of the lake and mountains. It is one of those places in which photos simply cannot do it justice and you simply have to see for yourself.
Ride the gondola up Sulphur Mountain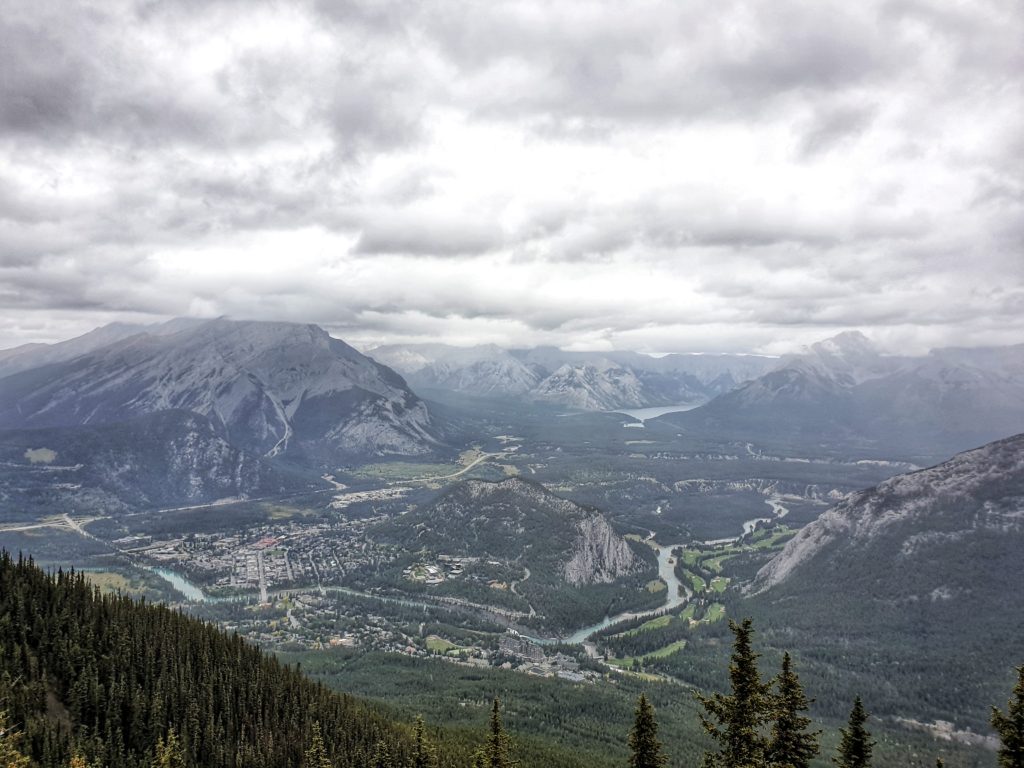 In Banff, there is a very unique and scenic viewpoint to be found in this part of the Rockies, and that picturesque place is most accessible when looking at it from high atop the mountains. By taking the Banff Gondola to the top of Sulphur Mountain you will be able to witness these amazing views of the surroundings mountains, valleys, waterways and forests.
Its 7,500-foot tall peak includes interactive exhibits, a gift shop, places to eat, and even a 360-degree observational deck with views of Banff and the Bow River Valley below.
Cruise Lake Minnewanka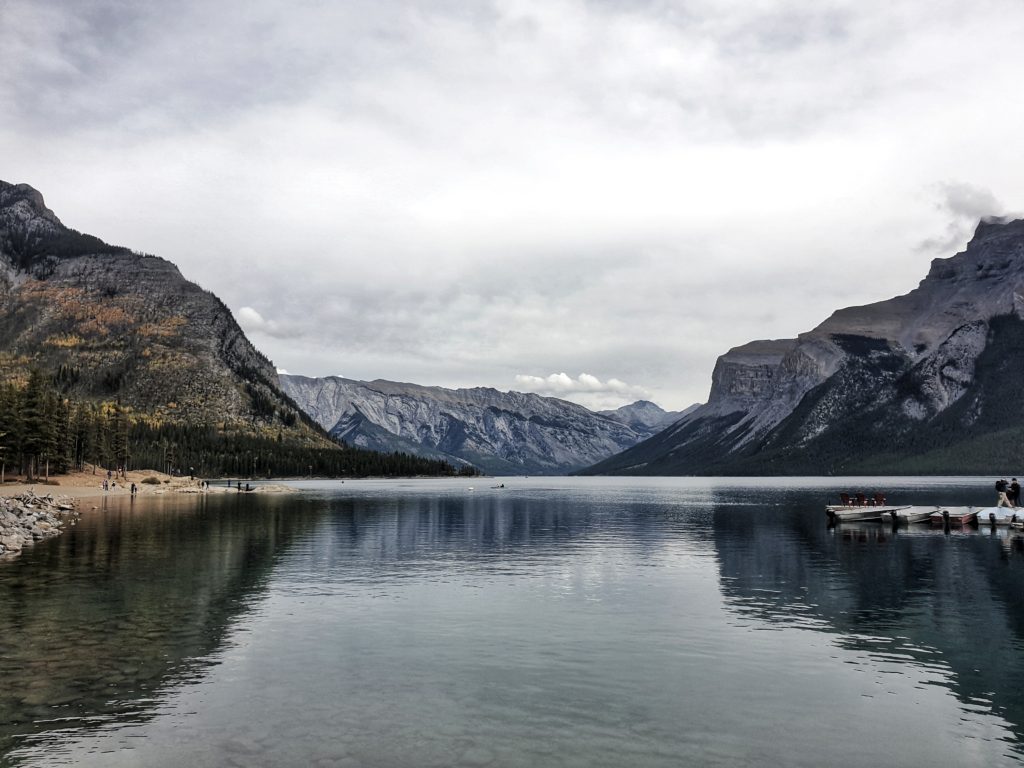 This is one of the largest lakes in Banff at an astonishing 21km long and protected by the National Park it is in perfect tip top condition. While jumping on the cruise you will get to experience the surrounding mountains, calm waters and tranquillity which you really can't find anywhere else.
Fun fact is that scuba divers regularly visit in the winter to dive down to an abandoned town which was submerged years ago and you can still visit the hotel and a few other foundations that are left over.
Emerald Lake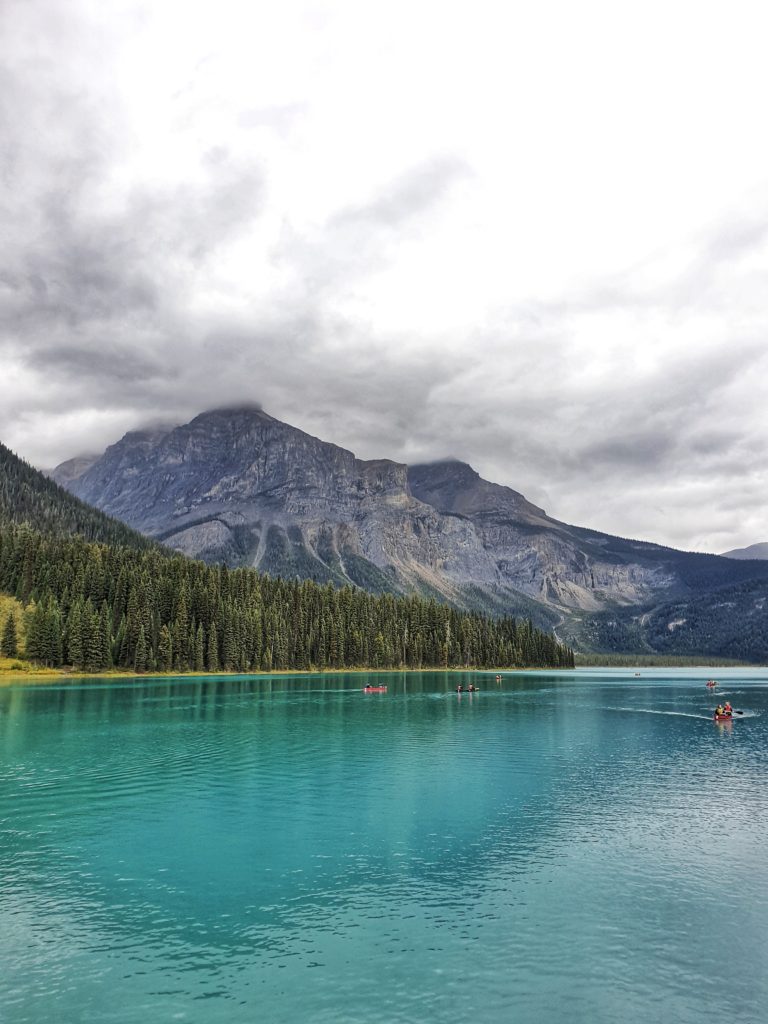 Another popular lake for tourists to visit but one that is well worth it is Emerald Lake. From the name and photo, you can probably already establish that the water is indeed a beautiful emerald turquoise blue, much like Moraine and Louise, surrounded by mountains and forests. The great part? You can rent a canoe here for a fraction of the price at $70 USD per hour as opposed to $120 at Moraine and $150 at Louise.
Peyto Lake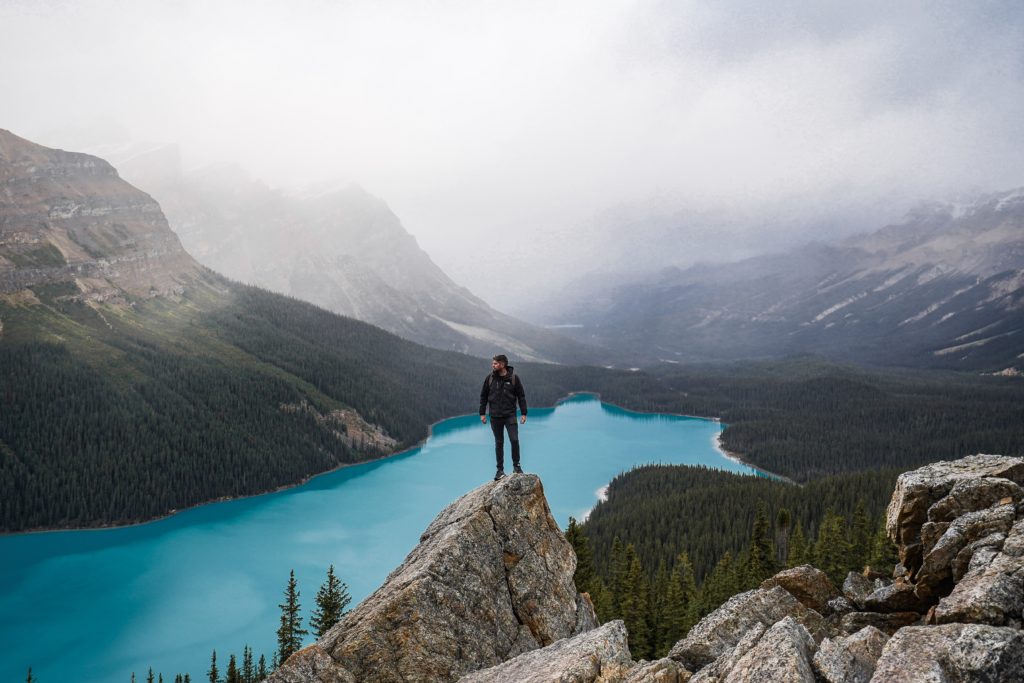 Other than Lake Moraine, Peyto Lake was also a huge highlight for me as the views were honestly just so incredible I couldn't quite believe it. From the main tourist view point, which takes around a 15-minute walk it really does look like a superb oil painting. However, for the more adventurous, if climb a bit higher and go off the beaten track you will come across a much better vantage point.
Huge boulders stacked on the edge of the mountain, provide a more unique and quieter viewing platform of this stunning lake (see photo above).
Bow Lake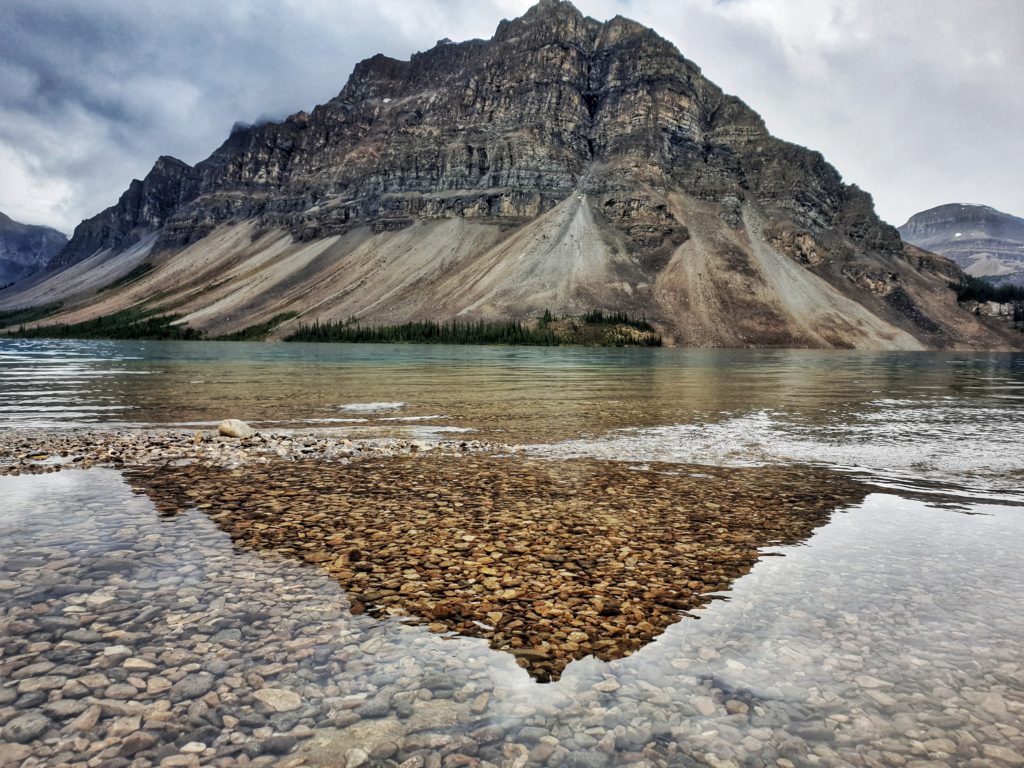 This was more of a quick visit for us, but one that was well worth it. Again, this was swarmed with tourists, as it is a really easy 5 minute walk to the lake from the car park, however it is well worth it. If you get right down onto the beach you can view the mountain opposite reflected in the calm waters of Bow Lake.
How to get there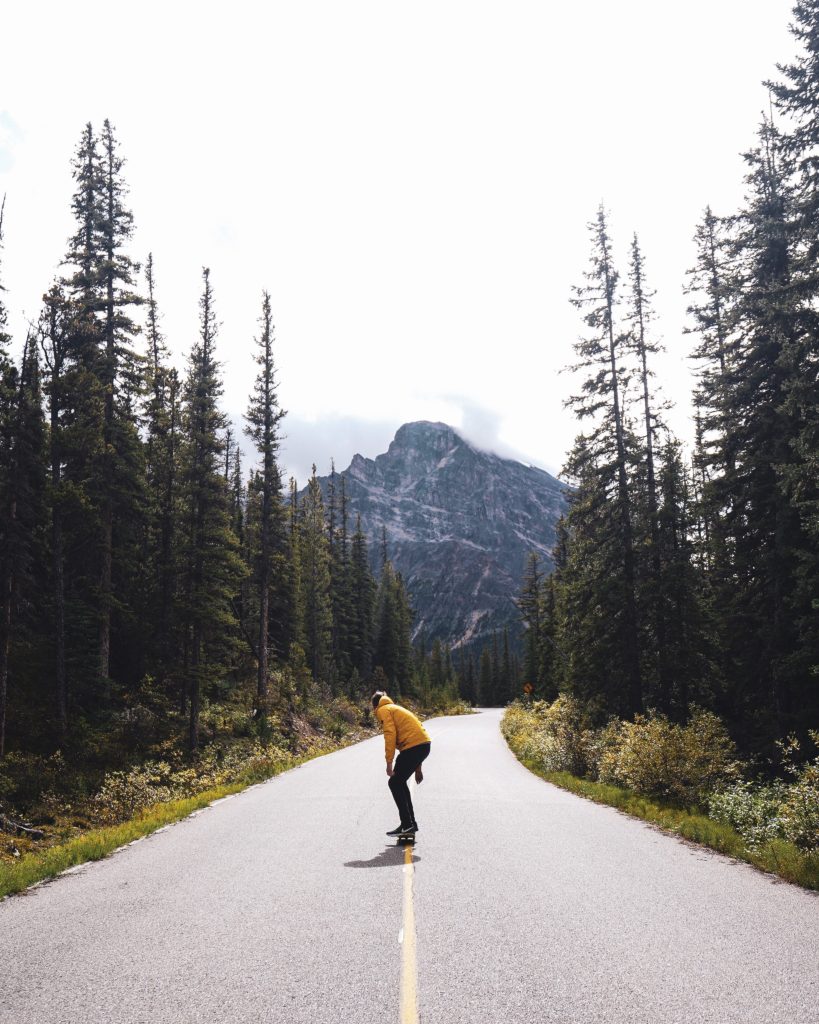 Address: 801 Hidden Ridge Way, Banff, Alberta, T1L 1B3
Tel: 1.403.762.4123
Email: [email protected]
Open: Year round
Check-in: 15:00
Check-out: 11:00
Prices
The prices will vary depending on what time of year you stay – to check out the pricing click here.
We stayed in September 2019 and for our Private 4 Bed Dorm it would cost $195 CAD (£118) per night.
Extras
Wi-Fi is available in all areas and is free of charge.
Tours are available to book at reception
Vending machines on-site
Luggage storage
24-hour reception
Laundry is available
Summary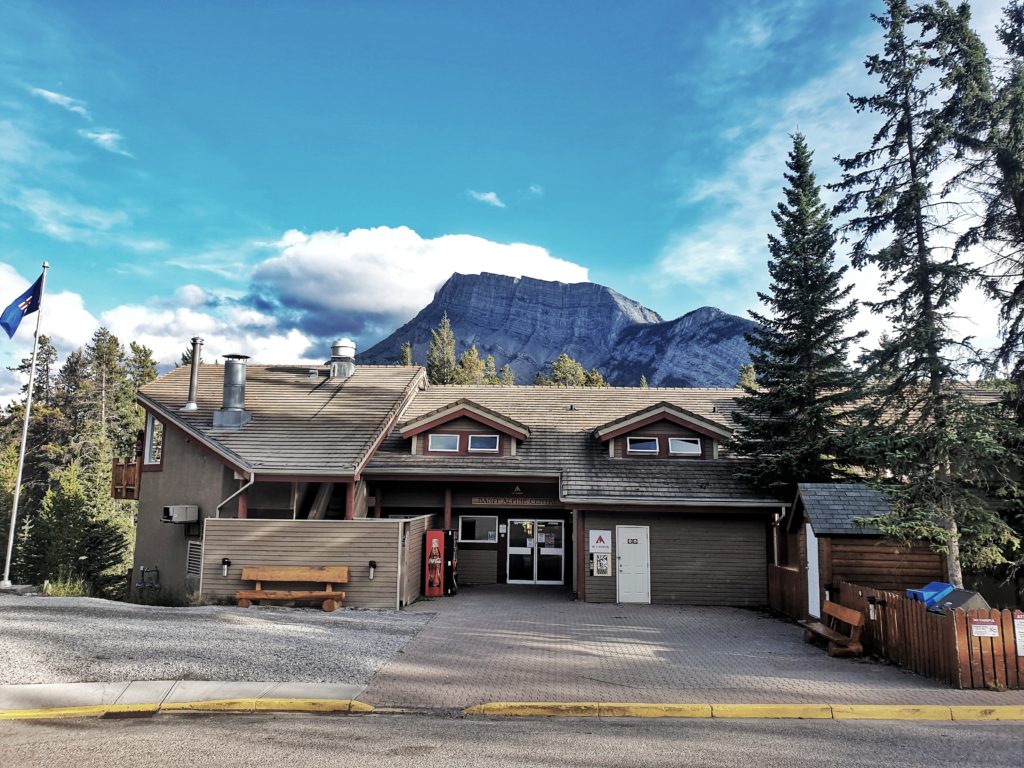 This hostel is a great place to stay due to its uniqueness, and the perfect place to stay while in Banff. I am so glad that we chose to stay here for a few nights – it's the chillest place in the town!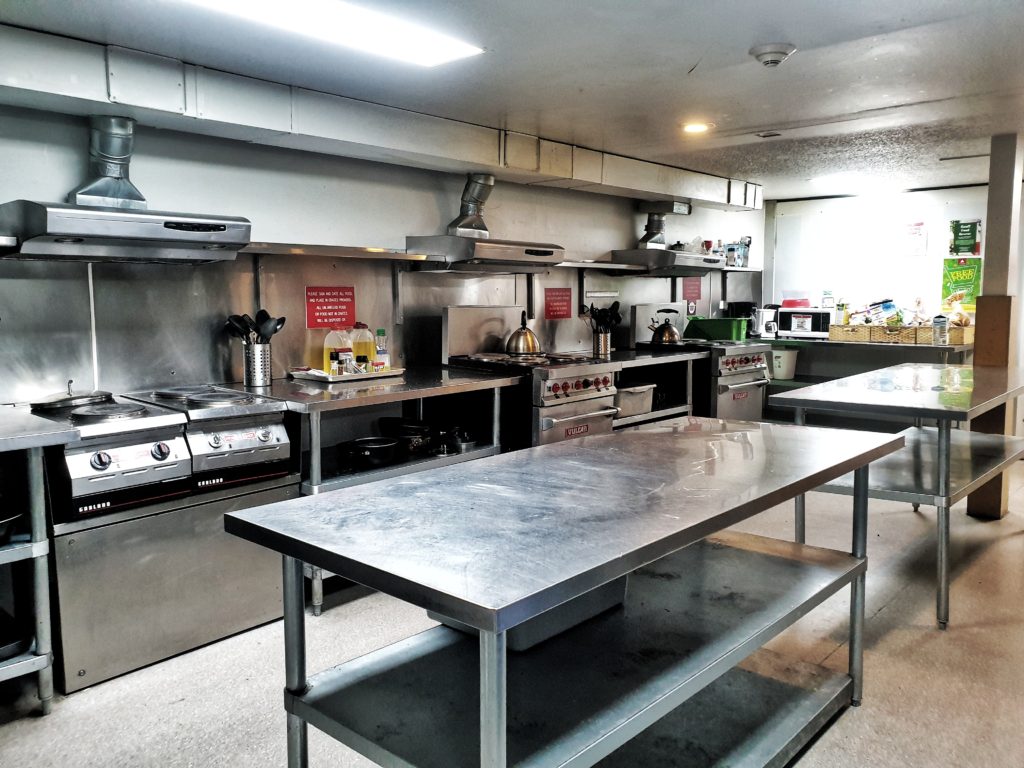 The lodge suite was fantastic, we had a super comfortable night sleep and really enjoyed watching the surrounding mountains from our bed and large window. The location was my favourite feature as it was super central to the town and right by the National Park. The staff are also so friendly; they can honestly not do enough for you to make your stay that little bit more comfortable than what it already is.
You will want to spend longer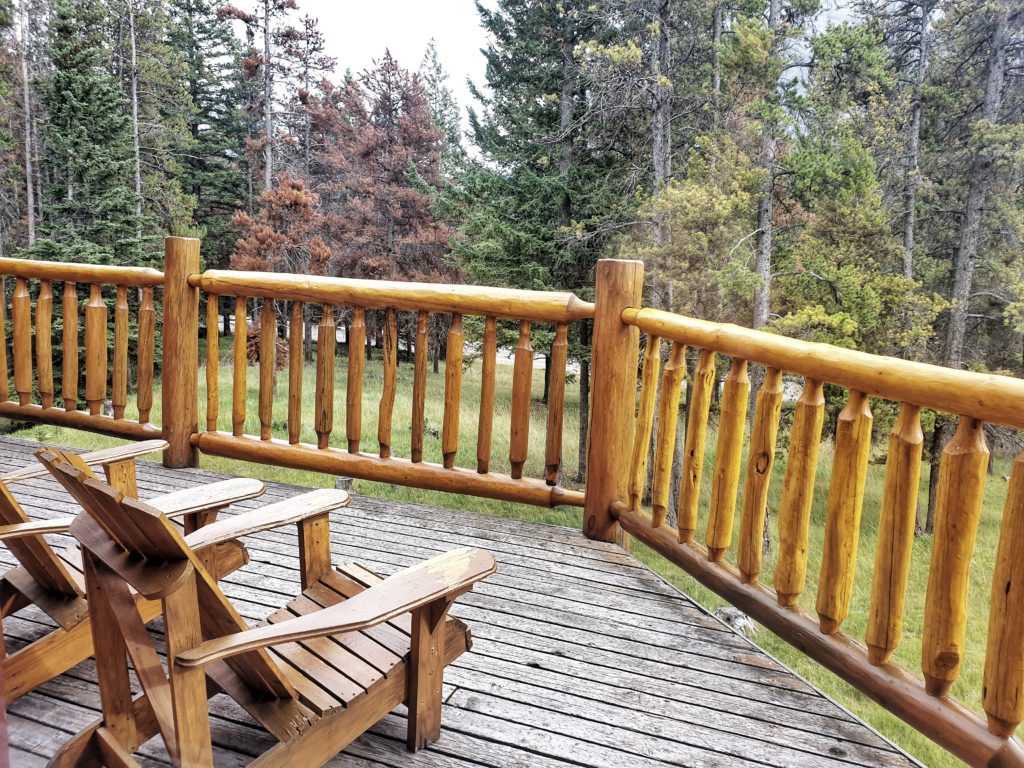 The town is very lively with things to do, but on the outskirts, remains the beautiful surrounding mountains and countryside which are absolutely breath-taking and you will find yourself soaking them up the whole time you're there. When you throw in the close proximity to the shops, bars, restaurants and all of the other attractions you are onto a winner!
If you are in Banff, Canada, and you want to have a unique alpine Canadian experience, I would highly recommend HI Banff Alpine Centre.
To view HI Canada's other properties click here.
Check out their Facebook, Instagram, Twitter, Youtube and Tripadvisor too!
***Thank you to HI Canada for kindly sponsoring this post. All opinions are 100% honest & completely my own.